Get connected with our daily update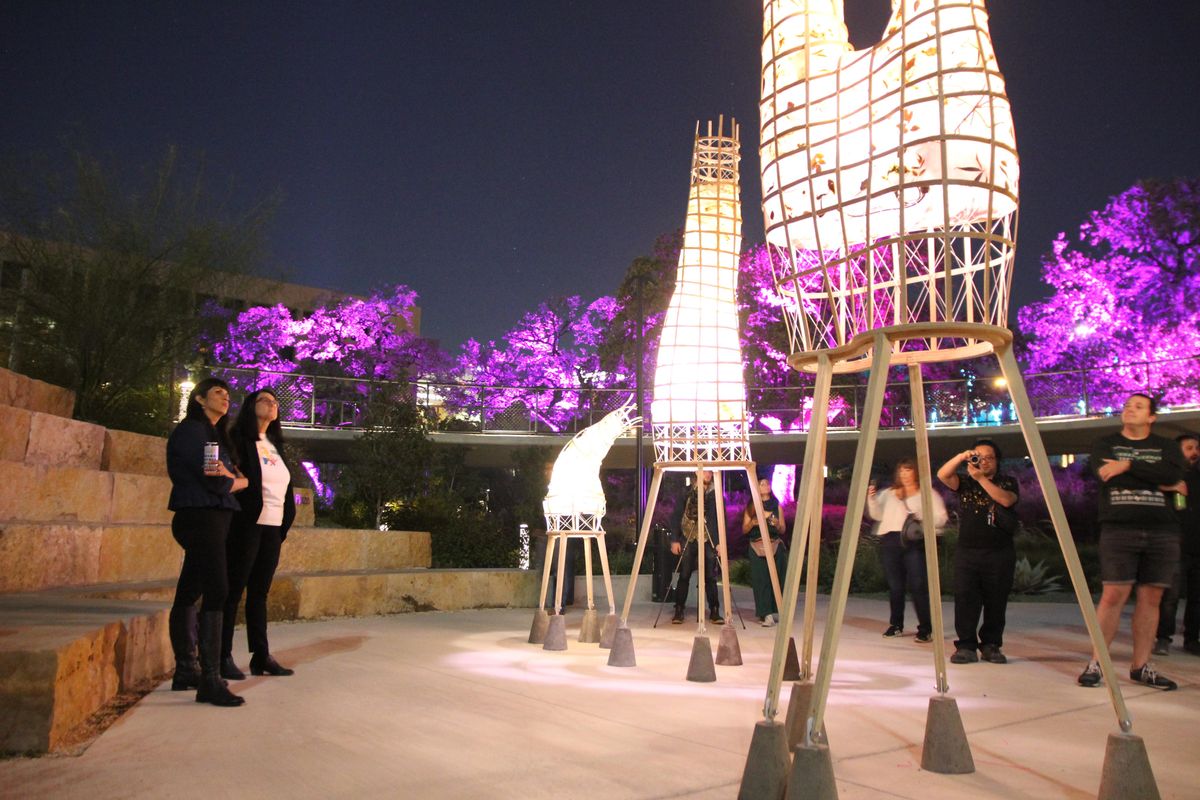 Austin's annual Creek Show is set to illuminate Waterloo Park on Friday with five light-based art installations, all made by teams of local artists. The art show will be held in the newly renovated park for the first time since it began in 2012.
---
The event will host 10 straight days of free programming including live music, family-friendly activities and food vendors. Austinites can attend the show with a reservation made anytime from 6-10 p.m. through Nov. 21.
All of the exhibits are interactive, so visitors are free to gently touch the ones in reach. Here's a first look at the exhibits presented at the show:
BioNest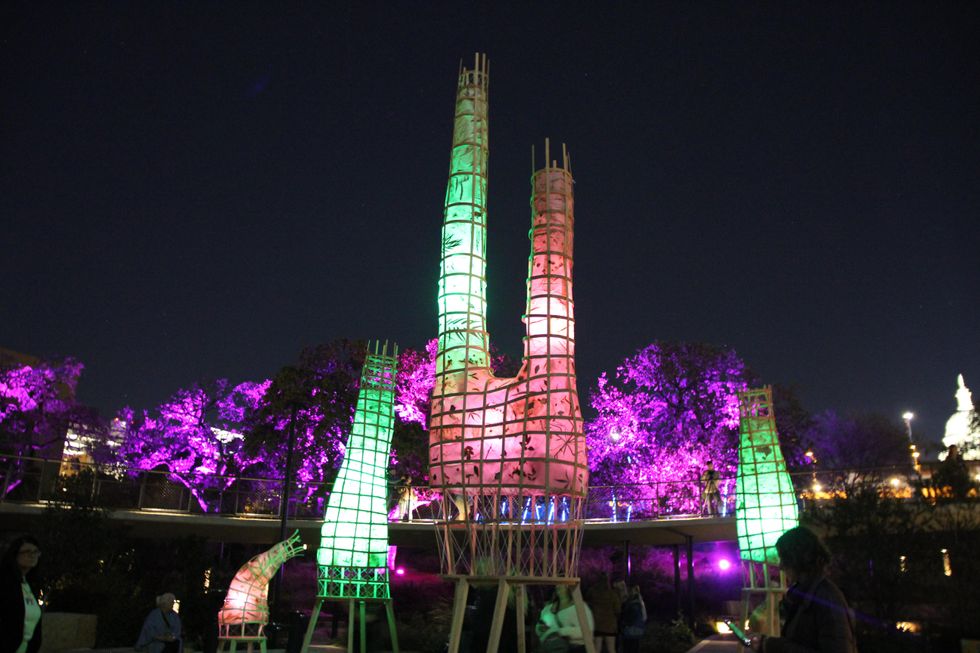 (Laura Figi/Austonia)
Created by artist Nicholas DeBruyne with Wevolve Labs, BioNest is an "exploration in sustainable design" with several free-standing sculptures lit up through a translucent bio-plastic "skin" made from seaweed. Looking closely into the lamps you can make out bugs and organic matter peeking through the woven wooden frame. The best part is that the structures are biodegradable.
"At the end of its life, it will return to the earth," DeBruyne said.
Look closely at these sculptures—which all contain matter from different natural areas in the state, like Barton Creek and Marfa—as each is unique. Since they're made of seaweed, organizers said it's entirely possible this exhibit won't make it in the event of a storm so catch BioNest early.
CREEKture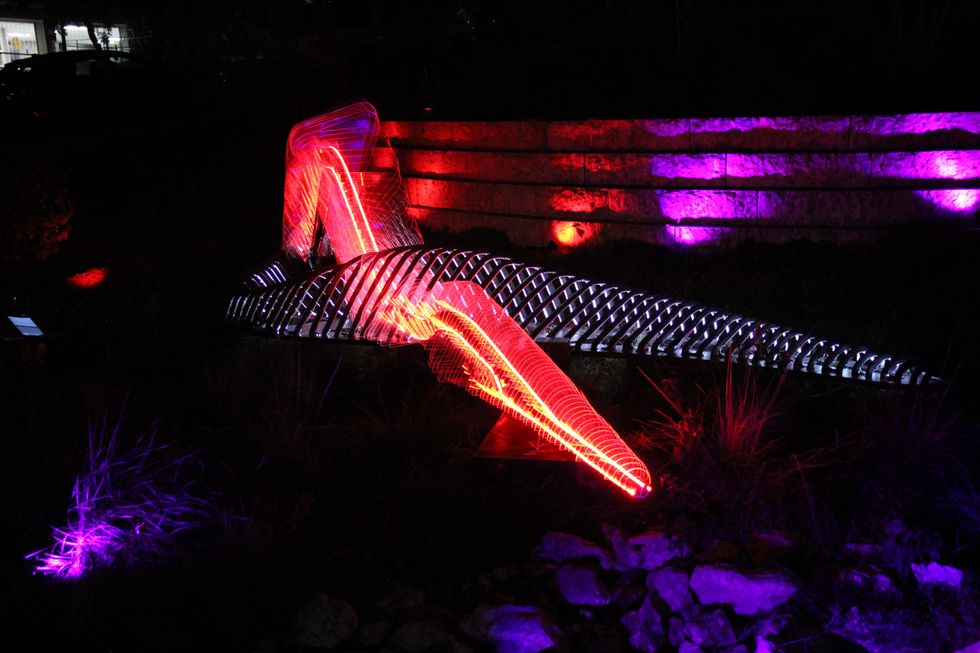 (Laura Figi/Austonia)
Representing the challenges faced by the wildlife in Austin's Waller Creek, the CREEKture is a representation of the native Texas Blind Snake as it rises from one of three rain gardens in the park. The snake is made up of two bodies: a pulsating wire lights up one, representing the "heartbeat" of the critters that crawl in the creek, and a rib-like skeleton that pokes its head just above the ground. Made by GFF Austin, members of the team said the sculpture is a reminder to leave no trace when we visit nature.
"Whenever we go through natural environments, such as Waller Creek, we are actually stepping into native species habitats," GFF team member Jake Chavez said. "We need to treat their habitats like the way we treat our own—that's what this installation is all about."
This sculpture is great to explore from different vantage points!
HIGH LIGHT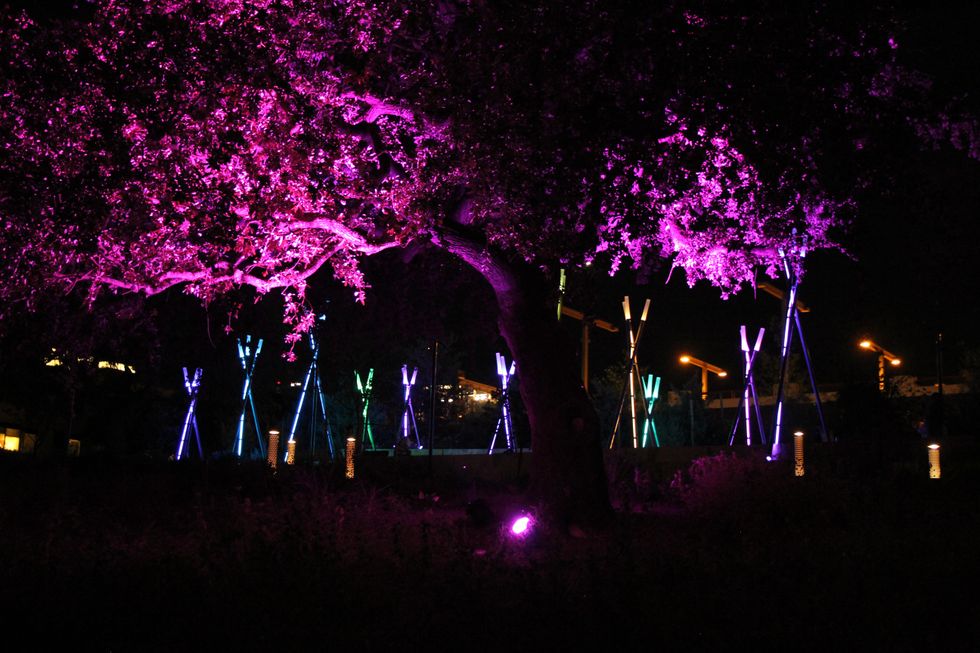 (Laura Figi/Austonia)
Using the classically strong triangle shape, HIGH LIGHT sits at the tallest point in the park and uses its tripod structure to blast light into the heavens. The towers can be seen from all over the park, framing the Texas Capitol if you view it just so. Created by Chioco Design and Drophouse Design, each of the tripods sits at a different height and can change colors independently. One of the team members, Irela Casanova, said her favorite way to enjoy these is to stand underneath and look at them from above.
"The idea is that they cast light into the sky, infinitely," Casanova said.
Some of the tripods will be privately sold after the show, some will go to be a permanent exhibit at YONDER on 8905 Sandust Way, and some will go on to be installations at California festival Burning Man.
si-glo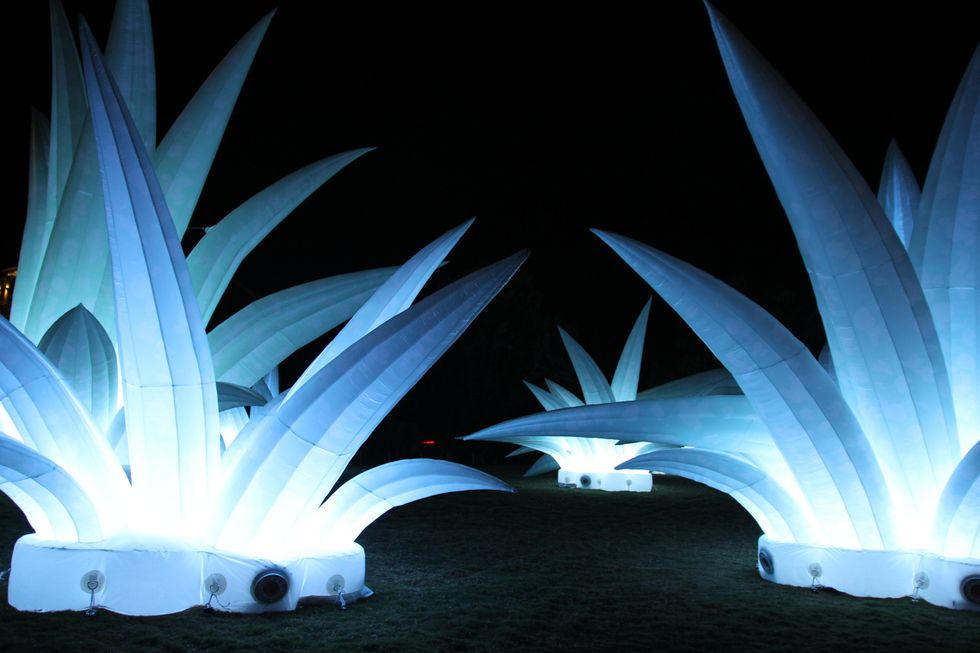 (Laura Figi/Austonia)
Made by a team at local architecture firm dwg., si-glo honors the thousands of native plants that were installed at Waterloo Park with gigantic, glowing, inflatable versions of the Texas Century plant. The largest of the native Texas agaves, Siglo is the Spanish name for century plants and the name was intended as a pun: see the Siglo glow. Walk through the forest of plants—there are two 16-foot plants, one 20-foot plant, one 30-foot plant and one 45-feet tall—and high-five their fronds as you appreciate Texas' natural beauty.
"We're thinking about the 100-year commitment that Waterloo Greenway has made in Waterloo Park with the hundreds of thousands of new plans they've installed here, and what that's really going to mean for Austin," dwg. team member Kim Harding said.
Harding said when the show is over, they hope to be able to repurpose some of the material into windbreakers to commemorate the event.
SWAY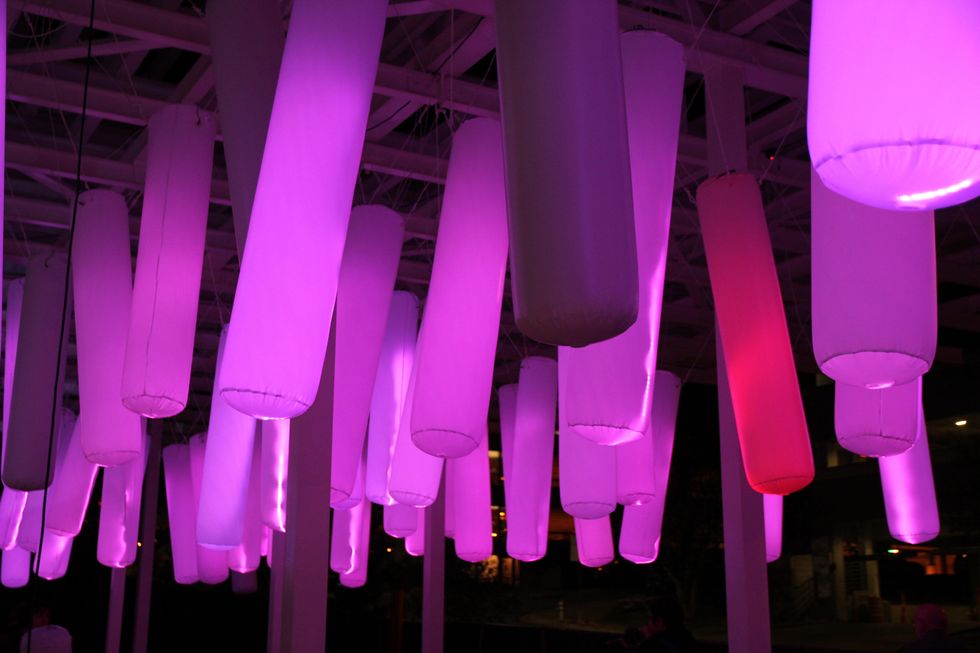 (Laura Figi/Austonia)
Made by artists Ian Randall and Clayton Cain, SWAY is intended to envelop the viewer and capture the movement of nature, water, energy and people with up to 275 lit-up inflatable tubes suspended over the park's pavilion. Caught up in the wind, the tubes sway freely in the breeze. They're pretty high up but just close enough to lovingly give one a tap.
Once Creek Show is over, SWAY will go on to another exhibit in San Antonio.
"We may disassemble some and make light fixtures from them, so they'll have another life as if we don't get somebody else to (show) them," Kane said.
You'll be able to catch several prominent artists, like Tameca Jones and Riders Against the Storm at the opening showcase, Superfónicos on Saturday, an Artist Talk on Tuesday and Bidi Bidi Banda closing out the showcase on Sunday, Nov. 21.
Enjoying Austonia? Signup for our newsletter to get daily Austin news, straight to your morning inbox!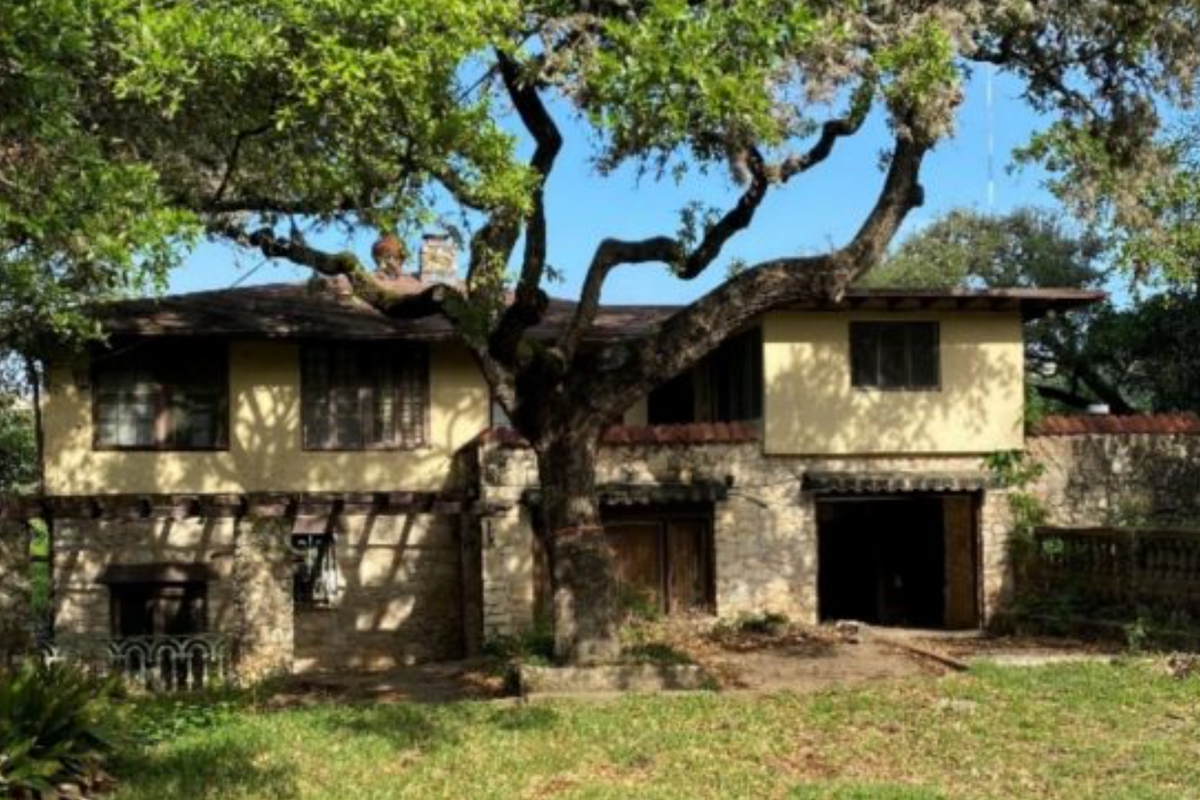 Austin Monitor
By Jonathan Lee
The Planning Commission was split Tuesday on whether to help save an eclectic lakefront estate from demolition by zoning it historic amid concerns over tax breaks and the likelihood that a previous owner participated in segregation as a business owner.
The property in question, known as the Delisle House, is located at 2002 Scenic Drive in Tarrytown. The main house, with Spanish and Modern influences, was built in 1923 by Raymond Delisle, an optician. A Gothic Revival accessory apartment was built in 1946. The current owner applied to demolish the structures in order to build a new home.'
Historic preservationists, for their part, overwhelmingly support historic zoning, which would preserve the buildings in perpetuity. The Historic Landmark Commission unanimously voted to initiate historic zoning in July, citing architectural significance, landscape features and association to historic figures. City staffers recommend historic zoning, calling both structures one-of-a-kind examples of vernacular architecture.
Tarrytown neighbors have also banded together to stop the demolition. Many have written letters, and a few spoke at the meeting. "How could anyone buy this property with the intent of destroying it?" Ila Falvey said. "I think it's an architectural treasure."
Michael Whellan, an attorney representing the property owner, said that the claims made by preservationists are shaky. The buildings are run down, he said, and have had substantial renovations. A structural engineer hired by the owner said any attempt at preservation would involve tearing down and rebuilding – an undertaking Whellan said would likely cost millions.
Whellan also argued that any historical significance derived from the property's association with Delisle and longtime owner C.H. Slator is dubious. "These men are not noted for any civic, philanthropic or historic impact," he said.
What's more, according to Whellan, Slator likely participated in segregation as the owner of the Tavern on North Lamar Boulevard between 1953 and 1960.
A city staffer, however, said she found no evidence to support the claim. "We would never landmark a property where a segregationist lived, or there was a racist person," Kimberly Collins with the Historic Preservation Office said.
Commissioner Awais Azhar couldn't support historic zoning in part due to lingering uncertainty about Slator. "Focusing on that factor is not here to disparage an individual or family. It is not about playing the race card. This is an important assertion for us to consider as Planning commissioners," Azhar said.
Commissioner Carmen Llanes Pulido said that allegations of racism should come as no surprise. "We're talking about white male property owners in the 1950s, in Austin, on the west side – and of course they were racist," she said. But she argued that allowing the house to be demolished based on these grounds does nothing to help people of color who have been harmed by racism and segregation.
The question of tax breaks was also controversial. Michael Gaudini, representing the property owner, said that the tax breaks associated with historic zoning would exacerbate inequality by shifting property tax burdens to less affluent communities. City staffers estimate that the property, appraised at $3.5 million, would get either a $8,500 or $16,107 property tax break annually, depending on whether a homestead exemption is applied.
Commissioner Grayson Cox preferred the commission focus not on tax breaks but on whether the structures merit preservation. "To me, nothing in the historic preservation criteria lists, is this person deserving of a tax break or not?"
Azhar, on the other hand, said he plans to propose a code amendment getting rid of city property tax breaks for historic properties.
The commission fell one vote short of recommending historic zoning, with six commissioners in support and three opposed. Azhar and commissioners Claire Hempel and Greg Anderson voted against.
The odds of City Council zoning over an owner's wishes are slim. Nine out of 11 members must vote in favor, and there have only been a handful of such cases over the past several decades.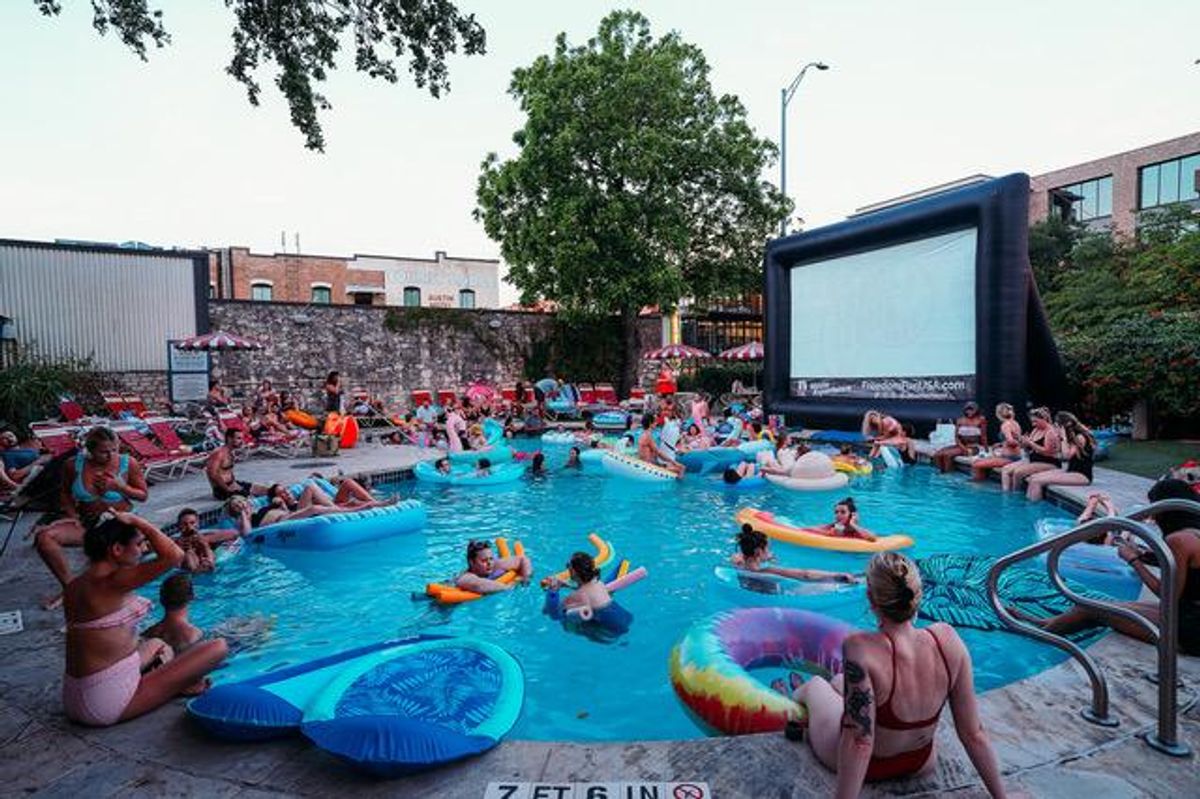 Austin Motel
What's new in Austin food & drink this week:
Nau's Enfield Drug closing after losing their lease. Did McGuire Moorman Lambert buy the building, with its vintage soda fountain?
Nixta Taqueria Chef Edgar Rico named to Time Magazine's Time 100 Next influencer list, after winning a James Beard Award earlier this year.
Question: From what BBQ joint did pescatarian Harry Styles order food this week?
Austin Motel is opening the pool and pool bar Wednesday nights in October for Freaky Floats.
Vincent's on the Lake closing due to "economic conditions and low water levels [at Lake Travis]."
Cenote has closed its Windsor Park location. The East Cesar Chavez location remains open.
The Steeping Room on N. Lamar has closed.
Local startup It's Skinnyscored new financing for its gluten-free pasta business.
P. Terry's opened a new location in Kyle, at 18940 IH-35.