Get connected with our daily update
Publisher's note: Austonia has donated $100 to Crema's community sack lunch program, via their @cremabakerycafe Venmo. Feel free to join us in support of this community service.
Colorful paper hearts adorn the walls and meticulously decorated cookies proclaim adorable phrases like "Love you a latte."
At Crema Bakery and Café on Brodie Lane in South Austin, Valentine's Day is more than just the sweet shop's biggest holiday of the year. It's also a tribute to the love that co-owners Jessica and Janessa Tomberlin share for each other.
---
"We're really blessed in a lot of ways, but none of it would be happening if we didn't have each other," said Jessica Tomberlin. "I feel like our feelings for each other are reflected in our business and our product and our relationships with other people, too. A lot of partners are good cop, bad cop. We're not like that. We're just two halves of a whole."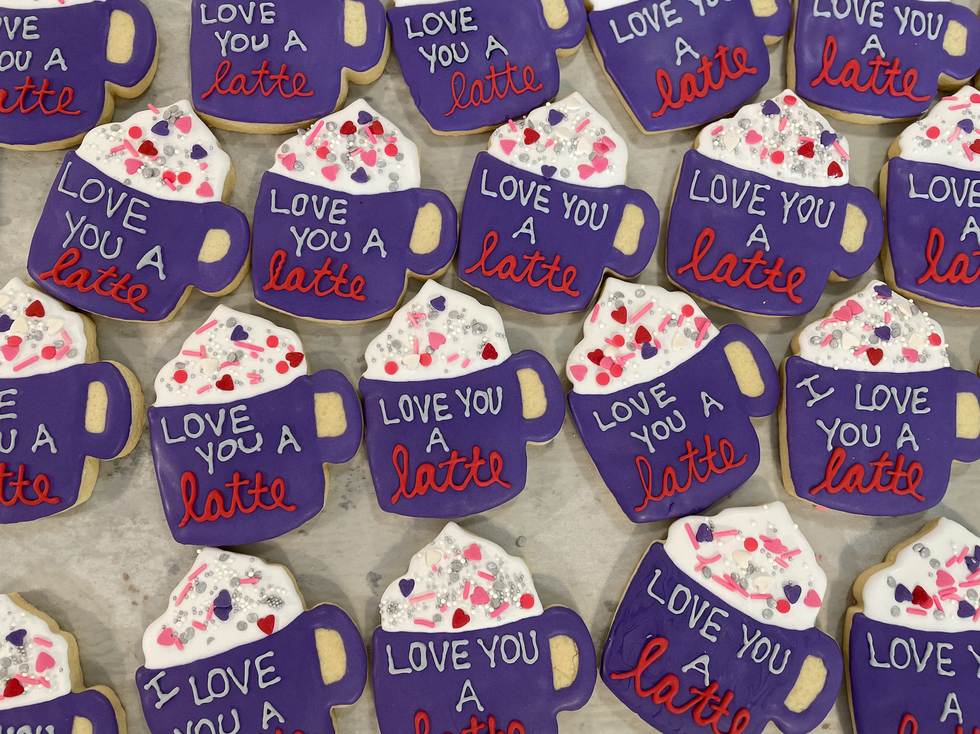 Valentine's-themed cookies are among the offerings at Crema Bakery in South Austin. (Kristin Finan)
The pandemic has brought unprecedented challenges to local restaurants, and Crema is no exception; the Tomberlins credit loyal friends and customers with keeping the bakery's doors open. As a result, the Tomberlins have been able to support the local community through free sack lunches, which they make available to anyone who calls in to request one—no questions asked. Since March 2020, they've distributed more than 1,500 free lunches.
"We just saw a need," said Janessa Tomberlin. "It was just incredible the number of people that were like, 'I'm hungry.' Nobody should have to wonder where their next meal is coming from in this country of all places. We felt like it was the very least we could do to help our community and be a place for people to have a little bit of food security."
Jessica, 42, and Janessa, 37, met when Jessica opened Crema in 2013 and hired Janessa, who had a background in the corporate coffee world. The two quickly became friends and eventually began dating. In October 2017, they tied the knot at Tiny T Ranch in Garfield, on the outskirts of Austin. They didn't have a cake but instead opted for hand pies, which they made themselves. Jessica Tomberlin said the bakery relishes being part of all types of special occasions.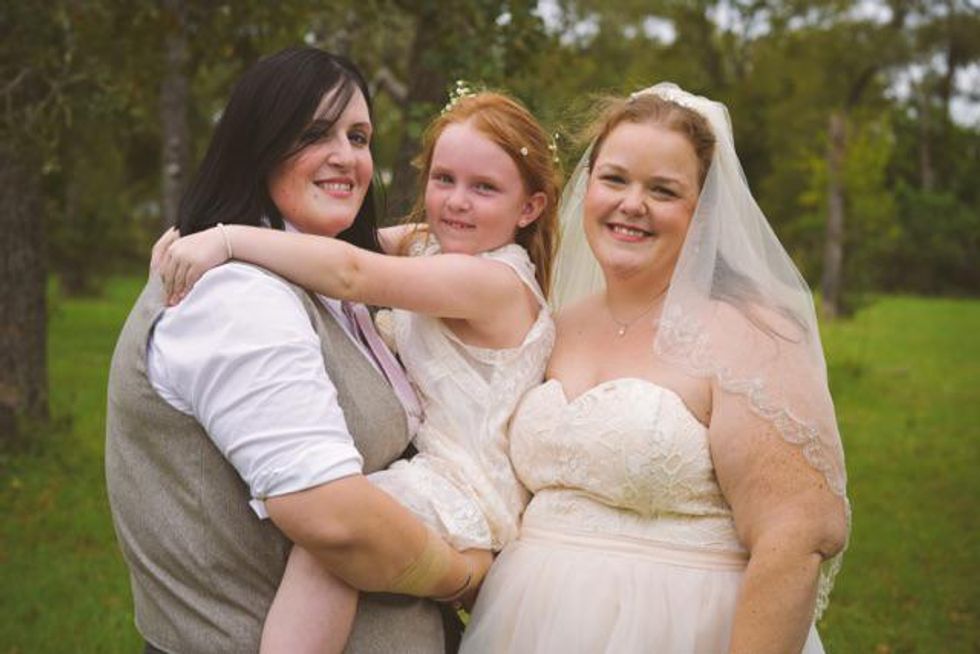 Janessa and Jessica Tomberlin and daughter, Molly. (Seduit Photography)
"We love that we can make somebody's engagement party cake and then do their wedding cake and then a baby shower and then a kid's first birthday," she said. "We love being part of people's lives and part of their families."
As business partners, Janessa runs the front of house, interacting with customers, while Jessica deals more with the product side, although, "being a small business, nothing is ever that simple," Jessica Tomberlin said.
"We teach our baristas how to decorate cupcakes because you never know who is going to need to do what," Jessica Tomberlin said. "That's the essence of a family-owned business–everybody does it for the good of the whole and doesn't really focus on themselves. That's the way Janessa and I have always been, too."
Jessica Tomberlin said 2020 brought challenges the small bakery, which is currently open for takeout and curbside, could never have ever anticipated.
"Any time you have a small business you're always on the edge of everything falling apart, so we've faced a lot of that, but in the last year it's just been a despair that I've never felt before in my life, just not knowing what's going to happen," Jessica Tomberlin said. "Every time I get down where I think I can't get any lower, Janessa picks me up. That's probably the thing I've come to appreciate the most is just that we complemented each other in that way. When one of us can't go on, the other one finds the strength to do it for both of us."
Janessa Tomberlin said Jessica "is like my backbone when I don't have one."
The two have also needed to stay strong for their daughter, Molly, 10, who they call the "littlest cremling" and who, despite not having any social media accounts, has a big following through Crema's social media.
"All these people recognize her, so every time she's up here people like, 'Hey, Molly!'" Jessica Tomberlin said. "She likes to run curbside because people always tip her."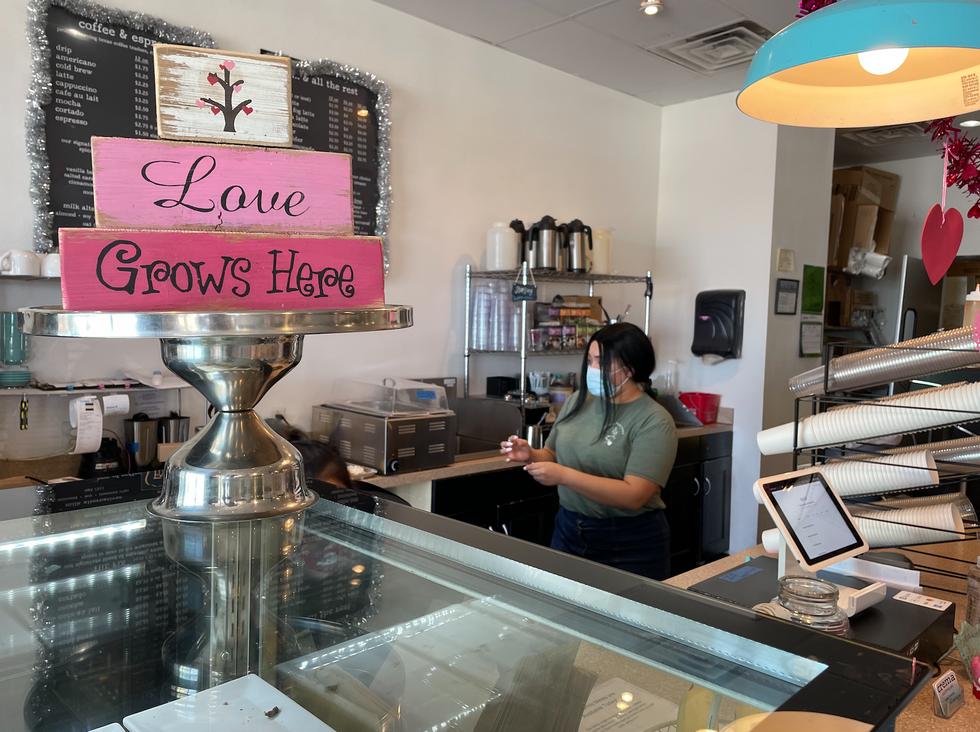 Crema Bakery in South Austin offers a variety of baked goods for takeout and curbside service. (Kristin Finan)
In addition to the free lunch program, the Tomberlins have done fundraisers for causes they are passionate about, such as LGBTQ rights and Black Lives Matter.
"We love being the liberal, hippie, queer-owned bakery. We love being able to embrace those old Austin ideals and give people an outlet for being able to help wherever they can," Jessica Tomberlin said. "We put our politics and our positions out there, which a lot of businesses don't do to be safe, but we also feel like if you can be an advocate for the causes that matter, you should."
With its challenges, the past year has also brought some surprise hits, including a family meal program early in the pandemic and, currently, hot cocoa bombs, which frequently sell out. Once the world begins to open back up, Jessica Tomberlin said, she looks forward to eating out, having some date nights and hopefully resuming a new brunch restaurant project at South First and William Cannon that was in the works before the pandemic.
No matter what happens, though, Jessica Tomberlin said she knows she, Janessa and Molly will be able to weather it together.
"I feel hopeful right now in a way that I haven't in months and months," Jessica Tomberlin said. "There's been a lot of love this year. There's been a lot of sadness, but there's been a lot of love."
More on local businesses: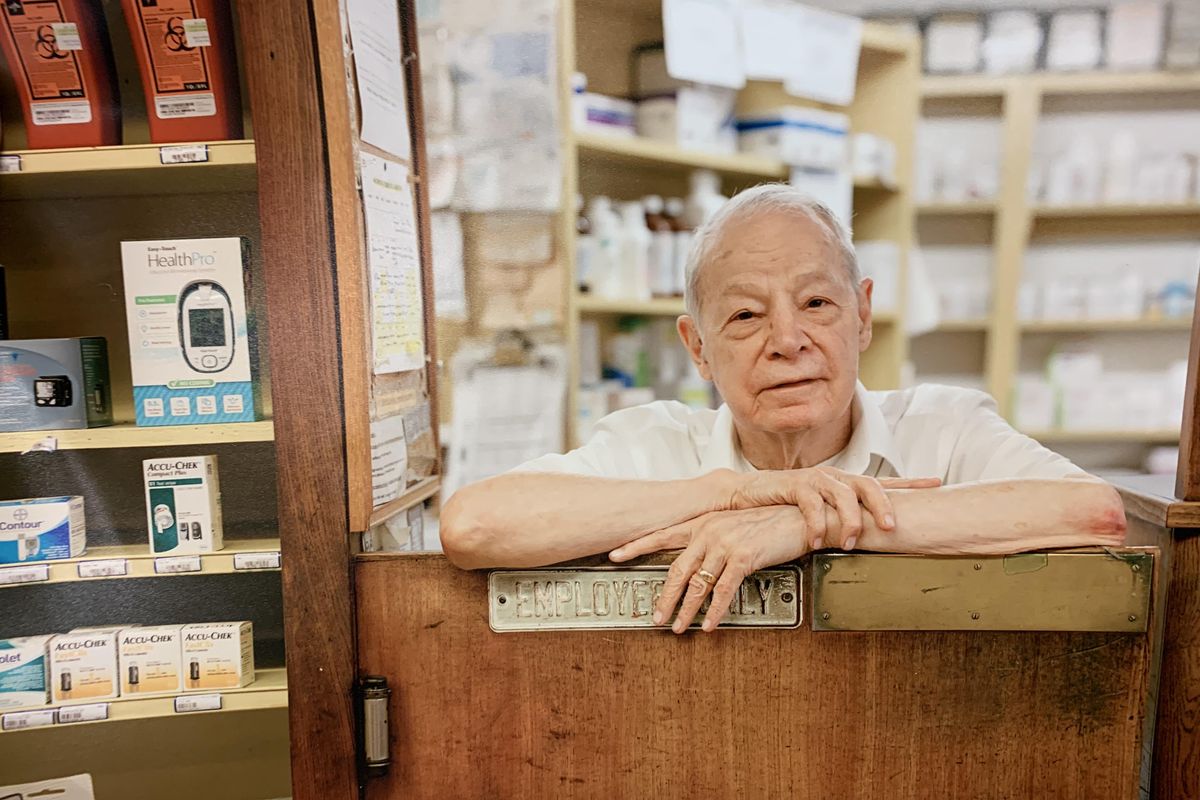 Lambert Labay, 81, is the owner of Nau's Enfield Drug, where he has worked as a pharmacist since 1963. He and his wife, Kathleen Labay, purchased the store in 1971. (Laura Labay)
After their first two-win week and a two-week hiatus, Austin FC is back at home against Minnesota United as they attempt to up their home win streak to three on Saturday.
The team kicks off at 8 p.m. against the Loons in their first matchup since a 2-0 loss in June, but they're 1-1 against the club after beating Minnesota in May for their first-ever shutout.
Austin maintains a last-place spot in the West but has seen a bit of a late comeback with two wins in their last three matches. Austin's Cecilia Dominguez, who scored a brace for the team in their last match against Real Salt Lake, will look to keep that momentum as the team works for another victory. Meanwhile, the seventh-place Loons will work to keep that last spot in playoff contention as the season nears its end.
Follow along here for updates on the biggest plays of the match.
80' Austin makes first subs
80' | First couple #AustinFC substitutions on the night.

➡️ McKinze Gaines
⬅️ Diego Fagundez

➡️ Jon Gallagher
⬅️ Moussa Djitté pic.twitter.com/yVXyPr97Gn

— Austin FC (@AustinFC) October 17, 2021
With just over 10 minutes left in regulation ,Austin FC made some late-game subs, swapping Diego Fagundez for Austinite McKinze Gaines and Sebastian Driussi for forward Jon Gallagher. Both have a history of clutch performances for the team: Gaines scored just 10 minutes in to his first match of the game back in September, while Gallagher was Austin's first scorer at Q2 Stadium.
It's looking more like a draw at best for Austin as the time continues to tick down on the match.
61' Djitte loses chance after controversial call
In the 61st minute of a less-cohesive half for Austin, Moussa Djitte found himself alone near the goal with a good chance at making the home team's first goal. But referees had another ideas, making another controversial call on the Senegalese striker.
Refs stopped Djitte's menacing drive after Minnesota's Michael Boxall appeared to flop in a run-in with the striker, curbing Djitte's attempt to boos from the crowd. It's Djitte's second foul of the night and the team's ninth foul in the match. Both clubs host a yellow card, with center back Julio Cascante holding the home team's sole warning call. Minnesota's Emmanuel Reynoso holds the away team's yellow after an obvious flop that left him rolling on the ground for minutes, waiting on a call.
Blown whistles for both sides have slowed the match's tempo and left both clubs reeling as Austin looks for its first goal.
At the half: Austin still can't finish
45' still left to play. pic.twitter.com/39J1XnvvOc

— Austin FC (@AustinFC) October 17, 2021
With minutes-long shooting sprees and more shots on goal than Minnesota, Austin could easily have the lead in the match. But each crowd-raising attempt has still been slightly skewed as the home team ends the half with nothing on the board.
In just 45 minutes, both Austin and Minnesota have reached the double-digits in scoring attempts, but Minnesota's ability to infiltrate Austin's penalty box has given them the leg up in the match. The Loons have sometimes found themselves nearly alone alarmingly close to goal, and they've capitalized on their chances with a 16thb minute goal by Franco Fragapane.
Austin FC, however, has not. The club has seen close calls from Dominguez and Driussi, headers from Djitte and near-misses from Tomas Pochettino, but missed opportunities and a few strokes of bad luck have left them scoreless. The team will need to shake their age-old scoring issues if they hope to get back into tonight's game.
16' Minnesota nabs 1-0 lead
Fragapane at the back post!@MNUFC go up 1-0 on @AustinFC. pic.twitter.com/u5LxVgMhAU

— Major League Soccer (@MLS) October 17, 2021
Austin may have struck first, but Minnesota won the first points on the board as Franco Fragapane got one past keeper Brad Stuver from a close range in the 16th minute to make it 1-0. The Loons tested Stuver just as Austin did Miller, making two anxiety-inducing shots before Fragapane struck gold.
This goalie-vs.-goalie match has already seen three shots on goal from each team and a relatively quiet midfield as each team dukes it out in the box.
11' Austin tests Minnesota first
.@SebadriussiOk 😅 pic.twitter.com/SUdpNklgMF

— Austin FC (@AustinFC) October 17, 2021
Austin FC has taken no time to threaten goal. In a three-minute span, the home team has racked up three shots, two of which are on goal, as the ball bounces between Austin attackers but can't quite find the net.
Dominguez strikes first as he looks to find his third goal in three matches in the eights minute, but Minnesota's Tyler Miller fights back with a clutch save. Djitte then tests Miller just seconds later, while Driussi takes a final shot from farther back that just misses the top left corner.
Austin's Fagundez and Pochettino were the playmakers of the three-minute shooting spree, but the club still came out scoreless. Minnesota soon rebounded with a shot of their own that was blocked by keeper Brad Stuver.
Starting lineup
Rested and ready to be back on the pitch for #ATXvMIN. 💪#AustinFC x @YETICoolers pic.twitter.com/oHzypiVtqK

— Austin FC (@AustinFC) October 17, 2021
This may be Austin FC's most popular lineup— even the crankiest fans are commending the strong starting XI on Twitter. Tonight's starters are the same as in their win against Salt Lake.
New standouts Moussa Djitte and Sebastian Driussi are in alongside double-scorer Cecilio Dominguez up front, while fan favorite Diego Fagundez, Captain Alex Ring and Designated Player Tomas Pochettino take the midfield.
With Matt Besler still out on concussion protocol, Zan Kolmanic, Jhohan Romana and Julio Cascante take the back along with Hector Jimenez, who is in for right back Nick Lima. As (almost) always, Brad Stuver holds it down in goal.
An Austin-based program manager for Apple Maps and one of two leaders for the #AppleToo activist movement said she has been fired after a suspension.
According to the New York Times, Janneke Parrish said she was put on suspension for several days while the company investigated her activities before she was fired by a human resources employee via phone call on Thursday.
Parrish was under investigation for allegedly leaking a recording of an Apple staff meeting to the media, which she said she didn't do.
The report said the company told Parrish, who is 30, that she was being fired for having deleted files off her company-issued phone and computer before handing them in for examination. Parrish said the files she deleted contained her personal and financial information.
Among the files she deleted were the Robinhood app, which she said was to keep Apple from seeing "how much money I lost investing in GameStop," the Pokemon Go app and screenshots of programming bugs she was fixing.
Parrish said she believes Apple was retaliating against her efforts in organizing #AppleToo, a group of employees working to expose the company's "culture of secrecy" that has been "faced disproportionately by our Black, Indigenous, and other colleagues from minoritized racial, gender and historically marginalized groups of people."
Parrish had been publishing weekly accounts of workplace problems that had been shared anonymously with her from other employees, though she did not verify employment on all of them. The accounts she received were in the hundreds, so Parrish said she was hopeful her termination would lead to some justice within the company.
Employees at tech giants have been more outspoken than usual in recent months—with former Facebook data scientist Frances Haugen speaking out against her former employer—and Parrish said the company's desire to keep under wraps has eroded trust by discouraging employees to come forward with issues like harassment or wage disparity.
Apple spokesman Josh Rosenstock commented on the matter: "We are and have always been deeply committed to creating and maintaining a positive and inclusive workplace. We take all concerns seriously and we thoroughly investigate whenever a concern is raised and, out of respect for the privacy of any individuals involved, we do not discuss specific employee matters."
Additionally, the email detailing her termination, which was obtained by the New York Times, said Apple had determined that Parrish "engaged in conduct in violation of Apple policies including, but not limited to, interfering with an investigation by deleting files on your company provided equipment after being specifically instructed not to do so."