Get connected with our daily update
Publisher's note: Austonia has donated $100 to Crema's community sack lunch program, via their @cremabakerycafe Venmo. Feel free to join us in support of this community service.
Colorful paper hearts adorn the walls and meticulously decorated cookies proclaim adorable phrases like "Love you a latte."
At Crema Bakery and Café on Brodie Lane in South Austin, Valentine's Day is more than just the sweet shop's biggest holiday of the year. It's also a tribute to the love that co-owners Jessica and Janessa Tomberlin share for each other.
---
"We're really blessed in a lot of ways, but none of it would be happening if we didn't have each other," said Jessica Tomberlin. "I feel like our feelings for each other are reflected in our business and our product and our relationships with other people, too. A lot of partners are good cop, bad cop. We're not like that. We're just two halves of a whole."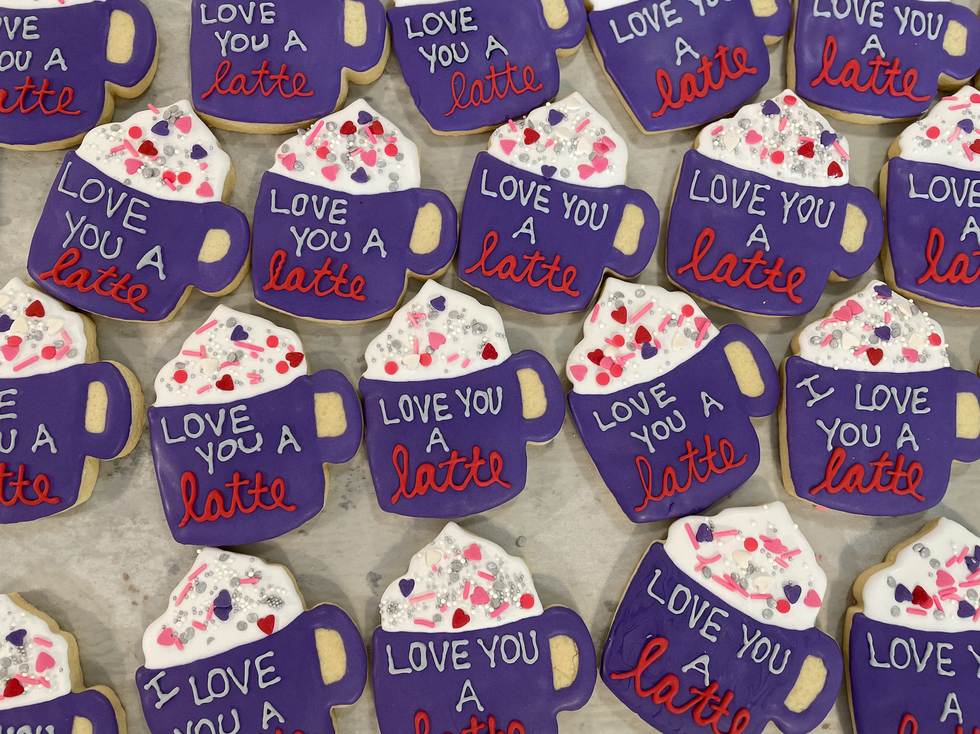 Valentine's-themed cookies are among the offerings at Crema Bakery in South Austin. (Kristin Finan)
The pandemic has brought unprecedented challenges to local restaurants, and Crema is no exception; the Tomberlins credit loyal friends and customers with keeping the bakery's doors open. As a result, the Tomberlins have been able to support the local community through free sack lunches, which they make available to anyone who calls in to request one—no questions asked. Since March 2020, they've distributed more than 1,500 free lunches.
"We just saw a need," said Janessa Tomberlin. "It was just incredible the number of people that were like, 'I'm hungry.' Nobody should have to wonder where their next meal is coming from in this country of all places. We felt like it was the very least we could do to help our community and be a place for people to have a little bit of food security."
Jessica, 42, and Janessa, 37, met when Jessica opened Crema in 2013 and hired Janessa, who had a background in the corporate coffee world. The two quickly became friends and eventually began dating. In October 2017, they tied the knot at Tiny T Ranch in Garfield, on the outskirts of Austin. They didn't have a cake but instead opted for hand pies, which they made themselves. Jessica Tomberlin said the bakery relishes being part of all types of special occasions.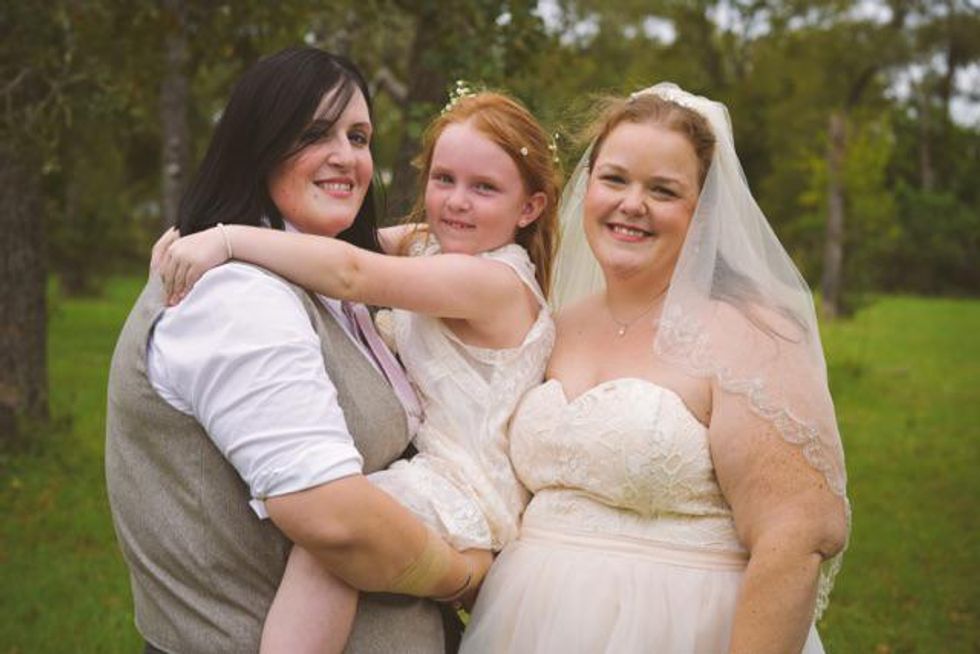 Janessa and Jessica Tomberlin and daughter, Molly. (Seduit Photography)
"We love that we can make somebody's engagement party cake and then do their wedding cake and then a baby shower and then a kid's first birthday," she said. "We love being part of people's lives and part of their families."
As business partners, Janessa runs the front of house, interacting with customers, while Jessica deals more with the product side, although, "being a small business, nothing is ever that simple," Jessica Tomberlin said.
"We teach our baristas how to decorate cupcakes because you never know who is going to need to do what," Jessica Tomberlin said. "That's the essence of a family-owned business–everybody does it for the good of the whole and doesn't really focus on themselves. That's the way Janessa and I have always been, too."
Jessica Tomberlin said 2020 brought challenges the small bakery, which is currently open for takeout and curbside, could never have ever anticipated.
"Any time you have a small business you're always on the edge of everything falling apart, so we've faced a lot of that, but in the last year it's just been a despair that I've never felt before in my life, just not knowing what's going to happen," Jessica Tomberlin said. "Every time I get down where I think I can't get any lower, Janessa picks me up. That's probably the thing I've come to appreciate the most is just that we complemented each other in that way. When one of us can't go on, the other one finds the strength to do it for both of us."
Janessa Tomberlin said Jessica "is like my backbone when I don't have one."
The two have also needed to stay strong for their daughter, Molly, 10, who they call the "littlest cremling" and who, despite not having any social media accounts, has a big following through Crema's social media.
"All these people recognize her, so every time she's up here people like, 'Hey, Molly!'" Jessica Tomberlin said. "She likes to run curbside because people always tip her."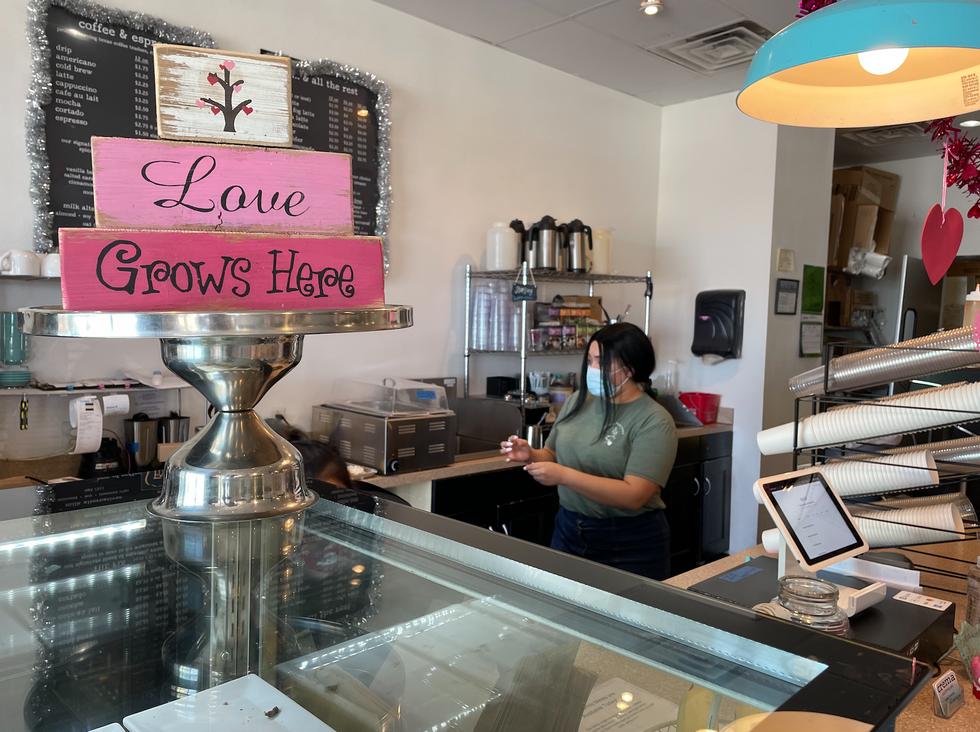 Crema Bakery in South Austin offers a variety of baked goods for takeout and curbside service. (Kristin Finan)
In addition to the free lunch program, the Tomberlins have done fundraisers for causes they are passionate about, such as LGBTQ rights and Black Lives Matter.
"We love being the liberal, hippie, queer-owned bakery. We love being able to embrace those old Austin ideals and give people an outlet for being able to help wherever they can," Jessica Tomberlin said. "We put our politics and our positions out there, which a lot of businesses don't do to be safe, but we also feel like if you can be an advocate for the causes that matter, you should."
With its challenges, the past year has also brought some surprise hits, including a family meal program early in the pandemic and, currently, hot cocoa bombs, which frequently sell out. Once the world begins to open back up, Jessica Tomberlin said, she looks forward to eating out, having some date nights and hopefully resuming a new brunch restaurant project at South First and William Cannon that was in the works before the pandemic.
No matter what happens, though, Jessica Tomberlin said she knows she, Janessa and Molly will be able to weather it together.
"I feel hopeful right now in a way that I haven't in months and months," Jessica Tomberlin said. "There's been a lot of love this year. There's been a lot of sadness, but there's been a lot of love."
More on local businesses: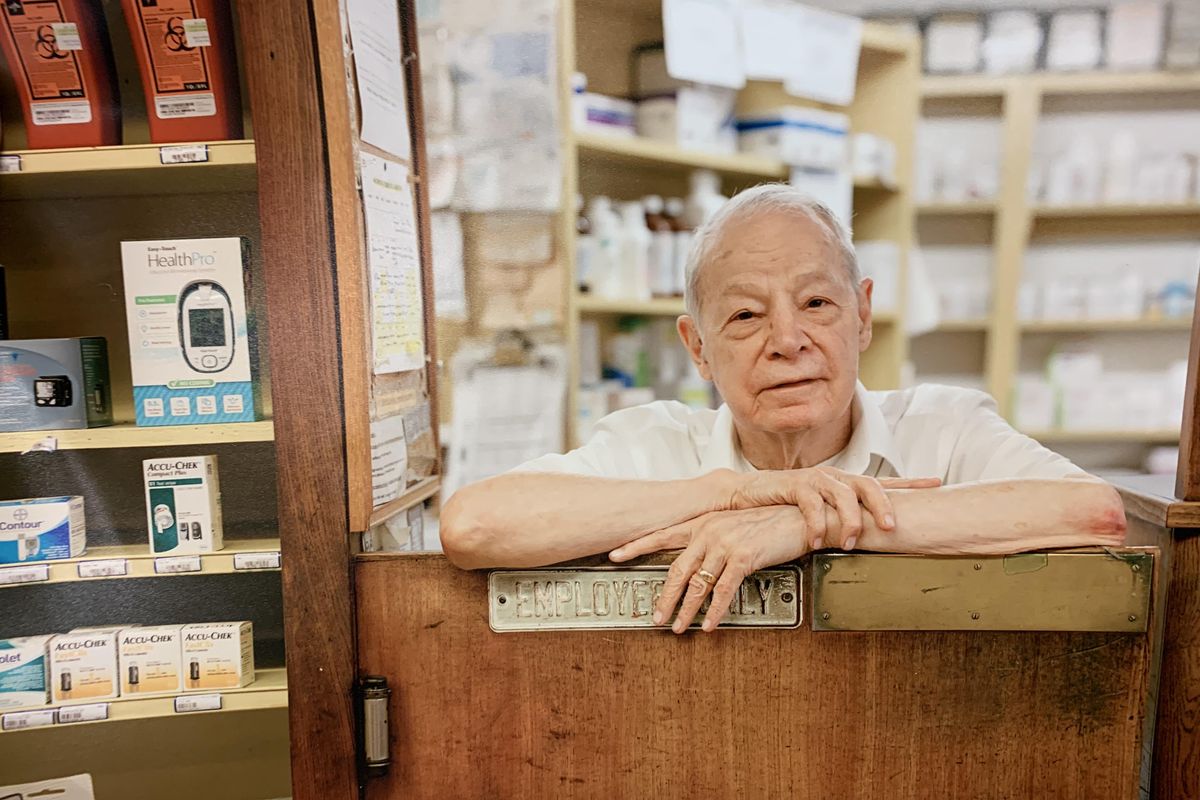 Lambert Labay, 81, is the owner of Nau's Enfield Drug, where he has worked as a pharmacist since 1963. He and his wife, Kathleen Labay, purchased the store in 1971. (Laura Labay)
East Austin restaurant la Barbecue has been robbed a third time in less than three months, according to a post on the restaurant's Instagram.
In the post, the restaurant included photos of what appeared to be a man exiting a minivan from surveillance footage.
"This guy pulled up in a car full of stuff… he ripped our gate open and stole a couple empty kegs," the post said. "The ring system scared him off so he did not venture back into the area. PLEASE EVERYONE ON THE EAST SIDE BE CAREFUL!!! This guy goes back into his car to grab something before he goes in. I am hoping he won't be back!!"
The robbery comes as many restaurant and food truck owners have been on guard from recent break-ins. East Austin cheesesteak truck R&B's Steak and Fries has also been robbed three times in around three months, according to owner Kris Elliott. Elliot said the truck was last robbed around a month and a half ago.
"When the weather gets cold, it seems like these things start to happen more often," Elliott said. "We're just happy no one got hurt."
Additionally, he said all 5 of the food trucks in their lot have experienced burglaries. The landlord of the space is taking action by investing in alarm and camera systems. "Been very tough dealing with this problem as us small business owners are just trying to survive during the pandemic," Elliott said.
And it's not just in East Austin. North Austin restaurants Eldorado Cafe and Chez Zee Bistro were both broken into and robbed on the weekend of Jan. 8, while over a dozen food truck robberies and break-ins were reported in the latter half of 2021.
Some, like Chez Zee's Deborah Velasco, wonder if the understaffed Austin Police Department's decision to no longer respond to non-emergency calls is part of the problem. Xose Velasco, owner of East Austin's Discada, said owners are keeping their guard up in the wake of the robberies as he was robbed twice within a month of reopening in November 2021.
"We try to keep the lights on," Velasco said. "We're a little bit more careful."
After 12 months, the long-anticipated massive Tesla factory in Southeast Travis County is up and operating and everyone wants a look inside.
Phase 1 of Giga Texas appears to be tied up as production of the Model Y Tesla is underway, the electric car company revealed on Wednesday in its fourth-quarter earnings call. The factory, located on the former Harold Green-turned Tesla Road, sits on more than 2,000 acres of land in southeast Travis County.
Here's a glimpse inside the factory.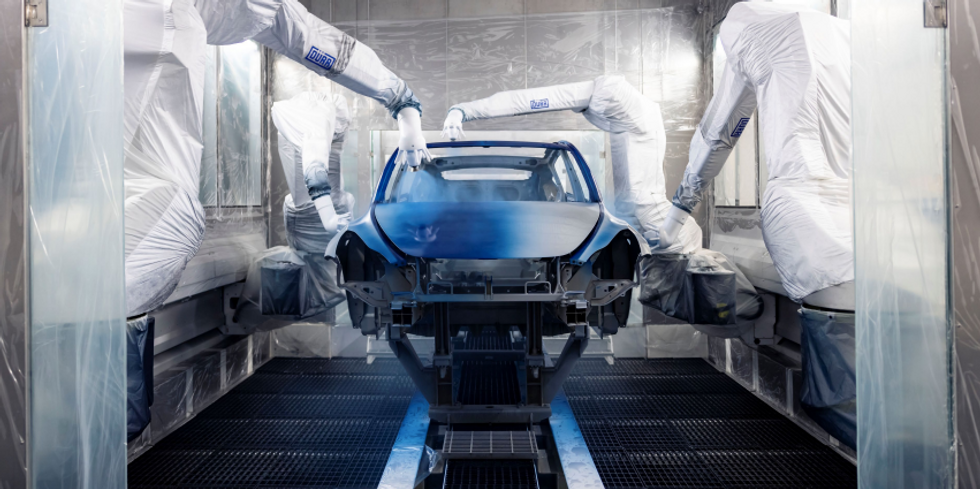 (Tesla)
Model Ys will be the first Teslas to come out of Giga Texas with an estimated delivery of August. The wait estimate comes after Tesla noted supply chain issues have affected their factories, which have been running below capacity for several quarters. A deep blue metallic like this goes for $1,000 more than a white or silver Model Y, totaling $61,990.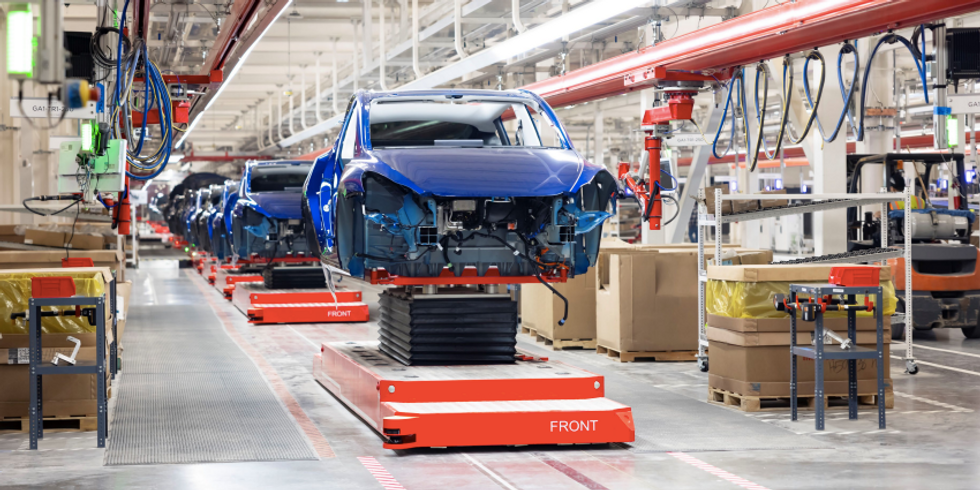 Model Ys began being produced at Giga Texas at the end of 2020. In general assembly at the factory, the Teslas get their major interior components to finish the vehicle.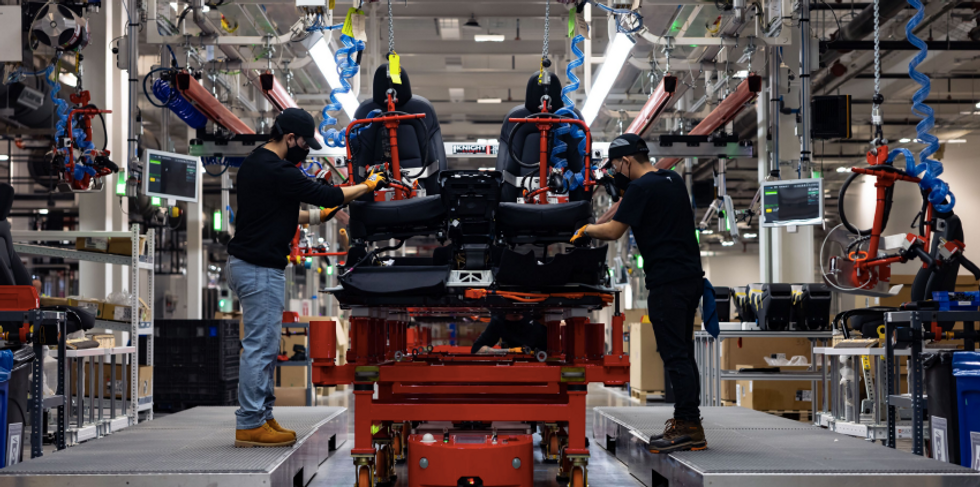 (Tesla)
Workers at Austin's Gigafactory are attaching seats to a structural battery pack. It's been described by some as the biggest difference between Texas-made Model Y's and the current version at the Fremont, California factory. It shouldn't have a major impact on the owner's experience, but Tesla has updated instructions for the jacking procedure, as the lift points are different.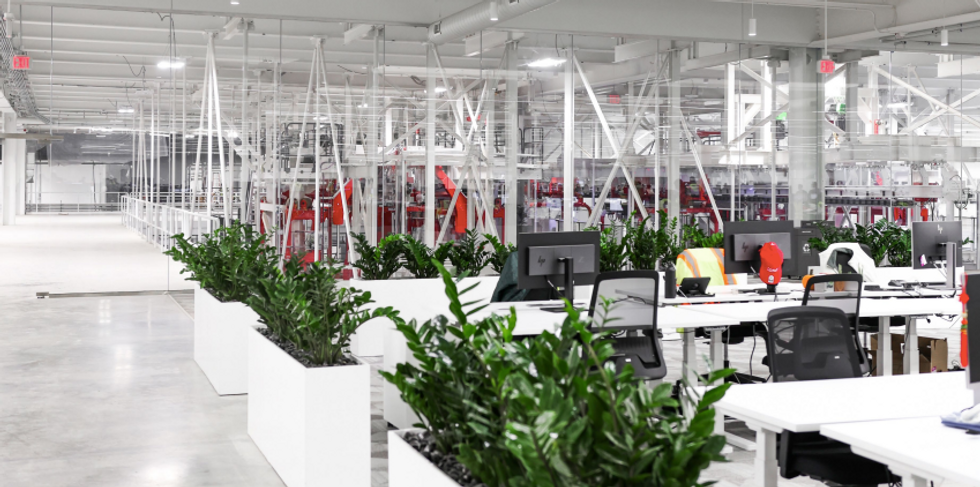 With a sleek, open office setup, workers can take in a view of the factory from their seats. It's a component CEO Elon Musk wanted for what is now the headquarters of Tesla.
On the Austin, Texas public location Snapchat, a photo of inside Giga Texas has appeared. On the left you can see a sneak peek of a Model Y body.pic.twitter.com/N7zliZ5vkL

— Sawyer Merritt (@Sawyer Merritt) 1643081462
With Snapchat's maps, anyone can look at everyday activity happening at the factory. To view these geographically-linked stories, click the bottom left "map" icon and search "Tesla Giga Texas." Once you've found it, you can view the Snapchat story of those in and around the facility. While most stories stay up for only 24 hours, Giga Texas is a designated place on Snapchat, allowing users to view a collection of photos and videos from the inside.
Following Model Ys, Texas-made Teslas will include the Cybertruck, Semi and Model 3. But it might be a while before those other models arrive. EV makers have been hit hard by the chip shortage, and it's thought that changing features are contributing to Cybertruck delays as Tesla works to compete in the electric pickup market.
Joe Rogan paid a visit to buddy Elon Musk this week. The two have been seen around town since both moving to Texas. Naturally, Rogan was impressed with the prototype.
If you're dying to get a closer look at this factory, you just might get to. In December, Musk said the factory would have tours available to the community early this year.