Get connected with our daily update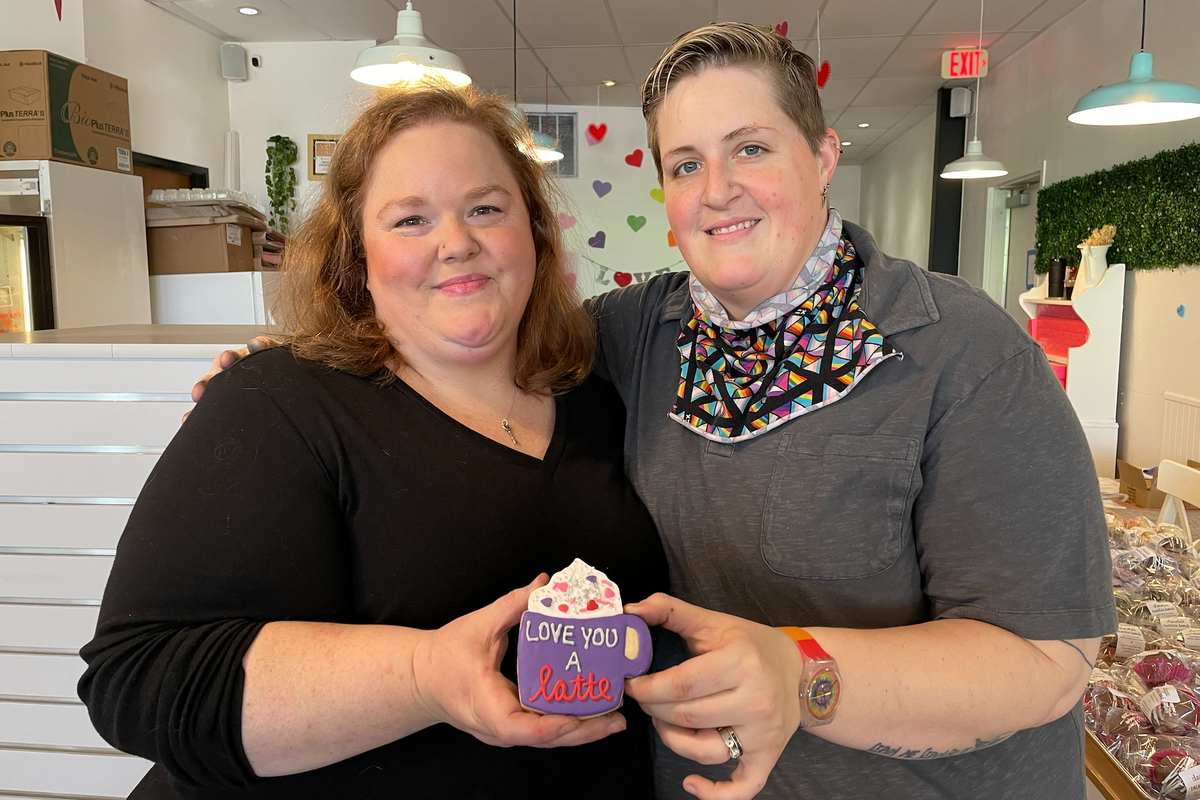 Publisher's note: Austonia has donated $100 to Crema's community sack lunch program, via their @cremabakerycafe Venmo. Feel free to join us in support of this community service.
Colorful paper hearts adorn the walls and meticulously decorated cookies proclaim adorable phrases like "Love you a latte."
At Crema Bakery and Café on Brodie Lane in South Austin, Valentine's Day is more than just the sweet shop's biggest holiday of the year. It's also a tribute to the love that co-owners Jessica and Janessa Tomberlin share for each other.
---
"We're really blessed in a lot of ways, but none of it would be happening if we didn't have each other," said Jessica Tomberlin. "I feel like our feelings for each other are reflected in our business and our product and our relationships with other people, too. A lot of partners are good cop, bad cop. We're not like that. We're just two halves of a whole."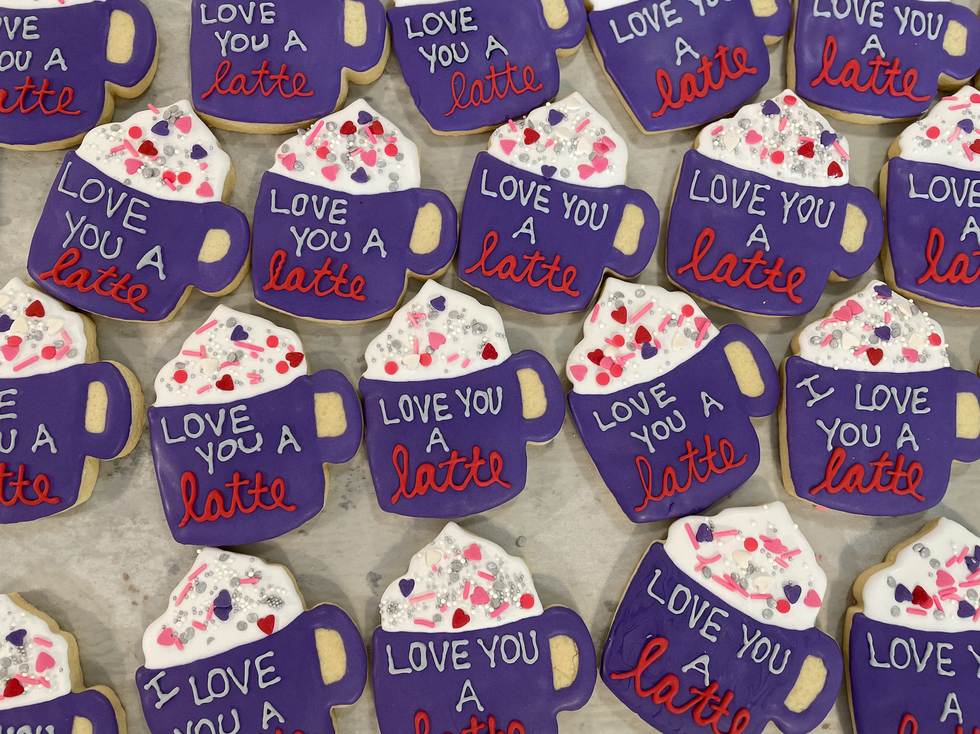 Valentine's-themed cookies are among the offerings at Crema Bakery in South Austin. (Kristin Finan)
The pandemic has brought unprecedented challenges to local restaurants, and Crema is no exception; the Tomberlins credit loyal friends and customers with keeping the bakery's doors open. As a result, the Tomberlins have been able to support the local community through free sack lunches, which they make available to anyone who calls in to request one—no questions asked. Since March 2020, they've distributed more than 1,500 free lunches.
"We just saw a need," said Janessa Tomberlin. "It was just incredible the number of people that were like, 'I'm hungry.' Nobody should have to wonder where their next meal is coming from in this country of all places. We felt like it was the very least we could do to help our community and be a place for people to have a little bit of food security."
Jessica, 42, and Janessa, 37, met when Jessica opened Crema in 2013 and hired Janessa, who had a background in the corporate coffee world. The two quickly became friends and eventually began dating. In October 2017, they tied the knot at Tiny T Ranch in Garfield, on the outskirts of Austin. They didn't have a cake but instead opted for hand pies, which they made themselves. Jessica Tomberlin said the bakery relishes being part of all types of special occasions.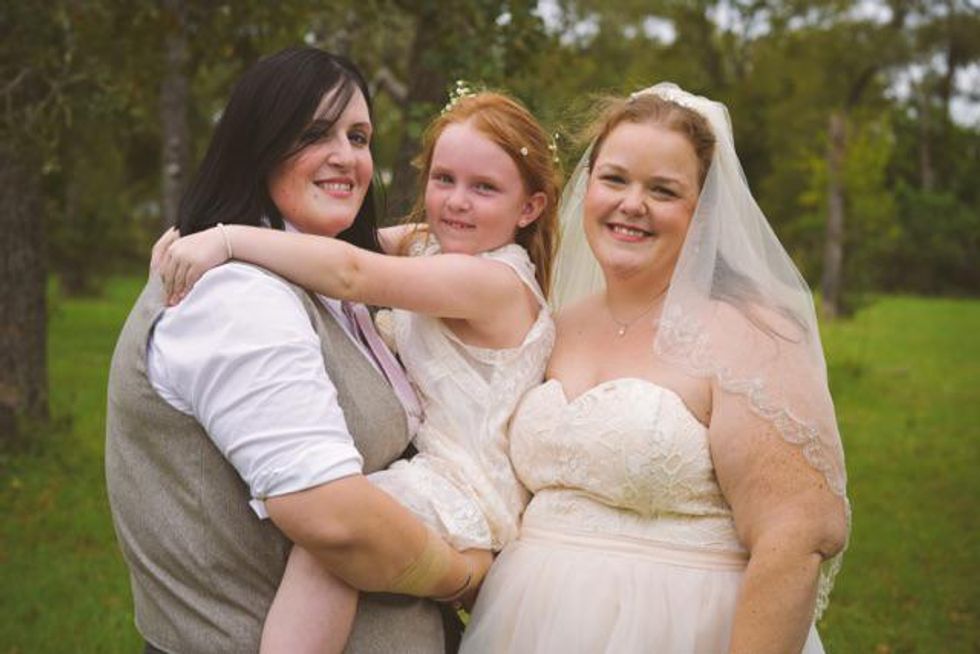 Janessa and Jessica Tomberlin and daughter, Molly. (Seduit Photography)
"We love that we can make somebody's engagement party cake and then do their wedding cake and then a baby shower and then a kid's first birthday," she said. "We love being part of people's lives and part of their families."
As business partners, Janessa runs the front of house, interacting with customers, while Jessica deals more with the product side, although, "being a small business, nothing is ever that simple," Jessica Tomberlin said.
"We teach our baristas how to decorate cupcakes because you never know who is going to need to do what," Jessica Tomberlin said. "That's the essence of a family-owned business–everybody does it for the good of the whole and doesn't really focus on themselves. That's the way Janessa and I have always been, too."
Jessica Tomberlin said 2020 brought challenges the small bakery, which is currently open for takeout and curbside, could never have ever anticipated.
"Any time you have a small business you're always on the edge of everything falling apart, so we've faced a lot of that, but in the last year it's just been a despair that I've never felt before in my life, just not knowing what's going to happen," Jessica Tomberlin said. "Every time I get down where I think I can't get any lower, Janessa picks me up. That's probably the thing I've come to appreciate the most is just that we complemented each other in that way. When one of us can't go on, the other one finds the strength to do it for both of us."
Janessa Tomberlin said Jessica "is like my backbone when I don't have one."
The two have also needed to stay strong for their daughter, Molly, 10, who they call the "littlest cremling" and who, despite not having any social media accounts, has a big following through Crema's social media.
"All these people recognize her, so every time she's up here people like, 'Hey, Molly!'" Jessica Tomberlin said. "She likes to run curbside because people always tip her."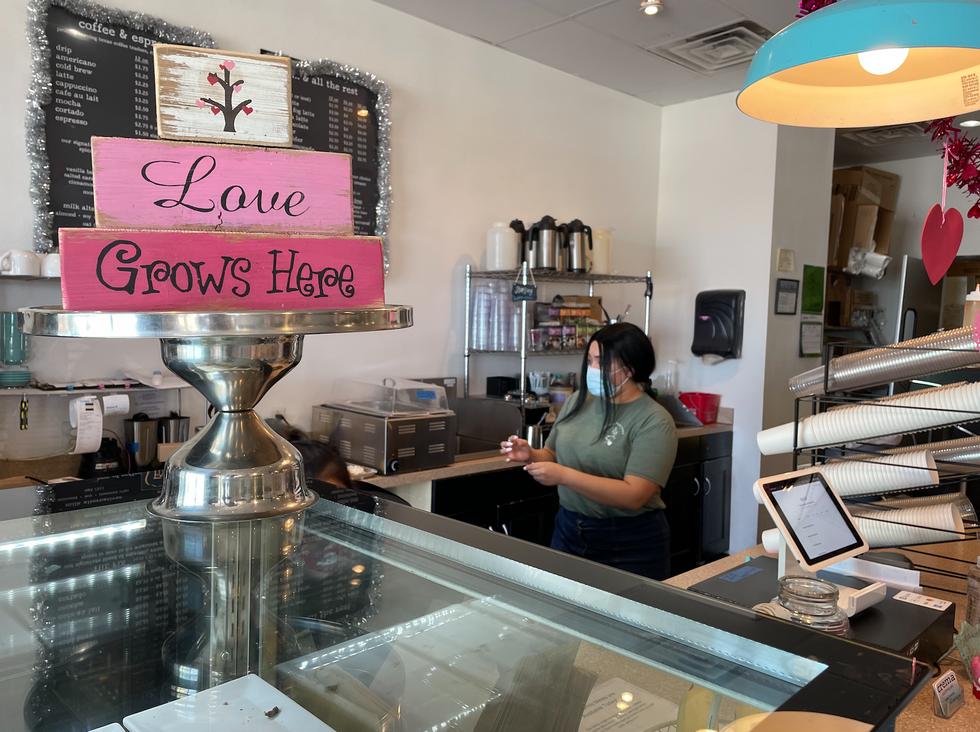 Crema Bakery in South Austin offers a variety of baked goods for takeout and curbside service. (Kristin Finan)
In addition to the free lunch program, the Tomberlins have done fundraisers for causes they are passionate about, such as LGBTQ rights and Black Lives Matter.
"We love being the liberal, hippie, queer-owned bakery. We love being able to embrace those old Austin ideals and give people an outlet for being able to help wherever they can," Jessica Tomberlin said. "We put our politics and our positions out there, which a lot of businesses don't do to be safe, but we also feel like if you can be an advocate for the causes that matter, you should."
With its challenges, the past year has also brought some surprise hits, including a family meal program early in the pandemic and, currently, hot cocoa bombs, which frequently sell out. Once the world begins to open back up, Jessica Tomberlin said, she looks forward to eating out, having some date nights and hopefully resuming a new brunch restaurant project at South First and William Cannon that was in the works before the pandemic.
No matter what happens, though, Jessica Tomberlin said she knows she, Janessa and Molly will be able to weather it together.
"I feel hopeful right now in a way that I haven't in months and months," Jessica Tomberlin said. "There's been a lot of love this year. There's been a lot of sadness, but there's been a lot of love."
More on local businesses: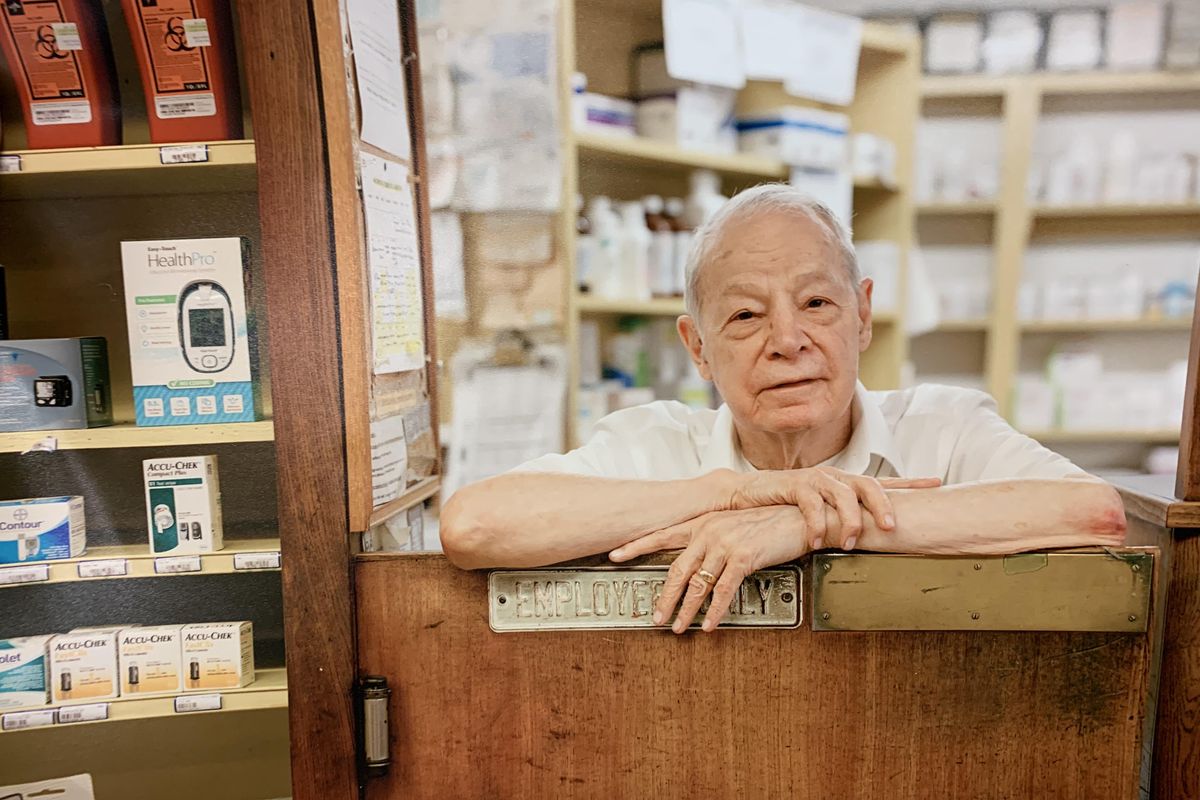 Lambert Labay, 81, is the owner of Nau's Enfield Drug, where he has worked as a pharmacist since 1963. He and his wife, Kathleen Labay, purchased the store in 1971. (Laura Labay)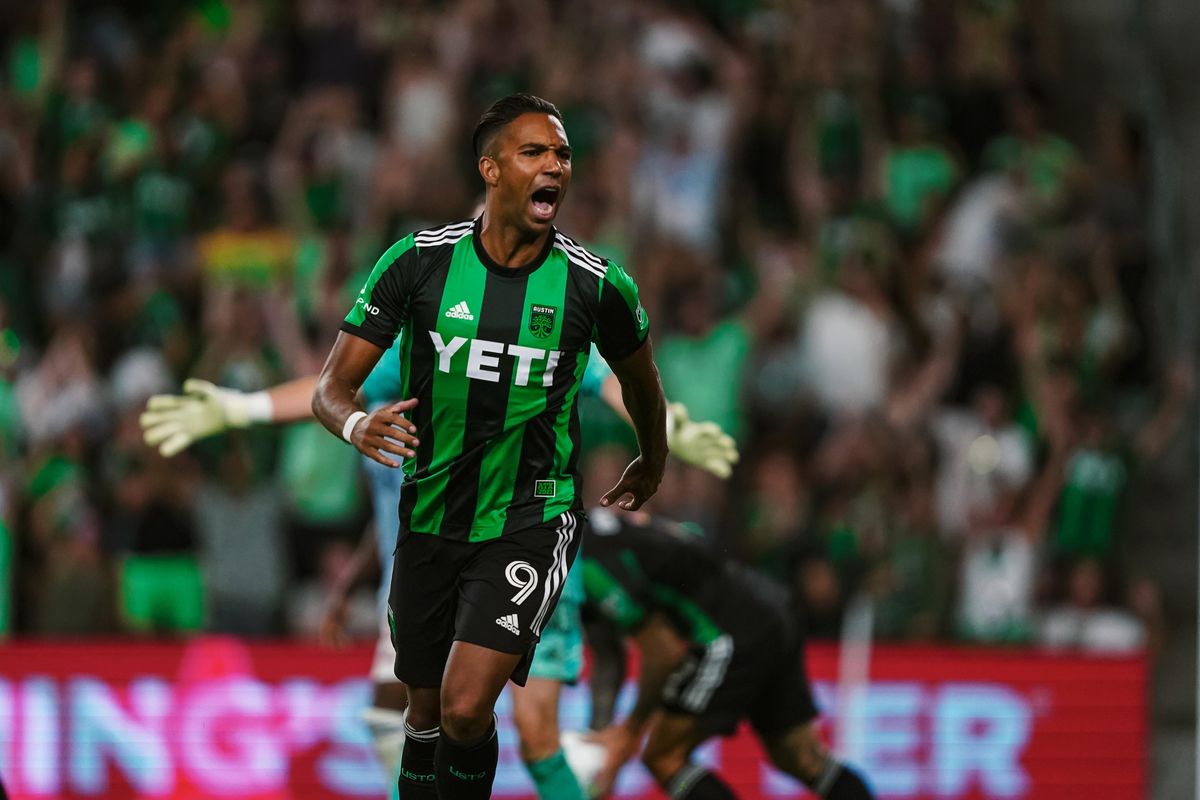 Despite a 2-0 deficit, there was a pot of gold for Austin FC after all as it celebrated its annual Pride Night with rainbows and a 2-2 comeback draw to FC Dallas Saturday night.
After three FC Dallas losses last season, the Dallas derby draw marks the first time Austin FC has tied against its Copa Texas rival. Austin continues to edge over FC Dallas as it sits at 3rd in the MLS West.
Here are the biggest takeaways from the match:
A somber start
¡Ya Basta! Enough! End Gun Violence. #uvaldestrong

📷 @arubiophotospic.twitter.com/3PiVdTPtik

— Los Verdes (@LosVerdesATX) June 26, 2022
Decked out in colorful hues for LBGTQ+ Pride, Verde fans started the match on a somber note as they held up banners to take a stand against gun violence before the match.
As the national anthem began, fans held up banners with the names of each child that was killed in the Uvalde school shooting and a plea to "end gun violence."
The supporters' section was also dotted with Pride flags and a "Bans off Our Bodies" banner in protest of the Supreme Court's decision to overturn Roe v. Wade.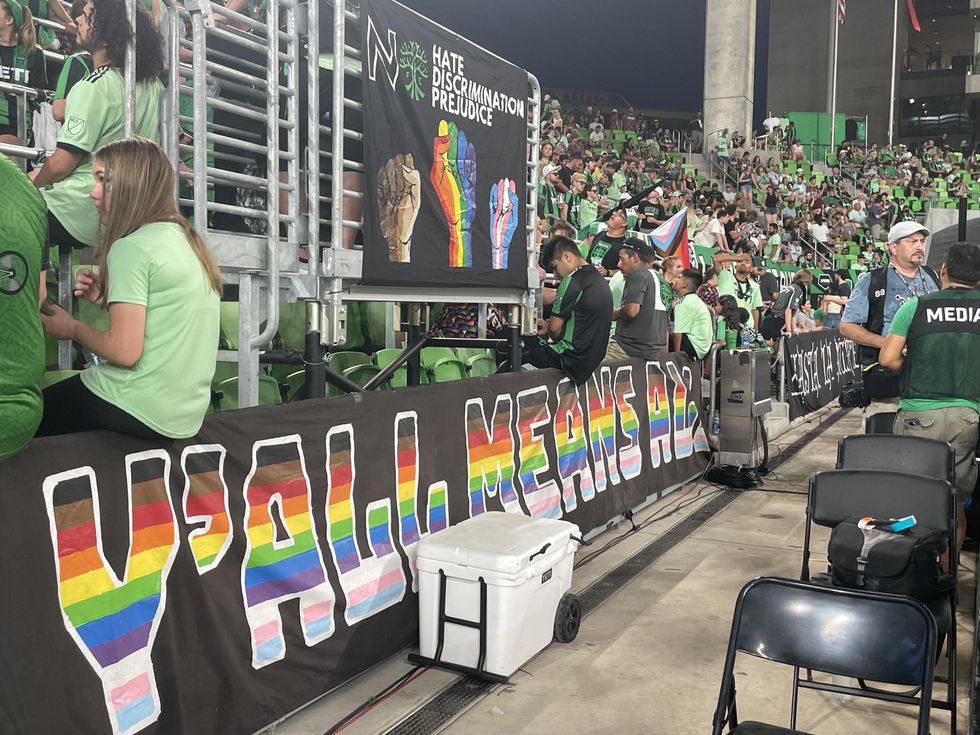 (Claire Partain/Austonia)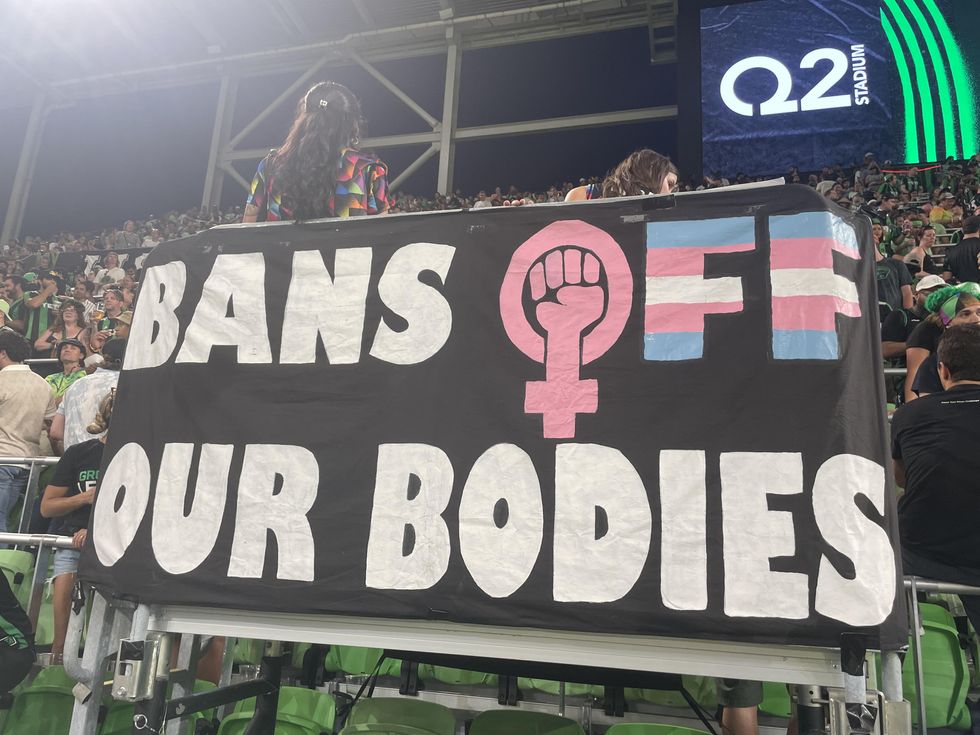 (Claire Partain/Austonia)
FC Dallas earns a 2-0 lead
Paul Arriola is there to put it away and put @FCDallas ahead! pic.twitter.com/Z4AMmM6lp3

— Major League Soccer (@MLS) June 26, 2022
That sober tone continued onto the pitch. With midfielder Daniel Pereira's absence due to a red card, the Verde and Black lost two goals to FC Dallas by the 70th minute of play.
FC Dallas played it sneaky for the first half of the match, giving Austin FC plenty of room to hold possession as it waited to strike on a Verde error. That mentality proved dangerous for Austin as Dallas' Paul Arriola took advantage of Brad Stuver's deflection to score the first goal of the night in the 57th minute of play.
Dallas struck once more as Brandon Servant pushed past the Verde line to score the second goal of the match.
Austin FC strikes back
Sebastián Driussi pulls one back!#AustinFC are still in this one. 👀 pic.twitter.com/Yoi0x768jb

— Major League Soccer (@MLS) June 26, 2022
But energy quickly returned to Austin's favor thanks to Designated Player Sebastian Driussi, who scooted past several FC Dallas defenders alongside Moussa Djitte to snag an unlikely first goal for Austin.
A full Verde comeback
Late drama in this Texas Derby!@AustinFC ties it up, Danny Hoesen with the diving header. 😱 pic.twitter.com/Jk2f4fIEXG

— Major League Soccer (@MLS) June 26, 2022
Austin's subs proved deadly as momentum returned to the home team toward the end of the match. A well-placed cross from Nick Lima—and a diving header from a fresh-legged Danny Hoesen—helped the team secure the draw with a second Verde goal in the 84th minute of play.
Hoesen, who was Austin's first starting striker last season, has now scored two goals with the team after a yearlong injury stuck him on the bench.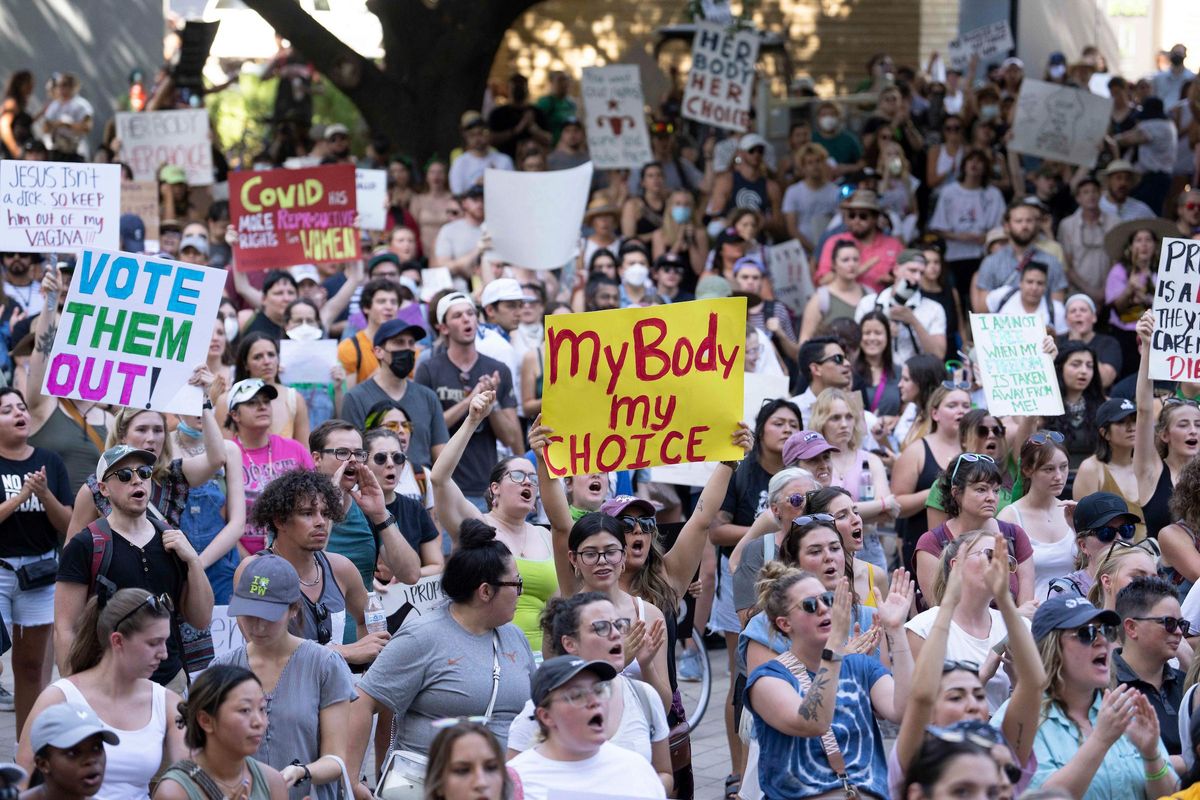 Hours following the U.S. Supreme Court's ruling to overturn Roe v. Wade, the landmark ruling that guaranteed a constitutional right to an abortion, on Friday, about 1,000 people gathered in Republic Square with signs calling for change.
The rally, organized by the group Rise Up 4 Abortion Rights Texas, started at the federal courthouse on Republic Square on Friday at 5 p.m. before the crowd marched to the Texas Capitol. More protests are expected to ensue over the weekend.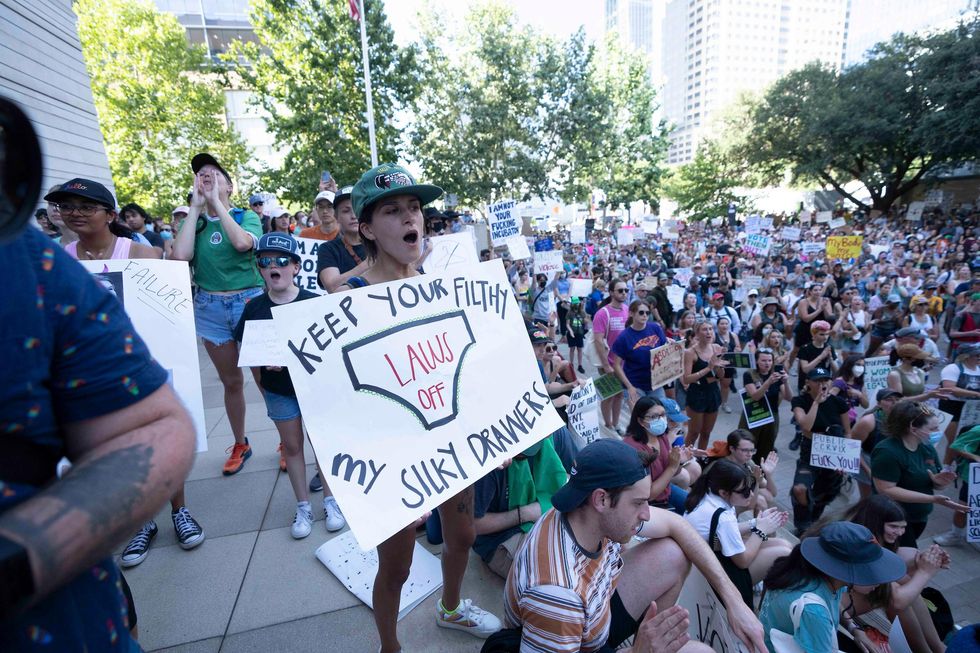 People showed up with all types of signs like Mindy Moffa holding up, "Keep your filthy laws off my silky drawers."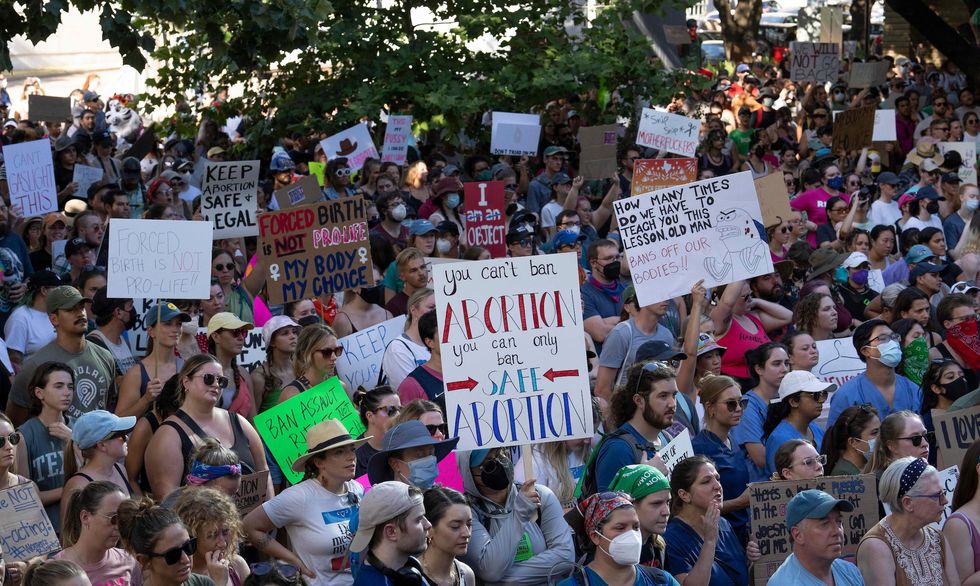 Austin joined cities across the country that saw protests for a women's right to an abortion after the ruling.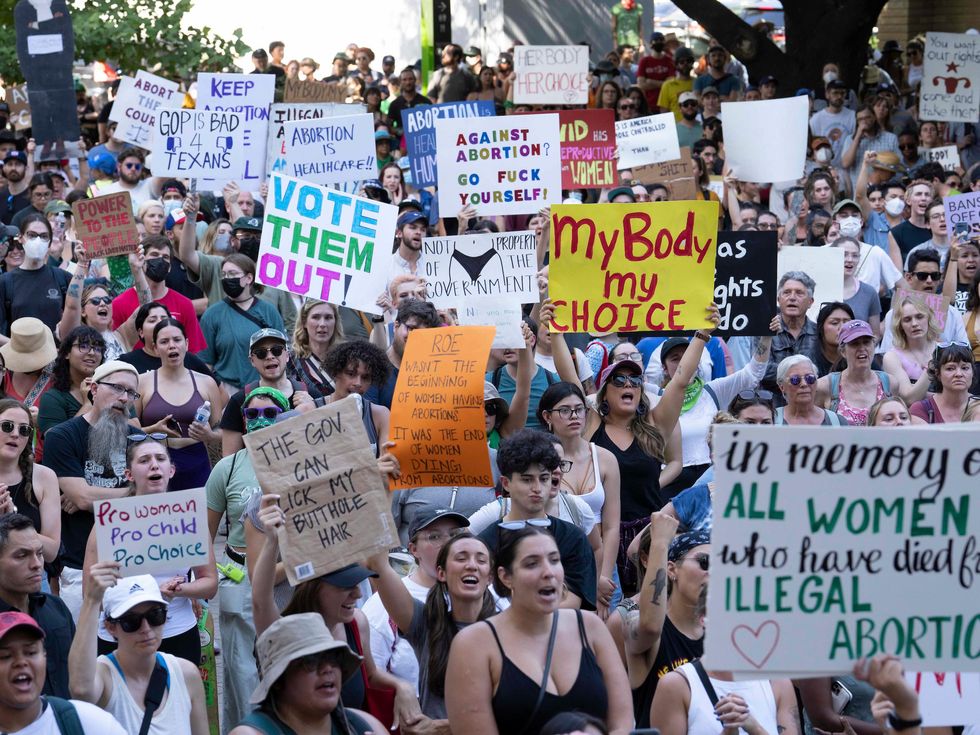 According to a recent UT poll, 78% of Texas voters support abortion access in most cases.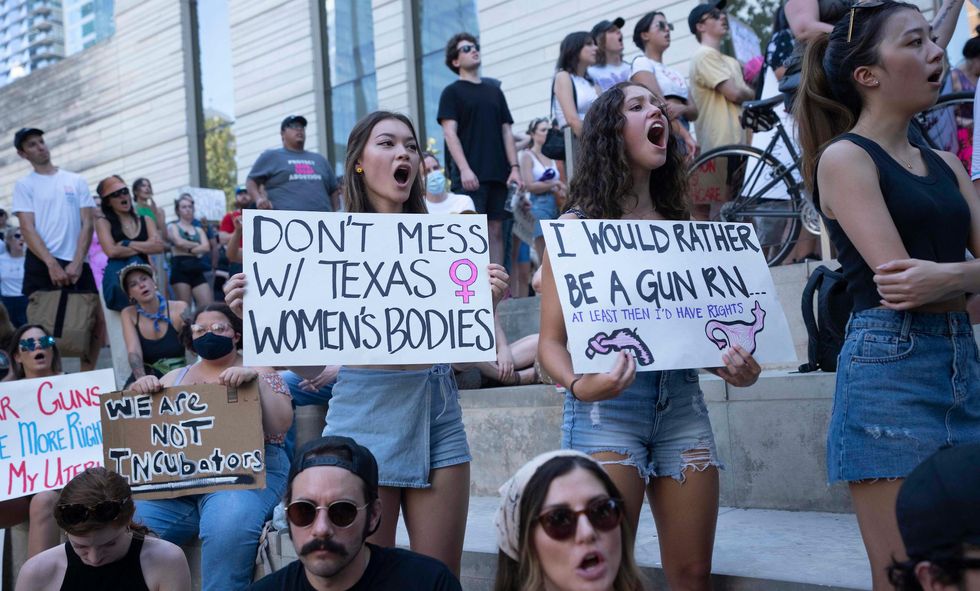 Sabrina Talghade and Sofia Pellegrini held up signs directed at Texas laws. A Texas trigger law will ban all abortions from the moment of fertilization, starting 30 days after the ruling. When state legislators passed the trigger law last summer, it also passed laws for more protection of firearms, including the right to open carry without a permit.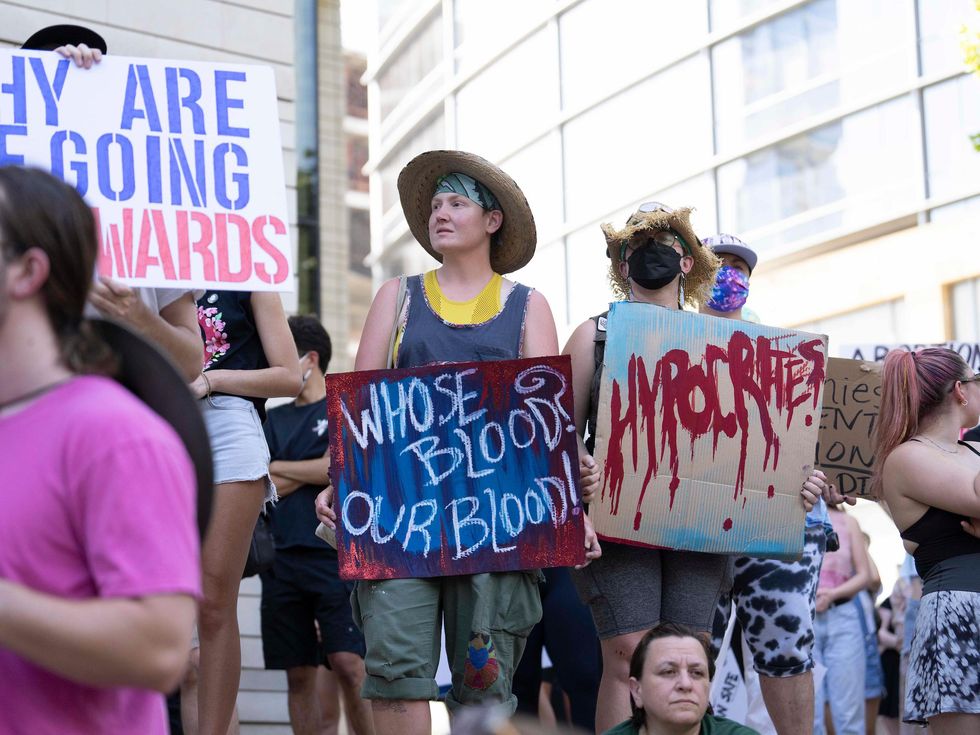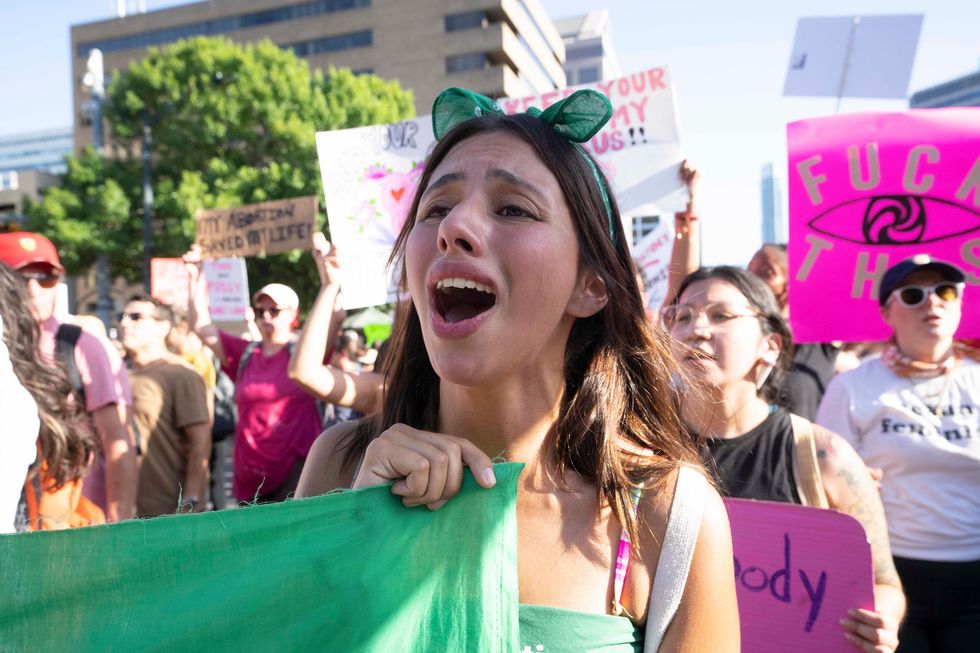 Lili Enthal of Austin yells as around 1,000 Texans marched to the Texas Capitol.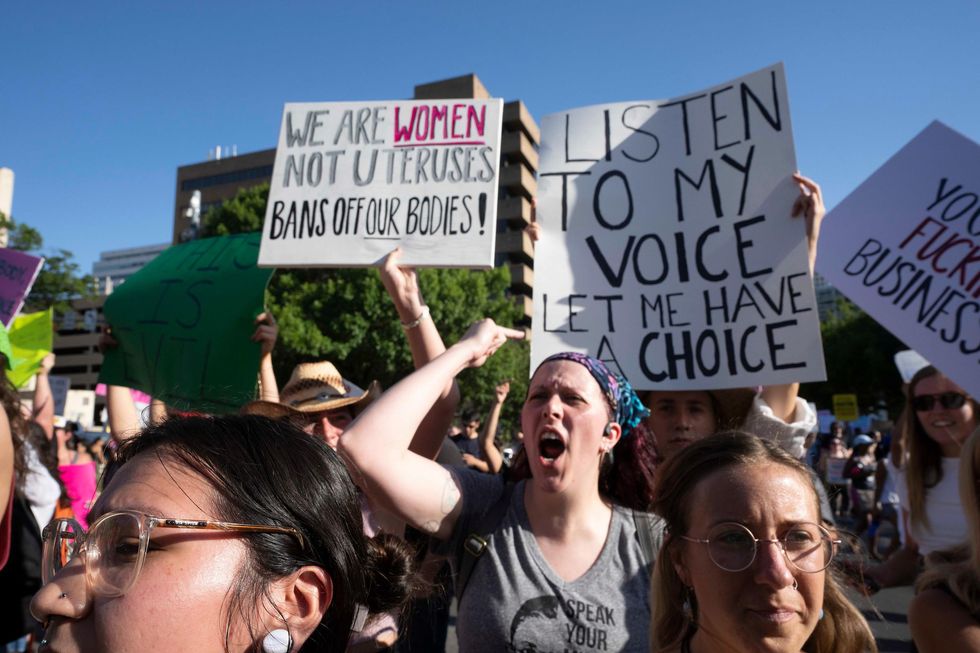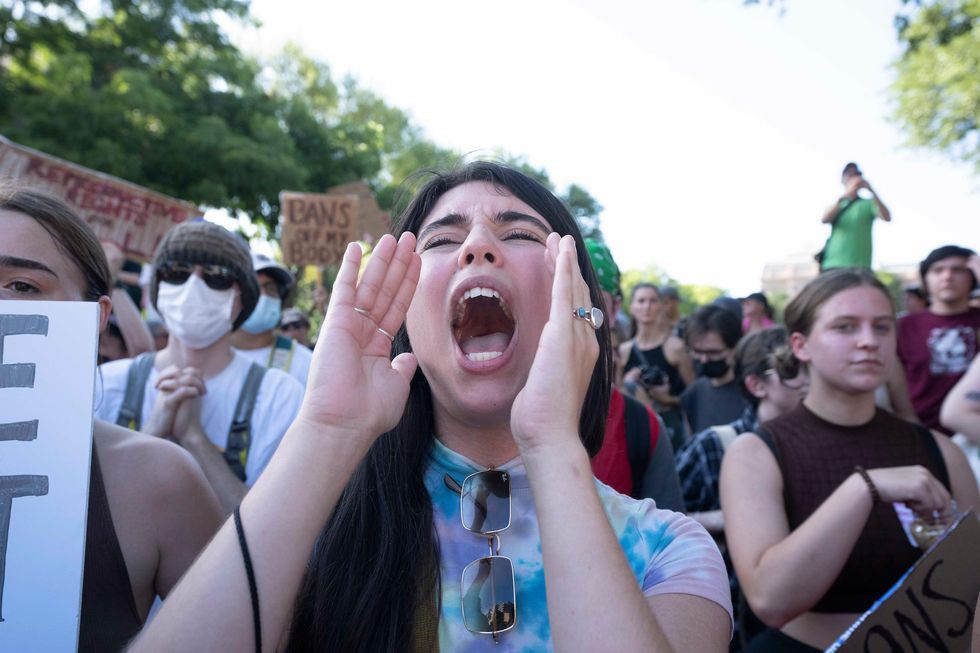 From the Texas Capitol, Zoe Webb lets her voice be heard against the Supreme Court ruling.