Get connected with our daily update
Publisher's note: Austonia has donated $100 to Crema's community sack lunch program, via their @cremabakerycafe Venmo. Feel free to join us in support of this community service.
Colorful paper hearts adorn the walls and meticulously decorated cookies proclaim adorable phrases like "Love you a latte."
At Crema Bakery and Café on Brodie Lane in South Austin, Valentine's Day is more than just the sweet shop's biggest holiday of the year. It's also a tribute to the love that co-owners Jessica and Janessa Tomberlin share for each other.
---
"We're really blessed in a lot of ways, but none of it would be happening if we didn't have each other," said Jessica Tomberlin. "I feel like our feelings for each other are reflected in our business and our product and our relationships with other people, too. A lot of partners are good cop, bad cop. We're not like that. We're just two halves of a whole."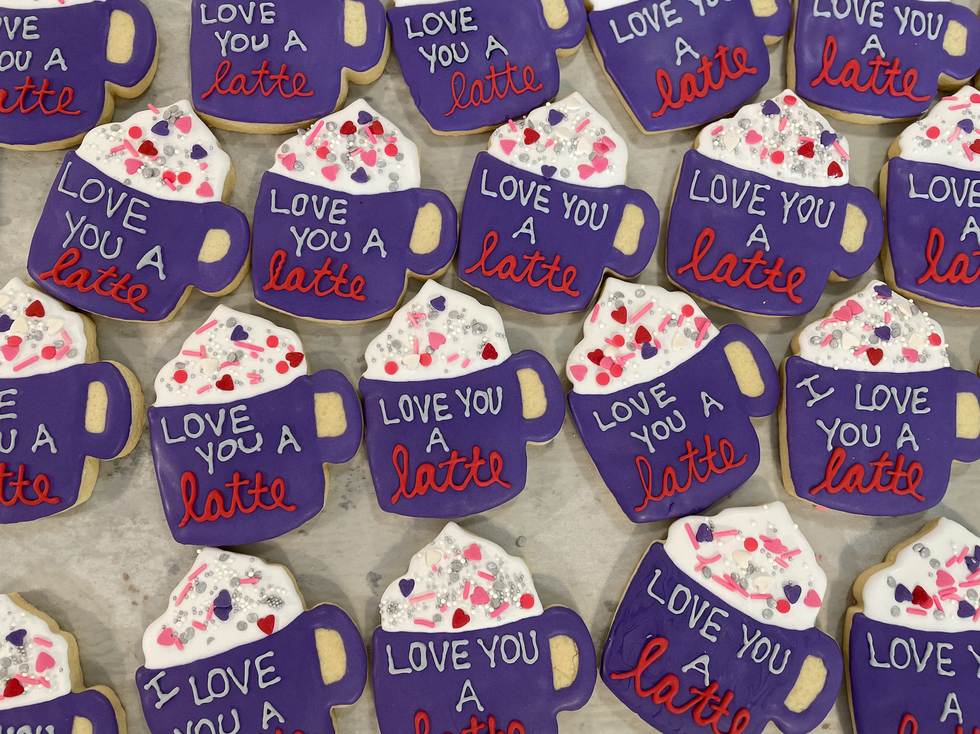 Valentine's-themed cookies are among the offerings at Crema Bakery in South Austin. (Kristin Finan)
The pandemic has brought unprecedented challenges to local restaurants, and Crema is no exception; the Tomberlins credit loyal friends and customers with keeping the bakery's doors open. As a result, the Tomberlins have been able to support the local community through free sack lunches, which they make available to anyone who calls in to request one—no questions asked. Since March 2020, they've distributed more than 1,500 free lunches.
"We just saw a need," said Janessa Tomberlin. "It was just incredible the number of people that were like, 'I'm hungry.' Nobody should have to wonder where their next meal is coming from in this country of all places. We felt like it was the very least we could do to help our community and be a place for people to have a little bit of food security."
Jessica, 42, and Janessa, 37, met when Jessica opened Crema in 2013 and hired Janessa, who had a background in the corporate coffee world. The two quickly became friends and eventually began dating. In October 2017, they tied the knot at Tiny T Ranch in Garfield, on the outskirts of Austin. They didn't have a cake but instead opted for hand pies, which they made themselves. Jessica Tomberlin said the bakery relishes being part of all types of special occasions.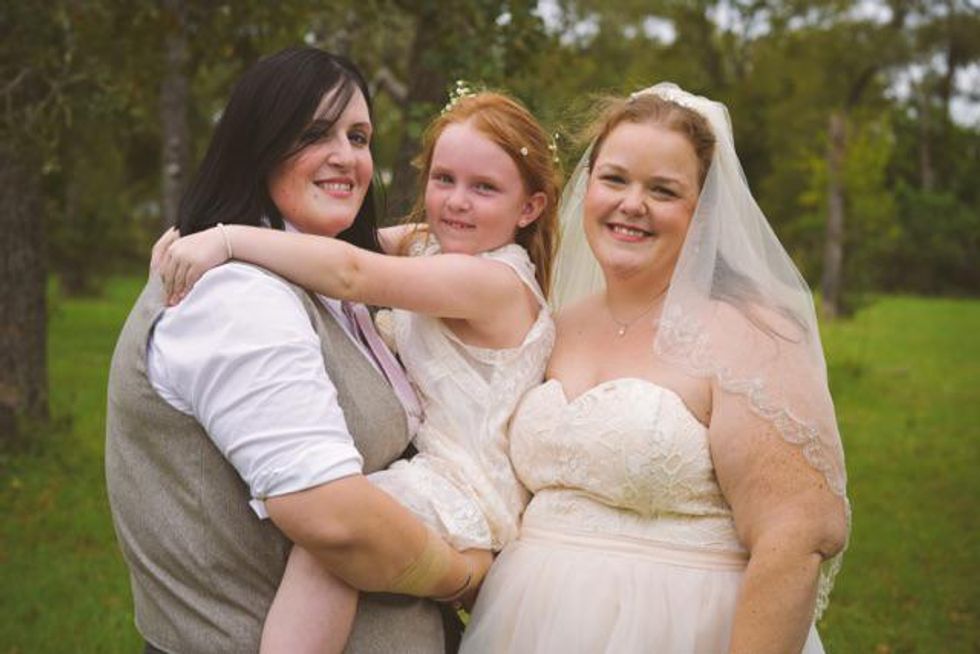 Janessa and Jessica Tomberlin and daughter, Molly. (Seduit Photography)
"We love that we can make somebody's engagement party cake and then do their wedding cake and then a baby shower and then a kid's first birthday," she said. "We love being part of people's lives and part of their families."
As business partners, Janessa runs the front of house, interacting with customers, while Jessica deals more with the product side, although, "being a small business, nothing is ever that simple," Jessica Tomberlin said.
"We teach our baristas how to decorate cupcakes because you never know who is going to need to do what," Jessica Tomberlin said. "That's the essence of a family-owned business–everybody does it for the good of the whole and doesn't really focus on themselves. That's the way Janessa and I have always been, too."
Jessica Tomberlin said 2020 brought challenges the small bakery, which is currently open for takeout and curbside, could never have ever anticipated.
"Any time you have a small business you're always on the edge of everything falling apart, so we've faced a lot of that, but in the last year it's just been a despair that I've never felt before in my life, just not knowing what's going to happen," Jessica Tomberlin said. "Every time I get down where I think I can't get any lower, Janessa picks me up. That's probably the thing I've come to appreciate the most is just that we complemented each other in that way. When one of us can't go on, the other one finds the strength to do it for both of us."
Janessa Tomberlin said Jessica "is like my backbone when I don't have one."
The two have also needed to stay strong for their daughter, Molly, 10, who they call the "littlest cremling" and who, despite not having any social media accounts, has a big following through Crema's social media.
"All these people recognize her, so every time she's up here people like, 'Hey, Molly!'" Jessica Tomberlin said. "She likes to run curbside because people always tip her."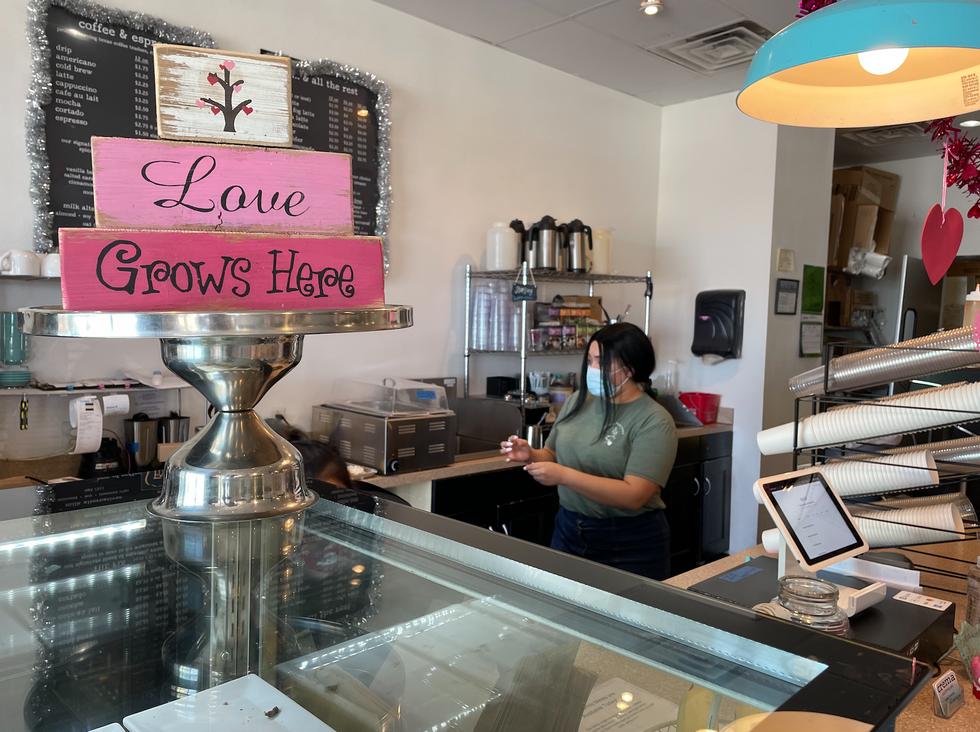 Crema Bakery in South Austin offers a variety of baked goods for takeout and curbside service. (Kristin Finan)
In addition to the free lunch program, the Tomberlins have done fundraisers for causes they are passionate about, such as LGBTQ rights and Black Lives Matter.
"We love being the liberal, hippie, queer-owned bakery. We love being able to embrace those old Austin ideals and give people an outlet for being able to help wherever they can," Jessica Tomberlin said. "We put our politics and our positions out there, which a lot of businesses don't do to be safe, but we also feel like if you can be an advocate for the causes that matter, you should."
With its challenges, the past year has also brought some surprise hits, including a family meal program early in the pandemic and, currently, hot cocoa bombs, which frequently sell out. Once the world begins to open back up, Jessica Tomberlin said, she looks forward to eating out, having some date nights and hopefully resuming a new brunch restaurant project at South First and William Cannon that was in the works before the pandemic.
No matter what happens, though, Jessica Tomberlin said she knows she, Janessa and Molly will be able to weather it together.
"I feel hopeful right now in a way that I haven't in months and months," Jessica Tomberlin said. "There's been a lot of love this year. There's been a lot of sadness, but there's been a lot of love."
More on local businesses: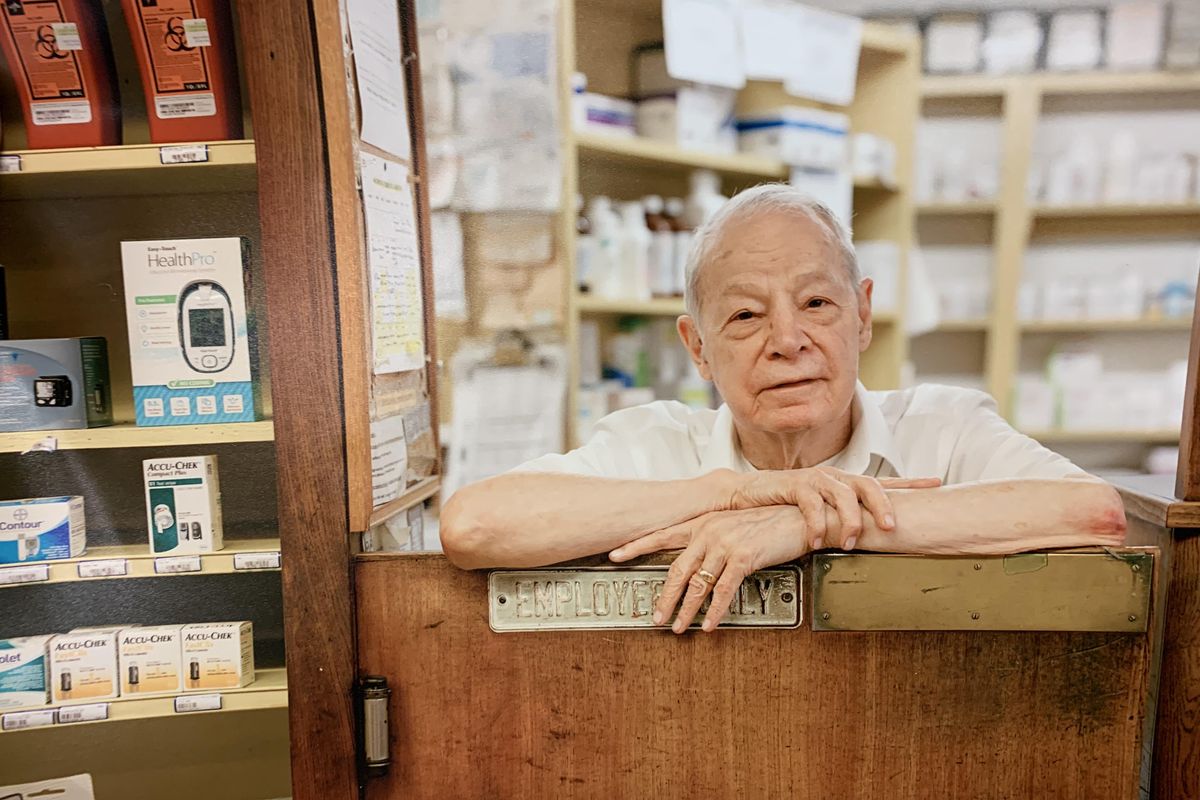 Lambert Labay, 81, is the owner of Nau's Enfield Drug, where he has worked as a pharmacist since 1963. He and his wife, Kathleen Labay, purchased the store in 1971. (Laura Labay)
Officials are asking certain residents in Bastrop State Park to evacuate as crews work to put out a "very active fire" that is currently 0% contained.
The Texas A&M Forest Service has responded to help local fire departments with the Rolling Pines Fire at 100 Park Road 1A, which is consuming 300 acres. Residents of Pine Hill Drive, Pine Tree Loop, Linda Lane and Lisa Lane are being asked to evacuate.
Aviation resources have been called to assist.

According to the Bastrop County Office of Emergency Management, the wildfire sparked during a prescribed burn that took place today, despite wildfire warnings. Park Road 1C from Harmon Road to Park Road 1A had been closed for the prescribed burn.
The blaze is in the same location as the Bastrop Complex Fire of 2011, which burned for 55 days, killing two people, destroying 34,000 acres and around 1,700 homes and buildings. The fire, which started in 2011, became the most destructive wildfire in Texas at the time.
A hotbed for fires, the Hidden Pines Fire started at the same location in 2015, destroying 4,600 acres and 64 structures.
Some road closures have been put in place at State Highway 21 South Shore Lake Bastrop and East State Highway 21.
This is a developing story and will be updated as information becomes available.
After months of record-setting periods for Austin real estate, the Austin Board of Realtors announced Tuesday that the metro's housing market accounted for over $23 billion of economic activity in 2021, making it the biggest year yet for both home sales and median home prices in the metro.
The Austin-Round Rock MSA saw 41,316 homes sold in 2021, 2.5% more than a record-setting 2020. Median home prices skyrocketed as well, rising 30.8% from 2020 to $450,000. The housing market also saw unprecedented impact on Austin's economy, with sales dollar volume jumping to over $23.38 billion, and more homes hit the market in 2021 than any previous year, increasing by 5.9% to 46,449 total homes listed.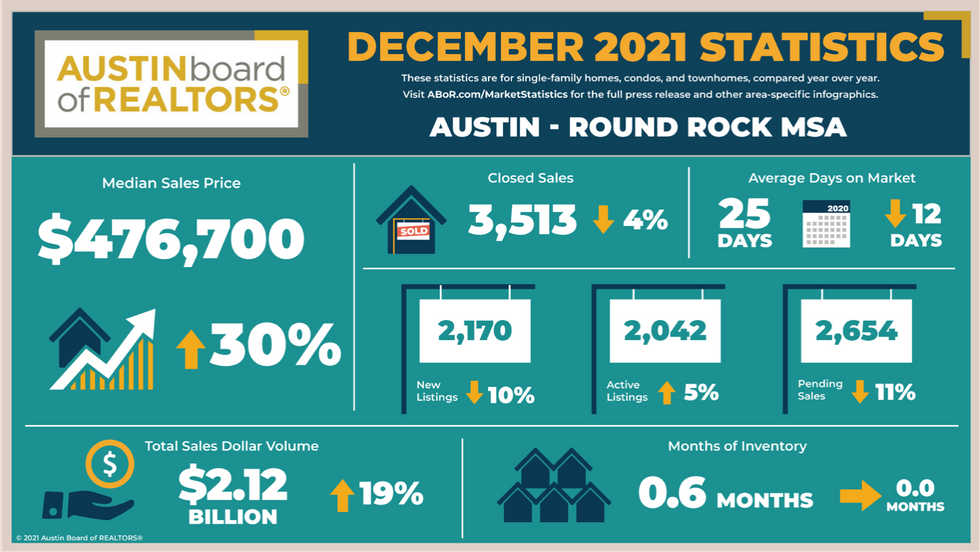 (Austin Board of Realtors)
As many recent Austin homebuyers have experienced firsthand, Austin Board of Realtors 2022 President Cord Shiflet said 2021 was the most "exciting, complicated, fast-paced and record-setting housing market" in Austin's history.
Shiflet dubbed the market as "complicated" for a reason—Austin became a case study on supply and demand in 2021, with demand far outpacing the number of active listings, which dropped by 48.2% to 2,348 homes in 2021.
The metro ended the year with 0.6 months of inventory, a far cry from a "healthy" six-month supply, and houses were snatched at breakneck speeds, spending 25 fewer days on the market when compared to 2020. The average home was on the market for 20 days.
But low inventory is more due to high demand than a stagnant homebuilding market, Mark Sprague, Independence Title's state director of information capital, said in the report.
"In 2021, the record number of homes sold were demand-driven transactions and that demand was influenced greatly by companies continuing to target the region for job creation and expansion," Sprague said. "Even though more homes are being built, listed and sold than ever before, our region is still nowhere close to having a comfortable amount of supply to meet the demand, which is why home prices continue to rise steadily."
Over 23,000 jobs have been promised by companies across the metro as of December 2021, breaking the 2020 record, according to Opportunity Austin, the economic development arm of the Greater Austin Chamber of Commerce. With an influx of major factories and offices, including Tesla's Giga Texas, Samsung's Taylor plant and a planned 33-floor Facebook office, Sprague said the region's booming market paired with a struggling inventory and supply chain issues could be a double-edged sword in 2022.
"In short, 2022 will see a robust market for home sales and property values, but the region must do more to address inventory, " Sprague said.
Shiflet recommended that potential homebuyers make a decision ahead of predicted increases in interest rates and home prices and said that he hopes local politicians will continue to prioritize affordable housing in the election year.
Still, Shiflet said a record-breaking housing market reflects Austin's growing reputation as a hub for talent, tech jobs and a good quality of life.
"With all the new jobs across the region from exciting companies like Tesla and Samsung, Austin was put on the world's stage and captured the hearts and attention of so many," Shiflet said. "We are lucky to call Austin our home when it has so much to offer from a great quality of life to a wonderful destination for innovation and opportunity."