Get connected with our daily update
After two back-to-back homicides early Sunday morning, Austin reached a 60-year high of 60 homicides this year.
The number is the highest the Austin Police Department has recorded in its 60 years of record-keeping and surpasses the murders in 2020 by 25%, when the city saw 48 slayings.
The numbers came quick early Sunday morning, when police officers responded to a call at the El Nocturno Night Club on 7601 N. Lamar Blvd after reports of gunfire. A man was found with several gunshot wounds at the scene and was later pronounced dead.
Less than 10 minutes later, officers responded to a reported stabbing downtown. When they arrived at the scene, they found an injured man who later died. No more information has come from either report.
According to the Austin-American Statesman's Tony Plohetski, the homicide rate when using 2020 census data is 6.2 per 100,000 residents, up from a previous high of around 5.0 in 2020.
Austin Interim Police Chief Joseph Chacon said the city's "boomtown" growth is now being met with "boomtown" problems.
"This is about us truly becoming a big city," Chacon said. "We are starting to experience big city problems. Having said that, I still think that among the big cities, that we remain one of the safest in the country."
Rising crime in Austin has been part of contentious political debates, including a controversial proposition from Save Austin Now to increase police staffing and statements from Gov. Greg Abbott.
Some politicians have pointed to Austin's police budget cuts following the George Floyd and Michael Ramos protests in the summer of 2020 as the culprit for the city's rise in crime. Lt. Governor Dan Patrick said the city is "now one of the most dangerous cities in America and definitely in Texas."
But some, like Chacon, say this is more indicative of a nationwide uptick in violent crime in recent years. According to the most recent FBI crime data, Austins violent crime rate sat at 400 incidents per 100,000 residents, or 28th out of the nation's 30 largest cities, in 2019. The city's murder rate for 2019 sat at 3.2 murders per 100,000 residents in 2019, putting Austin in the middle at 15th among Texas' 25 largest cities.
Still, Chacon worries that murders will only rise as the year's final four months come to a close, and the department responded in May by introducing a Violence Intervention Program aimed at preventing gun violence.
"As we go through criminal justice reform, we cannot forget why we have a police department, which is to keep the public safe," Chacon said. "So, we are looking at public safety through that lens, as well."
Have you seen San Jac Saloon's doors? Because co-owner Pedram Amini is offering a $500 reward to whoever can bring his missing custom-made treasure back.
It's the wild, wild west for the 300 East 6th St. bar, where Amini checked in over last weekend, in preparation for the first Longhorn football game, only to be told by his employees that the doors had been lifted a few weeks prior.

Desperate to get them back, Amini said he used his photoshop skills to design a flyer that he plans to post all-around 6th Street.
"It kind of feels like a personal hit to have this taken from us, you know, it's not a small item," Amini told Austonia. "I figure someone's got it and either they'll just come hand-in-hat and give it back or someone knows who took it and they'll take me up on the $500 offer."

There are two sets of saloon doors at the bar: a functional version on the interior and a decorative set that is put out during business hours to adorn the outside. The decorative set was stolen because they were likely left out one night Amini said.
Made by artist and friend Owen Trogden, who has created a number of pieces for the five-year-old bar, the doors hold a special meaning to Amini. He says he isn't looking for trouble, he just wants to be reunited with the pieces.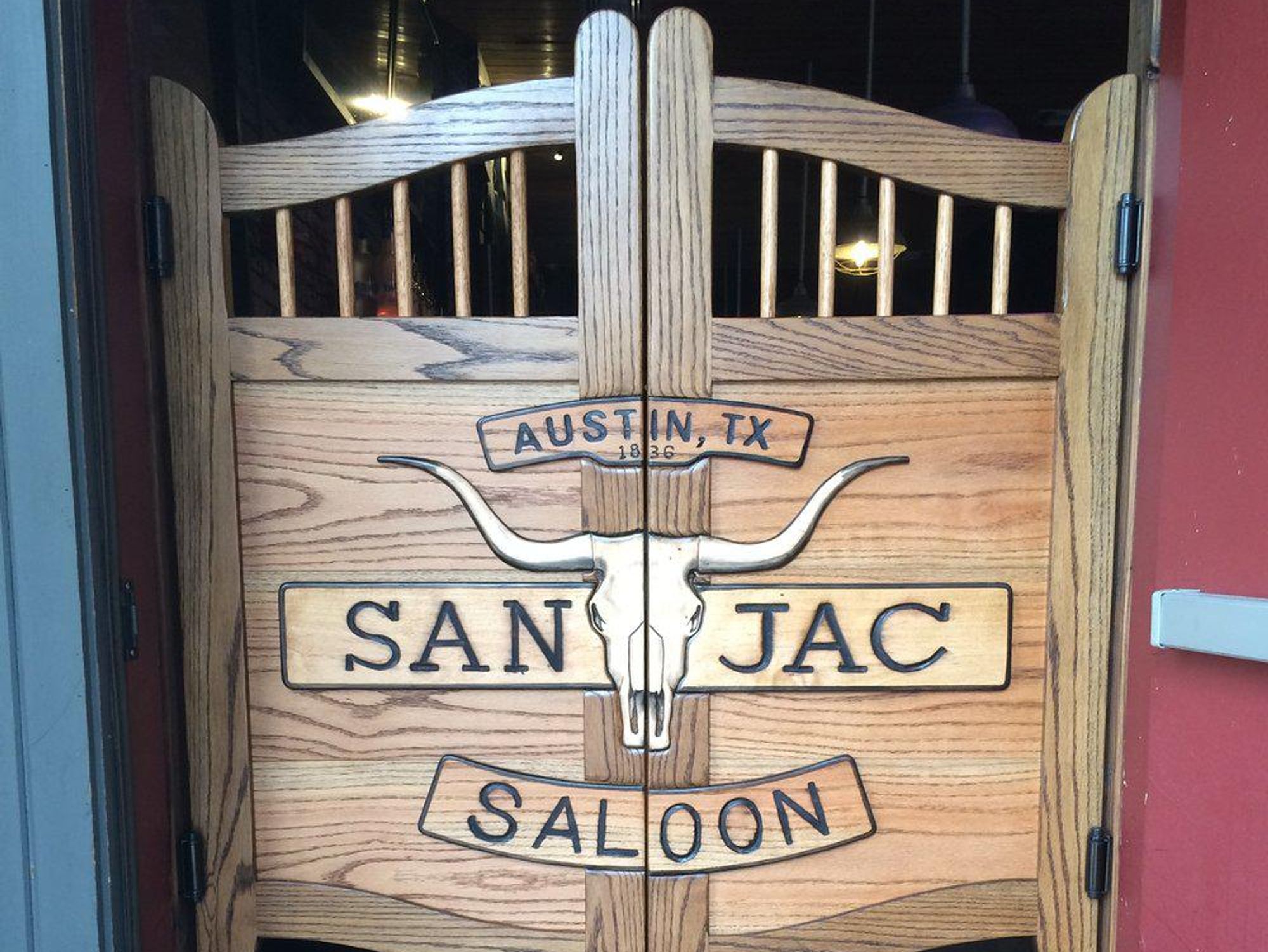 Trogden is a "classic cowboy," according to Amini. (Bunkhouse Art and Design)
The bar doesn't have any leads on who might have taken the doors, which Amini said are solid wood and easily weigh 25 pounds.
"To us, they're valuable but to anybody else, they're totally useless," Amini said. "One theory is that someone was just drunk, having a good time, they wanted to take a souvenir. I'm not looking to harm the person who stole these things—if I can get them back, that's great."
In fact, Amini hasn't gone to the police yet because he is hoping that a good samaritan will return them. Amini said he isn't ruling legal enforcement out but he is cautiously optimistic that the doors will make their way home.
"I know that (police) have got bigger fish to fry. It's just not really something that's going to be on their radar, nor should it be, they've got bigger priorities than my saloon doors," Amini said. "Worst case scenario, this will be more business for my buddy Owen. Maybe we'll improve on the design but in an optimal world, we'll get them back and it'll be a really fun story."
If you have any information about San Jac Saloon's missing doors, you can send them a message at bounty@sanjacsaloon.com.
At a signing for Texas' newest voting laws Tuesday, Gov. Greg Abbott offered an ambitious—and perplexing—statement: in response to concerns that the state's newest abortion law would ban rape and incest victims from having access to abortions past six weeks, Abbott said he and the state would work to "eliminate rape."
"Let's make one thing clear: rape is a crime, and Texas will work tirelessly to make sure that we eliminate all rapists from the streets of Texas by aggressively arresting them and prosecuting them," Abbott said.
Reporter: Why force a rape or incest victim to carry a pregnancy to term?

Gov. Greg Abbott (R-TX): "It doesn't require that at all, because obviously it provides at least 6 weeks for a person to be able to get an abortion." pic.twitter.com/Mbx5JVHG1D
— The Recount (@therecount) September 7, 2021
The statement has drawn ire from many state and national politicians, including the Biden administration. White House Press Secretary Jen Psaki criticized Abbott's confidence in eliminating rapes in a press conference on Wednesday afternoon.
Jen Psaki just did this to Greg Abbott for claiming that he is going to eliminate all rapists, "There has never in the history of the country in the world, been any leader who's ever been able to eliminate rape, eliminate rapists from our streets." pic.twitter.com/XT8SI7qNgM
— Sarah Reese Jones (@PoliticusSarah) September 8, 2021
"There has never in the history of the country in the world, been any leader who's ever been able to eliminate rape, eliminate rapists from our streets," Psaki said.
National and local politicians, including U.S. Rep. Alexandria Ocasia-Cortez and Austin Mayor Steve Adler, took to national news outlets to express their disapproval of the governor's comments.
Ocasia-Cortez said on CNN's "Anderson Cooper 360°" Tuesday that the statement is illogical and unrealistic to both rape and incest victims and women who may often experience periods that are two weeks late.
"I find Gov. Abbott's comments disgusting," Ocasio-Cortez said on the talk show. "The majority of people who are raped are assaulted by someone that they know," Ocasio-Cortez said. "These aren't just predators that are walking around the streets at night."
Sad that in 2021 I have to explain to a GOP Governor that:

1. "6 weeks pregnant" = 2 weeks late for your period
2. Periods are late all the time from stress, diet,etc
3. Most people know their rapists

but GOP want to have more control over your body than you do, so here we are. https://t.co/IVCGHvkp6q
— Alexandria Ocasio-Cortez (@AOC) September 8, 2021
The bill also puts the power of enforcement in the hands of the people. Those who sue a clinic provider or someone who helps a woman obtain an illegal abortion could be awarded $10,000 or more in court.
Adler, who also took to MSNBC's "The Reid Out" on Tuesday night, criticized both the law's rape policies and its allowance of "private vigilantes."
"Watching the governor today talk about how his answer to eliminate rape is outrageous... it is just getting more and more surreal down here in Texas, almost by the minute," Adler said. "Already, we have women fleeing the state."
Other Texas politicians were critical of Abbott's rape elimination plan, including State Rep. Gene Wu (D-Houston).
I'm 98% sure that Governor Abbott's RAPE elimination plan will consist of:

1 - DON'T GET RAPED
2 -
— Gene Wu (@GeneforTexas) September 8, 2021
Some defended Abbott's remarks, however, including Texas Republican Party Vice Chair Cat Parks, who said any governor should work to end rape in their state.
But the move could prove fatal for Abbott's plans for reelection in 2022 and could even curb Texas' rapid growth. According to a Texas Politics Project poll in August 2021, 50% of surveyed voters disapprove of Abbott's actions and 41% approve, his lowest-ever in office. According to the poll, 52% of Texans say the state is moving in the wrong direction, the lowest since the poll's inception in 2008.
The low ratings come as other controversial bills including permitless carry, voting reform and banning of "critical race theory" in Texas schools continue to divide residents. Some, including Democratic Lieutenant Governor candidate Joe Jaworski, say this could be the nail in the coffin for Abbott.
Texas Gov Greg Abbott signed #SB1; a great mistake which he'll come to regret. His #votersuppression, along with disallowing reproductive care for rape & incest victims, is so against the interests & sentiments of most Texans. #TXGOP: prepare to meet your fate at the polls.
— Joe Jaworski (@JaworskiForTX) September 7, 2021
Austin's homicide count jumped up to 55 for the year, with three homicides under investigation from this week alone, putting 2021 as the highest year for murder cases in almost 40 years.
After an already record-breaking year of homicides in 2020—48 cases total—this year's murder count so far is only topped if you go back to 1985, which had 52 homicides for the whole year.
The Austin Police Department most recently responded to a shooting on Saturday afternoon at the 12000 block of the Interstate 35 northbound service road. The victim, a woman who was not identified, had already suffered what appeared to be a gunshot wound when they arrived and was pronounced dead on scene according to officer Matthew Bullock.

APD officers are currently investigating a homicide in the 12000 Block of S IH 35 SVRD SB. Media please stage at Walnut Park Crossing and Park Thirty Five Circle. PIO is en route. - PIO8
— Austin Police Department (@Austin_Police) September 4, 2021
Police are currently working leads and believe it could have been a result of road rage, though there is no other information. Police believe it was an isolated incident with no danger to the public but there is no suspect in custody as of yet.

APD responded to two unrelated shootings on Wednesday, for a total of three homicides this week.
The first occurred on the 2100 block of Burton Drive around midnight—officers responded to find a 34-year-old Terry Ray Fisher with gunshot wounds and injuries from being run over by a car, police said in a statement. Fisher was pronounced deceased despite life-saving measures.
The second shooting occurred an hour later on East Riverside Drive and South Pleasant Valley Road, where a 67-year-old man was found dead in a tent. Police did not release any other details.
Editors note: The headline for this story was changed on Sept. 5 at noon to reflect the story accurately.