Get connected with our daily update
Akins Early College High School, 10701 S. 1st St., was on lockdown Wednesday morning as district police investigated a report of an "armed subject." The three students, which a witness said they saw with a weapon, have since been identified and located.
The lockdown took place just after 10 a.m., when someone reported three students in the restroom with a possible handgun. The three were then identified and located in different classrooms. One of the students had two magazines, one with ammunition. A weapon was not located by police.
The district deescalated the lockdown to a hold at 12:25 p.m., which meant students could go to the restroom and be picked up if parents chose to do so. No shots were fired and all students and staff were safe throughout the whole lockdown, according to police.
The three students will not be returning to school tomorrow. Austin ISD police said the students' punishment with the school or charges have not been identified since the investigation is in the early stages. Additional officers will be on campus this week to investigate.
"We take these events seriously and we prepare so that at the end of the day, everyone can go home safe," Austin ISD Police Chief Ashley Gonzalez said.
The Taylor Police Department is investigating an apparent murder-suicide that left four people dead on Tuesday.
Officers responded to a call at around 1 p.m. for a welfare check at 616 Symes St. in Taylor, Texas, where the Taylor Fire Department helped force entry into the home since it was locked, police said. Once inside, officers found four dead bodies: 57-year-old Anthony Davis, 45-year-old Araceli Lopez Davis, 20-year-old Cynthia Abundiz and 18-year-old Pedro Navarro.
Police believe the deaths to be a murder-suicide with Anthony Davis shooting the other three victims before himself. TPD is investigating with the help of the Williamson County Sheriff's Office and the Texas Rangers.
Later that day, another murder was reported in Taylor, which police say is unrelated.
Police responded to a shooting at 2100 Whistling Way around 4 p.m. Tuesday. They said a family member found 33-year-old Jonathan Hitch with a gunshot wound to his head. It is being investigated as a suspicious death.
For women who feel threatened while they're out, an app that lets users easily call for help is now available in Austin.
Launching in the capital city on Tuesday, SafeUP, works by training users over the age of 18 who are known as "guardians" on how to respond in times of crisis. Those who are placing a call for help are connected to guardians less than half a mile away who, depending on the situation, can chat on the phone or physically go to the user and escort them.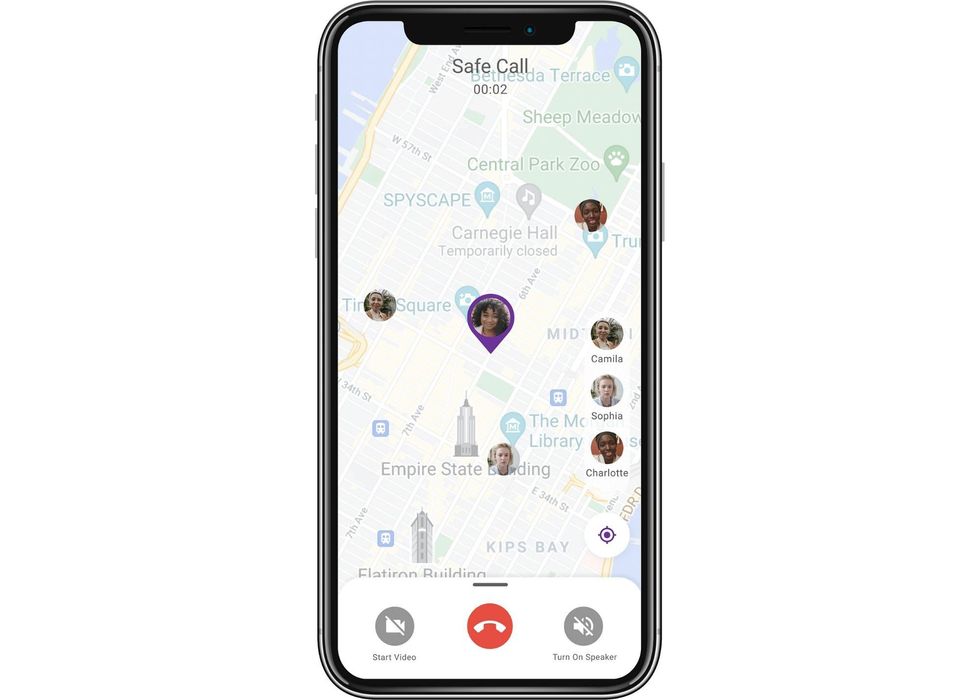 SafeUP allows women to contact others who can help them when in danger. (SafeUP)
First launched in Israel, the app was co-founded by Neta Schreiber, who became interested in safety tools after her friend went missing at a house party about a decade ago.
"My friend and I searched for her in a panic, and, as we headed upstairs, we heard her voice amidst a group of men's voices," Schreiber has stated. "We went into one of the rooms and there they were—the men and our friend, half-naked, fighting them."
The assailants fled once the friends stepped in. "We managed to get there just in time," Schreiber said. "Luck and women saved my friend that night."

Schreiber told Reuters that during the testing phase of SafeUP, two guardians stepping in was enough to have people leave a woman alone.
Earlier this month, SafeUP became active in other major cities including Boston, San Francisco, Miami and New York City. There are more than 70,000 members in the global network with approximately 200 guardians in Austin so far.
Mira Marcus, a spokesperson for SafeUP, told Austonia most users are millennials and younger, and a lot of college students use the app, which made an Austin launch especially fitting. The company also has a partnership with Lime so that guardians can take free rides to reach a person.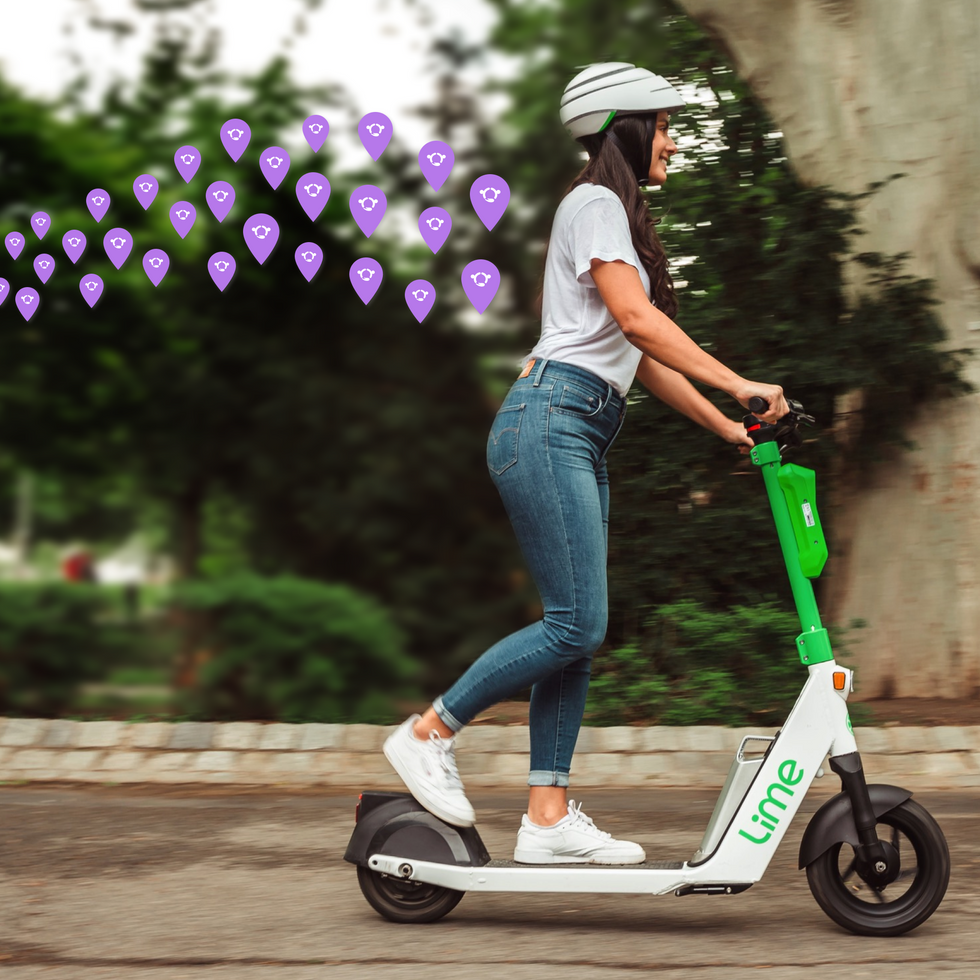 SafeUP's partnership with Lime allows users to take free rides to a person calling for help. (SafeUP)
"You could always call the police, but they won't necessarily be there within a matter of a minute or two. You could always speed dial your mom or girlfriend, but they won't always be available to answer," Marcus said. "The idea behind SafeUP is no matter where you are and what time, you can always turn on the app and see on the map the guardians around you."
The app also allows users to call the police if the guardian finds the situation requires their backup. With that function, the app uses the phone's camera and microphone to record evidence.
In a somewhat similar fashion, the Austin Police Department discussed possibly issuing a civilians unit to assist with non-emergency crimes over the summer. The discussion came as the department announced it would not respond to 911 calls where there was not a present danger due to a staffing shortage.
Some have turned to personal safety tech as public safety in Austin continues to be a hot topic with a record-breaking number of homicides in the city.
SafeUP joins other tech like the Citizen app and Ring cameras that track crime and include tools for reporting to the police. Some scholars and activists have criticized this tech for potential racial and gender bias, as well as expansion of surveillance. Biometric data is also taken in before users have full access to the SafeUP app so they can be verified as female, though facial recognition systems have a tendency to vary in accuracy.
youtu.be
A man was shot on Sixth Street with non-life-threatening injuries early Thursday morning, marking the second Sixth Street shooting in a week as the city works to address the nightlife district's now-notorious gun violence issues.
Austin police said they received a call around 12:30 a.m. Thursday after two men "may have been engaged in gunplay" with each other near Pete's Dueling Piano Bar on East Sixth Street, according to Officer Eric Cleveland. One man was shot and hospitalized with non-critical injuries.
The shooting comes just two days after a man was hospitalized with life-threatening injuries after being shot at East Sixth Street's Lodge Bar early Tuesday morning.
Some business owners, including Gnar Bar owner Jesse Fortney said they're losing hope in the area's safety.
"This has ruined Sixth Street completely. It makes owning a business on this street almost impossible," Fortney told KXAN.
The shootings come as the city mobilizes to improve safety on Sixth Street as both the city and district follow a nationwide uptick in gun violence this year. In June, City Council adopted a Safer Sixth Street Initiative after a mass shooting that left one dead and 15 hospitalized on June 15. As of November 11, six homicides and nearly 60 aggravated assaults have been reported in the area this year.
Four months after the mass shooting and a few days before a 17-year-old died in an officer-involved "gun battle" in the district, the city reported nine priorities in the works to curb the violence.
APD, Austin Fire and Austin-Travis County Emergency Medical Services have teamed up to create an on-site command center for a "rescue task force," according to Police Chief Joseph Chacon. APD will also partner up with the Texas Alcohol and Beverage Commission to crack down on fake IDs and underage drinking.
Austin Energy, which reported that as many as 10% of the area's historic streetlights were not working previously, has replaced 64 lights with brighter LED fixtures in the area and is improving maintenance on side streets and alleys.
But studies have shown a mixed bag on whether increased lighting can prevent crimes. While the New York City Police Department found in an experiment that increased levels of lighting led to a 36% reduction in "index crimes"— including murder, robbery, aggravated assault and certain property crimes— several other studies have found little to no evidence that this is the case, and a few have shown the opposite to be true.
Instead, a 2019 study in the Homeland Security Affairs Journal found that "place management," which involves behaviors of business managers in an area, might be the key to preventing crime in entertainment districts. A Kansas City study found that "13% of the city's 535 taverns produced half of the 11,338 offenses that occurred over a five-year period," meaning that certain businesses became notorious for crime and thus attracted danger.
The idea of cultivating relationships between business owners in these areas has become a nationwide trend and Austin has looked to other districts across the country for help. The Clarendon Entertainment District in Arlington, Virginia, was once grappling with safety concerns like Sixth Street but has since slowly built trust between bar staff and police by prioritizing training and "a constant flow of communication" with enforcement.
Brian Block, Austin's manager of entertainment services, is using the district as a sort of role model as they look to build that relationship on Sixth Street.
"We can always increase and improve the communication and partnerships," Block told KXAN. "That's really what we're after, in making it more formal, adding formal training, and adding formal meetings where we can enhance that dialogue."
Most recently, the Downtown Commission is looking into switching up Sixth Street's public space design could make it more welcoming to pedestrians. Multiple organizations could be involved in promoting daytime non-drinking activities, such as a farmers' market, and converting vacated lots into more diverse businesses such as theaters, Block said.

Enjoying Austonia? Signup for our newsletter to get daily Austin news, straight to your morning inbox!