Get connected with our daily update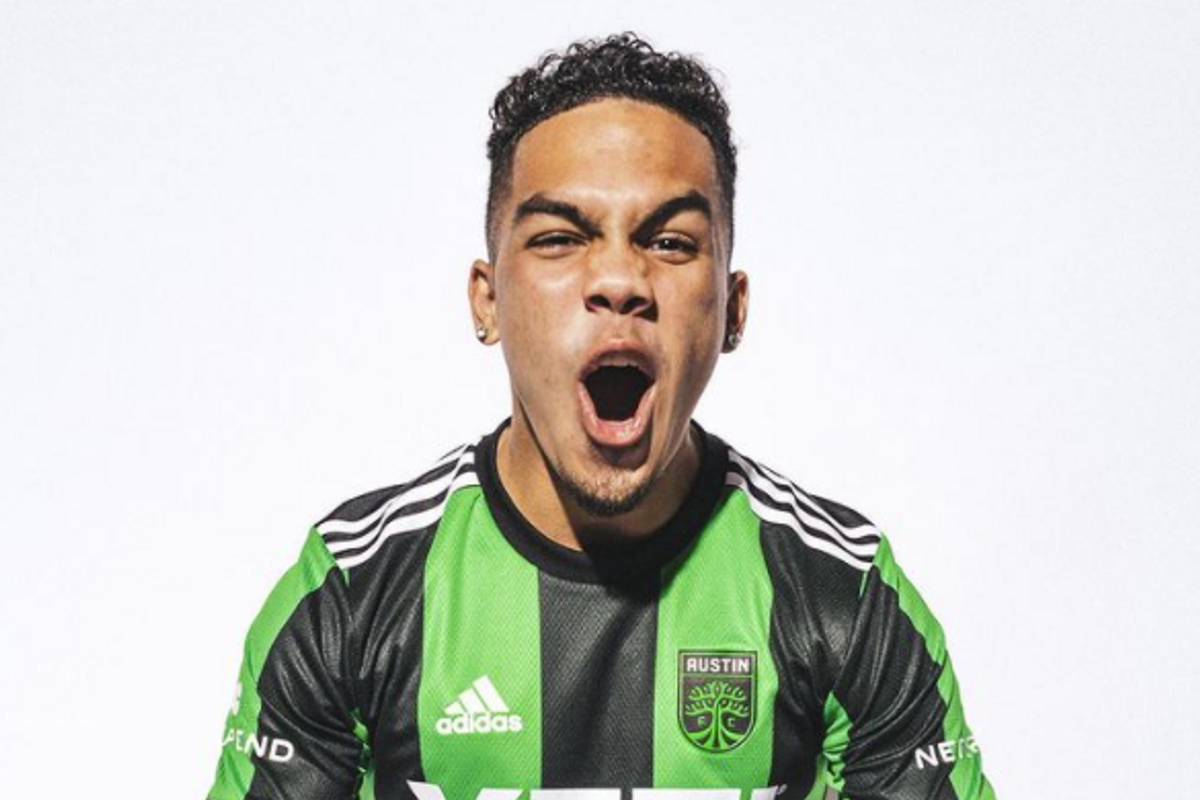 Jersey Number: 15
Hometown: Caracas, Venezuela
Position: Midfield
Age: 20
Former club: Virginia Tech
---
Background
𝗡𝗨𝗠𝗕𝗘𝗥 𝗢𝗡𝗘 𝗢𝗩𝗘𝗥𝗔𝗟𝗟.@AustinFC selects Daniel Pereira with the first overall pick in the MLS #SuperDraft! 🦃@HokiesMSoccer | @danipereira121pic.twitter.com/6jTPqlACHu

— ACC Men's Soccer (@ACCMSoccer) January 21, 2021
At just 20 years old, midfielder Danny Pereira made headlines nationwide when he was chosen as Austin FC's No. 1 overall pick in the 2021 MLS SuperDraft. Now, he's continuing to attract the press as he appears to hold the starting right midfield position with the MLS's newest club.
But before he graced national news, Pereira was flying a bit more under the radar. Pereira made All-ACC Freshman honors in his first season with Virginia Tech and managed a goal and an assist as he started in all seven games of the Hokies' COVID marred 2020 season, but he still wasn't expected as the SuperDraft's No. 1 pick.
With Virginia Tech, Pereira started in all 26 appearances with the team, landing five goals and five assists to start his college career. After a slow start, Pereira suddenly rose to be one of the team's top playmakers, Hokies Head Coach Mike Brizendine said.
"At the end of the year, he was running the team in his play …he was calling the shots," Brizendine told Sports Illustrated. "In all my years of coaching here at Tech, almost 20 years, I've never seen a young man as quick as him. His first three steps are electric."

His college success translated into the professional realm. As a sophomore, Pereira decided to forgo his last two years of eligibility and signed with generation Adidas, which gives young players the opportunity to sign professionally in the SuperDraft. Although he was projected as a top-five contender, it still came as a surprise for many, including Pereira himself, to see his name flash Verde as the No. 1 overall pick. Pereira was the first Venezuelan player in history to make the No. 1 SuperDraft pick.
"My whole life, I was always the star," Pereira said. "But coming here I'm surrounded by stars. So it's just a great feeling. I like that competitiveness that we have in practices and in games."
With Austin FC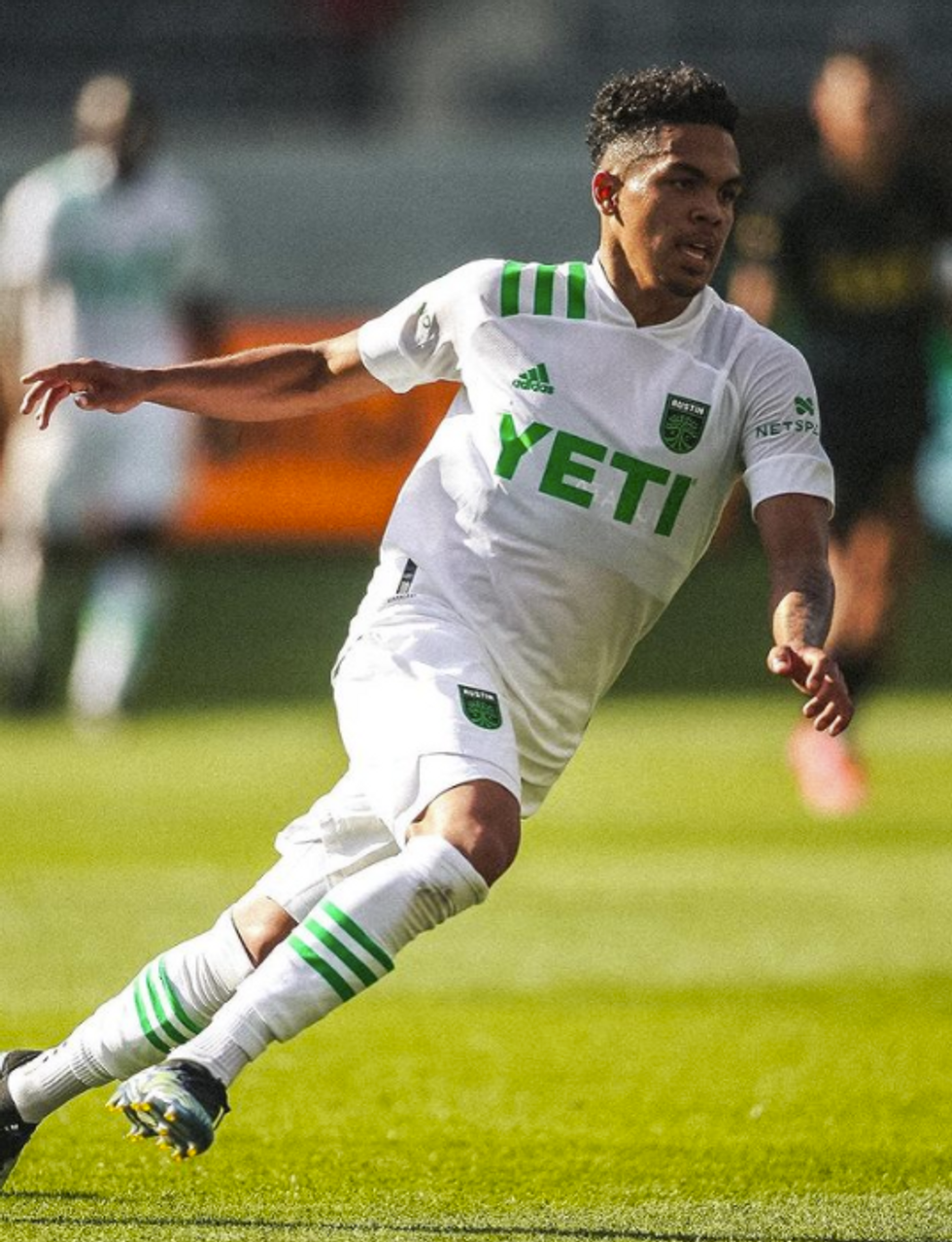 Pereira in his MLS debut against LAFC. (Austin FC/Instagram)
Pereira was the youngest player on both sides of the pitch for his MLS debut against LAFC. With the combined pressure of the club's inaugural match and his first professional appearance, Pereira said he had to shake off some nerves as the game began.
"It was a lot of emotions going on," Pereira said. "I had a bunch of people back home that were watching me so I was nervous. I'm not gonna lie... I was nervous the beginning, but as soon as I started playing, I forgot about everything."
Pereira held his own in his first pro match, helping hold a solid midfield line alongside Ring and Pochettino. Josh Wolff said he was impressed with Pereira's adjustment in his first pro match.
"For Pereira, I think it was a solid day for a young kid coming in his first MLS game against that opponent," Wolff said.
Pereira was picked more for depth than for an immediate starting spot, so it meant even more when he scored in Austin FC's first-ever preseason match against OKC Energy. To close out the preseason, Pereira landed a final goal off penalty kicks in the La Copita match against FC Dallas before setting his sights for the club's first season opener.
Despite edging out the competition for the LAFC match, teammate Diego Fagundez is still a contender for Pereira's starting spot. Pereira said he recognizes the pressure's on as they compete for the starting spot.
"It's a fight," Pereira said. He's a veteran... I'm the young kid. But at the end of the day, it's just soccer... No matter who starts, we're all in this together."
Off the pitch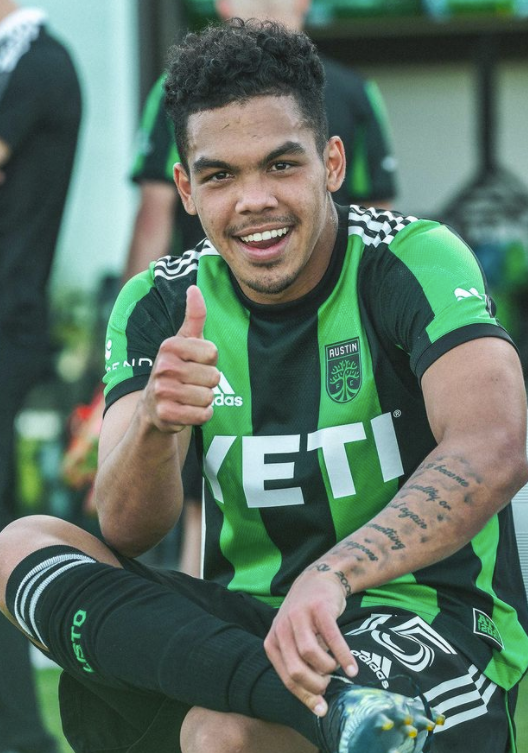 Pereira smiles from the Austin FC bench. (Austin FC/Instagram)
Pereira moved to Virginia from Caracas, Venezuela when he was 15. Before he made it to the States, he was doing well on Venezuela's U-14 and later U-17 national teams, but political and economic strife in the country prompted the family to leave Pereira's first home.
When he arrived, Pereira didn't speak English. He missed his home and didn't know what it meant when he made the varsity team as a freshman at his high school.
Now, he's one of the team's few bilingual players. He helps to bridge the gap between Spanish-speaking and English-speaking players, and at 20, he also joked that he is often the team's "Uber driver."
"It's awesome being bilingual," Pereira said. "It gives you opportunities in every single area... it obviously brings me closer to the Spanish guys... Sometimes at practice, when we're doing drills, I'll translate for them."
Pereira got his start playing soccer at five years old, according to Sports Illustrated. He played alongside his half-brother Alexei. Even though his brother was seven years older, Pereira kicked the ball around with Alexei and his older friends. Now, he's doing much of the same on the Austin FC pitch.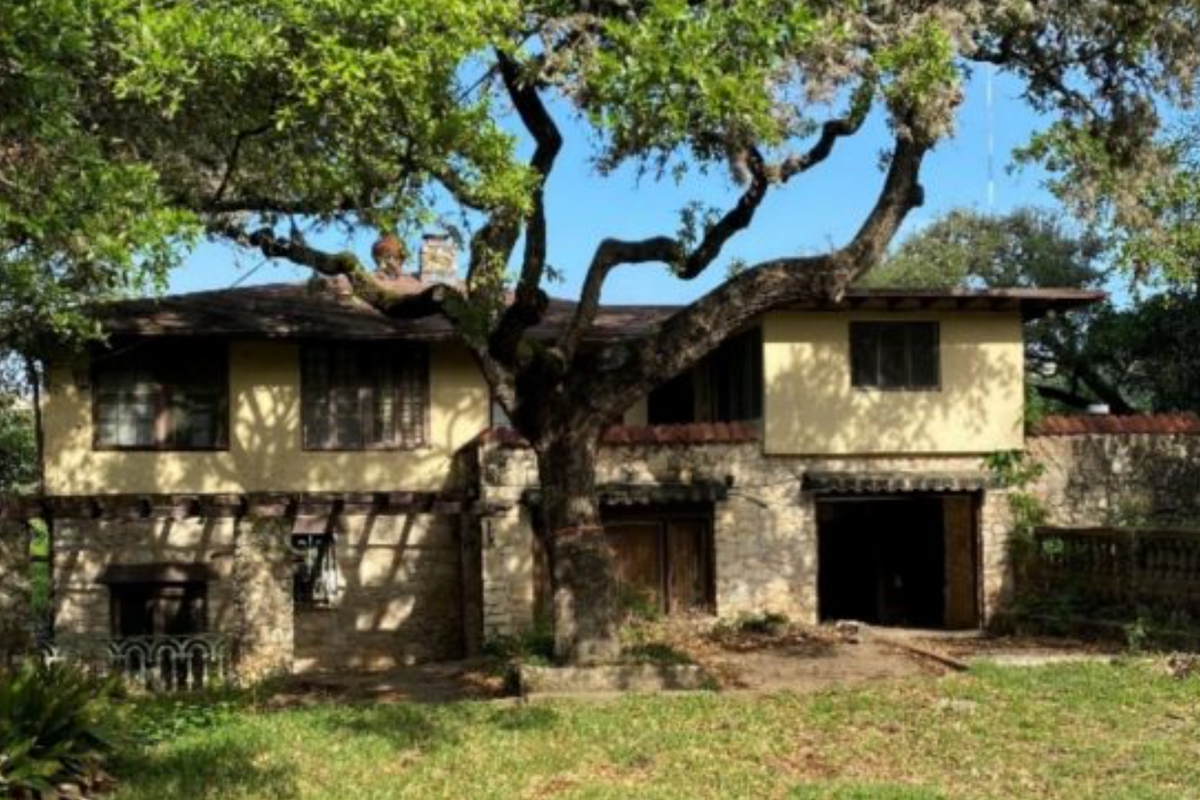 Austin Monitor
By Jonathan Lee
The Planning Commission was split Tuesday on whether to help save an eclectic lakefront estate from demolition by zoning it historic amid concerns over tax breaks and the likelihood that a previous owner participated in segregation as a business owner.
The property in question, known as the Delisle House, is located at 2002 Scenic Drive in Tarrytown. The main house, with Spanish and Modern influences, was built in 1923 by Raymond Delisle, an optician. A Gothic Revival accessory apartment was built in 1946. The current owner applied to demolish the structures in order to build a new home.'
Historic preservationists, for their part, overwhelmingly support historic zoning, which would preserve the buildings in perpetuity. The Historic Landmark Commission unanimously voted to initiate historic zoning in July, citing architectural significance, landscape features and association to historic figures. City staffers recommend historic zoning, calling both structures one-of-a-kind examples of vernacular architecture.
Tarrytown neighbors have also banded together to stop the demolition. Many have written letters, and a few spoke at the meeting. "How could anyone buy this property with the intent of destroying it?" Ila Falvey said. "I think it's an architectural treasure."
Michael Whellan, an attorney representing the property owner, said that the claims made by preservationists are shaky. The buildings are run down, he said, and have had substantial renovations. A structural engineer hired by the owner said any attempt at preservation would involve tearing down and rebuilding – an undertaking Whellan said would likely cost millions.
Whellan also argued that any historical significance derived from the property's association with Delisle and longtime owner C.H. Slator is dubious. "These men are not noted for any civic, philanthropic or historic impact," he said.
What's more, according to Whellan, Slator likely participated in segregation as the owner of the Tavern on North Lamar Boulevard between 1953 and 1960.
A city staffer, however, said she found no evidence to support the claim. "We would never landmark a property where a segregationist lived, or there was a racist person," Kimberly Collins with the Historic Preservation Office said.
Commissioner Awais Azhar couldn't support historic zoning in part due to lingering uncertainty about Slator. "Focusing on that factor is not here to disparage an individual or family. It is not about playing the race card. This is an important assertion for us to consider as Planning commissioners," Azhar said.
Commissioner Carmen Llanes Pulido said that allegations of racism should come as no surprise. "We're talking about white male property owners in the 1950s, in Austin, on the west side – and of course they were racist," she said. But she argued that allowing the house to be demolished based on these grounds does nothing to help people of color who have been harmed by racism and segregation.
The question of tax breaks was also controversial. Michael Gaudini, representing the property owner, said that the tax breaks associated with historic zoning would exacerbate inequality by shifting property tax burdens to less affluent communities. City staffers estimate that the property, appraised at $3.5 million, would get either a $8,500 or $16,107 property tax break annually, depending on whether a homestead exemption is applied.
Commissioner Grayson Cox preferred the commission focus not on tax breaks but on whether the structures merit preservation. "To me, nothing in the historic preservation criteria lists, is this person deserving of a tax break or not?"
Azhar, on the other hand, said he plans to propose a code amendment getting rid of city property tax breaks for historic properties.
The commission fell one vote short of recommending historic zoning, with six commissioners in support and three opposed. Azhar and commissioners Claire Hempel and Greg Anderson voted against.
The odds of City Council zoning over an owner's wishes are slim. Nine out of 11 members must vote in favor, and there have only been a handful of such cases over the past several decades.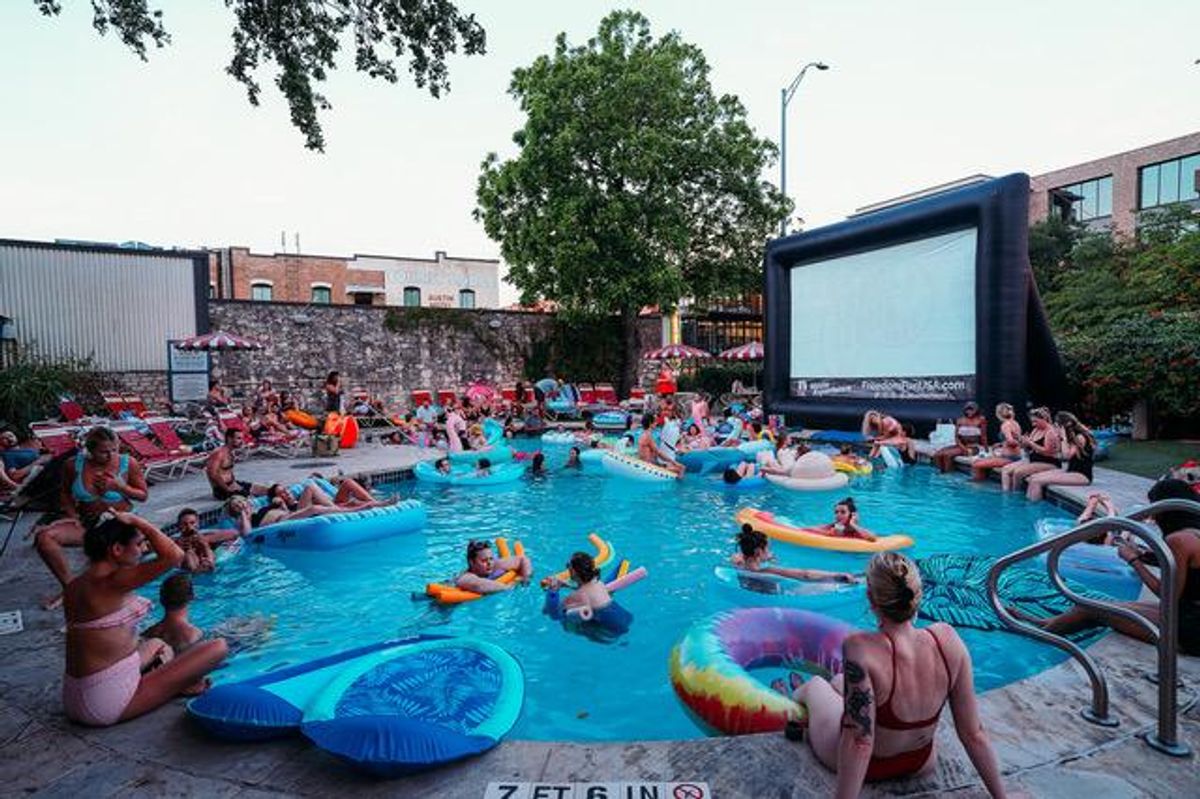 Austin Motel
What's new in Austin food & drink this week:
Nau's Enfield Drug closing after losing their lease. Did McGuire Moorman Lambert buy the building, with its vintage soda fountain?
Nixta Taqueria Chef Edgar Rico named to Time Magazine's Time 100 Next influencer list, after winning a James Beard Award earlier this year.
Question: From what BBQ joint did pescatarian Harry Styles order food this week?
Austin Motel is opening the pool and pool bar Wednesday nights in October for Freaky Floats.
Vincent's on the Lake closing due to "economic conditions and low water levels [at Lake Travis]."
Cenote has closed its Windsor Park location. The East Cesar Chavez location remains open.
The Steeping Room on N. Lamar has closed.
Local startup It's Skinnyscored new financing for its gluten-free pasta business.
P. Terry's opened a new location in Kyle, at 18940 IH-35.