Austonia AM
100% Austin news, info, and entertainment, straight to your inbox at 6 a.m. every morning.
In five minutes, you're fully informed and ready to start another great day in our city.
Get connected with our daily update
Jersey Number: 15
Hometown: Caracas, Venezuela
Position: Midfield
Age: 20
Former club: Virginia Tech
---
Background
𝗡𝗨𝗠𝗕𝗘𝗥 𝗢𝗡𝗘 𝗢𝗩𝗘𝗥𝗔𝗟𝗟.@AustinFC selects Daniel Pereira with the first overall pick in the MLS #SuperDraft! 🦃@HokiesMSoccer | @danipereira121 pic.twitter.com/6jTPqlACHu

— ACC Men's Soccer (@ACCMSoccer) January 21, 2021
At just 20 years old, midfielder Danny Pereira made headlines nationwide when he was chosen as Austin FC's No. 1 overall pick in the 2021 MLS SuperDraft. Now, he's continuing to attract the press as he appears to hold the starting right midfield position with the MLS's newest club.
But before he graced national news, Pereira was flying a bit more under the radar. Pereira made All-ACC Freshman honors in his first season with Virginia Tech and managed a goal and an assist as he started in all seven games of the Hokies' COVID marred 2020 season, but he still wasn't expected as the SuperDraft's No. 1 pick.
With Virginia Tech, Pereira started in all 26 appearances with the team, landing five goals and five assists to start his college career. After a slow start, Pereira suddenly rose to be one of the team's top playmakers, Hokies Head Coach Mike Brizendine said.
"At the end of the year, he was running the team in his play …he was calling the shots," Brizendine told Sports Illustrated. "In all my years of coaching here at Tech, almost 20 years, I've never seen a young man as quick as him. His first three steps are electric."

His college success translated into the professional realm. As a sophomore, Pereira decided to forgo his last two years of eligibility and signed with generation Adidas, which gives young players the opportunity to sign professionally in the SuperDraft. Although he was projected as a top-five contender, it still came as a surprise for many, including Pereira himself, to see his name flash Verde as the No. 1 overall pick. Pereira was the first Venezuelan player in history to make the No. 1 SuperDraft pick.
"My whole life, I was always the star," Pereira said. "But coming here I'm surrounded by stars. So it's just a great feeling. I like that competitiveness that we have in practices and in games."
With Austin FC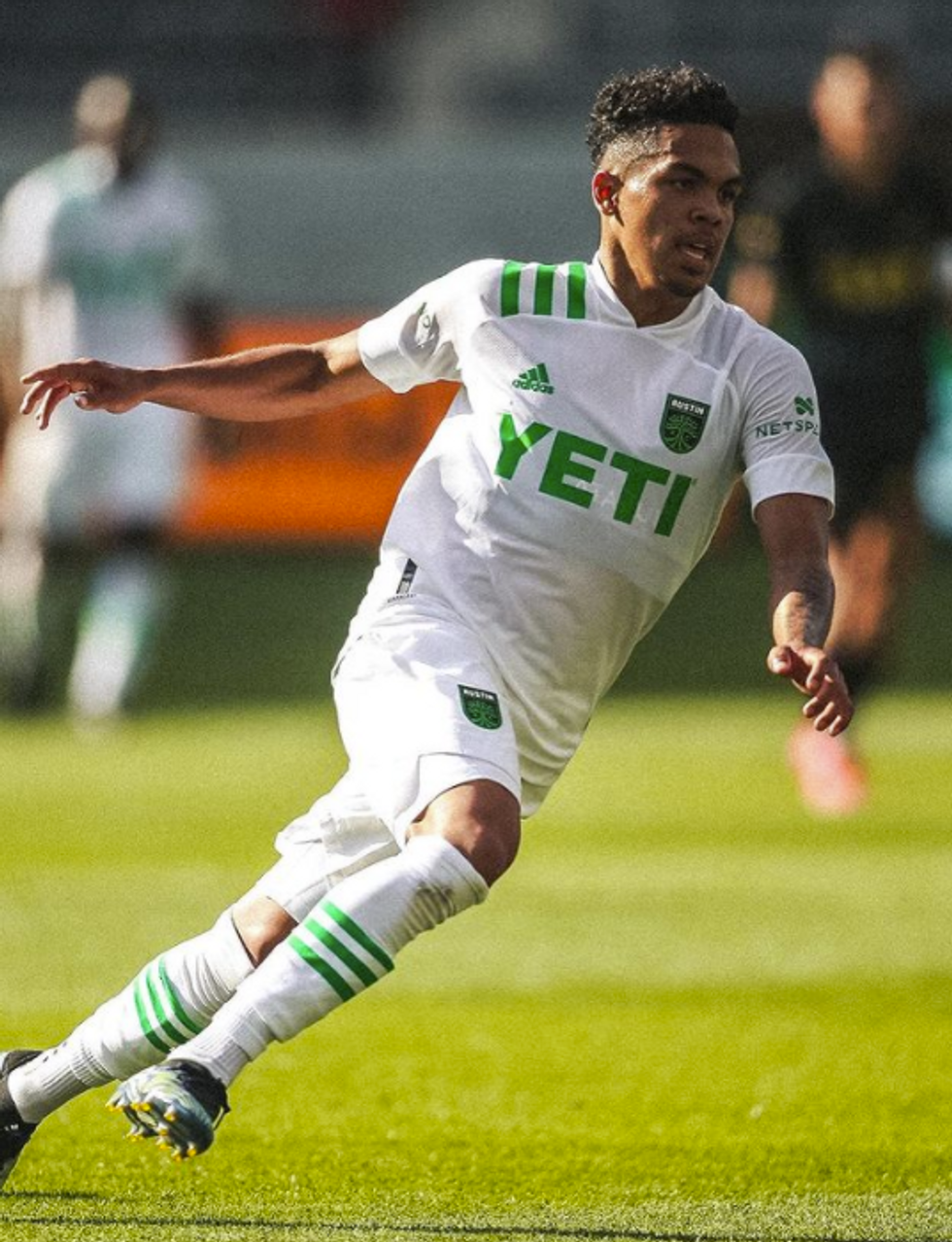 Pereira in his MLS debut against LAFC. (Austin FC/Instagram)
Pereira was the youngest player on both sides of the pitch for his MLS debut against LAFC. With the combined pressure of the club's inaugural match and his first professional appearance, Pereira said he had to shake off some nerves as the game began.
"It was a lot of emotions going on," Pereira said. "I had a bunch of people back home that were watching me so I was nervous. I'm not gonna lie... I was nervous the beginning, but as soon as I started playing, I forgot about everything."
Pereira held his own in his first pro match, helping hold a solid midfield line alongside Ring and Pochettino. Josh Wolff said he was impressed with Pereira's adjustment in his first pro match.
"For Pereira, I think it was a solid day for a young kid coming in his first MLS game against that opponent," Wolff said.
Pereira was picked more for depth than for an immediate starting spot, so it meant even more when he scored in Austin FC's first-ever preseason match against OKC Energy. To close out the preseason, Pereira landed a final goal off penalty kicks in the La Copita match against FC Dallas before setting his sights for the club's first season opener.
Despite edging out the competition for the LAFC match, teammate Diego Fagundez is still a contender for Pereira's starting spot. Pereira said he recognizes the pressure's on as they compete for the starting spot.
"It's a fight," Pereira said. He's a veteran... I'm the young kid. But at the end of the day, it's just soccer... No matter who starts, we're all in this together."
Off the pitch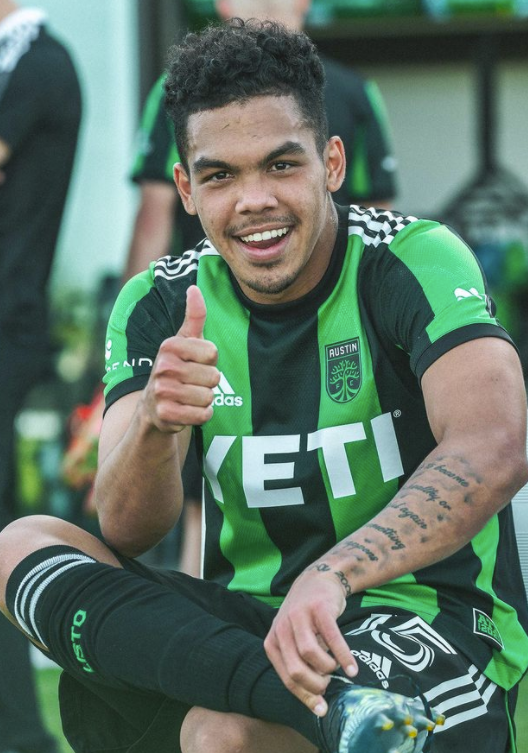 Pereira smiles from the Austin FC bench. (Austin FC/Instagram)
Pereira moved to Virginia from Caracas, Venezuela when he was 15. Before he made it to the States, he was doing well on Venezuela's U-14 and later U-17 national teams, but political and economic strife in the country prompted the family to leave Pereira's first home.
When he arrived, Pereira didn't speak English. He missed his home and didn't know what it meant when he made the varsity team as a freshman at his high school.
Now, he's one of the team's few bilingual players. He helps to bridge the gap between Spanish-speaking and English-speaking players, and at 20, he also joked that he is often the team's "Uber driver."
"It's awesome being bilingual," Pereira said. "It gives you opportunities in every single area... it obviously brings me closer to the Spanish guys... Sometimes at practice, when we're doing drills, I'll translate for them."
Pereira got his start playing soccer at five years old, according to Sports Illustrated. He played alongside his half-brother Alexei. Even though his brother was seven years older, Pereira kicked the ball around with Alexei and his older friends. Now, he's doing much of the same on the Austin FC pitch.
Ingredients:
1 1/2 oz of hibiscus-infused Tito's Handmade Vodka
2 oz sparkling water
1 oz fresh lime juice
3/4 oz simple syrup
1 tsp allspice dram
Directions: Add infused Tito's Handmade Vodka, lime juice, and simple syrup to a shaker with ice. Shake and strain into a glass over fresh ice. Top with sparkling water, and garnish with a lime slice. Enjoy!
A week after Texas added two congressional seats and California lost one, state officials reported a population decline in 2020 for the first time in the Golden State's history.
California fell by over 182,000 people from January 2020 to January 2021, dropping almost 0.5% to cap out at around 39.5 million people. It is still the nation's most populous state.
For over thirty years, California has seen more people leave than move in from other states, state officials said, with 6.1 million people moving out and 4.9 million coming in last year. Immigration and births kept California growing, but the state saw a shrink in international migration in 2020 due to COVID and the White House's hold on visas.
Of the steady flow of ex-Californians moving to other states, more are moving to Texas than any other state. Many are relocating to Austin, which has been labeled a "little California" by billionaire resident Elon Musk and continues to grow astronomically.
Meanwhile, California cities including Los Angeles, San Diego, San Jose and San Francisco saw a population decline.
With immigration and state migration on the decline, the Golden State was also hit with a spike in deaths- 51,000 people died from COVID in 2020, and all but seven of the state's counties saw death rates higher than the three-year average.
Still, the California Department of Finance said a "slightly positive annual growth" can be expected next year as the state recovers from COVID deaths and political repercussions.