Get connected with our daily update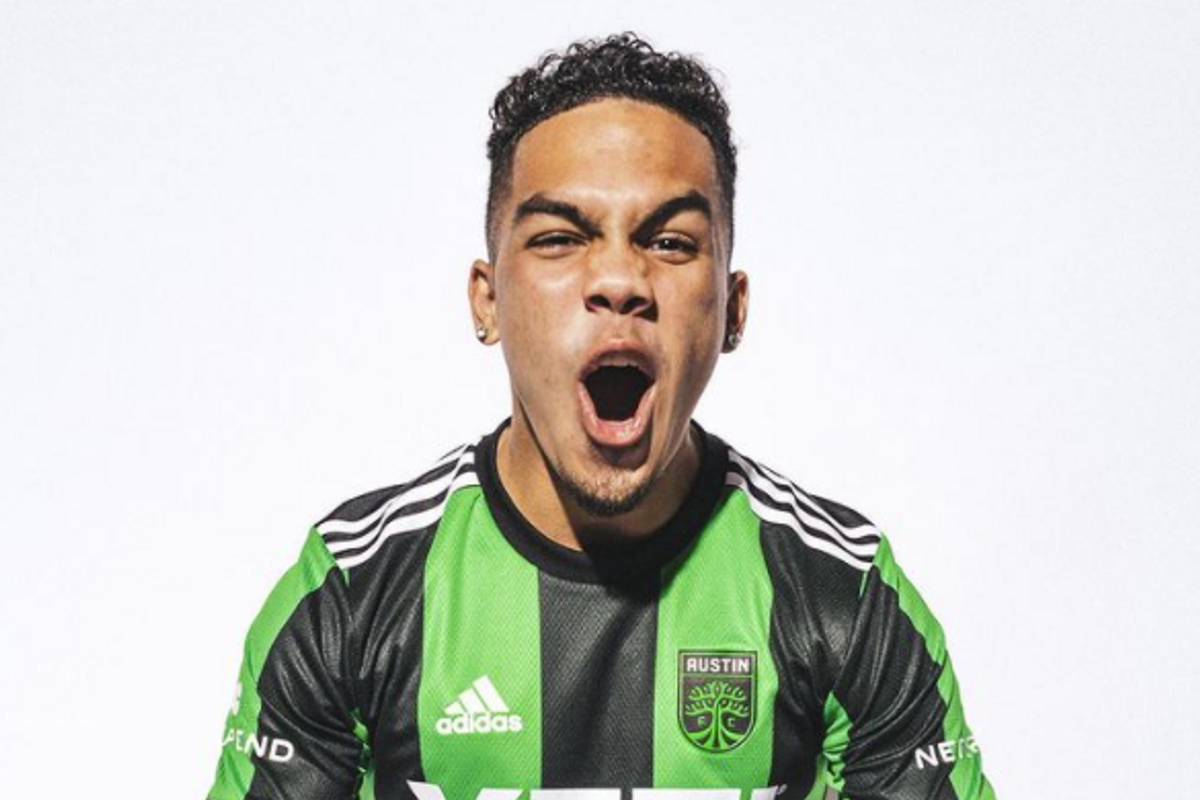 Jersey Number: 15
Hometown: Caracas, Venezuela
Position: Midfield
Age: 20
Former club: Virginia Tech
---
Background
𝗡𝗨𝗠𝗕𝗘𝗥 𝗢𝗡𝗘 𝗢𝗩𝗘𝗥𝗔𝗟𝗟.@AustinFC selects Daniel Pereira with the first overall pick in the MLS #SuperDraft! 🦃@HokiesMSoccer | @danipereira121pic.twitter.com/6jTPqlACHu

— ACC Men's Soccer (@ACCMSoccer) January 21, 2021
At just 20 years old, midfielder Danny Pereira made headlines nationwide when he was chosen as Austin FC's No. 1 overall pick in the 2021 MLS SuperDraft. Now, he's continuing to attract the press as he appears to hold the starting right midfield position with the MLS's newest club.
But before he graced national news, Pereira was flying a bit more under the radar. Pereira made All-ACC Freshman honors in his first season with Virginia Tech and managed a goal and an assist as he started in all seven games of the Hokies' COVID marred 2020 season, but he still wasn't expected as the SuperDraft's No. 1 pick.
With Virginia Tech, Pereira started in all 26 appearances with the team, landing five goals and five assists to start his college career. After a slow start, Pereira suddenly rose to be one of the team's top playmakers, Hokies Head Coach Mike Brizendine said.
"At the end of the year, he was running the team in his play …he was calling the shots," Brizendine told Sports Illustrated. "In all my years of coaching here at Tech, almost 20 years, I've never seen a young man as quick as him. His first three steps are electric."

His college success translated into the professional realm. As a sophomore, Pereira decided to forgo his last two years of eligibility and signed with generation Adidas, which gives young players the opportunity to sign professionally in the SuperDraft. Although he was projected as a top-five contender, it still came as a surprise for many, including Pereira himself, to see his name flash Verde as the No. 1 overall pick. Pereira was the first Venezuelan player in history to make the No. 1 SuperDraft pick.
"My whole life, I was always the star," Pereira said. "But coming here I'm surrounded by stars. So it's just a great feeling. I like that competitiveness that we have in practices and in games."
With Austin FC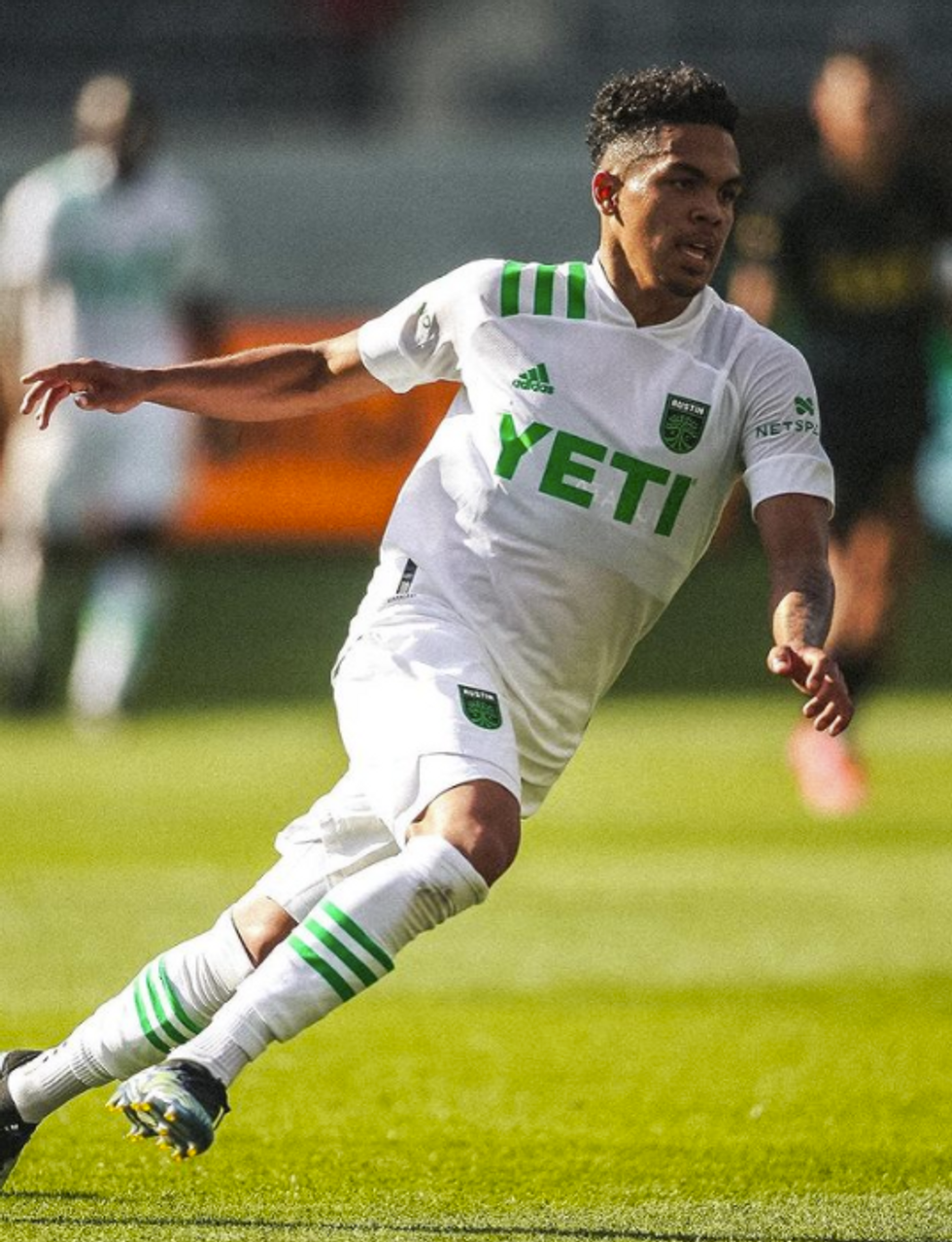 Pereira in his MLS debut against LAFC. (Austin FC/Instagram)
Pereira was the youngest player on both sides of the pitch for his MLS debut against LAFC. With the combined pressure of the club's inaugural match and his first professional appearance, Pereira said he had to shake off some nerves as the game began.
"It was a lot of emotions going on," Pereira said. "I had a bunch of people back home that were watching me so I was nervous. I'm not gonna lie... I was nervous the beginning, but as soon as I started playing, I forgot about everything."
Pereira held his own in his first pro match, helping hold a solid midfield line alongside Ring and Pochettino. Josh Wolff said he was impressed with Pereira's adjustment in his first pro match.
"For Pereira, I think it was a solid day for a young kid coming in his first MLS game against that opponent," Wolff said.
Pereira was picked more for depth than for an immediate starting spot, so it meant even more when he scored in Austin FC's first-ever preseason match against OKC Energy. To close out the preseason, Pereira landed a final goal off penalty kicks in the La Copita match against FC Dallas before setting his sights for the club's first season opener.
Despite edging out the competition for the LAFC match, teammate Diego Fagundez is still a contender for Pereira's starting spot. Pereira said he recognizes the pressure's on as they compete for the starting spot.
"It's a fight," Pereira said. He's a veteran... I'm the young kid. But at the end of the day, it's just soccer... No matter who starts, we're all in this together."
Off the pitch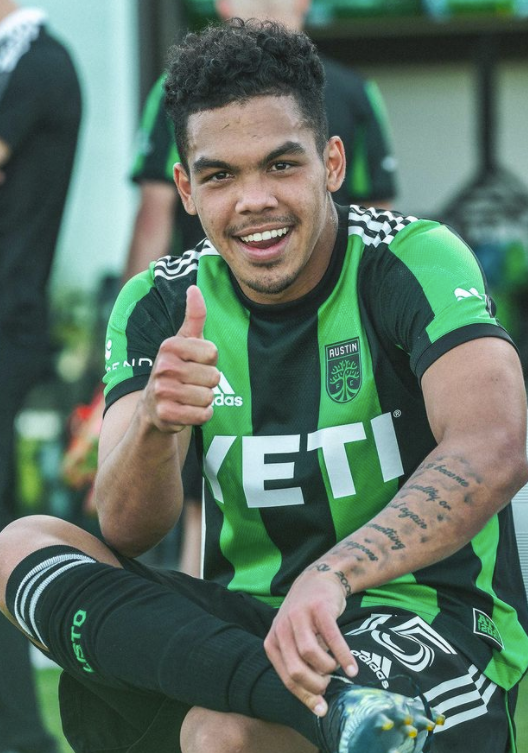 Pereira smiles from the Austin FC bench. (Austin FC/Instagram)
Pereira moved to Virginia from Caracas, Venezuela when he was 15. Before he made it to the States, he was doing well on Venezuela's U-14 and later U-17 national teams, but political and economic strife in the country prompted the family to leave Pereira's first home.
When he arrived, Pereira didn't speak English. He missed his home and didn't know what it meant when he made the varsity team as a freshman at his high school.
Now, he's one of the team's few bilingual players. He helps to bridge the gap between Spanish-speaking and English-speaking players, and at 20, he also joked that he is often the team's "Uber driver."
"It's awesome being bilingual," Pereira said. "It gives you opportunities in every single area... it obviously brings me closer to the Spanish guys... Sometimes at practice, when we're doing drills, I'll translate for them."
Pereira got his start playing soccer at five years old, according to Sports Illustrated. He played alongside his half-brother Alexei. Even though his brother was seven years older, Pereira kicked the ball around with Alexei and his older friends. Now, he's doing much of the same on the Austin FC pitch.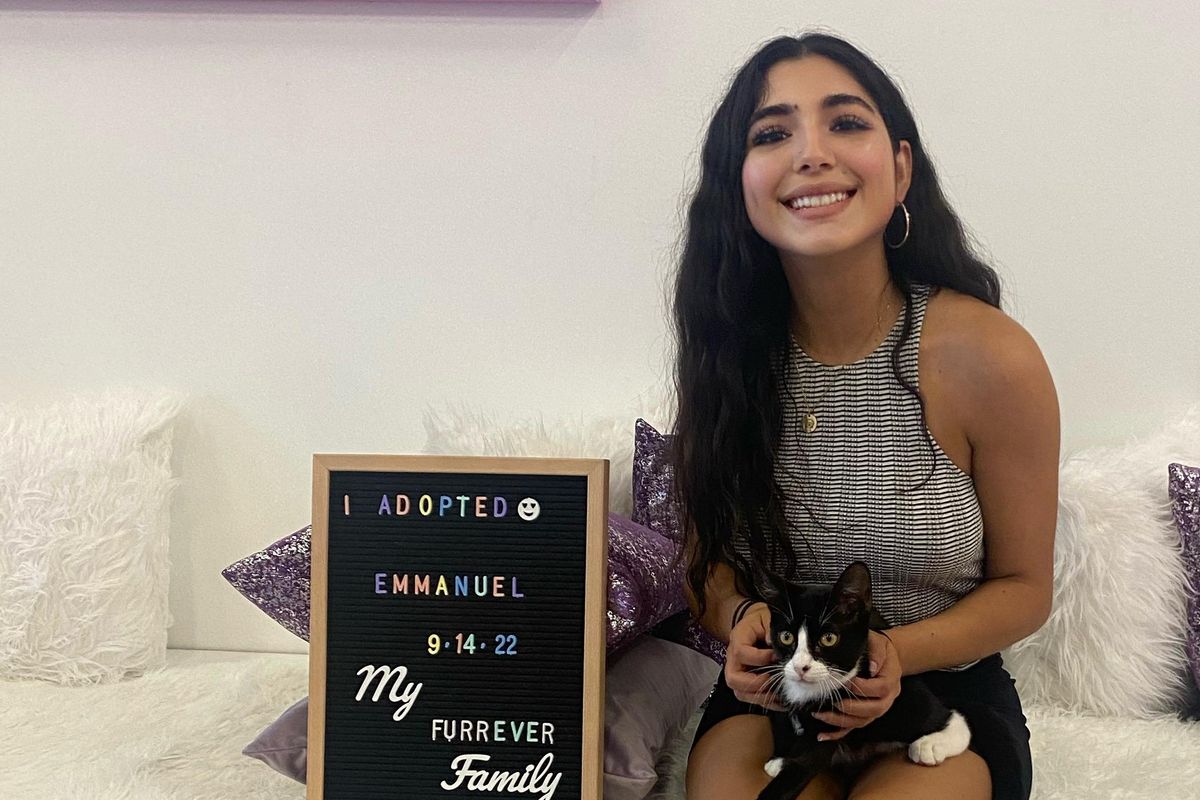 Purr-fecto Cat Lounge
Timmy and Tommy are ready to play.
As the 2-month-old white-and-tabby brothers swat feather wands, chase toys and generally hold court inside Purr-fecto Cat Lounge, a half-dozen potential adoptive parents look on lovingly, trying to get their attention.
"This is kind of like the speed dating of cats," said Lupita Foster, owner of Purr-fecto Cat Lounge. "I intentionally didn't put in any tables. That's why we call it a lounge instead of a cat café because we have these lounge areas where you can sit and relax and cuddle."
Foster, who has owned a cleaning company, Enviromaids, for 18 years, was inspired to open Purr-fecto Cat Lounge after adopting her own cat, Romeo, from a local shelter.
"When you want to adopt a cat, you have to spend a lot of time with them to get their personality," Foster said. "I wanted to do something to help the community and something that makes me feel good, that warms my heart. A business with a purpose. This was a perfect idea."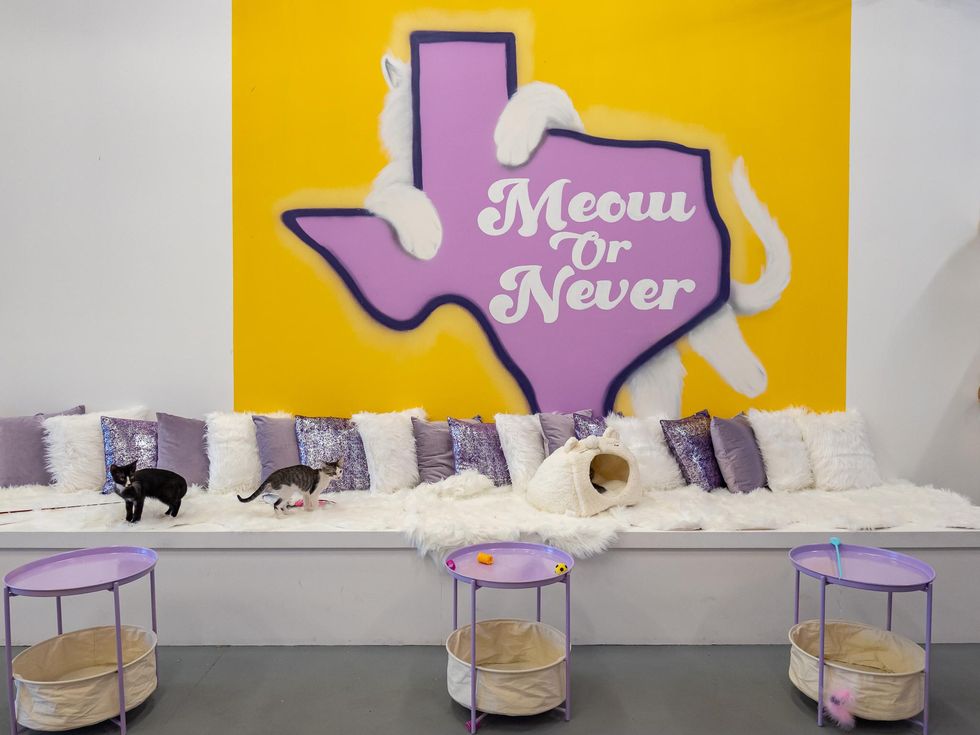 Actually, a purr-fect idea.
Inspired in part by a cat lounge she visited in Los Angeles, Foster began laying the groundwork for the business in late 2021 and officially opened the doors of Purr-fecto Cat Lounge, located at 2300 S. Lamar Blvd., in July 2022. Since then, she's worked with rescue organizations such as Fuzzy Texan Animal Rescue and Sunshine Fund Cat Rescue to facilitate nearly 100 cat adoptions.
At any given time, there are 10-15 cats living in the space, which features an ideal blend of calm, cool corners and adorably Instagrammable backdrops with phrases such as "I want to spend all my 9 lives with you."
Lina Martinez, 32, learned about Purr-fecto Cat Lounge from a friend's Instagram post and made an appointment to visit two days later.
"My first impression was, 'AWW!'" Martinez said. "The kittens were to die for. I felt happy and at peace – just what I needed."
Visitors to the cat lounge pay $15 for a 30-minute CATXperience session or $30 for a 70-minute session that is spent getting to know the personalities of each cat. Foster said the first thing she typically sees from visitors to the lounge is a smile.
"Everybody that enters the door is smiling," she said. "And we've seen people who have cried because they can't have kids and they decide to go and adopt a cat instead."
Foster said she loves bringing in cats who might not have a chance to be adopted at traditional shelters. She told the story of one cat named Izzy, who was partially blind, who was adopted by a family that had a deaf cat at home.
"Izzy was not going to get adopted anywhere else, but she's extremely beautiful," she said. "If she was in a cage in a rescue and you tell people she's blind, she was probably going to be overlooked. But visiting our space, she doesn't seem like she's blind. She knows her way around. She moves around perfectly."
Although Martinez, who had been casually looking for a pet to adopt since moving to Austin nearly four years ago, was interested in a cat named Ruby that she had seen on Purr-fecto's social media, at the lounge she instead found herself drawn to 5-month-old mixed breed Tuxedo cat.
"I thought he was a star," she said. "He worked the room and introduced himself to everyone. When I laid down to pet Ruby, he ran from the other side of the room and cuddled with me. It was game over. He got me."
And she, of course, got him, complete with a commemorative photo that read "My Furrever Family" the day she took him home. Although his original name was Emmanuel, she renamed him Sullivan after her favorite DJ.
"Purr-fecto is special because of the amount of effort and love they put into taking care of the cats," Martinez said, "and finding them good homes and making possible adopters feel at home."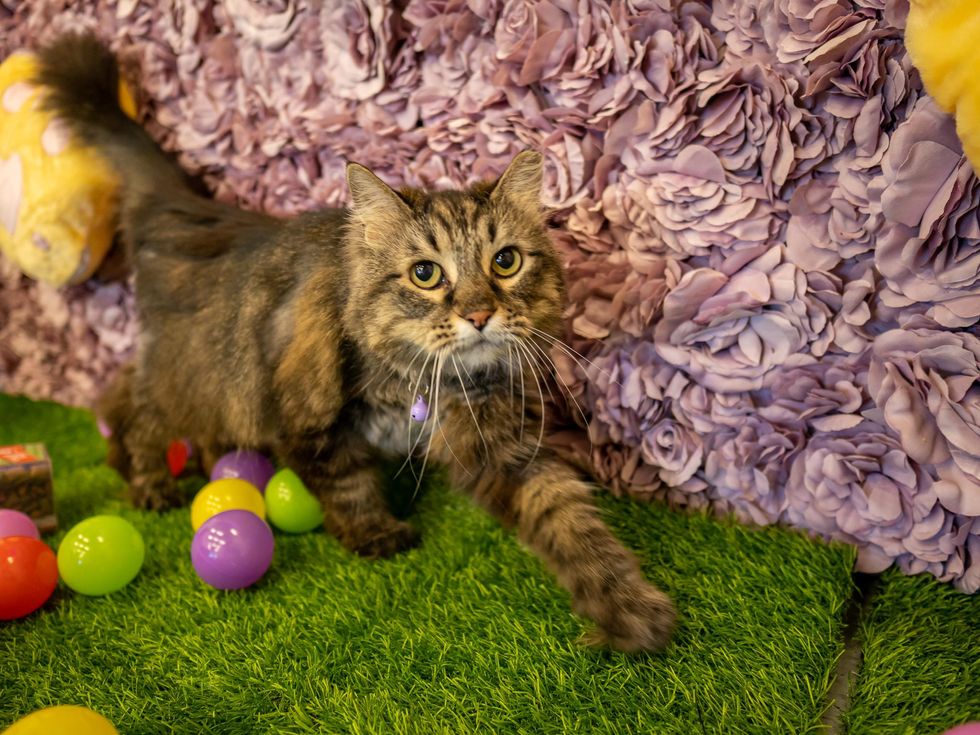 Foster, who spent a recent Thursday hosting a group of teenagers in foster care at the lounge, several of whom expressed interest in working there, said the best part about her new endeavor is that her heart is always full.
"I just feel complete," she said. "I always felt as an entrepreneur that I was missing something. I knew I accomplished a lot, but in my heart I was missing a little connection with the community. Now I'm creating connections between humans and pets and that's amazing. I'm creating family bonds. It's just about love, you know. And we need that."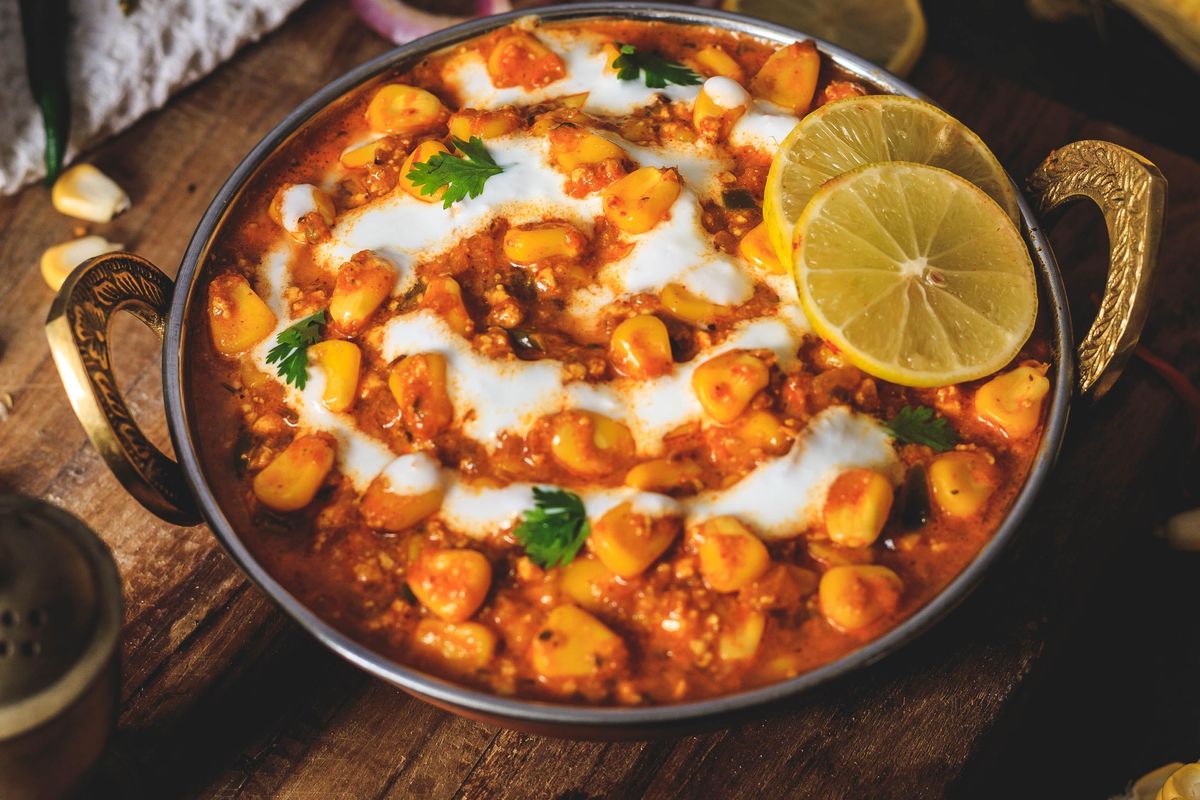 We all have those cravings for an amazing butter chicken or some authentic dosas with coconut chutney, but when I was thinking about where I wanted to go to satisfy my taste buds I realized that my list of great Indian food around Austin was surprisingly short. After doing some research and asking around, here is your list of the best Indian restaurants around town.
This restaurant claims to have the most authentic South Indian food, and from what I've heard, the claims might be true! Their menu features the traditional South Indian dishes of Idlis, Vadas, a variety of Dosas, and more.
If you're looking for an Indian and Tex-Mex fusion cozy restaurant, then look no further! Nasha on East 7th Street prides itself on its specialty margaritas, Tikka con Queso, Biryani, and more creative dishes!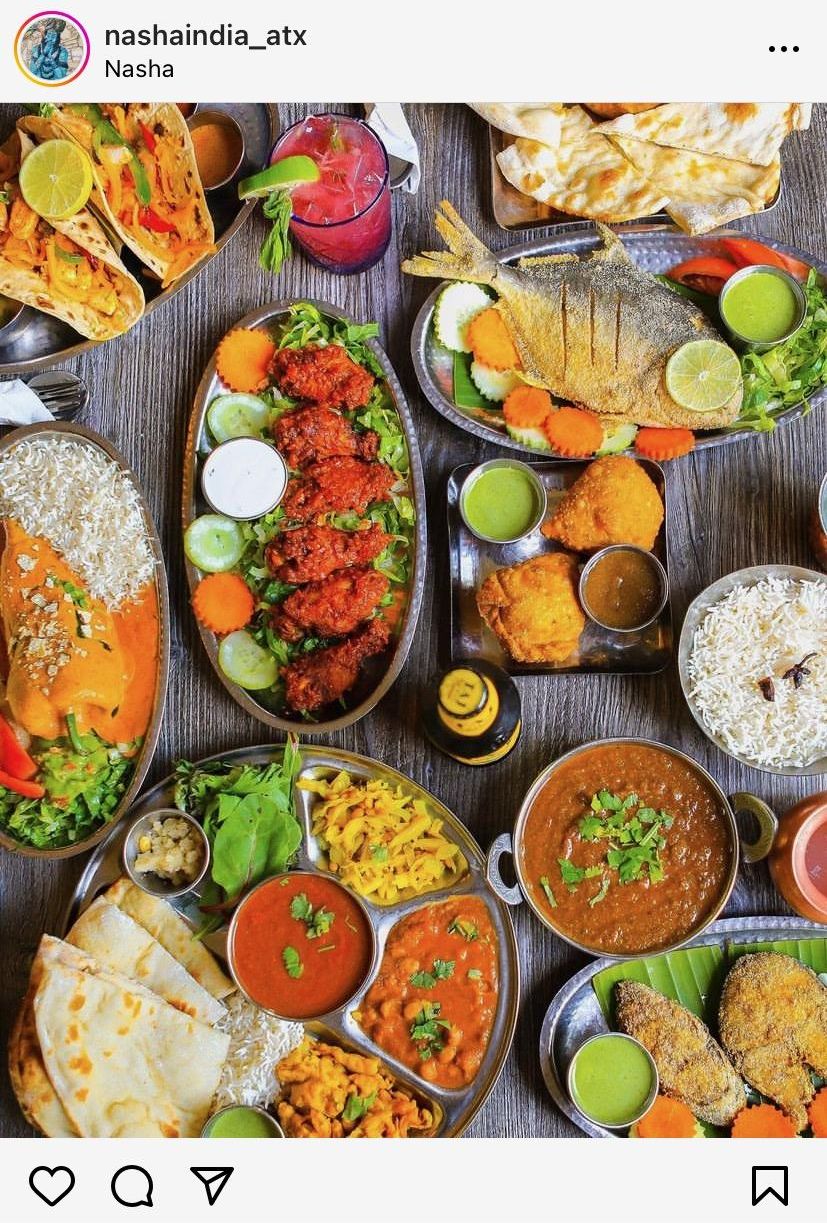 Austin Chai Wala is a personal favorite of mine, with the best masala chai I have ever had in Austin. The quaint truck in Rosedale Market features a unique blend of South Asian cuisine, including Masala Fries, Paratha Wraps, Samosas, and a delicious Mango Lassi.


This Round Rock Restaurant is known for its South Indian food, and its pakoras, a deep-fried North Indian street food filled with vegetables like potatoes or peas. Great stop for comfort food!
The best about this restaurant is its ambiance, and if you're a UT student then it is just a stone's throw away from campus. The Brick wall setting and extensive wine selection make it a great choice for a date night or a treat-yourself dinner.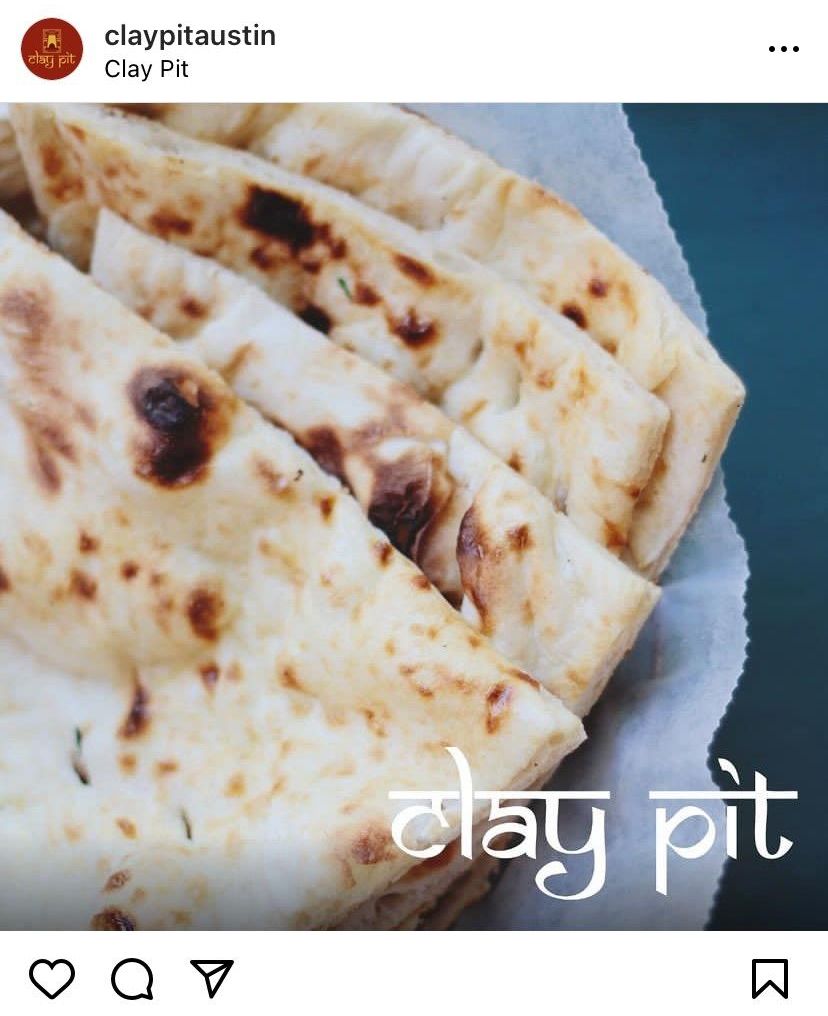 Named after one of the best spices used in Indian cooking, Saffron specializes in a fusion of Himalayan Nepali and Indian cooking. Stop by for some amazing Paneer Tikka, delicious Tandoori meat, or Nepalese fried rice dishes.
This little food truck on Burnet focuses on keeping the authentic South Indian Dosa recipe while embracing modern twists. Check out their menu offering signature dosas, street bites like Samosas, and their original "Doffles", dosa waffle sweet bites.