Austonia AM
100% Austin news, info, and entertainment, straight to your inbox at 6 a.m. every morning.
In five minutes, you're fully informed and ready to start another great day in our city.
Get connected with our daily update
(F. Clinton Broden/Broden & Mickelsen)
Daniel Perry, the active-duty Army sergeant who says he shot armed Black Lives Matter protester Garrett Foster in self-defense while driving for Uber, took a lie detector test for the incident that happened in July .
---
Perry claimed Foster, who was carrying an AK-47 rifle, raised the assault weapon "in direct threat to (his) life" in a July 31 statement. However, the Austin Police Department said witnesses have described several different versions of the incident.
"In order to put this issue to rest, Sgt. Foster recently took a polygraph test," Foster's lawyer, Clint Broden, said in a press release issued on Thursday.
The test posed two questions, both of which asked whether Perry lied about seeing the AK raised before shooting Foster.
Perry answered "no" to both and the polygraph examiner found "no deception indicated," per the release.
Although lie detector tests are commonly used by law enforcement, many dispute their value.

"Most psychologists and other scientists agree that there is little basis for the validity of polygraph tests," according to the American Psychological Association.
In a nearly 400-page report, published in 2003, the National Research Council concurred, writing: "Almost a century of research into scientific psychology and physiology provides little basis for the expectation that a polygraph test could have extremely high accuracy."
APD said the investigation is ongoing in an email to Austonia on Thursday. The department last provided an update regarding Foster's death on Aug. 26, when it asked for witnesses to come forward with any information about the incident.
Perry is stationed in Killeen and only allowed to travel 100 miles from base. Broden said he was in Austin the night of Foster's death because it "was the closest location that had significant ridesharing customers."
After shooting Foster, Perry said he drove away and then called the police, who later released him with no charges.
Foster regularly attended Black Lives Matter protests in Austin with his fiancée Whitney Mitchell, a quadruple-amputee.
On the night of his death, Foster attended one organized by the Mike Ramos Brigade, which has referred to Foster as a "comrade" and "one of our own" in social media posts.
Tonight a racist vigilante murdered a comrade that has consistently shown up for Black lives for the last two month… https://t.co/Mmraf4m7xA

— Mike Ramos Brigade (@Mike Ramos Brigade)1595739431.0
The group's members have not identified themselves, but APD confirmed in June that there is crossover between the brigade and a local antifa group called Defend Our Hoodz, which organized a rent strike and May Day protests earlier this year. The mother of MIke Ramos has denounced the group's use of her son's name. Her son was shot and killed by APD officers in April.
Like Perry, Foster served in the military, but he left to care for Mitchell when she became sick with an unknown illness, which led to her amputations, according to the Dallas Morning News.
On the night he was shot, Foster spoke about why he was carrying an AK-47 with Hiram Gilberto Garcia, who has been broadcasting live footage from the Austin protests.
"They don't let us march in the streets anymore, so I got to practice some of our rights," Foster said.
After a long, long year without live music, Austin has waited patiently for a return that has finally come. Festivals are planning returns and even venues that adhered strictly to safety protocols during the pandemic are feeling safe enough to gather again in person.
Starting in just a few short days, you can finally enjoy what makes Austin, well, Austin again. Here are a few of the live shows to look forward to.
Remember to jump on those tickets–Austinites have been missing their live music!
We asked you what you wanted and you told us. More newsletter!
Austonia launched its new and improved newsletter today. You can expect:
100% Austin news, info and entertainment
Sent straight to your inbox at 6 a.m. every morning
In 5 minutes or less, you're fully informed and ready for a great day
Sign up here:
For Marco Silvestrini, gelato takes him back to his childhood when he and neighborhood kids in a small Italian town would end their day at the local gelato shop. It was part of what made some of the best memories for him.
He's since been offering that same experience for the past seven years with his artisanal gelato shop, Dolce Neve, in Austin, alongside his sister and her husband.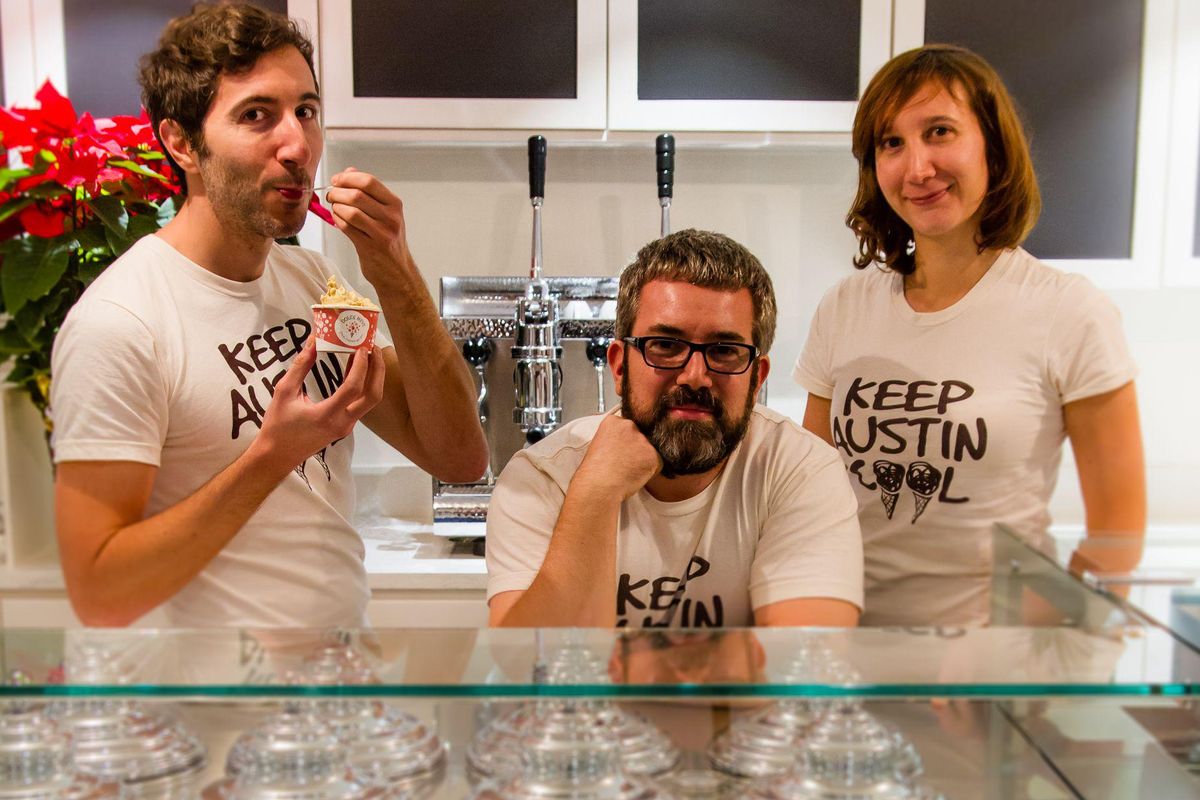 Leo Ferrarese, Marco and Franscesa Silvestrini run Dolce Neve. (Dolce Neve)
While gelato always played a big role in Silvestrini's life, it wasn't in his plans to take on a business with his favorite treat. After a few years in New York working as a management consultant, he felt he was missing out on something. "I decided to take a step back and started thinking, what could... I do to make society better and happier, even just for a moment," Silvestrini said.
He thought back to his childhood and the role gelato played in it and wanted to offer the same experience to Americans.
Once he had the product idea down, it came down to location. Growing up among farmers in a small community in Central Italy, Silvestrini knew he wanted a slower pace of living than New York, so he asked around. The answer he got: "Austin." The only thing he knew about what would become his future home was it had a Formula 1 track.
But after visiting once, he felt a great sense of community he didn't feel in The Empire State. "I felt it was not just a good place for a concept like mine, but also a good place to live because at the end of the day, you cannot just think about your business," he said.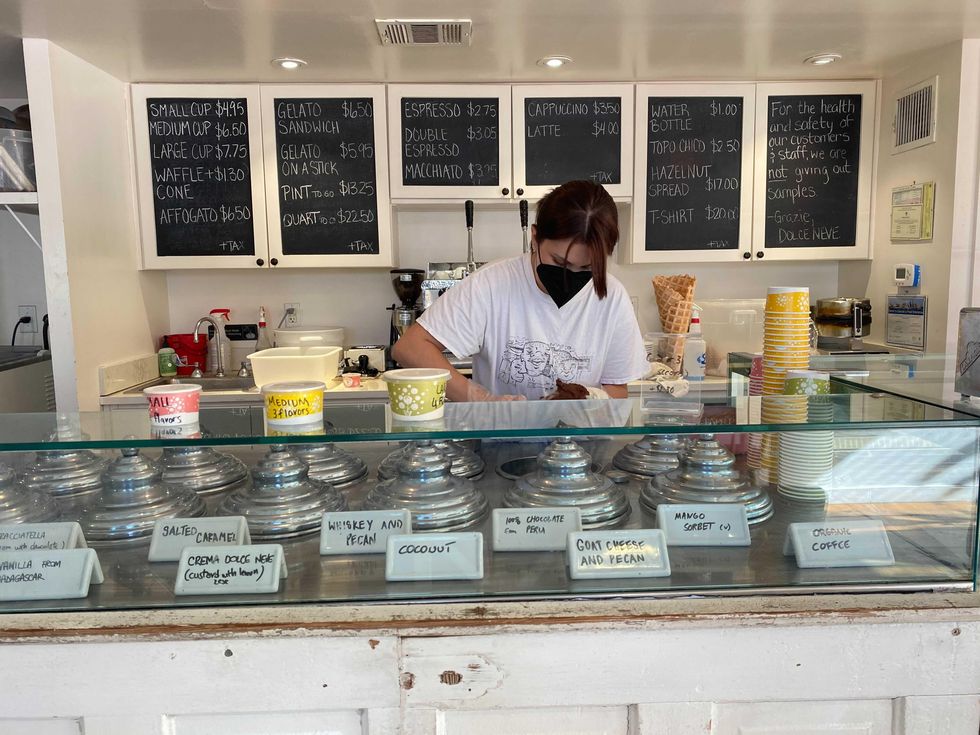 "Dolce Neve" translates to "sweet snow." The shops offers 12-18 flavors at a time. (Dolce Neve)
Similarly, his sister Francesca Silvestrini was experiencing the same feelings while studying for her Ph.D. in Ohio before teaming up with Silvestrini. She went back to Italy to be properly trained in making gelato while Silvestrini focused on the business plan. They brought Leo Ferrarese, her husband, onboard and opened their first shop on South First Street in January 2014. The rest is history.
On the menu, you'll find various traditional and innovative flavors that rotate out. Some of the staples include chocolate, 100% vanilla from Madagascar and salted caramel. Other rotating or seasonal flavors include whiskey and pecan, organic cantaloupe sorbet, goat cheese and pecan, almond custard and tiramisu. They've created over 300 flavors together in the span of the business.
So what's next for the shop? Lately, Silvestrini has been thinking a lot about that. With two locations in Austin, one in Houston—he's just not sure if expanding more is the right move. Maintaining a quality product and good service is of utmost importance that he's not willing to sacrifice.
"In order to be happy, it's not about making money, it's about being an integral part of the community," Silvestrini said. "There have been so many cases in which I think what I did today really made a difference in somebody's life."