Get connected with our daily update
Unlike similar crypto groups, people in the Austin scene aren't trying to purchase a copy of the U.S. Constitution or an NBA team. But members of a new Austin crypto organization still have high ambitions for investment goals.
---
"In the future, we want to be able to invest in the community," said Jon Gregis, a member of the ATX DAO. "If we can invest in Austin and grow Austin, that's our main goal."
A DAO, or a decentralized autonomous organization, is a group that pools together capital and goes on to make investments or take on blockchain-based projects. They can act similar to VC firms but have looser structures. With the ATX DAO, there are currently 25 members, all with equal voting rights cemented through a non-fungible token.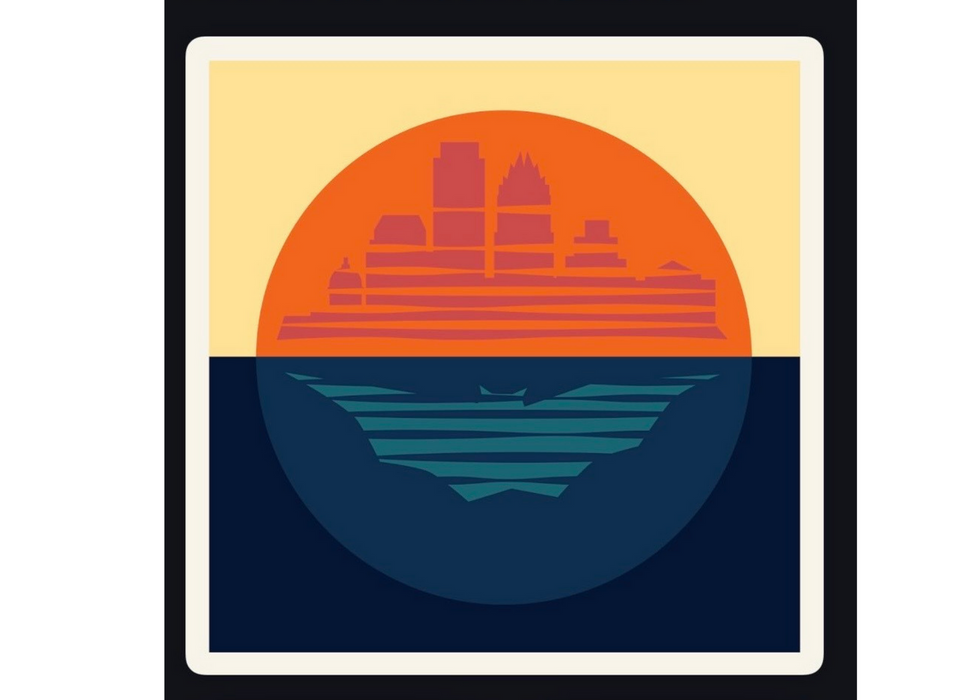 The NFT that members received during the first mint. (ATX DAO)
This makes them slightly different from other DAOs, which aren't often governed by NFTs. And because they're a city DAO, they want to represent Austin as much as possible since their launch two months ago. So they say they've engaged with Hope Outdoor Gallery, want to find local artists to design NFTs, and had initial members join at the cost of .512 Ethereum.

"We're still at that point of growing pains because we don't have a blueprint to follow as a DAO," Gregis said. "We're kind of picking and choosing from all different types of DAOs."
DAOs have faced some criticism for their operations. In 2016, the first DAO was hacked, resulting in millions of dollars lost. They also wade through a murky legal status.
Members of ATX DAO are conscious of these factors and have established some priorities as they grow, saying they'll have pillars for engineering, marketing, finance and legal.
"We're trying to take it very slowly and figure out from the legal aspect what we should and shouldn't do," Gregis said. "Even though it's a super gray area, as of now, there have been problems with other DAOs who have tried to be an investment DAO and are getting hit by some type of government organization for doing something illegal. We're trying to cross our T's, dot our I's before we start doing that."
Members said the group blossomed after growing a community of "crypto natives." "Which just means you can talk the lingo and have a little bit more educational conversations and discussions that are not necessarily introducing Bitcoin for the first time," one member said.
Now that they've had their first mint—the process of the NFT being delivered to members' wallets—in October they're trying to grow. Mason Lynaugh was one of the first people brought on during the group's genesis round, the minting process that created the DAO.
"You don't have to be a crypto native or even part of anything to do with crypto," Lynaugh said. "It's more of if you're curious, come join us."
Lynaugh grew up in Austin and mentioned that he doesn't work or trade in crypto, but thought he could work well in the DAO given his background in event planning and project management.
"Crypto sometimes gets a bad rep for being exclusive or a not welcoming community, but I would like to dispel that myth," Lynaugh said. "Everyone is super excited about crypto and excited to share stuff. It's not the way that some people paint it to be."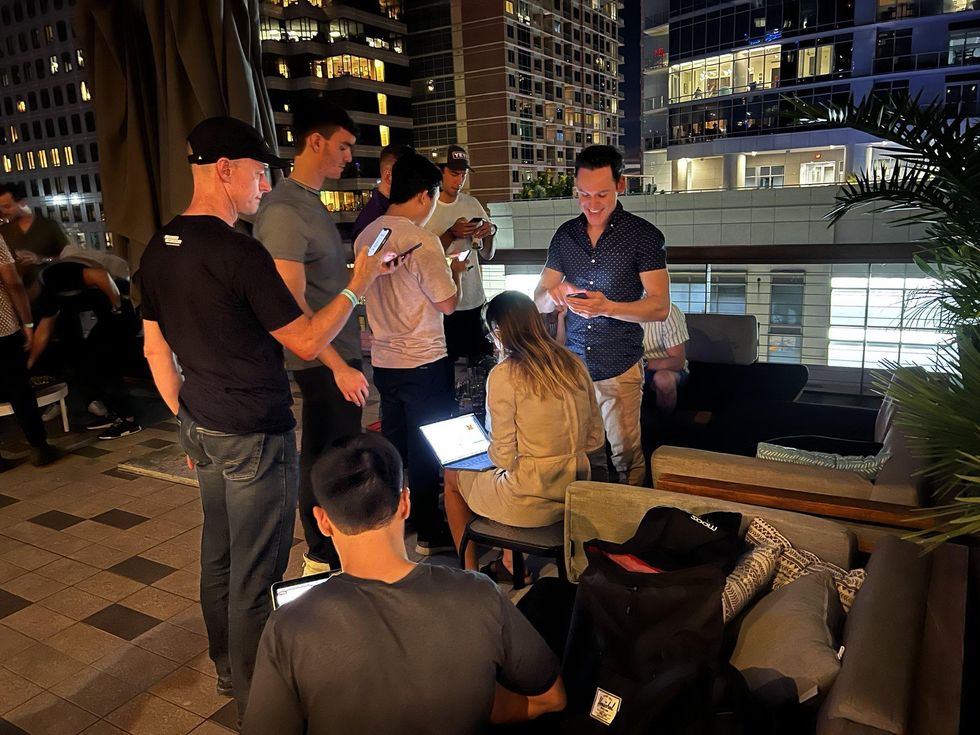 Crypto enthusiasts gather during the genesis mint party in October. (ATX DAO)
Interest in having a role in the DAO is high, members say. Their discord group has over 200 people with more joining every day. New people introducing themselves display varying proficiency in crypto and all kinds of day jobs: professor, Tesla employee, a startup worker.
"Our last event, we had somebody going around asking to buy them (the NFT) from all the members because they wanted to be a member," Gregis said.
On the ground, there's a clear interest in appeasing those involved in cryptocurrency. But when it comes to government, the relationship can be more strained, though ATX DAO members say they want to lend their expertise to state and local officials. Member Joseph Fluckiger pointed to initiatives in Singapore and El Salvador to be more crypto-friendly.
"What's really going to happen is you're going to get an intellectual drain from talent to other countries and other states if the United States and Texas don't step up and make policies that are friendly to innovation," Fluckiger said. "We haven't really been politically active, but certainly that's an opportunity that we could do."
He imagines that banking and government are going to be disrupted with the rise of crypto, the NFT boom and Web3.
"It's incredibly exciting. It's incredibly new," Fluckiger said. "ATX DAO allows us to be at the forefront of that revolution that is just starting, but is going to grow in steam."
After casually searching for a home for years, Austin influencer and blogger Jane Ko experienced the pandemic housing surge firsthand when she found an empty lot near the airport in the summer of 2020. Stretched thin by high demand and limited supply, Austin's median home prices had already reached a then-record of $435,000 in August of that year, while new inventory grew by just 0.1% in that month.
Due to seemingly ever-increasing demand, Austin's homebuilding market has been busy—if not strained. New listings were up 6% in November 2021, while median home prices had cooled ever-so-slightly to $470,000. The area was ranked the fifth-busiest metro in the country for single-family homebuilding permits in August 2021, according to a National Association of Homebuilders report.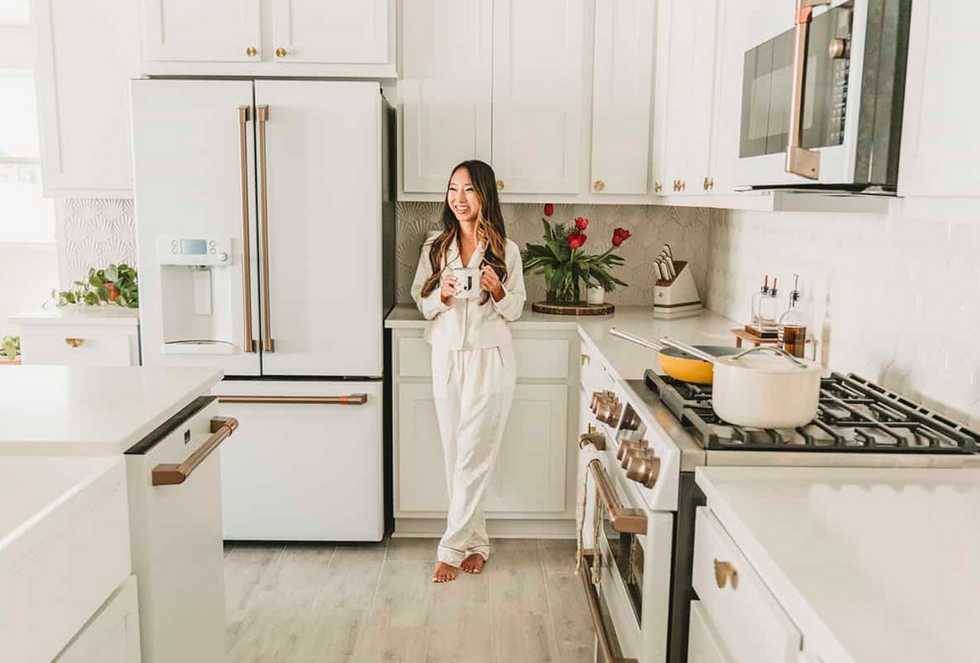 Austin influencer Jane Ko build a semi-custom home on an empty lot near Austin-Bergstrom International Airport. (Jane Ko/A Taste of Koko)
"I think for those of us that have been here, we've seen prices rise in the last five years and I kind of figured if I don't buy now, then I probably won't be able to," Ko said. "I kind of stumbled upon it and I think for a lot of people that's been really the only way to find real estate since the market is so hot."
Austin's inventory has remained somewhat low, especially in the center of town, leading some to believe that homebuyers are being "priced out" by the city's limited options. Area suburbs are reflecting that—the Kyle-Buda-San Marcos region saw 2,900 new home starts from September 2020-21, more than any other Austin submarket.
But with new developments working to keep pace with demand, 2021 Austin Board of Realtors President Susan Horton told Austonia the trend just reflects customer desires.
"I don't think that folks are being pushed by any means," Horton said. "Folks that want to buy out in the rural areas are buying for personal reasons and they're buying because they want the land and privacy. Folks really, truly want to be out. If you want a big lot, it's there."
Like many homebuyers during the pandemic, Ko was happy to scrap Austin's downtown for more space. Because she works from home, she said she and many of her friends are looking for bigger homes and bigger lots in hot areas like Dripping Springs.
Ko had the option of moving into already-built homes within the neighborhood but opted for a custom-built home instead—something that Horton said is another draw for prospective homebuyers.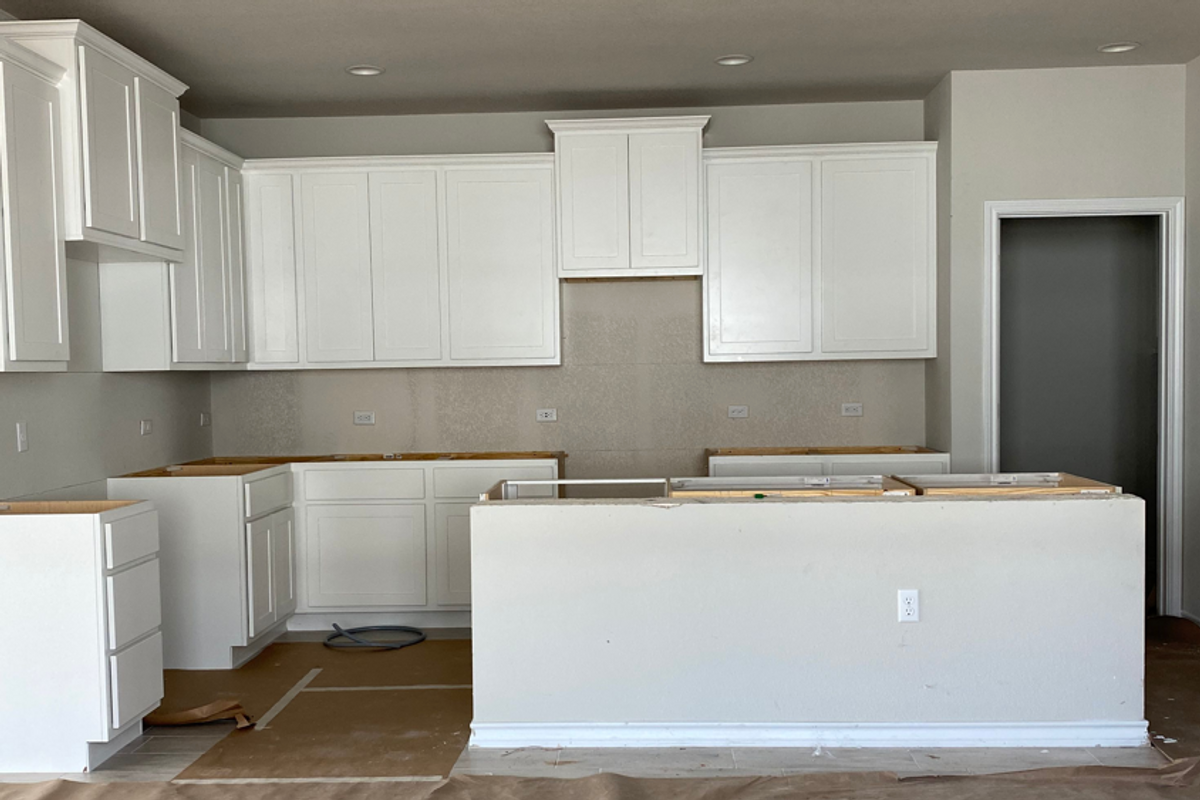 Austin influencer Jane Ko remodeled her kitchen after building her semi-custom home. (Jane Ko/A Taste of Koko)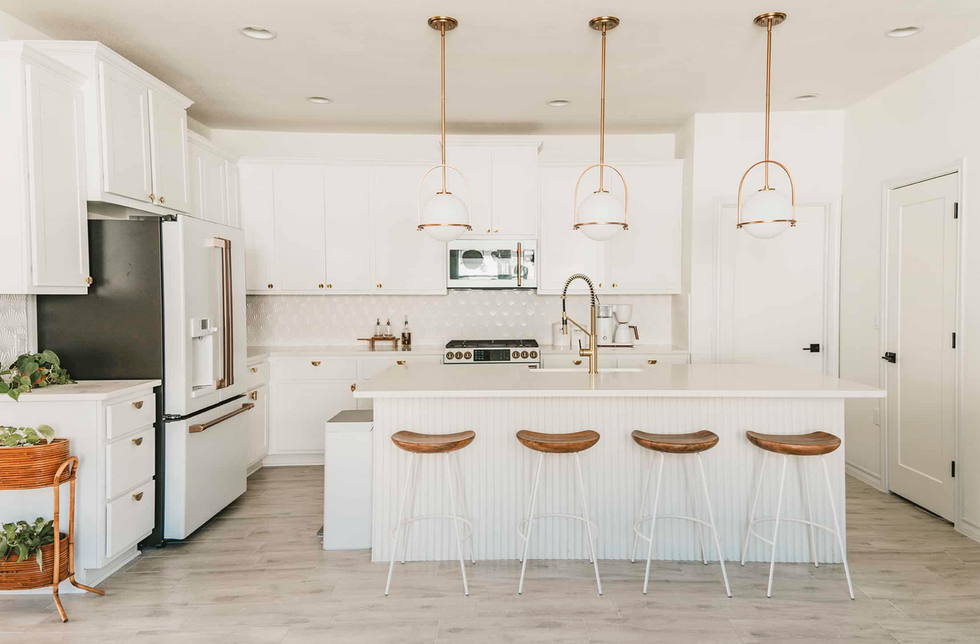 Ko's kitchen remodel took months due to supply chain delays/ (Jane Ko/A Taste of Koko)
"The desire to be away from the person next door is really most of the time the deciding factor," Horton said. "And then there are those that want to have a house simply because they want to design it themselves, and so those are the aspects that make buying that raw land and building a house really important."
But building a custom home has its drawbacks. Horton said construction loans, land surveying, zoning restrictions and road access are all hoops that can be jumped through with an experienced realtor.
But even through the tedious and stalled homebuilding process, Ko said it's been worth it to create a home made just for her.
"This is a place that I'm hopefully going to stay in for a very long time," Ko said. "And I think because I do a lot of entertaining at home and shoot photos at home, it's really important that my space looks the way I want it to."
In earlier phases of the pandemic, people took it as the perfect moment to uproot their lives to the newest boomtown. Many, particularly Californians, found a fit with Austin, enjoying the Texas weather and lower cost of living. But for some, it may only be a pitstop.
Melaku Mihret, who works remotely in Austin for a Meta office in the Bay Area, thinks some of the Californians who have moved to Texas in the pandemic may just move here temporarily, save money and then head back. Others have also speculated a possible reverse migration, but it may be too early to tell.
According to the Kinder Institute at Rice University, Texan migration to California has remained steady for years. And when it comes to Californians leaving, the institute says it's less about a pull into Texas and more of a push out of California driven by home prices.
But they're not all staying in Austin. U-Haul data shows departures from Austin were up 18% even as one-way arrivals were up 22% in 2021.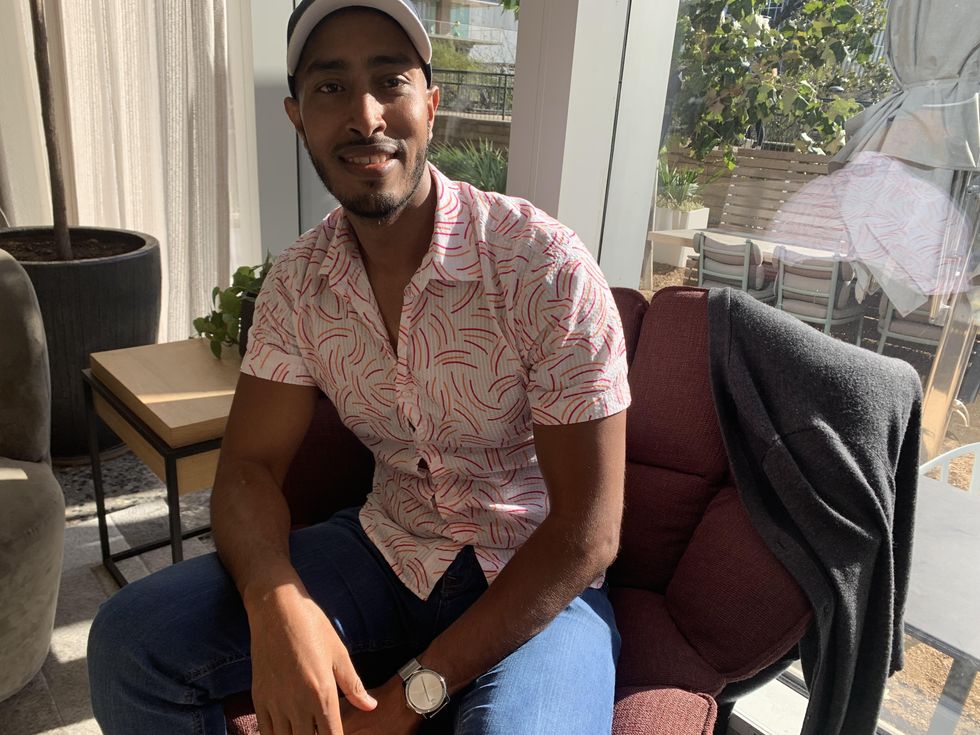 Melaku Mihret, a remote worker a Meta office in the Bay Area, is now living in Austin. (Andrea Guzman)
For Mihret, the biggest driver behind his move was the squeeze of costs in Northern California. If the cost of living wasn't an issue, Mihret said he'd live in the Bay Area. So if Austin continues to become less and less affordable, would Californians go back?
For Mihret, not many places come close to what California offers. He points to the nature, such as the mountains and lakes, in California and the massive tech hub it is. Austin is "not even nearly close to California," Mihret said, after acknowledging Austin's growth as an emerging tech hub.
Meanwhile others like Ian Davies, who grew up in Austin and left in 2011 when he was in high school, much prefer living in Austin.

His family had moved to Philadelphia, years passed and he eventually landed a job in financial operations at NBC Universal in Los Angeles, California. When the option of remote work during the pandemic came around, he longed to return home.

"I couldn't wait to move back to Austin," Davies said. "Not that I didn't enjoy my time in LA. But LA is just a whole other beast than Austin."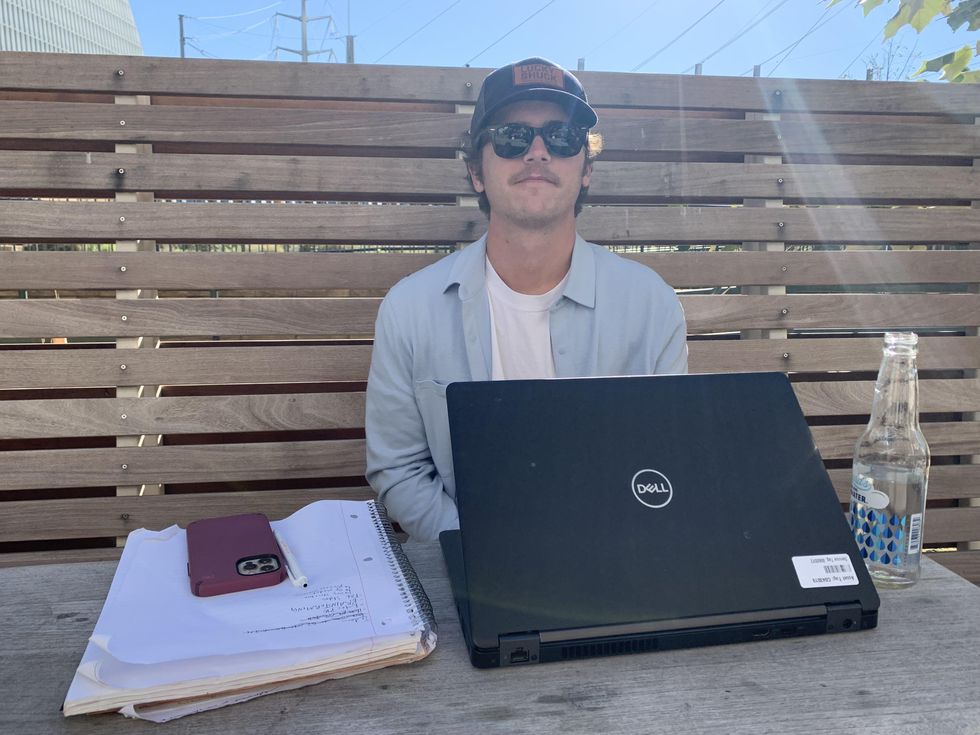 Ian Davies does remote work for NBC Universal in Downtown Austin in early January. (Andrea Guzman)
But a downside he says is it's become more expensive in the past year and half since he returned. The Austin-Round Rock-Georgetown metro area had the 12th highest change in a recent study on cost of living increases across the country. And among the nation's top 10 tech hubs, Austin saw the largest year-over-year increase in average rent this past September, with an average of $1,647.
It's a cost of a growing city. Davies sees a positive in all the growth, as he enjoys living in a city with a diverse population, like when he was in LA.
"There's a group of Austinites who are very against people moving here, and I'm definitely not part of that crowd. I want to share this city with other people. I think it's awesome."

He says he wouldn't want to be anywhere else.
"I hope that Austin can keep its soul and keep its weirdness. Like blues and rock and live music," Davies said. "I haven't seen much of that change. I hope people that move here can adapt the spirit of the past and carry that."