Never miss a story
Sign up for our free daily morning email...
...and afternoon text update
Get connected with our daily update
(Courtesy Travis County Commissioners Court)
Travis County Judge Sarah Eckhardt provided an update earlier today on local social-distancing efforts.
According to the updated modeling from researchers at The University of Texas at Austin—expected to be released to the public later today or tomorrow—and other data, including Google's community mobility reports, Travis County has reduced its trips to transit stations by 72%, to retail and recreation facilities by 54%, to the workplace by 44%, to grocery stores and pharmacies by 29%, and to parks by 19%.
"I'm happy to report that ... we do see a significant reduction in our activity," Eckhardt said, speaking at the Commissioner's Court meeting. "However, it does appear that we may have plateaued, and so I would ask people to do more."
---
Eckhardt added that a 50% reduction in trips is not enough. An earlier modeling report from the UT researchers, released on March 26, estimates that at this rate, the Austin-Round Rock metro will see more than 1.56 million coronavirus cases and more than 6,000 deaths by mid-August.
According to the report, social distancing will need to be at the 90% to avoid overwhelming hospitals in Travis, Williamson, Bastrop, Caldwell and Hays counties.
The team of researchers—led by Dr. Lauren Ancel Meyers, a professor on integrative biology, statistics and data sciences—estimate that Austin's coronavirus caseload peaks will depend on the rate at which nonhousehold contact is reduced.
For example, with no social distancing, the researchers expect the city to hit its peak around late April to early May. With a 50% reduction in nonhousehold contact, that peak is pushed back to mid-August.
The Institute for Health Metrics and Evaluation at the University of Washington predicts the state of Texas will hit its peak resource use on April 19. The IHME does not expect a hospital or ICU bed shortage in Texas at the time, but it does predict a deficit of 605 invasive ventilators. Its modeling does not extend to the city level.
In a video posted to his website yesterday morning, Austin Mayor Steve Adler said the city has slowed its doubling rate—the time it takes for the number of coronavirus cases to double—to five days. In the March 26 UT report, researchers modeled their projections according to a doubling rate of four days.
"New York and the United States, we're looking at a doubling every two days," the mayor said. "And that's where we started off. Right now, we're probably doubling every five days, and that's a really good number, but we need to continue to do better."
With a taste of MLS play under their belts, Austin FC is entering the second half of a scoreless inaugural match.
The club has been given some generous breaks from No. 2 LAFC, who had one or both of their star DPs out for the half. While forward Diego Rossi is out for the entire match due to a hamstring injury, Carlos Vela was accidentally pulled too soon on what turned out to be a miscommunication.
"He gave us the sign that he needed to come off," LAFC Head Coach Bob Bradley said on broadcast. "I can't say more than maybe it's my fault."
The two breaks aside, Austin FC has been holding their own against the match favorites. In the signature style of Head Coach Josh Wolff, the team has been quick and intense, nearly connecting on several fast breaks. ATXFC has also kept about equal possession with LAFC, although their shot attempts haven't been quite as nervewracking as the home team.
LAFC has given goalkeeper Brad Stuver some scares with 11 shot attempts, four of them on goal. By contrast, Austin FC has had five shots on goal.
LA has pulled some dramatics and slowly gained more possession throughout the half, but ATXFC's defense isn't as shaky as it seemed in preseason. Jhohan Romana has pulled his weight in getting the ball out of goal, and defensive midfielder Alex Ring has shown the qualities that make him captain as he leads his teammates through their first ever match.
Will Austin FC win against the odds? It's tough to tell, but Austonia will keep you updated!
It's matchday! Austin FC—Austin's first major league sport team—kicks off its debut season in Los Angeles today after years in the making. We know how much this means to our beloved city and are taking you along with us as we journey to LA!
Austin FC writer Claire Partain and I are excited to bring you game-day coverage straight from the City of Angels. Check back here for updates, and visit our socials: @austonianews for the latest.
5 p.m: Kickoff!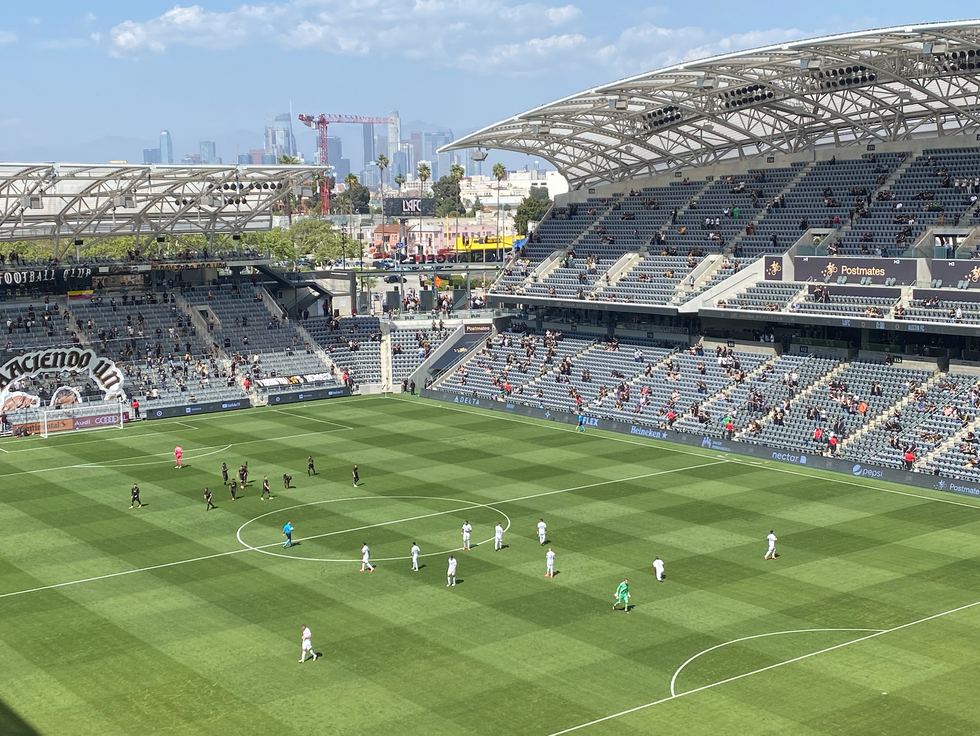 It's finally here! Claire will be updating Austonia's Twitter account live. And we'll post her game recap after the game. Best of luck Verdes!
4:40 p.m: Excitement radiates back home
Watch parties are in plenty supply back home. Austonia's Laura Figi visited Circle Brewing Co. and found a crowd of excited supporters.
4:20 p.m: Austin FC supporters are in the stadium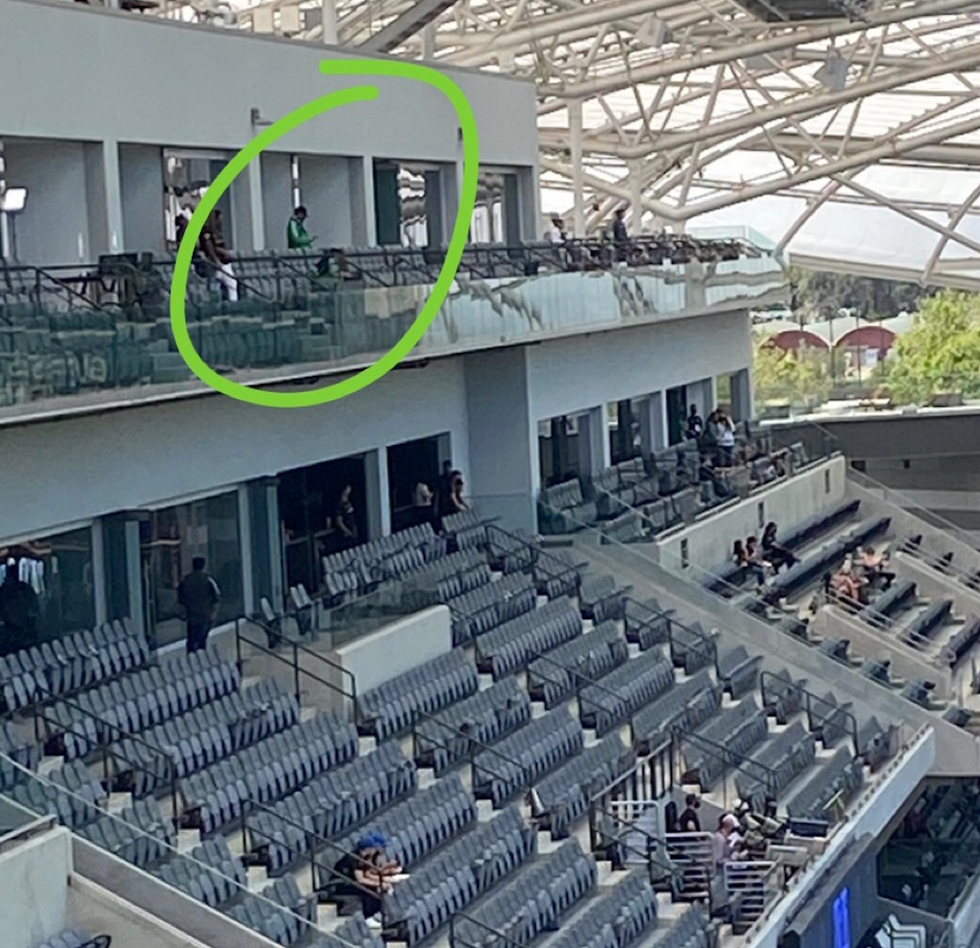 Although the Banc of California Stadium is hosting the match at limited capacity, we see some green in the stands ahead of kickoff. Just moments away from the Austin FC's debut!
~3:20 p.m: Austin FC's team bus enters the stadium grounds
With a warm welcome from Los Verdes, Austin FC players were welcomed into the Banc of California Stadium.
~1 p.m: Los Verdes in LA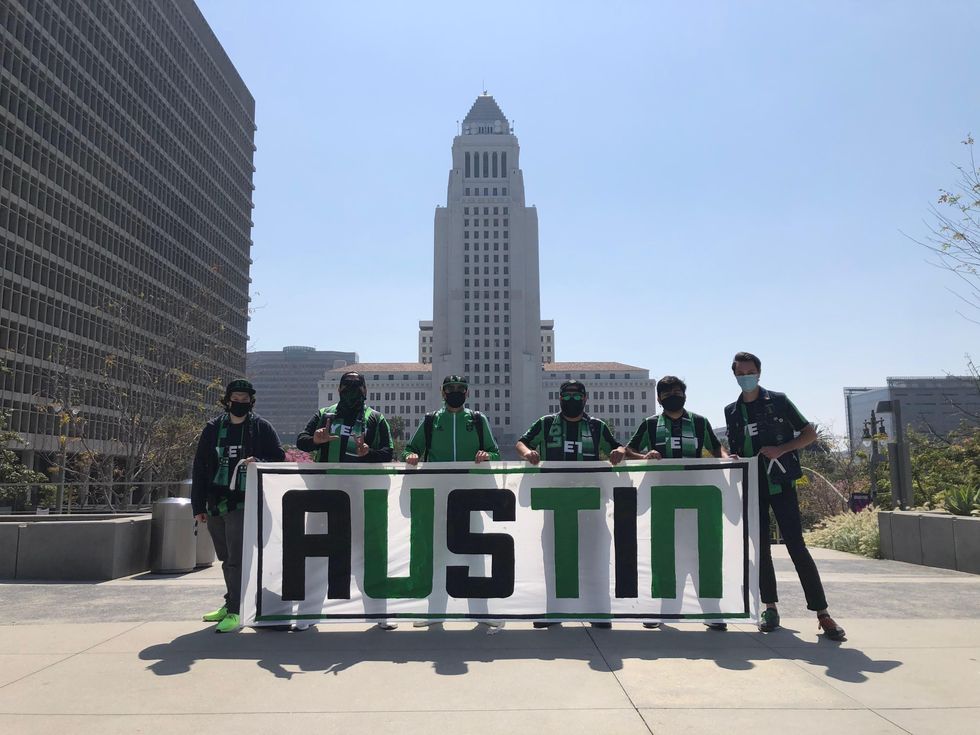 (Rigo Rodriguez/Los Verdes)
Austin FC supporters are making their presence known in LA, including the Los Verdes group.
Los Verdes members started having match-day fun around the area this morning with brunch. We'll be joining them about an hour before the game outside the stadium to share some of their excitement. We'll post immediately to Austonia's Instagram.
11:45 a.m: We landed!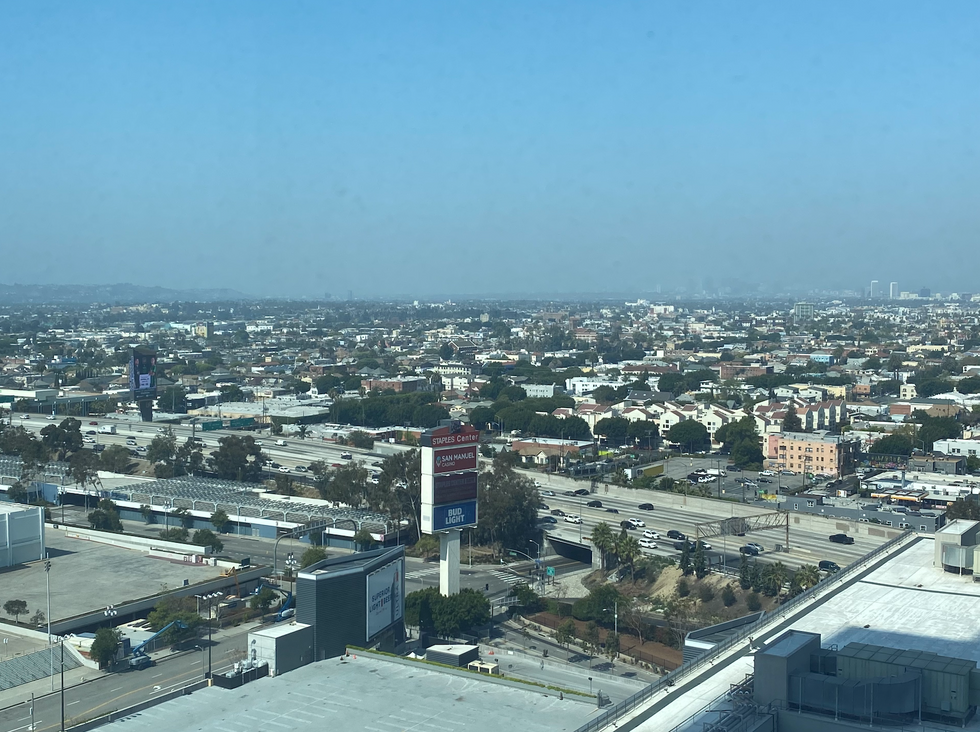 View from hotel room where we're staying; the stadium digital sign can be seen in the right corner. (Sonia Garcia/Austonia)
Switching over to pacific time, we're here and it's almost like no time went by. It's 9:45 a.m. here.
We've been in contact with Los Verdes, an Austin FC supporter group, who is also here in LA counting down to kickoff.
8:20 a.m: LA bound
Like many of you, we've been looking forward to this moment for, let's just say, a very long time. Today, we woke up bright and early, headed to Austin-Bergstrom International Airport and hopped on a flight to LA.
A gloomy day in Austin with a very quiet airport, we're headed to sunny skies in California.
As we wait for the game to start at 4:30 p.m., check out Claire's preview of the game with a predicted lineup and timeline of the long journey to get here.