Get connected with our daily update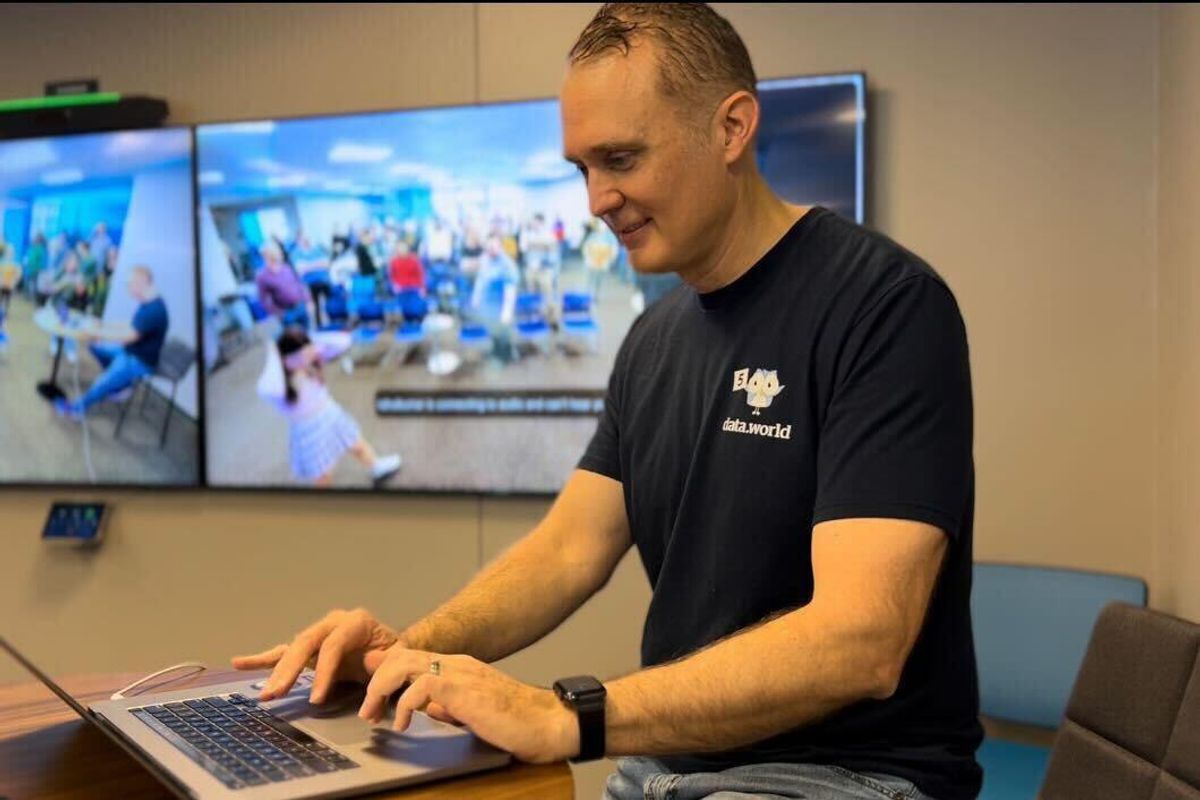 Before Dell's founding and Central Texas growing into the massive tech hub it is today, born and raised Austinite Brett Hurt started programming at just seven years old.
Now, the entrepreneur who has taken on a handful of ventures, including Bazaarvoice and Coremetrics, opens up to Austonia about what he calls his most ambitious and exciting one yet: data.world. This week, the company announced $50 million in funding led by Goldman Sachs. Additionally, in the next 12 months, Hurt aims to double the size of the team.
---
Data.world uses a cloud-native data catalog to map out distributed data and get answers on questions a business may have, and it was founded in 2016 by Hurt and three others whom he calls some of the best technology executives in Austin.
"We came together and we ultimately were brainstorming about the future of data and why data is so siloed in the world given that we're supposed to all be networked," Hurt said.
They went through theories and talked to people about how it came to be this way, and decided to do something to fix it. "It really prevents humanity from solving some of the bigger problems," Hurt said.
Hurt lists off a few areas he hopes to remedy the disconnect whether it's data on housing, dislocation or education.
For organizations operating in the public sphere and giving away their data to "increase the overall positive aspects of humanity," Hurt says they've created a platform people can use for free. Whereas those using it private internal company data pay for the service.
In Austin, data.world's customers include insurance agency The Zebra and driving school Aceable.
Though tech companies face a tough hiring environment with talent that has many options, Hurt thinks people are attracted to data.world because of its status as a B corporation, or one that prioritizes social and public good and operating sustainably. These companies consider a triple bottom line: people, planet and profit.
http://data.world\u00a0 is different by making a difference.\n\nOur CEO and Co-Founder, @databrett talks about the responsibilities that come with being a Certified B Corporation and how the company wouldn't have it any other way.\n\n#bcorpcertified #dataculture #bcorporationpic.twitter.com/zEGfPSKt0R

— datadotworld (@datadotworld) 1635454528
Think Ben & Jerry's, which donates some of its revenue to charity or Patagonia trying to make improvements to the environmental impact of its fabric. So while Hurt sees the popularity of B Corps in consumer products, he hasn't seen it adopted as much in the enterprise space.
But he's hoping to change the tide. In a TechCrunch article, he advocated for Facebook to become a B Corp and noted other Austin companies are launching as or switching to B Corps like ZenBusiness, Osano and Capital Factory.
"Being able to pioneer a new way of being as a company, especially as a tech company, I think is really important," Hurt said.
With data, he sees an opportunity to seek out facts and act on it.
"The basis of human progress has always been collaboration. A lot of people think, negatively, that human progress has been based on competition. But the reality is that we're very collaborative issues, and we're meant to help each other, we're meant to partner," Hurt said. "That's the way that we survived the harshest times before we had shelter and everything else. And data really is at the center of that."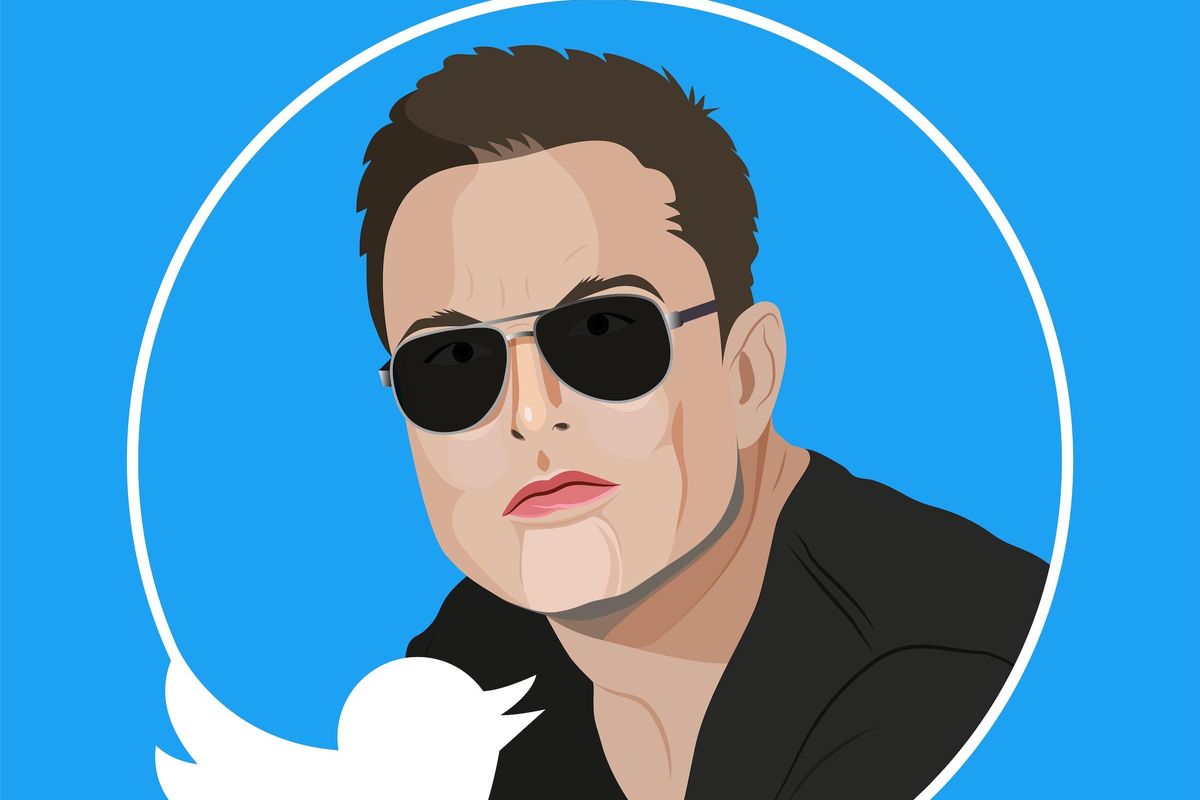 Shutterstock
Elon Musk has proposed once again to buy Twitter for $54.20 a share.
The news that Musk is offering to carry on with the $44 billion buyout was first reported by Bloomberg. Now, a filing with the Securities and Exchange Commission shows Musk made the proposal in a letter to the tech giant on Monday.
The New York Stock Exchange temporarily halted trading in Twitter stock twice Tuesday, first because of a big price move and the second time for a news event, presumably the announcement of Musk's renewed offer.
While the per share offer price on this latest proposal remains the same as the original offer, it's unclear if Musk has made other term changes or if Twitter would reject it. According to other reports, a deal could be reached this week.
The stock closed at $52.00/share Tuesday, indicating market uncertainty around the $54.20 offer.
After Musk informed Twitter of plans to terminate the original agreement in July, Twitter sued. A trial has been expected in Delaware Chancery Court on Oct. 17.
With the proposition of a buyout on the table again, it revives the question of whether Musk might move Twitter from San Francisco to Central Texas.
He's done so with some of his other companies. Tesla's headquarters in southeast Travis County had its grand opening earlier this year and tunneling business The Boring Company moved to Pflugerville. At least two other Musk companies, SpaceX and Neuralink, have a Central Texas presence without being headquartered here.
Technology journalist Nilay Patel this afternoon voiced concerns that owning Twitter and Tesla together could be problematic for Musk, as his Tesla manufacturing facilities in Germany and China are both in countries that have disputes with Twitter over content moderation and censorship.
Telsa shares fell after the Twitter news became public, before rallying to close up, at $249.44.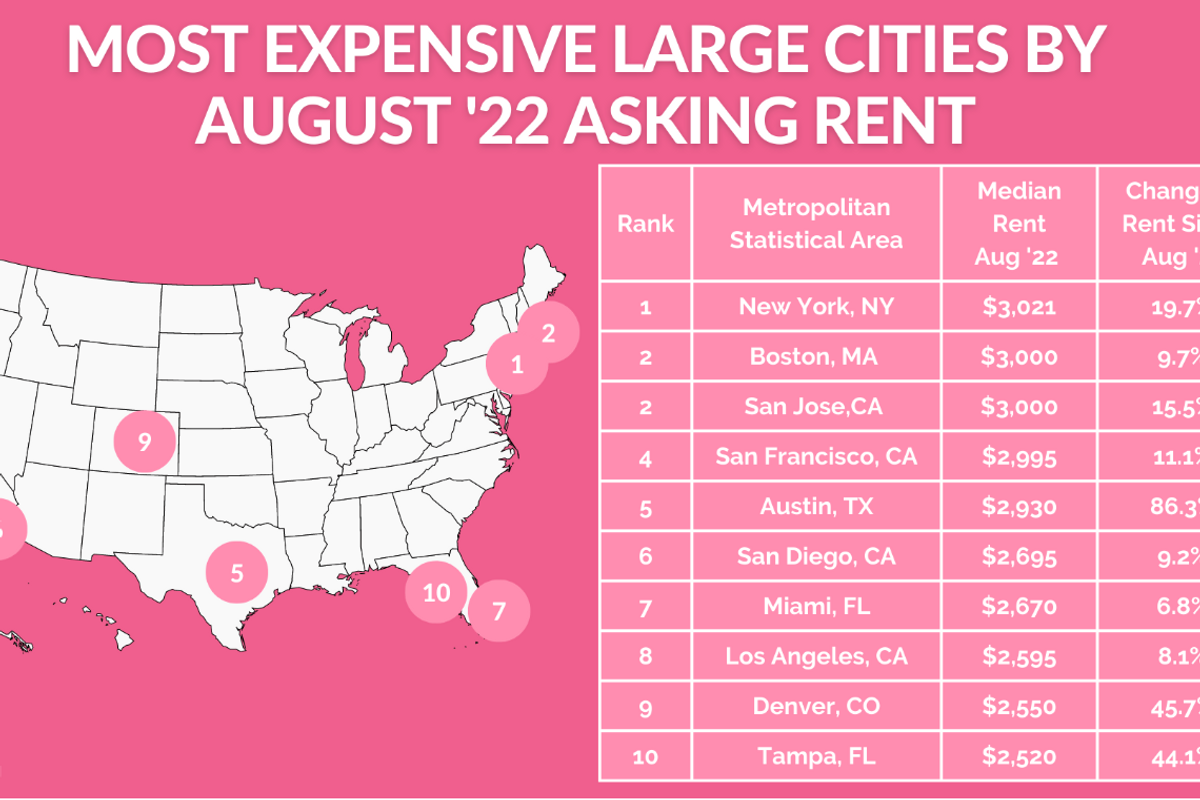 Dwellsy
While searching for a place to live, Austin renters will face monthly rates of nearly $3,000, a recent guide from rental marketplace Dwellsy shows.
The median rent in August this year was $2,930, a more than 86% increase since August 2021. That's $820 more than the nationwide median asking rent in August and puts Austin just below the Bay Area, Boston and New York for large cities with the most expensive asking rent.
"Within this group, Austin, TX stands out for the highest increases in asking rent, which has nearly doubled since this time last year," the study notes.
Outside of those large cities, however, others are seeing even higher rent spikes. Metro areas that ranked above Austin in one-year increases include those like Kansas City, MO with a 112% change in rent since last August and Tucson, AZ with a 124% change.
The data reflects large apartment communities, single-family homes and 2-6 unit buildings.