Get connected with our daily update
(Chris Caselli)
With films like Coco streaming on Disney+ and Day of the Dead Barbies lining Walmart shelves, it is clear that the commercial aspects of Dia de los Muertos are alive and well.
---
Despite its trending marketability, this ancient Mexican tradition of altars and offerings remains a rite of remembrance. The holiday begins Nov. 1 and ends Nov. 2, with traditional activities starting days in advance.
Jessica Tovar, an educator and artist who lives in north Austin, sees Dia de los Muertos as a time of "unity between families" which is expressed through an ancestral celebration.
"I am delighted to remember loved ones who are no longer with us," she says.
Tovar, who is originally from Tamaulipas, Mexico, recalls how Day of the Dead festivities were a major part of her primary education.
"At school, every year we made a mega altar in the school theater and we all participated by decorating it, bringing food, flowers, toys, photos, pan de muerto, fruit, etcetera," she says. "Families would gather around the altar to sing, socialize, dance, and would eat the food from the altar. Some came to celebrate dressed as catrinas (an elegantly attired female representation of death) or had their faces painted as calacas (skulls)."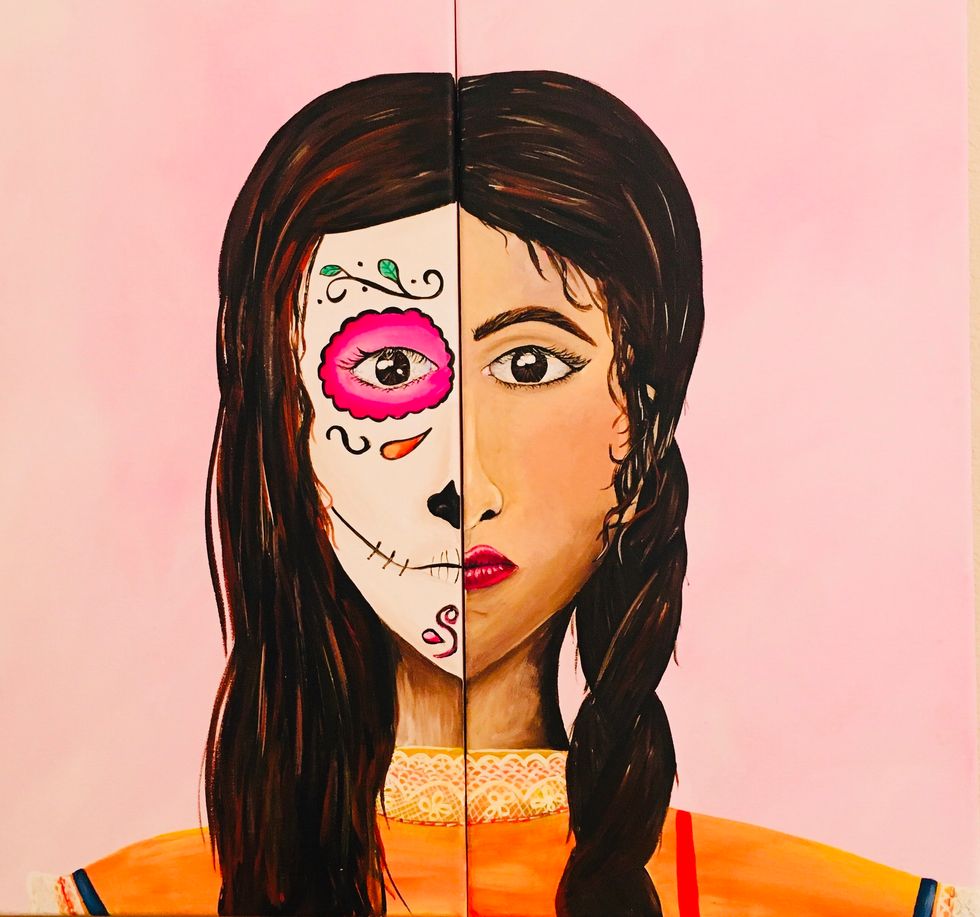 Painting by Jessica Tovar, inspired by Dia de los Muertos. (Jessica Tovar)
Tovar, who often employs Day of the Dead imagery in her art, notes that the holiday carries a commitment in Mexico that is, perhaps, lacking in the states.

She says in Mexico the tradition begins days before with people making altars in their homes and decorating the tomb of their deceased loved ones with their favorite things. And on Nov. 1, the cemeteries are open 24 hours for people to celebrate the tradition day and night.
"When you walk among the tombs you see people singing together or alone with a big speaker; some bring serenata with a mariachi while others are sharing el pan de muertos, drinking pulque or tequila together. You look at others crying, others smiling, and some telling stories/anecdotes," Tovar says. "The emotions are different among all. This tradition unites family, friends, neighbors, and strangers with all the events around the city."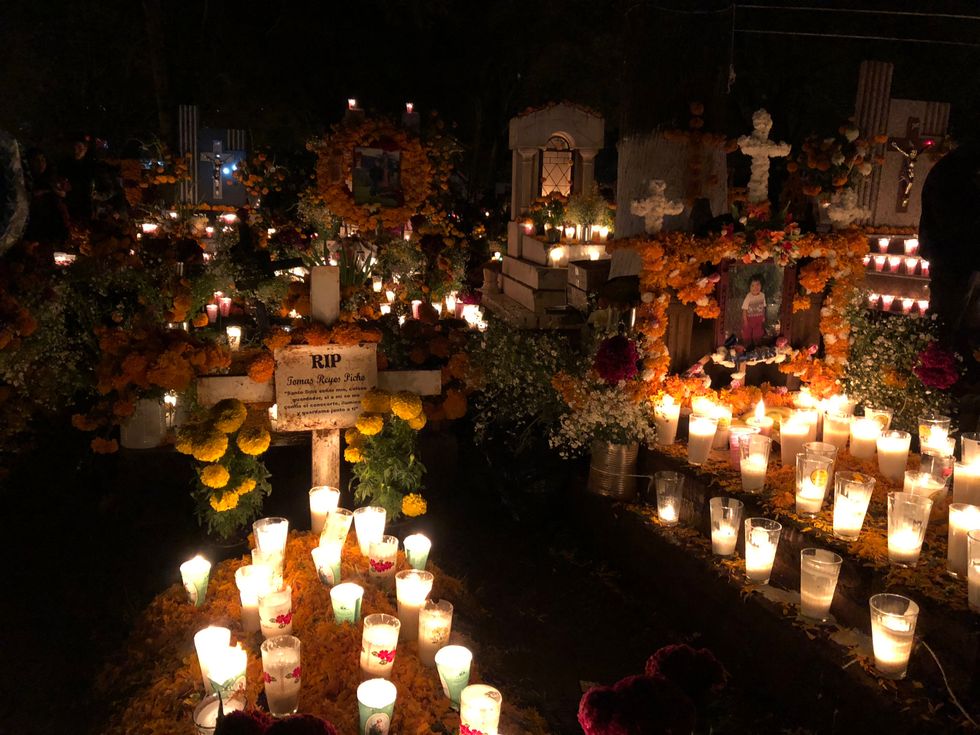 A cemetery in Michoacán, Mexico decorated on Nov. 1, 2018.(CC)
While she thinks the tradition in Austin would be beautiful, Tovar has alternatively enjoyed attending the annual downtown Day of the Dead parade—which was canceled this year. The Viva la Vida Festival coincides with the Mexic-Arte Museum's Day of the Dead Exhibition.

In Austin the Day of the Dead celebrations have—like everything else—been affected by COVID-19, so the corresponding events have had to go online.
The Mexic-Arte Museum will hold its 37th annual Day of the Dead Exhibition virtually. The online event, which will run from Oct. 31 to Nov. 2, will exhibit community altars that pay homage to Latino victims of the pandemic, as well as people who have died from AIDS and heroes of the U.S. civil rights movement.
Austin has depended on the Mexic-Arte Museum's guidance regarding Dia de los Muertos since the non-profit opened its doors in 1984, and every year interest in the festival has increased.

Mario Villanueva, marketing and events associate at the Mexic-Arte Museum, says close to 15,000 people participated in last year's parade.
Rather than view the virtual exhibition as a limitation, Villanueva says he sees the digital outreach as an opportunity for Mexic-Arte to engage with a wider audience.
Navigating through the pandemic has called for a new website featuring a virtual tour of the exhibits, as well as online instructions on altar construction and the creation of sugar skulls.
Sugar Skull Tutorial by the MACC youtu.be
"Having everything virtual, making more content online has opened up a new way that we can share the knowledge," says Villaneuva, who considers Day of the Dead a genuine way for communities to cope with and heal from tragedy.

Last year's Day of the Dead exhibition opened a few weeks after the El Paso shooting, so the Mexic-Arte Museum made an altar dedicated to the 22 people killed in the racially-motivated domestic terror. Villanueva said the result of the altar was "something that was really, really beautiful."
Olivia Tamzarian, the culture and arts program supervisor at the Emma S. Barrientos Mexican American Cultural Center, says this year people are making altars at home and sharing photos during its virtual program.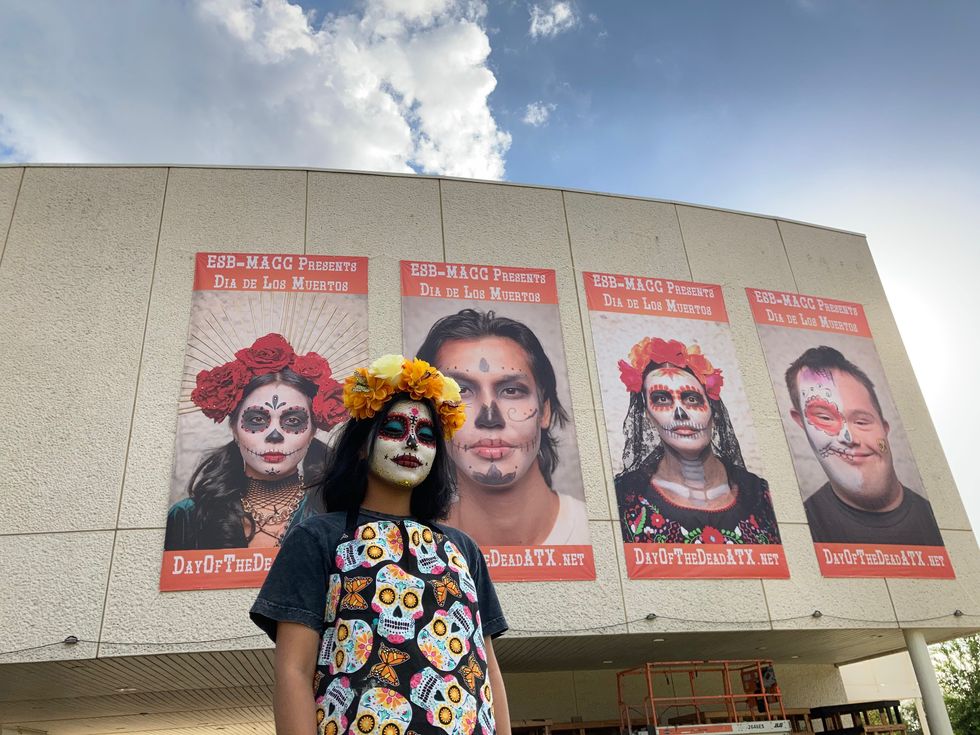 (Ulises García/Mexican American Cultural Center)
The very tone of this year's Day of the Dead celebration has been affected by the cautions around COVID.

"You know there is a lot of talk in the Latino community about how Latinos have been disproportionately affected by COVID and that's not something that's lost on us," says Tamzarian. "It's very real when you have a festival to celebrate the deceased and then you are worried about the actual deceased in your community. It becomes not just a celebration but almost like a political movement, to talk about these things in a way that becomes very desensitized when you just hear it on the news."
Tamzarian, who personally discovered Day of the Dead when she was about 20 years old and living in Mexico, sees the celebration as a form of psychological healing.
"I think it's healthy because it gives a chance, a place or an excuse for a time of the year to talk about people you were supposed to have forgotten," Tamzarian says.
Heirlooms on the altars is of great significance, Tamzarian says. One original idea of the Day of the Dead is the creation of an ofrenda, an altar that you put highly personal objects on. Personal items like a deceased family members glasses, gloves, or hat, are put on the altar because there is a belief that those personal items have a spiritual connection to that person."
"What's so interesting now is how it's being mixed with all sorts of commercial objects as well, so you might take your old grandfather's hat but then you might go to H-E-B and buy a little plastic skull or a candle and put that on the altar too," Tamzarian adds, elaborating on the malleable nature of the ancient Latino celebration.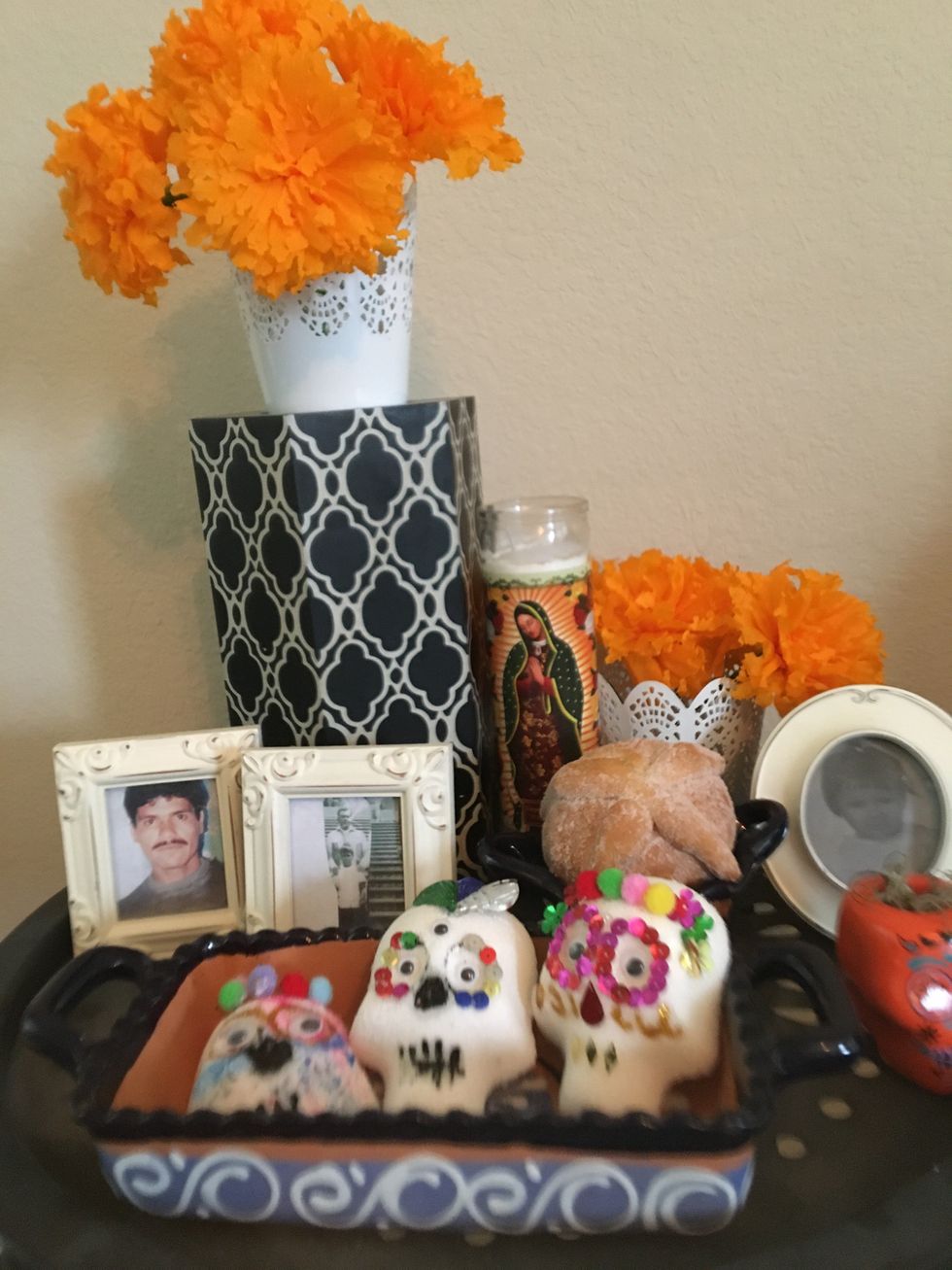 A Dia los Muertos alter by Olivia Tamzarian.(Olivia Tamzarian)
Tamzarian recalls witnessing a visiting student being moved to tears at the sight of a particularly powerful altar.

"We had a girl come in and when she saw the altar she burst out crying and I was worried like 'Oh God, maybe she saw someone she knows' and I was like 'What's going on?' and she was like probably around 11 and she said 'I've never seen … this looks just my grandmother's house' is what she says: 'I've never seen something like this in a museum before.'"
Tamzarian says, the girl described the altar as a kind of a validation of her culture.
"The fact that it is something that could be in a museum means that it's an art tradition that has so much value—cultural and historical value," says Tamzarian. "That her grandmother had this sort of alter in her home and had candles up and everything, that she was able to see this in a museum just put it into perspective, that it is something to be proud of and that it isn't something that should die."
The Texas French Bread Bakery, located on 2900 Rio Grande Street, has been completely destroyed after a fire erupted on Monday night.
The Austin Fire Department responded to the fire just before 11 p.m., where they arrived to see flames coming from the roof of the bakery. Firefighters fought the fire for about an hour before the roof collapsed.
While no one was injured in the fire, firefighters say the iconic building was completely totaled.
It is still not known what caused the fire at this time, though AFD said arson investigators have been brought in to check every angle. Due to the amount of damage, fire crews said it may not be possible to find the exact cause.

This year, Texas French Bread will celebrate 40 years of business. Before the bakery occupied the building, it was the Rome Inn, a music venue that hosted 1970s artists like Stevie Ray Vaughan.
Austin's first major league team is ready to extend its reach with a new collaborative sports complex The Pitch, an Austin FC destination packed with local food, beverages and Verde fervor is set to open in Northeast Austin in February.
The Pitch, a collaboration between Austin FC and Karlin Real Estate, among other entities, will be located in the 50-acre Parmer Pond District, which already hosts the club's practice facility St. David's Performance Center.
Dubbed a "true destination" for both soccer fans and the community, The Pitch will consist of multilevel shipping containers designed by Mark Odom Studio that will carve out into a 1,200-seat stadium complete with a soccer pitch made of turf, food and beverage options and a five-acre "Parmer Pond" featuring jogging trails.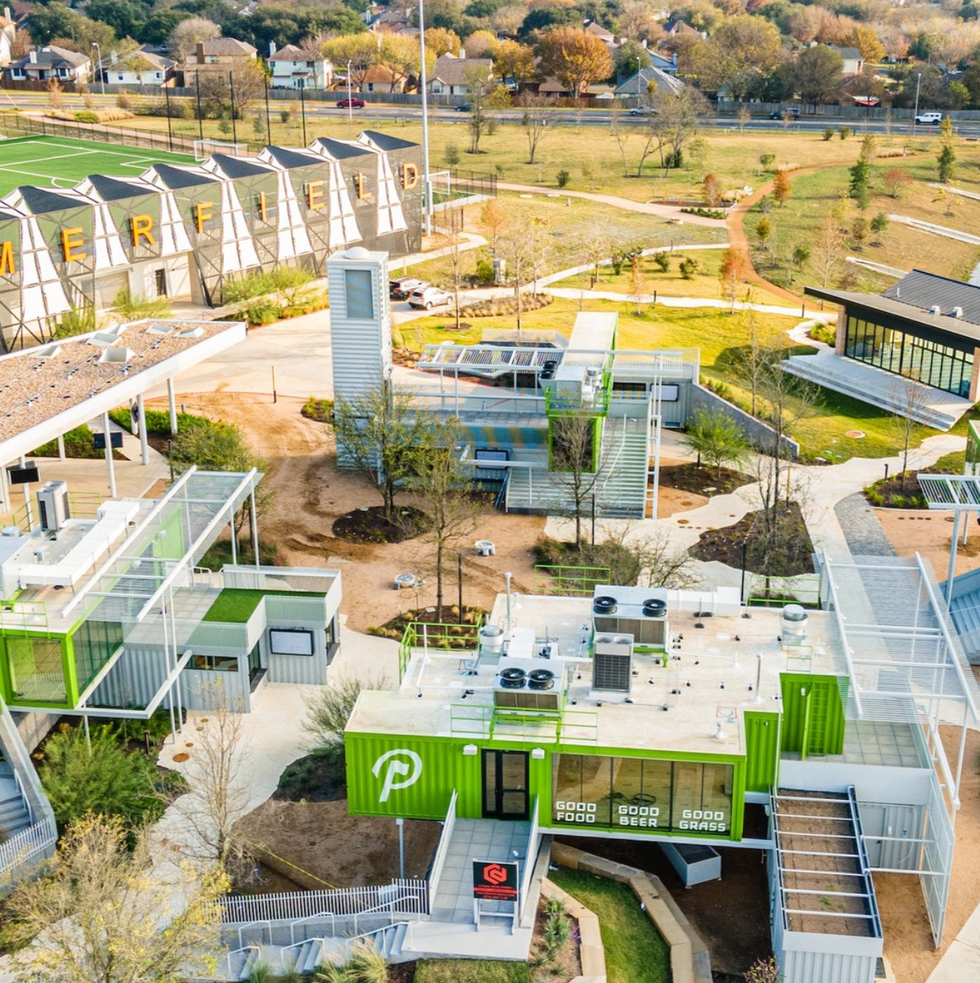 Made from multilevel shipping containers, The Pitch will include food and a 1,200-seat soccer pitch made from artificial turf. (The Pitch)
"The launch of Karlin's new food and entertainment experience will greatly enhance the Parmer development while perfectly complimenting St. David's Performance Center," Austin FC founder Anthony Precourt said. "The Pitch... will offer a strong variety of food options and gathering spaces for guests who will utilize St. David's Performance Center and Parmer Field for a variety of events."
The Pitch project lead Dave Greeley, who helped come up with the concept, is a former president of Austin FC parent company, Two Oak Ventures.
"The vision behind The Pitch at the Parmer Pond District is to be a first-of-its-kind sports, dining and entertainment destination," said Dave Greeley, The Pitch project lead and Team Orbis president. "This will be an unmatched experience for Parmer Austin tenants, Austin FC and club supporters, and the community."
With its proximity to the practice center, the venture hopes to contribute to the growing "soccer city" of Austin during Austin FC matches and youth games with the Austin FC Academy hosted at the St. David's Performance Center.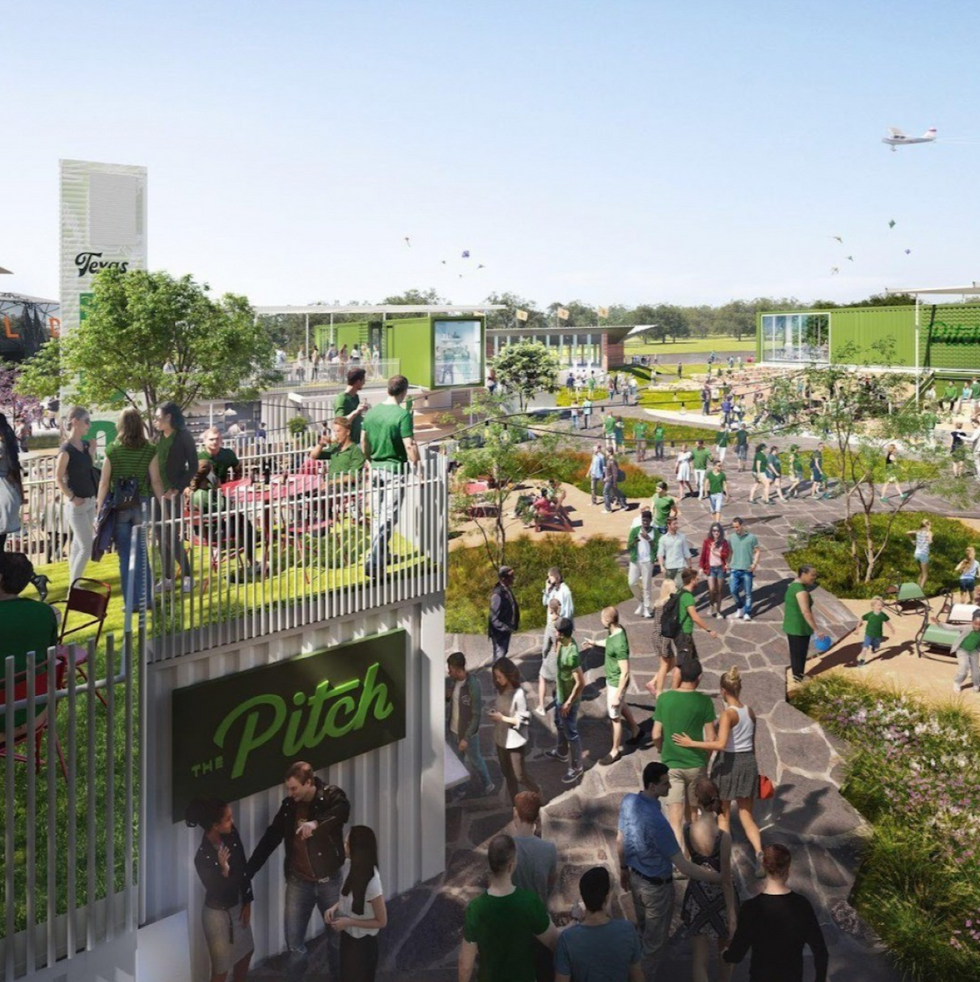 The Pitch hopes to converge both community and club interests with Austin FC. (The Pitch)
In addition to the soccer pitch, stadium and pond, The Pitch will provide a foody experience made by the creative team behind Austin staples like Fareground and Easy Tiger. The complex will offer local bites including:
Ranger Burger, which offers beers and burgers made from highly-coveted Wagyu beef direct from Ranger Cattle in East Austin
Ga Roti, which merges flavors from Northern Vietnam with the culinary techniques of France to create a unique rotisserie chicken joint
Taco Flats, a local taco chain serving Mexico City-style tacos, micheladas and more
Sand Bar, which fulfills its namesake with beauty cocktails, local beers and a sand volleyball court
Coffee Club, a coffee shop and bakery
Corner Kick Bar, the soccer-focused main bar of The Pitch complete with "tunes, TVs and (a) beer garden"
The Pitch will squeeze between St. David's Performance Center and Parmer Pond alongside the southern edge of Parmer Austin, a Karlin Real Estate venture that will eventually include multifamily housing, corporate office space and an aerospace and defense center.