Austonia AM
100% Austin news, info, and entertainment, straight to your inbox at 6 a.m. every morning.
In five minutes, you're fully informed and ready to start another great day in our city.
Get connected with our daily update
(Chris Caselli)
With films like Coco streaming on Disney+ and Day of the Dead Barbies lining Walmart shelves, it is clear that the commercial aspects of Dia de los Muertos are alive and well.
---
Despite its trending marketability, this ancient Mexican tradition of altars and offerings remains a rite of remembrance. The holiday begins Nov. 1 and ends Nov. 2, with traditional activities starting days in advance.
Jessica Tovar, an educator and artist who lives in north Austin, sees Dia de los Muertos as a time of "unity between families" which is expressed through an ancestral celebration.
"I am delighted to remember loved ones who are no longer with us," she says.
Tovar, who is originally from Tamaulipas, Mexico, recalls how Day of the Dead festivities were a major part of her primary education.
"At school, every year we made a mega altar in the school theater and we all participated by decorating it, bringing food, flowers, toys, photos, pan de muerto, fruit, etcetera," she says. "Families would gather around the altar to sing, socialize, dance, and would eat the food from the altar. Some came to celebrate dressed as catrinas (an elegantly attired female representation of death) or had their faces painted as calacas (skulls)."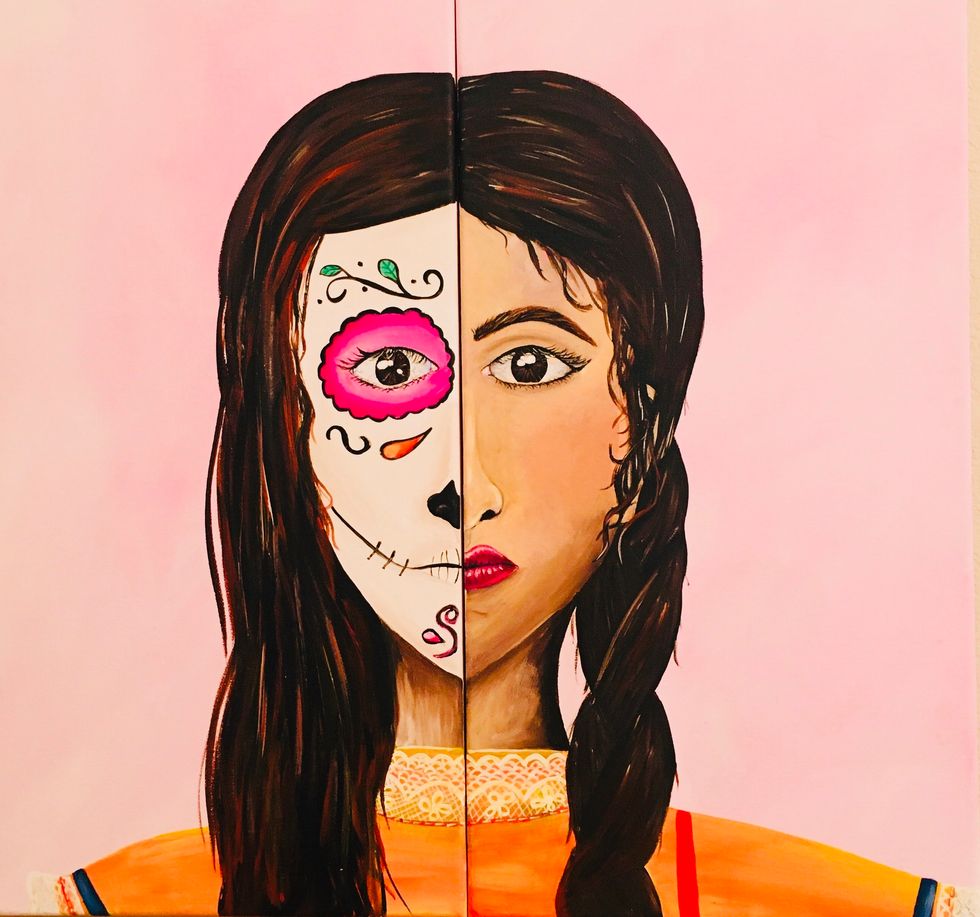 Painting by Jessica Tovar, inspired by Dia de los Muertos. (Jessica Tovar)
Tovar, who often employs Day of the Dead imagery in her art, notes that the holiday carries a commitment in Mexico that is, perhaps, lacking in the states.

She says in Mexico the tradition begins days before with people making altars in their homes and decorating the tomb of their deceased loved ones with their favorite things. And on Nov. 1, the cemeteries are open 24 hours for people to celebrate the tradition day and night.
"When you walk among the tombs you see people singing together or alone with a big speaker; some bring serenata with a mariachi while others are sharing el pan de muertos, drinking pulque or tequila together. You look at others crying, others smiling, and some telling stories/anecdotes," Tovar says. "The emotions are different among all. This tradition unites family, friends, neighbors, and strangers with all the events around the city."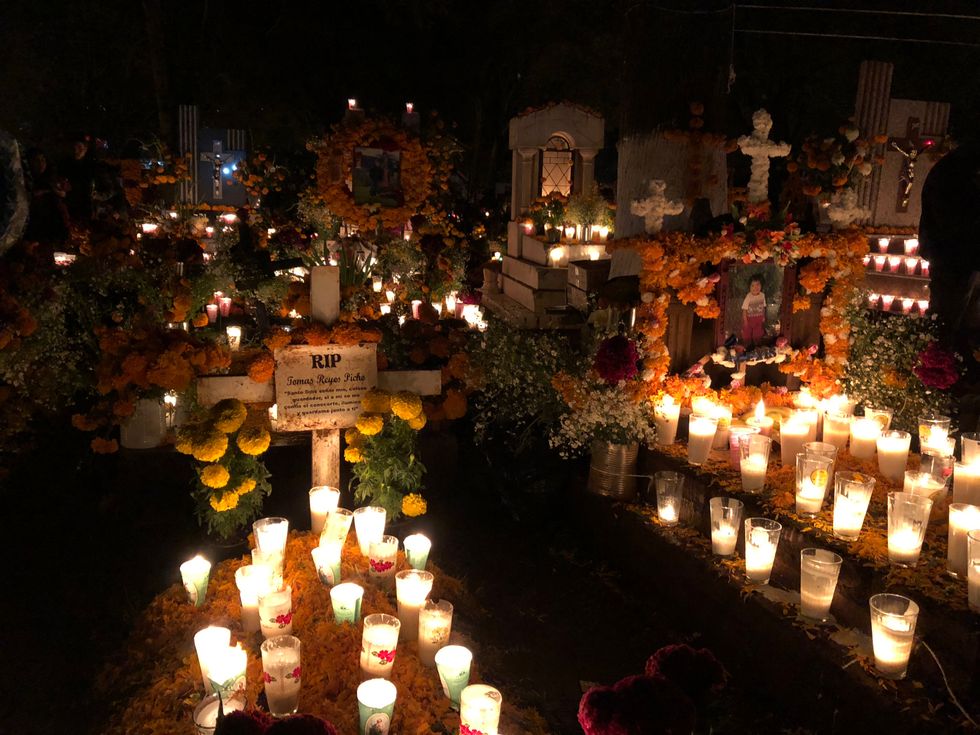 A cemetery in Michoacán, Mexico decorated on Nov. 1, 2018.(CC)
While she thinks the tradition in Austin would be beautiful, Tovar has alternatively enjoyed attending the annual downtown Day of the Dead parade—which was canceled this year. The Viva la Vida Festival coincides with the Mexic-Arte Museum's Day of the Dead Exhibition.

In Austin the Day of the Dead celebrations have—like everything else—been affected by COVID-19, so the corresponding events have had to go online.
The Mexic-Arte Museum will hold its 37th annual Day of the Dead Exhibition virtually. The online event, which will run from Oct. 31 to Nov. 2, will exhibit community altars that pay homage to Latino victims of the pandemic, as well as people who have died from AIDS and heroes of the U.S. civil rights movement.
Austin has depended on the Mexic-Arte Museum's guidance regarding Dia de los Muertos since the non-profit opened its doors in 1984, and every year interest in the festival has increased.

Mario Villanueva, marketing and events associate at the Mexic-Arte Museum, says close to 15,000 people participated in last year's parade.
Rather than view the virtual exhibition as a limitation, Villanueva says he sees the digital outreach as an opportunity for Mexic-Arte to engage with a wider audience.
Navigating through the pandemic has called for a new website featuring a virtual tour of the exhibits, as well as online instructions on altar construction and the creation of sugar skulls.
Sugar Skull Tutorial by the MACC youtu.be
"Having everything virtual, making more content online has opened up a new way that we can share the knowledge," says Villaneuva, who considers Day of the Dead a genuine way for communities to cope with and heal from tragedy.

Last year's Day of the Dead exhibition opened a few weeks after the El Paso shooting, so the Mexic-Arte Museum made an altar dedicated to the 22 people killed in the racially-motivated domestic terror. Villanueva said the result of the altar was "something that was really, really beautiful."
Olivia Tamzarian, the culture and arts program supervisor at the Emma S. Barrientos Mexican American Cultural Center, says this year people are making altars at home and sharing photos during its virtual program.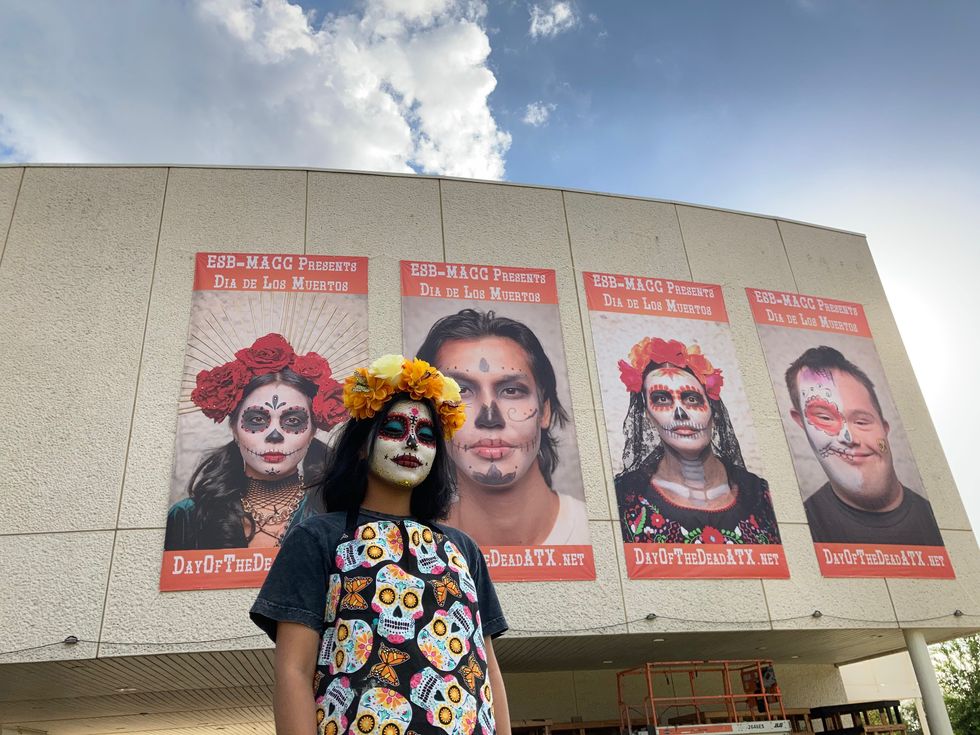 (Ulises García/Mexican American Cultural Center)
The very tone of this year's Day of the Dead celebration has been affected by the cautions around COVID.

"You know there is a lot of talk in the Latino community about how Latinos have been disproportionately affected by COVID and that's not something that's lost on us," says Tamzarian. "It's very real when you have a festival to celebrate the deceased and then you are worried about the actual deceased in your community. It becomes not just a celebration but almost like a political movement, to talk about these things in a way that becomes very desensitized when you just hear it on the news."
Tamzarian, who personally discovered Day of the Dead when she was about 20 years old and living in Mexico, sees the celebration as a form of psychological healing.
"I think it's healthy because it gives a chance, a place or an excuse for a time of the year to talk about people you were supposed to have forgotten," Tamzarian says.
Heirlooms on the altars is of great significance, Tamzarian says. One original idea of the Day of the Dead is the creation of an ofrenda, an altar that you put highly personal objects on. Personal items like a deceased family members glasses, gloves, or hat, are put on the altar because there is a belief that those personal items have a spiritual connection to that person."
"What's so interesting now is how it's being mixed with all sorts of commercial objects as well, so you might take your old grandfather's hat but then you might go to H-E-B and buy a little plastic skull or a candle and put that on the altar too," Tamzarian adds, elaborating on the malleable nature of the ancient Latino celebration.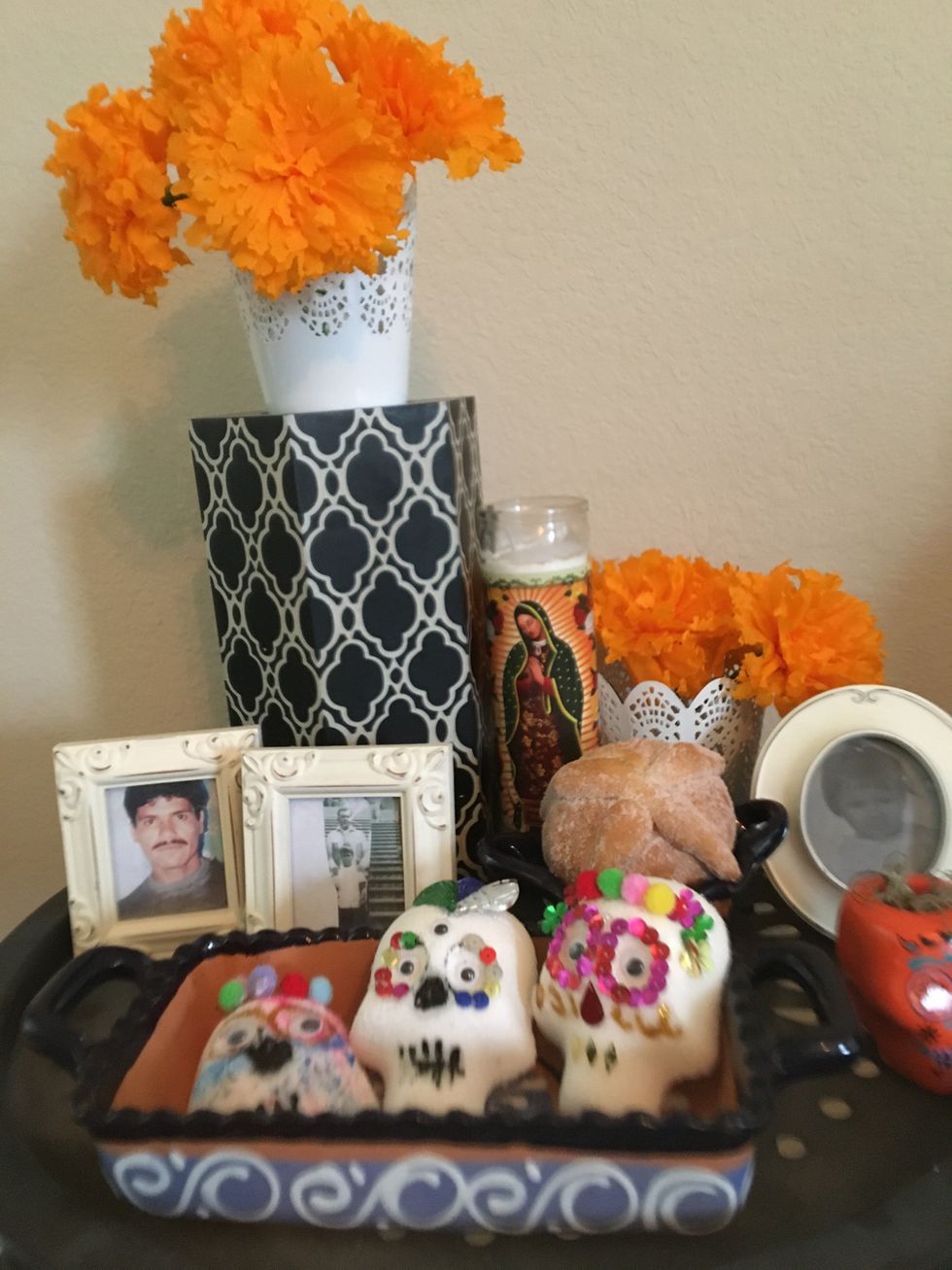 A Dia los Muertos alter by Olivia Tamzarian.(Olivia Tamzarian)
Tamzarian recalls witnessing a visiting student being moved to tears at the sight of a particularly powerful altar.

"We had a girl come in and when she saw the altar she burst out crying and I was worried like 'Oh God, maybe she saw someone she knows' and I was like 'What's going on?' and she was like probably around 11 and she said 'I've never seen … this looks just my grandmother's house' is what she says: 'I've never seen something like this in a museum before.'"
Tamzarian says, the girl described the altar as a kind of a validation of her culture.
"The fact that it is something that could be in a museum means that it's an art tradition that has so much value—cultural and historical value," says Tamzarian. "That her grandmother had this sort of alter in her home and had candles up and everything, that she was able to see this in a museum just put it into perspective, that it is something to be proud of and that it isn't something that should die."
(Pexels)
Curiosity into cryptocurrency has grown nationwide with 63% reportedly "crypto curious," or those wanting to learn more about it but have not started investing, according to Gemini, a digital currency exchange and custodian platform. The platform reports 14%, or 21.2 million, Americans currently own cryptocurrency with 68% of owners buying within the last two years.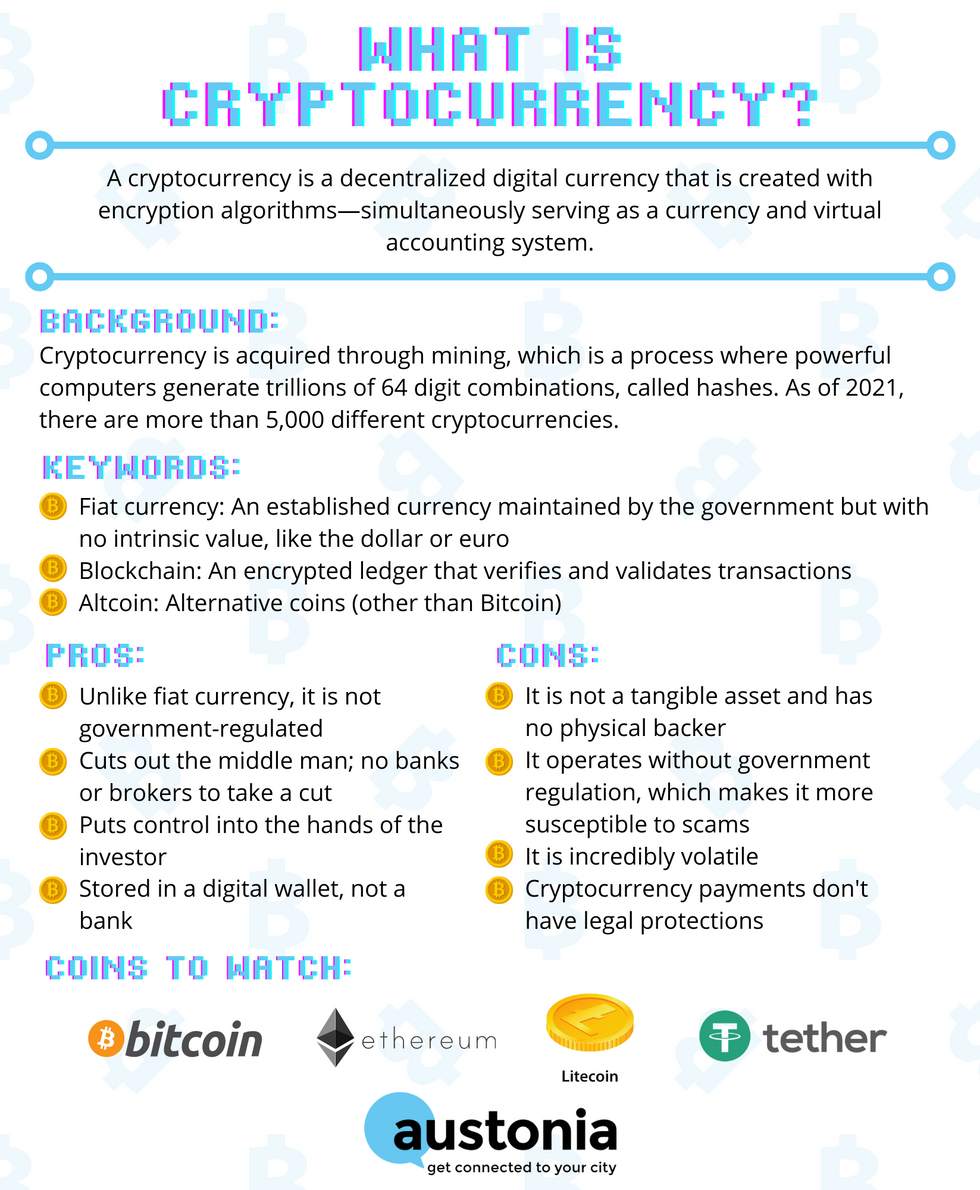 (Laura Figi/Austonia)
Who is buying in?

Sam Nassar, a Texas State University accounting graduate student, started investing in cryptocurrency in July 2020, although he kept up with crypto trends before that. At 23 years old, Nassar said the decision to take the plunge and invest was born from quarantine boredom.
"I've always been intrigued in technology, and I've always been an early adopter, so I just decided to start to invest in it and understand kind of a little bit of behind it," Nassar said. "I do believe in the technology and I know it's so useful and truly is the future"
Since then he has invested over $700 in Bitcoin, Ethereum, Litecoin, Tether, Cardano, Chainlink and Internet Computer.
Cryptocurrency interest is heavily skewed toward younger men with the biggest percentage primarily between the ages of 25 and 44.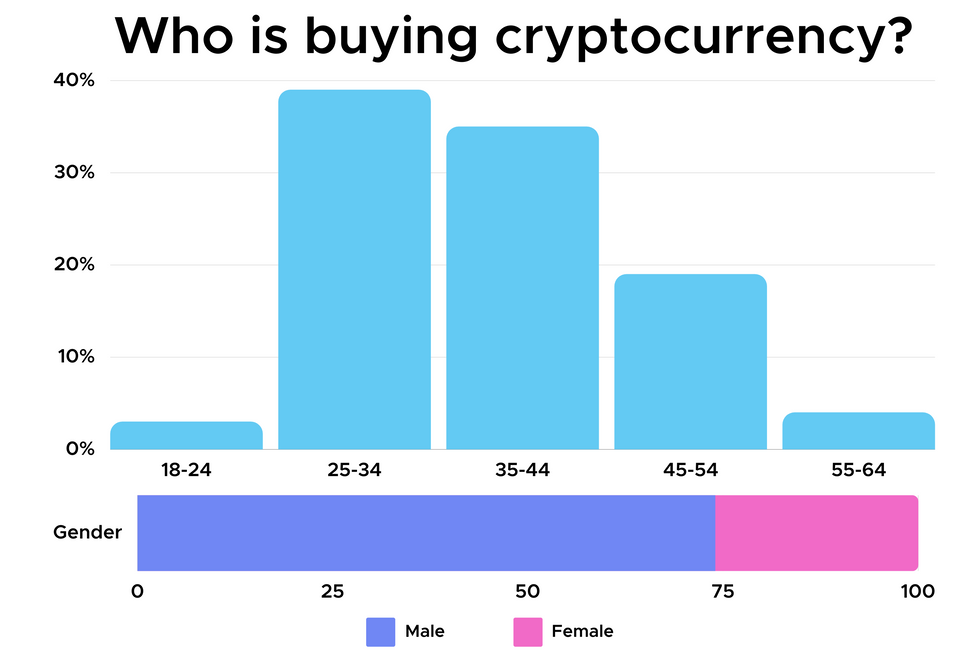 (Laura Figi/Austonia)
Likewise, 26-year-old, Liam Duddy, a South Austin salesman, started to involve himself in cryptocurrency after hearing the buzz about Bitcoin and how much money people were making off of it.

"I was like wow, so you're telling me it only takes me one of these little coins if I can get a hold of them and I have 30 grand," Duddy said. "That opened up a whole different world of all these different kinds of coins you can buy into."
Why are they investing?
For Nassar, cryptocurrency is about being part of the technology of the future. Nassar is studying to be a Certified Public Accountant and believes cryptocurrency, blockchain technology and innovations like smart contracts, or self-executing contracts programs, have the capacity to completely change the industry he wants to work in.
"You're going to have to have specialized auditors that understand blockchain technology in order to truly audit it, otherwise fraud can occur," Nassar said. "I think it really is the future. I really do think that that's another reason I'm investing into it, because I do believe that technology."
Cryptocurrency is about the gains for Duddy, who originally invested $400 and saw a $2,000 return when he invested in Bitcoin and Chainlink. Although he does see value in the future of blockchain technology, Duddy also has fun with it.

"Right now there's not a whole lot (of real-world application), it's not as easy to pay with, but if I have it and it's going up, you have one of them it's worth $50,000 U.S. dollars you can buy a car," Duddy said. "I guess you look at it as something fun to start off with."
What's their advice for new investors?
Do your research before investing
Use a platform meant for cryptocurrency
Don't just listen to Elon Musk's predictions
Look before you leap
Both Nassar and Duddy recommend using an app like Coinbase or Gemini, to track your cryptocurrency.
Finally, don't let the volatility scare you but do make sure you do your research before you sink your life savings into an unregulated currency.
"At the end of the day it's like gambling," Duddy said.
From Your Site Articles
Related Articles Around the Web
Texas Gov. Greg Abbott announced Monday that Texas will opt out of further federal unemployment benefits related to the pandemic effective June 26, citing the number of current job openings and concern about potentially fraudulent unemployment claims. The benefits include a $300 weekly supplement.
"The Texas economy is booming and employers are hiring communities across the state," Abbott said in a statement. "According to the Texas Workforce Commission, the number of job openings in Texas is almost identical to the number of Texans who are receiving unemployment jobs."
TWC listed 837,273 job openings as of Monday afternoon compared to 226,849 unemployment insurance claims filed statewide between March 31 and May 1. An estimated 1 million Texans were unemployed as of March, according to latest estimates released by the state agency.
Some local business owners, including Doc's Backyard Grill owner Charles Milligan, suspect unemployment benefits are deterring Austinites from returning to work. But others agree with economists who say multiple factors are at play, including health concerns and child care availability.
We're seeing lots of posts about how nobody wants to work right now. Just wanted to share our experience.

We received over 60 resumes for a taproom bartender position we posted last week. Every applicant we've set up an interview with has shown up.

People want 𝘨𝘰𝘰𝘥 work.
— Austin Beerworks (@AustinBeerworks) May 11, 2021
Abbott also cited fraudulent unemployment claims. Between March 2020 and April 2021, TWC received 4.48 million unemployment benefit applications, 611,000 or around 14% of which were tagged as suspicious. Most of those tagged were blocked before any benefits were paid out, according to an April 29 press release.

Federal law requires the effective date of such benefits change to be at least 30 days after the U.S. Department of Labor is notified.
From Your Site Articles
Related Articles Around the Web
Is it just us, or is the current Austin mask situation confusing? Are we supposed to wear a mask or not, and where? And should we wear one anyway, even if not requested or required?
Austin health orders requiring masks expire Tuesday. What then?
Take our three-question quiz, and tell us what you're thinking.