Get connected with our daily update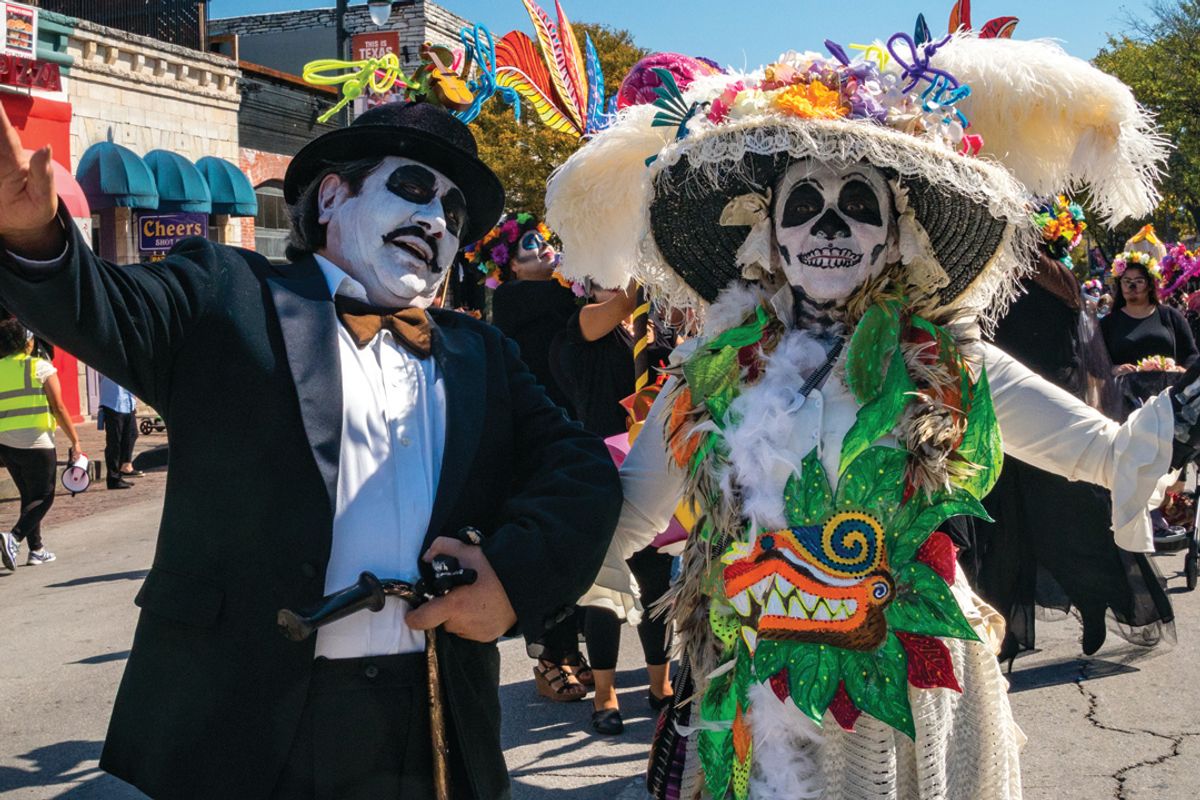 (Chris Caselli)
With films like Coco streaming on Disney+ and Day of the Dead Barbies lining Walmart shelves, it is clear that the commercial aspects of Dia de los Muertos are alive and well.
---
Despite its trending marketability, this ancient Mexican tradition of altars and offerings remains a rite of remembrance. The holiday begins Nov. 1 and ends Nov. 2, with traditional activities starting days in advance.
Jessica Tovar, an educator and artist who lives in north Austin, sees Dia de los Muertos as a time of "unity between families" which is expressed through an ancestral celebration.
"I am delighted to remember loved ones who are no longer with us," she says.
Tovar, who is originally from Tamaulipas, Mexico, recalls how Day of the Dead festivities were a major part of her primary education.
"At school, every year we made a mega altar in the school theater and we all participated by decorating it, bringing food, flowers, toys, photos, pan de muerto, fruit, etcetera," she says. "Families would gather around the altar to sing, socialize, dance, and would eat the food from the altar. Some came to celebrate dressed as catrinas (an elegantly attired female representation of death) or had their faces painted as calacas (skulls)."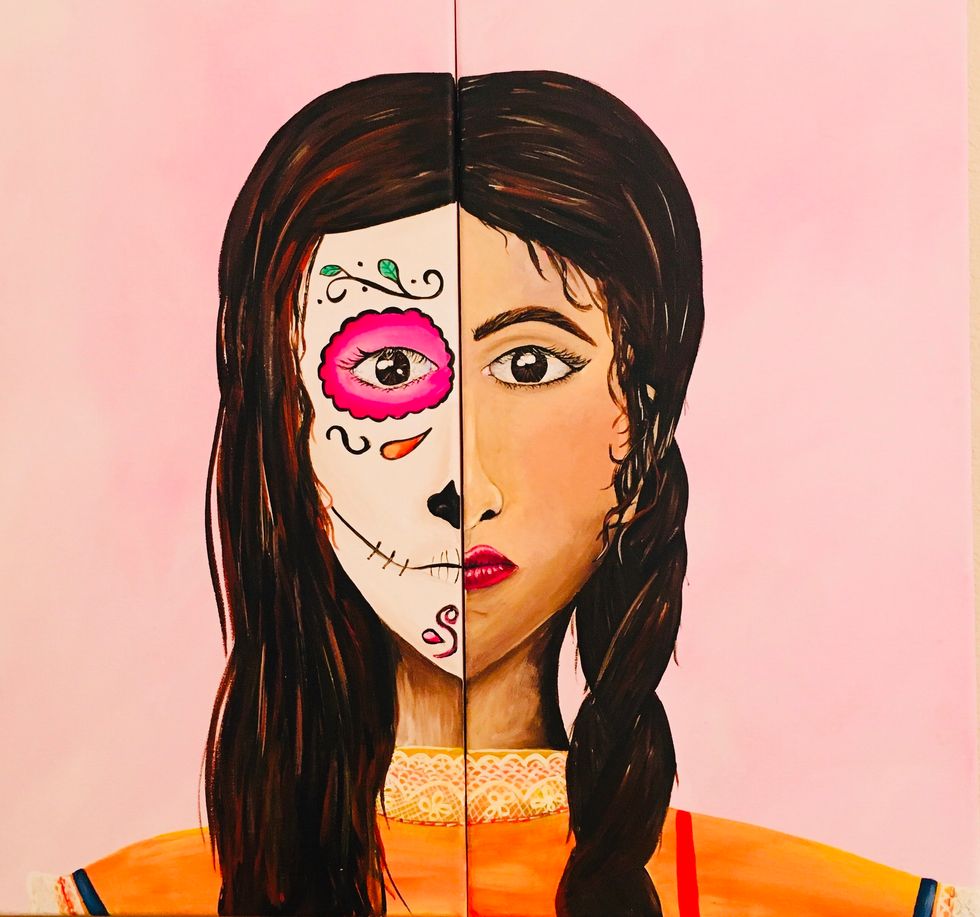 Painting by Jessica Tovar, inspired by Dia de los Muertos. (Jessica Tovar)
Tovar, who often employs Day of the Dead imagery in her art, notes that the holiday carries a commitment in Mexico that is, perhaps, lacking in the states.

She says in Mexico the tradition begins days before with people making altars in their homes and decorating the tomb of their deceased loved ones with their favorite things. And on Nov. 1, the cemeteries are open 24 hours for people to celebrate the tradition day and night.
"When you walk among the tombs you see people singing together or alone with a big speaker; some bring serenata with a mariachi while others are sharing el pan de muertos, drinking pulque or tequila together. You look at others crying, others smiling, and some telling stories/anecdotes," Tovar says. "The emotions are different among all. This tradition unites family, friends, neighbors, and strangers with all the events around the city."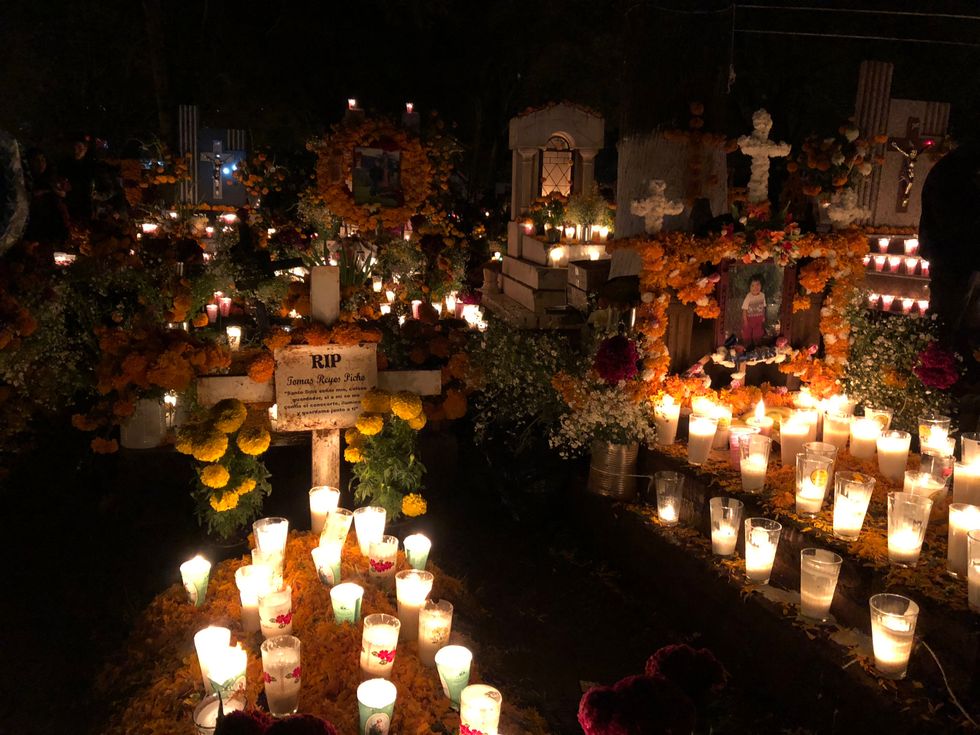 A cemetery in Michoacán, Mexico decorated on Nov. 1, 2018.(CC)
While she thinks the tradition in Austin would be beautiful, Tovar has alternatively enjoyed attending the annual downtown Day of the Dead parade—which was canceled this year. The Viva la Vida Festival coincides with the Mexic-Arte Museum's Day of the Dead Exhibition.

In Austin the Day of the Dead celebrations have—like everything else—been affected by COVID-19, so the corresponding events have had to go online.
The Mexic-Arte Museum will hold its 37th annual Day of the Dead Exhibition virtually. The online event, which will run from Oct. 31 to Nov. 2, will exhibit community altars that pay homage to Latino victims of the pandemic, as well as people who have died from AIDS and heroes of the U.S. civil rights movement.
Austin has depended on the Mexic-Arte Museum's guidance regarding Dia de los Muertos since the non-profit opened its doors in 1984, and every year interest in the festival has increased.

Mario Villanueva, marketing and events associate at the Mexic-Arte Museum, says close to 15,000 people participated in last year's parade.
Rather than view the virtual exhibition as a limitation, Villanueva says he sees the digital outreach as an opportunity for Mexic-Arte to engage with a wider audience.
Navigating through the pandemic has called for a new website featuring a virtual tour of the exhibits, as well as online instructions on altar construction and the creation of sugar skulls.
Sugar Skull Tutorial by the MACCyoutu.be
"Having everything virtual, making more content online has opened up a new way that we can share the knowledge," says Villaneuva, who considers Day of the Dead a genuine way for communities to cope with and heal from tragedy.

Last year's Day of the Dead exhibition opened a few weeks after the El Paso shooting, so the Mexic-Arte Museum made an altar dedicated to the 22 people killed in the racially-motivated domestic terror. Villanueva said the result of the altar was "something that was really, really beautiful."
Olivia Tamzarian, the culture and arts program supervisor at the Emma S. Barrientos Mexican American Cultural Center, says this year people are making altars at home and sharing photos during its virtual program.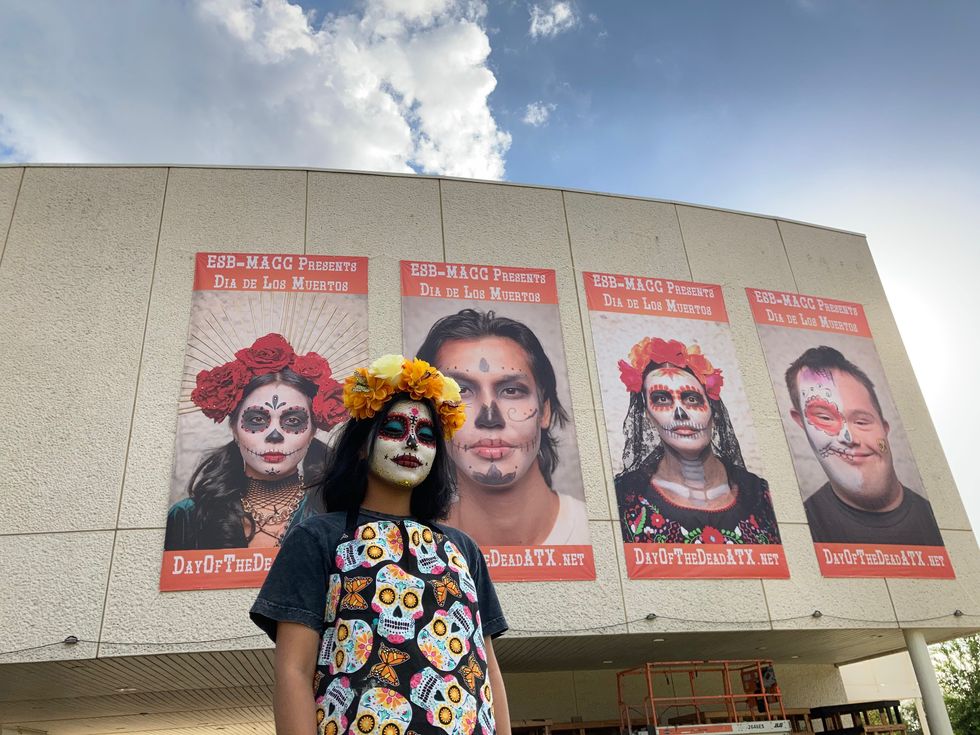 (Ulises García/Mexican American Cultural Center)
The very tone of this year's Day of the Dead celebration has been affected by the cautions around COVID.

"You know there is a lot of talk in the Latino community about how Latinos have been disproportionately affected by COVID and that's not something that's lost on us," says Tamzarian. "It's very real when you have a festival to celebrate the deceased and then you are worried about the actual deceased in your community. It becomes not just a celebration but almost like a political movement, to talk about these things in a way that becomes very desensitized when you just hear it on the news."
Tamzarian, who personally discovered Day of the Dead when she was about 20 years old and living in Mexico, sees the celebration as a form of psychological healing.
"I think it's healthy because it gives a chance, a place or an excuse for a time of the year to talk about people you were supposed to have forgotten," Tamzarian says.
Heirlooms on the altars is of great significance, Tamzarian says. One original idea of the Day of the Dead is the creation of an ofrenda, an altar that you put highly personal objects on. Personal items like a deceased family members glasses, gloves, or hat, are put on the altar because there is a belief that those personal items have a spiritual connection to that person."
"What's so interesting now is how it's being mixed with all sorts of commercial objects as well, so you might take your old grandfather's hat but then you might go to H-E-B and buy a little plastic skull or a candle and put that on the altar too," Tamzarian adds, elaborating on the malleable nature of the ancient Latino celebration.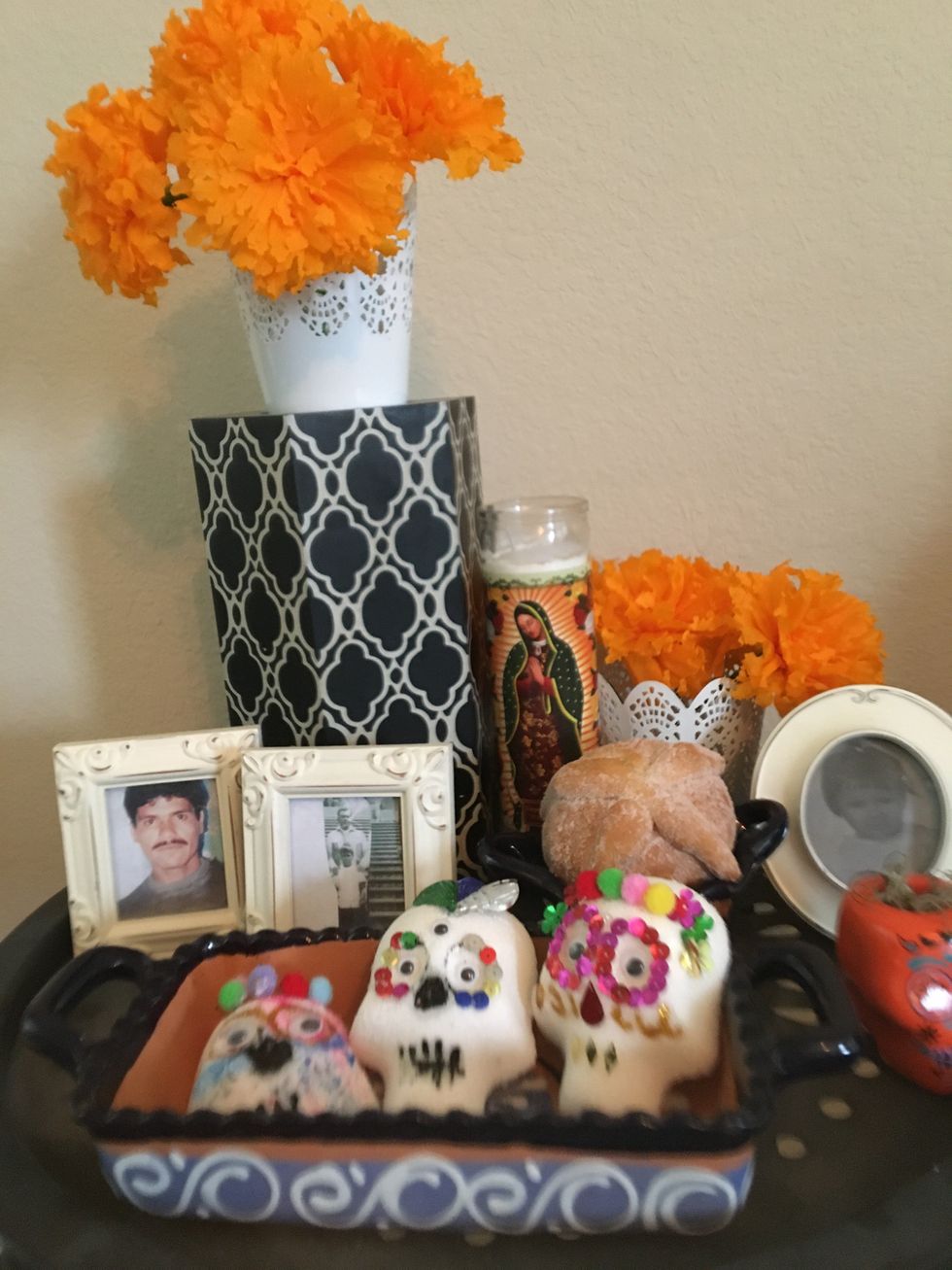 A Dia los Muertos alter by Olivia Tamzarian.(Olivia Tamzarian)
Tamzarian recalls witnessing a visiting student being moved to tears at the sight of a particularly powerful altar.

"We had a girl come in and when she saw the altar she burst out crying and I was worried like 'Oh God, maybe she saw someone she knows' and I was like 'What's going on?' and she was like probably around 11 and she said 'I've never seen … this looks just my grandmother's house' is what she says: 'I've never seen something like this in a museum before.'"
Tamzarian says, the girl described the altar as a kind of a validation of her culture.
"The fact that it is something that could be in a museum means that it's an art tradition that has so much value—cultural and historical value," says Tamzarian. "That her grandmother had this sort of alter in her home and had candles up and everything, that she was able to see this in a museum just put it into perspective, that it is something to be proud of and that it isn't something that should die."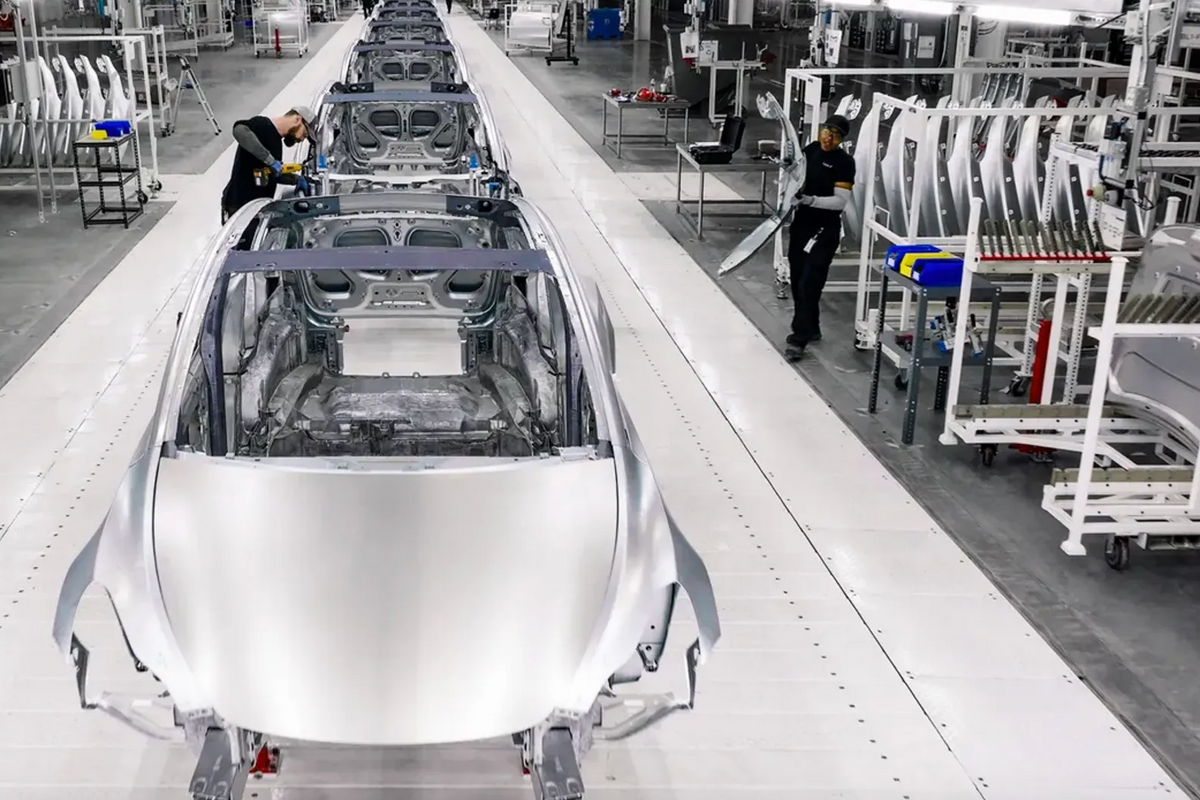 Tesla is making moves to expand Giga Texas yet again, filings show.
The automaker plans to build a "production support area" on a 68-acre plot near the gigafactory's main property that will involve "industrial use facilities with associated improvements."
In recent months, Tesla has looked at expansions for Giga Texas, which had its grand opening in April. Before plans for these facilities, Tesla submitted an application in late June for a 500,000 square foot building that may be used for general assembly lines. In February, Tesla filed for approval of "Project Cathode," an industrial use facility that could be used for making the material in batteries that help power electric vehicles.
But Tesla's aims for growth haven't come without pushback. In May, a group of local activists called on the city to withhold Tesla's requested permits, citing environmental concerns.
Still, Tesla is carrying on with ideas for building out. This latest project lists Logan Grant, a civil engineer for the company as the applicant, though few other details have been offered while the project works its way through the approval process.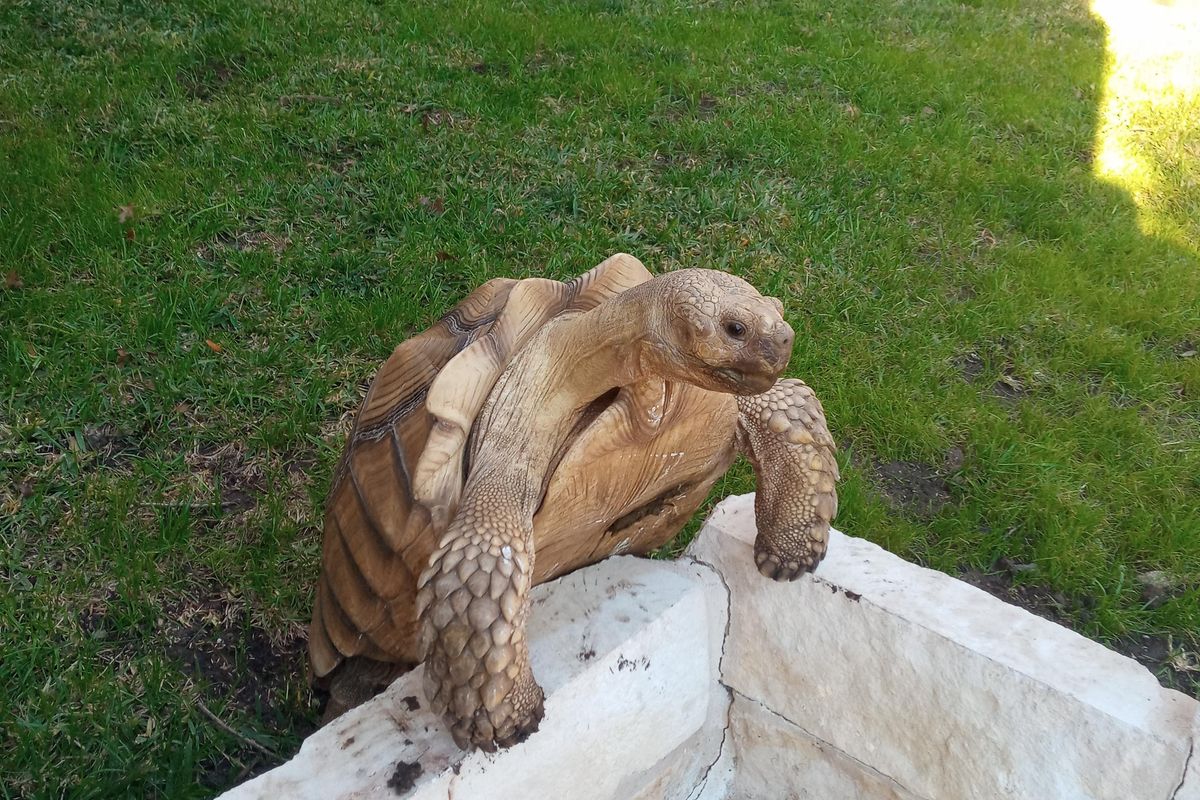 If you ever see a tortoise wandering West Austin alone, check his rear end for a set of labeled phone numbers and an Apple iTag. If that's what you see, you'll know you've found Bruce, who has a penchant for adventure.
Bruce, a Sulcata tortoise, just returned to his Daveport Ranch home mid-last week from a six-day trip that had his family, Austinites Brian and Samantha Price, anxiously searching on foot. Brian searched between his 24-hour shifts as an ER doctor.
"I was panicking because there was 109-degree weather, it was ridiculous, and there was no rain," Brian said. "I was getting super nervous so I was literally out there every single day."
In the 15 years Bruce has lived with the Prices, he has escaped a handful of times but always finds his way back with the help of his friends and social media.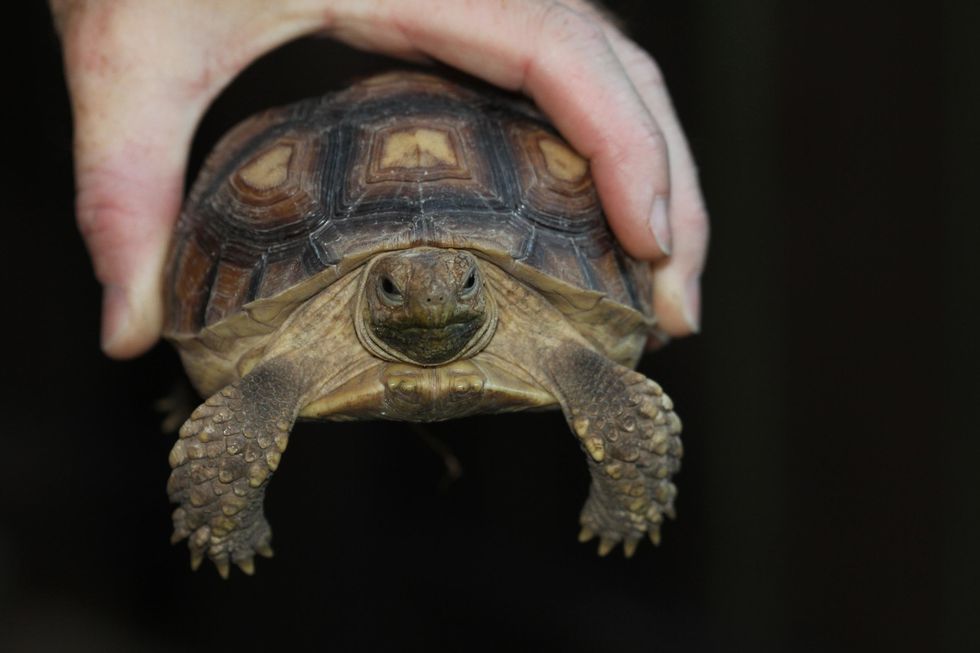 Bruce as a baby.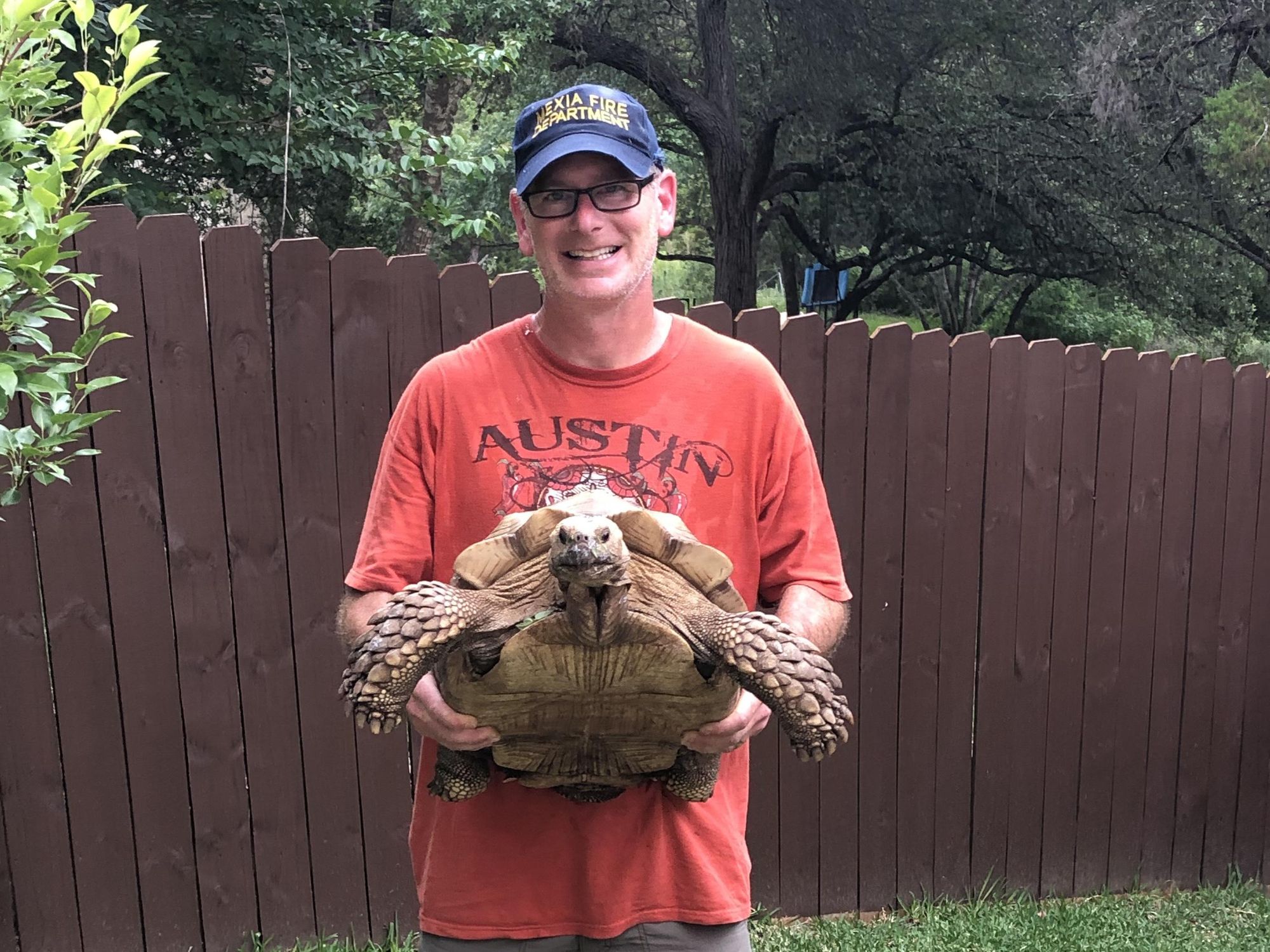 Bruce now weighs 70 pounds.
The Price family adopted Bruce as a baby when their youngest son started asking for a pet tortoise. In the spirit of the dad who didn't want the family pet, Bruce largely became Brian's responsibility (and best friend) before long.
"Brian searched for him for hours and hours every day. He worked so hard and found him and also had a really good idea of where he was going to end up," Samantha said. "He truly understands Bruce."
Now a solid 70 pounds, Bruce has become famous in their neighborhood for his antics—Brian said he has escaped home three times, once for 19 days straight and as far as nine miles away.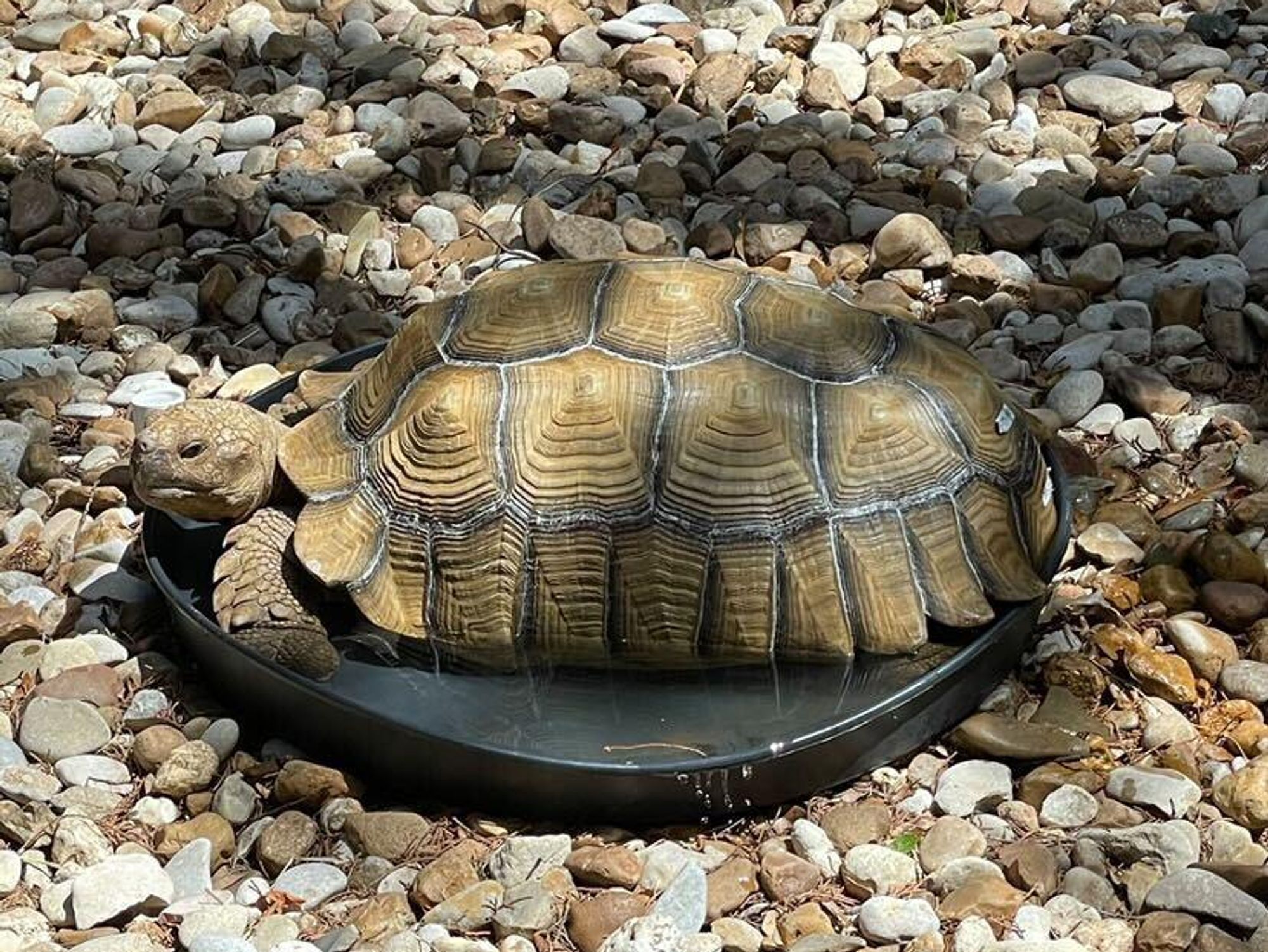 After his first disappearance, the Prices added stickers with their phone numbers to his shell, which helped him get found the second time when he stopped by someone's lawn. Then they added the iTag, which he conveniently managed to slough off before he disappeared this month.
Each time they have taken to Nextdoor to spread the word of his disappearance, where neighbors have organized search parties, created maps of his favorite locations, given out flyers, shared tips and brought Bruce home.
This time, Bruce was found by a neighbor's child in the greenbelt while Brian was searching using mating calls that had been suggested online.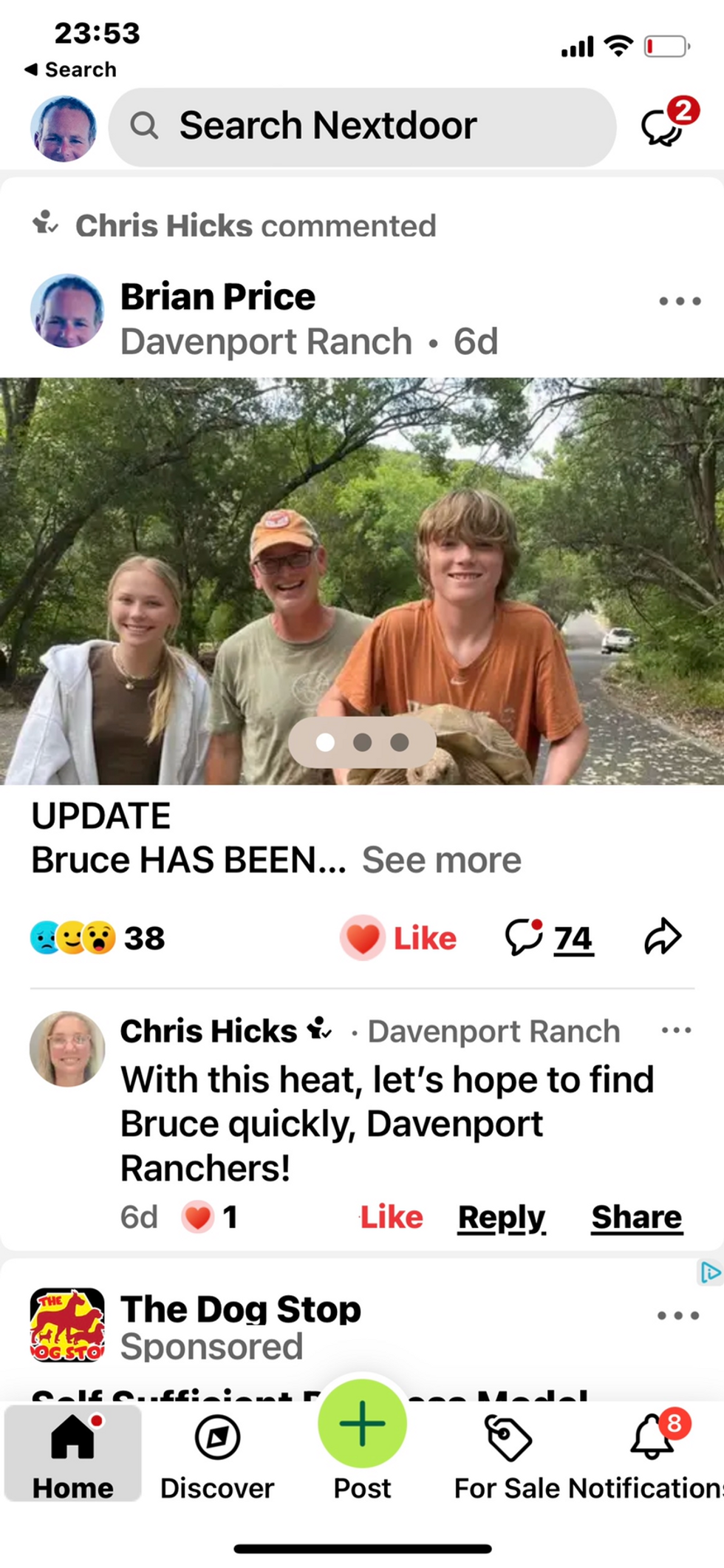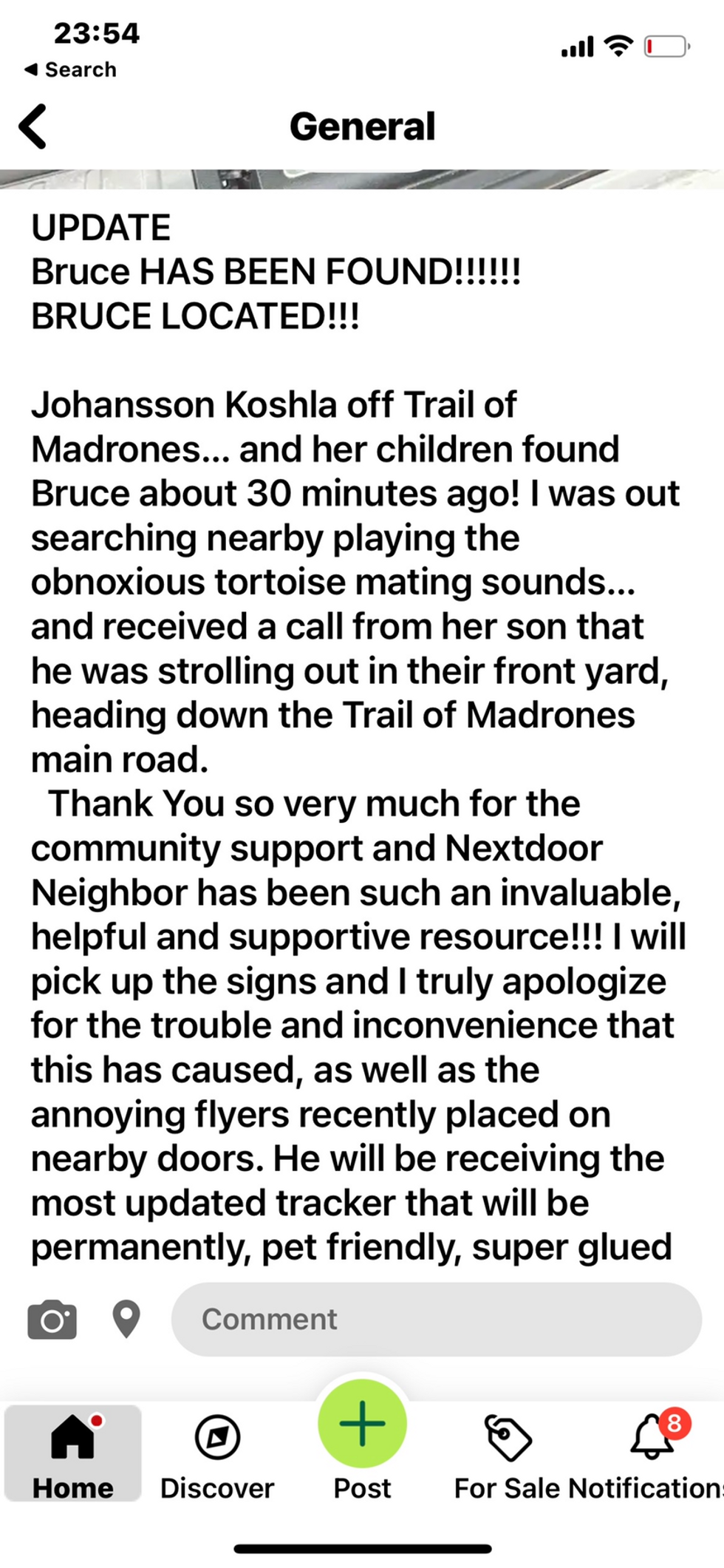 "Everybody knows Bruce in Westlake because of his escapes, everybody knows about the adventures of Bruce," Brian said. "Whenever we go on vacation, the neighbors help take care of him."
His adventures have inspired a book idea, which Samantha envisions as an educational chronicle of Bruce's adventures from his perspective; a reattached tracker and an enclosure upgrade that gave him about 200 square feet of shade to roam so he hopefully won't want to seek it elsewhere.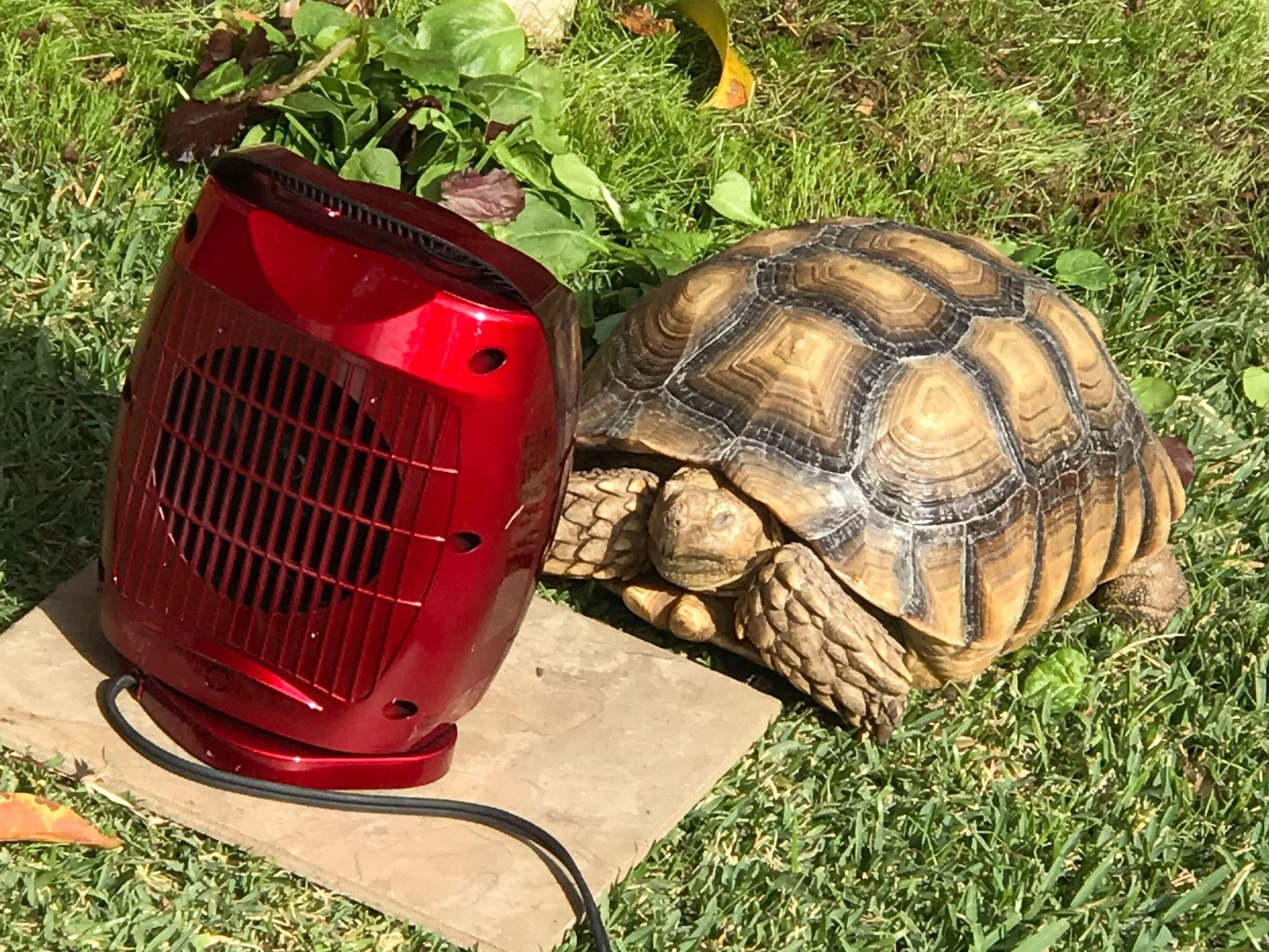 "I saw the community coming together and just wanting to find him, he really does bring our community together," Samantha said.
Brian said his aversion to social media even faltered a little when he watched his online community comment, "Bruce for mayor!" upon his post announcing the tortoise was back home.
"He's a little celebrity," Brian said.