Get connected with our daily update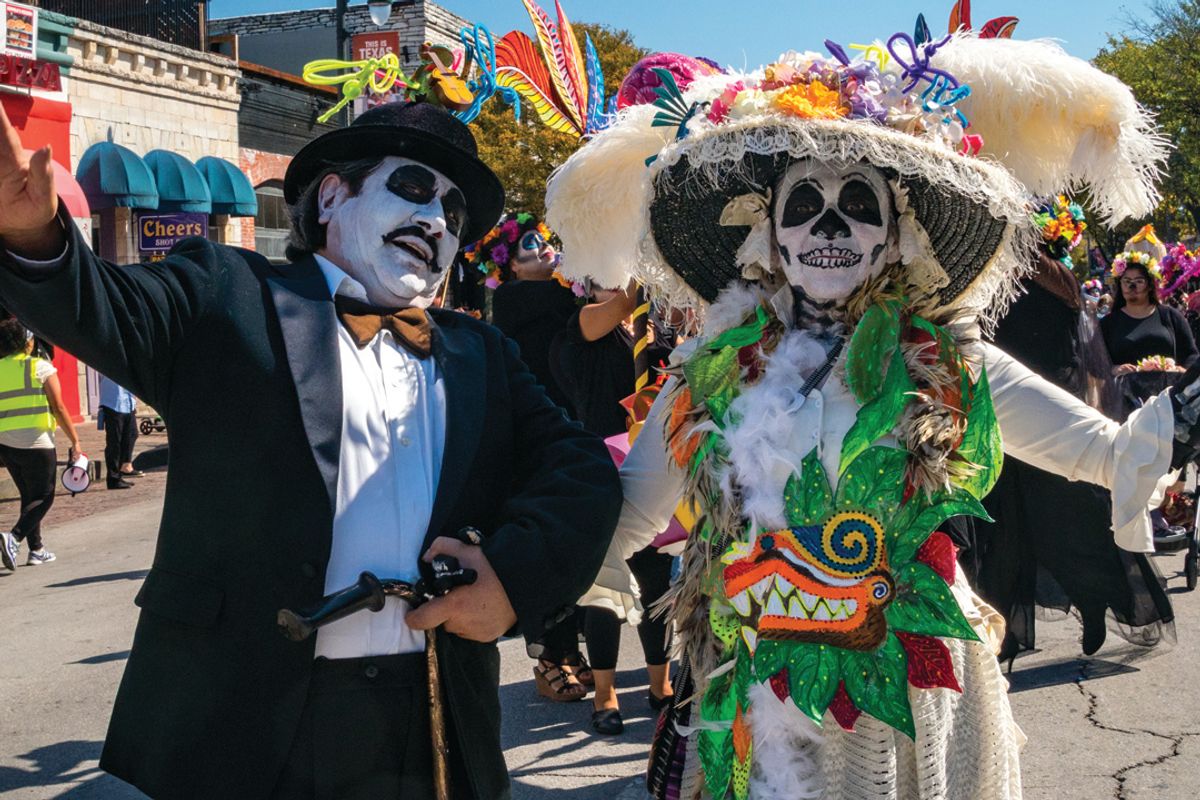 (Chris Caselli)
With films like Coco streaming on Disney+ and Day of the Dead Barbies lining Walmart shelves, it is clear that the commercial aspects of Dia de los Muertos are alive and well.
---
Despite its trending marketability, this ancient Mexican tradition of altars and offerings remains a rite of remembrance. The holiday begins Nov. 1 and ends Nov. 2, with traditional activities starting days in advance.
Jessica Tovar, an educator and artist who lives in north Austin, sees Dia de los Muertos as a time of "unity between families" which is expressed through an ancestral celebration.
"I am delighted to remember loved ones who are no longer with us," she says.
Tovar, who is originally from Tamaulipas, Mexico, recalls how Day of the Dead festivities were a major part of her primary education.
"At school, every year we made a mega altar in the school theater and we all participated by decorating it, bringing food, flowers, toys, photos, pan de muerto, fruit, etcetera," she says. "Families would gather around the altar to sing, socialize, dance, and would eat the food from the altar. Some came to celebrate dressed as catrinas (an elegantly attired female representation of death) or had their faces painted as calacas (skulls)."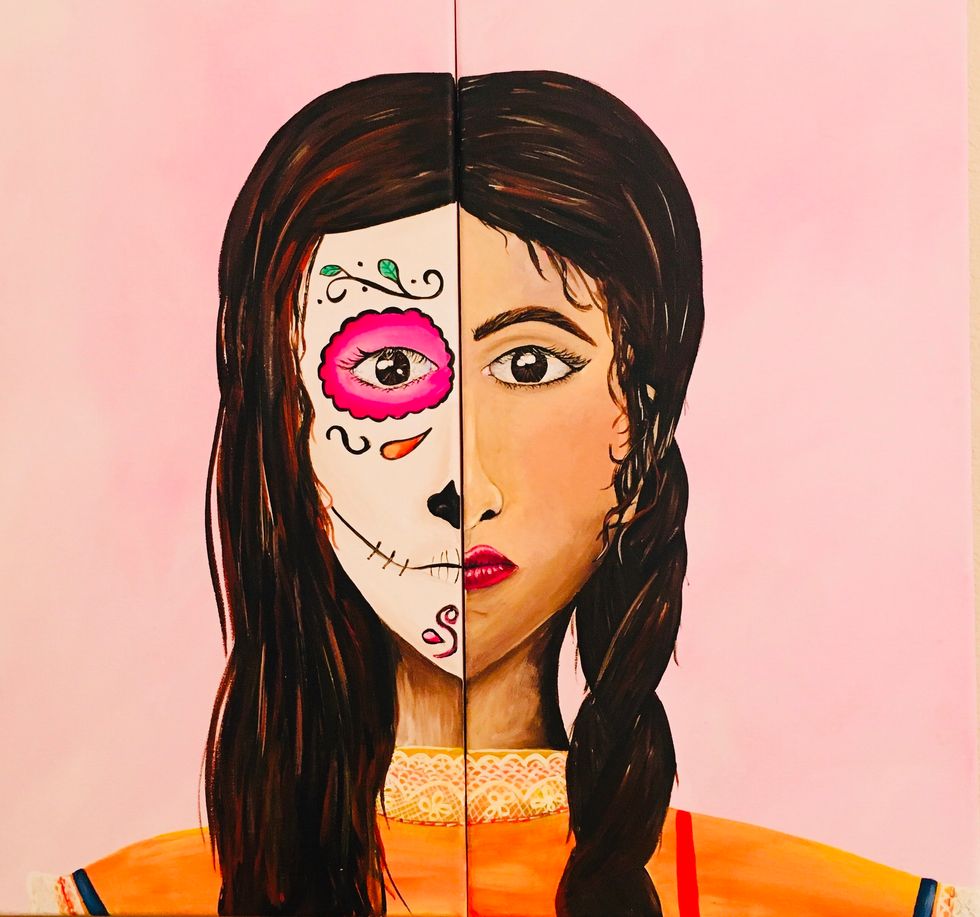 Painting by Jessica Tovar, inspired by Dia de los Muertos. (Jessica Tovar)
Tovar, who often employs Day of the Dead imagery in her art, notes that the holiday carries a commitment in Mexico that is, perhaps, lacking in the states.

She says in Mexico the tradition begins days before with people making altars in their homes and decorating the tomb of their deceased loved ones with their favorite things. And on Nov. 1, the cemeteries are open 24 hours for people to celebrate the tradition day and night.
"When you walk among the tombs you see people singing together or alone with a big speaker; some bring serenata with a mariachi while others are sharing el pan de muertos, drinking pulque or tequila together. You look at others crying, others smiling, and some telling stories/anecdotes," Tovar says. "The emotions are different among all. This tradition unites family, friends, neighbors, and strangers with all the events around the city."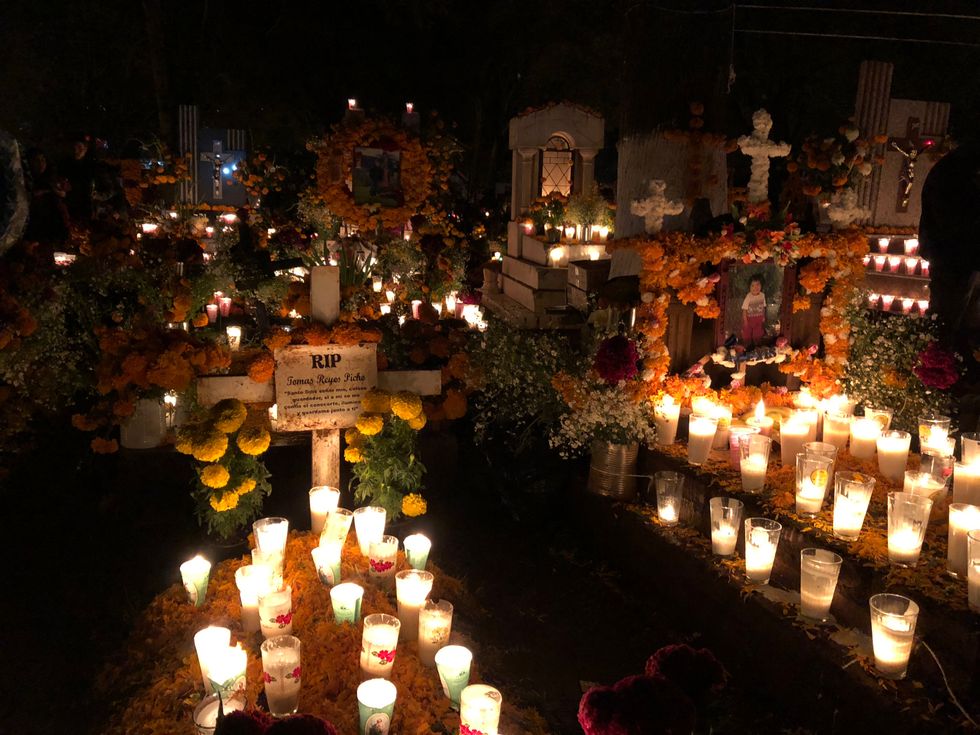 A cemetery in Michoacán, Mexico decorated on Nov. 1, 2018.(CC)
While she thinks the tradition in Austin would be beautiful, Tovar has alternatively enjoyed attending the annual downtown Day of the Dead parade—which was canceled this year. The Viva la Vida Festival coincides with the Mexic-Arte Museum's Day of the Dead Exhibition.

In Austin the Day of the Dead celebrations have—like everything else—been affected by COVID-19, so the corresponding events have had to go online.
The Mexic-Arte Museum will hold its 37th annual Day of the Dead Exhibition virtually. The online event, which will run from Oct. 31 to Nov. 2, will exhibit community altars that pay homage to Latino victims of the pandemic, as well as people who have died from AIDS and heroes of the U.S. civil rights movement.
Austin has depended on the Mexic-Arte Museum's guidance regarding Dia de los Muertos since the non-profit opened its doors in 1984, and every year interest in the festival has increased.

Mario Villanueva, marketing and events associate at the Mexic-Arte Museum, says close to 15,000 people participated in last year's parade.
Rather than view the virtual exhibition as a limitation, Villanueva says he sees the digital outreach as an opportunity for Mexic-Arte to engage with a wider audience.
Navigating through the pandemic has called for a new website featuring a virtual tour of the exhibits, as well as online instructions on altar construction and the creation of sugar skulls.
Sugar Skull Tutorial by the MACCyoutu.be
"Having everything virtual, making more content online has opened up a new way that we can share the knowledge," says Villaneuva, who considers Day of the Dead a genuine way for communities to cope with and heal from tragedy.

Last year's Day of the Dead exhibition opened a few weeks after the El Paso shooting, so the Mexic-Arte Museum made an altar dedicated to the 22 people killed in the racially-motivated domestic terror. Villanueva said the result of the altar was "something that was really, really beautiful."
Olivia Tamzarian, the culture and arts program supervisor at the Emma S. Barrientos Mexican American Cultural Center, says this year people are making altars at home and sharing photos during its virtual program.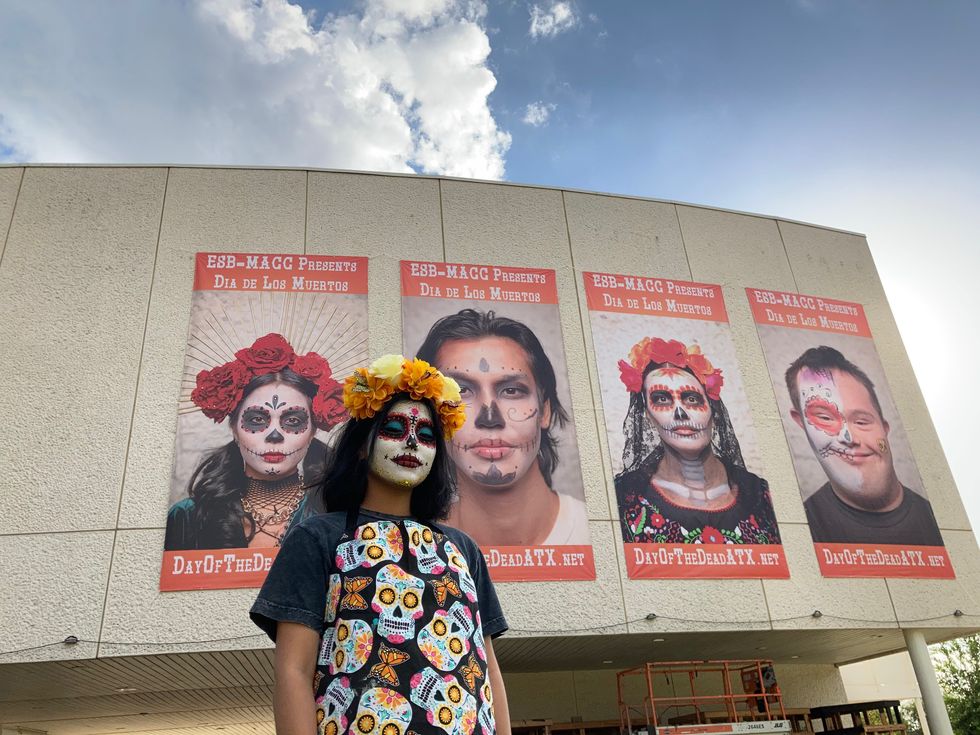 (Ulises García/Mexican American Cultural Center)
The very tone of this year's Day of the Dead celebration has been affected by the cautions around COVID.

"You know there is a lot of talk in the Latino community about how Latinos have been disproportionately affected by COVID and that's not something that's lost on us," says Tamzarian. "It's very real when you have a festival to celebrate the deceased and then you are worried about the actual deceased in your community. It becomes not just a celebration but almost like a political movement, to talk about these things in a way that becomes very desensitized when you just hear it on the news."
Tamzarian, who personally discovered Day of the Dead when she was about 20 years old and living in Mexico, sees the celebration as a form of psychological healing.
"I think it's healthy because it gives a chance, a place or an excuse for a time of the year to talk about people you were supposed to have forgotten," Tamzarian says.
Heirlooms on the altars is of great significance, Tamzarian says. One original idea of the Day of the Dead is the creation of an ofrenda, an altar that you put highly personal objects on. Personal items like a deceased family members glasses, gloves, or hat, are put on the altar because there is a belief that those personal items have a spiritual connection to that person."
"What's so interesting now is how it's being mixed with all sorts of commercial objects as well, so you might take your old grandfather's hat but then you might go to H-E-B and buy a little plastic skull or a candle and put that on the altar too," Tamzarian adds, elaborating on the malleable nature of the ancient Latino celebration.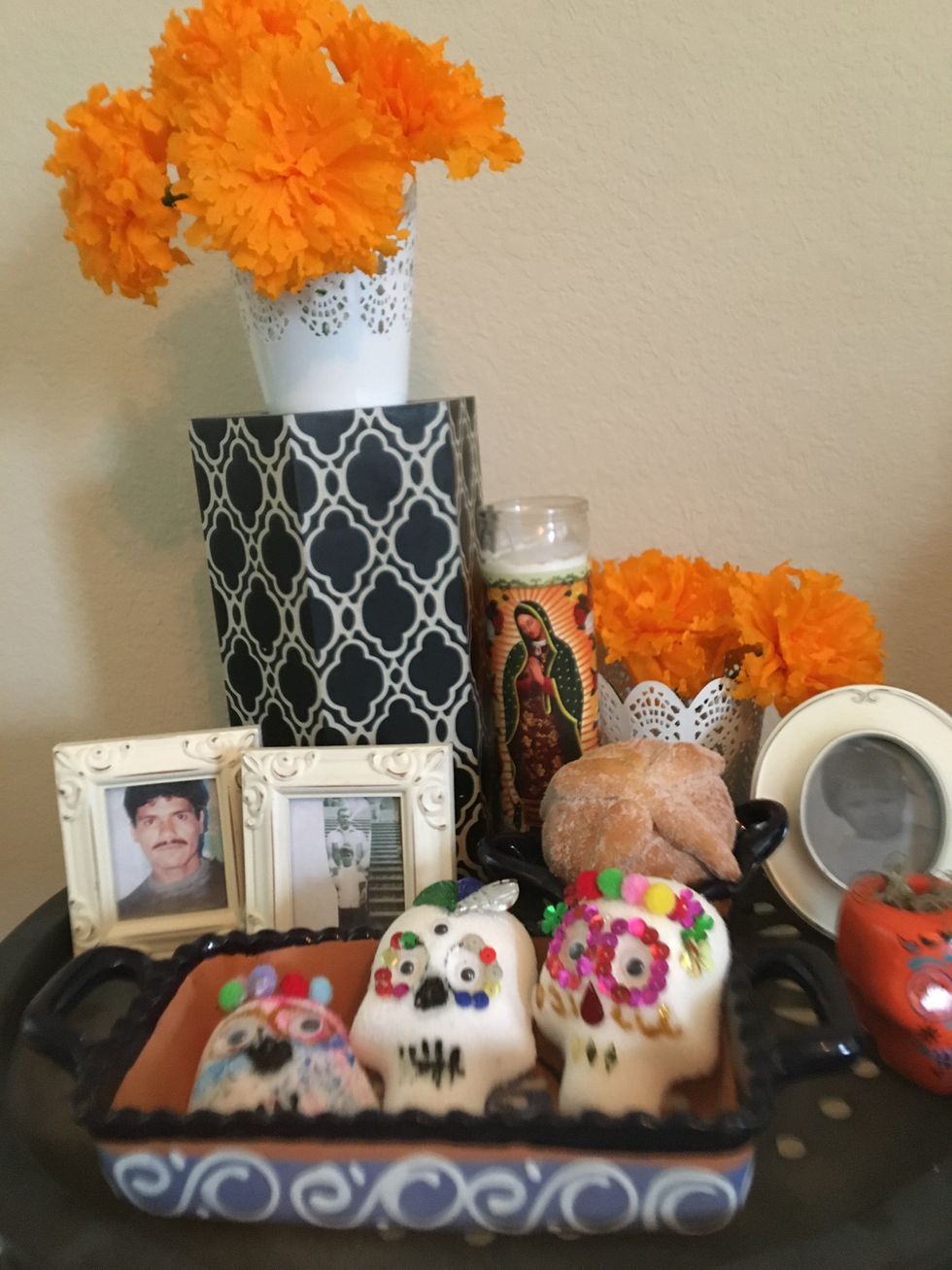 A Dia los Muertos alter by Olivia Tamzarian.(Olivia Tamzarian)
Tamzarian recalls witnessing a visiting student being moved to tears at the sight of a particularly powerful altar.

"We had a girl come in and when she saw the altar she burst out crying and I was worried like 'Oh God, maybe she saw someone she knows' and I was like 'What's going on?' and she was like probably around 11 and she said 'I've never seen … this looks just my grandmother's house' is what she says: 'I've never seen something like this in a museum before.'"
Tamzarian says, the girl described the altar as a kind of a validation of her culture.
"The fact that it is something that could be in a museum means that it's an art tradition that has so much value—cultural and historical value," says Tamzarian. "That her grandmother had this sort of alter in her home and had candles up and everything, that she was able to see this in a museum just put it into perspective, that it is something to be proud of and that it isn't something that should die."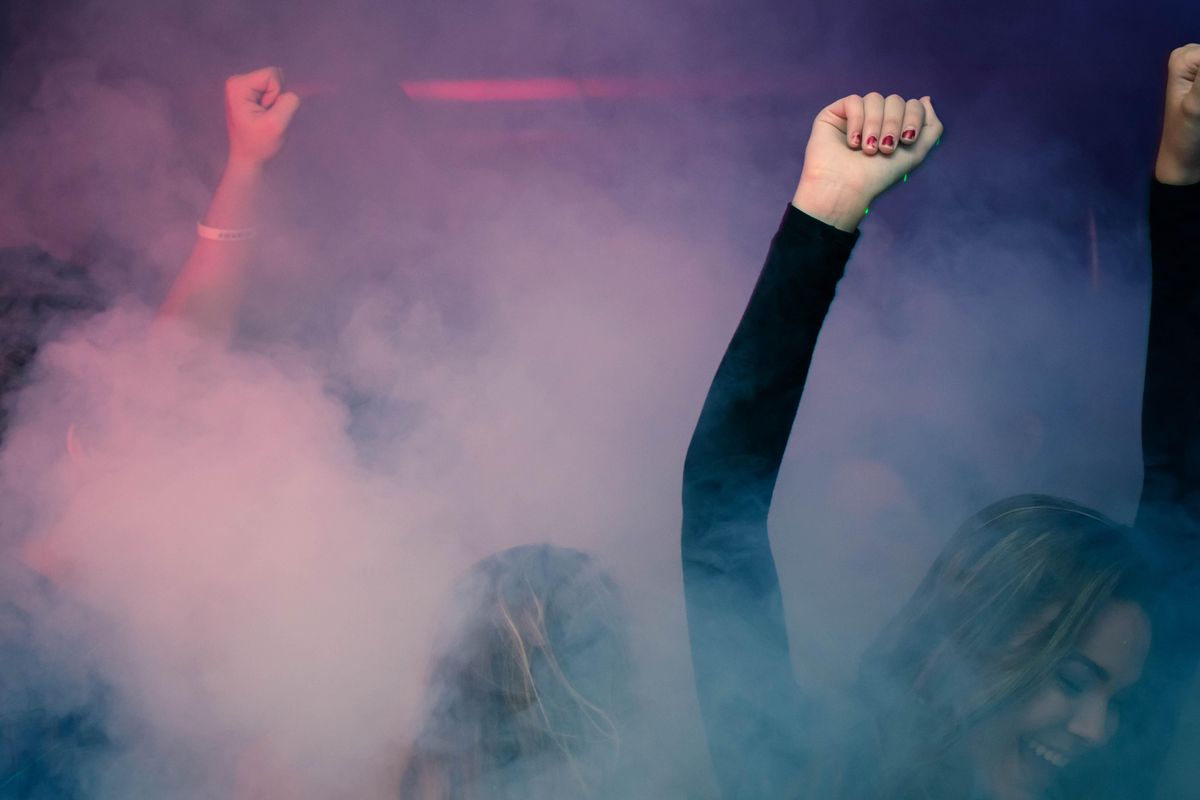 Stephanie Ashworth lived in a neighborhood north of Tarrytown, near W. 35th St. and Balcones Drive the summer of 2013. One of her neighbors wanted to move to a different school district and decided to rent out their home on Airbnb upon leaving.
"We're like—'ok'—we didn't know any better," Ashworth said. "And it was awful."
Ashworth said guests played loud music, used the pool naked and would return from trips at the lake stumbling drunk out of party buses.
"It ruins your peace of mind where you should be able to have it. Where you should be able to feel safe, where the kids should be able to go out front," Ashworth said. "And we shouldn't find used condoms, empty beer bottles, the trash, the parking, it's so disturbing."
Ashworth is now head of the Austin chapter of the Texas Neighborhood Coalition, a statewide group that assists people looking to restrict and regulate short-term rentals in their residential neighborhoods. She talked to Austonia following Airbnb's announcement this week that it will deploy new anti-party technology in the US and Canada.
The initiative aims to prevent potentially high-risk reservations by being a more robust version of the "under 25" system, which reviews guests under the age of 25 without positive reviews who are booking locally. A similar variation of this system has been piloted in Australia since October 2021 and has resulted in a 35% drop in incidents of unauthorized parties in pilot areas.
Airbnb is hoping for similar success in other regions but noted that there could still be some hiccups once the system is in effect.
"While we are optimistic that this technology will have a positive impact for the safety of our community and our goal to reduce unauthorized parties—we want to be clear that no system is perfect," Airbnb wrote in a statement announcing the new tech. "We work hard to deter bad actors from using our platform, but ultimately Airbnb is an online platform that facilitates real world connections."
For Ashworth, this system falls short of what she'd like to see from the company and she'd like for them to be clearer about what constitutes a party in the company's eyes.
"So I have no doubt that this technology they're touting for the party houses is nonsense," Ashworth said. "They are not a company that's run with integrity, they're not a good corporate citizen."
But people will continue to flock to Airbnb as Austin continues to be a major tourist destination with festivals like Austin City Limits and South by Southwest drawing in thousands. Even on a regular weekend pandemic recovery has been in full swing with downtown entertainment districts seeing visits close to 2019 levels.
Ultimately, Ashworth sees room to accommodate tourists while ensuring neighborhoods remain homey for Austinites.
"My personal opinion is the home team comes first," Ashworth said. "The whole city doesn't need to be turned over to the tourist industry and areas that are zoned residentially should remain for residents. I do understand that we are a tourist destination. But you can have a short-term rental pretty much anywhere in the city except in residential zones."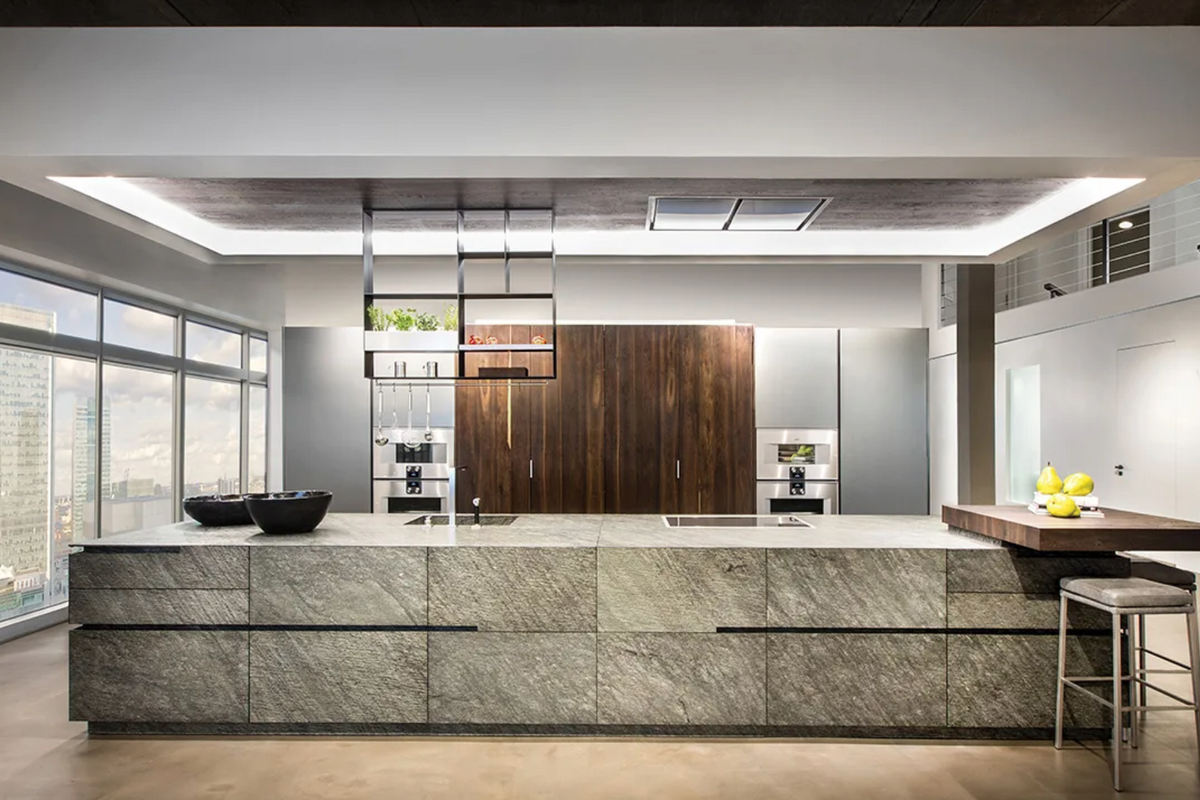 You've found your dream home. Now it's time to design your space.
Let eggersmann make your dreams come true. Not only are their products custom-crafted to last a lifetime, but their team of professional designers, installers, and care specialists are there to assist you from the ideation to the implementation of your gorgeous and highly functional space.
A family-owned business, eggersmann offers modern design solutions for every room in your home and they've had a hand in the design of many of the most beautiful homes in Texas, including right here in ATX.
A downtown condo. A house on the lake. South Austin style. All are perfect for eggersmann's design solutions.
If you're not sure where to begin, eggersmann has plenty of inspiration to get you started.
Kitchens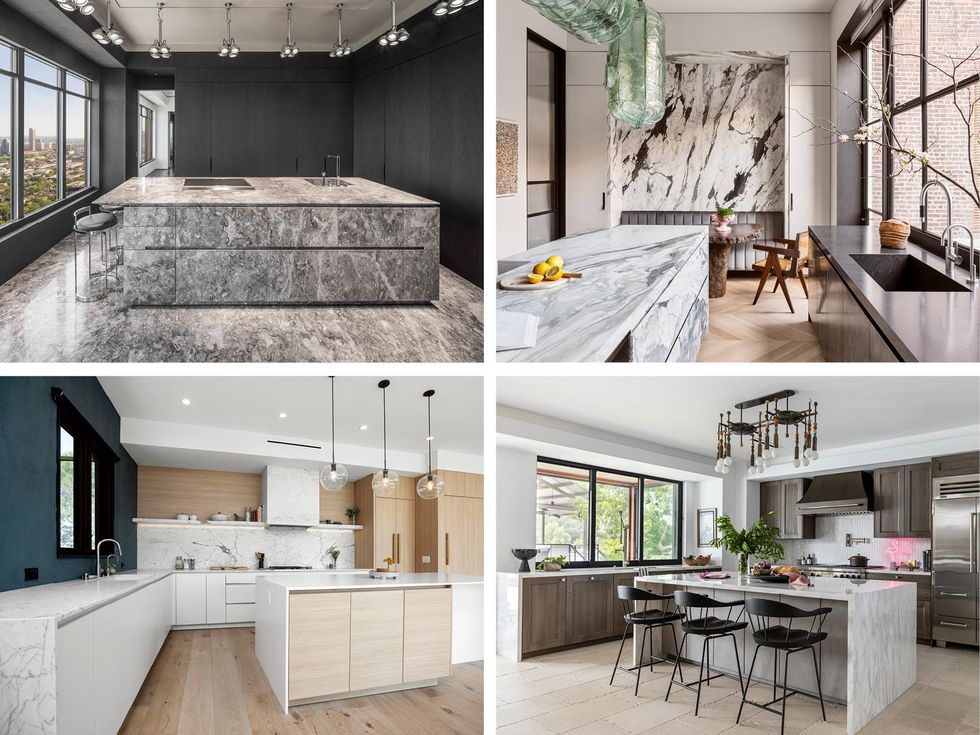 Kitchens are living spaces that invite us to indulge our senses; places that help us bond and are the heart of the modern home.
Eggersmann's modern German kitchens and home living solutions are distinguished not only by unique stone cabinet fronts and exotic veneers, but also technological feats in cabinetry composition and ergonomics like handleless cabinets and motion sliding countertops.
Their ideas spring from over 100 years of experience. Ever since Wilhelm Eggersmann founded this company in 1908, the now global team insists only the best will do and that every kitchen should be as individual as its owner.
Closets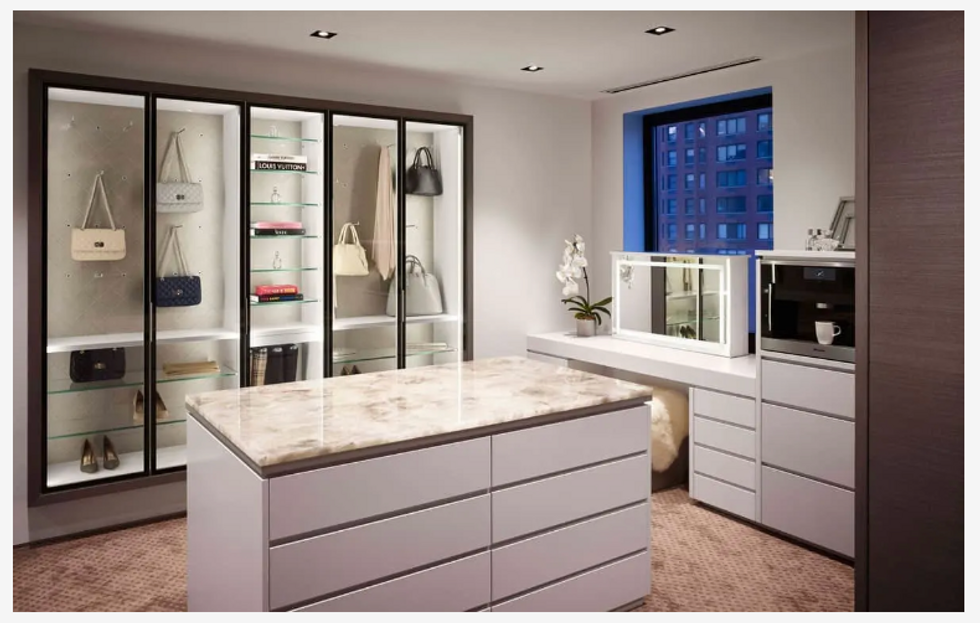 eggersmann usa
Beyond the closet, eggersmann brings soul to your wardrobe.
Tailor made in every aspect, personalize your space to make dressing and attire a special occasion. With innovative design solutions like hidden safes, watch-winders, and other accessory storage that will make the organizationally-obsessed squeal with delight, eggersmann's team of designers can help you to create a closet you'll want to spend all day in.
Living Areas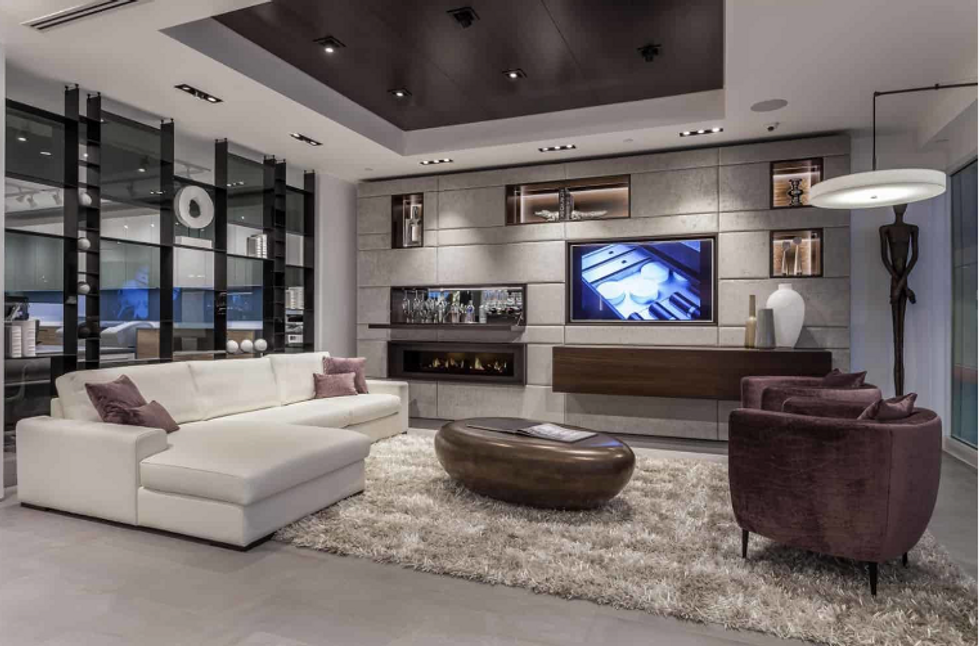 eggersmann usa
Create modern, beautiful spaces that motivate you to play and socialize. Host the next grand celebration or relax and relieve the tensions of your day. Eggersmann's entertainment solutions focus on how you live and how you entertain.

Need a TV for a family movie night but prefer something besides a black screen when you're entertaining? Eggersmann's remote-controlled lifting technology allows you to do just that. What about design solutions that keep a bustling household organized? Eggersmann makes it all possible.

Working with eggersmann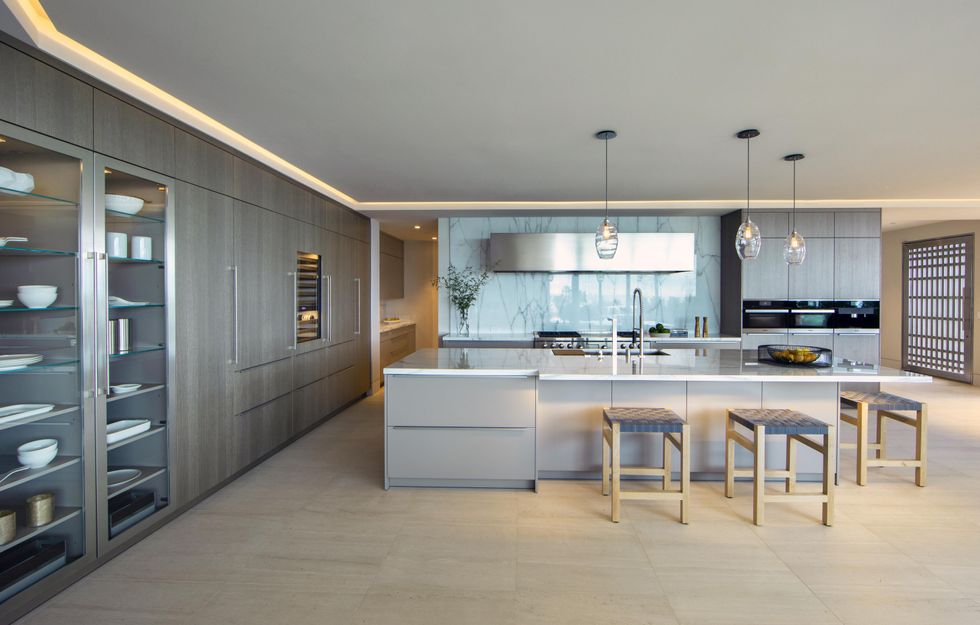 eggersmann usa
To learn more about the exceptional luxury cabinetry, exotic durable finishes, and innovative solutions, you may visit one of 6 eggersmann showrooms in the US, one of its retail locations in Canada, Mexico, or the US including Hawaii, or call to make an appointment with the satellite design service here in Austin where a knowledgeable representative will meet you at your home, office, or location of your choice.
The eggersmann team works directly with homeowners to bring their dream spaces into reality or with your interior designer, architect, or builder. They also have extensive experience working with high-rise/multi-unit developers or condo owners.
Find the
nearest eggersmann location
.