Get connected with our daily update
In flower crowns and Calavera face paint, Austinites gathered at the new Waterloo Park for what might be a new tradition for Dia de Los Muertos in Austin.
---
On the eve of the Mexican holiday that runs Nov. 1-2, thousands came together for festivities, including Mariachis playing, folkloric dancing and vendors selling handmade goods. The new Dia de los Muertos Festival was put on by Waterloo Greenway and Frida Fridays, an organization dedicated to uplifting Latin creatives with a monthly art market.
Dia de los Muertos is a long-time Mexican holiday of remembering and honoring the dead in celebration. Often it includes traditions—some seen at the festival—like decorating an ofrenda, otherwise known as an alter honoring departed loved ones; wearing face paint like a Calavera, or a sugar skull; and eating foods like pan de muerta.
Performances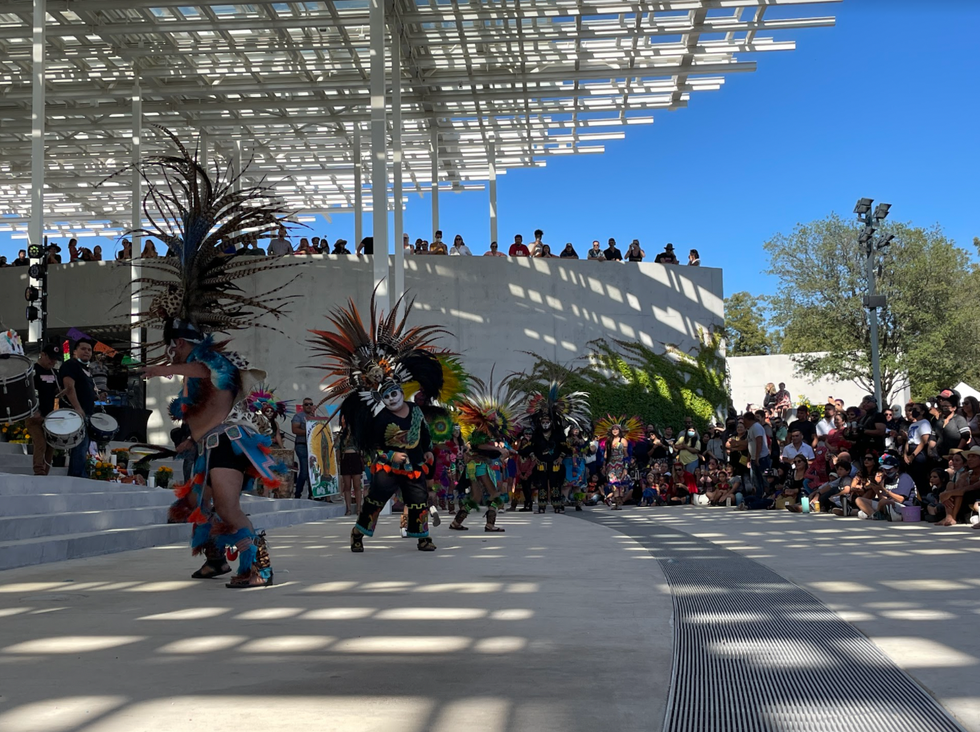 The festival opened with a traditional dance originating from San Luis de La Paz, Guanajuanto, led by Danza Azteca Guadalupana de Austin at 2 p.m.
A steady drumbeat announced the start of the festival from a block away and created a pulse for the Danza Azteca Guadalupana, who stomped rhythmically with shells on their ankles and long feathers radiating from their crowns. After welcoming the spirits of the dead with their hypnotic performance, the dancers took photos with the crowd.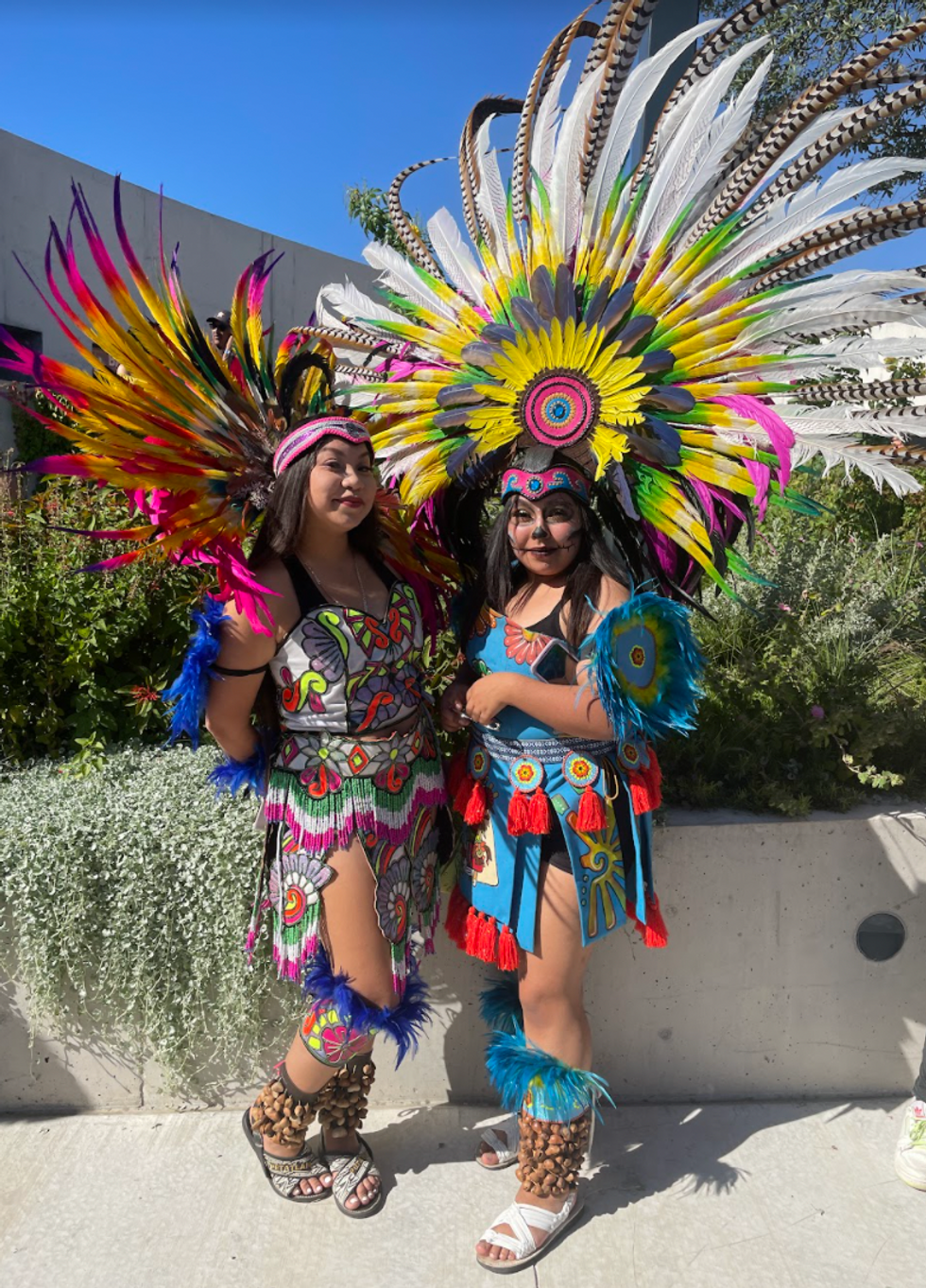 Gloria Salgado and Fatima Garcia have been dancing since they were seven years old and two months ago, respectively.
After the opening dance and a DJ performance, Vanessa del Fiero and her all-women mariachi group, Mariachi Las Coronelas willed their show to success despite sound issues.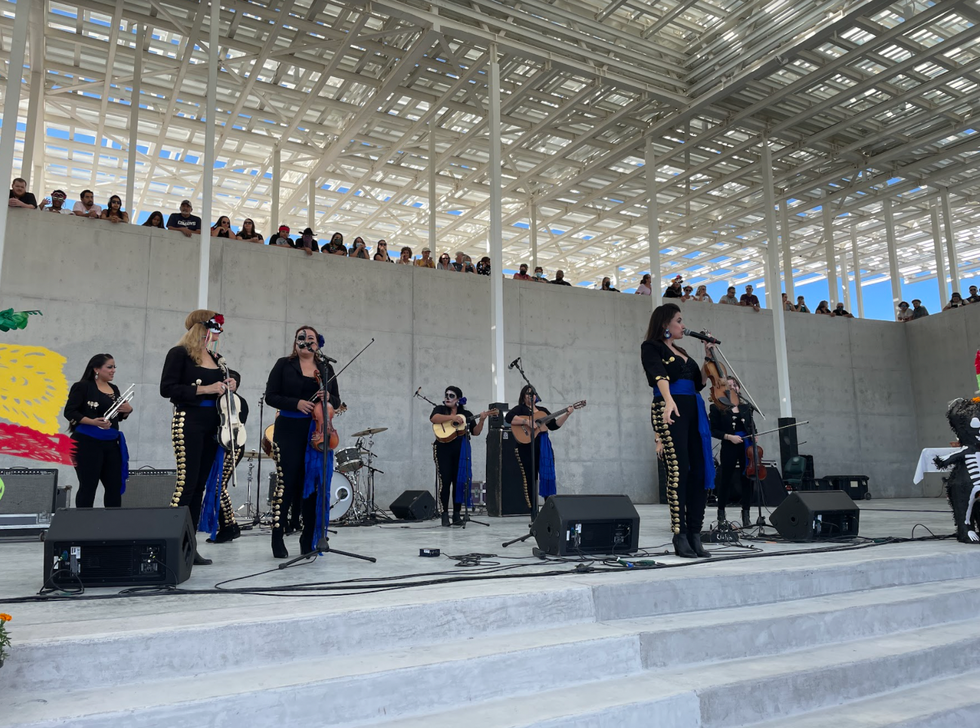 The Mariachi Las Coronelas took the Waterloo Stage just after 3 p.m.
Austin-based comedians Roxy Castillo and Vanessa Gonzalez attended together, watching the mariachis. "I was watching the mariachis and I started crying, seeing people who look like us and hearing beautiful female voices that are just so strong while we're with the community," Castillo said.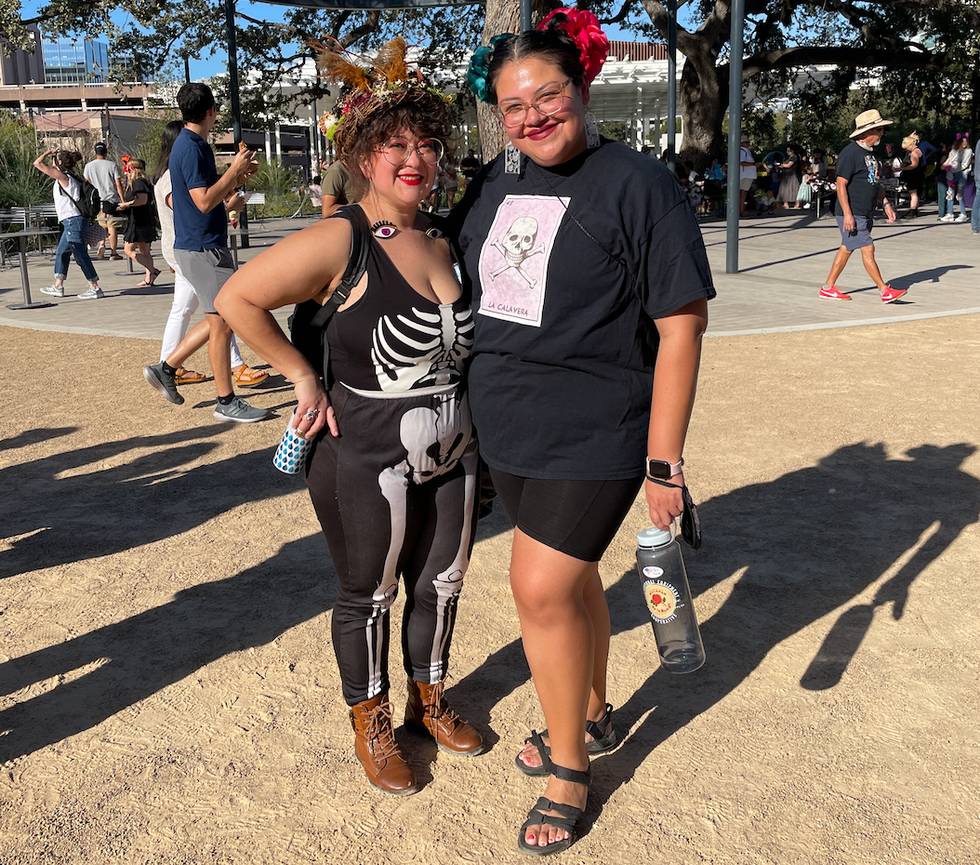 Austin-based comedians Roxy Castillo and Vanessa Gonzalez attended the festival. Gonzalez said her mother makes an ofrenda every year.
Chanting through a bullhorn and ripping through the sunny day with raucous drums and brass, the Austin FC supporting band, La Murga, made a Verde scene with the audience chanting along and waving huge FC flags in Verde and black.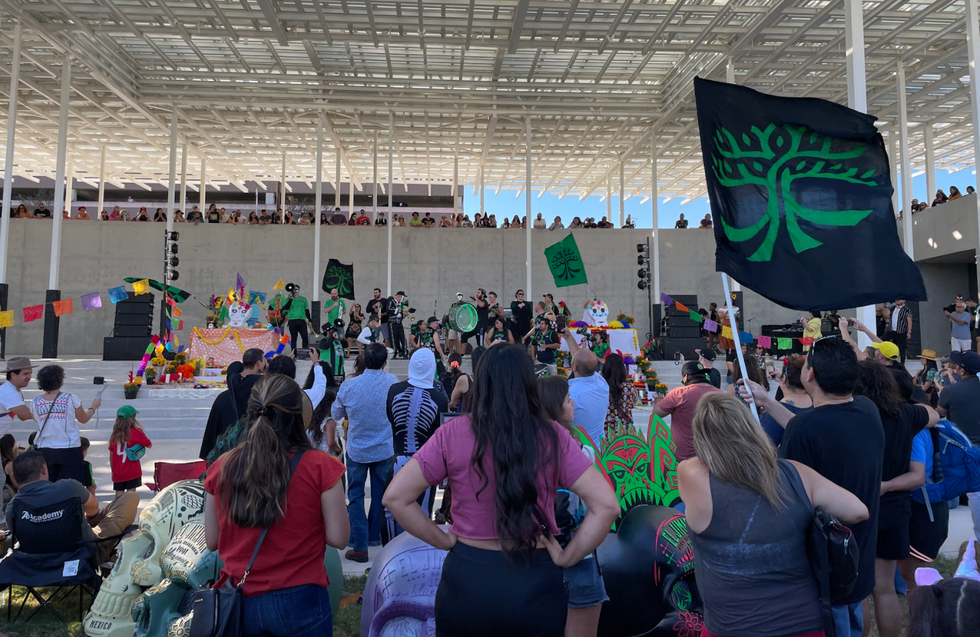 Like seen at all Austin FC home games, La Murga brought their high energy and flags to Waterloo.
The Ballet Folklorico de Austin swirled their skirts in colorful rainbows of ribbon, stamping patterns of traditional dance and song.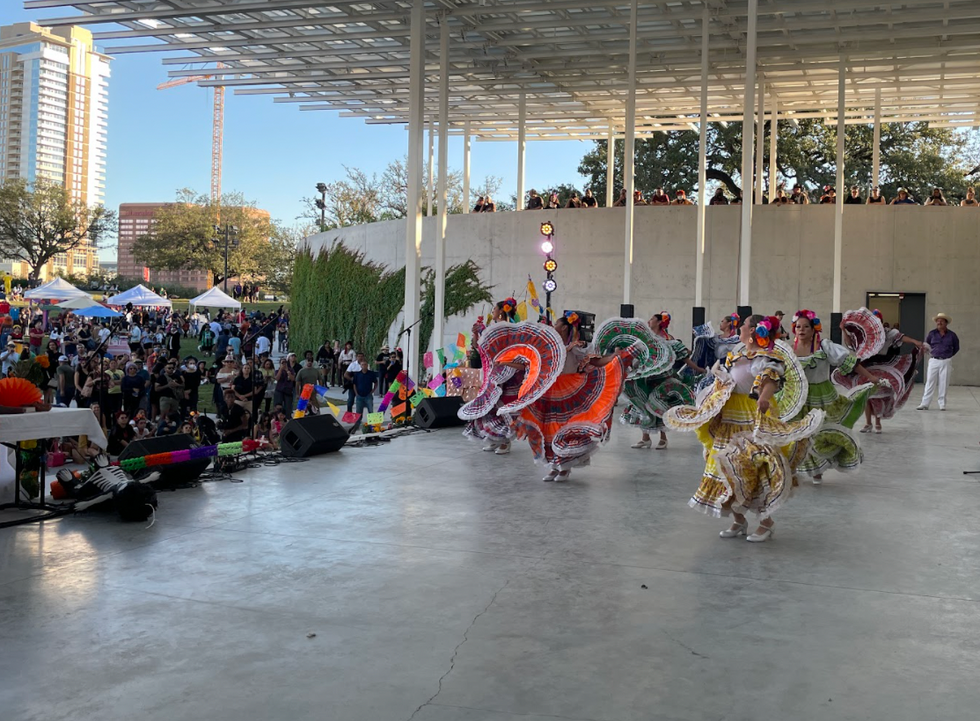 Audiences stood above and below Ballet Folklorico dancers as they swirled their visually-sumptuous skirts.
More at the festival
Heading south from the amphitheater, past the lines for food trucks, sugar skull decoration stations and a playground, a small plaza featured a strikingly beautiful altar to the dead against stacked limestone. As mourners arranged orange marigolds and framed photos, an hourly meditation guided a handful of people. Contigo Wellness owner Diana Anzaldua's yogic trataka practice gently instructs practitioners to focus on a lit candle's flame, unblinking, until tears form.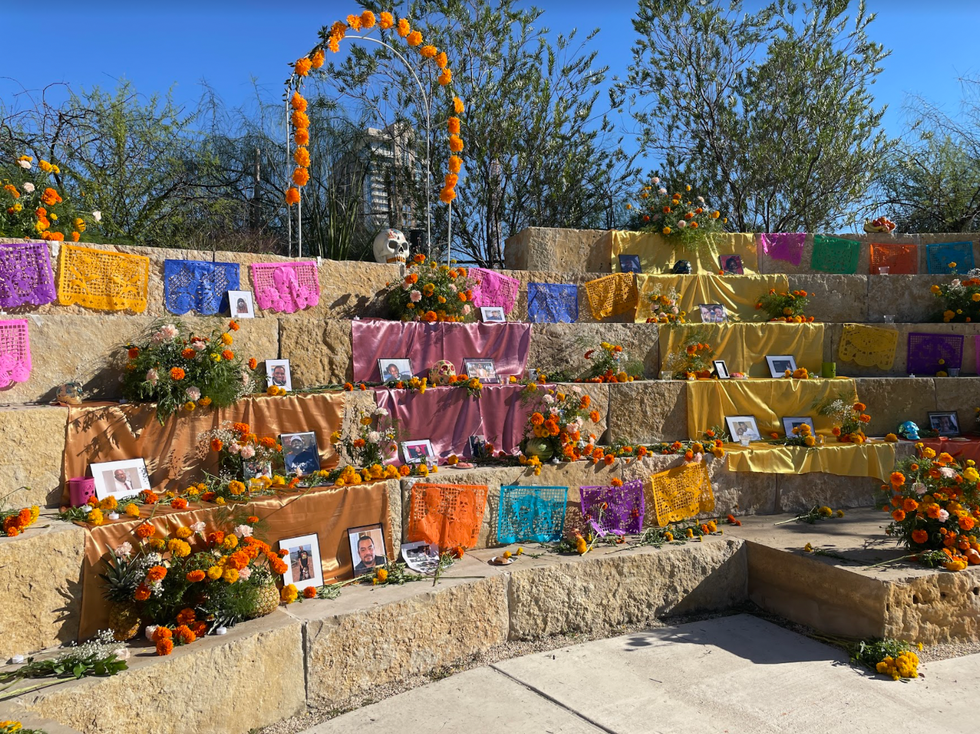 The altar gathered Mexican pan dulce, water, small candles, and photos of loved ones. The tradition welcomes spirits back to the living world.
At the Moody Amphitheater lawn, visitors shopped in a small marketplace offering wares and treats as diverse as tiny keychain bottles of Chamoy (a tasty condiment made of pickled fruit) and luchador masks (masks worn by Mexican wrestlers).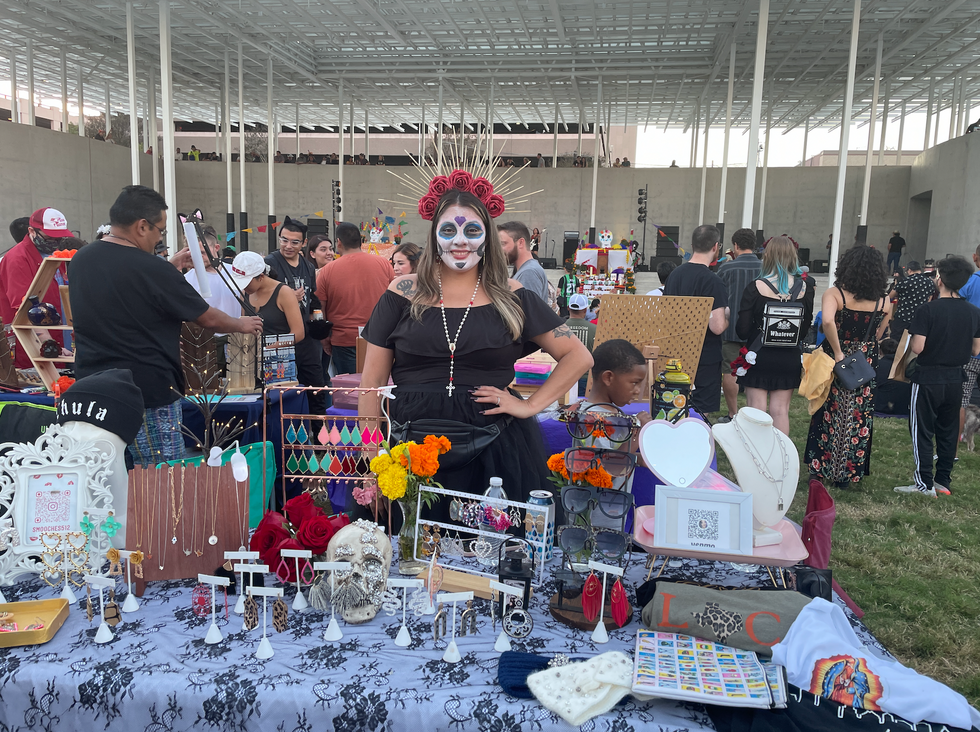 Stephanie Tijerina sold jewelry and her own homemade Besito Chamoy, a brand of mango, watermelon, and pickle chamoy.
Muralist Carmen Rangel painted throughout the event. A former Frida Friday committee member, Rangel explained how Frida Fridays began to promote businesses owned by women of color and expanded to focus on marginalized people including queer and trans community members. "I'm painting people who are part of Frida Fridays, who put on and support the events, especially in the last two years since the pandemic," Rangel said.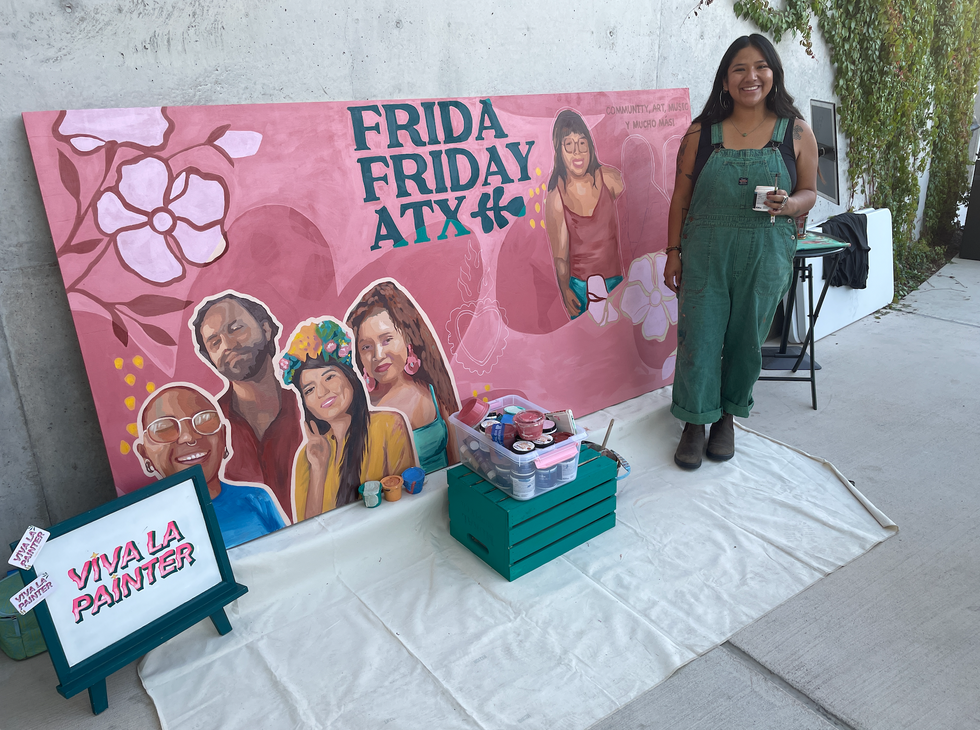 Rangel's muralist work can be seen at the Lamar bridge underpass.
While not everyone wore their Day of the Day fits, Austinite David Esparza was one that wore the traditional La Catrina outfit. The La Catrina has become an icon of the holiday.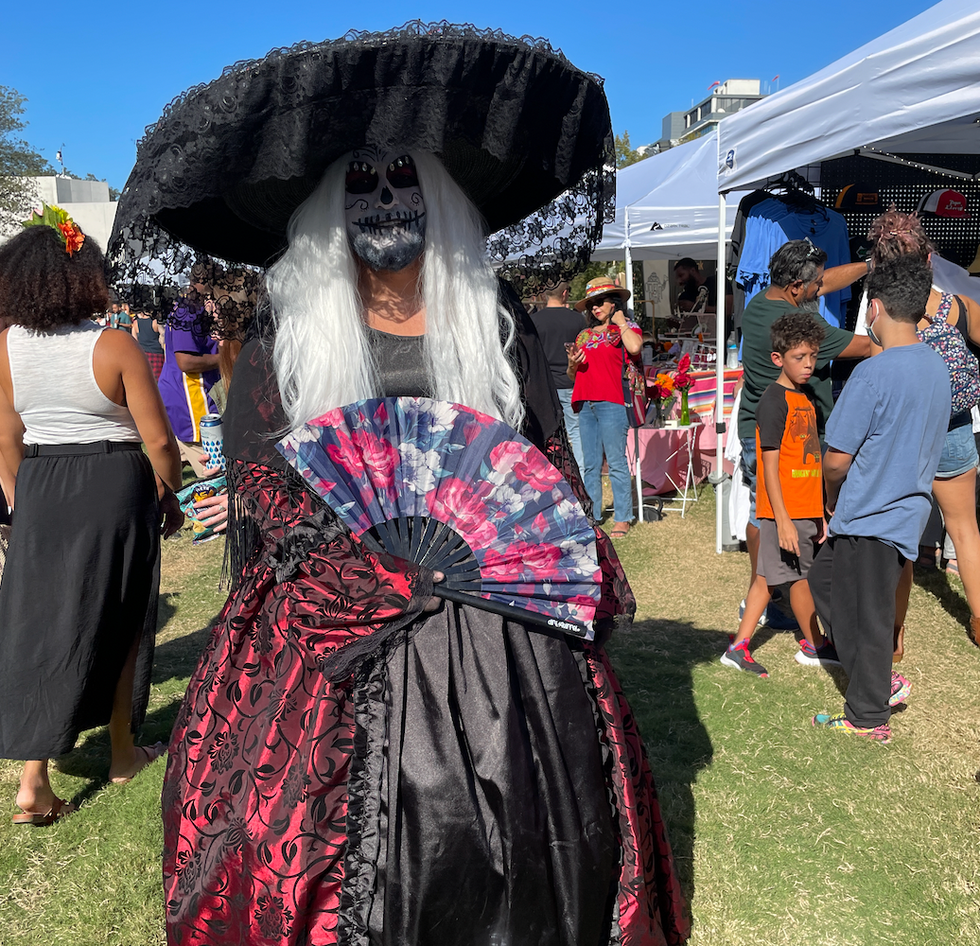 David Esparza said this was his first time decorating a traditional hat.
Enjoying Austonia? Signup for our newsletter to get daily Austin news, straight to your morning inbox!
From Your Site Articles
Related Articles Around the Web
Just as the world takes a breath from the Delta variant-induced third COVID surge that pushed hospitals past capacity this summer, a new variant—the omicron—is forcing countries around the world to once again consider shutting their doors.
It's too early to tell whether the variant will have the devastating effects of the Delta variant, the Mu variant—which accounted for 3% of U.S. cases before dropping off almost entirely by October—or somewhere in between. But as omicron continues to rise sharply in all provinces of South Africa, the Biden administration is reintroducing some travel restrictions that went into effect Monday.
As the variant spreads to countries around the world, including Canada, the Netherlands and Hong Kong, the World Health Organization declared omicron a "variant of concern"—though some are calling the move premature.
What is omicron?
The omicron variant, B.1.1.529, is now under strict watch from the WHO after quickly spreading throughout Southern Africa.
It's genetically different from the Alpha and Delta variants and has up to 30 mutations in its genetic code, leading some to worry that the risk of retransmission from those who have already had COVID could be high. The strain's mutations could also aid omicron in beating out other strains and spreading more quickly to hosts.
Omicron is the latest version of the coronavirus to cause concern. Here's what we know about where it's spread so far and what makes it different than other variants that came before. https://t.co/ncciXnIuw9
— The New York Times (@nytimes) November 29, 2021
It appears to be doing the trick. While an Associated Press report found that case numbers in South Africa are still well below other pandemic peaks—3,220 new cases were reported in South Africa on Saturday— up to 90% of new cases in the South African province of Gauteng are omicron.
The strain's effects seem to be mild so far, and hospitals haven't been overburdened yet, though hospitalizations are rising.
And doctors worry that the full extent of the variant hasn't been realized. Vaccine hesitancy is strong among South Africa's youngest population—22% of those aged 18 to 34 are vaccinated—and most of those infected with COVID have been in those younger age groups. Doctors worry that older age groups will be more adversely affected.
And while experts in the country expected a fourth surge and possible variant, the omicron still came as a "shock" as it quickly spread to all nine South African provinces and other continents. It's now the first strain labeled as a "variant of concern" since the Delta variant.
It's unclear if the variant is more immune to vaccines, although some signs indicate that it's a possibility.
Where has it been detected?
The omicron strain still hasn't been detected in dozens of countries, and it's far from the first strain to make a mark since Delta. But it's coincided with a quick uptick in cases in South Africa, where it was originally found, and became the dominant strain in Pretoria, a city of around 750,000, in just a few weeks.
Omicron is now present in nearby Botswana and has jumped on board flights to Europe, Asia, Australia and North America. Hong Kong has detected three cases, while 10 European nations including the Netherlands, the United Kingdom, Portugal and Germany have found a total of 45 cases. Canada has detected three cases, and none have yet been found in the United States.
What has been done?
Against the wishes of both South Africa and the WHO, several countries have decided to once again shut their doors.
After detecting an omicron case, Israel decided to bar entry to foreigners, while Morocco suspended incoming international air travel for two weeks. Dozens of countries are restricting travel from Southern Africa to South Africa's chagrin—the government said travel restrictions are "akin to punishing South Africa for its advanced genomic sequencing and the ability to detect new variants quicker."
The WHO also called for borders to remain open as closing borders appears to have a limited effect on the spread of variants, and many countries are hesitant to clamp down on restrictions that have limited its citizens for so long.
The United States said in a statement Friday that it would restrict travel from eight southern African countries except for citizens and permanent U.S. residents who test negative for the virus.
White House Chief Medical Adviser Dr. Anthony Fauci said Sunday that it's "too early to say" whether tightened COVID restrictions will be needed to combat omicron but that citizens must be ready to do "anything and everything" to prevent its spread.
When will we know more?
The WHO said it will take around two weeks to gauge the full effects of omicron, from its ability to evade vaccines to its contagiousness.
For now, countries have once again urged their citizens to get vaccinated. Some vaccine companies have already spoken about the strain, including Moderna, which said Sunday that a new vaccine that protects against the variant could be released in early 2022 if needed.
For now, Fauci said that the country must "prepare for the worst" just in case omicron becomes the culprit of yet another surge.
"Inevitably, it will be here. The question is will we be prepared for it? If and when, and it's going to be when, it comes here hopefully we will be ready for it," Fauci said.
Homeowners in Windcrest, Texas don't take Christmas lightly. Decking out their home in thousands of lights, one Windcrest couple even won ABC's Texas episode of "Great Christmas Light Fight" that aired Sunday.
Known as "Christmas sweethearts," John and Brenda Wilson were awarded $50,000 after going up against fellow Texans, including a family in Amarillo and two families in Corpus Christi, in the ninth season premiere of the lights show.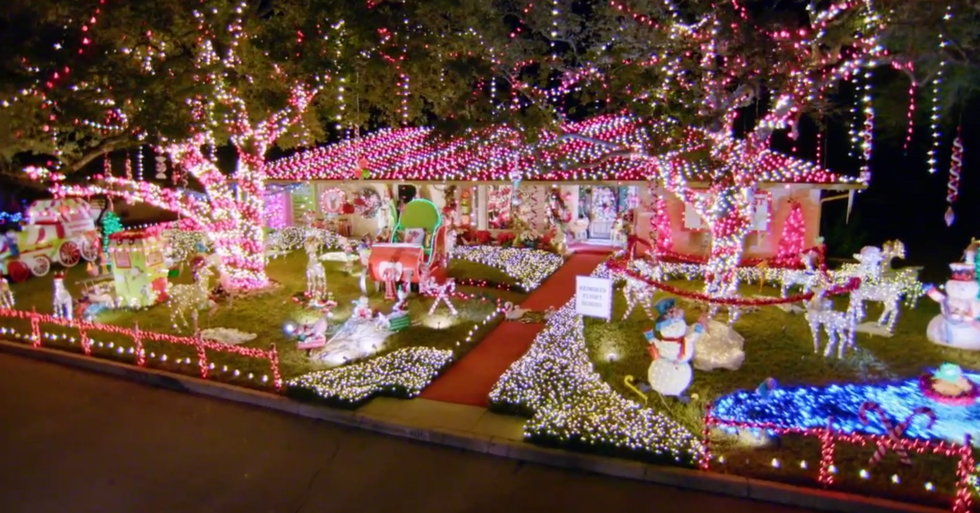 (Great Christmas Light Fight)
Their holiday display featured a hand-built sled, a train called the Peppermint Expressway with actual peppermint smoke coming out of it and Santa's reindeer "in training." Designer and judge Taniya Nayak noted the linework of the lights displayed on the roof and the positioning of the red and lime green color palette.
"Right off the bat when the lights turned on, I couldn't believe how beautiful these peppermint lights were... it's just such a fun, happy, yummy, delicious vibe to it," Nayak said when she announced the Wilsons were the winners. "It really made a smile go from one ear to the other on my face."
Judge Nayak said she also enjoyed that their display had different stories behind each section.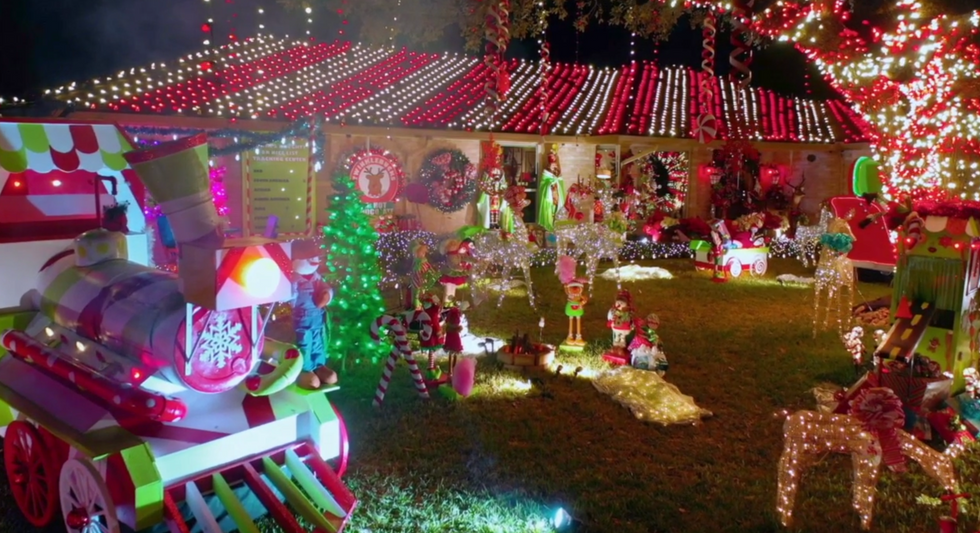 (Great Christmas Light Fight)
John, or "Mr. Christmas" as Brenda called him, said he has been putting on a Christmas lights display for over 20 years—and it's only got better since he met his Mrs. Clause 12 years ago. The two said they met online and were 98% compatible.
"Brenda and I grew up back in the 50s when things were very simple, so we wanted to create something from when we were growing up," John said on the show.
And their efforts paid off: along with their monetary prize, the couple earned a light-bulb-shaped trophy.
KSAT reports the home got the attention of the show's casting directors last year, who encouraged them to apply to be on the show. The show was then shot last year, but the couple didn't learn they won until this year.
While being on the show is their intro to stardom, locals are familiar with the Wilsons' yearly display in the light-centric Windcrest. Each year their home is part of the Windcrest Light Up, a decades-old tradition where residents go all-out with their holiday light displays. They've won at least three grand prizes in the Windcrest contest and several other category first-place prizes.
The Windcrest Light Up kicks off Dec. 4.
The countdown to the holidays has begun—do you know where your presents are? If you didn't get your shopping done over the Black Friday weekend, never fear, there are plenty of department store alternatives to check out right here in Austin.
Shopping local is the gift that keeps on giving, so here are some local artisans to keep in mind.
There are hundreds of local businesses to support—even if it isn't on this list, you can probably get it local.