Get connected with our daily update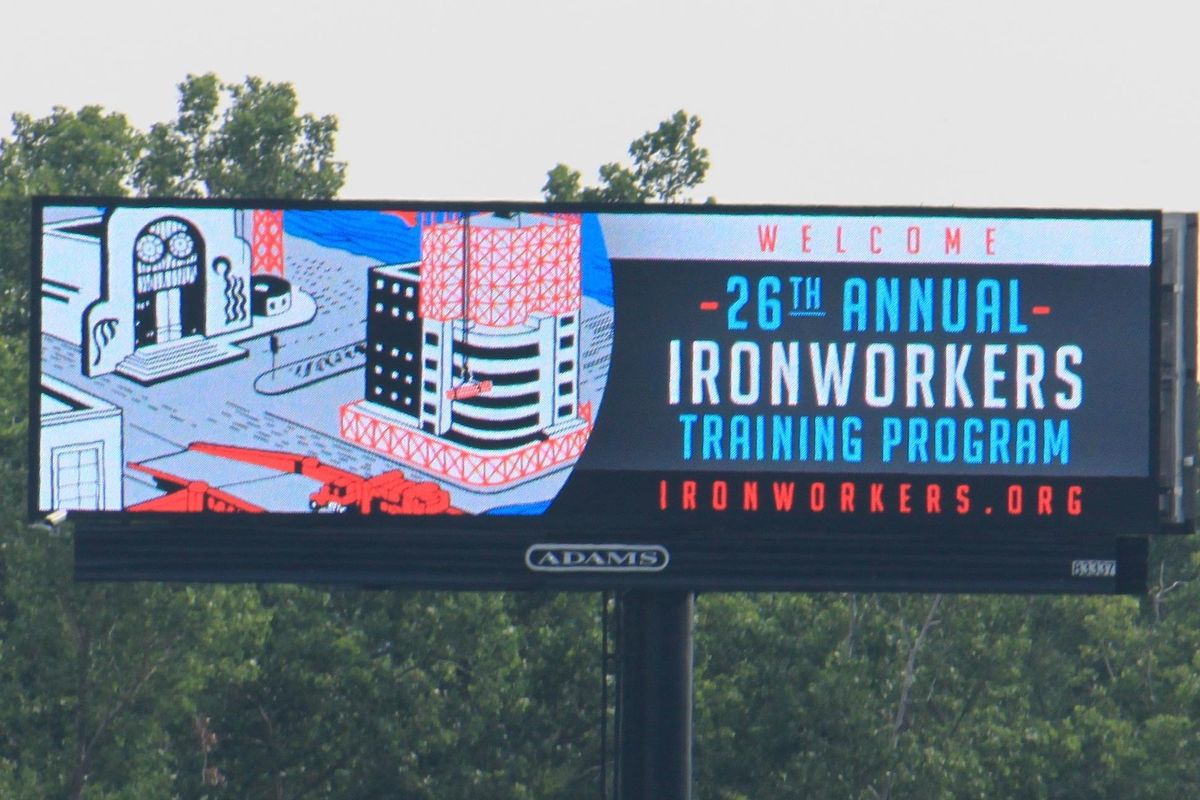 Up to 85 digital commercial billboards could light up the skies all over nature-loving, small-business-owning Austin after a decades-old ban on the bright, flashy signs was recently found by a court to be unconstitutional.
---
The billboards, which switch images up to every eight seconds, offer exponentially more affordable ad options for small business owners but create what opponents call "visual blight" along highways in both urban centers and unincorporated areas.
At least one City Council member, whose district could include up to 20 digitized billboards if the opinion stands, indicates she would fight for the current ban.
"I believe the City's prohibition of off-premise digital signage stands on solid legal ground, and I will be talking with City legal staff to ensure that this rule remains in place," said Council Member Kathie Tovo, whose District 9 includes much of downtown.
The opinion is focused on an Austin lawsuit but, if allowed to stand with no appeals, would set a precedent that could have statewide and national implications.
The signs in question are "off-premise," which means they advertise businesses that are not at the property where the sign is located. "On-premise" signs are more loosely regulated, and digital signs are generally allowed if they are on the business property.
The two companies who own the analog signs in lawsuit, Lamar Advertising Company and Reagan Outdoor Advertising, asked the city of Austin to allow them to digitize their signs in 2017 but were denied based on the city's sign code.
They sued, arguing, among other things, that the regulations were discriminatory because they allowed some signs to be digital and not others, a distinction they said was content based—and thus violated the First Amendment—because the signs' content is what indicates whether it is off-premise or on-premise. The Fifth Circuit agreed in its Aug. 25 opinion.
The argument against them is at odds with Austin's culture of supporting small businesses, which would benefit from having access to more sign inventory at lower prices and avoiding costs of production, Bill Reagan, founder, chairman and CEO of Reagan Outdoor Advertising, told Austonia in an interview.
"We look forward to the ability to avail ourselves of this technology," Reagan said. "Everything in this world is going more and more digital, not less. Billboards shouldn't be excluded from that technological evolution."
But in a town that loves the soft lights of its historic moon towers and has tried to guard against over-populating the highways with billboards, the idea of digital signs, officially known as "changeable electronic variable message" billboards, blazing against the night sky is a tough one to swallow for opponents.
"It just doesn't make sense for Austin," said Sarah Tober, executive director for Austin-based Scenic Texas told Austonia. "We are a city that loves our wild, natural beauty, and this is the furthest thing from that."
In a Sept. 23 letter to Austin Mayor Steve Adler and the City Council, the group asked the city to appeal the ruling. City officials have not yet indicated whether they will appeal. Their deadline is January 2021.
Tober and other opponents also argue that the signs are dangerous and distracting, while Reagan pointed to federal studies saying they appeared to be no more a distracting than analog billboards.
A long history in Austin
The issue comes up every few years in Austin. Informal polls typically come back with an overwhelming "no" response from locals.
Supporters have also argued that updating analog billboards with the digitized ones is "good for the local economy, will produce less light pollution than floodlights on traditional billboards and can help public safety," according to a report in the Austin Monitor in 2015, before the city updated the codes the following year.
Opponents said the tall commercialized digital billboards do more harm than good, stipulating that highway safety messages currently allowed are often lower to the ground and easier to see while driving.
"The State of Texas has said we do not need to have a digital device in our hands, so why do we need to be looking at a digital device in the sky?" Tober said. "There are health implications, there are mental health health implications, there are physical health implications, and there are physical health implications of having digital billboards. There are also broader environmental implications."
There's also the potential risk of hackers, she noted, who in late 2019 broke into a digital billboard over an interstate in Michigan and broadcasted pornography for several minutes.
At the time, groups like Scenic Texas and its Austin chapter were trying to ban or eliminate billboards altogether. Meanwhile, the supporters were pushing for the codes to further regulate on-premise signs while allowing them to upgrade the technology on existing off-premise billboards to digital.
Eventually, the city landed here on the issue: Keep the 700 billboards the city already had at the time, only let a new one up when an old one comes down, and maintain the ban on digitized off-premise billboards, with some exceptions.
Want to read more stories like this one? Start every day with a quick look at what's happening in Austin. Sign up for Austonia.com's free daily morning email.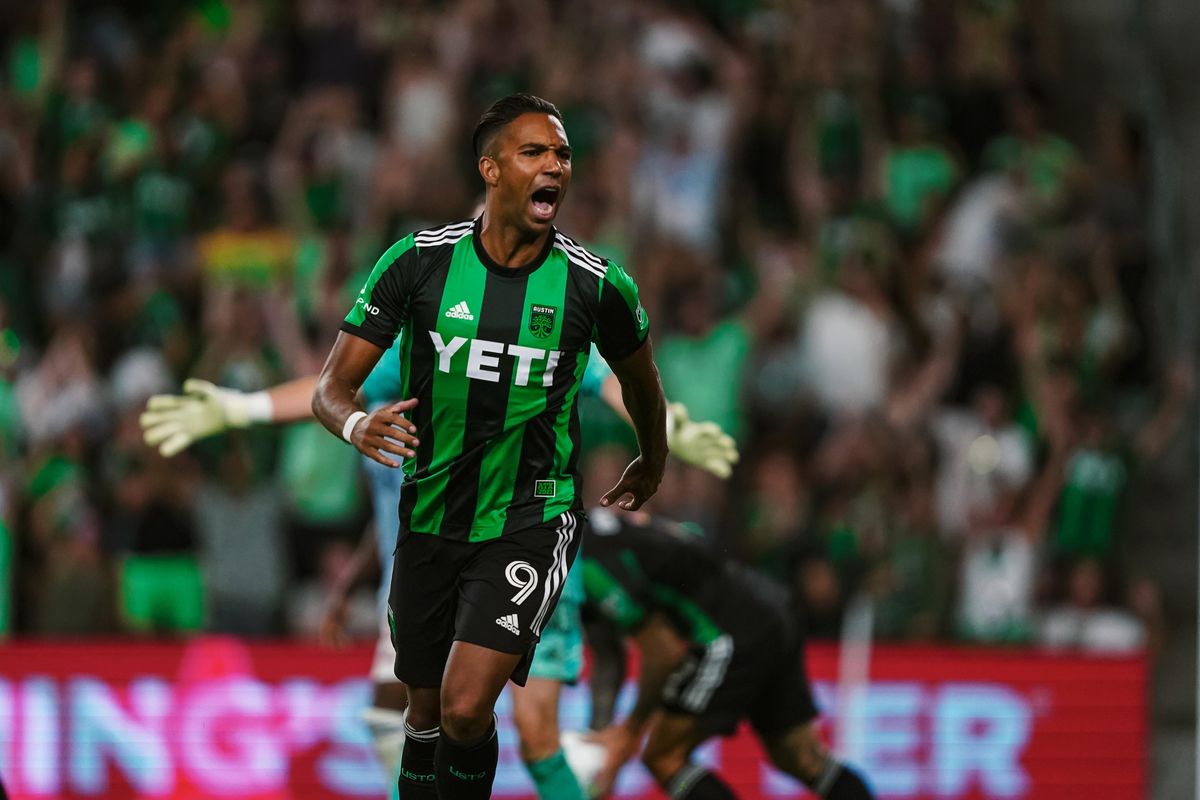 Despite a 2-0 deficit, there was a pot of gold for Austin FC after all as it celebrated its annual Pride Night with rainbows and a 2-2 comeback draw to FC Dallas Saturday night.
After three FC Dallas losses last season, the Dallas derby draw marks the first time Austin FC has tied against its Copa Texas rival. Austin continues to edge over FC Dallas as it sits at 3rd in the MLS West.
Here are the biggest takeaways from the match:
A somber start
¡Ya Basta! Enough! End Gun Violence. #uvaldestrong

📷 @arubiophotospic.twitter.com/3PiVdTPtik

— Los Verdes (@LosVerdesATX) June 26, 2022
Decked out in colorful hues for LBGTQ+ Pride, Verde fans started the match on a somber note as they held up banners to take a stand against gun violence before the match.
As the national anthem began, fans held up banners with the names of each child that was killed in the Uvalde school shooting and a plea to "end gun violence."
The supporters' section was also dotted with Pride flags and a "Bans off Our Bodies" banner in protest of the Supreme Court's decision to overturn Roe v. Wade.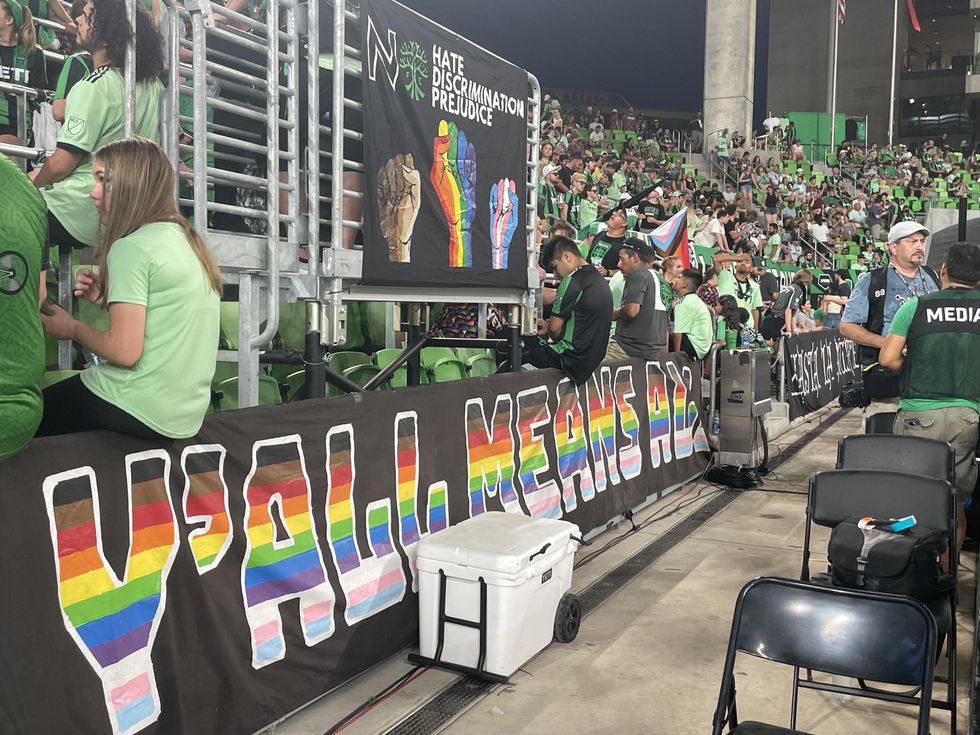 (Claire Partain/Austonia)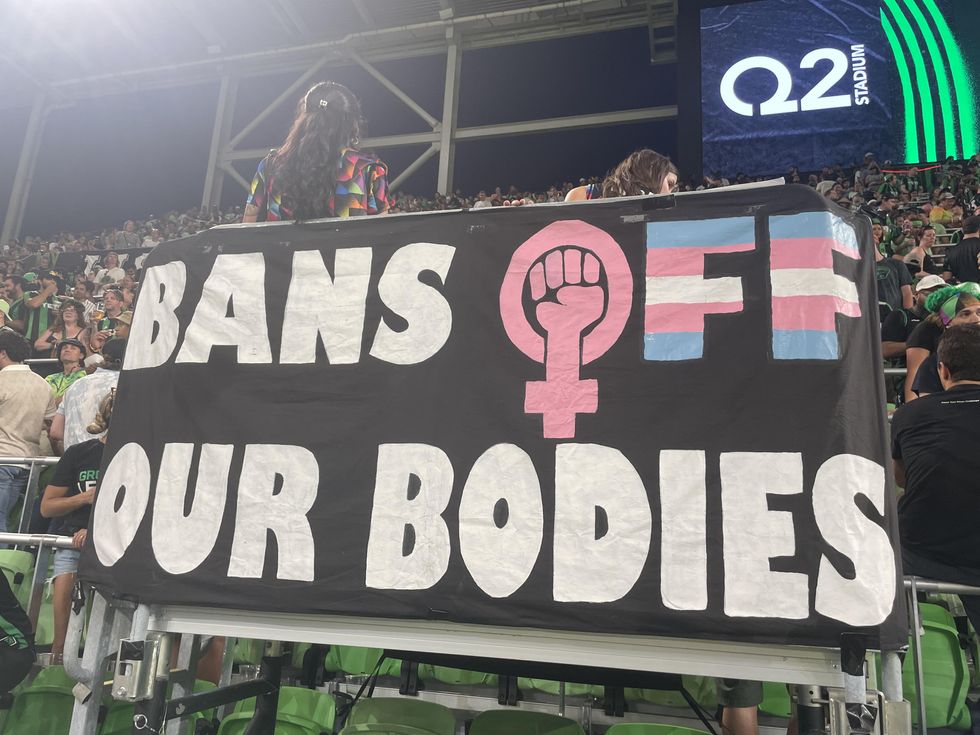 (Claire Partain/Austonia)
FC Dallas earns a 2-0 lead
Paul Arriola is there to put it away and put @FCDallas ahead! pic.twitter.com/Z4AMmM6lp3

— Major League Soccer (@MLS) June 26, 2022
That sober tone continued onto the pitch. With midfielder Daniel Pereira's absence due to a red card, the Verde and Black lost two goals to FC Dallas by the 70th minute of play.
FC Dallas played it sneaky for the first half of the match, giving Austin FC plenty of room to hold possession as it waited to strike on a Verde error. That mentality proved dangerous for Austin as Dallas' Paul Arriola took advantage of Brad Stuver's deflection to score the first goal of the night in the 57th minute of play.
Dallas struck once more as Brandon Servant pushed past the Verde line to score the second goal of the match.
Austin FC strikes back
Sebastián Driussi pulls one back!#AustinFC are still in this one. 👀 pic.twitter.com/Yoi0x768jb

— Major League Soccer (@MLS) June 26, 2022
But energy quickly returned to Austin's favor thanks to Designated Player Sebastian Driussi, who scooted past several FC Dallas defenders alongside Moussa Djitte to snag an unlikely first goal for Austin.
A full Verde comeback
Late drama in this Texas Derby!@AustinFC ties it up, Danny Hoesen with the diving header. 😱 pic.twitter.com/Jk2f4fIEXG

— Major League Soccer (@MLS) June 26, 2022
Austin's subs proved deadly as momentum returned to the home team toward the end of the match. A well-placed cross from Nick Lima—and a diving header from a fresh-legged Danny Hoesen—helped the team secure the draw with a second Verde goal in the 84th minute of play.
Hoesen, who was Austin's first starting striker last season, has now scored two goals with the team after a yearlong injury stuck him on the bench.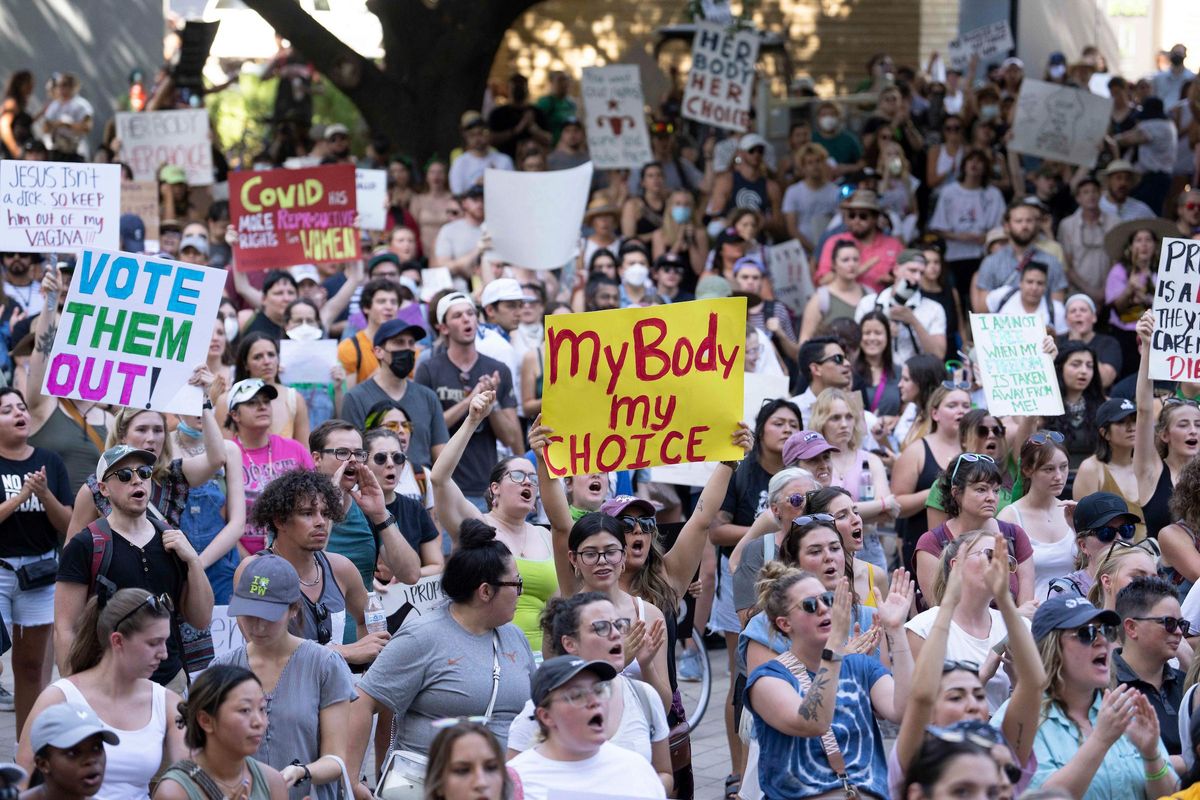 Hours following the U.S. Supreme Court's ruling to overturn Roe v. Wade, the landmark ruling that guaranteed a constitutional right to an abortion, on Friday, about 1,000 people gathered in Republic Square with signs calling for change.
The rally, organized by the group Rise Up 4 Abortion Rights Texas, started at the federal courthouse on Republic Square on Friday at 5 p.m. before the crowd marched to the Texas Capitol. More protests are expected to ensue over the weekend.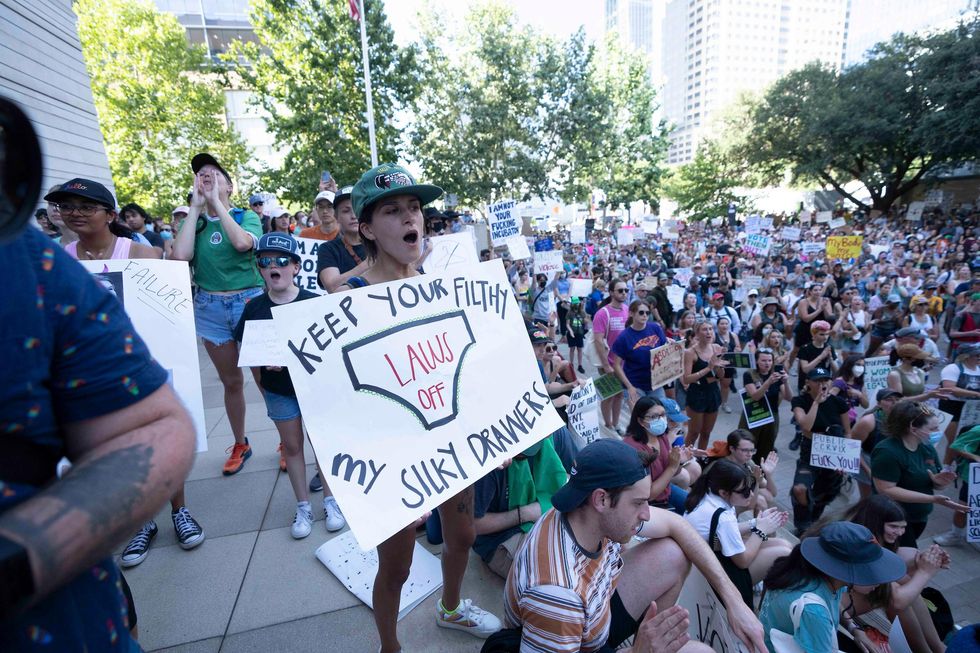 People showed up with all types of signs like Mindy Moffa holding up, "Keep your filthy laws off my silky drawers."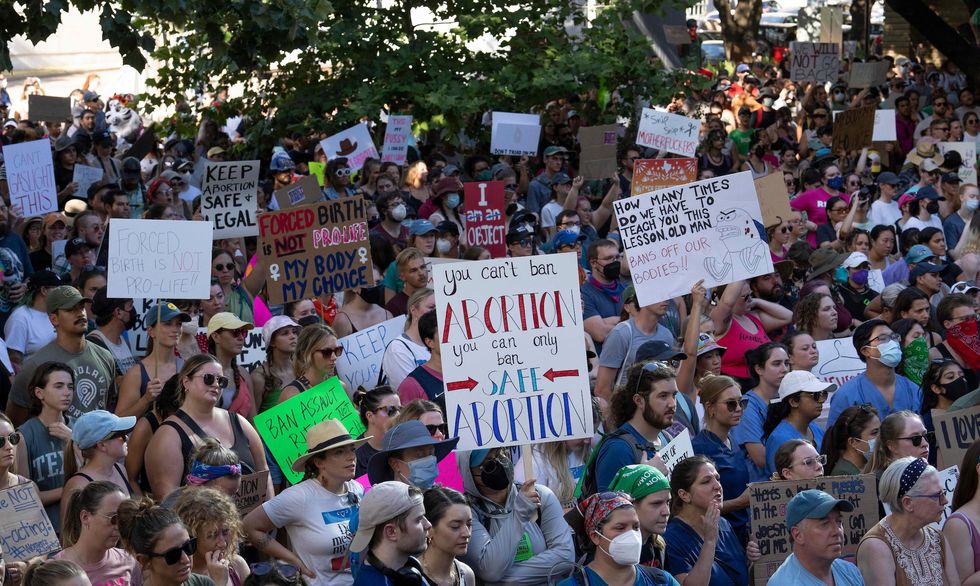 Austin joined cities across the country that saw protests for a women's right to an abortion after the ruling.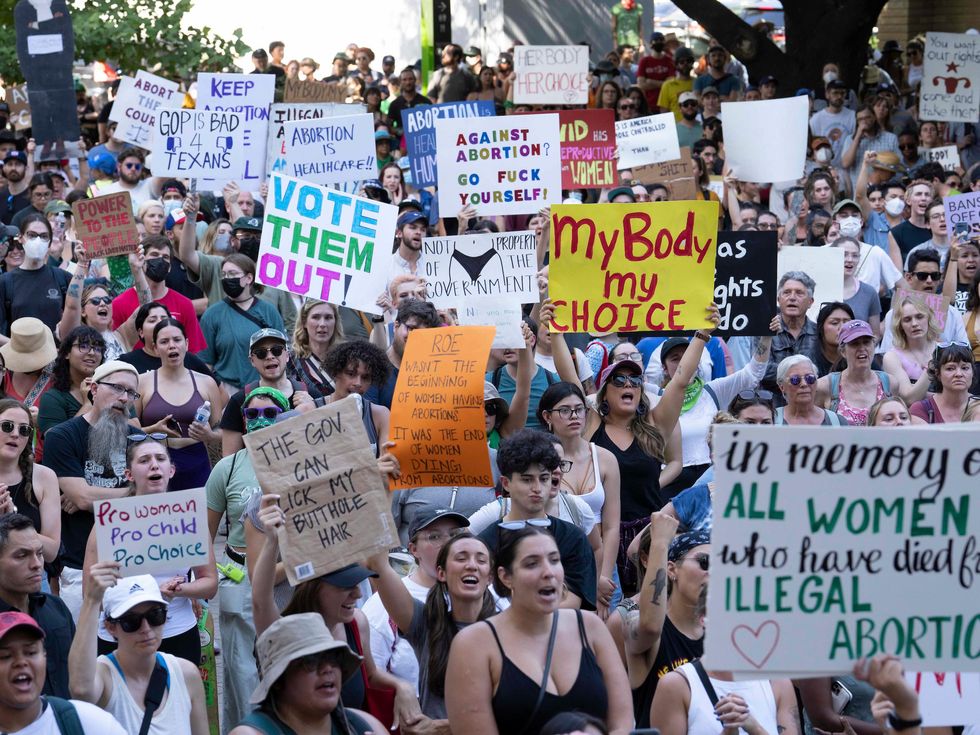 According to a recent UT poll, 78% of Texas voters support abortion access in most cases.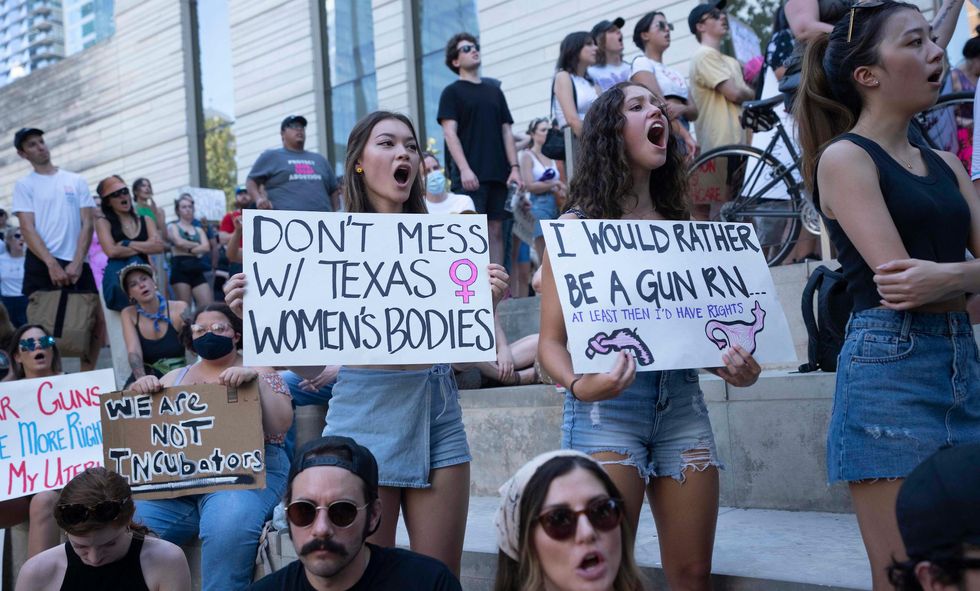 Sabrina Talghade and Sofia Pellegrini held up signs directed at Texas laws. A Texas trigger law will ban all abortions from the moment of fertilization, starting 30 days after the ruling. When state legislators passed the trigger law last summer, it also passed laws for more protection of firearms, including the right to open carry without a permit.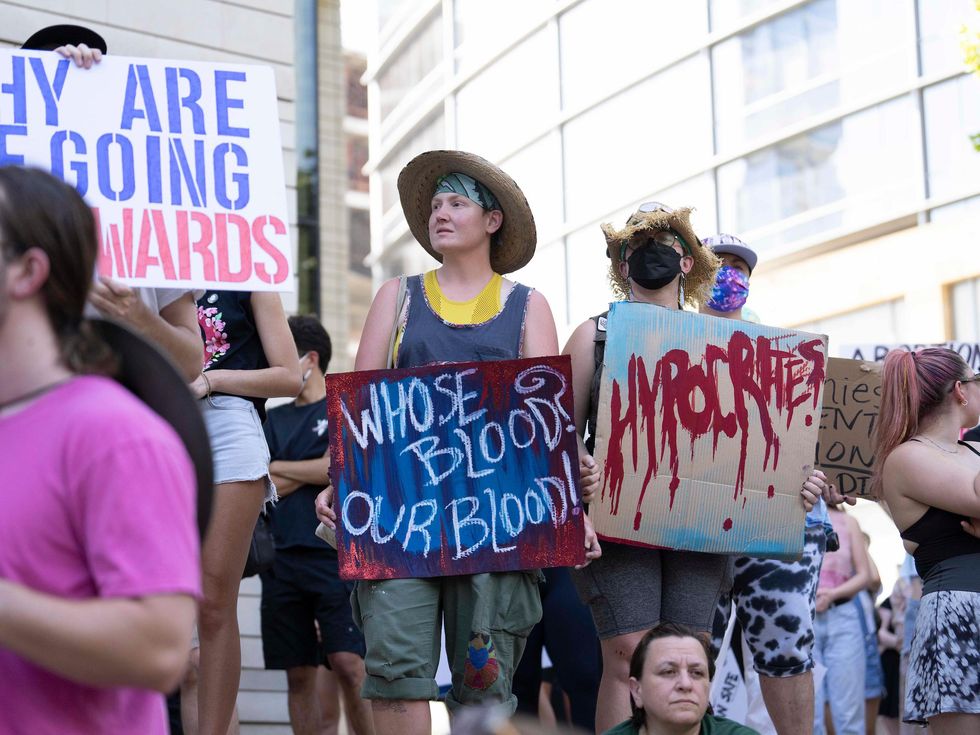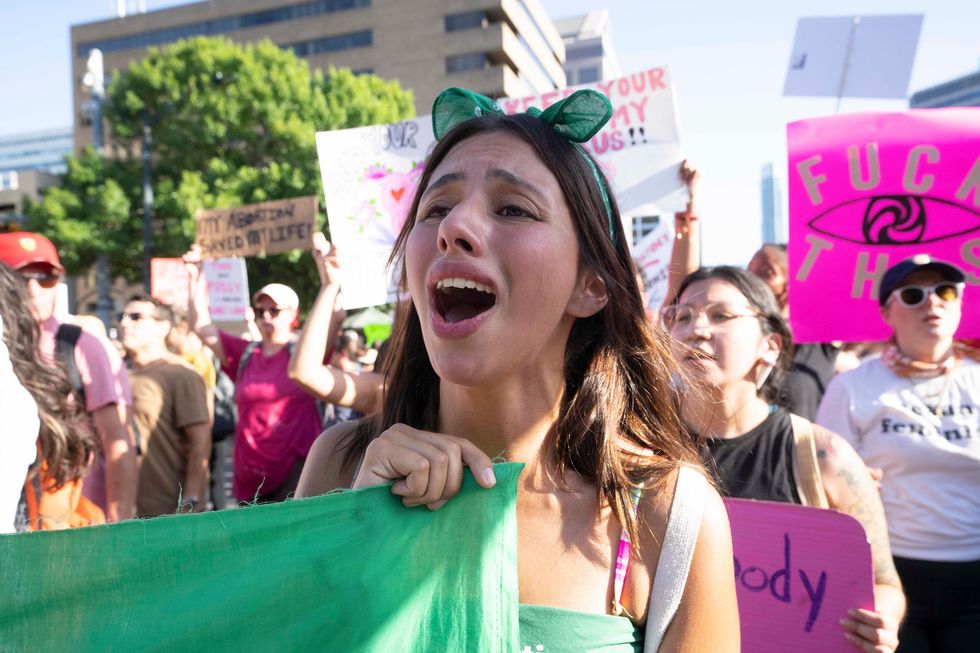 Lili Enthal of Austin yells as around 1,000 Texans marched to the Texas Capitol.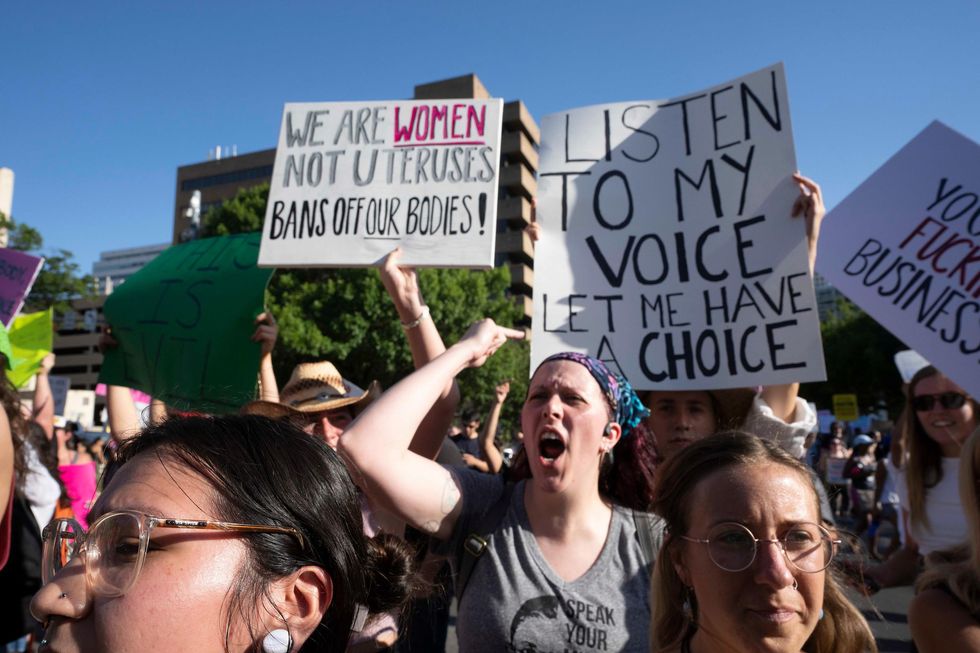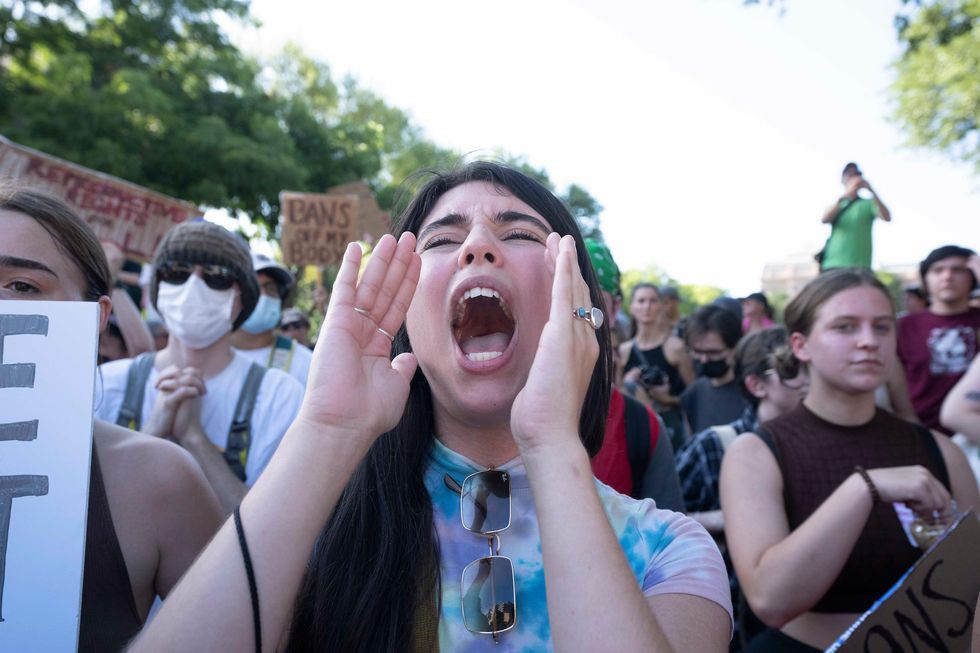 From the Texas Capitol, Zoe Webb lets her voice be heard against the Supreme Court ruling.