Get connected with our daily update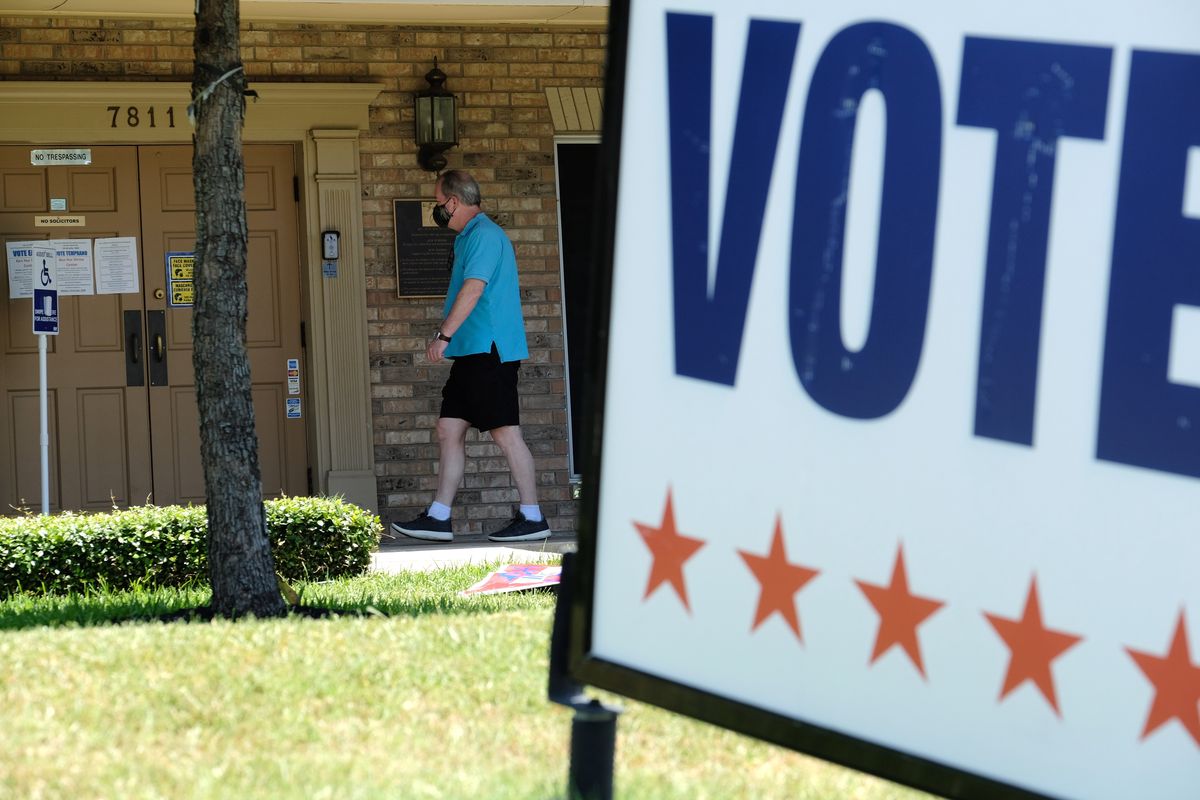 Election Day is here, in which District 4 residents will decide who will represent them on city council.
---
Making up part of northeast Austin, District 4 has been represented by Council Member Greg Casar since 2014. As he makes a bid for U.S. Congress in District 35, a Special Election is being held for who will take his seat on council. Seven candidates are running for this position.
Know before you go
On Election Day, the polls are open 7 a.m. to 7 p.m. There are seven polling locations for this election:
Only members in this district vote in this election. To know what council district you reside in, click here.

The registration to vote in this election has passed, to check if you are registered, click here.
Don't forget a valid photo ID to present at the polls.
Candidates on the ballot
There are seven candidates running for this position from all walks of life in Austin. Here's a little about them.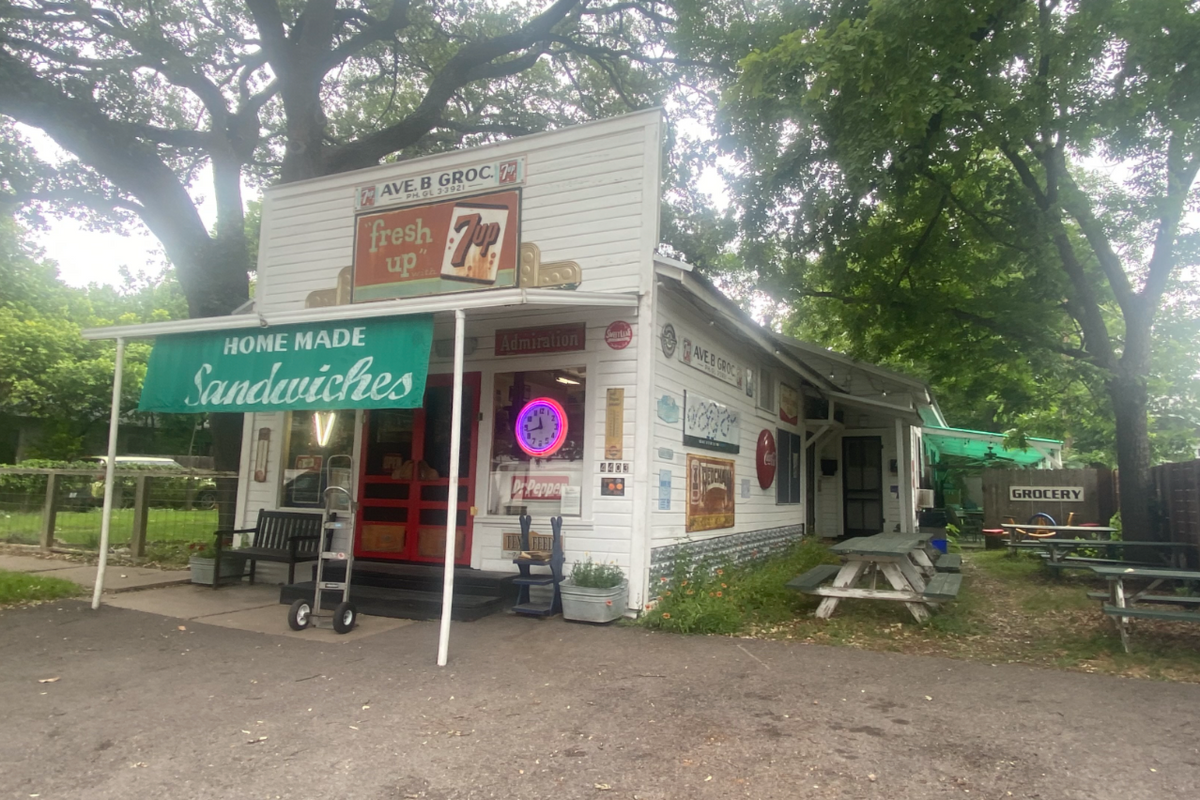 Legacy grocery store and deli Avenue B Grocery & Market, 4403 Avenue B, re-opened its hundred-year-old doors this week, serving up sandwiches after two years of a pandemic-induced closure.
Mason, the 10th owner of the location, has been running the shop largely by himself since his family bought the location to save it from closing in the early '90s. Mason greeted customers with a smile and a homemade sandwich on Friday while telling them a little bit about the history behind the building.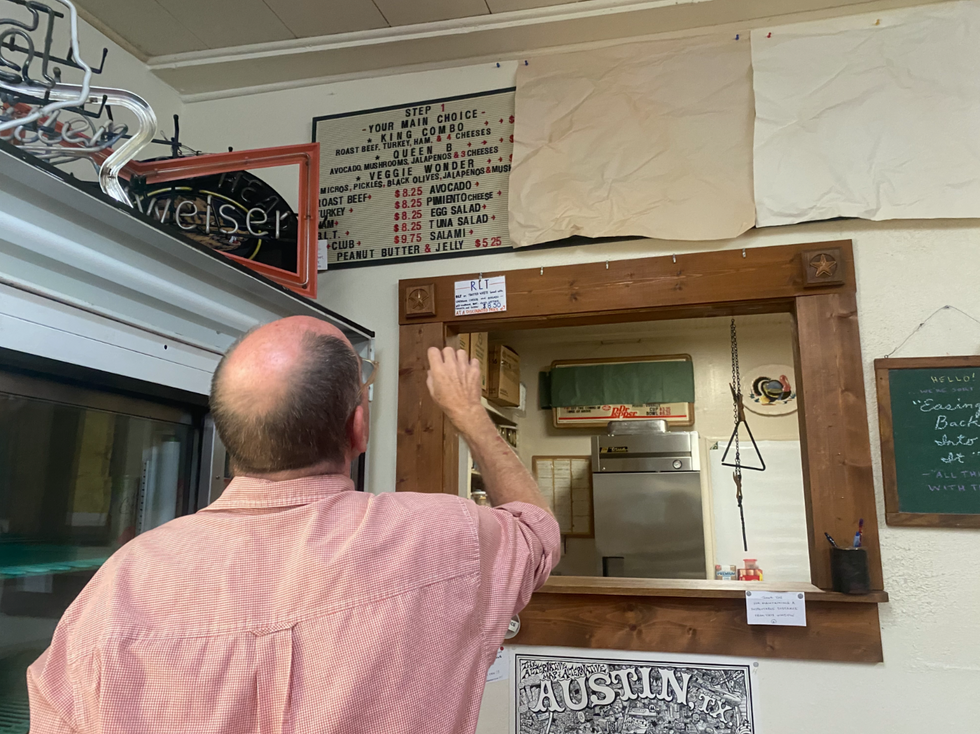 Mason, who would not let us photograph his face, starts removing the paper that has covered the menus for two years. (Laura Figi/Austonia)
"I'm still testing the water, gauging how things are gonna go and slowly bringing things back online," Mason told Austonia. "I haven't personally been telling people I'm open yet because I wasn't ready. Only today, as you saw, did I uncover the menu."

Aside from the groceries and famous sandwiches, the store sells Maine Root sodas, candy, dinnerware, records and miscellaneous knick-knacks. If you ask, Mason will pull down some antiques from the shelves behind the till.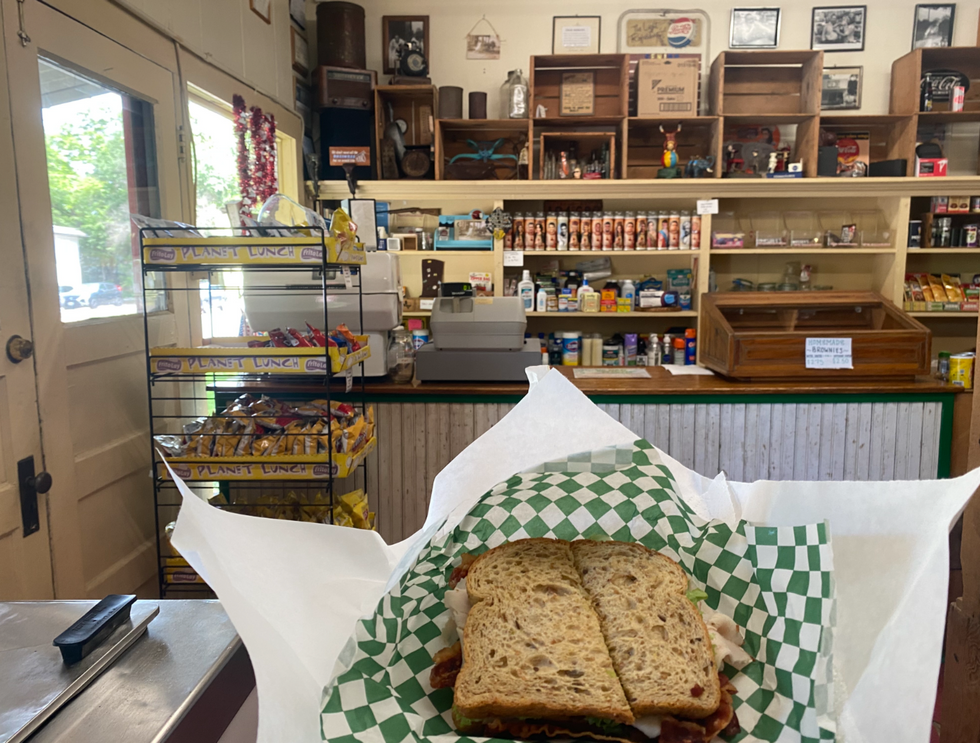 Try Ave. B's R.L.T. (Ross a.k.a avocado, mushrooms, green olives, lettuce and tomato), Mason's take on the classic sandwich. (Laura Figi/Austonia)
The store unofficially opened when passerbys saw lights inside on Wednesday but Mason said he never told anyone he was opening, it just sorta happened. Mason didn't uncover his sandwich menus until Friday.
"It's my social life, you know, that's how I meet people and people come to visit me," Mason said. "People have been very understanding. I wanted to be more relaxed and social–it used to be so busy."
First-time Ave. B visitor Rose Bowditch recently moved to the Hyde Park neighborhood from California and told Austonia she had been waiting for the store to open up so she could see what was inside. Mason offered her roast beef samples while he helped her dig for jars.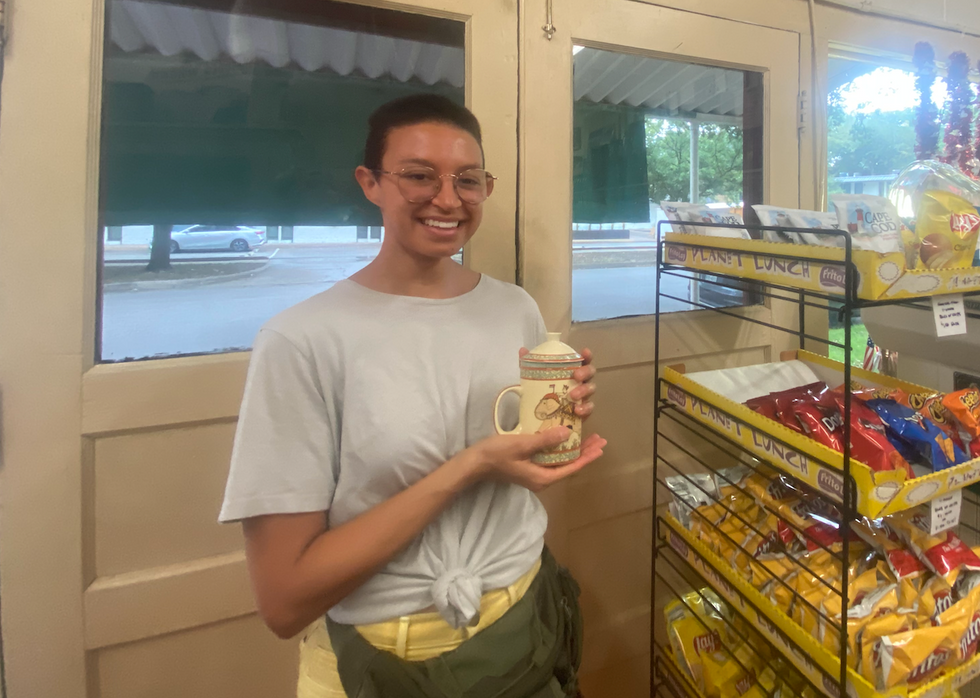 Rose bought some mason jars and a teacup on her first visit. (Laura Figi/Austonia)
Meanwhile, Brianne Bowland and John Lyman began eating Mason's sandwiches when Lyman started working nearby. The two said they've become big fans since and had been waiting for the reopening.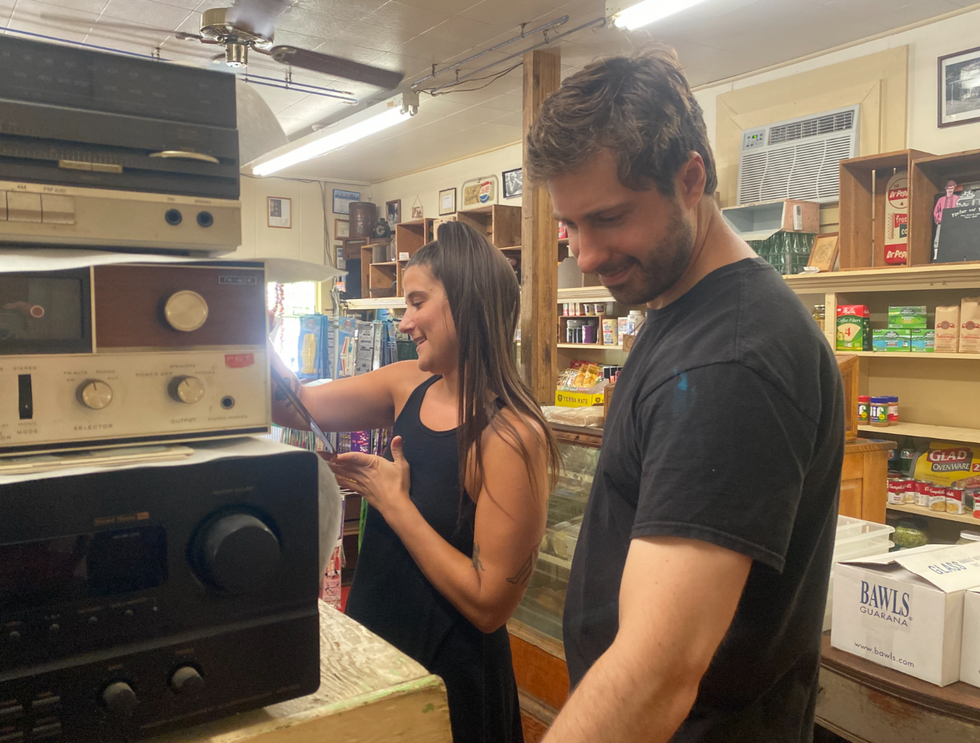 Bowland and Lyman took in all the sights upon their first time back in the building. (Laura Figi/Austonia)
"(Ave. B) is like a go-to for everyone in my company to come for lunch," Lyman said. "I even have a T-shirt. I've always just loved that it's a really eclectic selection of things on the shelf–and then the sandwiches are really pretty special."

Mason excepts call-in orders at all times except the busy rush hour at noon, during which he asks for your patience as he's a one-man band. But patrons are free to stop by from 10 a.m.-7 p.m. Thursday-Monday for a great sandwich, conversation and a beer now that the store is back open.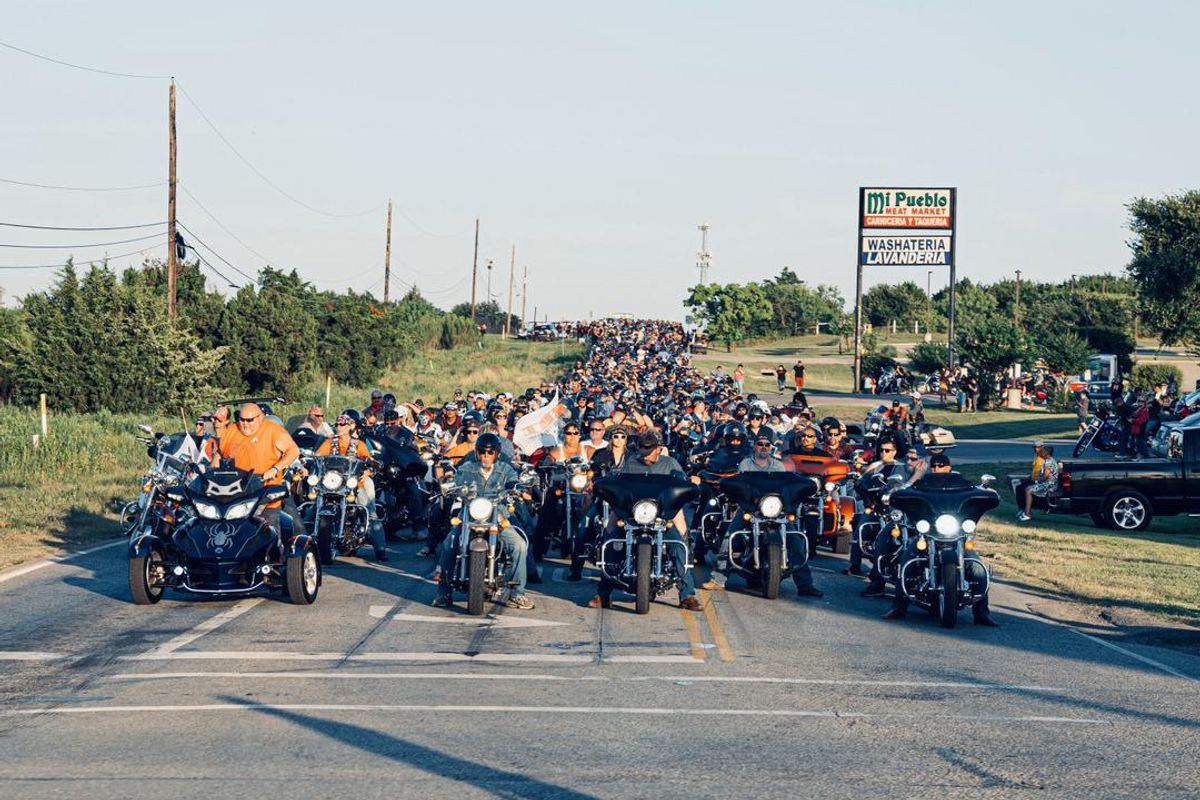 The largest ticketed motorcycle rally in the U.S. said it will limit its attendance to 2,500 per Bastrop County rules as it forges ahead with plans for its event at Mere's Reserve on the Colorado from June 9-12.
In an April hearing, Bastrop County Judge Paul Pape denied the event permit for 3,000 attendees for the annual Republic of Texas (or ROT) Biker Rally.
The event has brought in as many as 35,000 paid customers in the past, with over 200,000 estimated to attend the yearly Friday night street party in downtown Austin, and has hosted iconic artists including Willie Nelson, Lynyrd Skynyrd, Joan Jett and more since it began in 1995. This year, the event will move to Bastrop County for the first time from Travis County and include dozens of artists—including Ray Wylie Hubbard—food trucks, vendors and more motorcycle-themed entertainment.
In the hearing, Pape said he denied the request for 3,000 attendees due to limited space and lack of infrastructure at the new venue. Mere's Reserve is located on Farm-to-Market Road 969, a well-used, two-shoulder road off State Highway 71.
Bastrop County Sheriff Maurice Cook also expressed concerns about the event. According to KXAN, Cook said it's in the organization's "best interest" to monitor attendance, and he's added plans to beef up security ahead of the rally.
"As good as they can so that next year, whenever the judge evaluates their request, if it's over 2,500, of course, then he will have a baseline to just say, 'Well, y'all did use what you're supposed to'... and at that point, they could more likely get a permit over 2,500," Cook told KXAN.
Organizers said they will keep count on site and limit ticket sales to under 2,500. While Cook denied their liquor license request, the decision will ultimately be with the Texas Alcoholic Beverage Commission, which has not issued a license yet.