Austonia AM
100% Austin news, info, and entertainment, straight to your inbox at 6 a.m. every morning.
In five minutes, you're fully informed and ready to start another great day in our city.
Get connected with our daily update
(Syda Productions/Adobe)
Louis, an Austin business owner and father, knows three couples right now who are getting divorced.
With his own 20-year marriage on the rocks, he would, in other times, be joining their ranks. But he's been furloughed and their kid is about to start college.
---
The idea of a second rent and more emotional wreckage sounds, to Louis, even less attractive than staying in a bad marriage for a few more months.
"There are a lot of people that are logistically married right now," Louis said, asking that his last name not be used to protect his family's privacy. "That's probably the camp I would put us in, depending on the day."
Stories of strained relationships abound during the pandemic, and the numbers of divorces being filed in Travis County, according to court records, have been increasing every month since April, the first full month of the shutdown and shelter-in-place rules.
But, due to a confluence of factors unique to these times, only half the number of local couples are filing for divorce now than they were at this time last year. Instead, they're choosing to ride out the storm together, for better or for worse. At least for now.
In Travis County, divorces from March through June dropped from 5,334 in 2019 to 2,802 for the same period this year.
In neighboring Williamson County, divorces are down from 2,022 to 1,322 for the same period.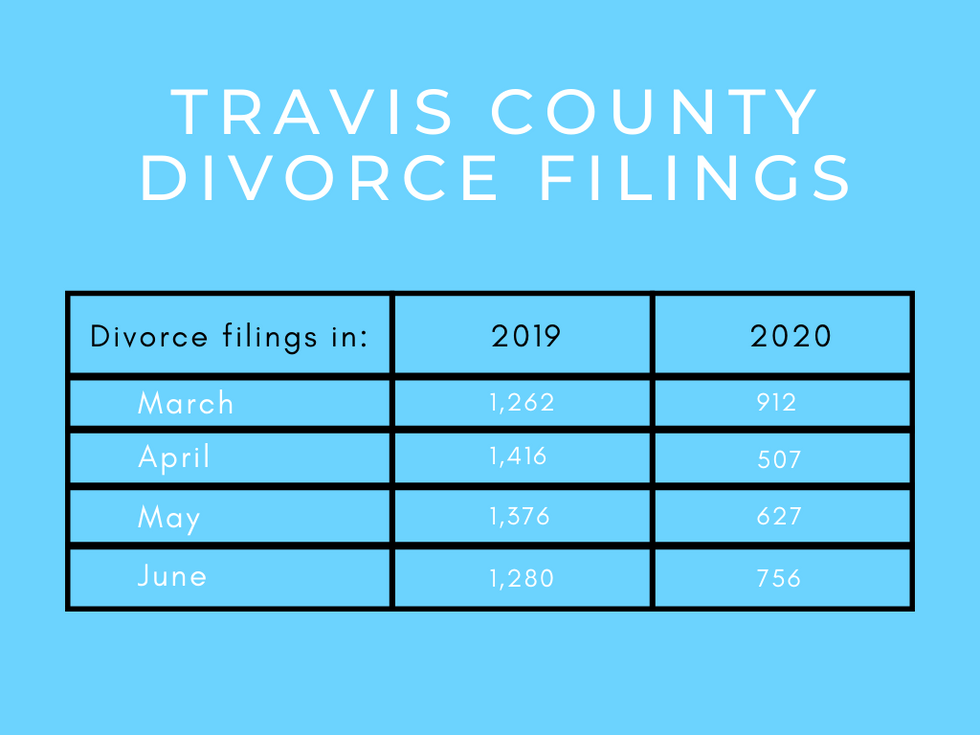 Data on divorce filings provided by the head of court administration for Travis County.(Data courtesy of Kirker Davis)
Austin family attorney Holly Davis said calls to her firm about family problems exacerbated by the pandemic have been "off the charts," so much so that they had to hire extra attorneys.
But court delays, financial hardships and logistical problems mean fewer couples are heading into divorce court, she said.
Courts have been "very good" about responding to families in abusive situations, but non-emergency hearings like deciding who pays the bills are being delayed for weeks or months, she said.
Simple logistics also plays a role, she said. It's more difficult to move and find a place to live, stay with family members who may be compromised healthwise, and run a household alone.
Right now, for example, when most kids are being schooled at home, a second pair of hands can be a lifeline.
"It's Hunger Games out there for nannies right now," Davis said, "and our schools are saying they don't know when they're going to let our kids back in. So if you're trying to run logistics for your household and you're about to split up the house, you're losing half of your help."
Davis and Ashley both predict an increase in filings when times return to normal, and Louis will likely be among them.
The pandemic, he said, revealed long-time problems that he can't ignore by traveling for work all the time now that he's stuck at home on furlough.
"We're at an impasse," he said. "And I won't go back to the status quo."
Part of the phenomenon, Davis said, is that couples are being more thoughtful about the decision to divorce. It's a shift in perspective, in a culture that views divorce as a relatively quick solution to marital problems.
"When your personal health is at risk, and you've got social injustice and racism and protests," Davis said, "the fact that your husband leaves towels on the floor, and has never really loved you in the way that you want to be loved, gets put on the back burner."
And for those who started the pandemic in a healthy marriage, tensions can turn into relationship-builders, said Austin marriage and family therapist Leigh Ashley.

"This kind of thing can expose a weakness, but then those folks that have the skills and the outlook and the camaraderie built, this can just be one of those seasons that actually gives them new and deeper history together," Ashley said.
For Austin public-relations executive Jason Stanford, the pandemic gave them new communications skills and a fresh appreciation for their partnership—strengthening an already solid 10-year marriage.
"Having a person who has promised to look out for you through thick and thin comes in pretty damned handy in a pandemic, come to find out," he said.
Summertime sure does fly by, doesn't it? It's time to jam-pack as many summer activities as you can while there is still about a month left before school starts up again and the grind gets going. Luckily, Austin is full of places to visit that will fill your season full of memories.
To get you started, check out some of these seasonably-fit museums, galleries and snacks.
Soak up the rest of summer while you can!
Ingredients:
1 1/12 oz sweet pepper-infused Tito's Handmade Vodka
3 oz soda water
1 oz grapefruit juice
1/2 oz lime juice
1/4 oz simple syrup
Directions: Add all ingredients, except soda water, to a shaker with ice. Shake and strain into a glass over fresh ice. Top with soda water and garnish with a mint sprig.
The Biden administration is asking cities and states to use pandemic relief funds to pay residents $100 to get vaccinated. Meanwhile, Texas Gov. Greg Abbott reaffirmed prohibitions on pandemic protocols in a new executive order issued on Thursday.
The order emphasizes that "the path forward relies on personal responsibility rather than government mandates," according to a press release. It outlaws government entities from requiring employees to be vaccinated or individuals to provide proof of vaccination and upholds previous orders restricting government entities' ability to impose pandemic protocols.
Local public health and elected officials have asked all Austinites to wear masks indoors, regardless of vaccination status, and unvaccinated individuals to avoid nonessential trips last week given the rising number of local confirmed cases and related hospitalizations in recent weeks. But it is not enforceable under Abbott's order.
The seven-day moving average of new hospital admissions in the five-county Austin metro has more than quintupled since the beginning of July and is now 47.4. The threshold for Stage 5 is 50, according to Austin Public Health's risk-based guidelines.
Despite these trends, Abbott stands firm in his commitment to avoid new statewide mandates and to prohibit local government entities from issuing any of their own.

"Texans have mastered the safe practices that help to prevent and avoid the spread of COVID-19," he said in a statement. "They have the individual right and responsibility to decide for themselves and their children whether they will wear masks, open their businesses and engage in leisure activities."
Public health officials have attributed the current spike to the more contagious Delta variant and unmitigated spread among unvaccinated individuals. Abbott encouraged Texans to get vaccinated if they haven't already but affirmed that it would never be required by the state in his statement.
An increasing number of Austin-area employers—including Ascension Seton, Baylor Scott & White Health, Facebook and the Department of Veterans Affairs—have announced new vaccine requirements in recent days. Austin Mayor Steve Adler asked the city manager to enact a similar requirement on Wednesday, but the city is unable to do so due to an executive order issued by Abbott in April.