Get connected with our daily update
If you've got a pup, you're in luck! This Thursday is International Dog Day, and Austin is the perfect city to be in to celebrate this special day.
---
Here are some businesses in Austin worth checking out with your furry friend on Thursday.
Hopsquad Brewing Co., 2307 Kramer Lane
This year, Hopsquad is going all out for International Dog Day! They've teamed up with Three Dogs One Bar to create the Good Boy Golden Ale, which is brewed with natural blueberry dog biscuits from Tomlinson's Feed. Pups will also have the chance to munch on some fresh treats made with spent grain. With each beer purchased, $1 will go toward supporting Divine Canines' work. Other featured events: a raffle for some goodies, local and dog-themed vendors, a pup portraits photo booth, and a dog-friendly space within the taproom and on the patio.
Austin Eastciders Barton Springs, 1530 Barton Springs Road
Get ready for a paw-some happy hour at Austin Eastciders! From 6-8 p.m., Austin Pets Alive! will provide a mobile adoption center, Paws on Chicon treats and doggie froyo. There will be a raffle with prizes including dog food and gift cards for Drooly and Barkin' Creek, and a local dog photographer will offer a photo booth for dogs and their owners. For every pint sold during this event, $1 will go toward APA.

Irene's, 506 West Ave.
This Thursday, Irene's is hosting their Yappy Hour from 4-6 p.m. They are partnering with Austin Pets Alive! and providing on-site adoption (you could take home your new best friend that same day). Tito's drink specials will also be offered, with $1 from each cocktail going toward APA. There will also be a donation-based raffle with prizes that include dog-related swag and portraits as well as an Irene's gift card. Key free stuff: a dog photo booth, treats and food.

Z'Tejas, 1110 West 6th St.
Want to give back to the dog community? On Thursday from 11 a.m. to 10 p.m., Z'Tejas will be offering custom dog bandanas to purchase at the bar, which will help raise funds for the Austin Humane Society. For each bandana purchased, 10% will go back to AHS.

Hearth & Soul, 2727 Exposition Blvd.
Think your dog is the cutest of them all? Come get your pup photographed and have them entered into the Dog Day photo contest on Instagram for a chance to win a grand prize bundle that's valued at over $200. To RSVP, you can call or message the store and reserve your spot.

Dogtopia of Austin, 2105 Ranch Road 620 South Suite 101 
​It's a great day to be a dog at Dogtopia, an open area doggy daycare, spa and boarding facility in Lakeway. All-day on Aug. 26, Dogtopia will offer frozen treats at lunch with a $3 donation.
Flat Creek Disc Golf Destination, 24912 Singleton Bend East Road (in Marble Falls)
Do you love the outdoors? Do you love discs? Do you love dogs? If you said yes to all of these, this is the perfect way to celebrate International Dog Day. From 9 a.m. to 7 p.m., Flat Creek Estates will be hosting Dogs & Discs, offering free disc golf day passes, giving you a chance to explore the 18-hole course and 80-acre estate with your pup. You can either bring your own disc or rent one for $5 each. If you want some booze, you get $10 off either the Wine & Disc or Dine & Disc experience if you reserve by Wednesday, Aug. 25, using the promo code DOGS.

Read more on dog-friendly places in Austin: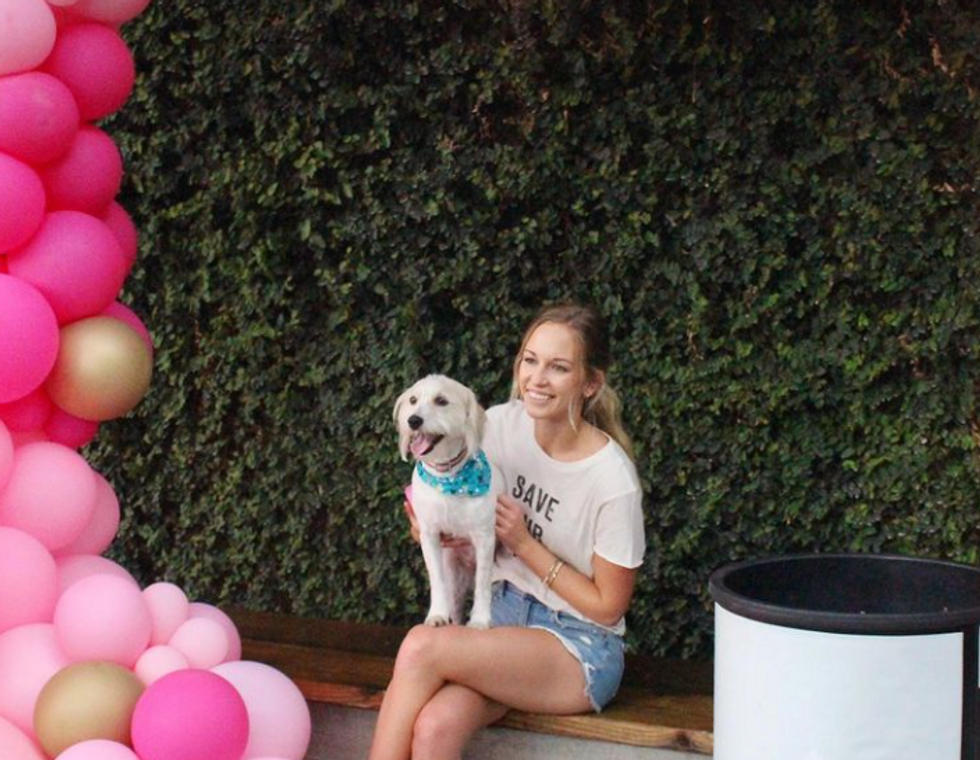 This Black Friday, T-Pain and Normani want you to shop at Black Pearl Books on Burnet Road.
A mini-film showing Atlanta-based singer Tanerélle taking an elevator to "Black-owned shops near me," highlights dozens of stores all over the country, and Austin shop Black Pearl Books made the list. The film came about through a partnership between Google and the U.S. Black Chambers, Inc. to reimagine Black Friday as "Black-owned Friday," a day to search, shop and support Black-owned businesses. And what better way to send the message than with a new upbeat track by T-Pain featuring Normani.
Google presents the #BlackOwnedFriday film feat. T-Pain and Normani youtu.be
Black Pearl Books, which celebrated its one-year store anniversary just last week, is offering deals through Monday. For in-store shopping, purchases are buy-one get-one 50% and free shipping on all purchases over $30 for online orders.
Black Pearl mentions that the meaning behind the name is in reference to a mysterious rare gemstone symbolizing independence, strength, wisdom, wealth, prosperity, love and hope. The store offers physical books as well as audiobooks, eBooks, and merchandise like t-shirts and stickers. And if you like a signed copy of a book, they may have that as well.
Holiday gift guides currently feature everything from a Lizzo coloring book to puzzles and games.

In this season of gifts, giving, and gratitude, Tito's is making it easy to shop for your friends and loved ones while helping our community.
The beloved Austin company's Love, Tito's retail space, downtown at 215 Lavaca Street, is fully stocked with great gear. 100% of net proceeds of whatever you purchase—a new collar for your four-legged friend, a Tito's tee, some branded barware—go to the nonprofits they support. From the environment to animal rescue, you can choose your cause while choosing a new copper cocktail kit… or old school cap… or golf polo.
The store is stocked with stuff that the online experience just can't offer: never-before-seen swag, doggy photo booths (to say it's a dog-friendly space is an understatement), a record player to spin some tunes, and a bar finder listing local spots serving mean Tito's cocktails. Locals and out-of-town visitors alike can enjoy wonderful distractions while kicking back in an environment designed to cater to Tito's fans.

While you can't enjoy a cocktail there due to Texas liquor laws, the store offers unique experiences for any and all fans of the brand, and gives folks a chance to find what resonates with them while taking home a piece of the Tito's story.
*At our Love, Tito's store in Austin, net proceeds constitute an average margin of at least 25% of the retail price of a product, excluding the cost of tax on the purchase. We are not deducting cost of our people, the store rent or other operating costs.
When Texas and the NCAA passed a bill allowing college athletes to profit off their names and likenesses this summer, Longhorn athletes joined professional teams and athletes by stepping into the growing NFT scene.
NFTs, which are essentially unhackable codes used as one-of-a-kind "certificates of authenticity" paid for with cryptocurrency Ethereum, have been cropping up in the Austin art scene and worldwide—and they're quickly evolving into a sports fans' paradise as a new way to snag some bragging rights through digital trading cards, tickets and highlight reels.

Here are five Austin-based athletes and sports venues now involved in NFTs: