Get connected with our daily update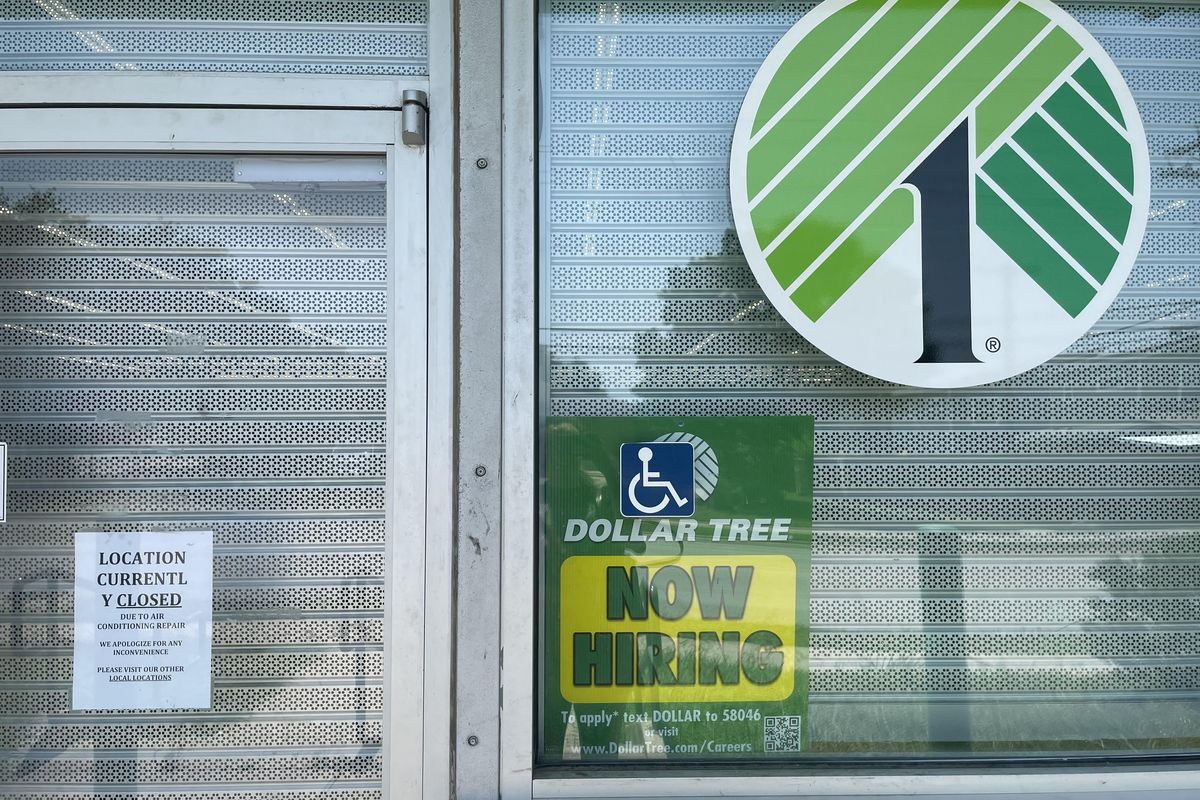 It's been a few weeks since a viral TikTok revealed poor working conditions at the Montopolis Dollar Tree in southeast Austin, and employee Maggie Lopez is still feeling its effects.
---
Lopez was filmed working alone at the location May 1 in a since-deleted video that saw 2.9 million views and over 450,000 likes.
In the video, stacked boxes littered the floor, shelves were left unstocked and a leaky, broken air conditioning unit welcomed customers into the understaffed storefront.
Lopez, who now works at the dollar store's Springdale location, says she was left with the aftermath of a 90-hour workweek, lost wages and a mystery illness after the store closed a few days later.
"Nobody ever told me... that there was no air conditioning. They didn't tell me there was danger of getting robbed," Lopez told Austonia. "Nobody said anything... they didn't care."
The location didn't shut its doors because of the TikTok exposure: instead, an AC unit specialist doing routine maintenance found employees working in extreme heat and said it was too hot for employees to continue working.
"To operate a business, you have to have your temperature within a certain parameter," Ikaika, the specialist who didn't disclose his full name to protect his job, told Austonia. "As soon as you walk in, you start sweating... it's not good at all."
Lopez said working in 90+ degree heat became the norm in her two months at the location as air conditioning units remained broken for months before the closure. She added some employees, including her former manager Jonathan Martinez and several customers, passed out in the store due to the heat. But she said company leadership remained unresponsive.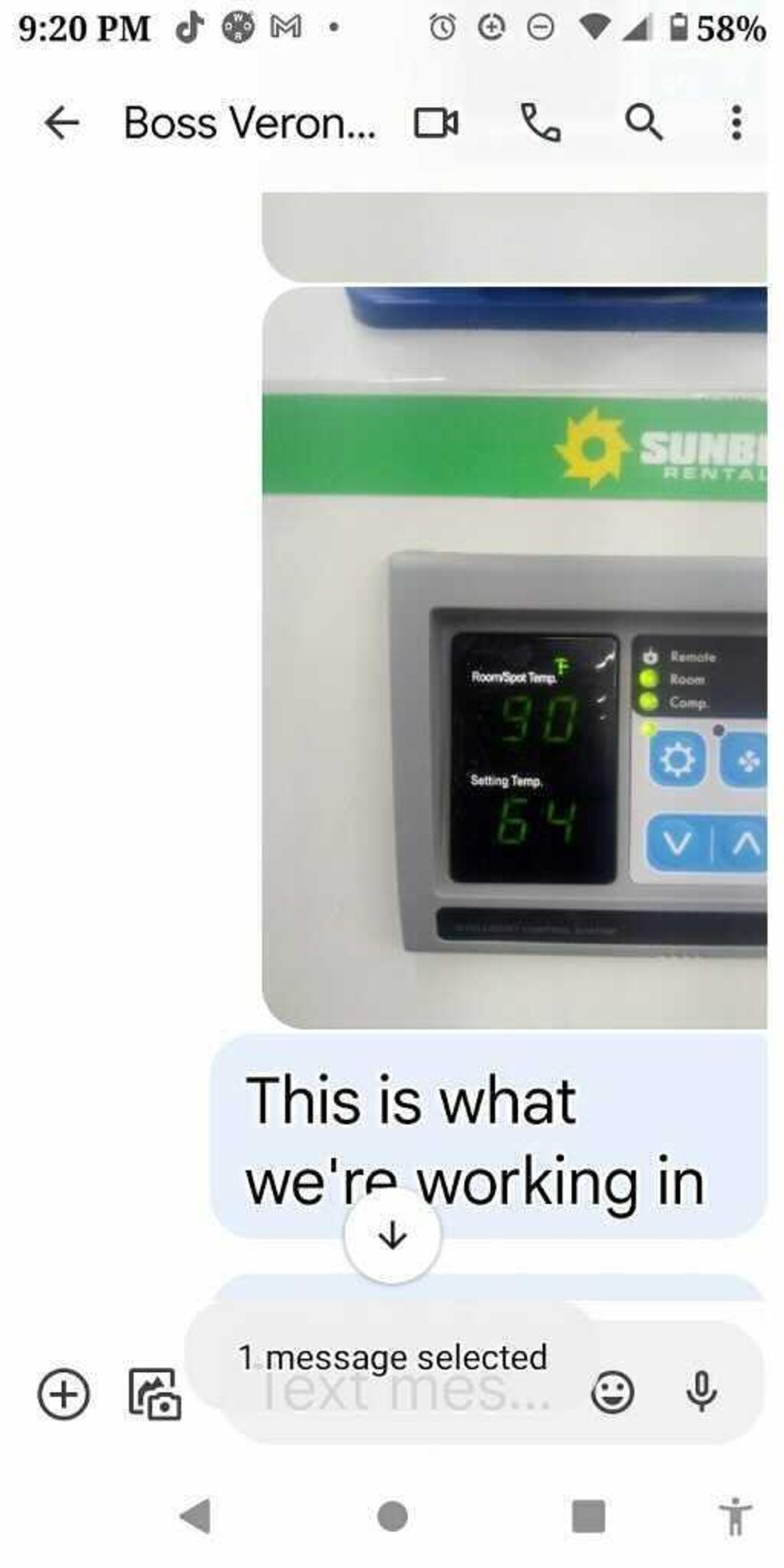 Lopez said she sent her district manager, Veronica Oyervides, screenshots of 90+ degree temperatures inside the store. (Maggie Lopez)
Four days after the air conditioning repairman told employees they should no longer keep working at the store, Lopez said her district manager, Veronica Oyervides, was asking her to come back in to prep the location for reopening. Lopez worked May 8 in the shuttered store prepping it for a reopening, which has yet to happen. Oyervides has declined to comment.
Ever since she started working in the deteriorating Dollar Tree, Lopez said she often wakes up with nosebleeds. She said she's constantly thirsty, her hands shake, and she's experiencing headaches and mood swings—symptoms she said she shares with many of her coworkers.
Former assistant manager Linnea Bradley told Austonia she has been hospitalized with symptoms linked to heat and stress after working at the store.
"We are sick and corporate does not give a shit," Lopez said. "What kind of damage did these stupid units do to our bodies?"
Lopez hasn't sought care for her symptoms—she says she makes $13.50 an hour—and is awaiting health insurance, which she hopes will activate June 1.
Former employees have more complaints than just the heat: Lopez said that personal safety became a concern in the understaffed storel. Catherine, a former employee who wished to only reveal her first name, said she's witnessed large-scale theft and instances of mismanagement in her months as a stocker at the location.

"They have no security, no cameras... they don't want you to have anything in writing," Catherine told Austonia. "It's just complete chaos."
Catherine said that she and other hourly employees were given zero hours for weeks on end as managers, who work on salary, were left to run the store alone from 5 a.m. to 10 p.m. each day. She said some managers became so desperate they were hiring homeless people to help stock shelves in exchange for a drink and a bite to eat.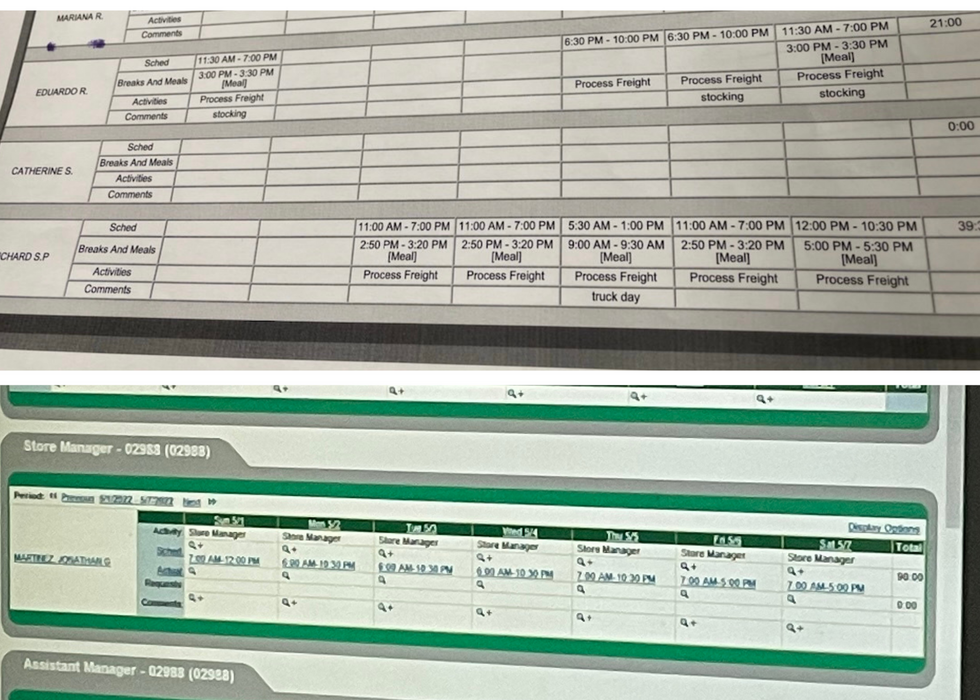 While Catherine (top, middle) often had zero-hour weekly schedules, Martinez, who was paid on salary, worked back-to-back 90-hour workweeks. (Catherine) (Claire Partain)
"They actually did have people willing to work, they just refused to give them hours," Catherine said. "I'm not understanding whether Dollar Tree wants to go under... are they doing this as a tax break?"
Other Austin Dollar Tree locations have reported similar issues. Martinez, Lopez' former manager, says he was supposed to work 45 hours a week. Instead, he says he was racking up 90+ hour workweeks and sleeping in the store as he shouldered both the Montopolis and William Cannon locations while his newborn baby was in the ICU in March.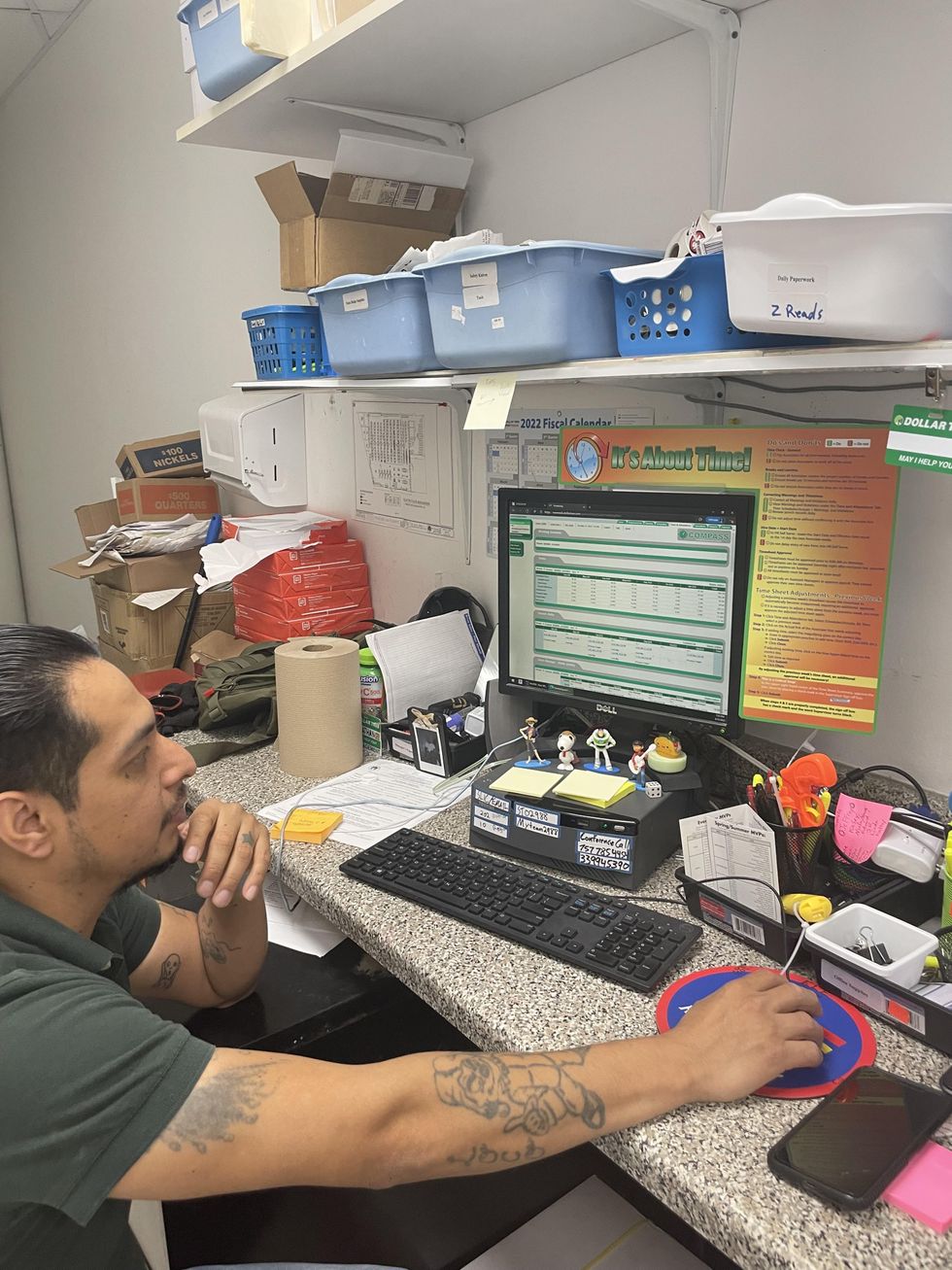 Martinez kept extra clothes in this office after working seven-day weeks at two Dollar Tree locations. (Claire Partain)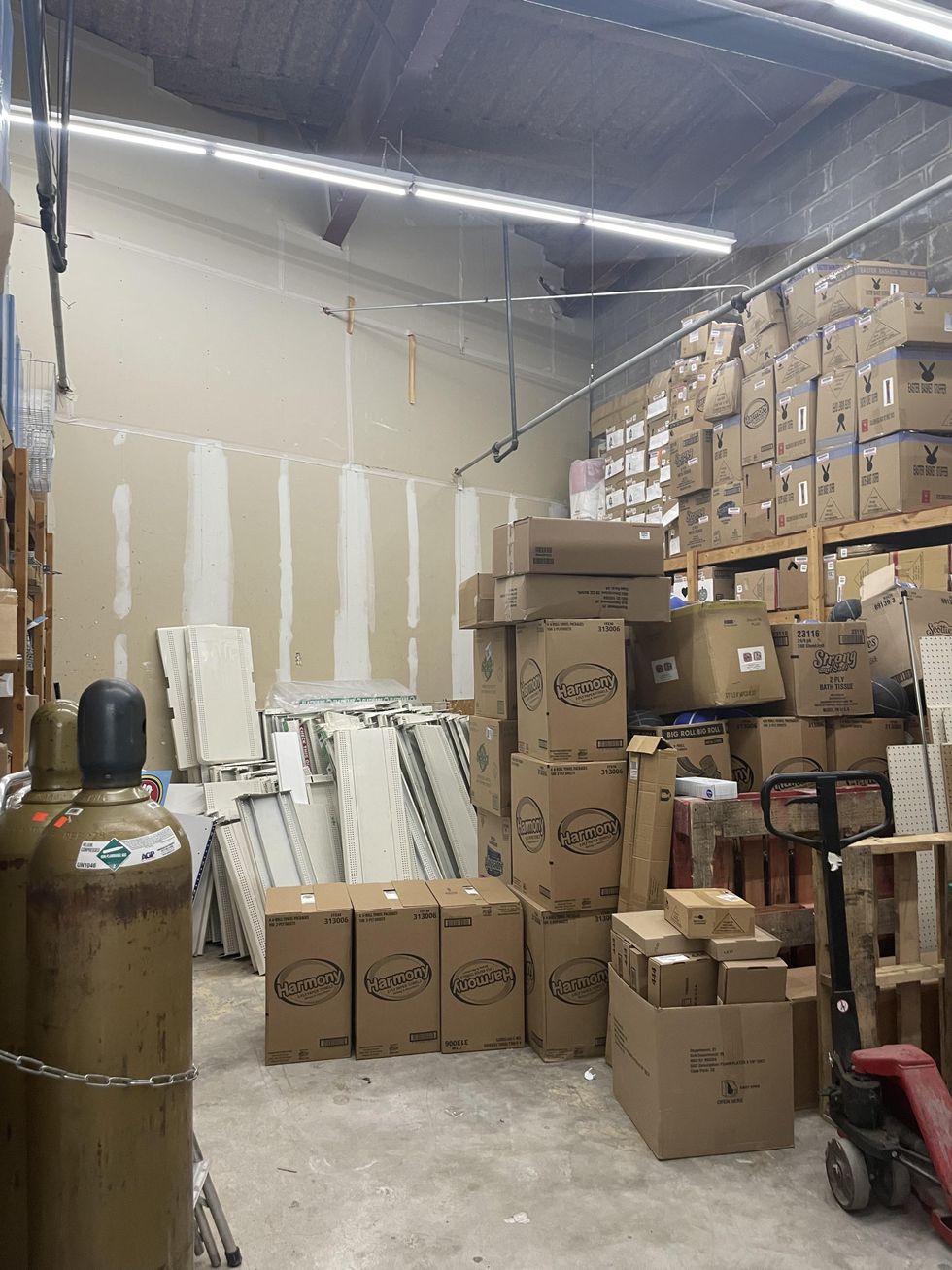 Martinez said he slept on boxes as he juggled the job and visiting his newborn in the ICU. (Claire Partain)
Martinez said he slept on boxes as he juggled the job and visiting his newborn in the ICU. (Claire Partain)
"As long as the store stays open, there are corporate people getting bonuses," Martinez, who quit last week after receiving a $100 annual bonus, told Austonia. "Six months ago, when corporate people had a shitload of bonuses, that's when they upped the price (of everything in the store from $1 to $1.25)."
In the five months since Dollar Tree hiked its prices to $1.25, it's gained plenty of mostly negative national attention. In February, the Food and Drug Administration shut down an Arkansas distribution plant due to a massive rodent infestation, and several lawsuits have ensued. The company has also come under fire for selling allegedly expired over-the-counter medicine and its worker shortage at locations across the country.
One employee, who still works for Dollar Tree and wished to remain anonymous, said that they've seen or heard that many area locations are near their breaking point.
"I've seen the good to bad, the bad to worse," they said. "And it's always a rinse repeat kind of thing... How many more (stores) will go? And what about the employees?"
Meanwhile, Lopez has set up a GoFundMe for her and her coworkers and is looking to take legal action.
"Every time I would tell (Oyervides) 'I'm just going to close, I can't stand it anymore,' she would say, 'No, no, no,'" Lopez said. "And I'd be so upset because why? They have my paycheck. It's just been mortifying... the most horrible year of my life."
Dollar Tree's regional director did not respond to requests for comment from Austonia.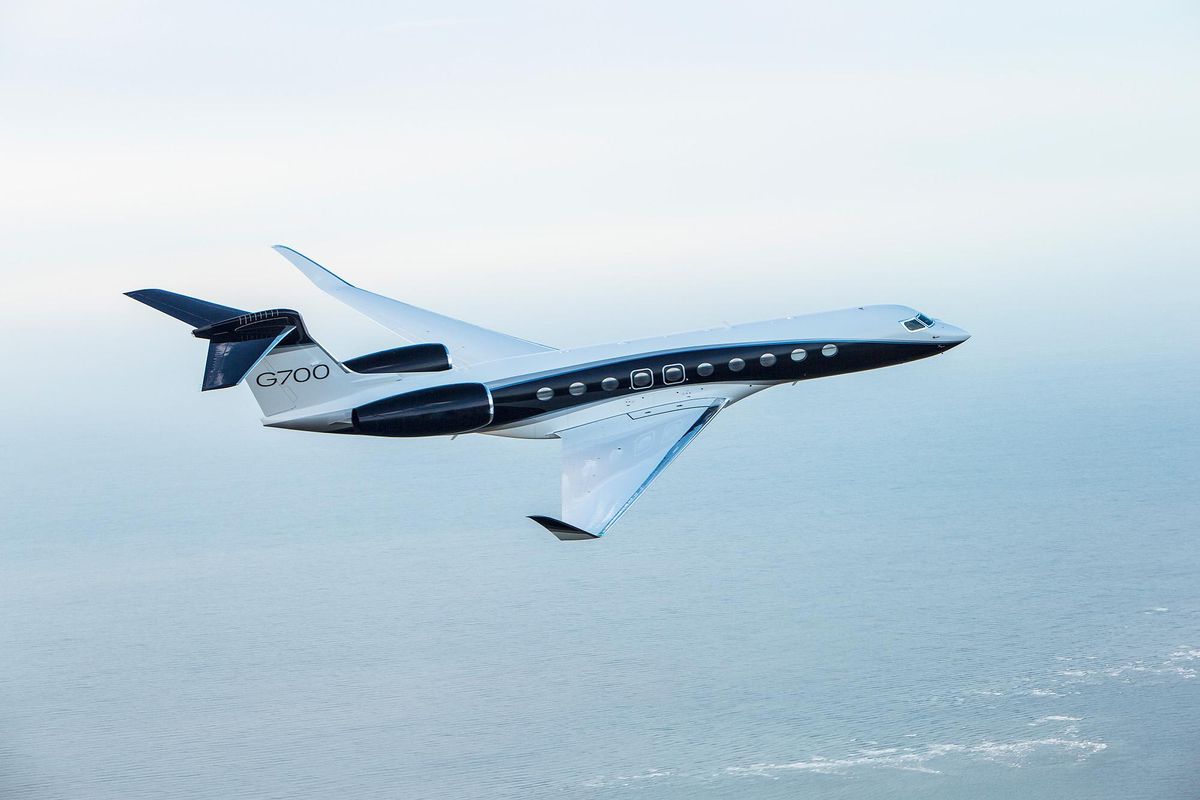 Elon Musk has placed an order for a new, top-of-the-line private jet: a Gulfstream G700, Austonia has learned. Delivery is expected in early 2023.
Billed as offering "the most spacious cabin in history," the aircraft seats 19 and soars above the rest of us at up to 51,000 feet. Base price: $78 million.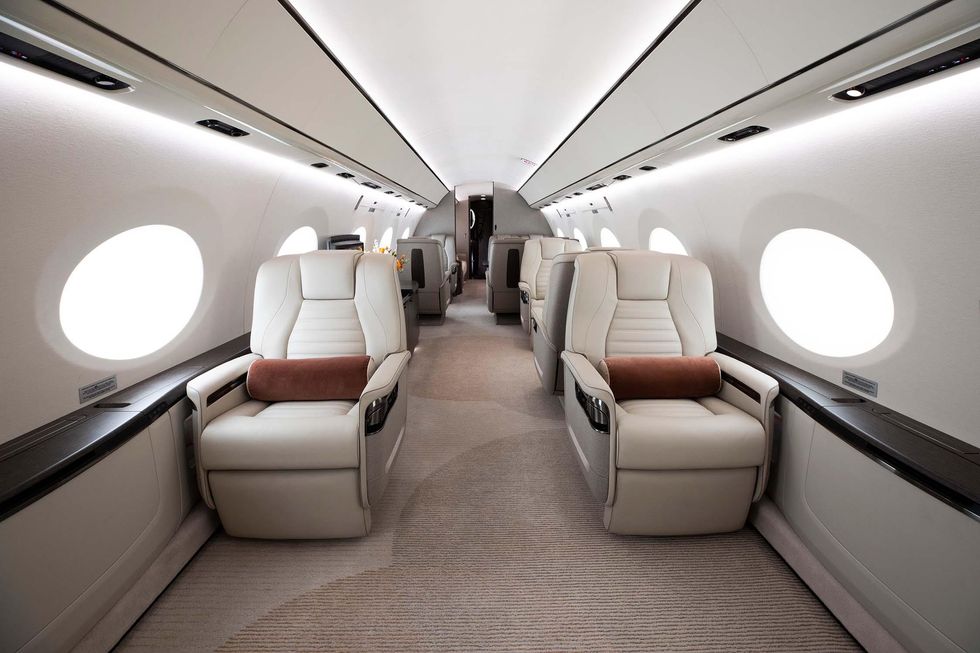 The Gulfstream G700 was awarded the 2022 International Yacht & Aviation Award for excellence in cabin design this year. (Gulfstream)
According to the Gulfstream website, the G700 can fly up to 7,500 nautical miles without refueling, enough range to fly nonstop from Austin to Hong Kong. Powered by two Rolls-Royce engines, it has its own Wi-Fi system, 20 oval windows measuring 28" x 21", and two lavatories.
The sweet new ride will replace his current top-of-line private jet: a 2015 Gulfstream G650, the aircraft that has been made somewhat famous by the automated @elonjet Twitter account, which tracks and reports his personal aircraft's movements using public data.
Musk has repeatedly championed "free speech" as a guiding ethic in his planned purchase of Twitter. Last December, Musk offered the teenager who built the @elonjet tracker $50,000 to shut it down, citing security concerns. It's still up.
According to the @elonjet account, Musk's jet last traveled to Austin, where it's been since June 23. The associated data says that his flight to Austin burned $2,573 worth of aviation fuel and discharged 4 tons of carbon dioxide.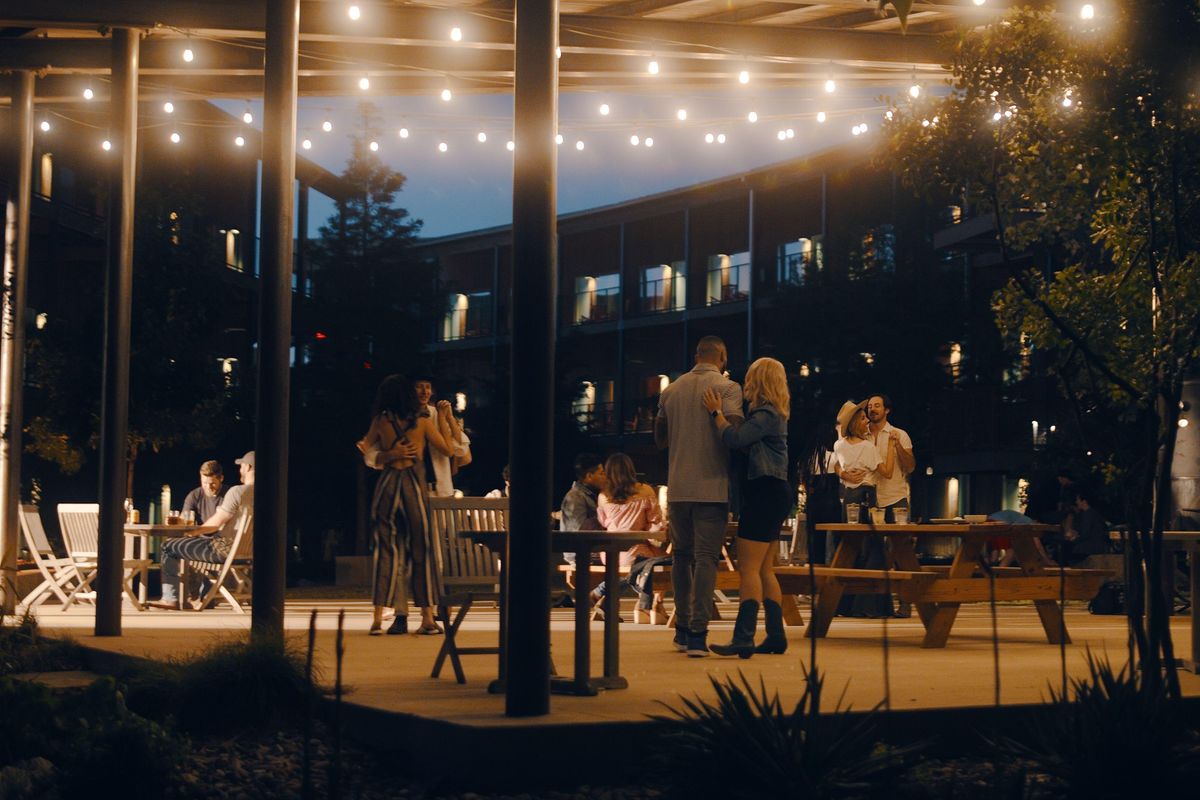 Live music and beer? Say no more. With a location in Austin, and others throughout Texas, the court hotels by the Valencia Hotel Group have a new offering for weekend stays: Live Music & Longnecks.
Enjoy live music all weekend long and check out the hotels' state-of-the-art amenities between sets. Make a splash in the pool, enjoy outdoor fire pits, or challenge your friends in a yard game while enjoying a weekend full of live music! Did we mention the package includes deluxe accommodations and a bucket of beer? Oh, and if you needed more convincing, this pet-friendly hotel means the whole family can join in on the fun.
The hotels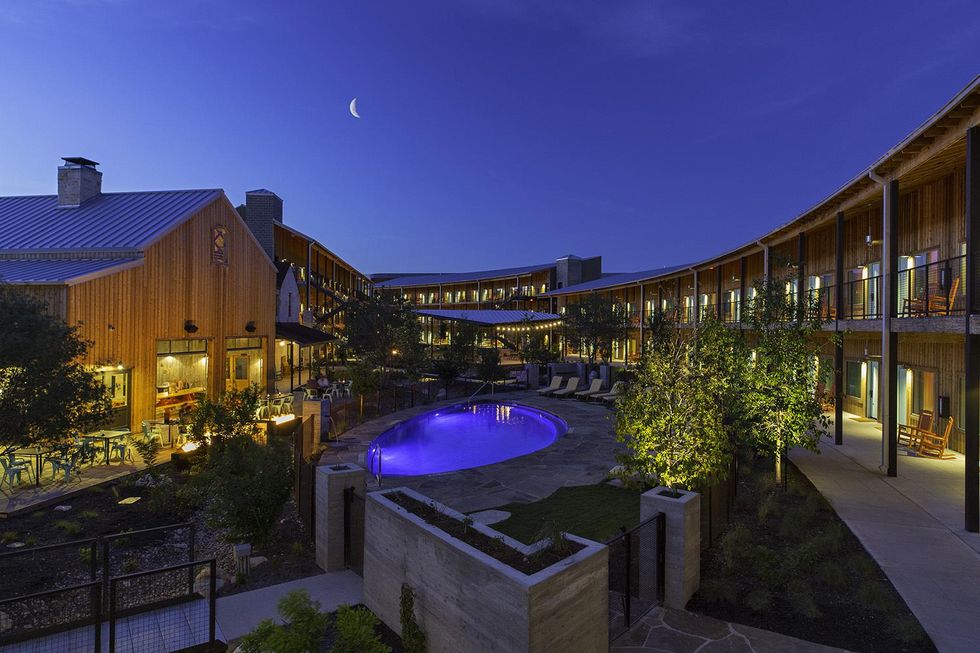 Explore any of the Court Hotels by Valencia Hotel Group for a memorable escape. Each property offers a unique experience remnant of yesteryear but with all of the modern amenities that make for a fun and comfortable stay. With acres of landscaped courtyards, relax and unwind in an outdoor environment perfect for doing everything or absolutely nothing at all. With locations in Austin, College Station, Irving, and Lubbock your urban retreat has never been so close.
The music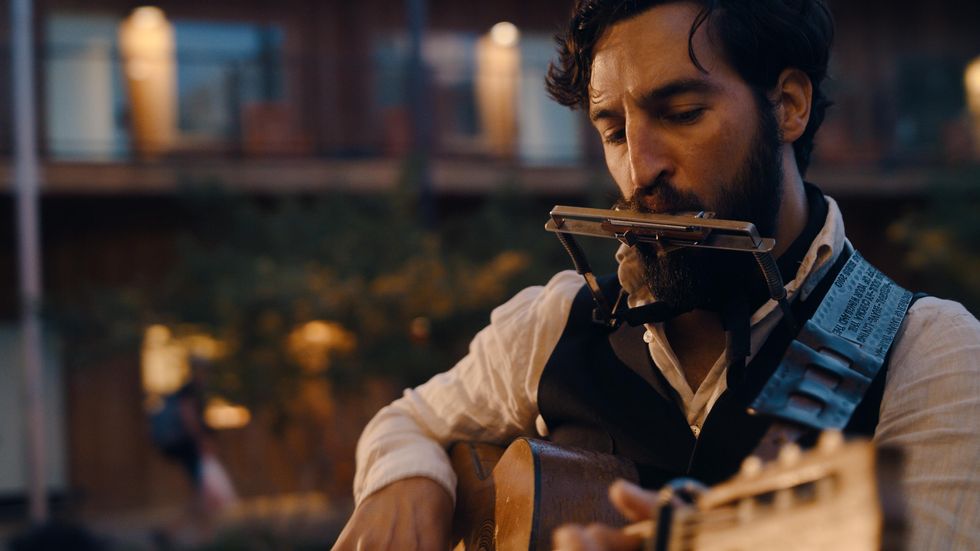 Locals and travelers alike are invited to enjoy the deep roots of Texas music all summer long with a robust lineup of live performances. From the banks of the San Antonio Riverwalk to Irving's manicured streets, Valencia's hotels are a place to gather and reconnect, offering uniquely Texan settings for the weekly performances.
"We're proud of the community we've fostered among Texas musicians and the many rising stars who perform at our properties," says Amy Trench, corporate director of brand marketing & PR for Valencia Hotel Group.
In Austin, you can catch good ol' fashioned Texas country by Drew Moreland and Clayton Gardner, bluegrass by Reagan Quinn, and much, much more.
With unique programming at each of Valencia's properties, there's something for everyone to enjoy all summer long.
The perks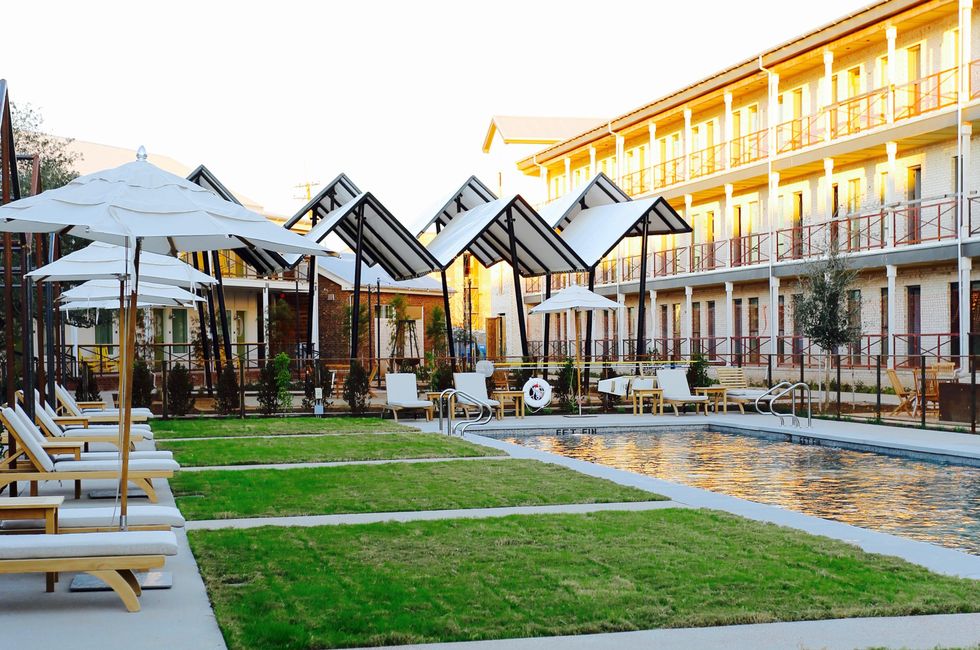 If you're a Valencia Hotel Group Rewards member, the perks are plentiful. Enjoy up to 10% off the Best Available Rate, and for a limited time, members can save up to 15% off a stay of 2 nights or more, for select stays in 2022.
But that's really just the beginning. At select locations, you can enjoy discounts on weeknight stays, a complimentary third night, or curated packages for a romantic getaway or a night of watching the Verde at Q2 Stadium. You'll also find special rates for AAA and AARP Members, educators, and front-line heroes including military, law enforcement, fire, and rescue workers.