Get connected with our daily update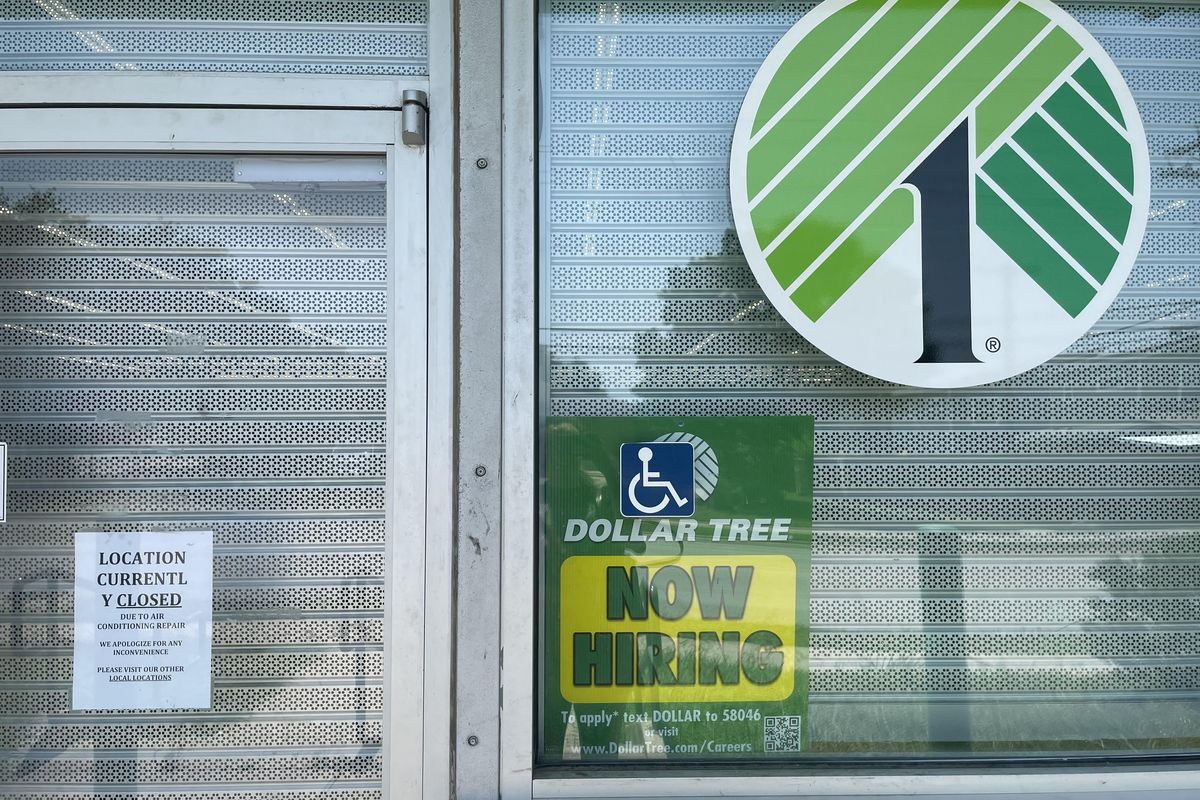 It's been a few weeks since a viral TikTok revealed poor working conditions at the Montopolis Dollar Tree in southeast Austin, and employee Maggie Lopez is still feeling its effects.
---
Lopez was filmed working alone at the location May 1 in a since-deleted video that saw 2.9 million views and over 450,000 likes.
In the video, stacked boxes littered the floor, shelves were left unstocked and a leaky, broken air conditioning unit welcomed customers into the understaffed storefront.
Lopez, who now works at the dollar store's Springdale location, says she was left with the aftermath of a 90-hour workweek, lost wages and a mystery illness after the store closed a few days later.
"Nobody ever told me... that there was no air conditioning. They didn't tell me there was danger of getting robbed," Lopez told Austonia. "Nobody said anything... they didn't care."
The location didn't shut its doors because of the TikTok exposure: instead, an AC unit specialist doing routine maintenance found employees working in extreme heat and said it was too hot for employees to continue working.
"To operate a business, you have to have your temperature within a certain parameter," Ikaika, the specialist who didn't disclose his full name to protect his job, told Austonia. "As soon as you walk in, you start sweating... it's not good at all."
Lopez said working in 90+ degree heat became the norm in her two months at the location as air conditioning units remained broken for months before the closure. She added some employees, including her former manager Jonathan Martinez and several customers, passed out in the store due to the heat. But she said company leadership remained unresponsive.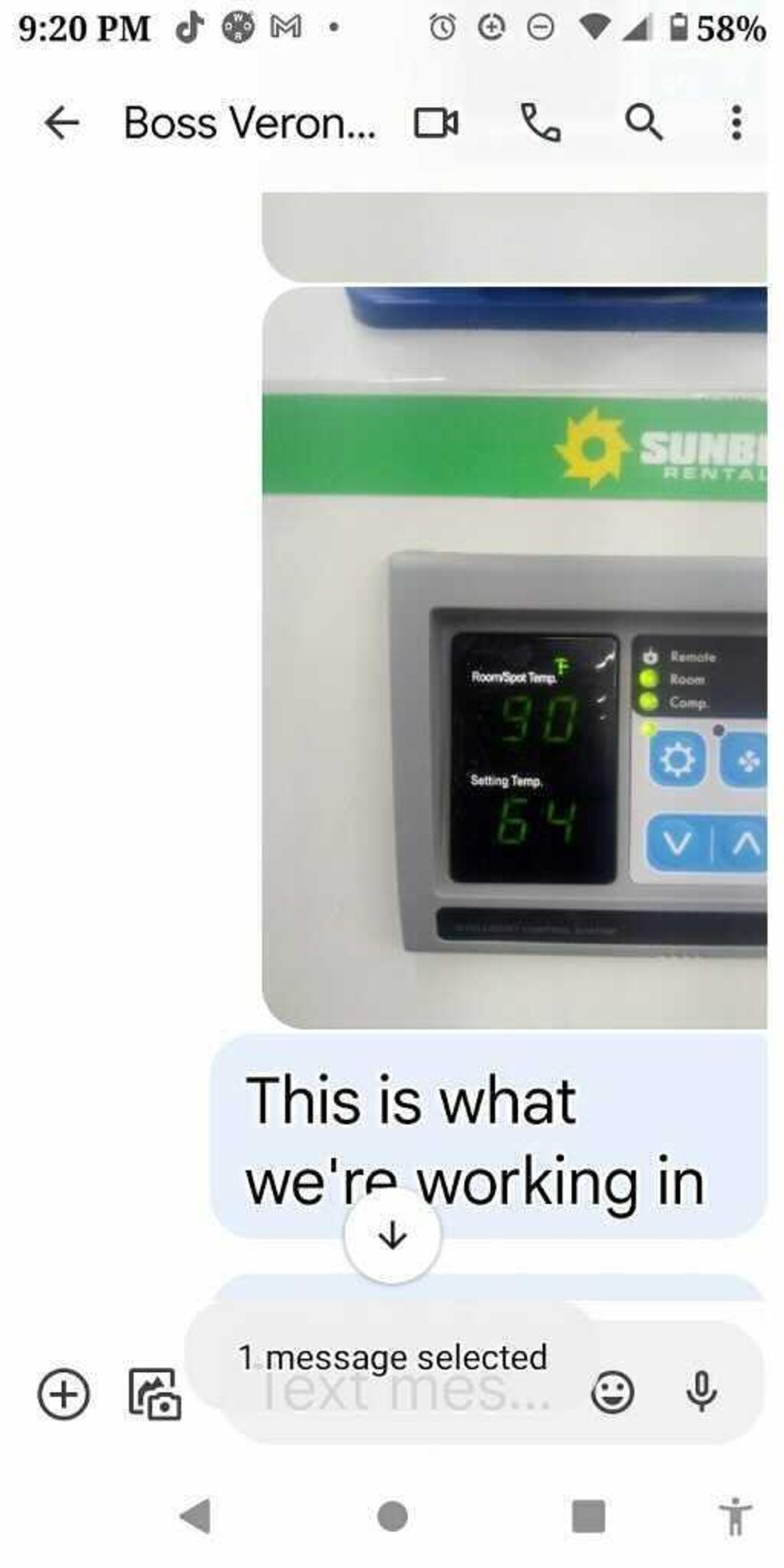 Lopez said she sent her district manager, Veronica Oyervides, screenshots of 90+ degree temperatures inside the store. (Maggie Lopez)
Four days after the air conditioning repairman told employees they should no longer keep working at the store, Lopez said her district manager, Veronica Oyervides, was asking her to come back in to prep the location for reopening. Lopez worked May 8 in the shuttered store prepping it for a reopening, which has yet to happen. Oyervides has declined to comment.
Ever since she started working in the deteriorating Dollar Tree, Lopez said she often wakes up with nosebleeds. She said she's constantly thirsty, her hands shake, and she's experiencing headaches and mood swings—symptoms she said she shares with many of her coworkers.
Former assistant manager Linnea Bradley told Austonia she has been hospitalized with symptoms linked to heat and stress after working at the store.
"We are sick and corporate does not give a shit," Lopez said. "What kind of damage did these stupid units do to our bodies?"
Lopez hasn't sought care for her symptoms—she says she makes $13.50 an hour—and is awaiting health insurance, which she hopes will activate June 1.
Former employees have more complaints than just the heat: Lopez said that personal safety became a concern in the understaffed storel. Catherine, a former employee who wished to only reveal her first name, said she's witnessed large-scale theft and instances of mismanagement in her months as a stocker at the location.

"They have no security, no cameras... they don't want you to have anything in writing," Catherine told Austonia. "It's just complete chaos."
Catherine said that she and other hourly employees were given zero hours for weeks on end as managers, who work on salary, were left to run the store alone from 5 a.m. to 10 p.m. each day. She said some managers became so desperate they were hiring homeless people to help stock shelves in exchange for a drink and a bite to eat.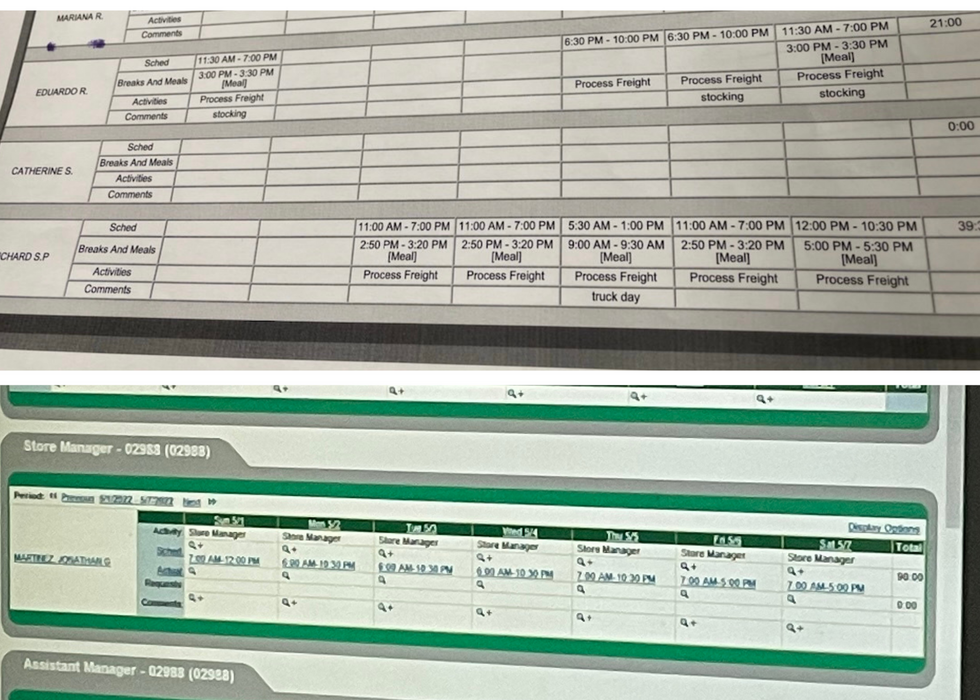 While Catherine (top, middle) often had zero-hour weekly schedules, Martinez, who was paid on salary, worked back-to-back 90-hour workweeks. (Catherine) (Claire Partain)
"They actually did have people willing to work, they just refused to give them hours," Catherine said. "I'm not understanding whether Dollar Tree wants to go under... are they doing this as a tax break?"
Other Austin Dollar Tree locations have reported similar issues. Martinez, Lopez' former manager, says he was supposed to work 45 hours a week. Instead, he says he was racking up 90+ hour workweeks and sleeping in the store as he shouldered both the Montopolis and William Cannon locations while his newborn baby was in the ICU in March.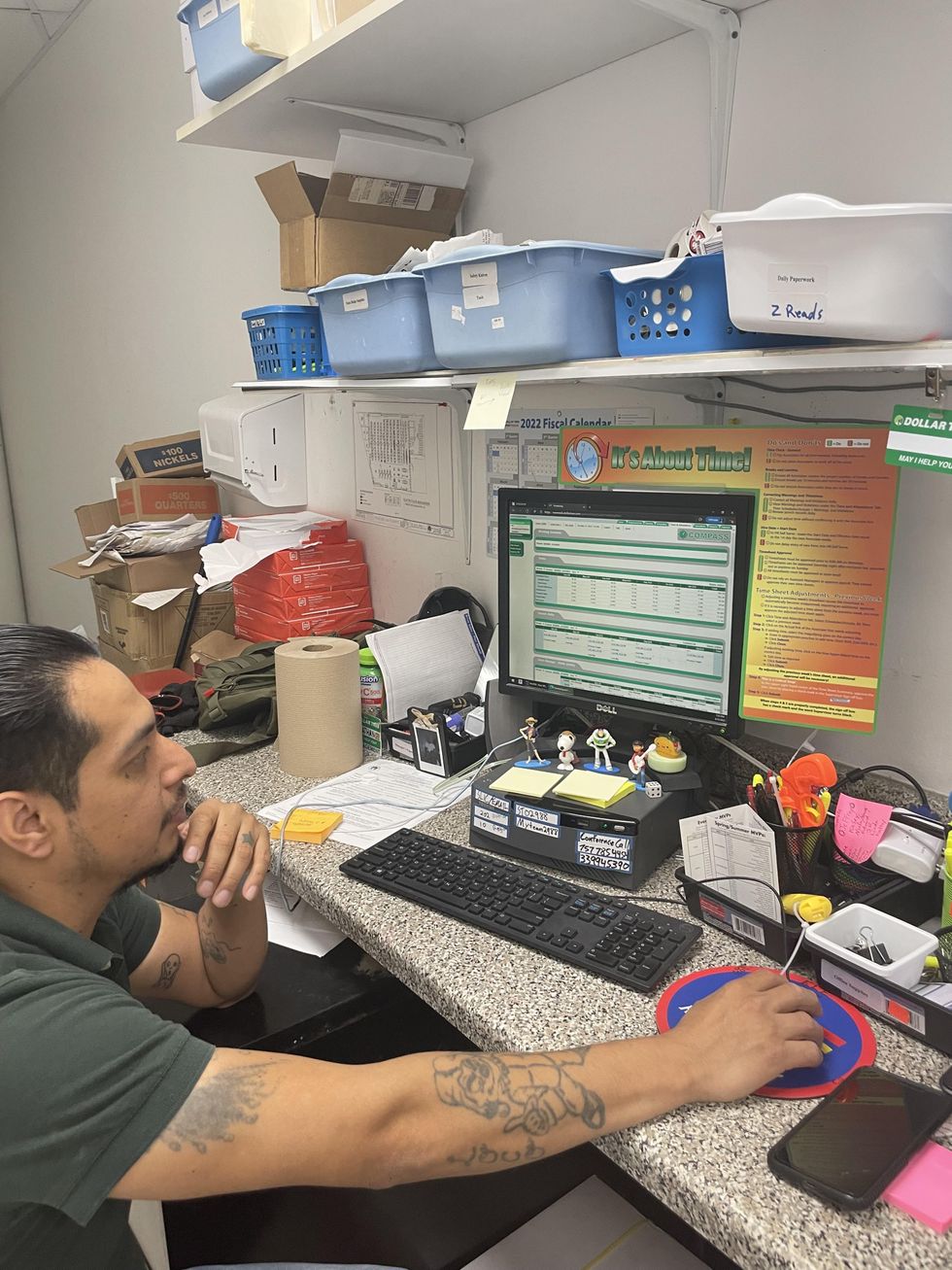 Martinez kept extra clothes in this office after working seven-day weeks at two Dollar Tree locations. (Claire Partain)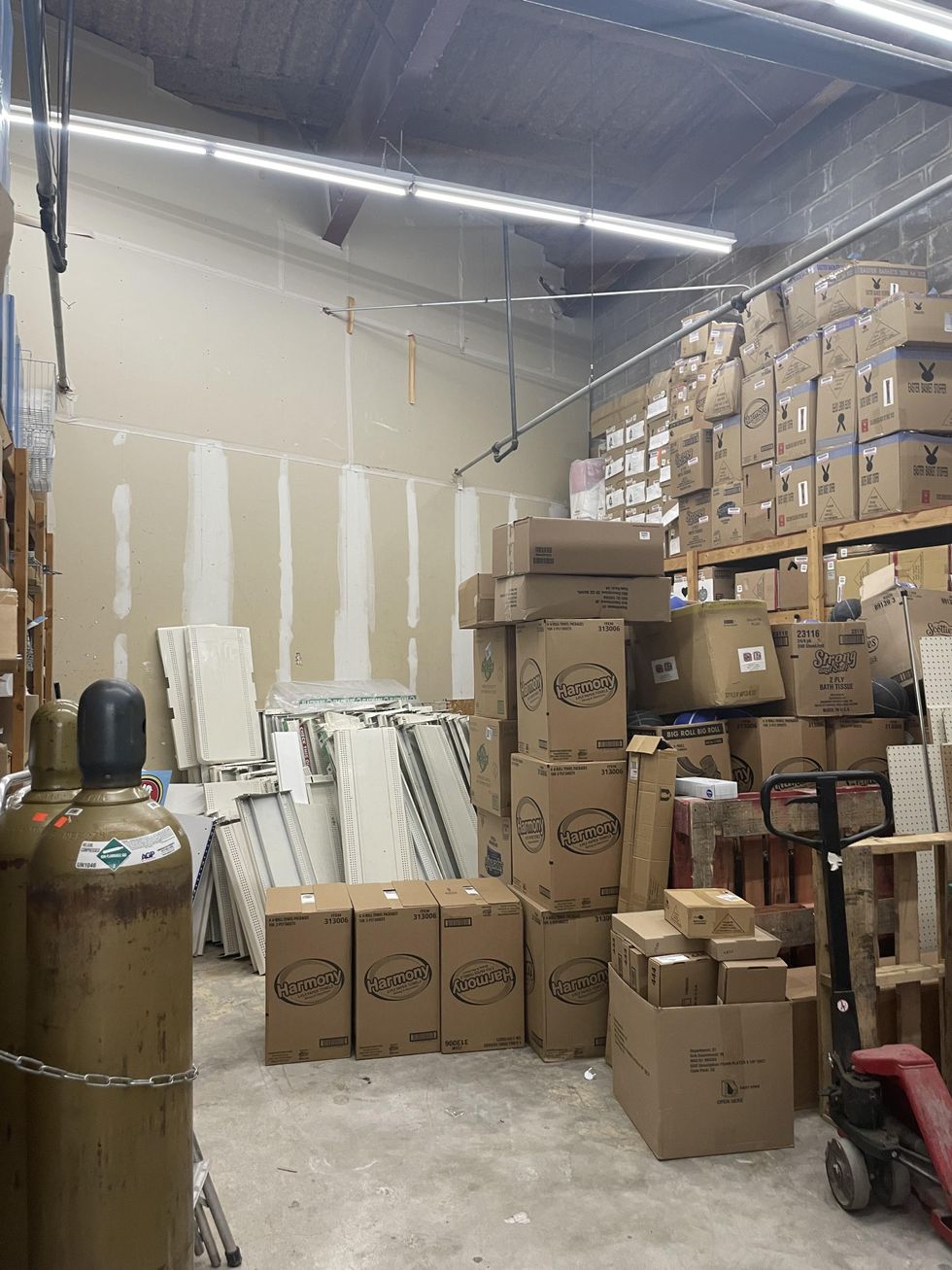 Martinez said he slept on boxes as he juggled the job and visiting his newborn in the ICU. (Claire Partain)
Martinez said he slept on boxes as he juggled the job and visiting his newborn in the ICU. (Claire Partain)
"As long as the store stays open, there are corporate people getting bonuses," Martinez, who quit last week after receiving a $100 annual bonus, told Austonia. "Six months ago, when corporate people had a shitload of bonuses, that's when they upped the price (of everything in the store from $1 to $1.25)."
In the five months since Dollar Tree hiked its prices to $1.25, it's gained plenty of mostly negative national attention. In February, the Food and Drug Administration shut down an Arkansas distribution plant due to a massive rodent infestation, and several lawsuits have ensued. The company has also come under fire for selling allegedly expired over-the-counter medicine and its worker shortage at locations across the country.
One employee, who still works for Dollar Tree and wished to remain anonymous, said that they've seen or heard that many area locations are near their breaking point.
"I've seen the good to bad, the bad to worse," they said. "And it's always a rinse repeat kind of thing... How many more (stores) will go? And what about the employees?"
Meanwhile, Lopez has set up a GoFundMe for her and her coworkers and is looking to take legal action.
"Every time I would tell (Oyervides) 'I'm just going to close, I can't stand it anymore,' she would say, 'No, no, no,'" Lopez said. "And I'd be so upset because why? They have my paycheck. It's just been mortifying... the most horrible year of my life."
Dollar Tree's regional director did not respond to requests for comment from Austonia.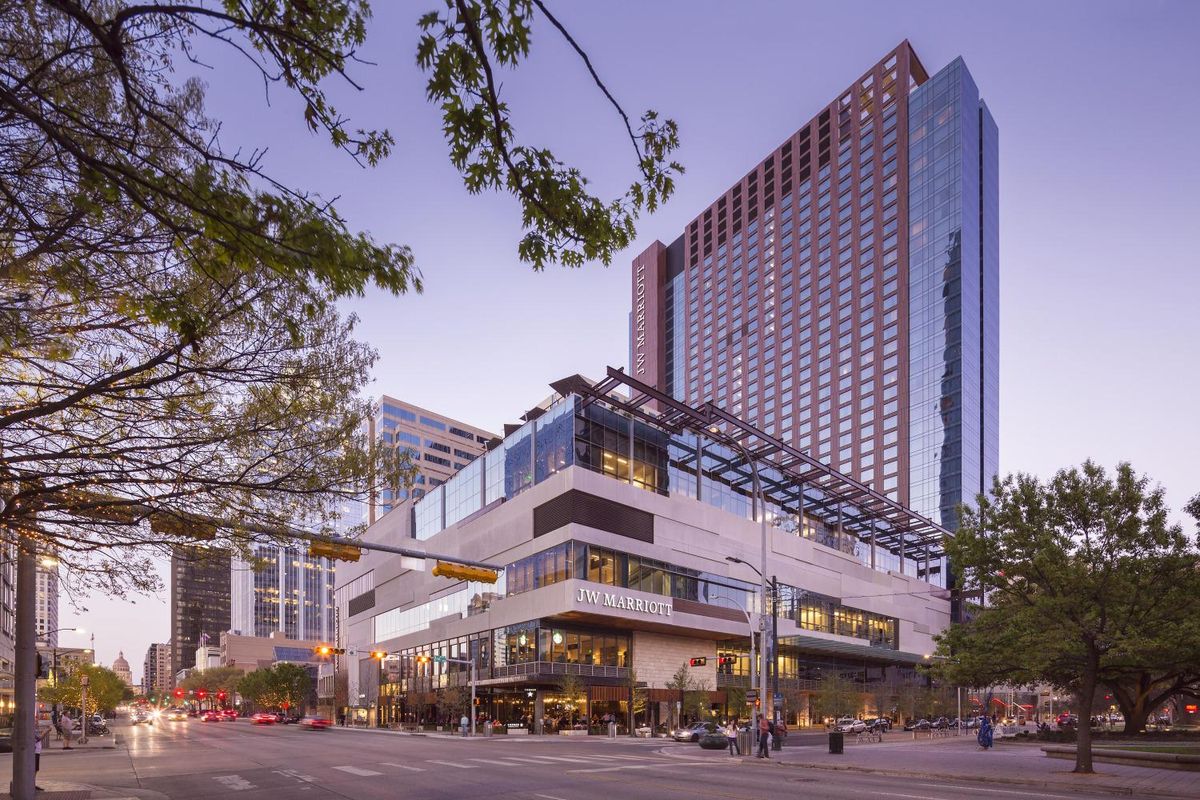 Chi Lee, the director of architecture firm HKS's new Austin office, describes this point in our city's life as puberty.
"Our voices are changing and we have freckles everywhere," Lee said. "You know, starting to look like an adult but still acting like a kid kind of thing."
But as Austin matures and faces all the pressures of its increased popularity—competing for company relocations and expansions all while managing rising rents and affordability woes—Lee thinks we should look outside when planning an approach to Austin's growth.
"A big mistake we could make is if we don't embrace what other cities, nationally, regionally, internationally have done to improve upon the experience of all the folks who live there."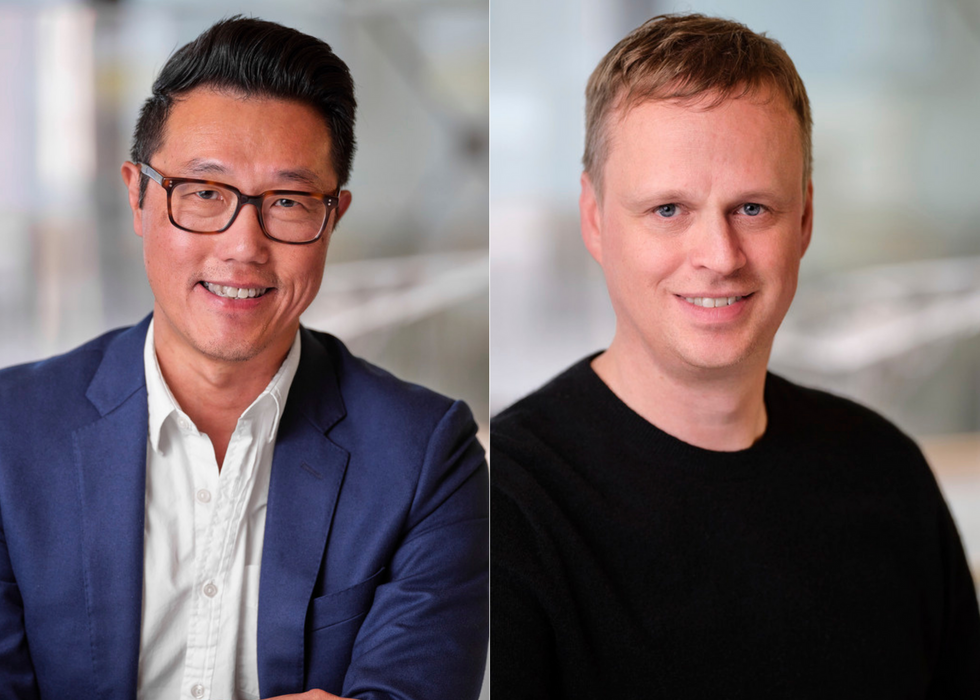 Chi Lee and Brad Wilkins (HKS)
Lee and HKS studio design leader Brad Wilkins keep this in mind as the firm, which has carried out projects in Austin since the 80s, further cements its presence here.
HKS is making ambitious strides in Austin: the firm has more than 50 projects in design or under construction in the Austin market, including Domain 9, the Dell Children's Medical Center expansion and projects in the Rainey Street District including one that may end up being the tallest tower in Texas.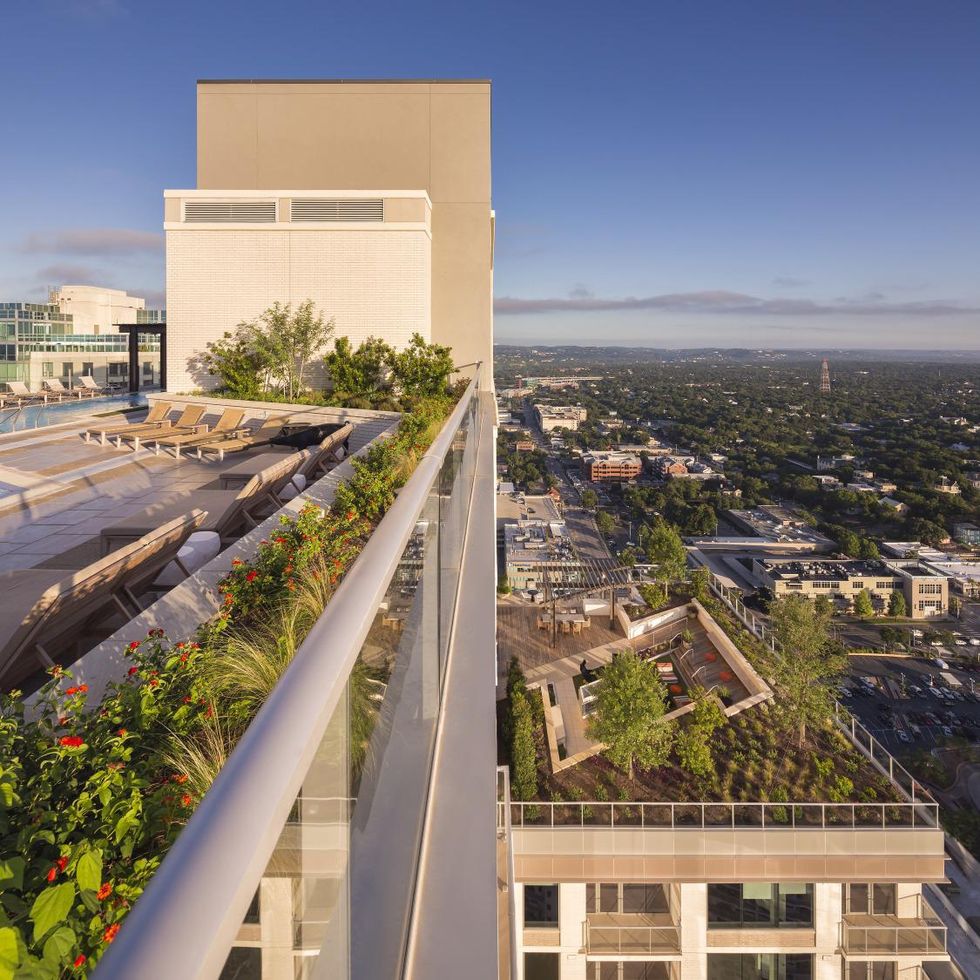 The Bowie, a 36-story apartment tower HKS designed in Austin's Central Business District. (HKS)
"We've been able to do things during the pandemic, and since then, which are really pushing the boundaries of what Austin would typically do. And frankly, what would be done anywhere in the world," Wilkins said. "Things like having outdoor space on every level of an office tower and creating the spaces not just to be like outdoor spaces, but to be spaces that people can actually enjoy."
As these projects span all over the city, Lee and Wilkins are observant of how action on certain quality of life factors could be key to preventing problems as Austin draws in a larger population.
For Wilkins, that's informed by his international work. He's lived in about half a dozen places in Europe and Asia, starting his career out in Chicago. He's carried out big projects and was one of the designers of the first LEED platinum building just outside of Hong Kong.
"One thing that we're always needing to be very careful about is looking at things that were not done great," Wilkins said. "There are mistakes in public transportation in those cities that I worked in overseas, there are mistakes in public housing."
It's partly why the pair see Project Connect—the $7.1 billion transit system expansion voters approved in November 2020 that includes light rail lines, a downtown subway and an expanded bus system—as a boon to the city's future.
Lee said he's excited that HKS is working on a couple of projects that are along the future lines and sees it as a massive opportunity for the city.
"We need to get out of our cars if we can. We just don't have the type of transportation infrastructure in place that needs to be in place," Lee said. "A lot of major metropolitan and urban cities have subway systems and light rail systems and things like that, where we don't."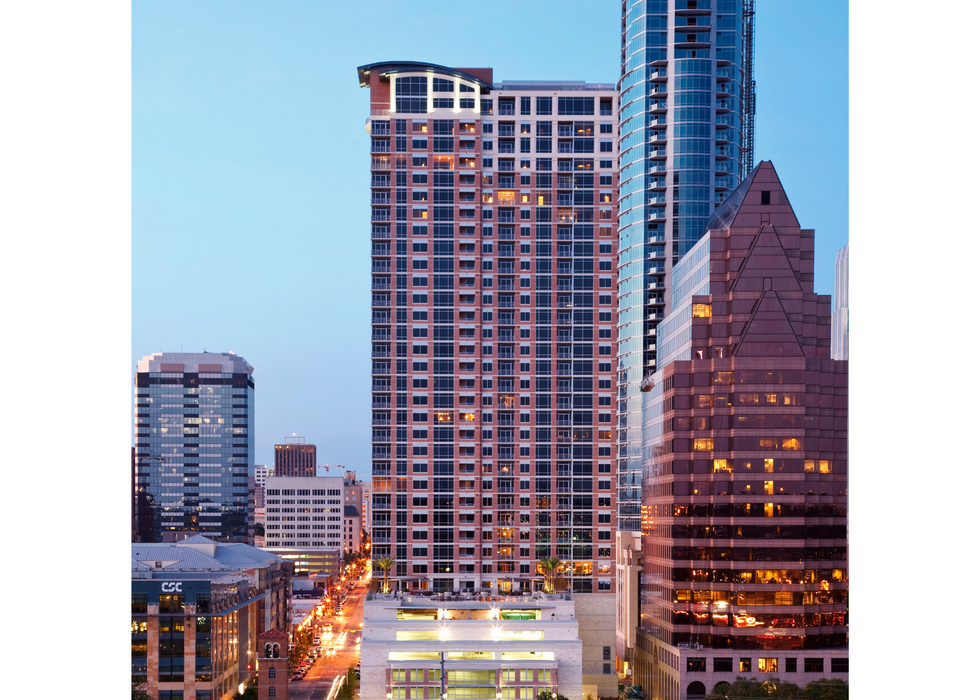 The Ashton (HKS)
Still, someday Austin will. The plan is trudging ahead with moves on anti-displacement initiatives and collecting input on design proposals for key lines. So even while HKS prepares for changes to the city from the ground up, Lee and Wilkins aim to maintain the city's personality.
"I'm always more about the local place, not the international place, even though I do bring with me international experience," Wilkins said. "Chi and I are only interested in doing Austin, we're interested in making Austin special, keeping Austin culture."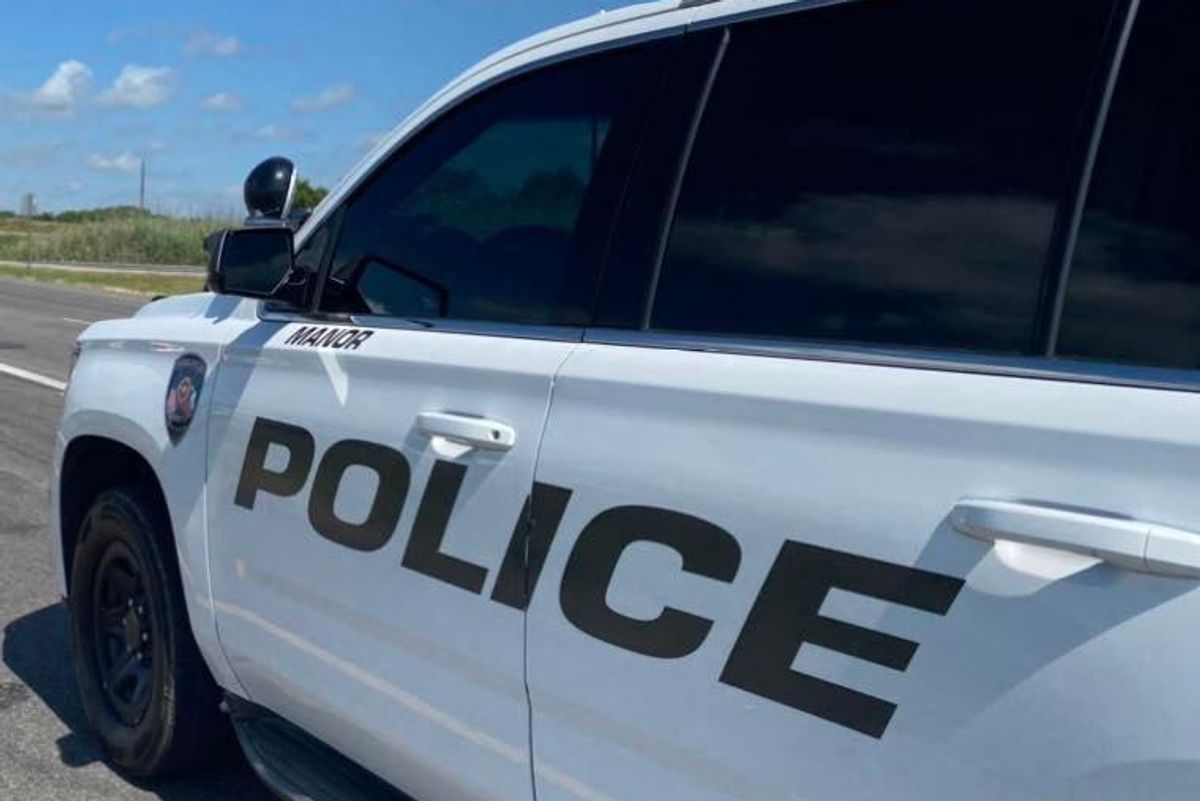 Manor, Georgetown and Round Rock police are investigating separate social media threats to schools in their areas.
A threat was first reported in Manor ISD Wednesday night, in which a Snapchat post circulated of a hunting rifle and a man's voice saying "F--- Manor" with Thursday's date in the caption, Manor police said. Then, Thursday morning, another social media post surfaced of a woman holding a rifle and also using foul language identifying "today as the day."
Four individuals have been detained as of Thursday morning with two suspected of being the ones behind the threats.
Georgetown police are also investigating two reported threats on Thursday morning at Georgetown High School. Police said it was alerted of a student with a firearm on a school bus. The student was discovered with a water gun that "looked realistic" and taken by police.
The second incident involved an alleged hit type list. Police are interviewing the two suspected students behind the list.
The most recent threats were reported in Round Rock, where CD Fulkes Middle School and nearby Claude Berkman Elementary went into "lockout" due to social media threats Thursday. Lockout is when no one is allowed into the building and students and staff must remain inside continuing classes.
Round Rock police said they found no evidence of a threat.
The latest scares come as tensions are high in schools across the nation following the school shooting in Uvalde, where 21 were killed by a gunman on Tuesday.
Central Texas schools upped their security in response to the shooting with more police presence and are taking extra precautions with any threats that have surfaced. Officials said they take the threats very seriously and urge parents to have conversations with their children about the seriousness of posting something threatening.