Get connected with our daily update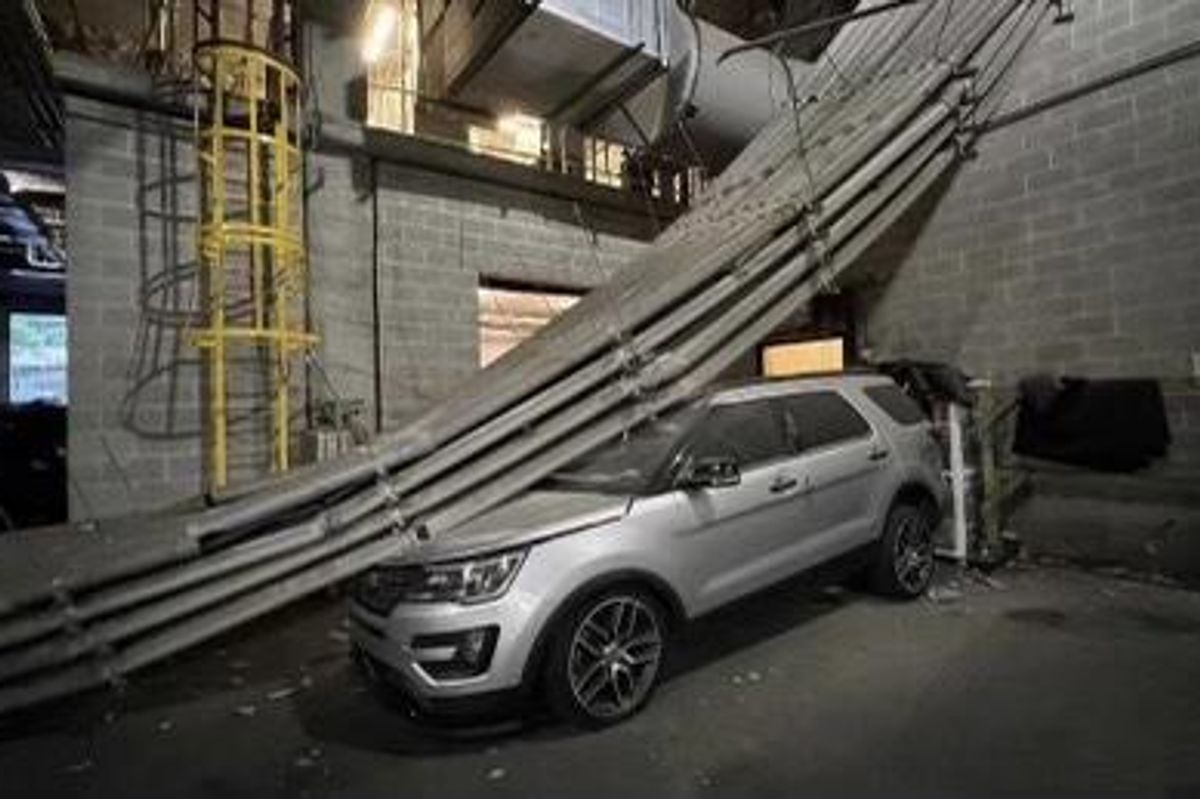 A fallen conduit at The Northshore apartment complex, 110 San Antonio St., has displaced residents in 439 apartments for the past two weeks.
---
According to residents who spoke with Austonia, the power lines fell around 6 p.m. on April 28, cutting off power to most units in the building. However, many residents have still been living in their powerless units.
The complex told residents repairs would be finished on Wednesday, after postponing a few times leading up to that, but announced Tuesday that it can't guarantee that power will be restored by the end of the week. Residents in studio apartments are paying at least $2,000 per month, while two bedroom residents are charged upwards of $5,000 per month to live there.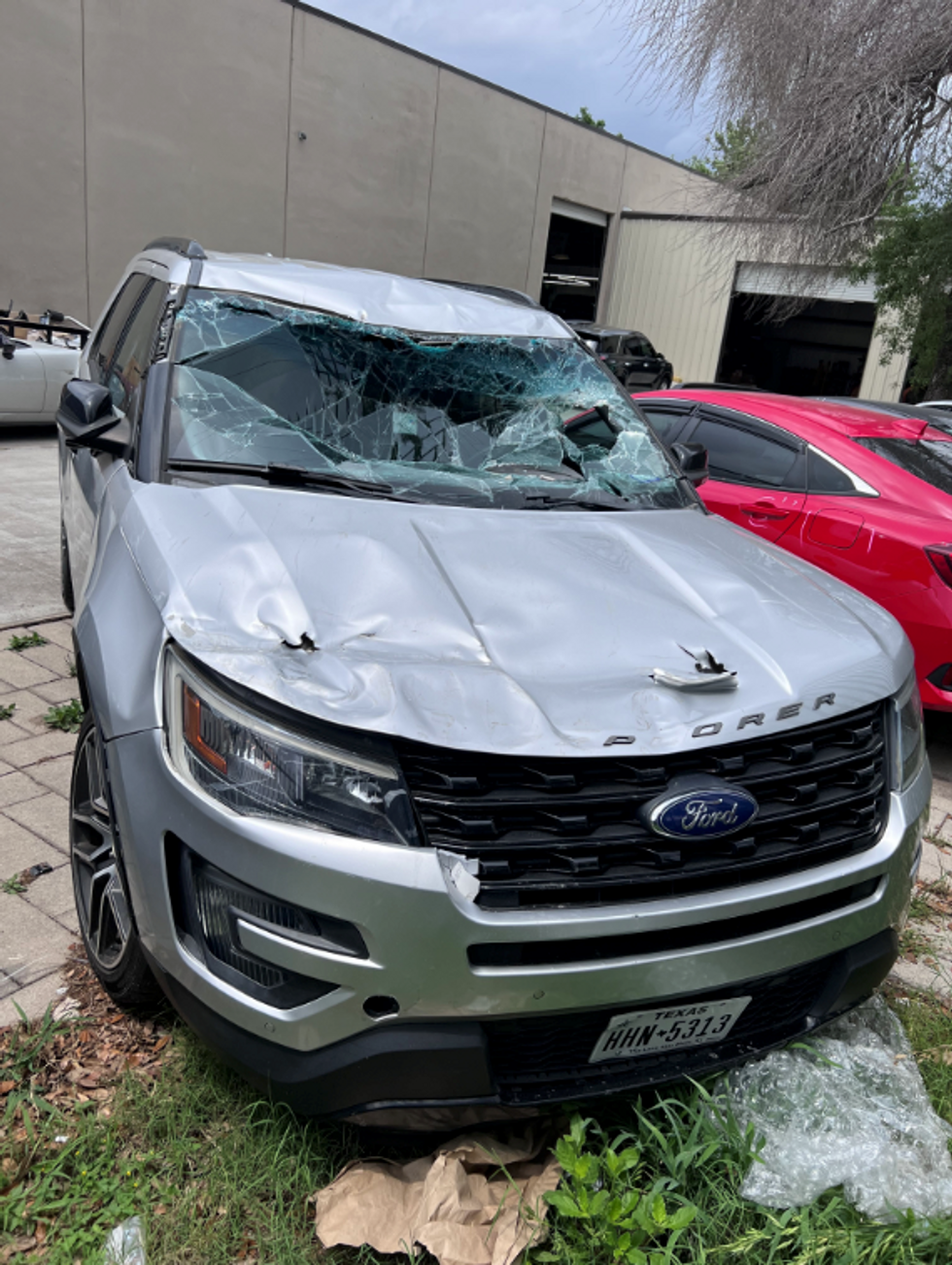 (P.J. Rabice)
P.J. Rabice, who was dining at ATX Cocina with his wife during the incident, was one of the first to find out about the damage. Rabice said they gave his 2016 Ford Explorer to the valet and had just sat down when a loud noise followed by a sudden dust storm rushed through.

A few minutes later, a manager came to tell Rabice the conduit had blocked the garage and shortly found out it fell on his vehicle.
The complex was unable to get his vehicle out of the fallen rubble until Wednesday, May 4. Though he hasn't heard back from insurance companies yet, Rabice expects the car to be a total loss.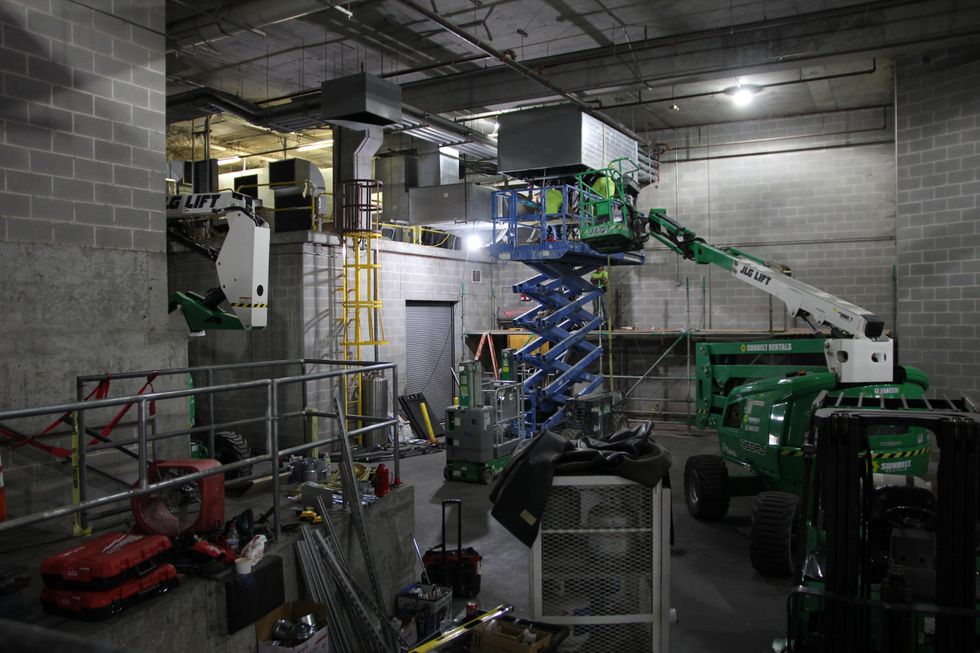 Rabice said the situation "kind of sucks but you move on." For eighth floor resident Chris, who declined to use his last name to protect his privacy, the two-week debacle is starting to wear on his "high spirits."
"The lack of expectation management, the just long duration of this ordeal—it's starting to become tiresome," Chris said. At this point… other accommodations are kind of something I'm thinking about more seriously now."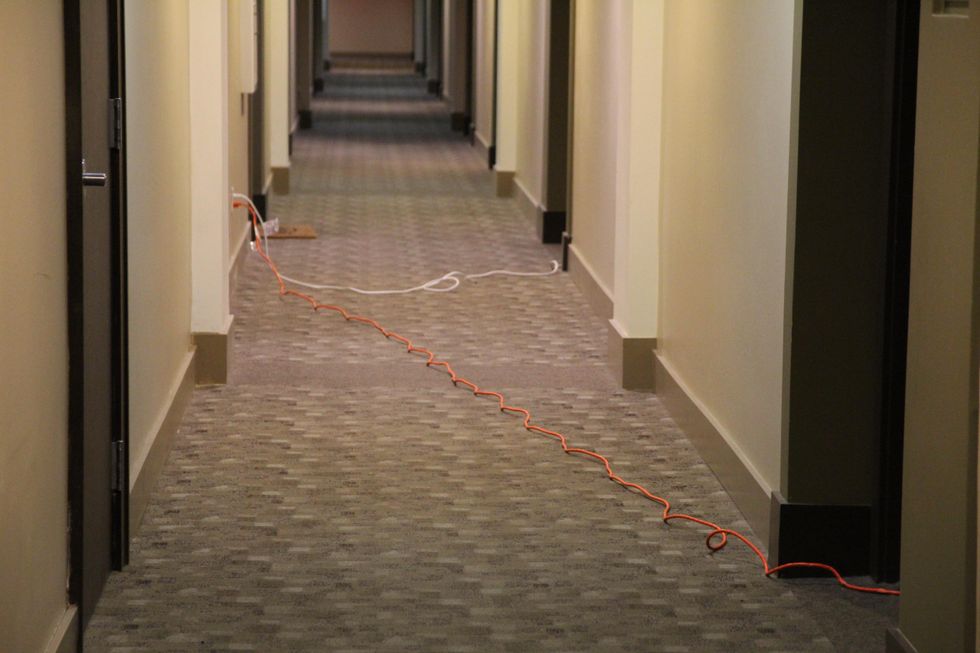 Many of the 38 floors have extension cords running from common areas into their apartments, including Chris. (Laura Figi/Austonia)
Chris has continued to live in his apartment, for the most part, with an extension cord running from the hallway and into his unit that gives him a morsel of electricity. The complex is compensating residents with $375 per day for accommodations but Chris said many people are following his lead by staying home and gathering in common areas at night, where there is AC.
At this point, Chris isn't sure when his home will have power. Chris said when the complex emailed saying they didn't have a timeline anymore, he found that more comforting than empty promises.
"Don't sugarcoat it, like this was a major collapse and if you don't have an ETA at this time, please say that," Chris said. "It seems like we'll be compensated, which is at this point, all I can reasonably expect. I can't really fix the power myself so I'm just keeping on keeping on and hoping that they continue to send us updates."
The complex is emailing residents daily on the state of repairs, telling residents they would extend reimbursement until 48 hours after the repairs have been finished.
"It is not enough simply to say we're so very sorry for this disruption to your life. Please understand we sincerely want the power back on as much as you do," the complex said in an email on Tuesday.

The complex did not immediately provide comment to Austonia.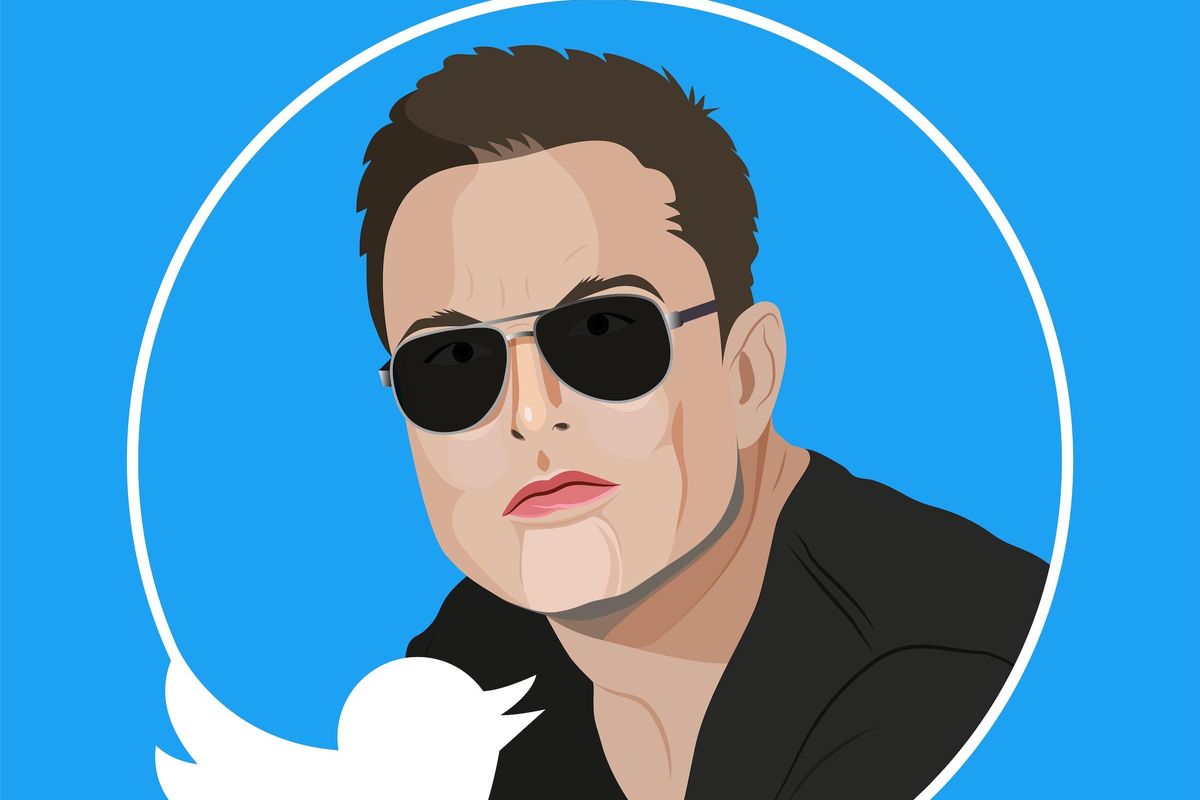 Shutterstock
Elon Musk has proposed once again to buy Twitter for $54.20 a share.
The news that Musk is offering to carry on with the $44 billion buyout was first reported by Bloomberg. Now, a filing with the Securities and Exchange Commission shows Musk made the proposal in a letter to the tech giant on Monday.
The New York Stock Exchange temporarily halted trading in Twitter stock twice Tuesday, first because of a big price move and the second time for a news event, presumably the announcement of Musk's renewed offer.
While the per share offer price on this latest proposal remains the same as the original offer, it's unclear if Musk has made other term changes or if Twitter would reject it. According to other reports, a deal could be reached this week.
The stock closed at $52.00/share Tuesday, indicating market uncertainty around the $54.20 offer.
After Musk informed Twitter of plans to terminate the original agreement in July, Twitter sued. A trial has been expected in Delaware Chancery Court on Oct. 17.
With the proposition of a buyout on the table again, it revives the question of whether Musk might move Twitter from San Francisco to Central Texas.
He's done so with some of his other companies. Tesla's headquarters in southeast Travis County had its grand opening earlier this year and tunneling business The Boring Company moved to Pflugerville. At least two other Musk companies, SpaceX and Neuralink, have a Central Texas presence without being headquartered here.
Technology journalist Nilay Patel this afternoon voiced concerns that owning Twitter and Tesla together could be problematic for Musk, as his Tesla manufacturing facilities in Germany and China are both in countries that have disputes with Twitter over content moderation and censorship.
Telsa shares fell after the Twitter news became public, before rallying to close up, at $249.44.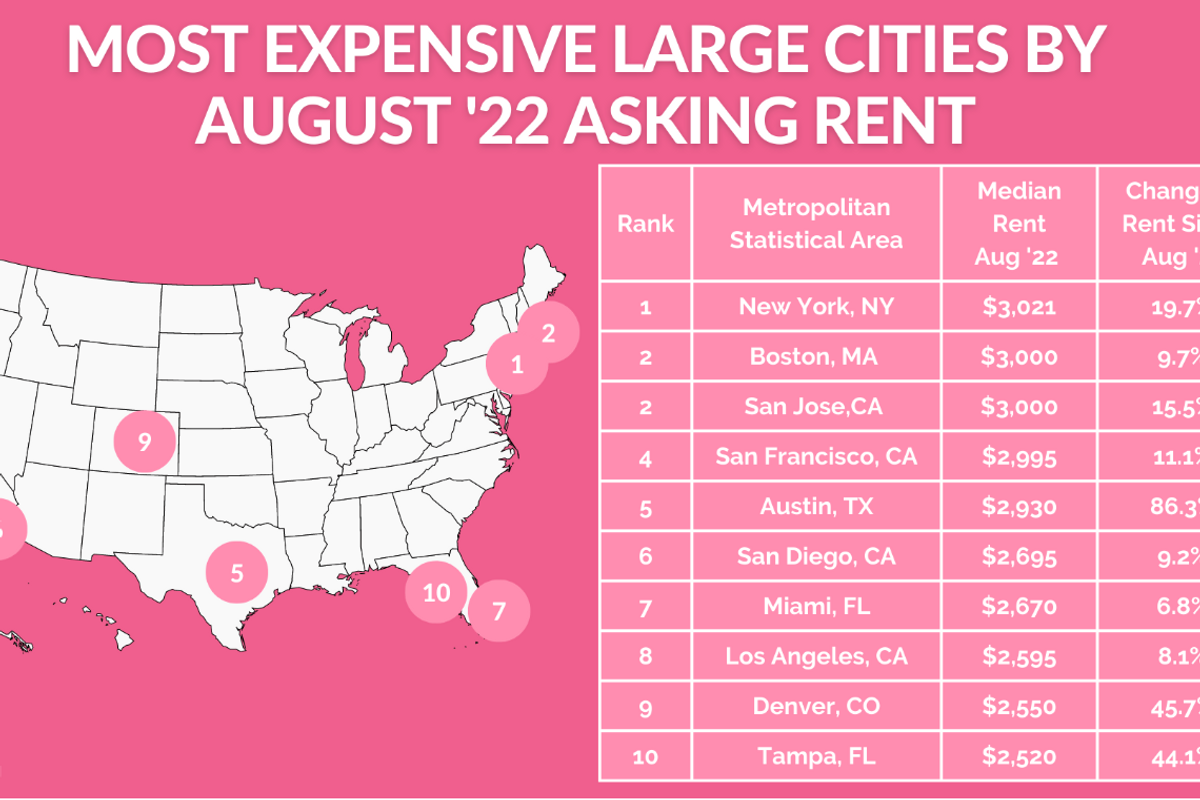 Dwellsy
While searching for a place to live, Austin renters will face monthly rates of nearly $3,000, a recent guide from rental marketplace Dwellsy shows.
The median rent in August this year was $2,930, a more than 86% increase since August 2021. That's $820 more than the nationwide median asking rent in August and puts Austin just below the Bay Area, Boston and New York for large cities with the most expensive asking rent.
"Within this group, Austin, TX stands out for the highest increases in asking rent, which has nearly doubled since this time last year," the study notes.
Outside of those large cities, however, others are seeing even higher rent spikes. Metro areas that ranked above Austin in one-year increases include those like Kansas City, MO with a 112% change in rent since last August and Tucson, AZ with a 124% change.
The data reflects large apartment communities, single-family homes and 2-6 unit buildings.