Austonia AM
100% Austin news, info, and entertainment, straight to your inbox at 6 a.m. every morning.
In five minutes, you're fully informed and ready to start another great day in our city.
Get connected with our daily update
Hate having awkward conversations with your Lyft driver? Soon you won't have to, as self-driving rideshare vehicles are on their way to Austin's streets.
---
Pittsburgh-based autonomous vehicle company Argo AI LLC is putting robots on the roads by partnering with rideshare company Lyft and Ford Motor Co. to launch robotaxis in two cities in the next year: Austin and Miami.
Passenger rides will start in 2022, with Lyft network safety drivers onboard for the time being. Once the partnership deploys the Ford vehicles, Lyft users will be able to select "self-driving" in the app.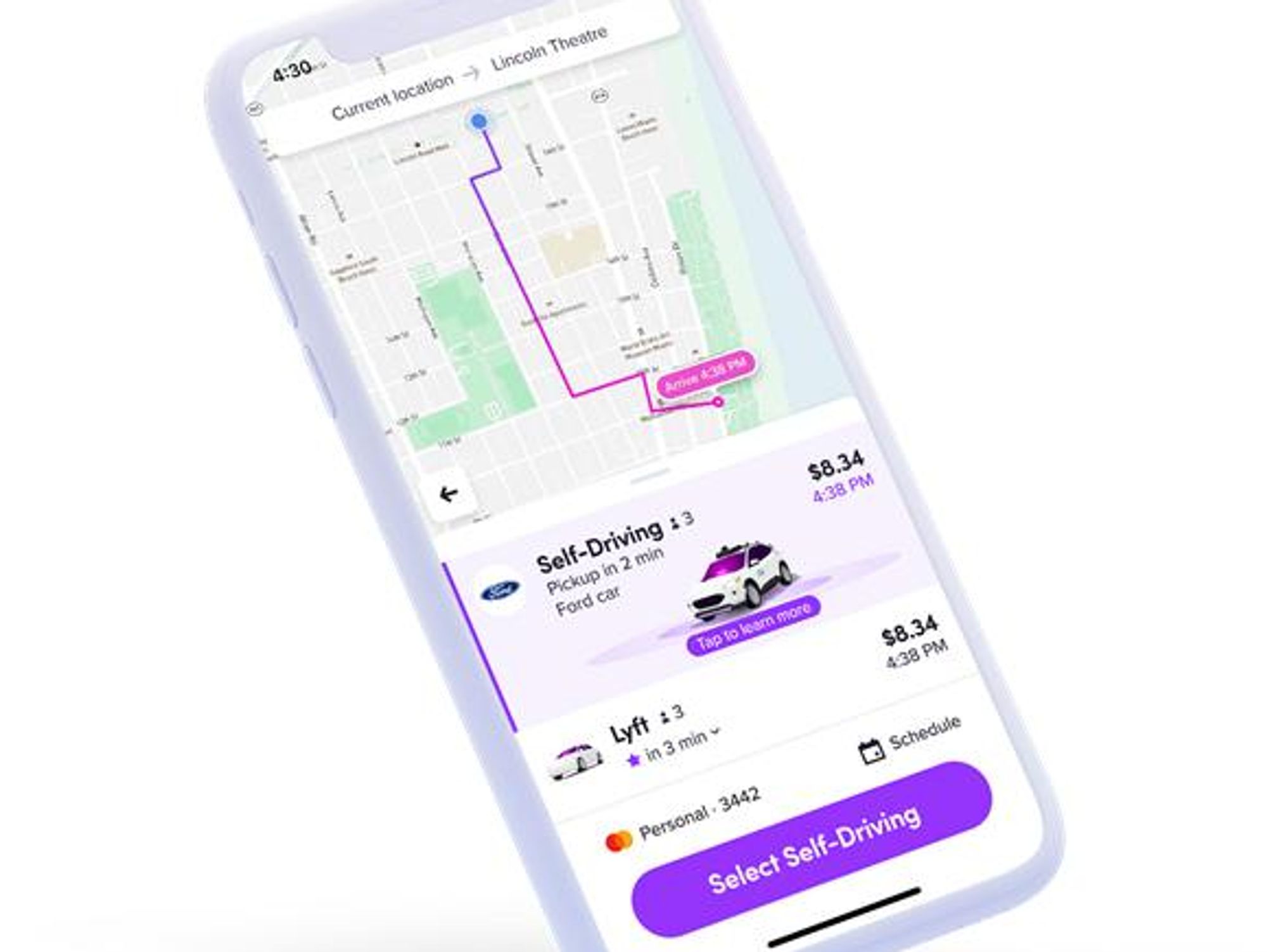 Argo originally announced plans to hit the streets of Austin back in 2019, complete with a command center nearby the airport and 3D mapping of popular areas, but testing the cars was delayed.
The company says it plans to have as many as 1,000 driverless vehicles across multiple markets in the next five years.
"This collaboration marks the first time all the pieces of the autonomous vehicle puzzle have come together this way," Co-founder and CEO of Lyft Logan Green said in a press release. "Each company brings the scale, knowledge and capability in their area of expertise that is necessary to make autonomous ride-hailing a business reality."
According to a press release, Argo AI will use anonymized service and fleet data from Lyft to overcome the challenges faced by other autonomous vehicle companies by focusing on where they can build a sustainable business and validate deployment through localized safety data. Lyft will receive 2.5% common equity of Argo AI as part of the partnership.
This is not the first AI-driven company to come to Austin—back in 2015, Waymo, an Alphabet Inc. subsidiary, made the first robotaxi in Austin a reality before pulling out in 2019.
The city of Austin released a shortlist of seven candidates for the police chief position left vacant when Brian Manley retired in March.
City Manager Spencer Cronk hopes to announce an appointment by the end of August, which will require City Council approval.
The finalists, chosen from a field of 46 applicants, include:
APD Interim Chief Joseph Chacon, who previously served as an assistant chief in the department for almost five years
Anne Kirkpatrick, former police chief in Oakland, California, who was fired last year after a federal monitor criticized her handling of a fatal 2018 police shooting of a homeless man
Dallas Police Department Assistant Chief Avery L. Moore, who is a 30-year veteran of the department
Atlanta Police Department Deputy Chief Celeste Murphy, who manages the department's community services division
Dekalb County Police Chief Mirtha V. Ramos, who previously served as division chief in the Miami-Dade Police Department
Wichita Police Department Chief Gordon Ramsay, who is a former president of the Minnesota Police Chief's Association as well as one of the first police chiefs of a major U.S. City to call George Floyd's death a murder, as reported by the Wichita Eagle
Los Angeles Police Department Deputy Chief Emada E. Tingirides, who is also commanding officer of the department's newly formed Community Safety Partnership Bureau, which serves L.A.'s underserved communities
The next police chief will be tasked with reimagining public safety after a tumultuous year that saw mass protests against police violence and racial injustice, a nearly year-long hiatus of police academy that exacerbates a years-long staffing shortage, Austin City Council's decision to cut APD's budget in August, rising violent crime rates in Austin and around the country, and new state laws that
financially penalize cities that cut police funding
.
City staff will interview the finalists in the coming weeks, with several community input opportunities to come, according to a Monday press release.
The city conducted a public survey in March and hosted community input meetings in April to learn more about what residents are looking for in their next police chief, which helped shape the selection criteria for the position.
"They want to see the Chief be reform-minded and transparent and have a track record of fostering community involvement and accountability," Cronk said in the release. "The candidates selected show these characteristics in various ways."
Austin FC officially tanked to the bottom of the MLS Western Conference after a lackluster performance against No. 1 Seattle Sounder's bench players last week, disappointing even the most hardcore fans who have been looking for another breakthrough for weeks.
But there could be light at the end of the tunnel.
Just as the club received scrutiny for their loss against the youngest MLS lineup ever and lack of scoring options, South American transfer expert Cesar Luis Merlo reported that Argentine Sebastian Driussi would be transferring to the club. The announcement comes after rumors of interest in Driussi, who plays in the Russian Premier League, swirled for weeks.
🚨🚨Sebastián Driussi jugará en el Austin FC 🇺🇲.
*️⃣El club de la MLS pagó la cláusula acordada para su salida y los abogados ya trabajan en la confección de su contrato.
*️⃣Su oficialización es cuestión de ⏳. #trarohecho pic.twitter.com/95qS6KJ1UH
— César Luis Merlo (@CLMerlo) July 26, 2021
Merlo, who broke the news on Twitter on Monday, last reported the signing of Austin FC's Tomas Pochettino from Argentina.
While Austin FC hasn't confirmed the move, Driussi's former club FC Zenit reported on the transfer on Monday afternoon.
Driussi joins new signee Moussa Djitte, another forward and true striker from Grenoble, as new intriguing answers to Austin's cry for help.
Scoring woes
It's no secret that Austin isn't putting the ball in the back of the net: the club has been shut out for eight of its last ten matches, just two of which have taken place within its stadium walls. Head Coach Josh Wolff has endured the brunt of explaining the team's scorelessness, admitting the team's lack of scoring every week with a slightly deeper frown etched on his face.
"From a goal-scoring standpoint... it's been lackluster and poor," Wolff said after the 1-0 Seattle loss. "The reality is that we haven't scored goals... you've got to score goals to win games."
While some criticism toward Wolff's strategy, a lack of urgency and poor decision-making on the pitch are warranted—and have been freely expressed by frustrated fans and haters—the team has been even worse off due to its constant slew of injuries.
The team has been without a solid striker at least since frontman Danny Hoesen was declared out for the season due to a hip injury. Even before his injury, Hoesen had failed to solidify himself as the team's offensive leader, while teammate Jon Gallagher showed spurts of greatness but couldn't find consistency.
Gallagher himself scored the first Q2 Stadium goal with an injured foot and was out for a few weeks, as have been Captain Alex Ring, midfielder Tomas Pochettino and center back Matt Besler. Starters including midfielder Daniel Pereira, left back Ben Sweat, right back Nick Lima are among the six still stuck on the bench.
With injuries and a learning curve to boot, Austin has scored just 10 goals this season—tied for the least in the conference. While Dominguez and surprise star Diego Fagundez have scored three goals apiece, the out-of-position players haven't been able to heal the holes in the lineup and beat veteran MLS opponents.
Even after a breakout 4-1 over Portland that injected new energy into the team, Austin has been subject to critics who fairly wonder when the club will right its sinking ship.
First summer signing: Moussa Djitte
DONDE ESTÁ DJITTE?!?!?

HAVE YOU SEEN DJITTE?!?! pic.twitter.com/ssMfTdby1v

— WeAreAustinTV (@WeAreAustinTV) July 23, 2021
Wolff and Sporting Director Claudio Reyna have long had plans to get a boost in the summer transfer window, and the need for scoring help became increasingly evident as the season progressed.
Djitte, a 21-year-old striker in the French Ligue 2, was announced as a U-22 signee with an undisclosed transfer salary on June 30.
Djitte comes from Grenoble in the French league, where he scored eight goals in 35 appearances last season. The striker also spent time with FC Sion in the Swiss Super League but is originally from Senegal, where he played for ASC Niarri Tally in Dakar. He also represented Senegal internationally, making his debut for the Senegal U-20 team and scoring the only goal in his first match with the U23 team in 2018.
Wolff and crew hoped for Djitte's arrival by the July 22 match, but to no avail. As the club once again failed to put points on the board, fans continue to impatiently await his arrival as Djitte's paperwork is sorted out.
The pressure's on for Djitte, who some have called the club's only hope. But that burden is put twofold on Driussi, who holds more experience and acclaim than his new younger teammate.
Second signing: Sebastian Driussi
Sebastian Driussi: "Thank you from me and from my family. St. Petersburg is an amazing city and Zenit is a fantastic club. Maybe one day we will meet again!"@SebadriussiOk has a farewell message to the club and the fans

📧 https://t.co/urgPQxvcVr pic.twitter.com/Yr1AbBsQvj

— FC Zenit in English✨ (@fczenit_en) July 26, 2021
Driussi has an even more decorated history under his belt. An Argentina native, the forward spent five seasons with Primera Division member River Plate, scoring 17 goals in his final season with the club before transferring to the Russian Premier League. While with FC Zenit, Driussi helped the club to the Russian Cup Championship in 2019 and scored 21 goals in four seasons with the team.
Driussi has already been lauded as a saving grace for Austin's stagnant offense, but it will be a minute before he steps onto the pitch in Verde. Djitte is expected to fly to Austin this week, but both players will need to quarantine before they can suit up onto the Q2 Stadium turf.
Time will tell whether or not the two turn the tables for Austin before it's too late, but the new faces are sure to bring back excitement as Austin reaches the halfway point of its first-ever season.
With Austin-Travis County in Stage 4 and local COVID case counts rising, parents of young children are weighing the question: Is it safe to send kids back to the classroom?
While children under 12 remain ineligible for the COVID vaccine, public school districts are unable to mandate masks as a result of an executive order issued by Gov. Greg Abbott in May. They also lack funding for virtual learning options after state lawmakers failed to pass such legislation during the regular session.
As last year's public school pandemic closures led to an enrollment bump at area private schools as well as the explosion of learning pods—teachers paired with family groups looking for help with virtual learning—some families are again considering homeschooling their elementary school-age kids or enrolling them in an alternative online program or private school.
Mediocre options

Melissa Rojas Williams, a mother of four kids under 7 who lives in the Mueller neighborhood, talks about these options with her husband daily. If Austin ISD doesn't offer virtual learning options by the first day of school on Aug. 17, the couple is considering homeschooling or joining a learning pod. "You want your kids to be social… but the reality of COVID—it's in Stage 4—and also our kids, because of their ages, are unvaccinated," she told Austonia. "It's a harsh reality."
Rojas Williams is weighing priorities as she decides how to proceed. Her youngest child is 2 years old, and she worries that he lacks basic immunity after growing up almost entirely in quarantine. But she wants her older children to experience in-person schooling and knows that another year of virtual learning or homeschooling would come at a cost to her and her husband's careers. She's already extended her graduate studies at the University of Texas at Austin an extra year as a result of the pandemic.
"The worst part is this year is still better than the last because we seem to know a little more about what works," she said.
The privilege to choose
Similarly, Pete Gilcrease, a father of two—ages 9 and 5—in Hyde Park, is considering homeschooling or an alternative online program if AISD does not offer a virtual learning option. Superintendent Stephanie Elizalde told the Austin American-Statesman editorial board last week that the district is considering offering limited virtual learning; more information is due to be released by next Monday, according to the district.
Gilcrease worries that if his kids do attend school in person they could contract a case of COVID and suffer long-term effects. So until they are eligible to get vaccinated, he and his partner will choose to work from home to facilitate online learning. But he is frustrated with state and federal policies that force some parents to choose between their income and their children's health. "Most people don't have a choice," he said.
Scrambling for an alternative
Carrie Collier-Brown, a lawyer, is also frustrated. She and her husband recently moved their family to West Austin, where her kids—an 11-year-old rising sixth grader and 5-year-old twins—would attend Eanes ISD this fall. But now she is considering moving her twins to a private school or joining a learning pod because they are too young to be expected to wear masks all day without enforcement.
Austin is hurtling toward Stage 4, just in time for school. We have 3 kids who can't get vaxxed yet. Public schools are prohibited from requiring masks and have no funding for virtual school. I'm super pissed. pic.twitter.com/P8NjOnNWfr
— CCB (@ATXCollierBrown) July 20, 2021
Such a switch would involve scrambling to enroll the twins in a new program at the last minute and possibly committing to another year of virtual schooling, which would affect Collier-Brown and her husband's work lives. "It was nothing that we ever wanted to repeat," she said of the last school year.

Like many parents, Collier-Brown understands that school districts are in a bind. But she is fed up with state officials, whose policies, she says, don't seem to acknowledge the fact that young children cannot get vaccinated, and adults who opt not to. "Their selfish choices are directly impinging on my family's freedom," Collier-Brown said. "I think it's their turn to stay home."