Austonia AM
100% Austin news, info, and entertainment, straight to your inbox at 6 a.m. every morning.
In five minutes, you're fully informed and ready to start another great day in our city.
Get connected with our daily update
Video by Steven Joyner
Almost two years after it was announced Google would lease the entirety of Block 185 in Downtown Austin, construction on the new building has made significant headway. In drone video taken by Austonia, the 589-foot, sail-shaped structure is starting to take shape.
---
The new 35-story tower across Shoal Creek will be able to hold about 5,000 people with 793,000 square feet of office space and 1,327 parking spaces on the lower floors with some underground.
In its final form, the building will feature all the standard tech company perks employees have come to not only enjoy but expect. There will be fitness and recreation areas, lounges, kitchen and dining areas, conference centers and a bar.

The upper floors of the new building will be occupied entirely by Google offices, however, the structure will also feature retail businesses on its ground floor, and the lobby will be accessible to the 2nd Street retail and entertainment district.
Outside, the new Google building will have a plaza along Shoal Creek featuring bicycle and pedestrian access connecting to West Cesar Chavez and West 2nd Street.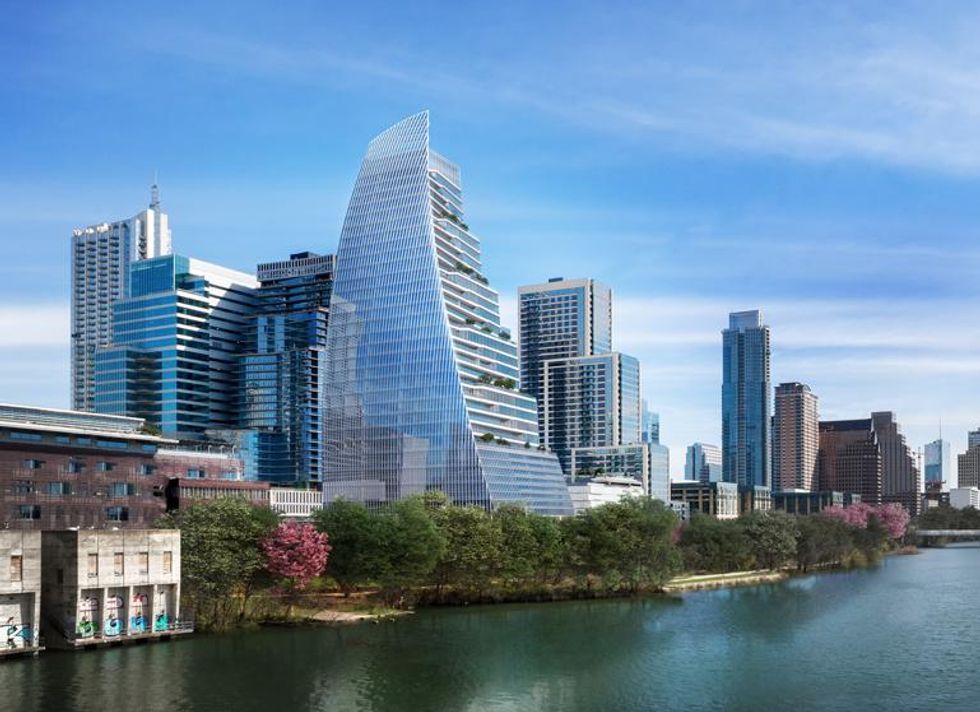 Rendering of the completed Google tower downtown. (Trammell Crow Company)
Opening its first Austin office in 2007, Google is currently located in a 29-story tower at 500 W. 2nd St., where the tech company leases at least 10 floors.
In January 2019, developer Trammell Crow purchased Block 185 for about $10.27 million after landing on that amount in a 2012 master development agreement. One month later ground broke on the newest addition to Austin's skyline that was leased by Google.
While the company has remained rather silent since the initial announcement two years ago, initial plans for Google to move into the building in 2023 seem to remain on track.
More developments in progress: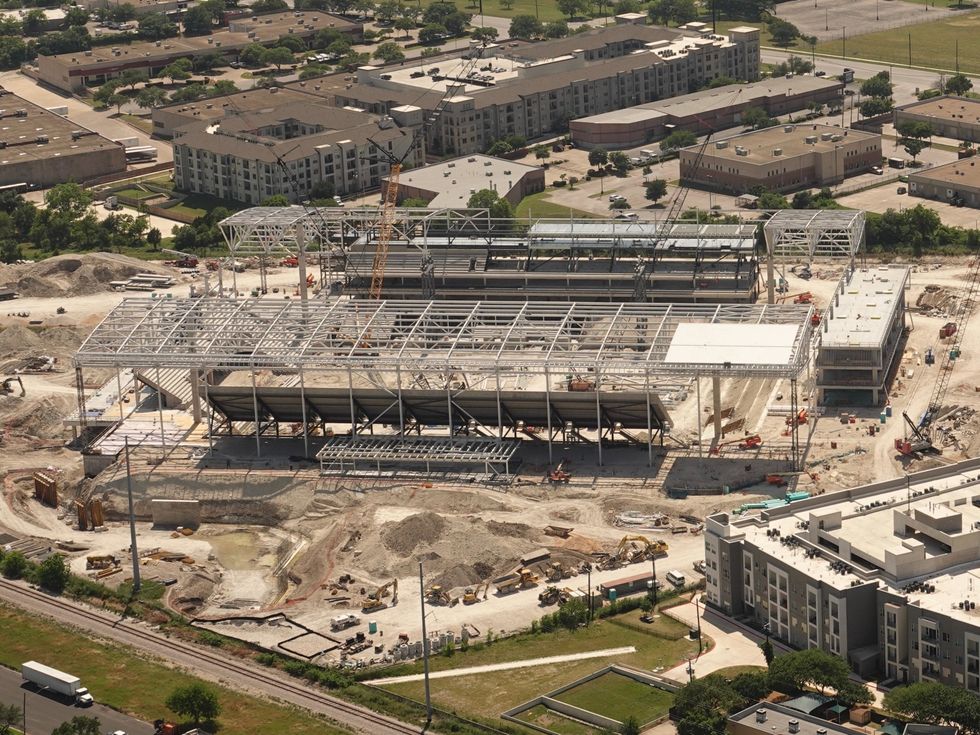 Austin FC stadium, Giga Texas, Waterloo Park and 5 Austin towers slated for delivery in 2021
Nearly half of Travis County residents 16 and older are fully vaccinated, as of Friday afternoon, according to the Texas Department of State Health Services. And an even greater portion likely have immunity.
Austin-Travis County Interim Health Authority Dr. Mark Escott estimates that around 70% of local residents have some form of immunity to COVID-19, either because they have recovered from the disease or are vaccinated. This is approaching the threshold for herd immunity.

"We're starting to approach that 70% mark of combined disease and vaccination, so we may start to see some significant changes when it comes to disease trends," he told council members and county commissioners on Tuesday.
Escott arrived at this percentage by assuming that there is no overlap between those who have had COVID and those who have been vaccinated. "While there's certainly some overlap … there does not seem to be a lot of overlap between those two," he said.
Herd immunity occurs when enough people are immune to a disease that it is unlikely for someone who contracts the disease to spread it. With no one to infect, the disease dies out.

Public health experts have said herd immunity for COVID will require around 80% of the population to be immune based on its relative infectiousness.
Although natural immunity contributes to herd immunity and is partially responsible for the sharp downturn in the number of new COVID infections in recent months, vaccination is the gold standard among experts because of the increased security it offers.
Austin Mayor Steve Adler celebrated the new CDC guidance as proof of vaccines' efficacy. "Since more people will not be wearing masks, it makes it even more important to get vaccinated," he said in a statement Friday.

The U.S. Food and Drug Administration issued an emergency use authorization for Pfizer's vaccine among children 12 to 15
on Monday
, further expanding eligibility.
As a lifelong Texan and 18-year Austin resident, street artist Goodluck Buddha wants to keep Californians out of Central Texas to preserve the city he loves.
As his business travels took him to states like California, he started posting his art there with a message to Californians in 2013. Buddha has many characters he creates but one, in particular, was created to draw attention to what he saw as a growing problem. Spotted all over Los Angeles is a skeletal monk holding a sign that says one of the following: "get out while you can," "total system failure" and most polarizing, "Austin, TX is at capacity, don't move there."
Buddha started developing his persona as an artist around 2013, keeping his art under wraps for the sake of his family and day job in the security industry. He asked his real name not be used on account of the work's potentially illegal nature. He had always admired street art and saw it as a way to interact with the community.
His disdain for the California migration started as a trendy joke but as the trickle of transplants turned more into a steady stream in the early 2010s, it started to seem like each new person he met was coming from Los Angeles or Beverly Hills.

"Austin started becoming a little popular with the California folks and everybody started moving here slowly and then it became kind of a problem," Buddha said.
The problem is not Californians, Buddha said, but the amount of money they come with, which he believes is driving up the cost of living and making it harder for the average Austinite to afford living here.

"I wanted to go straight to the source and put it out there for them to see that there's an issue—I don't know if they see it that way," Buddha said. "There's a lot of people that were able to make it with one full-time job and live in a nice house and now they're having to work a full-time job and a side hustle and then a side gig. It's making people more focused on trying to make money versus just living and having a good time."
Buddha can relate—while he would like to take his art career full-time, he is also a father and waiting until his children leave home to take a risk like that. He said he remembers a time when local artists could make a living doing what they loved while Austin nurtured them and wore the title "Live Music Capital of the World" like a badge of honor.
His art has since made its way to other big cities that he also goes to for business travels, including Portland and New York. And until he goes full time, he sells his art on social media.
"I always had this urge just to leave my mark and put stuff up," Buddha said. "It's kind of like a renegade art movement."