Get connected with our daily update
Election season is in full swing and people are getting out to vote in near-record numbers. Some Austin businesses are encouraging voting by rewarding you for doing your civic duty this year.

Here's what you can cash in on with your "I voted" or "Yo voté" sticker.
---
Home Slice Pizza, one free slice
Two words: free pizza. Bring your "I voted" sticker anytime during early voting to either location at 1415 S. Congress Ave. or 501 E. 53rd St., and you'll receive a free slice of pie. When you arrive, you'll be asked to put your sticker on their commemorative wall, but don't worry, they'll trade you for a new one.
Paprika ATX, one free carnitas taco
At Paprika ATX, 6519 N. Lamar Blvd., your voting sticker will get you a free carnitas taco while supplies last, daily. That's code for "vote early!"
Pinthouse Pizza, $1 off a pint of beer
Visit any of the three locations throughout early voting season for $1 off a pint of your choice through Oct. 30. Careful, you have to be on the waitlist to cash in on this deal.
Soup Peddler, free 8 ounce soup
Bring your sticker to any of Soup Peddler's six locations during the early voting period and they will reward you with 8 ounces of your favorite soup. If you voted by mail, simply take a selfie with your blank ballot and you'll receive the same deal.
St. Elmo Brewing Company, free half pint
You read that right—free beer. Your voting sticker will get you a half pint brew of your choice, free of charge anytime during early voting at St. Elmo, 440 E. St. Elmo Rd. You can also pick up a "Vote" t-shirt or mask while you're there.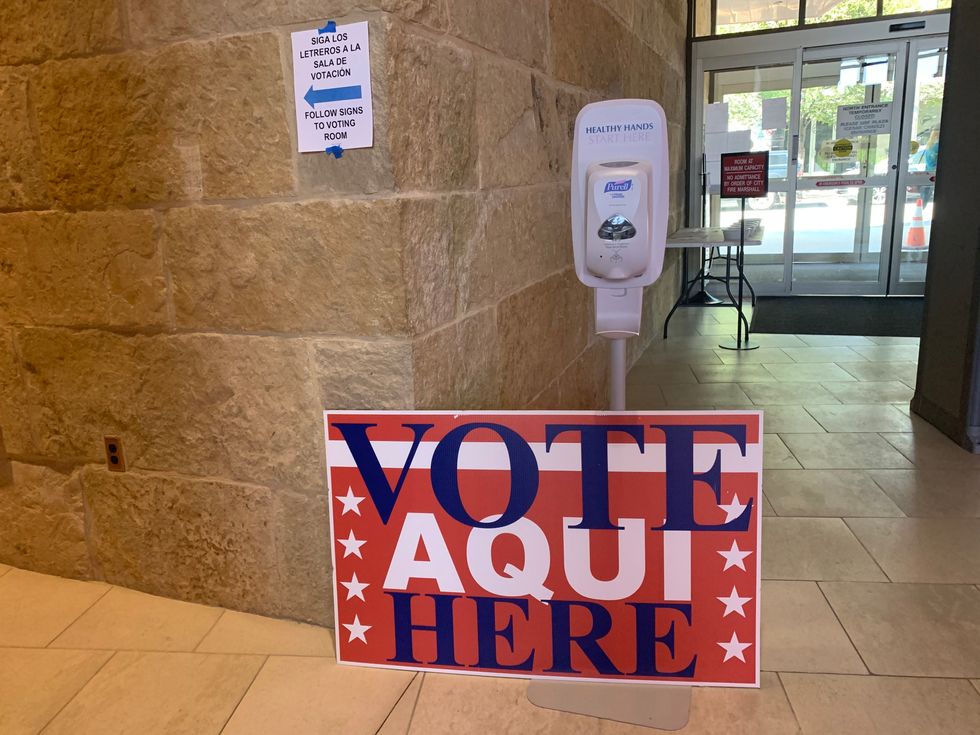 Here's where you can vote early in Travis County (Emma Freer/Austonia)
Concerning levels of cylindrospermopsin were discovered on Sept. 22 after a person got sick and samples were sent to get tested on Sept. 9. Signs will be posted at access points to Sculpture Falls that people and their pets should not injest or swim in the water.
Unlike the harmful algae making dogs sick in parts of Lake Travis and Lady Bird Lake in past summers, these toxins are found in the water, the city says. Barton Creek visitors are asked to avoid stagnant water especially.
The toxins also result in different health effects than the harmful algae in Lady Bird Lake, including liver and kidney damage. If exposed, people can feel:
Fever
Headache
Vomiting
Bloody diarrhea
If exposed, people should seek medical attention and report it to 311.
TinyFest Texas 2021
When: 10 a.m. Saturday – 5 p.m. Sunday
Where: Jourdan-Bachman Pioneer Farms, 10621 Pioneer Farms Drive
What: Tour tiny houses, van converstions, shipping container homes and more at this year's TinyFest. Grab tickets here for a weekend of speakers, workshops and panel discussions plus live music, food and more!

Fierce Whiskers Grand Opening
When: 12 p.m. Saturday
Where: Fierce Whiskers, 5333 Fleming Court
What: Fan of whiskey? Come along to the free grand opening of Fierce Whiskers Distillery's new tasting room. Enjoy bites from a food truck, oysters, musical performances and a raffle.

Austin Summer Carnival
When: 6 p.m. Saturday – 2 a.m. Sunday
Where: The Venue ATX, 516 East 6th St.
What: Don your dancing outfit for this carnival that celebrates the African heritage with Brazilian, Latin and Caribbean rhythms in Austin. Snag your tickets here.

Beginner's Succulent Arrangement and Planting
When: 3 p.m. – 4 p.m. Sunday
Where: Succulent Native, 5501 North Lamar Blvd.
What: Calling all first-time planters: Get your hands dirty and learn about succulent and cactus arrangement and care. No tools required! Grab your tickets here.