Get connected with our daily update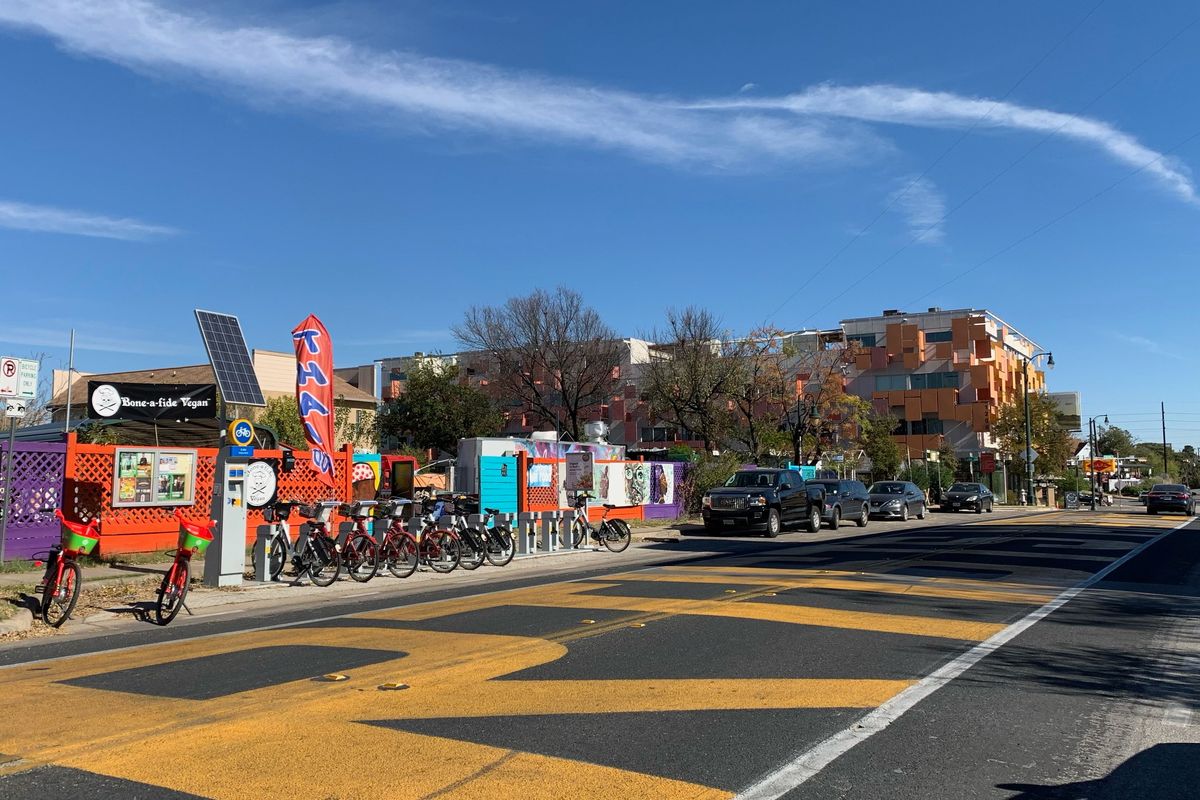 (Isabella Lopes/Austonia)
Austin's East 11th Street, with its brunch crowds and boutiques, is a slick and shining example of the gentrification that has taken over what was once designated by the city as the old "negro district."
---
For long term residents of the historically Black neighborhood, the upscale office spaces and vintage apparel shops are little more than blunt reminders that the once-familiar streets are no longer theirs.
Brenda Mims Malik, president of the Holy Cross Neighborhood Association, describes the "horrific" effects of gentrification as a total disappearance of community and cohesion.
"We had businesses, Black-owned businesses, up and down 11th Street and now you can maybe count them on one hand, and I don't think you could get to five," says Malik. "And 12th Street is the same way, so, yeah, it has been a very rapid deterioration of Black-owned businesses and homes."
Malik, who in the late 1970s and early '80s worked as a project manager for the Robertson Hill HUD project, helped bring basic services such as alley trash pick-up, street lighting and sidewalk paving to the area she grew up in. She recalls a world of Black-owned restaurants, clubs, newspapers and theaters.
She says it all changed in the span of 20 years.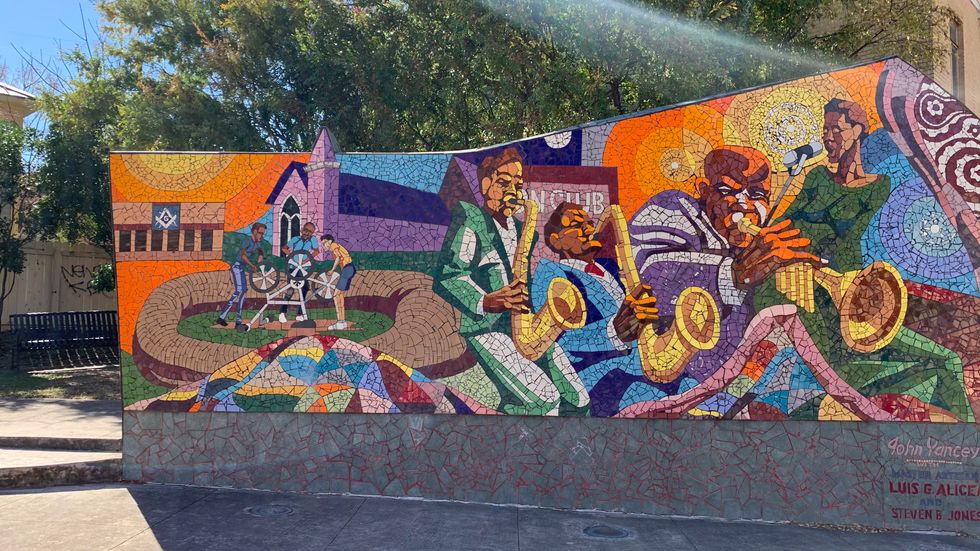 (Isabella Lopes/Austonia)
Prior to this current gentrification, East 11th Street was almost entirely Black and this was no accident. Almost a decade after the U.S. Supreme Court ruled segregation zoning laws were illegal, the city of Austin put into action its "1928 Master Plan" to create a "Negro District" in East Austin. In order to motivate Black residents to move to the area, the city placed the only public schools that Black residents could attend there.

East Austin is now, of course, a highly coveted area for developers to build in and for newcomers to settle into. Between 2011 and 2014 the median home price in East Austin's 78702 ZIP code tripled from $125,000 to $375,000.
"What happens is developers will offer daily incentives for our residents to move out," says Malik.
"It is an aging population," she adds. "What happens is that when they pass on. Instead of having generational wealth, the inheritors, the children of those folks who have passed on are confronted with higher taxes and sometimes higher mortgages that they cannot pay. Some look at the offer and see it as a way to get some money very quickly. So they take that offer and they move out."
The problem with inheritance
Pat Calhoun, who took over the taxes for the East Austin home her parents built in 1960 (located in the Rogers-Washington-Holy Cross Historic District) when her mother died in 2015, speaks to the difficulty of inheriting property in a historic district that has suddenly become hot property.
Prior to inheriting the home, Calhoun had been assisting her mother, who had benefited from a homestead exemption, with the property taxes for over a decade.
"What I would come to realize is the inequity for heirs," Calhoun explains. "If you inherit a home it is treated as though you purchased the home as a new buyer and that, to me, is not equitable because you're not purchasing the home. You have an inherent tie to the home. "
Calhoun added that this tax pressure can accelerate displacement.
"There are a lot older heirs who are unable to stay in the homes," says Calhoun. "Whilst I helped my mom in her later years, I was paying the taxes and I inherited the home. She passes away and I go ahead and move here permanently and suddenly my taxes are almost three times what I had been paying: from $2,500 to almost $9,000 and that's very difficult to sustain, particularly when you are retired. Consequently I can't retire."
As a result, many people opt to sell their homes, which may be their only asset.
"And you think of how our parents and relatives endured unequal salaries but they managed, they sacrificed, they built homes, they purchased homes and the next generation to just lose them ... it's just hard to take," Calhoun said.
Raul Alvarez, whose non-profit group East Austin Conservancy seeks to help families with tax relief, calls it a travesty.
"History is repeating itself," he says referring to Austin's 1928 master plan. "The Black and brown people used to live downtown and when the city wanted to redevelop downtown and basically kick Black and brown people out of downtown … it seems like that's what's happening again."
How gentrification happens
Daniel Llanes, a 71-year-old artist and activist who has lived in Austin since he was 25 describes East Austin as "the classic gentrification take over of a Black area."
"Dear God, there ain't no Black culture left," he says. "The children of the people who grew up here cannot buy houses here."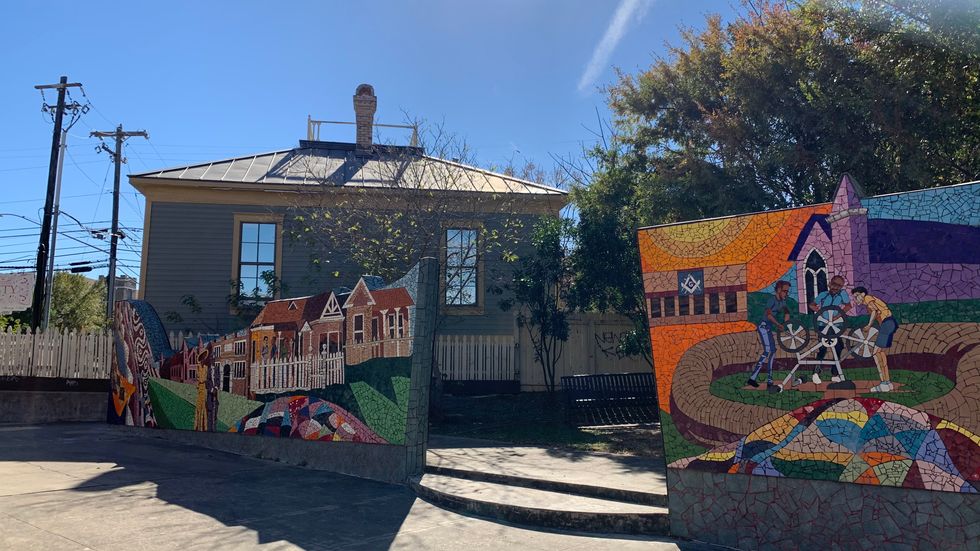 (Isabella Lopes/Austonia)
As an artist who lived in West Austin for 22 years before moving to East Austin in 1997, Llanes sees even his own move to the area as typical of how gentrification occurs.
"West-side artists could not afford to live in west-side Austin anymore, so in the late 1990s (and) early 2000s a lot of them started moving to the East side because it was cheaper to rent here. That's the first domino effect of displacement of Black and brown people," says Llanes.

Ricardo Lowe, a research associate for the Institute for Urban Policy Research & Analysis at the University of Texas at Austin, points out that the two main factors that are leading to the diaspora of East Austin are affordability and education.
Between 2000 and 2010 Austin's Black population was the only population in the nation that had declined in a large metropolitan city. Lowe points to research done by University of Texas' Dr. Eric Tang, who sought to identify the causes behind this Black migration out of East Austin.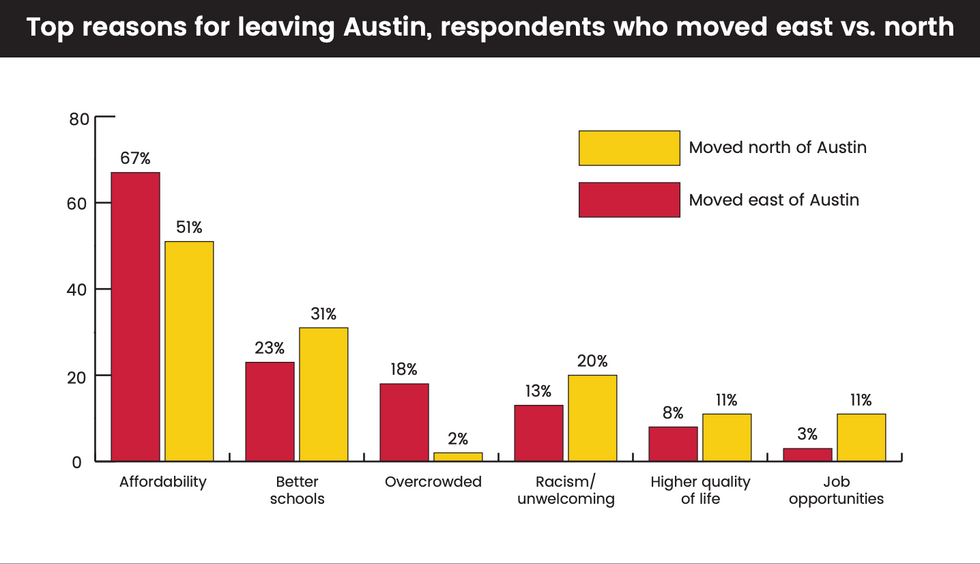 (Institute for Urban Policy Research and Analysis and Division of Diversity and Community Engagement)
The research identifies housing affordability as the leading cause for the migration to East Austin. The second leading cause was for the schools.

As Lowe explains AISD "is incentivizing displacement and gentrification in a way by ensuring that the quality of the schools remains limited and once they do create an alternative, those new facilities are going to be there as a marketing strategy to appeal to those incoming families who are moving to East Austin and are of higher means."
Lowe is suspicious of Austin's recent plans to close older schools and replace them with new buildings.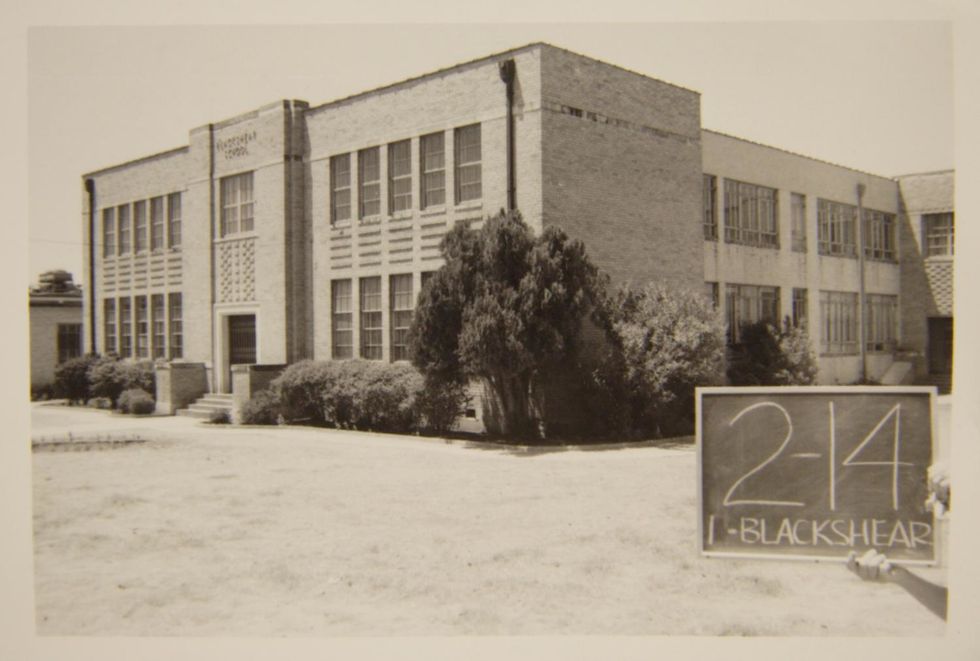 Blackshear Elementary School still stands today. It is unknown when this photo was taken.(Austin History Center)
"Who are these schools for? Are these schools for this new population that you are expecting to have in the future or are these schools really for our kids?" he said. "That is the war that is happening right now in East Austin. People making decisions on where they want to live are very tied to local schools."

What this means for Austin's Black residents
Lowe views the atmosphere of change in East Austin as absolutely demoralizing to the local Black community.
"Now if you got on 11th street now you're going to see condos, and different things like that that doesn't make East Austin even look the same. You see the graffiti in some of these spaces there, there's a Jamaican restaurant there, there's things there that are set to preserve the cultural significance of Black people in Austin, but the people there— they're not, they're not there anymore, a lot of them are being gentrified out," says Lowe.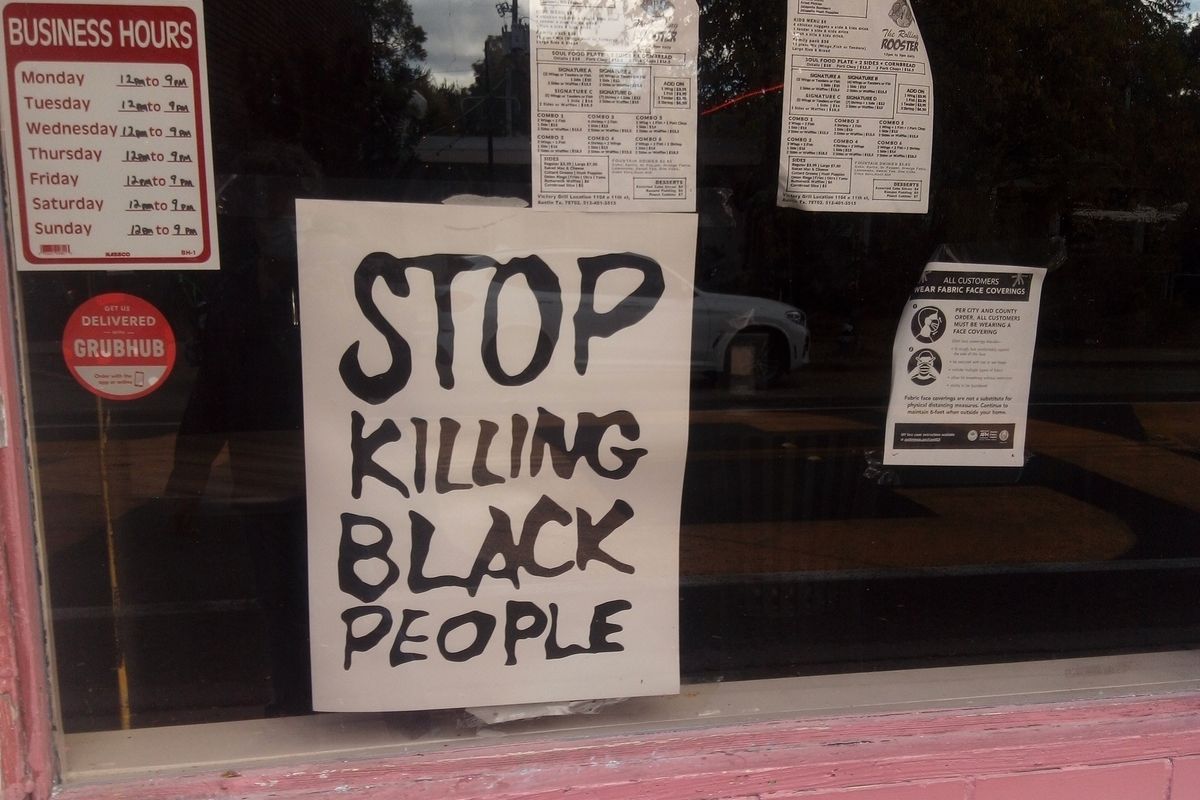 (Roberto Ontiveros/Austonia)
Lowe see's the underlying problem as systemic racism. He says the story of East Austin is not just one of gentrification and displacement, but it is also the story of how institutions continue to persist on making it difficult for people just to remain put. People are being forced to move out of the area when they can't pay for the cost of living.

"It is apparent that Austin is becoming a city that in order for you to live in, you have to contribute to that economy, because Austin wants to become a global economy," says Lowe. "Those who are not able to participate in making the global city more economically profound are finding it increasingly difficult to live there."
Roxanne Evans, member of the East Austin Coalition for Quality Education, says she believes the city is committed to affordable housing which will slow the rate of gentrification, and she hopes families who have left the area will be drawn back to the area.
"Progress is well and good, development is well and good, but not if it pushes people out and changes the whole nature of the community," says Evans.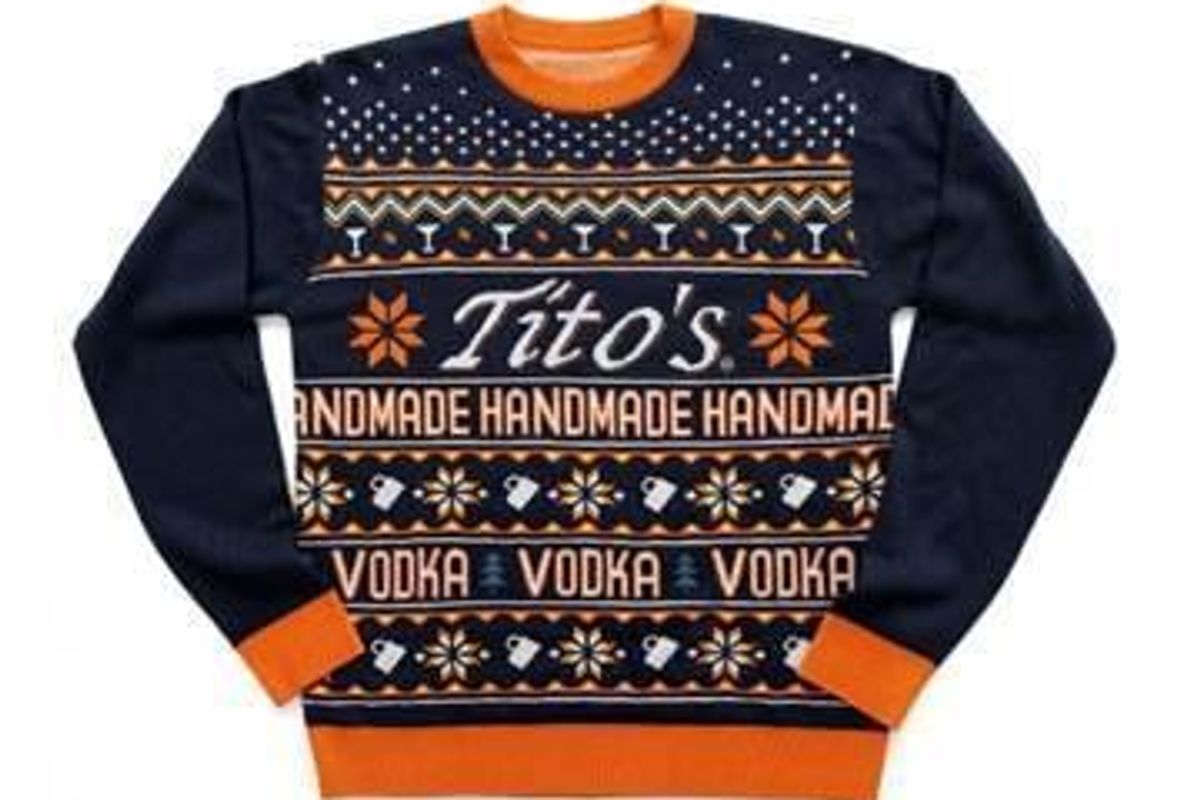 Show your love for Tito's and for the community this year with a wide selection of not that ugly, uglyish, ugly, uglier, and ugliest holiday sweaters.
There's lots choose from, and plenty of accessories like scarves and socks, plus gear for your dog, too.
All of the items can be purchased online or at the Love, Tito's Retail Store in Austin, TX. 100% of all net proceeds from online or in-store purchases go to one of the nonprofits we've teamed up with.
Click here to see the entire collection in the Tito's store.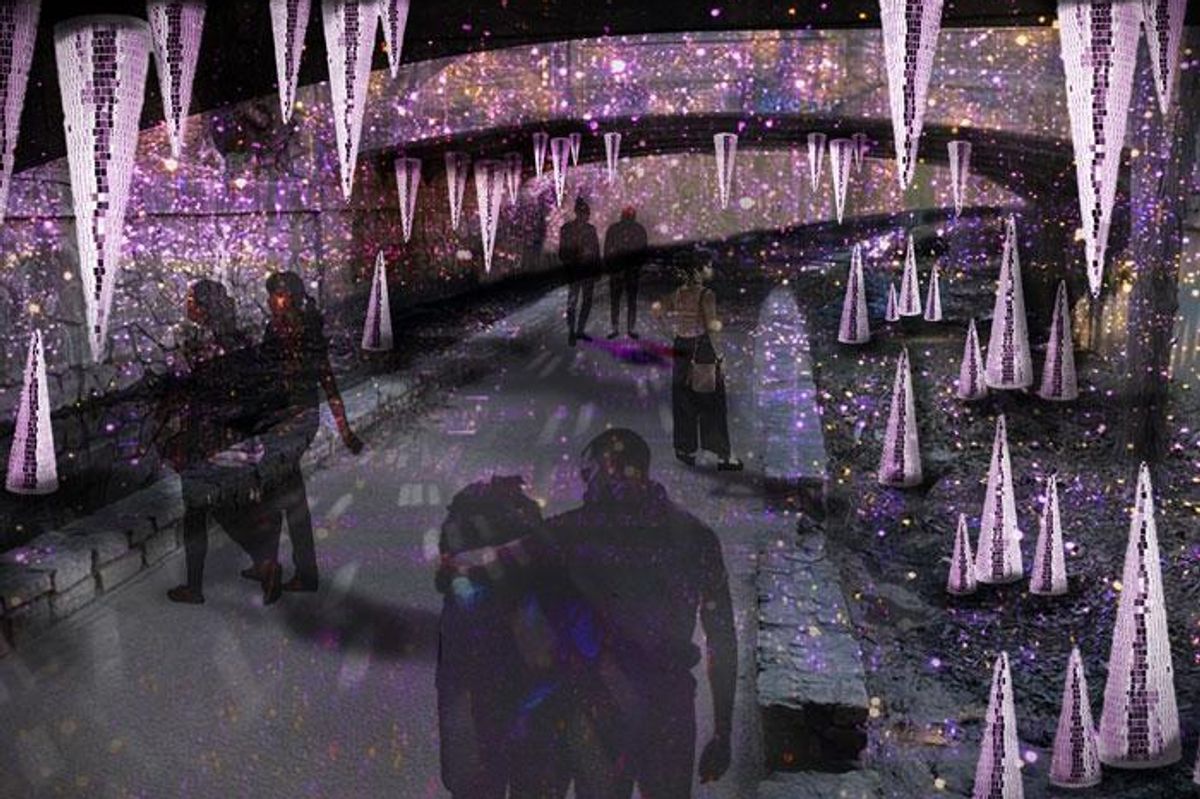 Waterloo Greenway, Good Vibrations Installation
🗓 All weekend
Check out this highly anticipated art exhibition with illuminated art along Waller Creek. Tickets are free and the event includes food vendors, dazzling lights, live music, and hands-on activities
All weekend 6 p.m - 10 p.m | 📍Waterloo Park
This iconic holiday tradition lights up for the first time this holiday season starting this weekend! Reserve your spot for an enchanting light and sound performance, delicious hot cocoa, sweet treats, and some overall fun with your friends or family. The show runs till January 6th.
6 p.m and 9 p.m | 📍Mozart's Coffee Roasters - 3825 Lake Austin Blvd, Austin, TX 78703
🗓 Saturday
This fitness event is free and open to the public. Get your morning started right with a "Fitness in the park" class for kickboxing! The class will be led by certified instructors and is a great way to get a cardio workout in while also honing your self-defense skills.
10 a.m - 11 a.m | 📍 Metz Park
Support local LBGTQ+ and female artists at this outdoor market with over 150 vendors. Get your holiday shopping out of the way at this event, with vendors for food trucks, handmade goods, raffles, hands on workshops and activities, and more.
11 a.m - 5 p.m | 📍Ani's Day and Night - 7107 E Riverside Drive, Austin, TX 78741
Did someone say cheese?! If you're like me and always willing to get your hands on a bowl of mac and cheese, then this event is for you. Check out the Mac and Cheese festival happening this weekend to decide which vendor has. the best mac and cheese for yourself, and enjoy the bar with creative cocktails while you're at it. Tickets start at $45.
11 a.m - 3 p.m | 📍Lantana Place - 7415 Southwest Parkway