Get connected with our daily update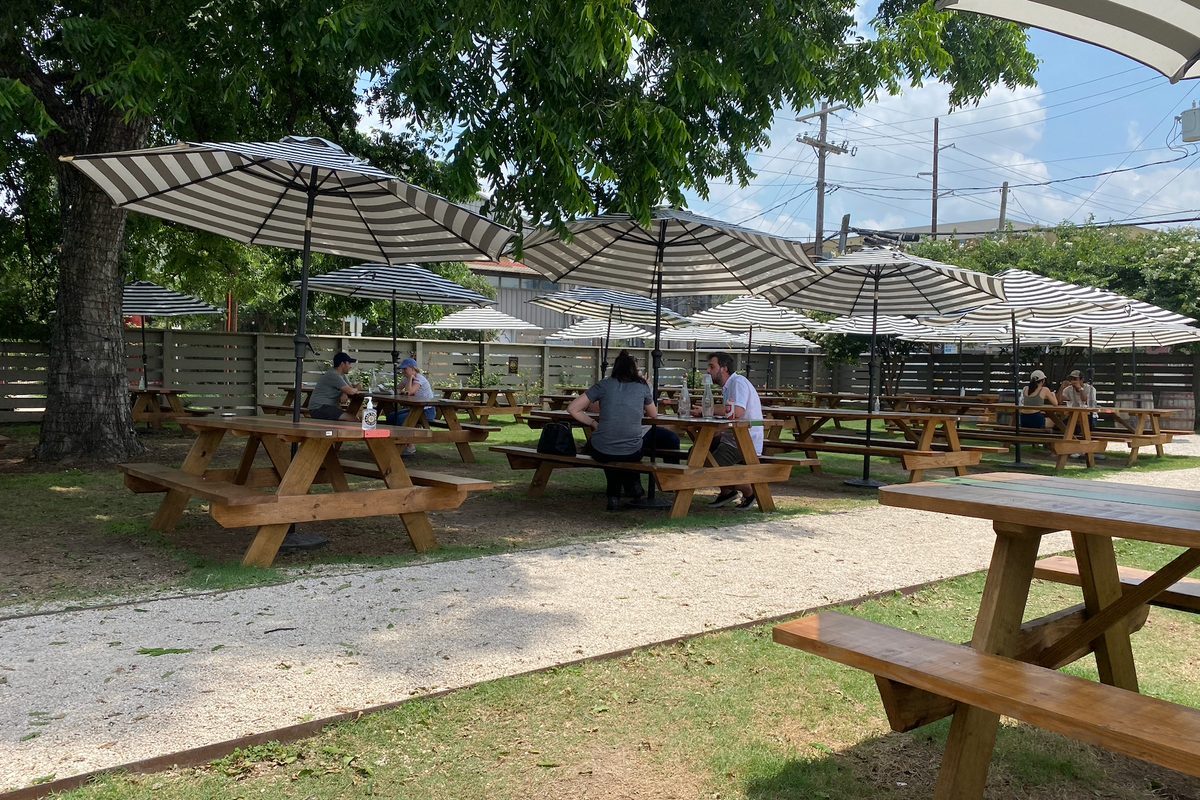 Twenty-six frustrated Easy Tiger servers have either quit or are planning to leave the local chain's East 7th Street location, according to employees involved. But management has a different story on the "walkout" and the events leading up to it.
---
In an Instagram post from the Texas Service Industry Coalition page, an anonymous employee said that a total of 26 employees have walked out, put in their two weeks or made plans to leave after a new president, Sue Kim, joined the team in January.

"The basis of our mass 'walkout is the level of respect we have been receiving since January," the post read. "(Kim has) come in full force changing venue layouts which requires the servers to move 50+ 200 lb tables multiple times, completely gutting our menus, and even shortening our venue hours (with little-to-no heads up for the employees.)"
An employee who spoke with Austonia and wished to remain anonymous to avoid possible repercussions, said the location staff met Kim at a meeting in early March. Austonia's source said Kim interrupted the manager and gave a "long and intense speech" on her passion for serving people, leaving the restaurant before any staff members had the chance to introduce themselves.

More unrest occurred during SXSW last month when the East 7th location was primed to be the chain's prime festival spot.
"(Kim's) idea was to have it set up sort of like a fair/carnival, where you had to buy tickets in order to buy anything else," the source said. "The pricing for the tickets was absurd and led to over half of our customers just walking away instead of buying anything, so our tips were almost nothing by the time the week was over."
Shortly after, both the Instagram post and the source said that Kim called the restaurant's General Manager and Assistant Manager "r****d stupid and unable to talk to their employees," prompting two managers to put in their two weeks. Because the Easy Tiger staff had become what both sources called "a big family," as many as 30 others followed or plan to follow suit.
"We don't want to work somewhere we won't be respected or have people to stick up for us, and without those two managers (we) wouldn't have that safety anymore," the source said.
An Easy Tiger representative told Austonia that the name-calling event never happened.
"We vehemently defend our leadership team and deny any of the rumors spreading about verbal abuse and name-calling; that is just not true and we would never condone it," the representative said.
According to the representative, five employees did not show up at the location immediately following SXSW. The representative said that 12 of its 80 staff members have given notice since, making short-term net turnover 10% and "on par with industry averages."
"The allegation of a 26-person 'walkout' is completely false," the representative said. "Each employee situation is unique and personal and we respect that. People have a choice where they work and we support that. For all staff who chose to leave, we paid them out fully for their two weeks' notice period as part of our standard practice."
The representative also said that the ticketing model was made "to speed guest service and help our staff," but because it didn't work, the company suspended it midstream and gave around $11,000 in sales to support staff.
Austonia's source says that others are planning to leave, however, prompting the "walkout" claim, and that they won't stay unless the manager is removed from staff.
But with plans to "reevaluate (its) core service model" and "focusing the menu," according to the Easy Tiger representative, the source said there are rumors that Easy Tiger will soon rid its East 7th location of servers altogether.
"There's been no attempt on (Kim's) part to explain any of the changes or accommodate to any of the employees," the source said. "We have all been left to wonder about the security of our jobs... (Kim's) whole time here has been extremely impersonal."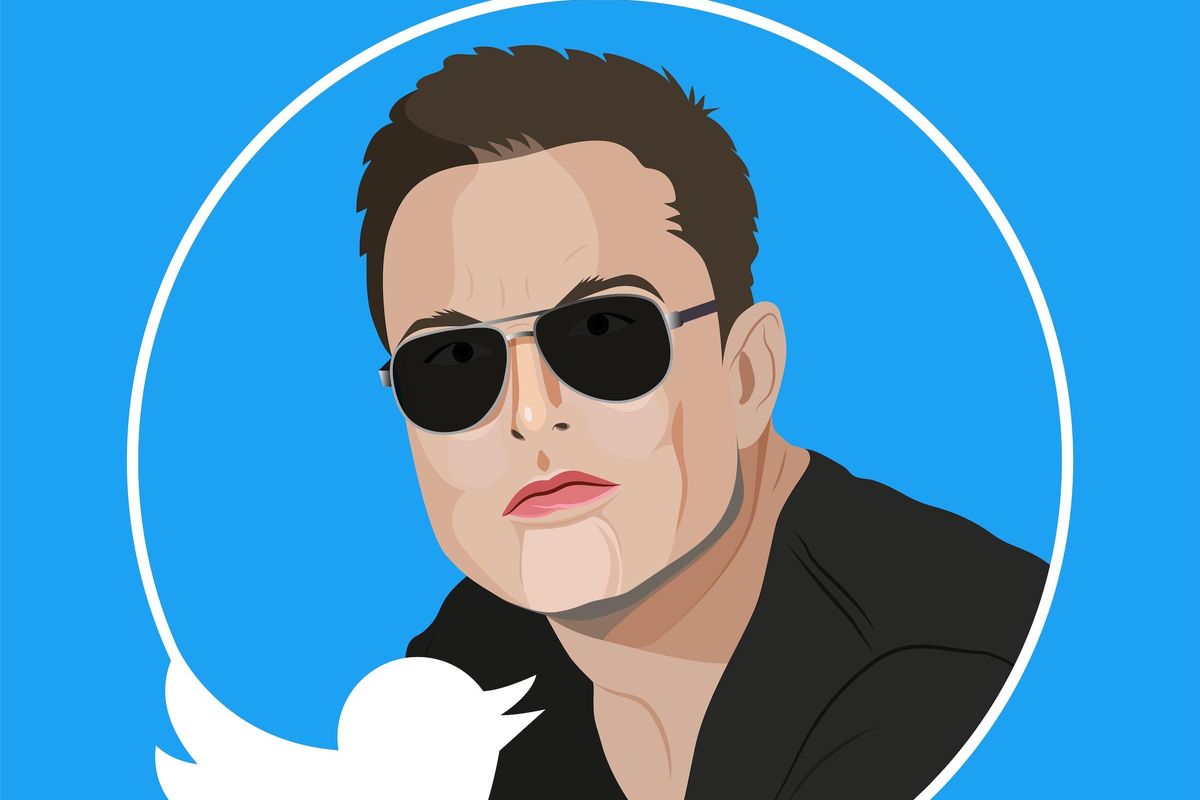 Shutterstock
Elon Musk has proposed once again to buy Twitter for $54.20 a share.
The news that Musk is offering to carry on with the $44 billion buyout was first reported by Bloomberg. Now, a filing with the Securities and Exchange Commission shows Musk made the proposal in a letter to the tech giant on Monday.
The New York Stock Exchange temporarily halted trading in Twitter stock twice Tuesday, first because of a big price move and the second time for a news event, presumably the announcement of Musk's renewed offer.
While the per share offer price on this latest proposal remains the same as the original offer, it's unclear if Musk has made other term changes or if Twitter would reject it. According to other reports, a deal could be reached this week.
The stock closed at $52.00/share Tuesday, indicating market uncertainty around the $54.20 offer.
After Musk informed Twitter of plans to terminate the original agreement in July, Twitter sued. A trial has been expected in Delaware Chancery Court on Oct. 17.
With the proposition of a buyout on the table again, it revives the question of whether Musk might move Twitter from San Francisco to Central Texas.
He's done so with some of his other companies. Tesla's headquarters in southeast Travis County had its grand opening earlier this year and tunneling business The Boring Company moved to Pflugerville. At least two other Musk companies, SpaceX and Neuralink, have a Central Texas presence without being headquartered here.
Technology journalist Nilay Patel this afternoon voiced concerns that owning Twitter and Tesla together could be problematic for Musk, as his Tesla manufacturing facilities in Germany and China are both in countries that have disputes with Twitter over content moderation and censorship.
Telsa shares fell after the Twitter news became public, before rallying to close up, at $249.44.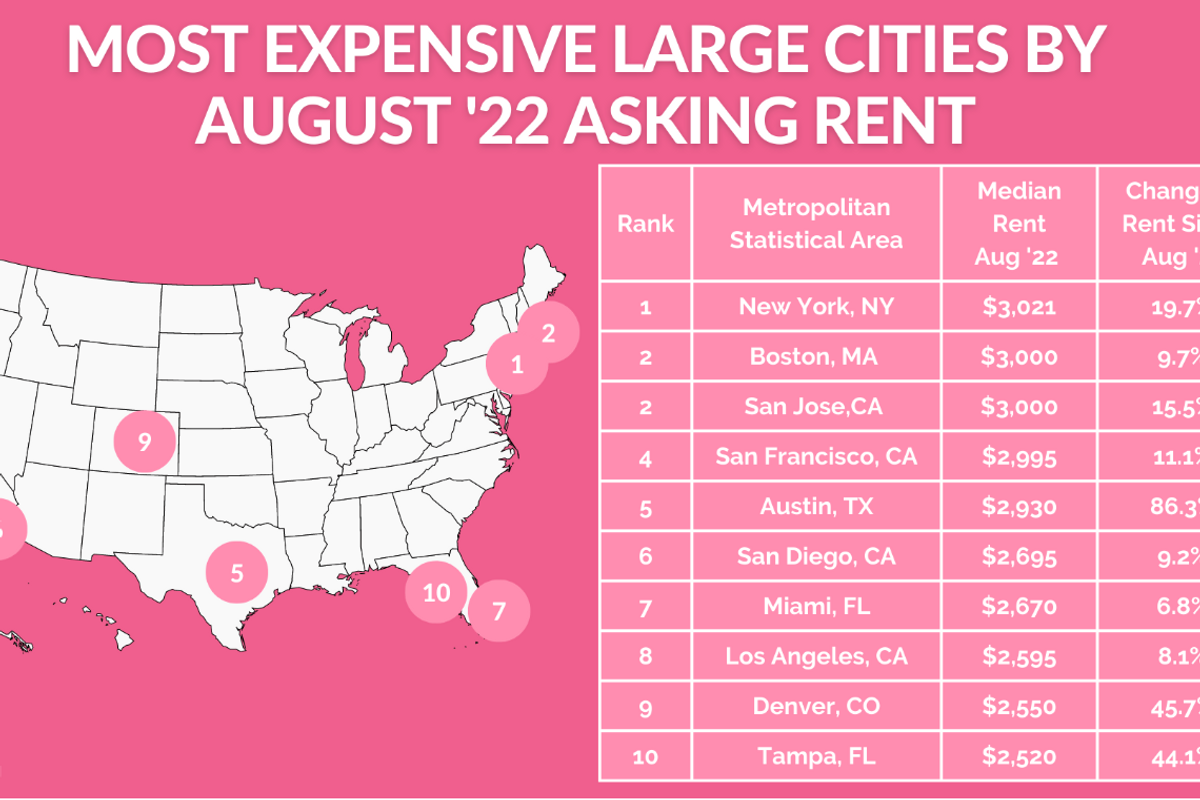 Dwellsy
While searching for a place to live, Austin renters will face monthly rates of nearly $3,000, a recent guide from rental marketplace Dwellsy shows.
The median rent in August this year was $2,930, a more than 86% increase since August 2021. That's $820 more than the nationwide median asking rent in August and puts Austin just below the Bay Area, Boston and New York for large cities with the most expensive asking rent.
"Within this group, Austin, TX stands out for the highest increases in asking rent, which has nearly doubled since this time last year," the study notes.
Outside of those large cities, however, others are seeing even higher rent spikes. Metro areas that ranked above Austin in one-year increases include those like Kansas City, MO with a 112% change in rent since last August and Tucson, AZ with a 124% change.
The data reflects large apartment communities, single-family homes and 2-6 unit buildings.