Austonia AM
100% Austin news, info, and entertainment, straight to your inbox at 6 a.m. every morning.
In five minutes, you're fully informed and ready to start another great day in our city.
Get connected with our daily update
Facebook is the latest of several employers in Austin to begin requiring vaccinations for their employees.
The company, which announced the controversial shift Tuesday afternoon, joins Ascension Seton, Baylor Scott & White and the Department of Veterans Affairs in requiring that their employees be vaccinated. Other Austin businesses, including Waterloo Records and St. Edward's University, have begun requiring masks once again.
Just before Facebook's announcement, Mayor Steve Adler submitted a request to the city manager, which was later denied due to an executive order from the governor, for city of Austin employees to require proof of vaccination to continue work. He cited the rapid uptick in cases and hospitalizations as the reason for the request in a statement on Wednesday afternoon. Austin was labeled a high-risk area for COVID transmission on Tuesday, according to CDC data.
"With alarming increases in cases, ICU admissions and community positivity rates, we must do more," Adler said. "I urge Austin businesses also to require their employees to become vaccinated. We must all lead by our own example."
President Joe Biden recently said the current administration is considering a vaccine requirement for federal employees as well. "That's under consideration right now," Biden said. "But if you're not vaccinated, you're not nearly as smart as I thought you were."
While government-mandated "vaccine passports" were barred by Texas Gov. Greg Abbott in April, employers can enforce vaccine requirements, with some exceptions.
In June, a federal judge dismissed a lawsuit made by employees at Houston Methodist Hospital after they sued their employer for requiring vaccines. The move may open the floodgates on more mandates, Ryan Rivas, a partner at law firm Hall Booth Smith PC. told the Business Journals. "The Texas decision has been a lightning rod for everybody," Rivas said.
Austin has had less vaccine hesitancy than other Texas metros, with almost 63% of those eligible fully vaccinated. Still, Adler's request may get some pushback from city employees who aren't eager to get their jabs. Austin Police Association President Ken Casaday told KXAN in April that some city police officers were hesitant.
Adler's statement is the latest in his efforts to ramp up COVID-safe protocols, even with pushback from state officials. On the same day that the CDC recommended indoor masking for vaccinated individuals in high-risk areas, including Austin, and masking for schoolchildren in the fall, Abbott doubled down on his commitment to not implement another mask mandate.
The time for government mask mandates is over—now is the time for personal responsibility.

In May, I signed an executive order prohibiting mask mandates by gov't entities.

Every Texan has the right to choose whether they will wear a mask or have their children wear masks.
— Greg Abbott (@GregAbbott_TX) July 27, 2021
This story was updated to include that Adler's request for proof of vaccination for city of Austin employees was denied due to an executive order from the governor.

The Moody Center, a $338 million, 530,000-square-foot multipurpose arena at the University of Texas at Austin, celebrated its topping out on Tuesday.
With the final beam placed, the arena's steel-frame structural phase—which involved more than 5.3 million pounds of steel—is complete.

"This past year has been full of unprecedented events, not to mention weather challenges, and yet the women and men working on this project continue to deliver," Moody Center General Manager and Senior Vice President Jeff Nickler said in a press release.
To celebrate the topping out Oak View Group, the development and investment firm behind the Moody Center will affix a tree to the final beam in keeping with the time-honored tradition.

The practice dates back to ancient Scandinavian religious rites, which involved placing a tree atop new buildings to appease tree-dwelling spirits displaced during the construction process, according to the International Association of Bridge, Structural and Ornamental Ironworkers in Washington D.C.
After the steel-frame structure phase, the development will move on to enclosing and finishing the interior of the Moody Center.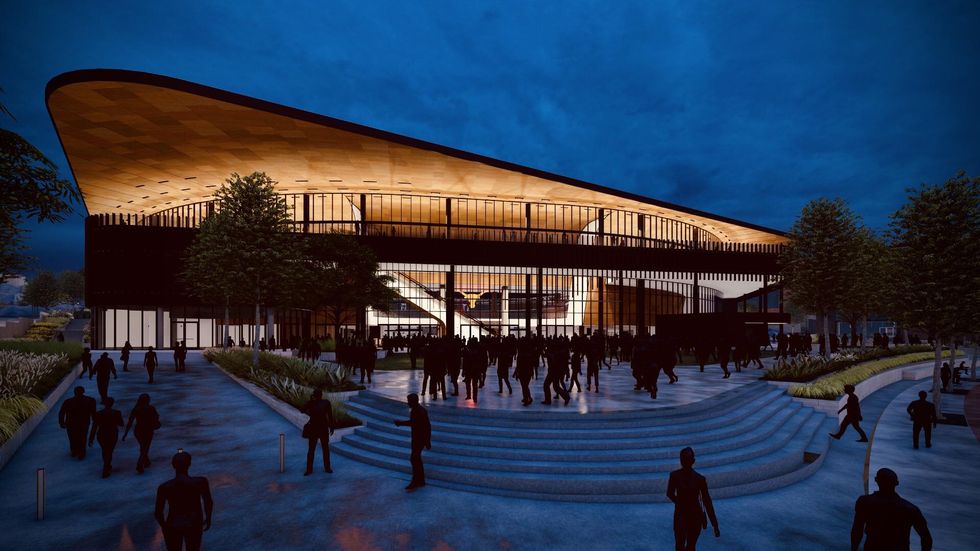 Rendering of the Moody Center. (Moody Center)
The arena is set to open next April and already has some major acts scheduled for its inaugural year, including The Weeknd, Justin Bieber, John Mayer and The Killers. It will replace the 43-year-old Frank C. Erwin Jr. Center and serve as the home of UT's men's and women's basketball games, among other sports and community events.
Days after Austin began once again recommending masks in public spaces, Austin ISD announced Monday that kindergarten through sixth-grade classes will have virtual options this fall.
The district will discuss the move in a special board meeting Monday evening starting at 5 p.m., while full details will be released Friday.
Teachers will not have to fret about the new option—no educators will have to juggle both virtual and in-person learning. Instead, certain teachers will specialize in virtual education, according to a press release.
The news comes after a recent spike in COVID cases in Travis County and across the nation. Children typically suffer fewer symptoms of COVID when contracted, but they are now catching the virus more often than their older counterparts without a vaccine available to them and as the more contagious Delta variant is quickly being spread.
While local health officials are recommending everyone wear masks, public school districts are unable to mandate masks due to an executive order issued by Gov. Greg Abbott in May.
Parents have expressed concern about classrooms with masks unenforceable and children under the age of 12 ineligible for a vaccine. Some have even said they would look for alternative schooling if AISD did not offer a virtual option for students.
The board meeting will be featured on AISD.TV and Facebook.com/AustinISD starting at 5 p.m. and will discuss more details on the virtual option.

With Austin-Travis County in Stage 4 and local COVID case counts rising, parents of young children are weighing the question: Is it safe to send kids back to the classroom?
While children under 12 remain ineligible for the COVID vaccine, public school districts are unable to mandate masks as a result of an executive order issued by Gov. Greg Abbott in May. They also lack funding for virtual learning options after state lawmakers failed to pass such legislation during the regular session.
As last year's public school pandemic closures led to an enrollment bump at area private schools as well as the explosion of learning pods—teachers paired with family groups looking for help with virtual learning—some families are again considering homeschooling their elementary school-age kids or enrolling them in an alternative online program or private school.
Mediocre options

Melissa Rojas Williams, a mother of four kids under 7 who lives in the Mueller neighborhood, talks about these options with her husband daily. If Austin ISD doesn't offer virtual learning options by the first day of school on Aug. 17, the couple is considering homeschooling or joining a learning pod. "You want your kids to be social… but the reality of COVID—it's in Stage 4—and also our kids, because of their ages, are unvaccinated," she told Austonia. "It's a harsh reality."
Rojas Williams is weighing priorities as she decides how to proceed. Her youngest child is 2 years old, and she worries that he lacks basic immunity after growing up almost entirely in quarantine. But she wants her older children to experience in-person schooling and knows that another year of virtual learning or homeschooling would come at a cost to her and her husband's careers. She's already extended her graduate studies at the University of Texas at Austin an extra year as a result of the pandemic.
"The worst part is this year is still better than the last because we seem to know a little more about what works," she said.
The privilege to choose
Similarly, Pete Gilcrease, a father of two—ages 9 and 5—in Hyde Park, is considering homeschooling or an alternative online program if AISD does not offer a virtual learning option. Superintendent Stephanie Elizalde told the Austin American-Statesman editorial board last week that the district is considering offering limited virtual learning; more information is due to be released by next Monday, according to the district.
Gilcrease worries that if his kids do attend school in person they could contract a case of COVID and suffer long-term effects. So until they are eligible to get vaccinated, he and his partner will choose to work from home to facilitate online learning. But he is frustrated with state and federal policies that force some parents to choose between their income and their children's health. "Most people don't have a choice," he said.
Scrambling for an alternative
Carrie Collier-Brown, a lawyer, is also frustrated. She and her husband recently moved their family to West Austin, where her kids—an 11-year-old rising sixth grader and 5-year-old twins—would attend Eanes ISD this fall. But now she is considering moving her twins to a private school or joining a learning pod because they are too young to be expected to wear masks all day without enforcement.
Austin is hurtling toward Stage 4, just in time for school. We have 3 kids who can't get vaxxed yet. Public schools are prohibited from requiring masks and have no funding for virtual school. I'm super pissed. pic.twitter.com/P8NjOnNWfr
— CCB (@ATXCollierBrown) July 20, 2021
Such a switch would involve scrambling to enroll the twins in a new program at the last minute and possibly committing to another year of virtual schooling, which would affect Collier-Brown and her husband's work lives. "It was nothing that we ever wanted to repeat," she said of the last school year.

Like many parents, Collier-Brown understands that school districts are in a bind. But she is fed up with state officials, whose policies, she says, don't seem to acknowledge the fact that young children cannot get vaccinated, and adults who opt not to. "Their selfish choices are directly impinging on my family's freedom," Collier-Brown said. "I think it's their turn to stay home."