Get connected with our daily update
(Austonia staff)
The University of Texas-Austin continued its march toward a new normal on Friday, as university President Gregory Fenves marked his last day of leadership after five years in office—the final two months of it dominated by sweeping pandemic-era changes on campus.
---
As he heads to Atlanta to lead Emory University, Fenves passes the torch on Monday to Interim President Jay Hartzell, dean of the McCombs School of Business, who takes the helm just three months before classes start on Aug. 26.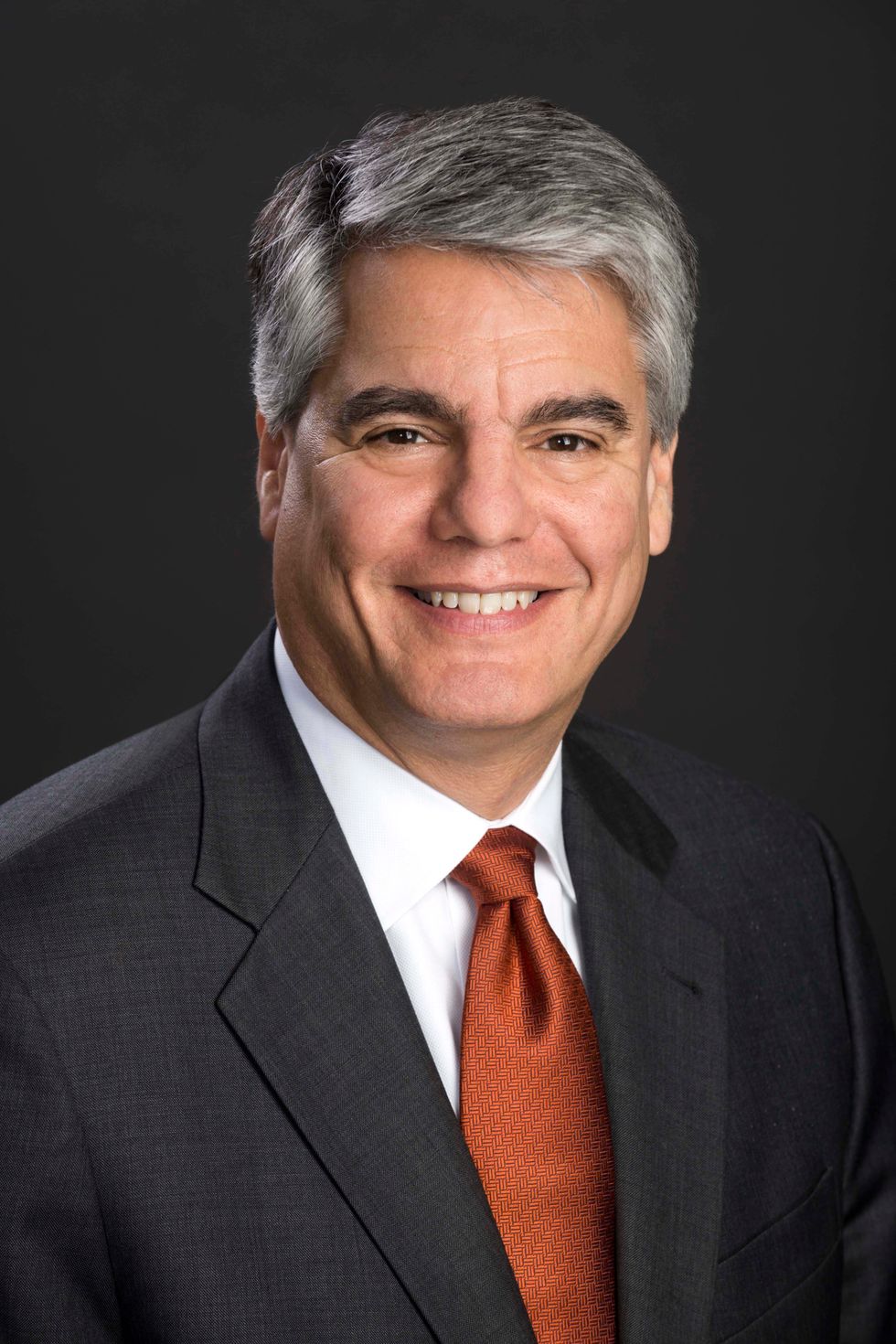 Greg Fenves(Marsha Miller/University of Texas)
Hartzell faces a term marked by new protocols aimed at containing the spread of COVID-19 among students, faculty and staff on campus. University officials said that the transition, even in such uncertain times, is expected to be smooth.
"Even though this is a challenging time for higher education nationally, UT-Austin has prepared well for the transition in leadership to President ad interim Hartzell," Kevin P. Eltife, chairman of the UT System Board of Regents, told Austonia on Thursday, saying he has "full support" of the university leadership.
Depending on his own plans and how long it takes university officials to name a permanent replacement, Hartzell will almost certainly also be called upon to play the roles of politician and advocate in the Texas Capitol, just two miles away, when UT faces budget cuts during the Legislature next year.
But officials say Hartzell's immediate mission is to ensure the campus is ready for its approximately 40,000 students to return to a safe, productive learning environment that is as valuable as it was before the pandemic caused so many changes.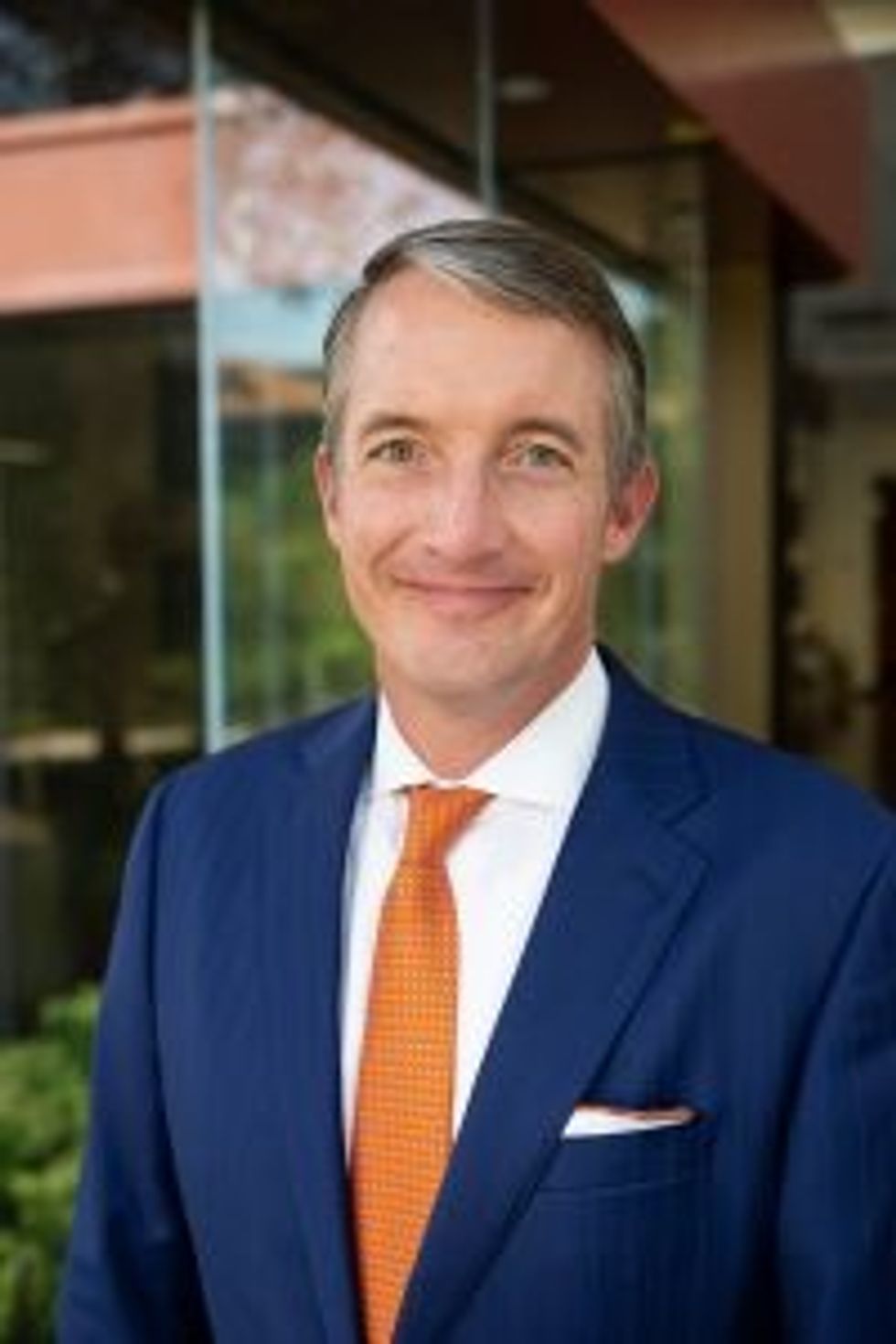 Jay Hartzell(University of Texas)
"Our number-one goal at this time is to ensure that UT institutions are prepared to educate students, serve patients and conduct critical research in environments safe for students, faculty and staff," UT System Chancellor James B. Milliken told Austonia on Thursday. "[Hartzell] has very successfully led one of the largest colleges on campus, and for the last couple of months, he has been involved in all major decisions as the institution navigates the challenges of the pandemic and budget reductions. We need this kind of experienced leadership in the months ahead."
Neither Fenves nor Hartzell were available to comment this week.
The news that Fenves was leaving came less than two weeks after the university officially closed to contain the spread of coronavirus. It capped a term marked by success in financial aid and graduation rates, and no headline-grabbing scandals or damaging public infighting.
His announcement was a surprise to many because Fenves' candidacy at Emory, whose president vacated the role late last year, was not made public until both universities made official announcements on April 7.
It was not long after Maurie McInnis, then the provost, said she would leave at the end of the semester to become president of Stony Brook University.
Even Hartzell expressed surprise at his new role, joking last month that he was hurrying to organize his office so the new dean of McCombs, Lillian Mills, could easily take over when he moves to the tower leadership offices.
Fenves wasn't specific about his reasons for the move, but given the nature of the two vastly different jobs, Fenves likely heads to higher pay, better decision-making control, more privacy, less meddling by politicians and an overall less-public role at the prominent private research university in Georgia.
Former UT Chancellor Mark Yudof describes the post as "a great job," but one that is highly accountable to taxpayers, lawmakers, and the media in several ways—particularly as it comes to campus policies and budgeting.
Testifying before the state Legislature and fighting for funding, for example, is a vital part of the role—one Yudof relished, as a lawyer who spent his career at public institutions. By contrast, the focus of private school leadership tends to more "inward" on education and internal campus issues, he said.
"It's very different," said Yudof, who served as president of the University of California after UT. "I've never held a high post in a private school, but I did for a time think about whether I should make the move."
The Texas French Bread Bakery, located on 2900 Rio Grande Street, has been completely destroyed after a fire erupted on Monday night.
The Austin Fire Department responded to the fire just before 11 p.m., where they arrived to see flames coming from the roof of the bakery. Firefighters fought the fire for about an hour before the roof collapsed.
While no one was injured in the fire, firefighters say the historic building was completely totaled.
AFD determined that the fire was accidental and caused by mechanical failure. AFD said the damages amounted to $1.6 million total: $1.1 million in structural damage and $500,000 in damage to the contents of the bakery.

This year, Texas French Bread will celebrate 40 years of business. Before the bakery occupied the building, it was the Rome Inn, a music venue that hosted 1970s artists like Stevie Ray Vaughan.
Austin's first major league team is ready to extend its reach with a new collaborative sports complex The Pitch, an Austin FC destination packed with local food, beverages and Verde fervor is set to open in Northeast Austin in February.
The Pitch, a collaboration between Austin FC and Karlin Real Estate, among other entities, will be located in the 50-acre Parmer Pond District, which already hosts the club's practice facility St. David's Performance Center.
Dubbed a "true destination" for both soccer fans and the community, The Pitch will consist of multilevel shipping containers designed by Mark Odom Studio that will carve out into a 1,200-seat stadium complete with a soccer pitch made of turf, food and beverage options and a five-acre "Parmer Pond" featuring jogging trails.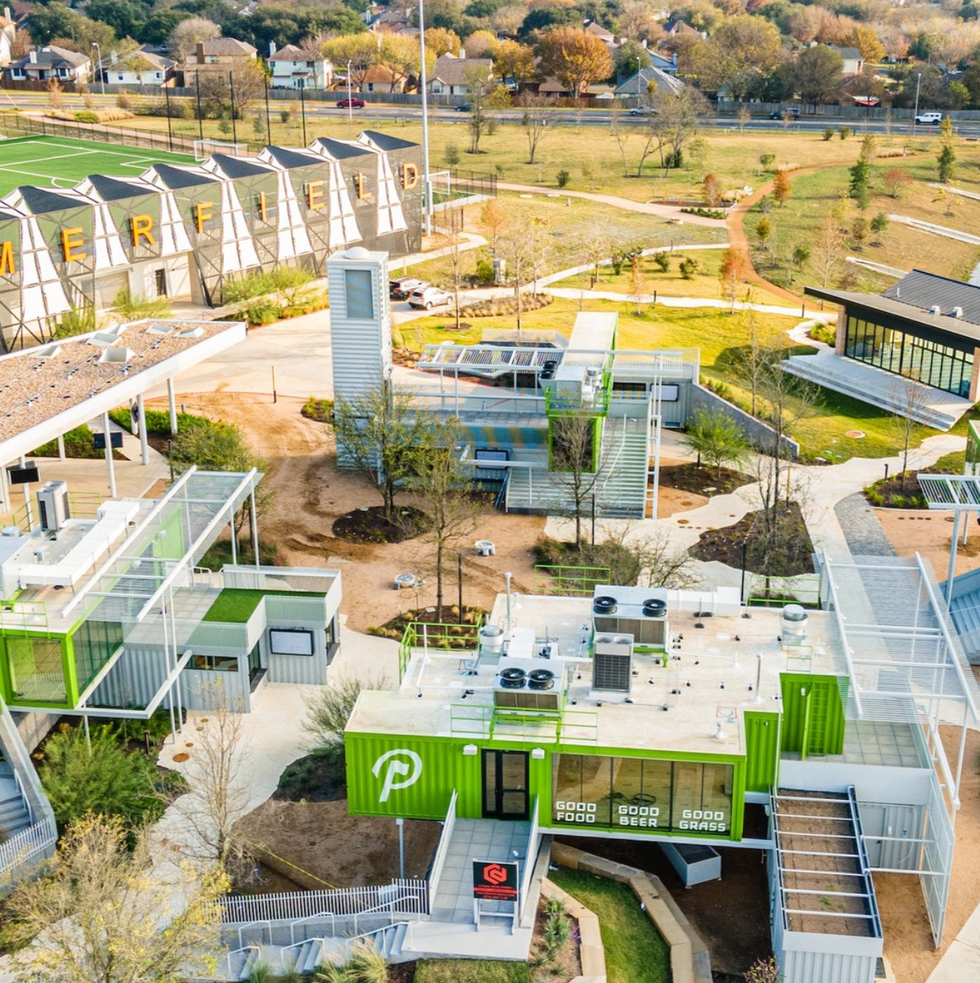 Made from multilevel shipping containers, The Pitch will include food and a 1,200-seat soccer pitch made from artificial turf. (The Pitch)
"The launch of Karlin's new food and entertainment experience will greatly enhance the Parmer development while perfectly complimenting St. David's Performance Center," Austin FC founder Anthony Precourt said. "The Pitch... will offer a strong variety of food options and gathering spaces for guests who will utilize St. David's Performance Center and Parmer Field for a variety of events."
The Pitch project lead Dave Greeley, who helped come up with the concept, is a former president of Austin FC parent company, Two Oak Ventures.
"The vision behind The Pitch at the Parmer Pond District is to be a first-of-its-kind sports, dining and entertainment destination," said Dave Greeley, The Pitch project lead and Team Orbis president. "This will be an unmatched experience for Parmer Austin tenants, Austin FC and club supporters, and the community."
With its proximity to the practice center, the venture hopes to contribute to the growing "soccer city" of Austin during Austin FC matches and youth games with the Austin FC Academy hosted at the St. David's Performance Center.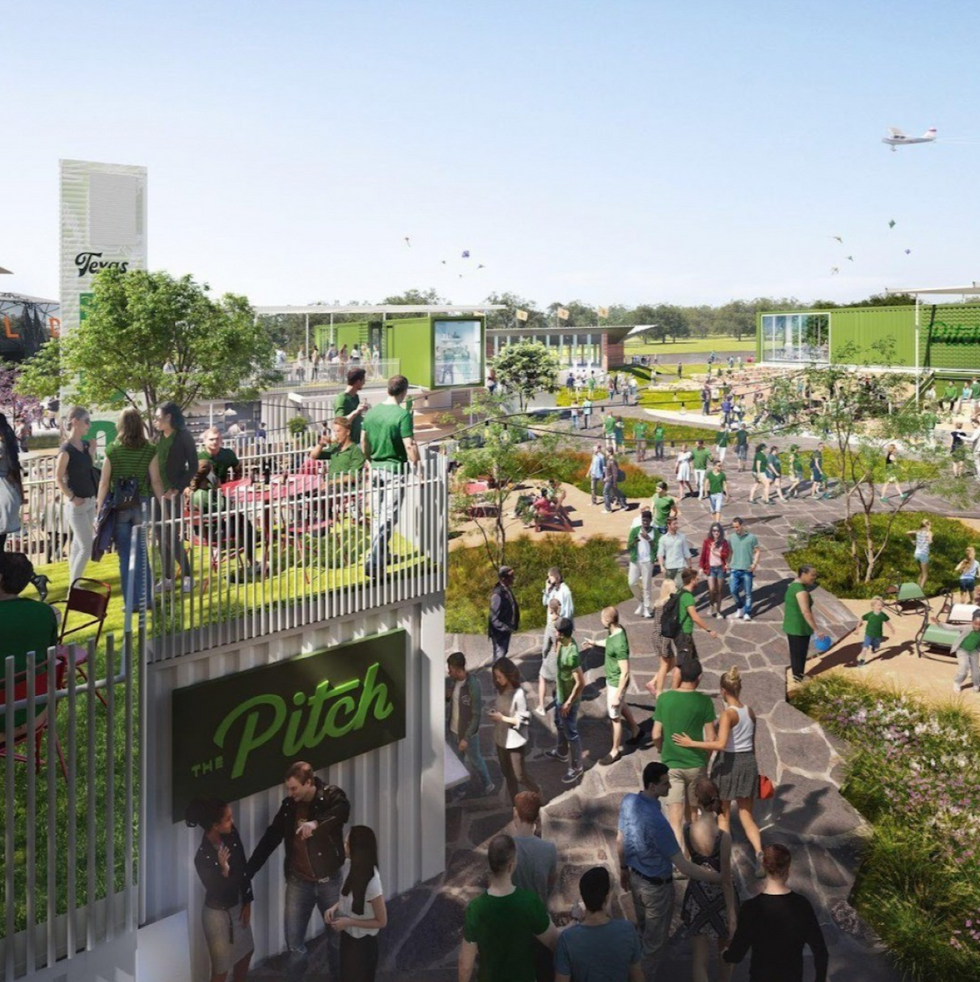 The Pitch hopes to converge both community and club interests with Austin FC. (The Pitch)
In addition to the soccer pitch, stadium and pond, The Pitch will provide a foody experience made by the creative team behind Austin staples like Fareground and Easy Tiger. The complex will offer local bites including:
Ranger Burger, which offers beers and burgers made from highly-coveted Wagyu beef direct from Ranger Cattle in East Austin
Ga Roti, which merges flavors from Northern Vietnam with the culinary techniques of France to create a unique rotisserie chicken joint
Taco Flats, a local taco chain serving Mexico City-style tacos, micheladas and more
Sand Bar, which fulfills its namesake with beauty cocktails, local beers and a sand volleyball court
Coffee Club, a coffee shop and bakery
Corner Kick Bar, the soccer-focused main bar of The Pitch complete with "tunes, TVs and (a) beer garden"
The Pitch will squeeze between St. David's Performance Center and Parmer Pond alongside the southern edge of Parmer Austin, a Karlin Real Estate venture that will eventually include multifamily housing, corporate office space and an aerospace and defense center.