Get connected with our daily update
(kennytong/Adobe)
The dozens of University of Texas athletes who called for the school and athletics department to address a history of racism faced immediate backlash on social media.
---
While many students and alumni tweeted in solidarity last week, other fans and alumni strongly opposed their requests, suggesting they transfer schools and calling their requests "blackmail."
@MarqezBimage_ @TexasLonghorns Much easier to just replace the players. it works like blackmailing and ridiculous d… https://t.co/WRZ0hQVDQq

— lian (@lian)1592003694.0
A major point of contention was the athletes' request to scrap the school song "The Eyes of Texas," which they are required to sing at athletic events. The song was first performed by a group of students in 1903, UT Vice Provost for Diversity Edmund Gordon said.
"The Varsity Quartet performed it in a minstrel show at the Hancock Opera House, and the assumption, because it was a minstrel show and they were minstrel performers, is that it was performed in blackface."
@BDavisAAS The eyes of texas is not racist. I mean come on people. We have to change for sure. I agree we should ad… https://t.co/wqRARBYbnS

— Orren Lilly (@Orren Lilly)1591991988.0
Soon after, "The Eyes of Texas" was adopted as the university's school song, Gordon said. The words are a deviation of "The eyes of the South are upon you," a phrase often used by Robert E. Lee, commander of the Confederate Army.
@given__talent @TexasLonghorns Wow. .. . okay. .maybe I'll have to take my Horns Down after this BS.

— Blondie (@Blondie)1591999301.0
"I think that a lot of people have a hard time dealing with the history of the country, the history of the state of Texas and the history of the University of Texas and would like to wish that away," Gordon said. "As a university, we need to be critically engaged and knowledgeable about our history."
Gordon said there can be an argument for buildings and monuments to be used as a "scarlet letter" to educate people on the university's past and think critically about the future, but people who do not want changes on campus tend to use claims of tradition and history to avoid it, Gordon said.
"They're not able to empathize with black folks who are made uncomfortable by these things because they're in a different position, and they don't think they have a responsibility to empathize with us," Gordon said. "Beyond that, they think that they have particular kinds of rights to a celebration of what they understand to be their positive past, that are as important or more important than the rights of certain groups of people to be comfortable in this setting."
Athletes also requested that several buildings be renamed, listing four that are currently named after men with racist legacies: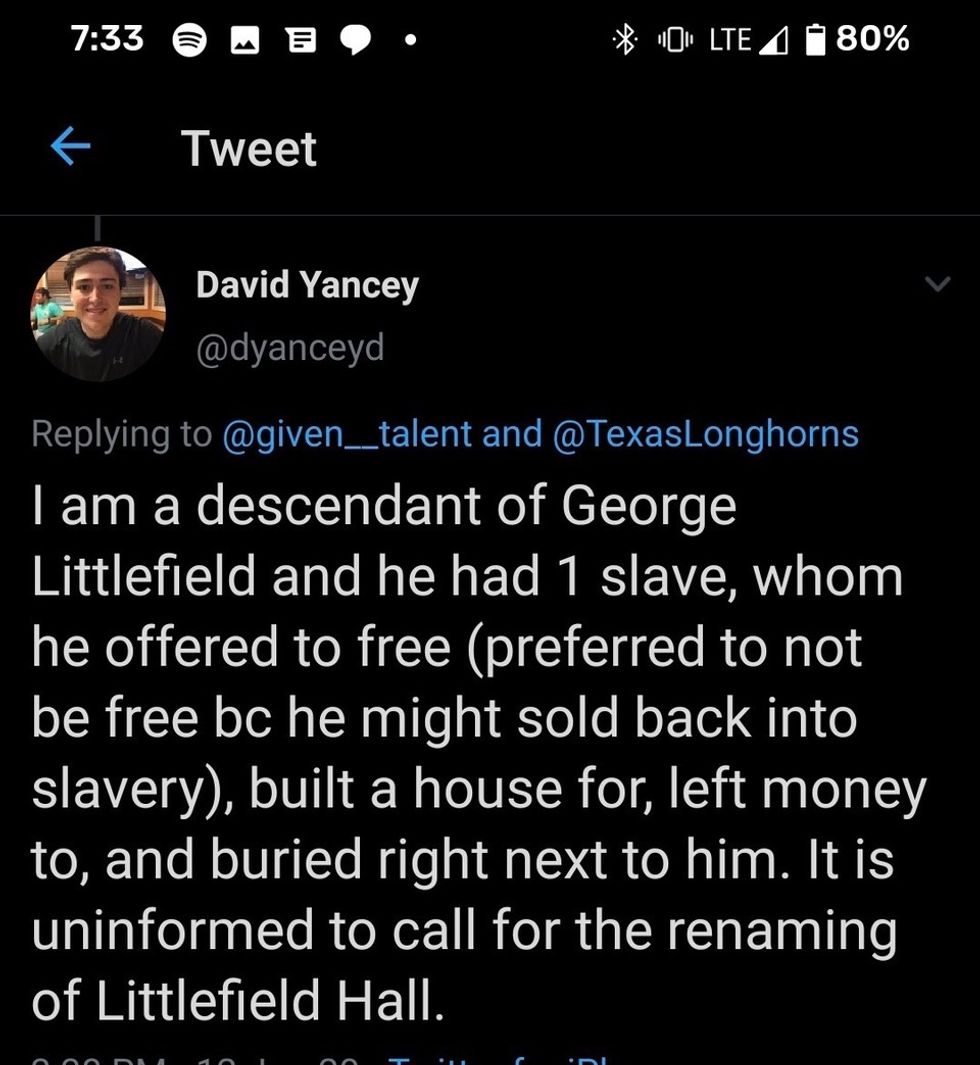 The final word on renaming buildings is in the hands of the UT Board of Regents, who have not yet made a statement.
Athletes and students called for more diverse statues to be added to campus, as well as more diversity within Texas Athletics, including more representation in the Hall of Fame and a tribute to the first black football player at UT, Julius Whittier. UT's Athletic Director tweeted Friday that he was willing to have conversations with students about the changes they're calling for.
UT's Interim President Jay Hartzell sent a university-wide email Monday saying that he is scheduling conversations with students and athletes to hear their concerns, although he did not mention taking action on any of the specific demands that student-athletes called for.
"During the past few days, I have heard from many students, alumni, faculty and staff asking for meaningful changes to promote diversity and equity and ensure that black students at UT are fully supported," Hartzell said in the email. "Working together, we will create a plan this summer to address these issues, do better for our students and help overcome racism."
Five Austin companies joined Google's second Startups Black Founders Fund on Wednesday, earning $100,000 each as part of the $10 million initiative geared toward giving Black entrepreneurs access to funding for their startups.
The fund gave $100,000 to 50 founders nationwide, including Austin companies CustomerX.i, Journey Foods, Sandbox Commerce, The Mentor Method and Tadeblock.
The founders will receive the funding without giving up any ownership of their startups and will gain access to Google technical support including up to $120,000 in donated search Ads from Google.org and up to $100,000 in Google Cloud credits. The Austin companies will also join a select few—the fund is only two years old and last year rewarded 76 Black-led startups with up to $100,000 as well.
Google's Startup funds can be used to boost Black founders' companies into success—last year, founders raised up to $50 million in capital after recieving the funds, and 80% of the companies used their funds to create jobs.
Founders from last year's batch then paid it forward by nominating new companies and announcing the winners via Zoom.
Here's a look at those 5 founders in Austin:
A member of the Independent Citizens Redistricting Commission (ICRC) contacted council members asking for their home addresses despite a charter provision prohibiting the ICRC from considering such information in its mapping process, according to emails obtained by the Bulldog through a public information request.
Four council members or their staffers replied providing home addresses: Alison Alter, Paige Ellis, Mackenzie Kelly, and Leslie Pool, according to the emails dated August 9th to Aug. 17.
Austinites will once again be able to take a nonstop flight to London as Austin-Bergstrom International Airport resumes transatlantic travel this fall.
Starting Oct. 13, British Airways will offer its direct flight from ABIA to London-Heathrow Airport three times a week on Wednesday, Friday and Sunday. The airline, which has been operating in Austin since 2013, had halted service at the start of the pandemic over a year ago.
"We can't wait to welcome our customers back on board our Austin flights and we are honored to be playing our part in reuniting families and friends with their loved ones after such a long time apart," said Marie Hilditch, British Airways' head of North America sales.
Safety protocols the airline is taking include:
social distancing measures
wearing of facemasks
providing hand sanitizer stations
cleaning all surfaces after every flight
fully recycling the air once every two to three minutes through HEPA filters, which remove microscopic bacteria and virus clusters with over 99.9% efficiency
The announcement comes as COVID-19 testing requirements to enter the UK are scheduled to stop on Oct. 4. for vaccinated Americans.
Additionally, a Monday White House announcement allows fully vaccinated international travelers to enter the U.S. starting in early November with proof of a negative COVID-19 test. The ban, which was implemented in 2020, restricted travelers from a number of European countries, Iran and China throughout the pandemic.