Austonia AM
100% Austin news, info, and entertainment, straight to your inbox at 6 a.m. every morning.
In five minutes, you're fully informed and ready to start another great day in our city.
Get connected with our daily update
Already established in New York, California and Florida, Bravo's "Million Dollar Listing" star Fredrik Eklund is getting in on the burning hot housing market in Austin.
---
His team, Eklund | Gomes at Douglas Elliman Real Estate, sold their first Austin mansion, located at on Meadowbank Drive in West Austin, above the asking price of $16.25 million in a bidding war that closed in two days. With a lake view in Tarrytown, the home sits at two stories with four bedrooms and four bathrooms. The group says it is one of the most expensive homes sold in the area.
The home, interiorly designed by high-acclaimed Austin-based Fern Santini Collaborative, was prepped to be a turn-key home, or ready-to-move-in home. The new owners bought all the furniture included in her design. Every Santini project donates a portion of the proceeds to a nonprofit; in this case Health Alliance for Austin Musicians, or HAAM, benefited.
Originally from Sweden, Eklund has made a name for himself in New York real estate, where he has starred in eight seasons of "Million Dollar Listing New York," with season nine premiering on May 6. In 2019, he decided to go bicoastal and begin operations in the Los Angeles market simultaneously, which almost immediately earned him a spot on the cast of "Million Dollar Listing Los Angeles," which will soon air its 13th season. The shows follow brokers who navigate trends in the market to sell to potential clients.

As Austin's housing market doesn't seem to be letting up—even after a global pandemic—the Eklund | Gomes team have quite literally put on their cowboy hats to bring high-end homes to buyers. It wouldn't be too far fetched to think a few more Austin sales, or a year of sales like in Los Angeles, could lead to the filming of "Million Dollar Listing Austin."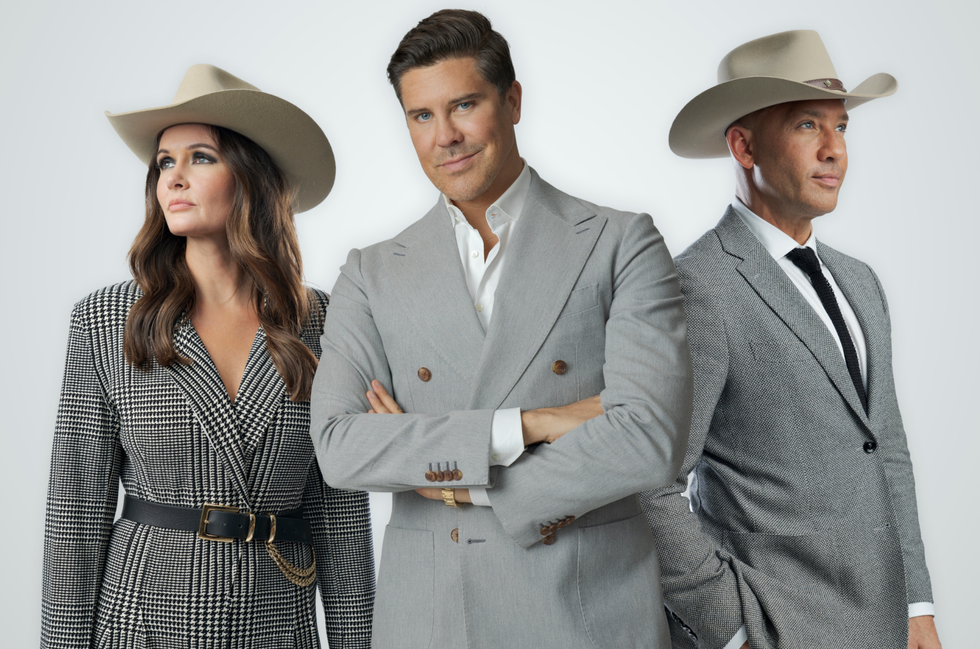 Left to right, Julia Spillman, Fredrik Eklund and John Gomes.
Home sales in the five-country metro increased 13.1% year-over-year in March, according to the Austin Board of Realtors' latest monthly report, home inventory is at a record low of 0.4 months, further driving up prices. As more business and tech professionals migrate to the Hill Country, they are looking for high-end real estate that the Eklund | Gomes team is used to selling.
"Austin has been the dream expansion for our team," said Julia Spillman, CEO of Eklund | Gomes. "With the combination of talented agents, inspiring new development projects, and some of the most beautiful homes in one of the hottest real estate markets in the world right now, Meadowbank was proof that our business model for success in this market is going to take (off) and we couldn't be prouder of our Texas expansion."
The Texas expansion goes beyond just Austin. The team is also expanding to Dallas and will soon enter the Houston market.
"As our first celebrity broker in Texas, Eklund | Gomes will bring a spotlight unlike any other brokerage to date in the Texas real estate market," said Jacob Sudhoff, CEO of Douglas Elliman Texas. "We are thrilled to support the Eklund | Gomes team and their expansion throughout Texas, starting with the property at Meadowbank in Austin. Luxury properties such as Meadowbank deserve the type of exposure that only Douglas Elliman Texas can provide."
Ingredients:
1 1/2 oz of hibiscus-infused Tito's Handmade Vodka
2 oz sparkling water
1 oz fresh lime juice
3/4 oz simple syrup
1 tsp allspice dram
Directions: Add infused Tito's Handmade Vodka, lime juice, and simple syrup to a shaker with ice. Shake and strain into a glass over fresh ice. Top with sparkling water, and garnish with a lime slice. Enjoy!
A week after Texas added two congressional seats and California lost one, state officials reported a population decline in 2020 for the first time in the Golden State's history.
California fell by over 182,000 people from January 2020 to January 2021, dropping almost 0.5% to cap out at around 39.5 million people. It is still the nation's most populous state.
For over thirty years, California has seen more people leave than move in from other states, state officials said, with 6.1 million people moving out and 4.9 million coming in last year. Immigration and births kept California growing, but the state saw a shrink in international migration in 2020 due to COVID and the White House's hold on visas.
Of the steady flow of ex-Californians moving to other states, more are moving to Texas than any other state. Many are relocating to Austin, which has been labeled a "little California" by billionaire resident Elon Musk and continues to grow astronomically.
Meanwhile, California cities including Los Angeles, San Diego, San Jose and San Francisco saw a population decline.
With immigration and state migration on the decline, the Golden State was also hit with a spike in deaths- 51,000 people died from COVID in 2020, and all but seven of the state's counties saw death rates higher than the three-year average.
Still, the California Department of Finance said a "slightly positive annual growth" can be expected next year as the state recovers from COVID deaths and political repercussions.