Austonia AM
100% Austin news, info, and entertainment, straight to your inbox at 6 a.m. every morning.
In five minutes, you're fully informed and ready to start another great day in our city.
Get connected with our daily update
Already established in New York, California and Florida, Bravo's "Million Dollar Listing" star Fredrik Eklund is getting in on the burning hot housing market in Austin.
---
His team, Eklund | Gomes at Douglas Elliman Real Estate, sold their first $16.25 million Austin mansion, located on Meadowbank Drive, in two days. With a lake view in Tarrytown, the home sits at two stories with four bedrooms and four bathrooms. The group says it is one of the most expensive homes sold in the area as it sold above the asking price.
The home, interiorly designed by high-acclaimed Austin-based Fern Santini Collaborative, was prepped to be a turn-key home, or ready-to-move-in home. The new owners bought all the furniture included in her design. Every Santini project donates a portion of the proceeds to a nonprofit; in this case Health Alliance for Austin Musicians, or HAAM, benefited.
Originally from Sweden, Eklund has made a name for himself in New York real estate, where he has starred in eight seasons of "Million Dollar Listing New York," with season nine premiering on May 6. In 2019, he decided to go bicoastal and begin operations in the Los Angeles market simultaneously, which almost immediately earned him a spot on the cast of "Million Dollar Listing Los Angeles," which will soon air its 13th season. The shows follow brokers who navigate trends in the market to sell to potential clients.

As Austin's housing market doesn't seem to be letting up—even after a global pandemic—the Eklund | Gomes team have quite literally put on their cowboy hats to bring high-end homes to buyers. It wouldn't be too far fetched to think a few more Austin sales, or a year of sales like in Los Angeles, could lead to the filming of "Million Dollar Listing Austin."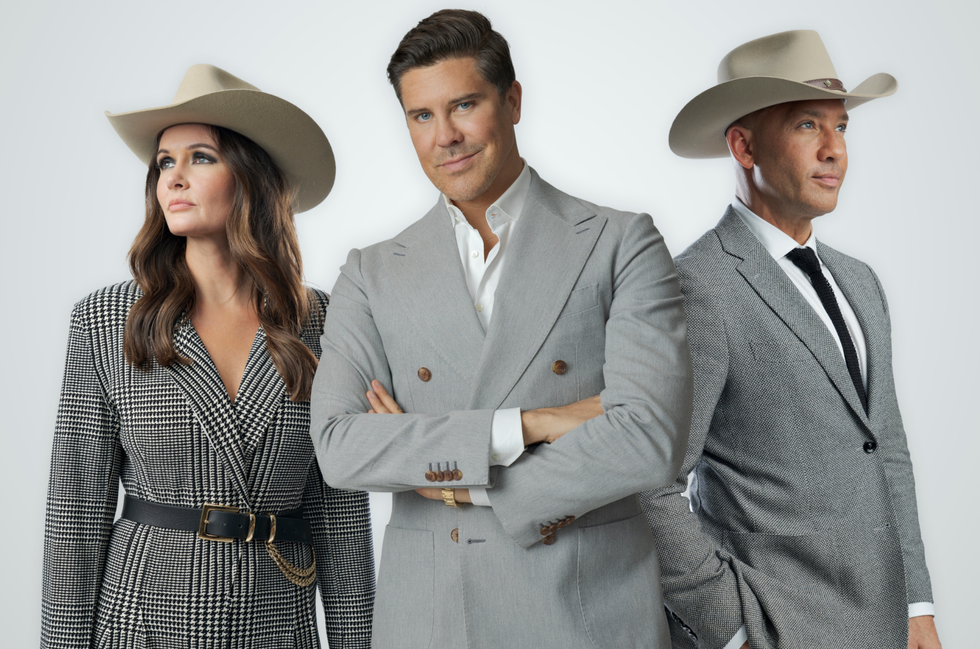 Left to right, Julia Spillman, Fredrik Eklund and John Gomes.
Home sales in the five-country metro increased 13.1% year-over-year in March, according to the Austin Board of Realtors' latest monthly report, home inventory is at a record low of 0.4 months, further driving up prices. As more business and tech professionals migrate to the Hill Country, they are looking for high-end real estate that the Eklund | Gomes team is used to selling.
"Austin has been the dream expansion for our team," said Julia Spillman, CEO of Eklund | Gomes. "With the combination of talented agents, inspiring new development projects, and some of the most beautiful homes in one of the hottest real estate markets in the world right now, Meadowbank was proof that our business model for success in this market is going to take (off) and we couldn't be prouder of our Texas expansion."
The Texas expansion goes beyond just Austin. The team is also expanding to Dallas and will soon enter the Houston market.
"As our first celebrity broker in Texas, Eklund | Gomes will bring a spotlight unlike any other brokerage to date in the Texas real estate market," said Jacob Sudhoff, CEO of Douglas Elliman Texas. "We are thrilled to support the Eklund | Gomes team and their expansion throughout Texas, starting with the property at Meadowbank in Austin. Luxury properties such as Meadowbank deserve the type of exposure that only Douglas Elliman Texas can provide."
A second person connected to Saturday morning's Sixth Street mass shooting has been arrested. The Austin Police Department confirmed they arrested a 17-year-old male suspect in Killeen on Monday.
The suspect has been identified as Jeremiah Roshaun Leland James Tabb, who will be charged as an adult with aggravated assault, officials confirmed. He was arrested without incident while enrolled in a summer school class.
Police arrested the first suspect, a 16-year-old male, on Saturday evening. It is still not known what charges the suspect will face and since he is a minor, court records and identity will likely remain confidential.
The shooting occurred in the early morning hours of Saturday, June 12, when two men fired shots into a large crowd on the 400 block of East Sixth Street and injured 13, killing one. Investigators believe there was "some type of disturbance" between the two parties.
A 25-year-old tourist visiting from New York, named Douglas John Kantor, succumbed to his injuries while in the hospital on Sunday afternoon. He leaves behind family and his high-school sweetheart.
The investigation is still ongoing and information can still be reported by calling 911 or the police tip line at 512-472-TIPS.
(Pexels)
With high temperatures looming over Austin for the next week, The Electric Reliability Council of Texas, which controls about 90% of the state's electricity flow, is asking residents to conserve energy usage through Friday, June 18.
ERCOT issued the conservation alert via Tweet on Monday afternoon, saying that a high number of "forced generation outages combined with potential record electric use" during June have created tight grid conditions. Austin Energy echoed the request.
🔊CONSERVATION URGED! @ERCOT_ISO is asking Texans to reduce electric use as much as possible today, 6/14 through Friday, 6/18, due to statewide grid conditions.
ERCOT says a significant number of power generators have forced outages for repairs. (1/2)
— Austin Energy (@austinenergy) June 14, 2021
ERCOT is attributing the "tight grid conditions" to more electric generators than usual being shut down for repairs.
June is going to be hot—temperatures are expected to peak around 96 degrees every day through Friday. It's just the start of the Texas summer season with high temperatures likely not dipping below 90 degrees for the rest of the month.
ERCOT data indicated that energy demand may exceed capacity during peak heat hours. According to ERCOT, approximately 11,000 MW of generation is on forced outages for repairs and today's peak load forecast may exceed 73,000 MW. The previous record for June was 69,100 megawatts in 2018.
One MW typically powers 200 homes on a summer day.
ERCOT shared voluntary guidelines to reduce energy usage:
Set your thermostat to 78 degrees or higher–every degree of cooling increases your energy use by 6-8%.
Turn off lights and pool pumps and avoid using large appliances like ovens, washing machines and dryers.
If you don't need something–turn it off and unplug it if possible.
ERCOT has been under scrutiny since the grid collapsed in February during Winter Storm Uri, leaving millions of Texans in the cold and dark for days. The mass outage prompted a series of changes, including resignations, termination of President and CEO Bill Magness and a state investigation.
ERCOT previously said in May that it expected a relatively mild summer for emergency conditions and said it expects a peak energy demand of 77,144 MW through September.
Family, friends and the community are remembering Douglas John Kantor, the 25-year-old who was killed on Sixth Street after a mass shooting that injured 13 others early Saturday morning.
Kantor, who was visiting from New York and lived in Michigan, died in a hospital just after noon on Sunday after being "shot in the abdomen, just below the rib cage," according to his brother Nick Kantor.
One other victim remains in critical condition. Two suspects have been arrested as police continue to investigate the incident.
"He suffered from the time of the injury until time of death, it was the most gruesome thing," Nick Kantor told KVUE. "It's painful to discuss, but I think the public deserves to know what my brother suffered."
Nick Kantor released a statement to KVUE following his sibling's death, calling the shooting a "senseless tragedy" that "put an end to all his dreams."
According to Nick, Douglas Kantor was "looking forward to marrying his high school sweetheart of 10 years and starting a family." He had recently bought a house after receiving his master's degree in business at Michigan State, where he also completed four years in computer engineering.
Kantor was employed with Ford Motor Company as a product manager and had also used his computer science skills to develop a website for his family's air conditioning and heating business. Nick Kantor said Douglas was "loved by his family, friends and everyone who met him."
City officials and community members joined Nick Kantor in remembering Douglas Kantor.
Mayor Steve Adler released the following statement regarding Kantor's death:
"The loss suffered by the Kantor family is unimaginable. Doug Kantor leaves behind family, friends, and the future he was building. His senseless death has filled us with enormous grief, and even more resolve to stop this from happening here and across the country. Our hearts go out to all of Doug Kantor's loved ones."
A new Facebook page labeled the Downtown Austin Mass Shooting Survivors has issued a survivors fund for the 13 other victims injured.