Austonia AM
100% Austin news, info, and entertainment, straight to your inbox at 6 a.m. every morning.
In five minutes, you're fully informed and ready to start another great day in our city.
Get connected with our daily update
Elon Musk, Tesla founder and new Austinite, paid a true tax rate of 3.27% between 2014 and 2018, according to a bombshell report published by ProPublica this week. The investigative newsroom tallied up how much he paid in taxes relative to how much his wealth grew over the four-year period to come up with what it is calling a "true tax rate."
Austinites, regardless of their income bracket, paid a higher federal income tax rate than this. The only question is: How much higher?
---
The median family income in the five-county Austin metro is $98,900, according to the city of Austin's housing and planning department. A married couple filing jointly who earned this amount would pay $9,325 plus 22% of the amount over $80,250 in federal income tax, according to NerdWallet. This equals $13,428, or 13.6% overall—four times the true tax rate paid by Musk.

The lowest federal income tax rate is 10%, for single filers earning up to $9,875 or joint filers earning up to $19,750 annually—otherwise known as "extremely low-income." This is more than triple Musk's true tax rate.
The highest federal income tax rate is 37%, which kicks in for single filers earning $518,401 or more in income and joint filers earning $622,051 or more—roughly speaking, the 1%.
Using "a vast cache" of never-before-seen IRS data sent in from an anonymous source, ProPublica showed how the 25 richest Americans pay little—and sometimes none at all—in income tax relative to their massive wealth. "Taken together, it demolishes the cornerstone myth of the American tax system: that everyone pays their fair share and the richest Americans pay the most," the reporters wrote.
How do some of America's ultra-rich live luxurious lives while claiming little to no taxable income? A little tax… https://t.co/hygW4MaHBH

— ProPublica (@ProPublica)1623150001.0
It's worth noting that the U.S. tax system taxes income but not wealth.

Musk is the second richest person in the world with an estimated net worth of $151 billion, according to Forbes. Between 2014 and 2018, his wealth grew by $13.9 billion. Over the same period, he reported $1.52 billion in income and paid $455 million in taxes, producing what ProPublica called a true tax rate of 3.27%.
Although a fraction of the rate the median Austin household pays, Musk's true tax rate was still higher than that of other billionaires spotlighted by the story: 0.10% for Warren Buffett, 0.98% for Jeff Bezos and 1.30% for Michael Bloomberg, according to the report.
How did Musk and the other featured plutocrats swing this?
Mega-billionaires often eschew salaries, which are taxed at a high rate; take advantage of rules regarding deductions and debt; hold onto their company stock, allowing wealth to accrue without transforming into taxable income; and form "opaque and complicated trusts" that allow them to leave inheritances free from pesky estate taxes, according to ProPublica's report. All of these tactics are legal.
Without a wage or dividends, they often take out huge loans—which the IRS does not consider to be income—to cover their expenses. Musk pledged some 92 million Tesla shares, worth about $57.7 billion, as collateral for such loans last year, according to a securities filing cited by ProPublica. The interest paid on such loans can often be deducted.
As the New York Times pointed out Wednesday, "comparing the billionaires' tax bills with estimates of their wealth isn't how the U.S. tax system works." ProPublica published ts reasoning for the publication of private information stating that the report "will help readers understand the magnitude of the tax advantages the ultrarich enjoy," adding it hopes people will "participate in the public debate about the future of our tax system."
When asked to comment by ProPublica, Musk responded enigmatically, as is his wont, with a single character—"?"—and did not respond to follow-up questions.
Texas voters are split on whether Gov. Greg Abbott should run for a third term and whether Matthew McConaughey should run at all. But Democrats are clear: they want to see Beto O'Rourke on the ballot.
These are the findings of a Quinnipiac University poll of registered voters released this week.
Abbott and McConaughey received the highest favorability ratings of the elected officials, candidates and potential candidates, according to the Quinnipiac poll.
Abbott: 49%
McConaughey: 42%
O'Rourke: 34%
Former Texas GOP Chair Allen West: 25%
Former Texas senator and Republican challenger Don Huffines: 8%
Overall, 48% say Abbott does not deserve to be reelected to a third term compared to 46% who say he does. "A Trump favorite in a state that is turning less red in recent election cycles, Abbott has a decent but in no way overwhelming grasp on reelection," Quinnipiac University Polling Analyst Tim Malloy said in a press release.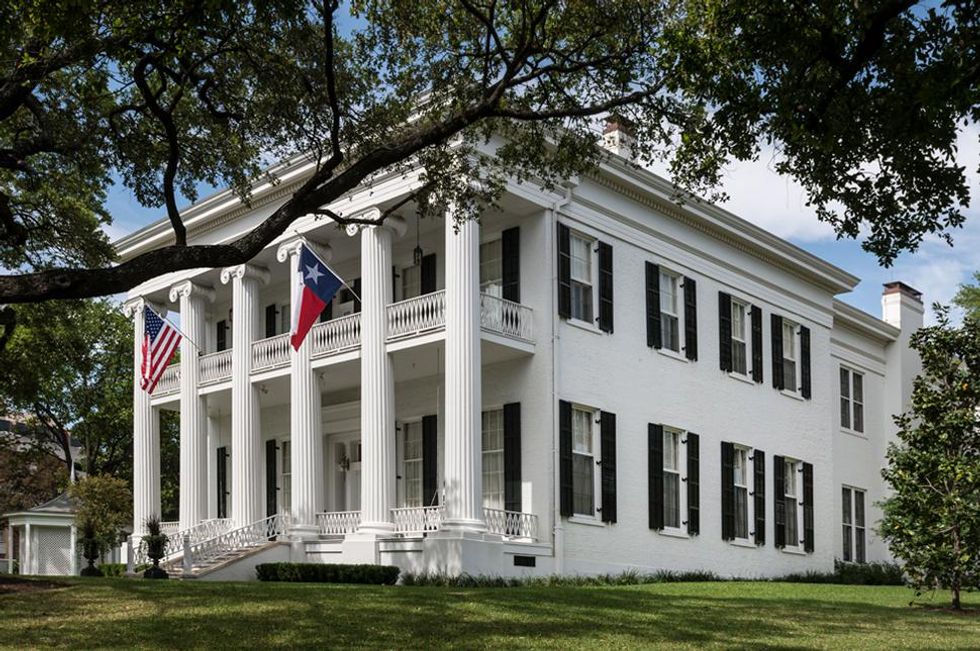 Abbott, McConaughey and Beto O'Rourke could vie for governor in 2022. (Office of the Texas Governor)
Voters are also divided on Matthew McConaughey, who is reportedly considering a gubernatorial run. Forty-one percent of voters say they would like to see him run, compared to 47% who say they wouldn't.

The poll found that Democrats and Independents favor the Oscar-winning Austinite, whose party affiliation is unclear. Forty-seven percent of Democrats would like to see him run, compared to 43% who wouldn't. Forty-four percent of Independents would, compared to 43% who wouldn't. Republicans, on the other hand, say 60%-29% they would not like to see him run.
Another possible candidate is former U.S. Representative and presidential hopeful Beto O'Rourke, who is also reportedly mulling a bid. Overall voters say 52%-41% they would not like to see him run for governor. But 77% of Democrats and 50% of Independents would, according to the poll.
"McConaughey and O'Rourke may still be on the fence, but their numbers suggest they have the attention of voters," Malloy said in the same release.
Austinites will soon be able to train like some of Hollywood's biggest stars as F45, a fitness franchise backed by major celebs, like Mark Wahlberg and David Beckham, is on its way to Austin.
F45 listed Austin as the location of its corporate headquarters in a June 21 federal filing—a big shift for the California company. The fitness franchise is preparing for its initial public offering, which will be as an Austin-based company.
F45 will be one of many California companies—Tesla, Oracle and Samsung—that have recently expanded in the Capital City. The company has several famous investors on its side—famed basketball player Earvin "Magic" Johnson and golfer Greg Norman in addition to Wahlberg and Beckham.
The fitness company is opening a 44,000-square-foot headquarters, located at Penn Field on 801 Barton Springs Road, with a lease running through 2029. F45 was one of the early adopters of Austin-based real estate-technology platform AnthemIQ, helping tenants find commercial real estate.
F45 focuses on one-on-one 45-minute workouts, which patrons watch on in-studio displays. With 2,247 franchise agreements spanning across 63 countries, F45 also has offices in Australia and England.
"We believe this flexibility will enable us to capitalize on our estimated long-term global opportunity of over 23,000 studios," the company said in its filing.
The greater Austin area already has 11 F45 locations, which take up 1,600 square feet of space each.
From Your Site Articles
Related Articles Around the Web