Get connected with our daily update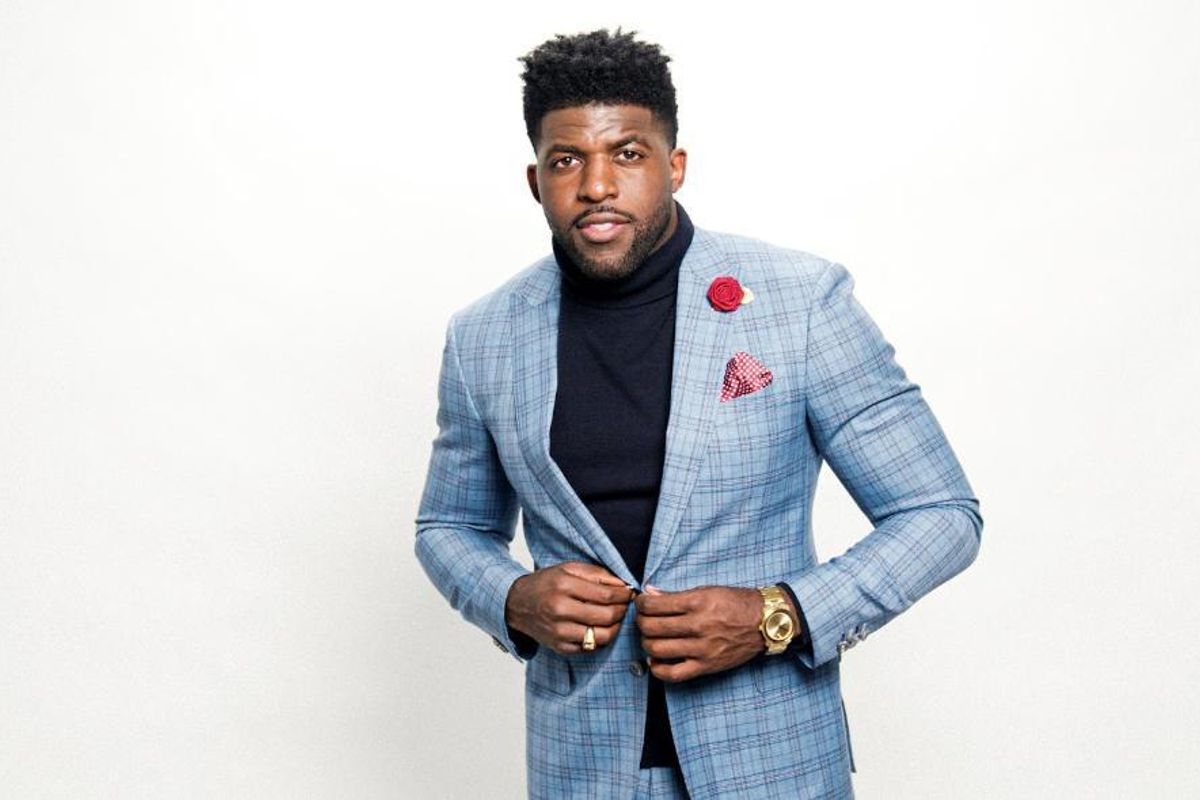 (The Bachelor/Twitter)
UT graduate and former NFL linebacker Emmanuel Acho has "accepted the rose" and will host "The Bachelor" franchise's latest special.
---
Although there's been no word on whether or not he will replace longtime host Chris Harrison for upcoming Bachelor seasons, Acho will be the interim host for "The Bachelor: After the Final Rose" episode.
In the special, Acho will interview Bachelor Matt James and his final three, Rachael Kirkconnell, Michelle Young and Bri Springs. The episode is meant to be a tell-all about the season's drama and will air after the audience knows who gets the ring and who goes home.
Before the Bachelor, Acho made a name for himself at UT, making first-team All-Big 12 linebacker and leading the team in tackles his senior year. Acho went on to play for both the Cleveland Browns and Philadelphia Eagles before joining the sports analyst world in 2016, where he currently works for Fox Sports.
Perhaps most importantly, Acho became a social justice activist who started a social media series that later turned into a book addressing racism titled "Uncomfortable Conversations with a Black Man" in 2020. The book sold 18,000 copies in one day and is meant to confront racial ignorance in America today.
If kept on, Acho hosting could be a meaningful step toward change in a Bachelor franchise riddled with controversy. Most recently, host Chris Harrison made news after appearing to defend contestant Rachael Kirkconnell's participation in an antebellum South-themed fraternity party. In an interview on "Extra" with former Bachelorette Rachael Lindsay, Harrison commented on the "woke police" and how different racial issues were in 2018 versus today.
Kirkconnell eventually apologized after it was discovered that she also liked Confederate flag-related posts, but the controversy still remains. The incident seems to be the final straw for many fans who have long noticed racial insensitivity in the Bachelor franchise.
This December, Harrison further spurred on Bachelor exit rumors after he said he would be moving to Austin, but no confirmation has been made.
Whether an activist for racial injustice such as Acho remains the host or has just stepped in for the moment is yet to be seen. The tell-all will air March 15 after the season's finale.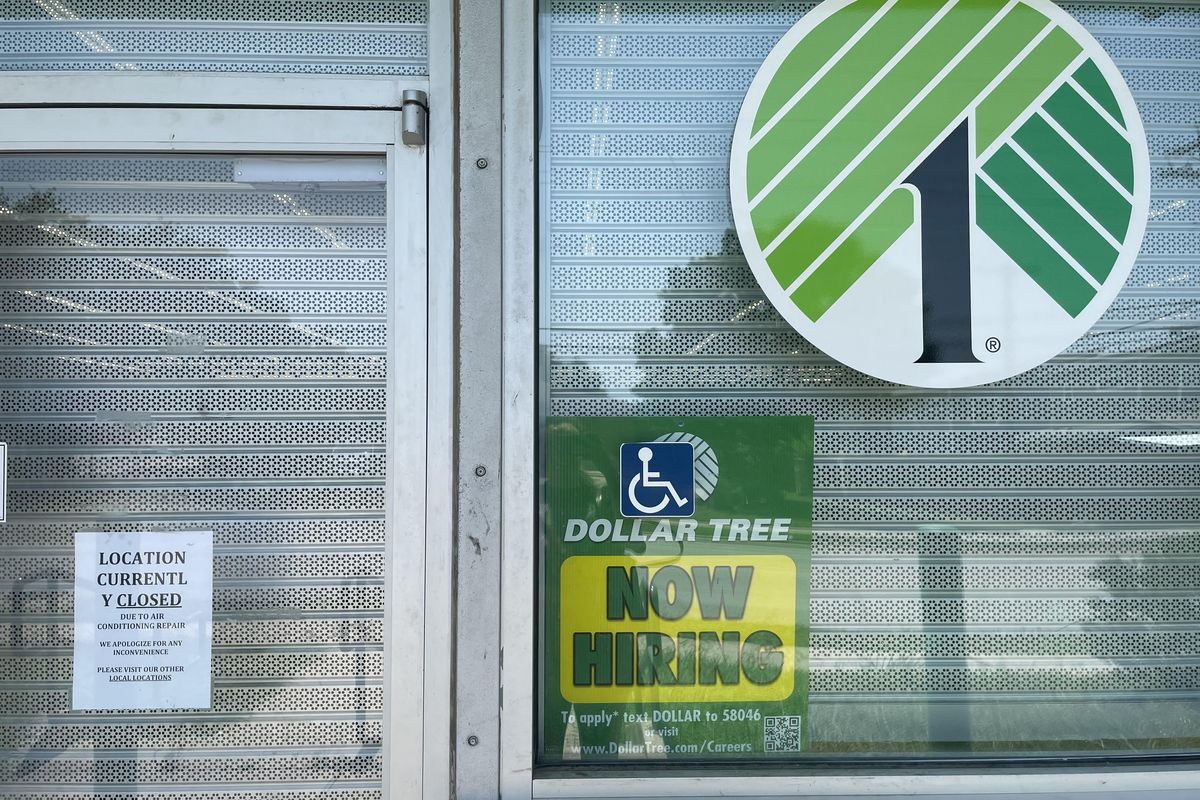 It's been a few weeks since a viral TikTok revealed poor working conditions at the Montopolis Dollar Tree in southeast Austin, and employee Maggie Lopez is still feeling its effects.
Lopez was filmed working alone at the location May 1 in a since-deleted video that saw 2.9 million views and over 450,000 likes.
In the video, stacked boxes littered the floor, shelves were left unstocked and a leaky, broken air conditioning unit welcomed customers into the understaffed storefront.
Lopez, who now works at the dollar store's Springdale location, says she was left with the aftermath of a 90-hour workweek, lost wages and a mystery illness after the store closed a few days later.
"Nobody ever told me... that there was no air conditioning. They didn't tell me there was danger of getting robbed," Lopez told Austonia. "Nobody said anything... they didn't care."
The location didn't shut its doors because of the TikTok exposure: instead, an AC unit specialist doing routine maintenance found employees working in extreme heat and said it was too hot for employees to continue working.
"To operate a business, you have to have your temperature within a certain parameter," Ikaika, the specialist who didn't disclose his full name to protect his job, told Austonia. "As soon as you walk in, you start sweating... it's not good at all."
Lopez said working in 90+ degree heat became the norm in her two months at the location as air conditioning units remained broken for months before the closure. She added some employees, including her former manager and several customers, passed out in the store due to the heat. But she said company leadership remained unresponsive.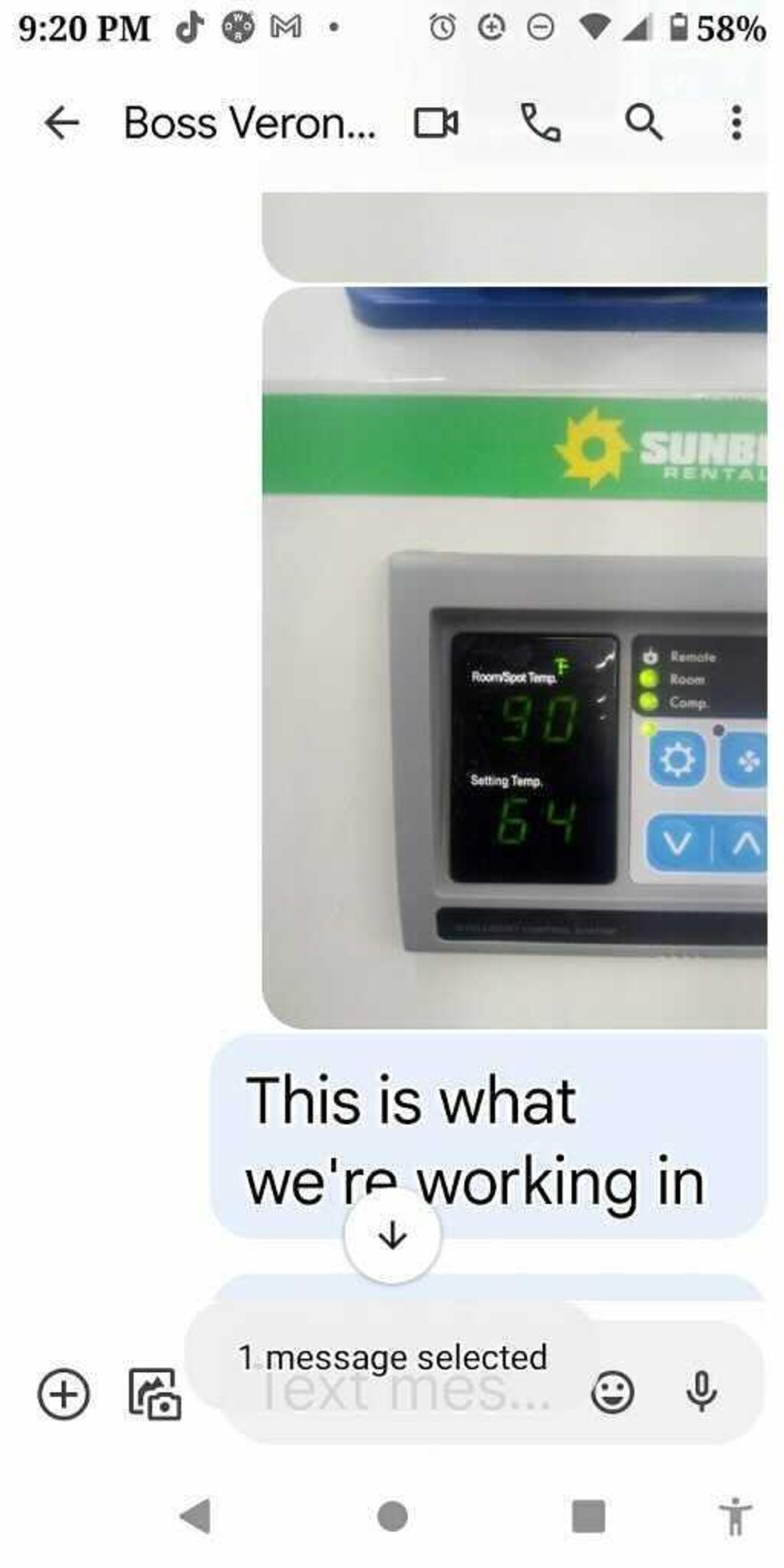 Lopez said she sent her district manager, Veronica Oyervides, screenshots of 90+ degree temperatures inside the store. (Maggie Lopez)
Four days after the air conditioning repairman told employees they should no longer keep working at the store, Lopez said her district manager, Veronica Oyervides, was asking her to come back in to prep the location for reopening. Lopez worked May 8 in the shuttered store prepping it for a reopening, which has yet to happen. Oyervides has declined to comment.
Ever since she started working in the deteriorating Dollar Tree, Lopez said she often wakes up with nosebleeds. She said she's constantly thirsty, her hands shake, and she's experiencing headaches and mood swings—symptoms she believes are due to long-term exposure to mold.
Former assistant manager Linnea Bradley told Austonia she has been hospitalized with symptoms linked to heat and stress after working at the store.
"We are sick and corporate does not give a shit," Lopez said. "What kind of damage did these stupid units do to our bodies?"
Lopez hasn't sought care for her symptoms. She says she makes $13.50 an hour and doesn't have health insurance.
Former employees have more complaints than just the heat: Lopez said that personal safety became a concern in the understaffed store. Catherine, a former employee who wished to only reveal her first name, said she's witnessed large-scale theft and instances of mismanagement in her months as a stocker at the location.

"They have no security, no cameras... they don't want you to have anything in writing," Catherine told Austonia. "It's just complete chaos."
Catherine said that she and other hourly employees were given zero hours for weeks on end as managers, who work on salary, were left to run the store alone from 5 a.m. to 10 p.m. each day. She said some managers became so desperate they were hiring homeless people to help stock shelves in exchange for a drink and a bite to eat.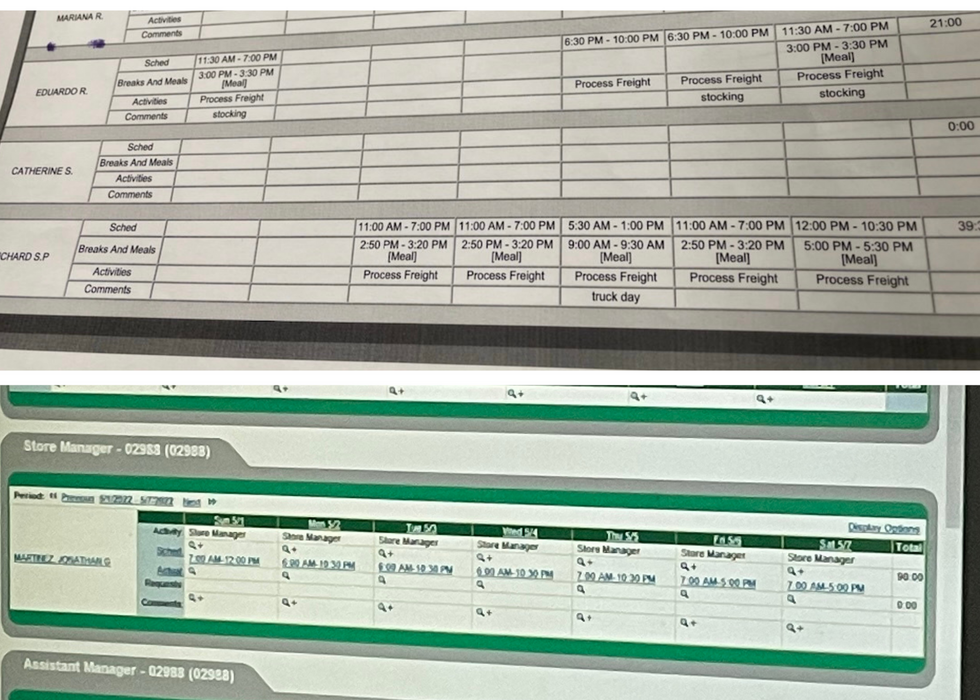 While Catherine (top, middle) often had zero-hour weekly schedules, Martinez, who was paid on salary, worked back-to-back 90-hour workweeks. (Catherine) (Claire Partain)
"They actually did have people willing to work, they just refused to give them hours," Catherine said. "I'm not understanding whether Dollar Tree wants to go under... are they doing this as a tax break?"
Other Austin Dollar Tree locations have reported similar issues. Former manager Jonathan Martinez, who says he was supposed to work 45 hours a week, says he was racking up 90+ hour workweeks and sleeping in the store as he shouldered both the Montopolis and William Cannon locations while his newborn baby was in the ICU in March.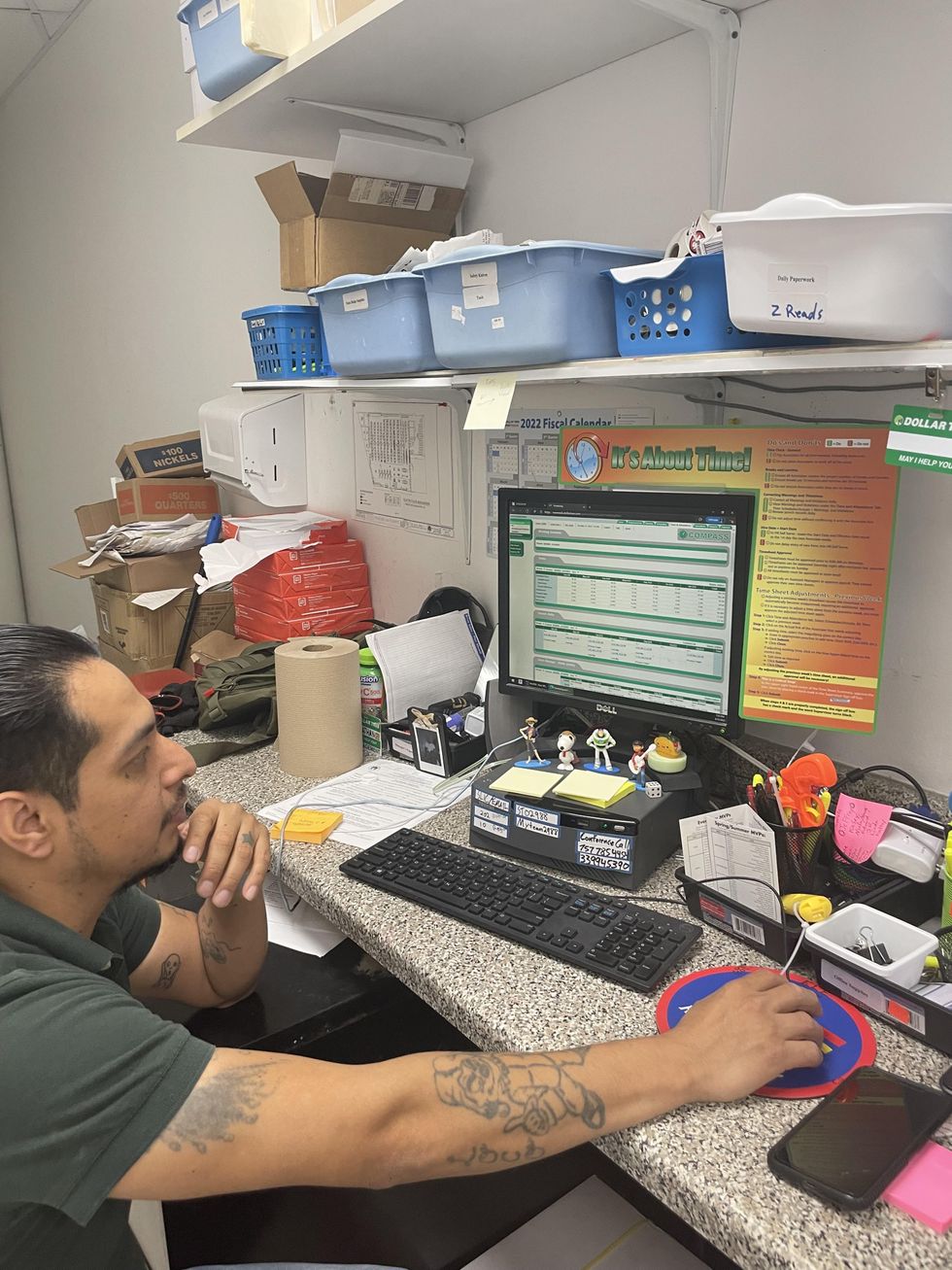 Martinez kept extra clothes in this office after working seven-day weeks at two Dollar Tree locations. (Claire Partain)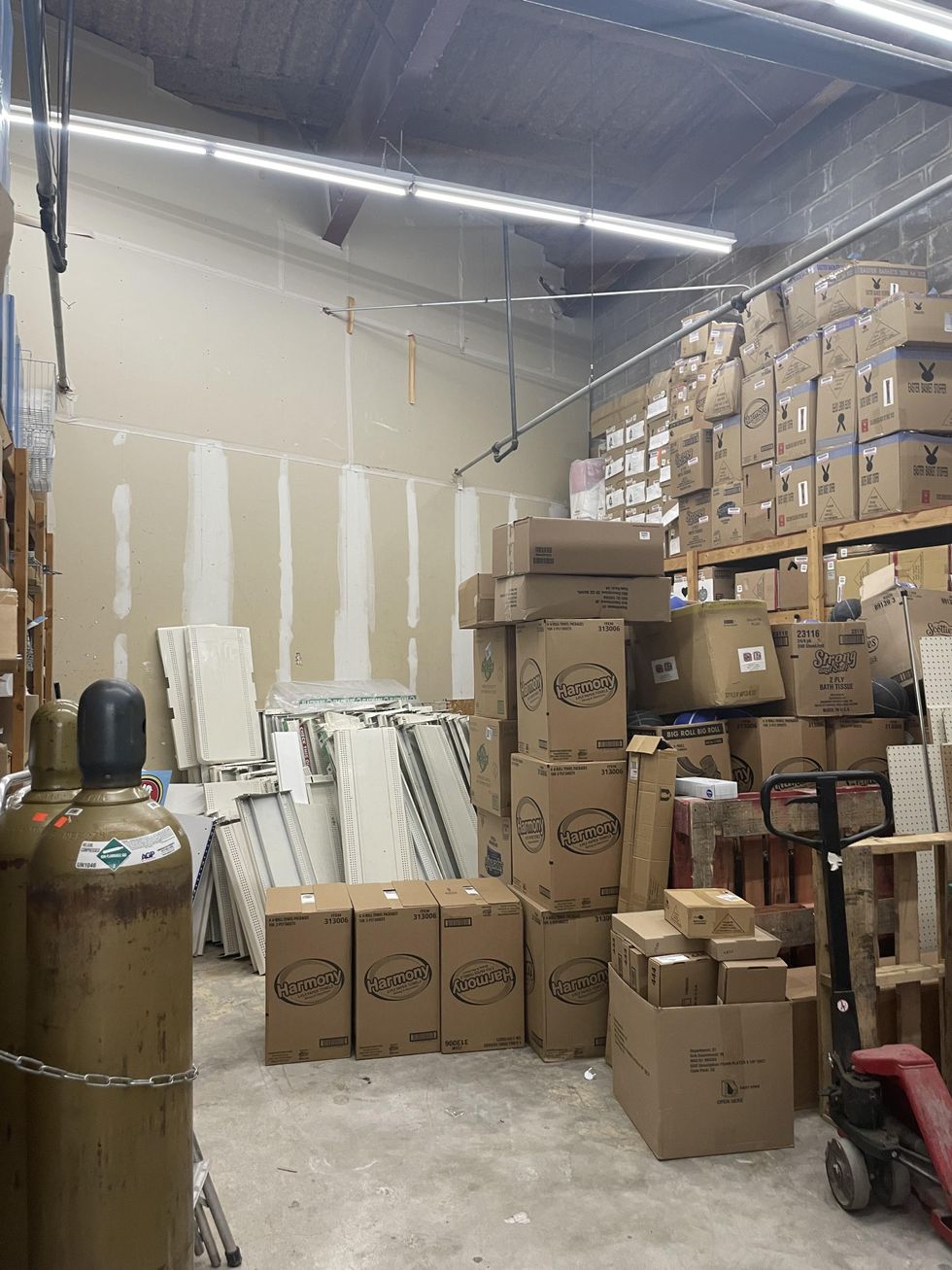 Martinez said he slept on boxes as he juggled the job and visiting his newborn in the ICU. (Claire Partain)
Martinez said he slept on boxes as he juggled the job and visiting his newborn in the ICU. (Claire Partain)
"As long as the store stays open, there are corporate people getting bonuses," Martinez, who quit last week after receiving a $100 annual bonus, told Austonia. "Six months ago, when corporate people had a shitload of bonuses, that's when they upped the price (of everything in the store from $1 to $1.25)."
In the six months since Dollar Tree hiked its prices to $1.25, it's gained plenty of mostly negative national attention. In February, the Food and Drug Administration shut down an Arkansas distribution plant due to a massive rodent infestation, and several lawsuits have ensued. The company has also come under fire for selling allegedly expired over-the-counter medicine and its worker shortage at locations across the country.
One employee, who still works for Dollar Tree and wished to remain anonymous, said that they've seen or heard that many area locations are near their breaking point.
"I've seen the good, the bad, the bad to worse," they said. "And it's always a rinse repeat kind of thing... How many more (stores) will go? And what about the employees?"
"Every time I would tell (Oyervides) 'I'm just going to close, I can't stand it anymore,' she would say, 'No, no, no,'" Lopez said. "And I'd be so upset because why? They have my paycheck. It's just been mortifying... the most horrible year of my life."
Dollar Tree's regional director did not respond to requests for comment from Austonia.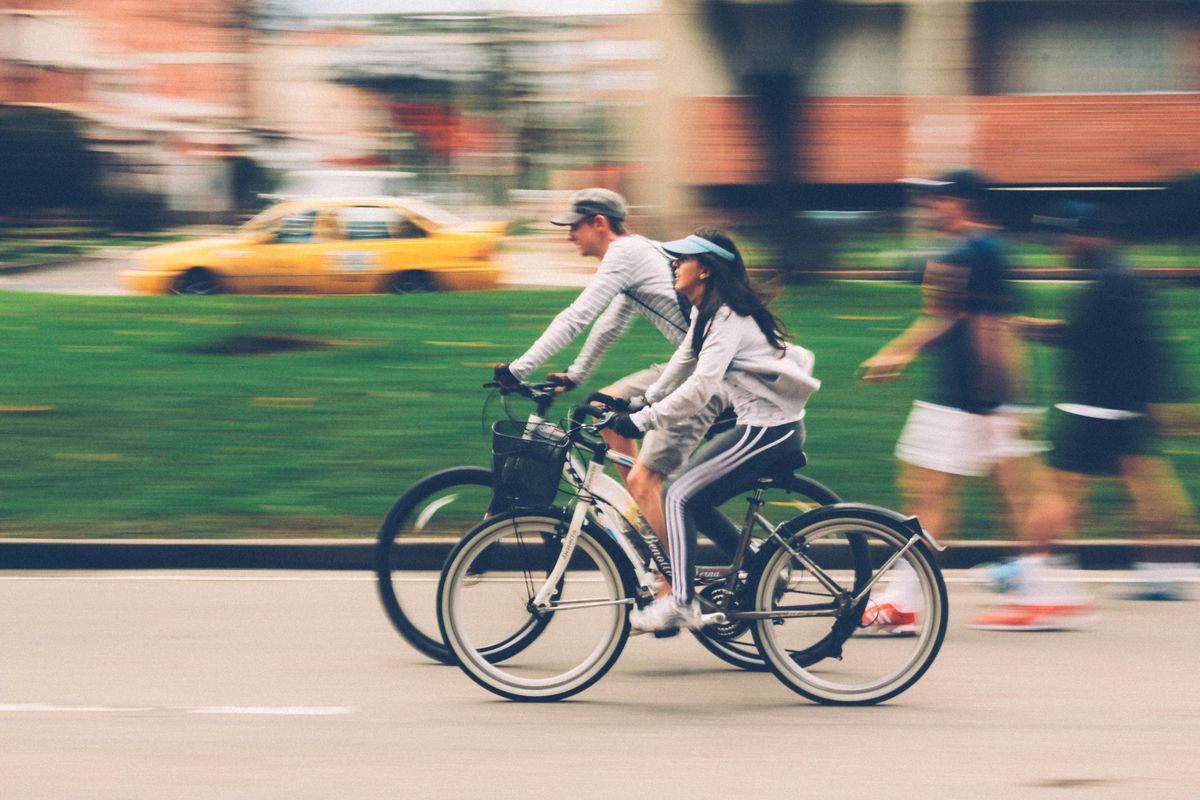 Grab a helmet and get active this morning by celebrating Bike to Work Day alongside the city.
The community will gather for a celebration at Austin City Hall starting at 8 a.m. with free tacos, coffee and giveaways.
A few things to remember around bikes:
Over 80% of bicycle crashes happen at intersections
It's important to wear reflective clothing during dark hours
Drivers should keep a distance—take at least three feet of space when passing.
Residents can find the most comfortable, safe bike routes via the 2022 Austin Bike Map, or rent a MetroBike with the code B2WD2022.