Austonia AM
100% Austin news, info, and entertainment, straight to your inbox at 6 a.m. every morning.
In five minutes, you're fully informed and ready to start another great day in our city.
Get connected with our daily update
(Rob Hein)
Four weeks ago, with live music venues throughout Austin well into the grip of financial hardship from closure due to the COVID-19 pandemic, Stephen Sternschein didn't see much cause for optimism.
---
The co-owner of the Empire Control Room & Garage and The Parish was facing the same rent and utility costs—estimated at $40,000 per month for most clubs—as his peers, with no prospect of being able to restart his businesses anytime soon. And he knew other owners around Austin were starting to dig deep into their savings to pay their bills and hold off on possibly deciding to close for good.
Something big had to be done to save independent clubs in Austin and around the country.
And so, with a consortium of fellow owners and promoters around the country, the one-time entertainment attorney made dozens of calls and organized online meetings to help form the National Independent Venue Association.
That group has taken up lobbying efforts to push for federal aid for more than 1,300 member clubs, and expects to see action taken in Congress this week that could deliver a much-needed win.
"I choose be optimistic and believe we are going to have our sunny day, and that it's going to happen soon," he said. "I can't read any tea leaves and say that tomorrow we're going to be open, but four weeks ago I just thought that we really need some piece of good news to look forward."
The association has garnered attention quickly, with press outlets like Rolling Stone and the New York Times laying out the case for why music venues that are historically thin-margined even in good economic times face such a precarious future.
The packed-in, sweaty social dynamics of live concerts make them an unappealing prospect during a time of quarantine and social distancing. Plus there's the wrinkle that the live acts needed to draw audiences into clubs aren't in a hurry to get back in front of crowds of people who could be virus carriers.
"What we're struggling with is [figuring out]—what is the right moment to reopen? In terms of how long we'll be stuck financially, it's definitely going to be through the end of this year, if not through the end of next year," Sternschein said.
"It almost doesn't matter when we open our doors because for a period of time of at least six months we're not going to be in a position to make money, and will probably lose a bunch of money. People want to come back and party but they're not going to do it now and feel safe."
That upside-down business model means venues will need financial lifelines to stay afloat and have any chance to reopen.
There is some cause for optimism for Austin venues. City leaders are examining how much of the $170.8 million available from the federal Coronavirus Aid, Relief, and Economic Security (CARES) Act could be used to assist those businesses. Earlier this month the Red River Cultural District proposed that $2 million per month of closure would be needed to preserve the 54 small businesses that have been identified as primarily live music venues by the Music Venue Alliance of Austin.
NIVA estimates slow action or lack of large-scale relief could cause up to 90% of its member venues to close in the coming year.
Those dire prospects make possible votes in Congress this week crucial. Sternschein, who has led fundraising efforts for the group that helped to hire a lobbying firm, has spent his time engaging with major brands to begin building long-term support for venues in a post-pandemic economy.
He said prospects for federal financial aid in the Democrat-controlled U.S. House of Representatives has never been a concern, and that a letter of support from Sen. John Cornyn filed late last week gives a needed boost for a vote in the Republican-majority Senate.
"I'm going to frame that [letter] and put it on my wall," he said. "It represents the biggest group effort I've ever been a part of. It's so incredible because we went from nobody knowing who we were as independent venues … even eight weeks go no one in politics outside of Austin knew about this part of music other than big festivals like Coachella. Nobody would have had one word to say about independent venues. Today, we have a majority of the House and Senate supporting initiatives we've brought to them in the past few weeks."
Much is still to be decided, but the possible combination of assistance at the federal and city levels would provide some needed financial cover for Austin venues that are crucial to the city's reputation as the Live Music Capital of the World.
So far the most high-profile music spot to close during the pandemic is the Shady Grove restaurant on Barton Springs Road. Over the weekend the owners of dance club Plush, which was a prominent space for live acts during South By Southwest, announced the club will not reopen, creating the first pandemic-related vacancy among the cluster of music venues in the Red River Cultural District.
Cody Cowan, executive director of the RRCD, said many owners are "holding their breath underwater," tapping into their personal savings and trying to wait out the closures due to the coronavirus. While he continues to push for local relief at city hall, Cowan said NIVA's work gives hope to venues around the country.
"We're in the game, and it seems like the level of camaraderie that's happened nationwide is inspiring," he said. "Steve represents the creative hunger we have in our community. Many folks are pretty invisible but it's the handful of people like Steve who have this relentless drive for innovation and sustainability who have allowed us to come together and evolve past our previous tribalism."
(Stubb's Austin/Instagram)
After a long, long year without live music, Austin has waited patiently for a return that has finally come. Festivals are planning returns and even venues that adhered strictly to safety protocols during the pandemic are feeling safe enough to gather again in person.
Starting in just a few short days, you can finally enjoy what makes Austin, well, Austin again. Here are a few of the live shows to look forward to.
Remember to jump on those tickets–Austinites have been missing their live music!
We asked you what you wanted and you told us. More newsletter!
Austonia launched its new and improved newsletter today. You can expect:
100% Austin news, info and entertainment
Sent straight to your inbox at 6 a.m. every morning
In 5 minutes or less, you're fully informed and ready for a great day
Sign up here:
For Marco Silvestrini, gelato takes him back to his childhood when he and neighborhood kids in a small Italian town would end their day at the local gelato shop. It was part of what made some of the best memories for him.
He's since been offering that same experience for the past seven years with his artisanal gelato shop, Dolce Neve, in Austin, alongside his sister and her husband.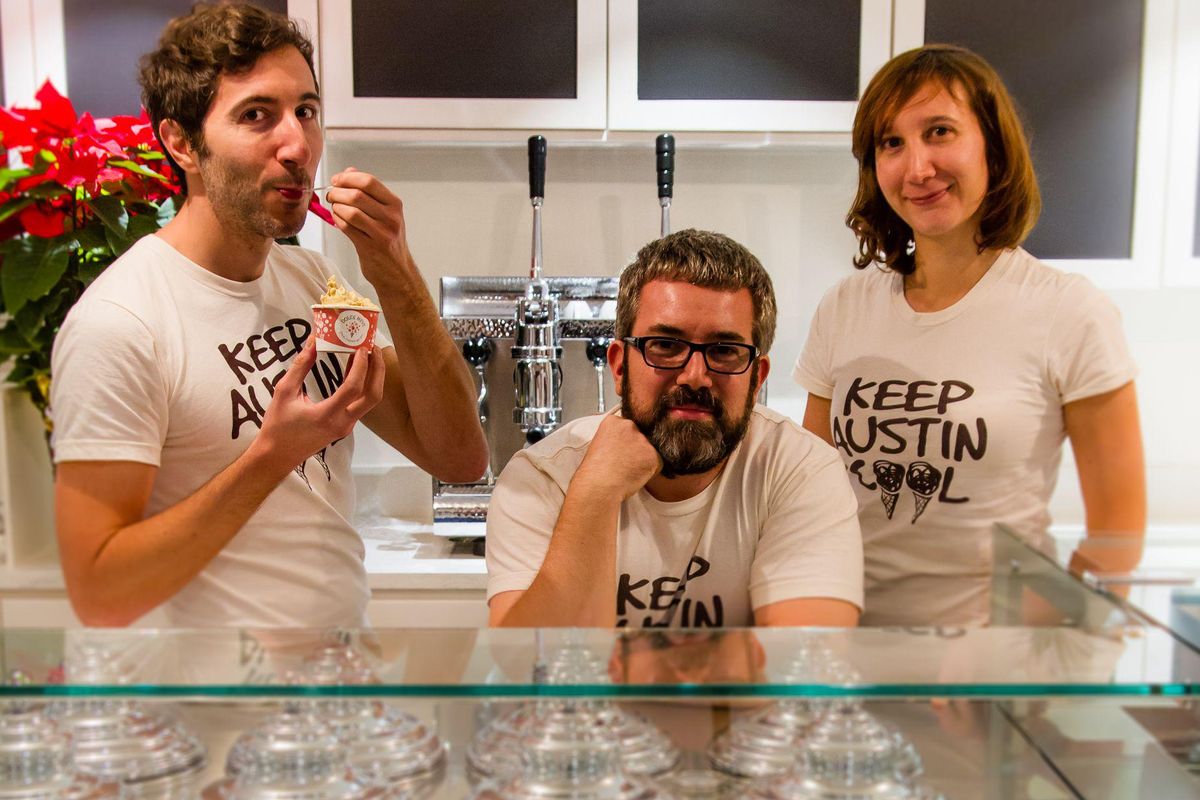 Leo Ferrarese, Marco and Franscesa Silvestrini run Dolce Neve. (Dolce Neve)
While gelato always played a big role in Silvestrini's life, it wasn't in his plans to take on a business with his favorite treat. After a few years in New York working as a management consultant, he felt he was missing out on something. "I decided to take a step back and started thinking, what could... I do to make society better and happier, even just for a moment," Silvestrini said.
He thought back to his childhood and the role gelato played in it and wanted to offer the same experience to Americans.
Once he had the product idea down, it came down to location. Growing up among farmers in a small community in Central Italy, Silvestrini knew he wanted a slower pace of living than New York, so he asked around. The answer he got: "Austin." The only thing he knew about what would become his future home was it had a Formula 1 track.
But after visiting once, he felt a great sense of community he didn't feel in The Empire State. "I felt it was not just a good place for a concept like mine, but also a good place to live because at the end of the day, you cannot just think about your business," he said.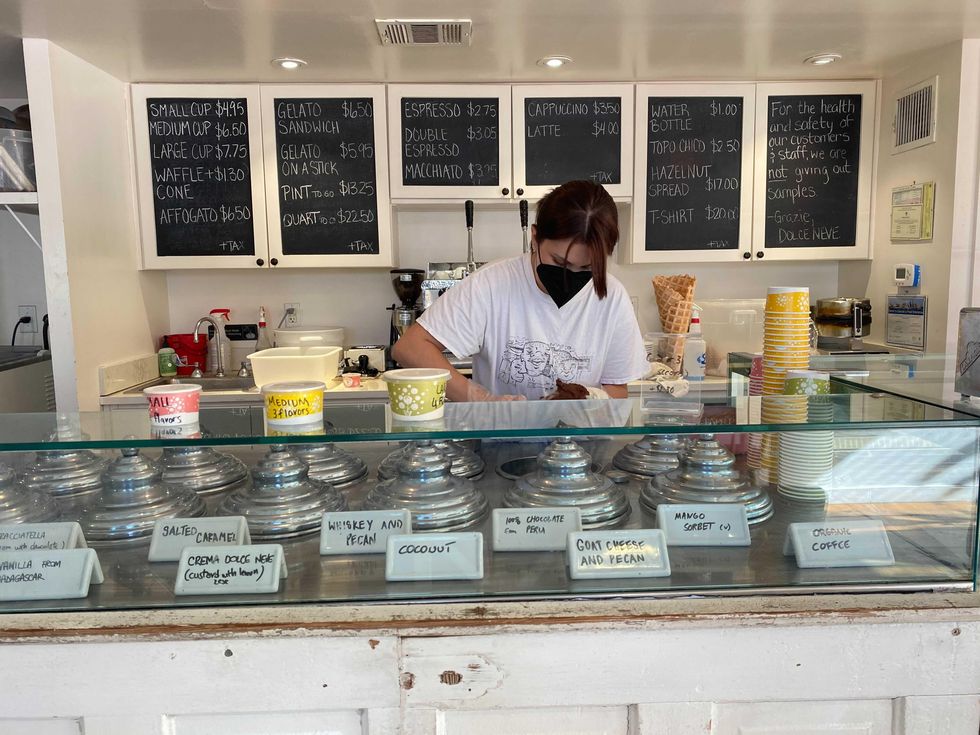 "Dolce Neve" translates to "sweet snow." The shops offers 12-18 flavors at a time. (Dolce Neve)
Similarly, his sister Francesca Silvestrini was experiencing the same feelings while studying for her Ph.D. in Ohio before teaming up with Silvestrini. She went back to Italy to be properly trained in making gelato while Silvestrini focused on the business plan. They brought Leo Ferrarese, her husband, onboard and opened their first shop on South First Street in January 2014. The rest is history.
On the menu, you'll find various traditional and innovative flavors that rotate out. Some of the staples include chocolate, 100% vanilla from Madagascar and salted caramel. Other rotating or seasonal flavors include whiskey and pecan, organic cantaloupe sorbet, goat cheese and pecan, almond custard and tiramisu. They've created over 300 flavors together in the span of the business.
So what's next for the shop? Lately, Silvestrini has been thinking a lot about that. With two locations in Austin, one in Houston—he's just not sure if expanding more is the right move. Maintaining a quality product and good service is of utmost importance that he's not willing to sacrifice.
"In order to be happy, it's not about making money, it's about being an integral part of the community," Silvestrini said. "There have been so many cases in which I think what I did today really made a difference in somebody's life."