Get connected with our daily update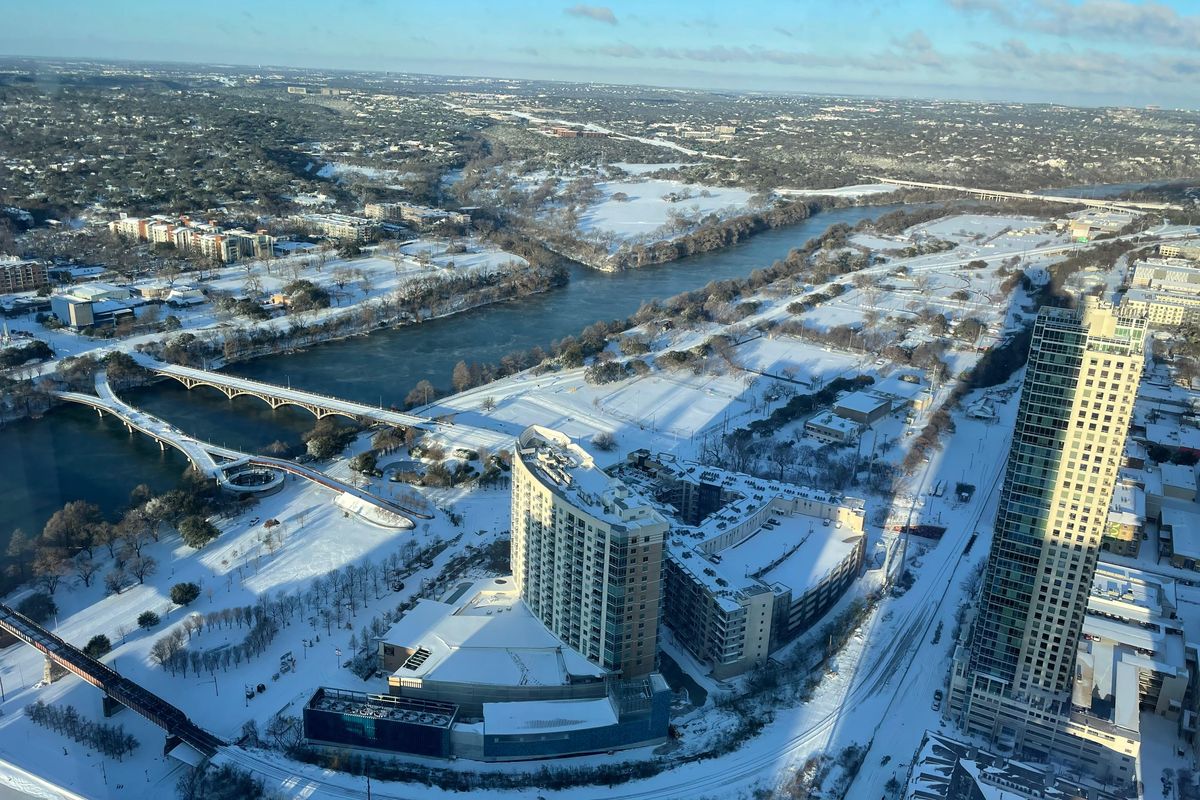 (Kyndel Bennett)
Warmer weather is needed to bring electricity back to hundreds of thousands of Austinites—and millions of residents statewide, Electric Reliability Council of Texas officials said Wednesday. But they couldn't provide an estimate of when power might be restored.
"While it's still cold today, we are seeing warming coming," ERCOT CEO Bill Magness said during a media call.
According to the National Weather Service forecast, the Austin area will see milder temperatures—a high of 42 on Friday and 54 on Saturday—in the coming days.
---
Rising temperatures will help restore energy generation in multiple ways, such as by allowing natural gas wells to unfreeze, easing driving conditions for fuel transport and allowing crews to access generators that were taken out of service by the winter storm. It will also lessen demand for electricity.
"Getting those resources back on the grid is the central solution to getting those people their power back," Magness said.
As generators return to service and the weather warms, ERCOT officials expect to be able to restore power to consumers in a rolling manner, with outages lasting 30 minutes to an hour.
"I think that's the best case (scenario)," Senior Director of System Operations Dan Woodfin said, but he added that it is unlikely to happen by later today or tomorrow.
Officials acknowledged the severity of the situation—which has left millions of Texans without power for going on three days and led to water outages and other crises—but said they stand by the decision to cut power.
"The fundamental decision that was made in the middle of the night, 1 a.m. on Monday, to have the outages imposed was a wise decision by the operators that we have here," Magness said. ERCOT instructed power companies, such as Austin Energy, to "shed load"—or impose outages—on a certain number of customers to avoid a "catastrophic blackout."
If operators had not cut power, ERCOT officials said the situation would be even more dire than it already is. In the case of a grid collapse, which can occur if demand outpaces supply, it could take months—or "even longer—to restore power, Magness said.
Although ERCOT was importing power from its "limited ties" to other power grids, including two in the eastern part of the U.S. and two in Mexico, those regions are now facing cold weather emergencies themselves, Woodfin explained.
ERCOT reported Tuesday morning that it had restored power to hundreds of thousands of Texas households overnight. But many of those households may have lost power soon after as demand increased during waking hours and imported power sources were impacted by concurrent weather crises.
Texas Gov. Greg Abbott announced Tuesday that ERCOT reform will be an emergency item this legislative session and later said that he thinks the entity's leadership should resign.
"The assessment of how we did is something that can be done after we get the power back on," Magness said in response.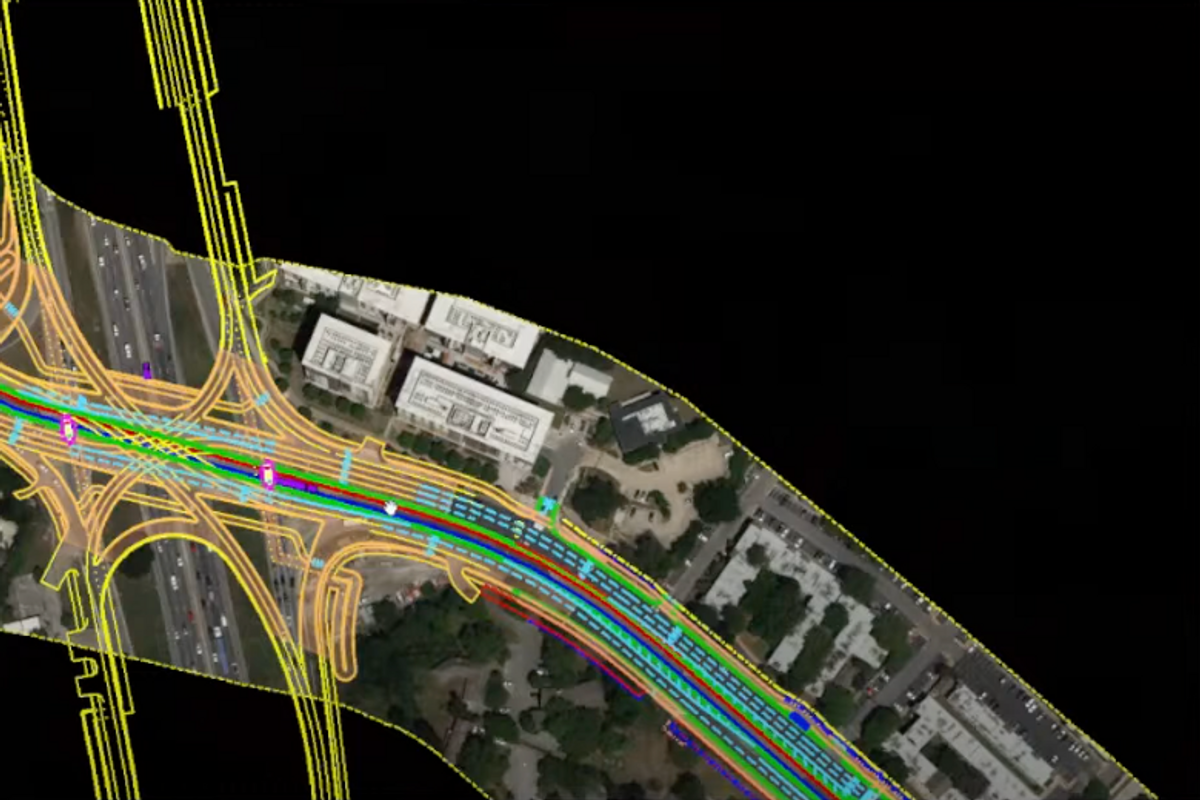 Designs for stations along Project Connect's Blue Line were presented this week, giving a detailed look at what part of the rail system extending from downtown to the airport could look like.
The planned stations that have gotten the latest focus include Waterfront, Travis Heights and Lakeshore stations past Lady Bird Lake.
At the Waterfront station, the preliminary design aims to prevent visual obstructions and save on costs. This is accomplished by a transit guideway that will lower from the bridge to a level station.
Heading onto East Riverside Drive, the light rail faces a curve requiring a slow down to about 10 miles per hour.
The Travis Heights station could involve relocating a pedestrian crosswalk zone at Alameda Drive to Blunn Creek. Since light rails can't effectively operate on a steep grade, this allows the transit guideway to avoid that.
From there, the rail will extend to the Norwood Park area, and though it will reach along the right-of-way zone, the park will be able to remain open.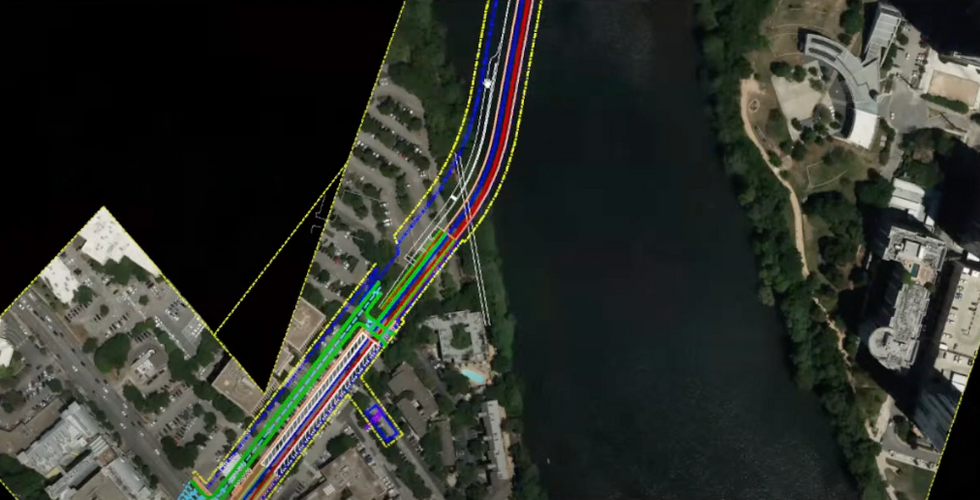 A view of the Blue Line by Lady Bird Lake. (Project Connect)
The line involves some coordination with the Texas Department of Transportation. That's because the department is working on an intersection that will have to be built before the phasing of the section of the Blue Line involving an I-35 crossing.
When it comes to the safety of cyclists and walkers, design ideas include a pedestrian hybrid beacon by East Bouldin Creek that would provide a protected signal to cross. And for the intersection TxDOT is carrying out, Project Connect is working with them on pedestrian access across the intersection. It could involve shared use paths along the street and crossings beneath it.
This summer, the public can expect 30% of design and cost estimates to be released. Though the project was $7.1 billion when voters approved it in November 2020, the latest estimates factoring in inflation and supply chain constraints show it could ultimately be upwards of $10 billion.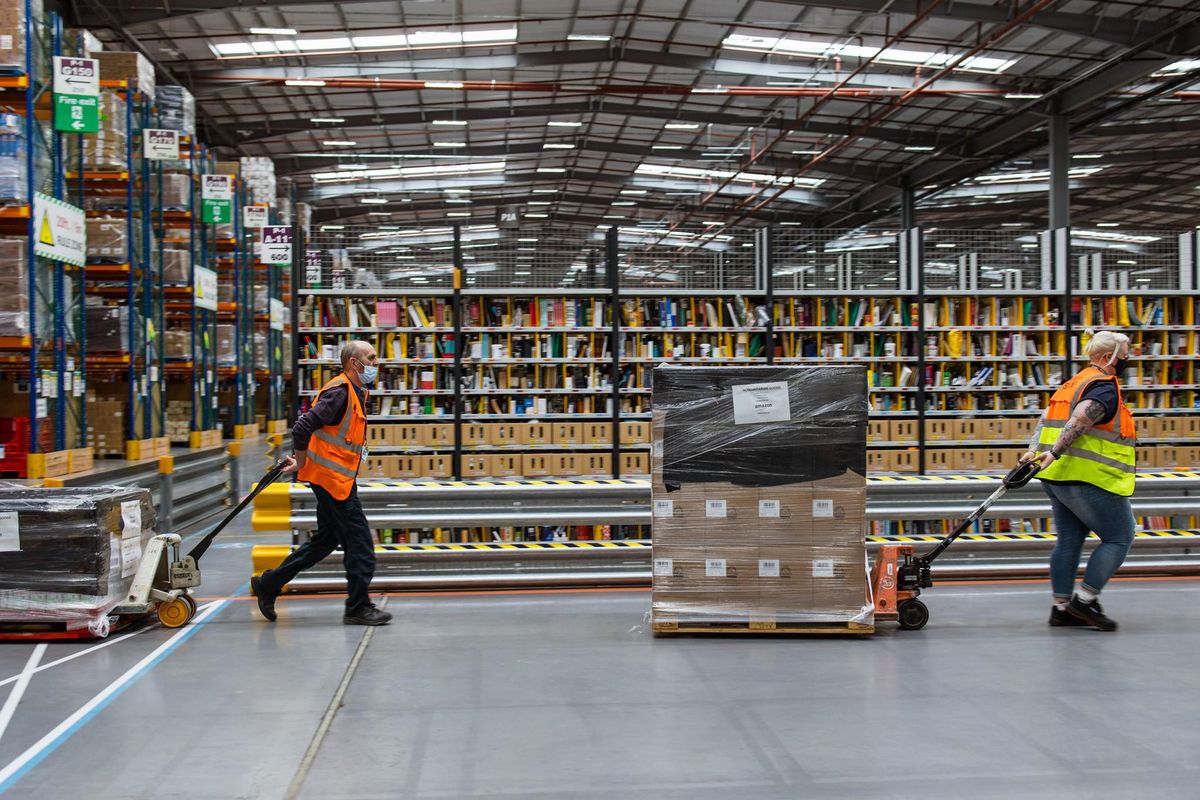 Plans for an Amazon warehouse in Round Rock—a $250 million project slated to be a large distribution center—are on hold.
This comes just after the tech giant had its worst financial quarter in seven years.
The details:
Late last year, it announced an expansion at the Domain adding 2,000 more corporate and tech jobs.
Amazon still owns the site in Round Rock. Plans for it are unclear.
Early this week, the Wall Street Journal reported that Amazon is aiming to scrap warehouse space as it faces a slowdown in its e-commerce operations.
Part of that effort involves exploring the possibility of ending or renegotiating leases with outside warehouse owners. Another aspect is a plan to sublease warehouse space.
"It allows us to relieve the financial obligations associated with an existing building that no longer meets our needs," an Amazon spokeswoman told the Wall Street Journal. "Subleasing is something many established corporations do to help manage their real estate portfolio."