Austonia AM
100% Austin news, info, and entertainment, straight to your inbox at 6 a.m. every morning.
In five minutes, you're fully informed and ready to start another great day in our city.
Get connected with our daily update
(Jimena Gamboa Bonilla)
Officials at the Electric Reliability Council of Texas, which maintains about 90% of the state's power grid, said that they are no longer mandating controlled power outages and are instructing utility companies to restore power. This process will take time. Some energy customers may still be without power as those companies work to bring circuits back online or because of damage caused by ice, fallen trees and downed power lines.
---
The reason ERCOT is now able to allow utility companies to restore power is because a number of generators have been restored since going offline earlier in the week. Additionally, with so many large customers, such as factories, shut down to the emergency, demand for power was lower than anticipated, which also helped speed up the restoration process, Senior Director of System Operations Dan Woodfin said during a press conference Thursday morning.
However, ERCOT officials did warn the public that additional power outages could be forthcoming if demand for electricity outpaces the available supply. This scenario is what triggered the controlled outages—which were intended to be rolling but, in the Austin area, have lasted for days—in the first place.
Had ERCOT not directed utilities to cut power to customers, there was a possibility that the entire grid would have collapsed, leaving the state without power for weeks—or even longer. "It was seconds and minutes," CEO Bill Magness said of the prospect of a total grid blackout early Monday morning, when hundreds of thousands of Austin energy customers—and millions of other Texans across the state—lost power.
Now that ERCOT is no longer mandating outages, Austin Energy is in the process of restoring power to its customers, prioritizing those who have gone without the longest, Chief of Staff Stuart Reilly said during a Facebook live hosted by Mayor Pro Tem Natasha Harper-Madison. As of 11:16 p.m., 56,788 Austin Energy customers—or about 11%—were still without power. This is a significant improvement from Wednesday evening, when about 27% of customers were still impacted.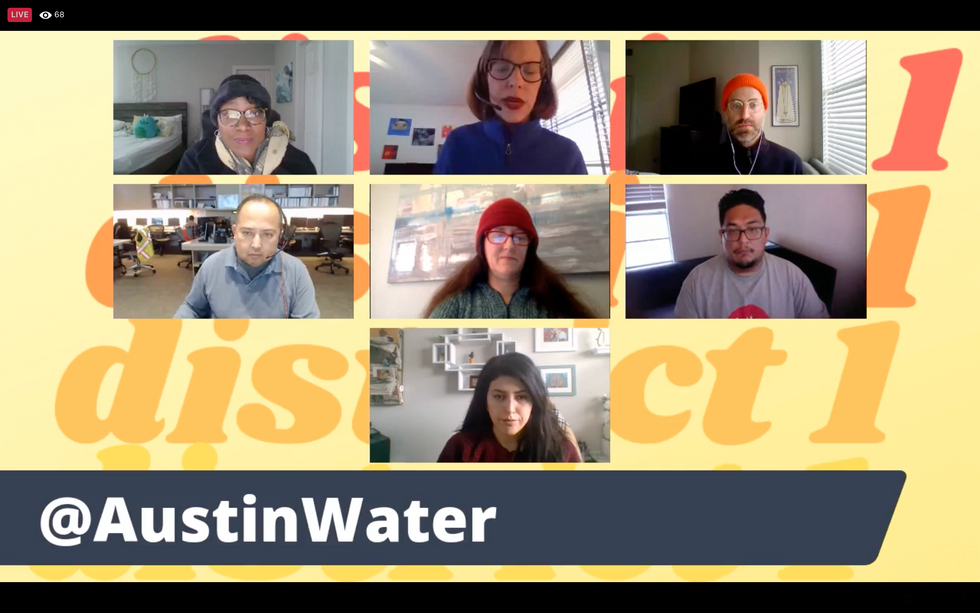 (Mayor Pro Tem Natasha Harper-Madison/Facebook)
The restoration process takes time, however. Austin Energy is restoring power in sections to avoid overloading the system. As power is restored, utility companies run the risk of cold load pickup, which occurs when a circuit is restored only to be quickly overloaded by lights, appliances and thermostats left on prior to the outage. To avoid this, Reilly asked customers still without power to turn off everything except one light. Those who have power at this point should continue conservation measures.

The power crisis resulted in a water crisis in Austin and many other regions across the state. Austin Water issued a boil water notice Wednesday evening due to a power outage at its largest water treatment plant and dropping pressure across the system caused by a surge in demand precipitated by dripping faucets and burst pipes. Although power has since been restored at the treatment plant, the utility is still facing a water shortage and the boil water notice remains in effect.
"We do not yet have a timeline for when water may be restored," Chief of Support Services Anna Bryan-Borja said during the Facebook live.
Although Austin Water previously recommended customers drip their faucets in an effort to avoid frozen or burst pipes, the water shortage issue has prompted them to change their advice. Now, the utility is recommending that customers take conservation measures or turn off their water to prevent pipe problems.
Austonia file photo. (Christa McWhirter/Austonia)
Police have arrested one of two suspects involved in a mass shooting at Austin's Sixth Street in the early morning hours on Saturday, leaving 14 people injured and two in critical condition.
The arrest was made by the Austin Police Department and the Lone Star Fugitive Task Force. One suspect is still at large.
Police started receiving 911 phone calls at 1:24 a.m about a man that fired shots into a large crowd, and responded to a chaotic scene on the 400 block of East Sixth Street. Detectives are surveying video footage captured by bystanders and cameras on the scene to identify the suspect.

The Austin Police Department has narrowed down their search to two male suspects and believes there was "some type of disturbance" between the two parties.
No deaths have been reported. Fourteen victims are receiving treatment in a hospital in stable condition with one treated in an emergency room; two are in critical condition.
According to Interim Police Chief Joseph Chacon, "almost all" of the victims are innocent bystanders but police have not ruled anyone out at this time.
Shooting on 6th Street Austin Texas 6-12-2021 (Aftermath) youtu.be
The shooting occurred on the weekend of the Republic of Texas Motorcycle Rally. With lots of people downtown, police say it was difficult to get EMS in and out of the scene. Police arrived while the scene was still an "active threat," officers "immediately began lifesaving measures" and drove six victims to the hospital in their squad cars, said Chacon, and four were transported in ambulances.
Chacon said that the incident is believed to be isolated, and they optimistic they will be successful in getting the two suspects into custody. Multiple departments, including APD, the FBI, Texas DPS and the ATF, are involved in the investigation.
Austin police are also requesting state troopers for patrol assistance in the coming days. Chacon stressed staffing issues are increasingly making responding to emergency calls "very hard."
"Overall, we remain a safe city," Chacon said. "Also keep in mind when you come downtown, you need to be safety conscious. Be vigilant of your environment and your surroundings."
Today marks the five-year anniversary of the Pulse nightclub shooting in which 49 were killed and 53 wounded in Orlando, Florida. Anyone with information on the shooting is asked to call 911 or 512-472-TIPS.

This story was updated at 2:47 p.m. to include new information and will be updated as more details are revealed.
From Your Site Articles
Related Articles Around the Web
Austin police are investigating a homicide in North Austin where a woman was shot and killed, just hours after a mass shooting in Downtown Austin hospitalized 14 people.
APD is working a suspicious death near the 1900 block of W Rundberg Ln. PIO is en route and will update with media staging location. PIO6
— Austin Police Department (@Austin_Police) June 12, 2021
Police originally responded to Ironhorse Flats Apartments, 1900 block of W. Rundberg Lane, at 3:20 p.m. when they found the woman with multiple gunshot wounds. She was transported to a local hospital, where she was pronounced dead at 4:07 p.m.

No one is in custody as of yet but police are speaking with potential witnesses. Officials said they believe this was an isolated incident with no danger to the public but said possible relation to the downtown shooting has not been specifically ruled out.
Officers could not provide a suspect description and the relationship to the victim is still unknown.
This is a developing story that will be updated as details become available.