Get connected with our daily update
Erik Charles Maund of Maund Automotive Group, who was arrested this week after allegedly hiring a contract killer to murder his ex-girlfriend and her former boyfriend, left a positive review for the business of one of the men that was hired just days before he was caught.
---
According to the U.S. Department of Justice, Maund, who is married, reached out to his ex, 33-year-old Holly Williams, about visiting on his upcoming trip to Nashville in February 2020. Upon hearing of the messages, Williams' estranged boyfriend, 36-year-old William Lanway, allegedly messaged Maund asking for hush money and threatening to expose the relationship if it wasn't received. A month later on March 12, 2020, Williams and Lanway were found dead at a Nashville construction site in a white 2005 Acura.
Maund allegedly hired three men to see the crime through: 47-year-old Gilad Peled, owner of Austin-based Speartip Security Services, 46-year-old Bryon Brockway and North Carolina native Adam Carey. Since the killings, both someone by the name of "Erik Maund" and Bryon Brockway left five-star reviews for Speartip.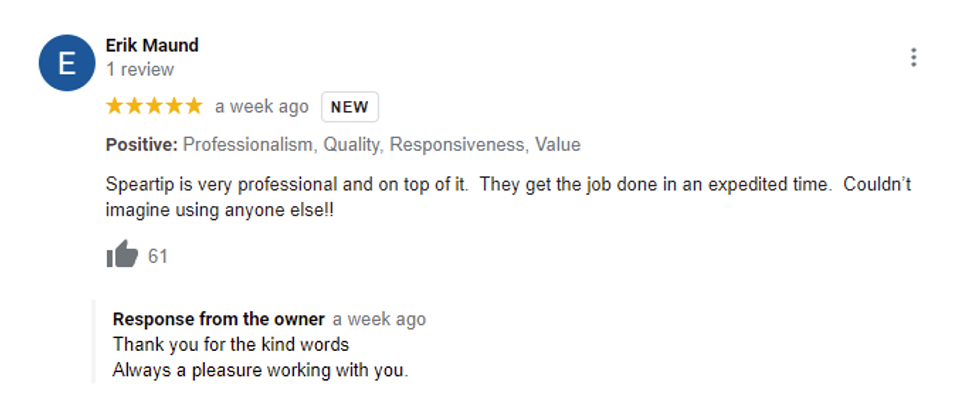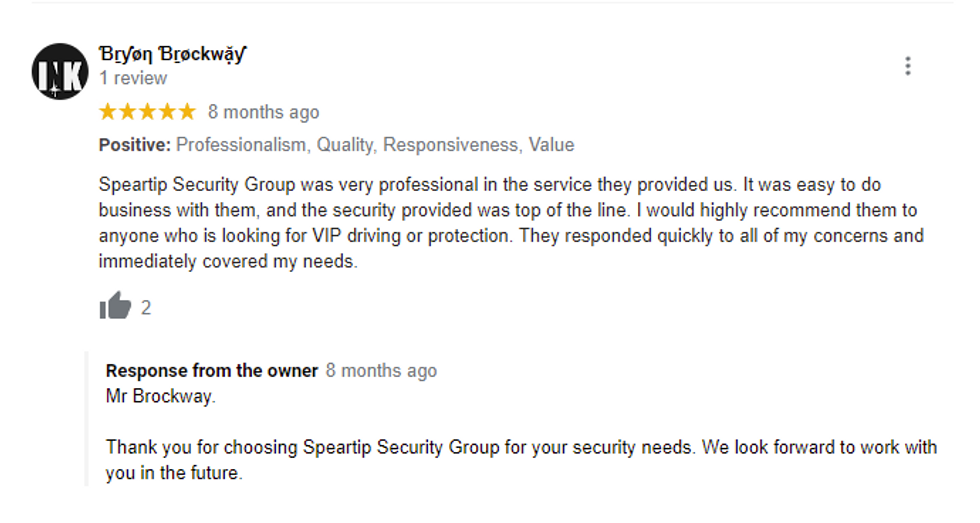 Both reviews are still up on the security provider's Google page. Maund has since been charged with conspiracy to commit kidnapping, kidnapping resulting in death; carrying, brandishing and discharging a firearm in relation to a crime of violence.
Peled, a former member of the Israeli Defense Forces, advertised helping clients respond to threats of extortion, armed guard protection, VIP and executive protection, armored vehicle services and special event security. Brockway and Carey were both former special operations U.S. Marines.
According to the DOJ, Maund took $15,000 out of his account at the same time an "intelligence report" was delivered to Peled, and Carey and Brockway headed to Nashville to get eyes on the couple. After an alleged promise from Peled to stop the extortion, the indictment said Maund wired $750,000 to an account owned by Peled.
Lanway had a criminal history
After reaching out to Williams during his Nashville trip, Maund was contacted by Lanway threatening to expose his affair if he didn't send cash on March 1, 2020. Lanway and Williams had an abusive relationship—court records show that Williams had called the police on Lanway at least three times in the year prior to their deaths.
Lanway was charged with domestic assault and vandalism in April 2019 after hitting Williams and damaging her car, reportedly tried to strangle her in January 2020 for which he was charged with aggravated assault by strangulation with intent to kill and false imprisonment. Just four days later, Williams called the police on Lanway for kidnapping and killing her dog. He was charged with misdemeanor animal cruelty.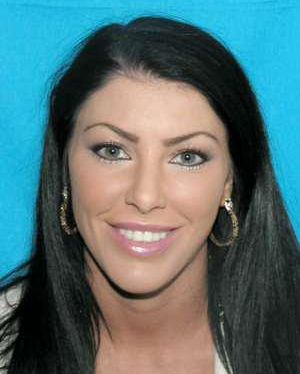 Holly Williams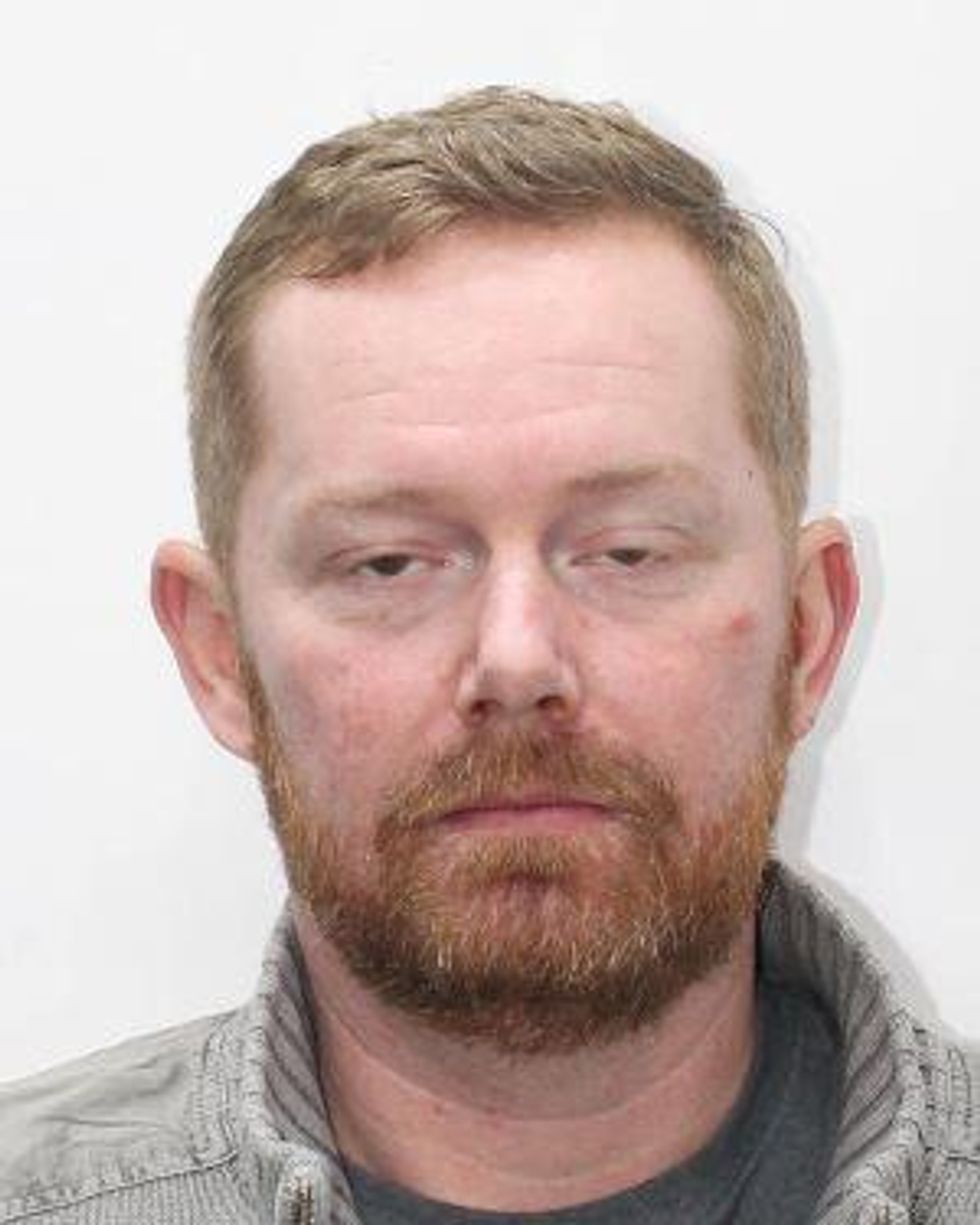 William Lanway
On March 9, Carey and Brockway reported that they learned where the couple lived and their usual routes. Nashville Police said three men were captured on video outside the couples' apartment a few days before their deaths.
Despite the inter-relationship issues, Lanway and Williams were confronted together by Carey and Brockway outside his apartment complex on March 11, 2020. According to the indictment, Lanway was shot multiple times and killed in the parking lot.
The indictment states that Williams was kidnapped, taking along Lanway's body, and killed off a road near a construction lot.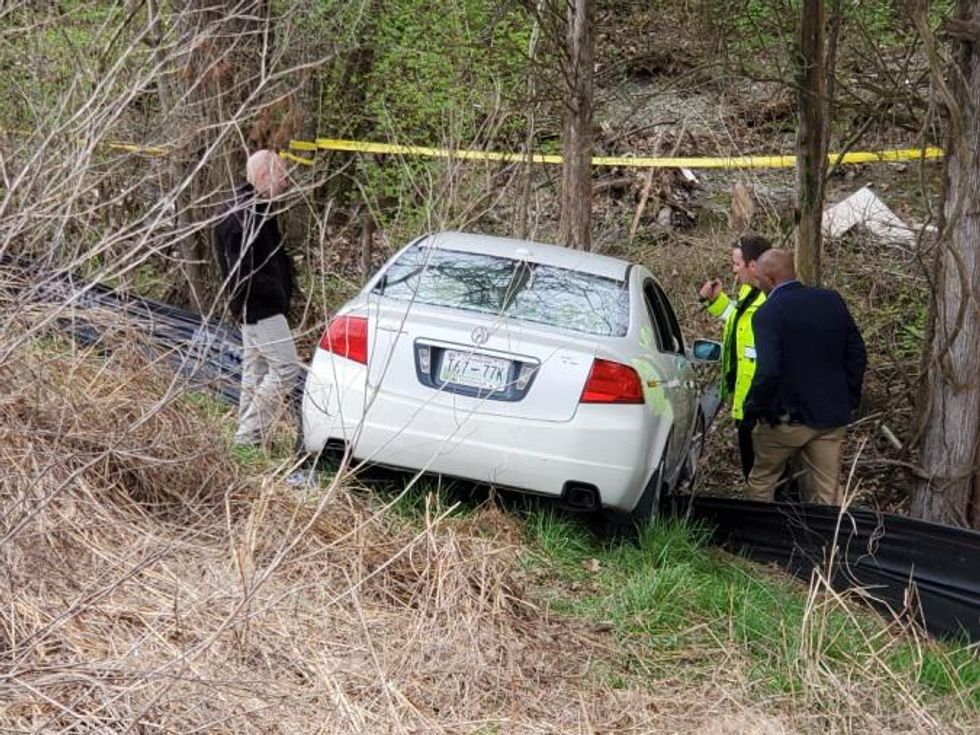 (Nashville Police Department)
The defendants face life in prison
The arrest affidavit states that Lanway and Williams were both shot in the head, dropped at the construction site and discovered by a worker on the morning of March 13, 2020.
After the positive reviews were left on Speartip Security Services on Dec. 7, all four men were arrested.
Peled and Brockway received the same charges as Maund, arrested at Austin-Bergstrom International Airport and San Diego, respectively. Carey was arrested at his out-of-state home.

Maund Automotive Group representatives have not said whether or not Maund is still involved with the company. Maund's attorneys, Perry Minton and Sam Bassett, said in a statement on Monday: "We have spoken to Mr. Maund only briefly on the matter. We will understand more in the coming days and weeks. The entire Maund family loves and supports their son."
The defendants face up to life in prison in the event they are convicted.
Federal prosecutors are asking that Maund not be released on bond, with documents showing he is a flight risk and could "attempt to obstruct justice." According to KVUE reporter Tony Plohetski, a hearing is set for Thursday.
An Austin-based firm that's established itself as one of the top Bitcoin miners in North America is set to go public.
On Thursday, the company, known as Core Scientific Inc., announced it's now trading on Nasdaq as $CORZ. The stock opened at $9.74 per share then peaked at $10.48. The company was assigned a $414 million market cap.
"As one of the largest publicly-traded blockchain infrastructure providers and digital asset miners in North America, we are focused on growing our capacity, defending and securing the blockchain ecosystem and building long-term shareholder value," CEO Mike Levitt said.
As reported by Yahoo News, investors approved a plan for a public debut through a $4.3 billion merger with special purpose acquisition company Power & Digital Infrastructure Acquisition Corp. The deal arrives as Austin sees its crypto scene soar, with increased activity in the NFT economy and groups pooling their money together through DAOs.
Core Scientific was established in 2017 and relocated its headquarters from Seattle to Austin last year. It has a site in Downtown Austin on 106 E. 6th St. and data centers in Georgia, Kentucky, North Carolina and North Dakota. More than 100 full-time employees are in the U.S., but it's unclear how many are in Austin.
Now, they say they are the biggest Bitcoin miners based on processing power, with claims that the combined mining capacity on the Bitcoin network exceeds that of competitors. And SEC filings from earlier this month show it's in the process of acquiring Blockcap, Inc., which moved to Austin last year.
The company describes itself as a leader in high-performance, carbon-neutral blockchain infrastructure in an industry that catches flak for its energy use.
Aside from mining, the company provides internet hosting services for other large-scale miners. In fact, it derives about half its revenue by helping big customers mine, a quality seen in what's often referred to as an "institutional-grade" miner.
Looking ahead, Core Scientific seems optimistic about the year ahead even as Bitcoin falls from its all-time high.
"We've worked hard to lay the groundwork that will enable us to achieve our 2022 projections," Levitt told Yahoo News. "Our objective is to be the best. Being the best means doing all that we can for our business, the industry in which we participate and for the Bitcoin network."
Watch some Cricket
When: 5:30-10 p.m. Saturday and Sunday
Where: The Crossover, 1717 Scottsdale Drive
What: Looking for a new sport to obsess over? Attend one of Sports Movement's indoor cricket matches.
Le Garage Sale
When: 11 a.m. Saturday and Sunday
Where: Palmer Events Center, 900 Barton Springs Rd.
What: Find over 100+ boutiques, brands and designers at Le Garage sale. Shop leisurewear, accessories, menswear, children's apparel, home decor and more. Tickets start at $10.
See a movie at the drive-in
When: 6:25-8:45 p.m., 9:15-10:50 p.m. Saturday
Where: The Globe Drive-In Theater, 8017 Cele Rd.
What: This weekend you can see Harry Potter and the Prisoner of Azkaban at 6:25 p.m. or you can see The Cabin in the Woods at 9:15 p.m. at the drive-in. Tickets cost $16 per car.
Museum of Ice Cream
When: 11:30 a.m Saturday and Sunday
Where: Museum of Ice Cream, 11410 Century Oaks Ter.
What: The Museum of Ice Cream is featuring 12 never-before-seen instillations celebrating the enjoyment of ice cream. View tickets here.
The Austin Flea
When: 12 p.m. Sunday
Where: Meanwhile Brewing, 3901 Promontory Point Dr.
What: Find handmade items, vintage wares, food and drink and more at The Austin Flea at Meanwhile Brewing. Vendors are handpicked for each show to guarantee a great selection of items to shop for.