Get connected with our daily update
🗓 All weekend
😎 Hot Summer Nights Festival 2022
Red River Cultural District's annual free music fest is returning for three nights this weekend, showcasing more than 100 local artists. While admission is free, the festival helps raise funds for venue staff and local artists.
Various times Thursday-Saturday | 📍Red River Cultural District venues
---
🗓 Thursday
Based on the beloved 2004 classic film of the same name, "Mean Girls" is coming to the stage at Bass Concert Hall with a musical twist. Follow Cady Heron in a new way as she navigates the animalistic world of high school and learns who to be a true friend. Tickets start at $45.
Multiple showtimes Thursday-Sunday | 📍Bass Concert Hall, 2350 Robert Dedman Dr.
I'm holding two drinks in my hands but only one can be named next top margarita. Join in on a bracket-style competition running throughout the month to try all eight margaritas, then name your favorite for the finals. Tickets start at $18.
3-9 p.m. Thursday-Sunday | 📍Desert Door Distillery, 211 Darden Hill Rd.
Soak up some nostalgia seeing the 2010s boy band Big Time Rush on stage again as part of a stop on their "Forever" reunion tour. Tickets start at $23.
Doors open at 7 p.m. Thursday | 📍Moody Amphitheater at Waterloo Park, 500 E 12th St.
🗓 Friday
Rappers Wiz Khalifa and Logic are coming to you live and on stage as part of their joint "Vinyl Verse" tour. You can secure a lawn ticket for as low as $23 or a seat for $25.
6:30 p.m. Friday | 📍Germania Insurance Amphitheater, 9201 Circuit of the Americas Blvd.
Celebrating a slice of Texas history, Moody Amphitheater is showing the 1997 film "Selena" as this week's Friday Flick. Stop by early for a performance from Selena tribute band Bidi Bidi Banda and the movie starts at sunset. Admission is free.
7 p.m. Friday | 📍Moody Amphitheater, 1401 Trinity St.
Spend your Friday night dancing under the stars with indie pop band COIN, making a stop on its "Uncanny Valley" tour. Tickets start at $33.
8 p.m. Friday | 📍Stubb's Waller Creek Amphitheater, 801 Red River St.
🗓 Saturday
The first annual ATX Queer Music Fest is kicking off at Lustre Pearl to benefit Austin-area sexual health and wellness services. In addition to live music performances from Mama Duke, Chief Cleopatra and Caleb De Casper, there will be drag shows, markets to peruse and free goodies. Tickets are $5 for all ages and events are 21 and up after 7 p.m.
2 p.m.-2 a.m. Saturday | 📍Lustre Pearl South, 801 Red River St.
Grammy-winning Texas-based R&B musician Leon Bridges is taking the stage with Little Dragon during his "The Boundless" tour. Tickets are still available for $40.
8 p.m. Saturday | 📍Moody Center, 2001 Robert Dedman Dr.
🗓 Sunday
Relax after a busy weekend with a free outdoor yoga class for all skill levels led by local instructor Hannah Charles. Be sure to bring your own yoga mat and plenty of water.
9-10 a.m. Sunday | 📍Meanwhile Brewing Co., 3901 Promontory Point Dr.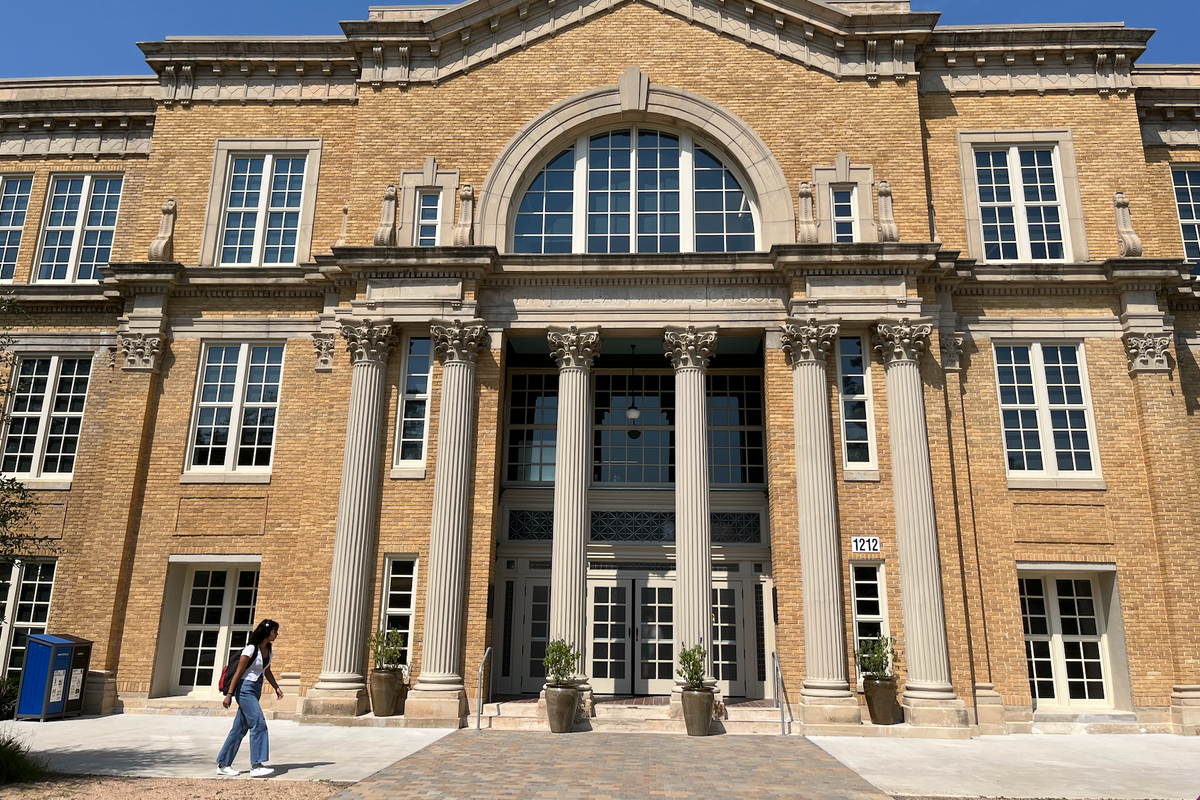 Austonia
Austin Community College's renovated Rio Grande campus is back open to students who are gushing over the study spaces and views of downtown.
Updates to the historic building at 12th and Rio Grande—which was built in 1916 and previously a junior high school before becoming Austin High School—have been years in the making. A 2014 bond election funded the renovation work that started three years later, ultimately creating what ACC describes as a state-of-the-art college campus. ACC will host a ribbon cutting in October to celebrate the grand reopen
"You're downtown but you are in this incredibly cool, older building that has windows that somehow people have forgotten how to build now," campus manager Michelle Raymond told Austonia during a tour of the building. She adds that she can only think of a couple of spaces where there isn't natural sunlight.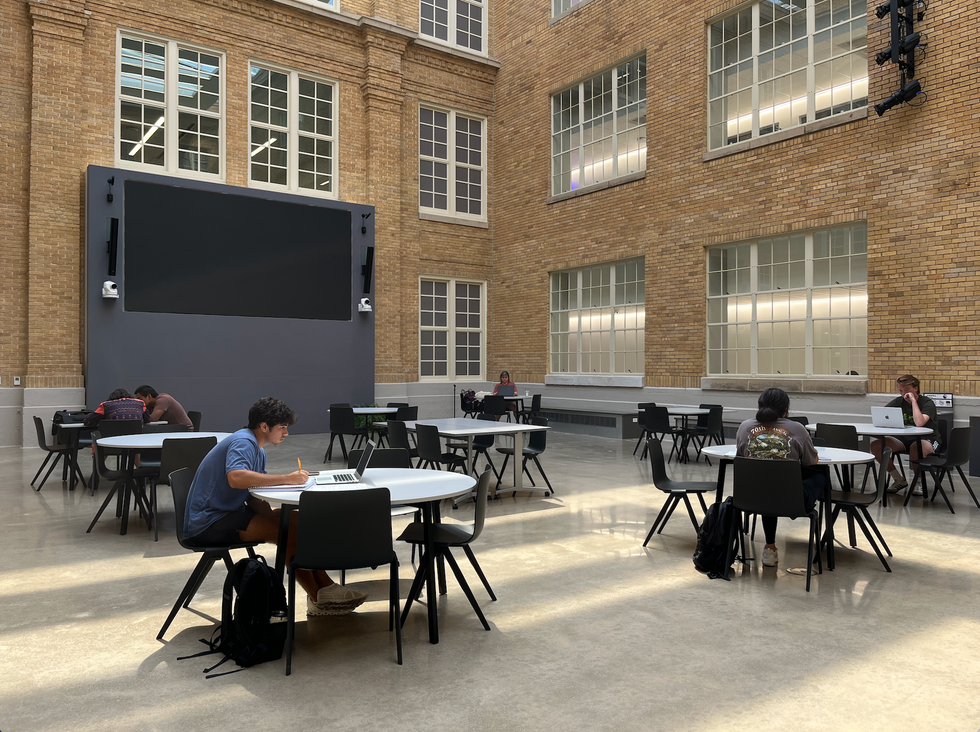 Austonia
The result is a warm and inviting feel inside with classrooms and resources like the student accessibility services office, an accelerator area with computers and conference rooms and more.
Outside, an amphitheater-like space that was mostly just dirt before the renovations has seating for students to work or have lunch.
"The project manager really envisioned trying to squeeze the most out of the inner city college vibe that we could get," Raymond said. "And this is a really lovely space that they carved out. It's got electricity, there's WiFi out here. Students can come and hang out."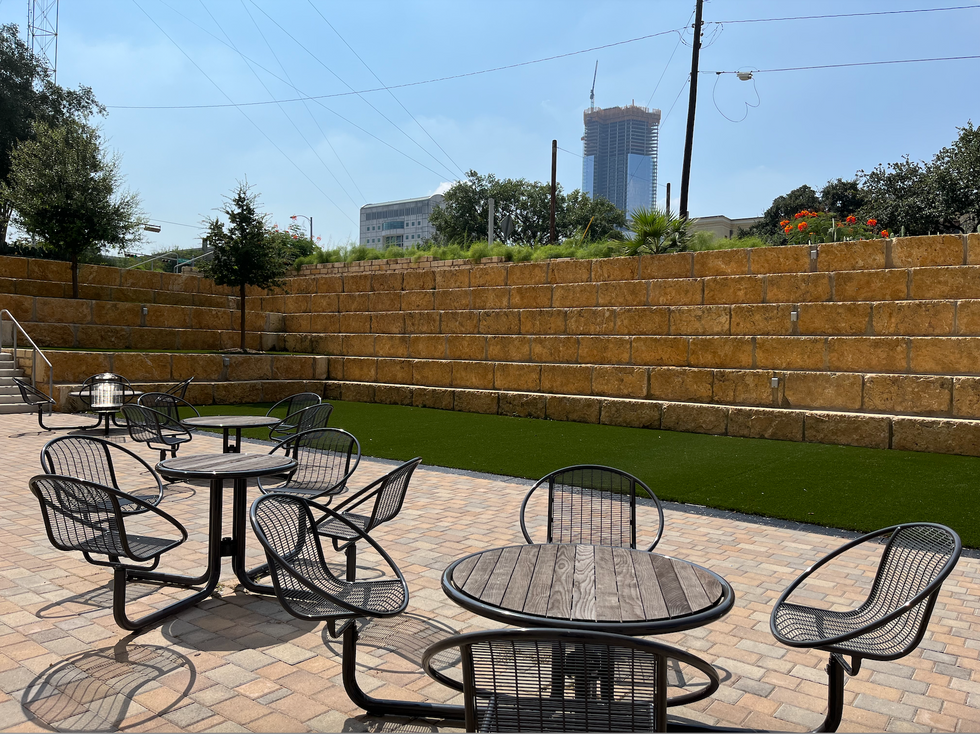 Austonia
When it comes time for activities or meetings, there's a multipurpose room. Raymond notes that the floor mostly hosts computer classes, but it's used for various occasions and even once Pentagon staff met in the room.
There's even more to come, including a shop called Cafe Rio that will serve sandwiches, pastries, and other snacks and drinks. And in the coming semesters, the Computer Information Systems department is moving onto the campus to join instructors from VMware in teaching.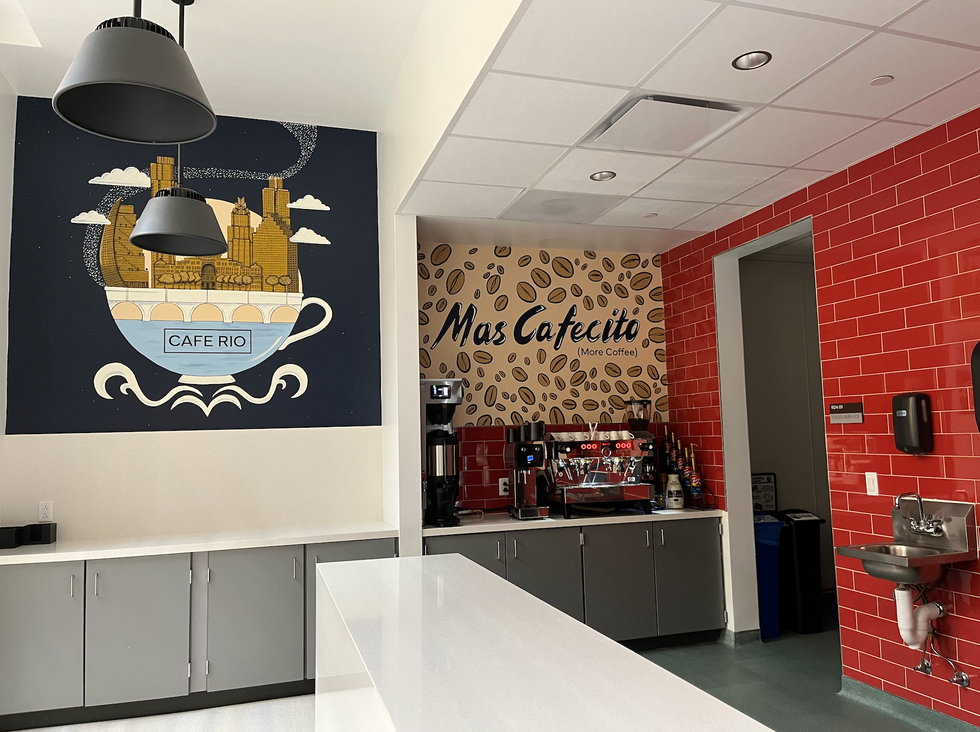 Austonia
The Rio Grande campus also has the Army Futures Command, a subsidiary of the army where soldiers build their software programming skills. Raymond says each six months, ACC will have a group made up of 25 soldiers and five civilians that will be there for three years.
"Some have degrees in software programming but others don't," Raymond said. "So they are kind of using this as a way to keep their talent in the army."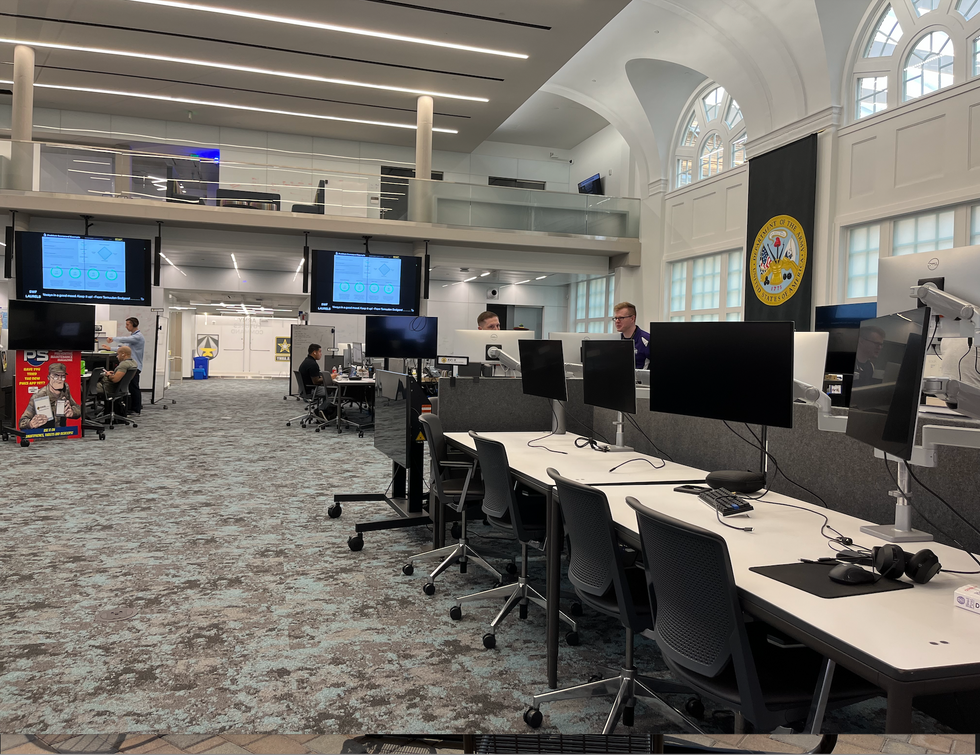 Austonia
Even with the many changes, a key to the renovation project involved preserving features as a way to marry old with the new, Raymond says.
That includes details like windows overlooking an atrium from the original site that were given a new life after being hand cleaned and painted. Or an engraving on the building labeling it John T. Allan High School.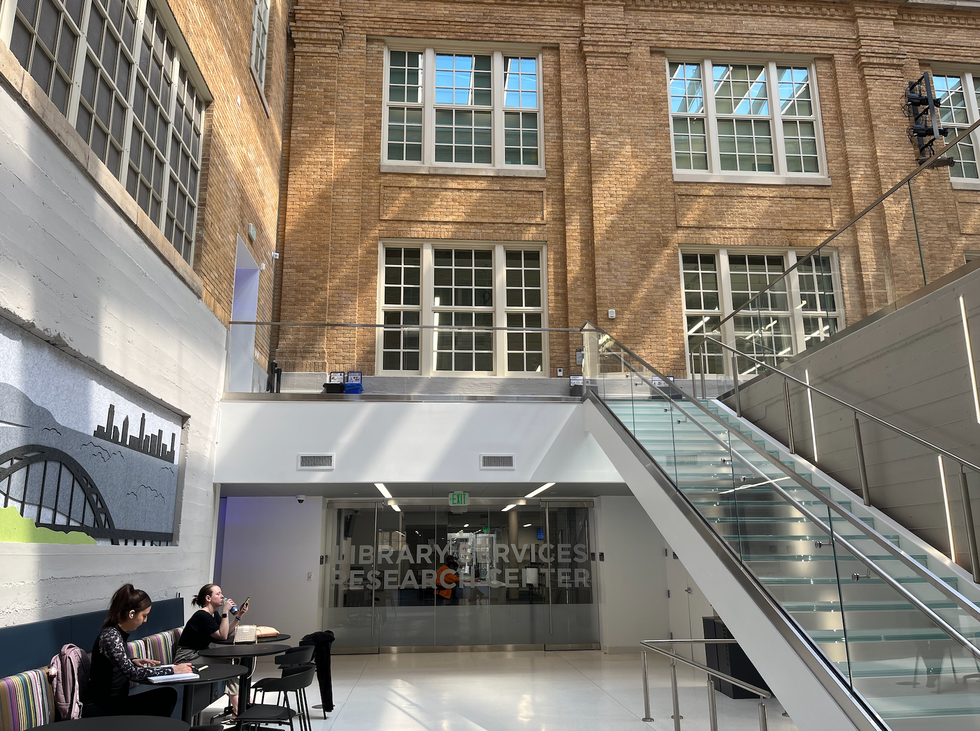 Austonia
"It really is a huge transformation from what it used to be," Raymond said. "The ceilings feel higher, the colors are brighter, it's more open, better use of space."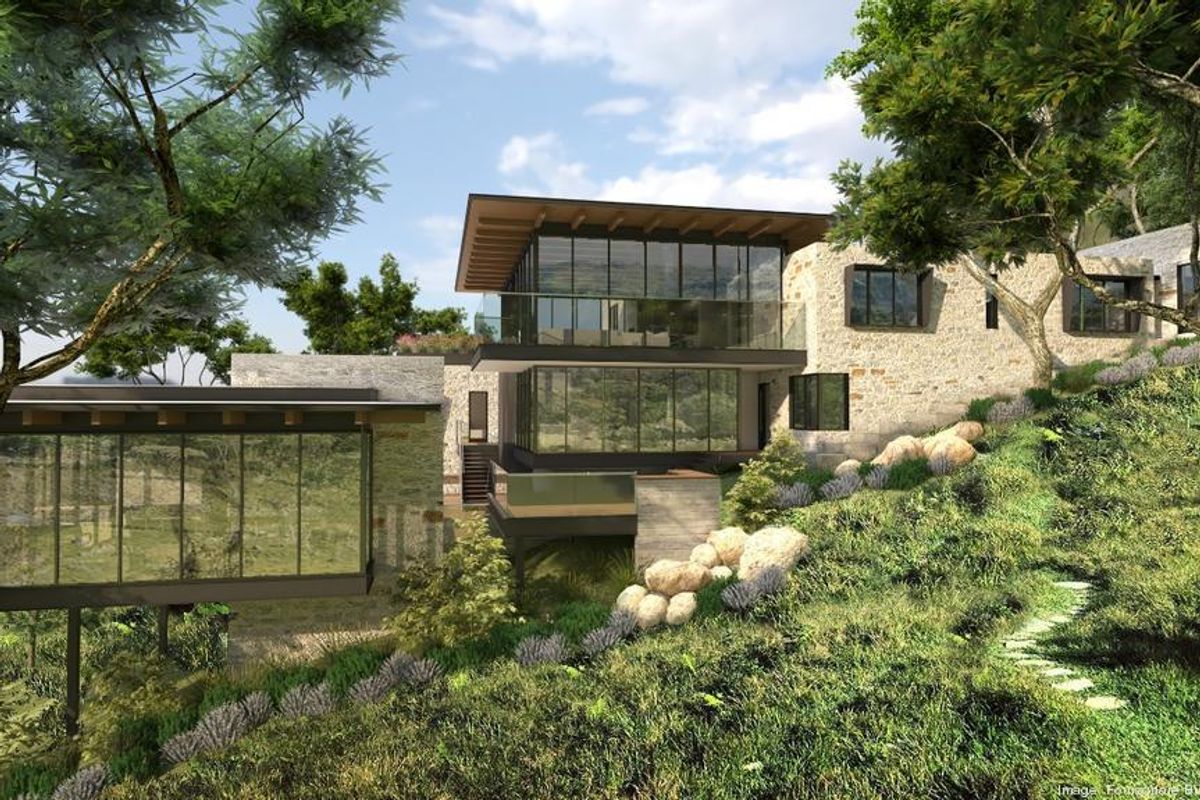 A new development featuring homes worth $11.75 million and up is coming to Austin's West Lake Hills.
Five well-known architecture firms will converge to create a luxury six-home development, dubbed the Wildcat Club, in the affluent Austin suburb. Prices will start at $11.75 million and will range from 5,750 to 9,500 square feet.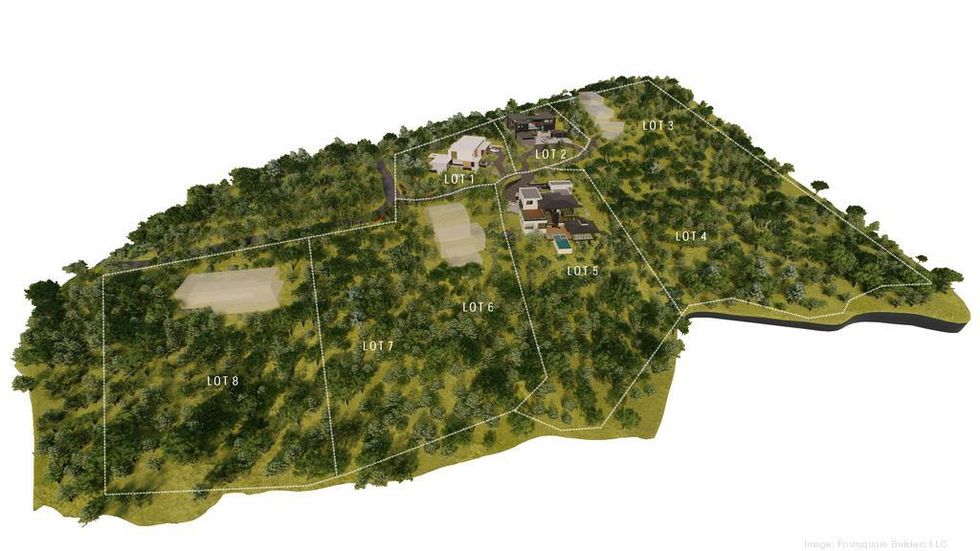 The enclave consists of six lots ranging from one to 4.5 acres. (Foursquare Builders)
Perched on lots ranging from one to 4.5 acres, the homes will be partially customized for their owners. Buyers will be able to choose the interiors, furnishings and finishes of their homes and can choose to automate their properties through two "nationally known" tech companies, Foursquare Builders owner Wes Wigginton told the Austin Business Journal.
The vision was to create a "community of architecturally significant homes" that are held to "a standard that's considerably higher than what most people think of when they think of a real estate development," Wigginton said.
Firms involved include Furman + Keil Architects, McKinney York Architects, Jay Corder Architects and Clayton-Korte Architects and System D Architects, which designed two homes. Foursquare narrowed down from 10 firms to create a uniquely-designed, cohesive enclave of homes, Wigginton said.
The biggest home has already been sold and pays a testament to the development's standard of luxury. Outside, the property features a pool and spa, outdoor kitchen, and three second-floor patios, while the inside includes a master bedroom and den, gourmet kitchen and butlers' pantry, game room, office and elevator.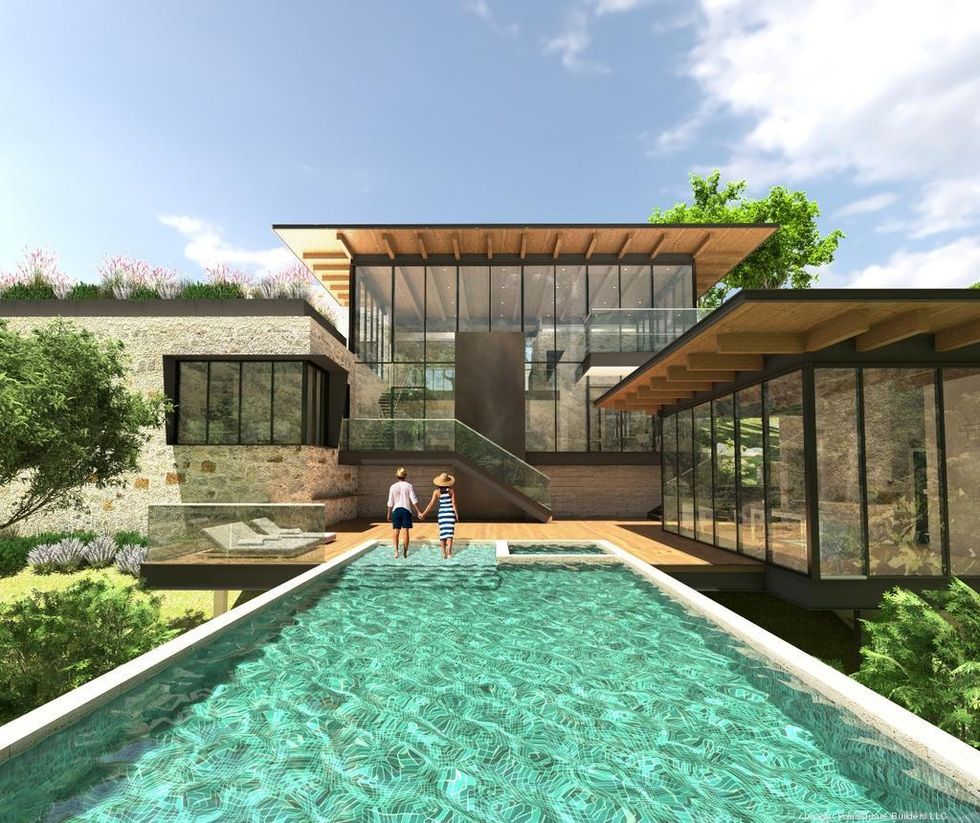 Each property has been designed by a different architecture firm with luxury living in mind. (Foursquare Builders)
Austin has become a hub for luxury properties, and the developments' location within West Lake Hills puts it in the third-richest zip code in Texas. The Wildcat Club will be built off Wildcat Hollow near Westlake Drive.