Get connected with our daily update
BY SHANNON NAJMABADI
As schools and universities across Texas begin reopening, families, students and educators are adjusting to remote instruction; schools are preparing to file weekly reports on COVID-19 cases; and universities are providing free on-campus coronavirus testing.
The Texas Tribune spoke to epidemiologists and health experts about what the state can expect with schools and universities resuming online or in-person instruction.
---
Question: As hospitalizations decline, schools and universities are reopening — and already seeing outbreaks — and Labor Day is coming up. What do you think the state can expect in the weeks ahead?
Dr. Ron Cook, professor at Texas Tech University Health Sciences Center and the city of Lubbock's public health authority: I think we're all holding our breath on … what opening schools and opening colleges and universities is going to do. ... So I think we're going to see a surge, I think we'll see a surge of positive cases in the next 10 days to two weeks. That [student] population more than likely will do pretty well. But another 10 days after that we may see those that they come in contact with ... may not do so well.
Catherine Troisi, infectious disease epidemiologist at UTHealth School of Public Health in Houston: It is great news of course the hospitalizations have been declining, probably due to better treatment … we've learned a lot about the infection, and the fact that it's younger people being infected and they are less likely to have more severe outcomes and need to be hospitalized. ...
However, there is concern that the fact that hospitalizations are going down will be taken as a sign that, 'Oh we can go back to normal,' because we're all tired of this. We were tired of it four months ago and now we're really tired of it ...
We've got a holiday weekend coming up [Labor Day weekend], and we saw what happened … Memorial Day. The fact that schools are opening is a big experiment, particularly the elementary schools and the role of children in the spread of this virus, and there's a lot we don't know. … Colleges — it's less of an experiment because I think we know what's going to happen. Eighteen-year-olds, first of all, think they're invincible. They're not going to die of anything. They're social animals. They haven't seen their friends since March. It is understandable that they are not going to keep up masking and, particularly, physical distancing. ...
The short answer to your question is, yes, we are concerned. … We've got these three things happening and I would predict that we're going to see an increase in cases.
Dr. James McDeavitt, dean of clinical affairs at Baylor College of Medicine: I've got a forecast and I've got a fear. My forecast is hopeful, but my fear is that history could repeat itself. We had what we thought was a surge in April that turned out not to really be a surge, but sort of an appetizer. And then we hit all the events of the summer. ... We skated right up to the point that we were risking overrunning our hospital system capacity, though thankfully we never did.
Well, now we've come to the backside of that surge, and my fear is that we'll lose our focus. We still have a relatively immunologically naive population out there that is susceptible to the virus. ... With upcoming holidays, school reopenings, a looming flu season, there are a lot of dynamics at play that could reignite the spread of the virus.
I don't think we can adopt an attitude that the calvary is going to ride in to rescue us — I don't think a vaccine will emerge and suddenly the virus vanishes. … My guess is by December we will probably see one of the vaccines in current phase three clinical trials demonstrate adequate safety and effectiveness and will start to be distributed. But to get to the point that adequate numbers of people – or high risk subpopulations of people – are actually vaccinated to the point we develop a degree of herd immunity, I think we're looking at springtime. And that's if everything goes like clockwork, which it won't...
So the reality is if we are going to be able to resume some semblance of life as we knew it before COVID-19, we need to adopt good masking, distancing and hygiene practices for a good long while — for months to come. We will have a vaccine, we'll get there, and this will end. But it's not going to be tomorrow — so I think that's important for people to get their heads around that. We're in this — all of us together — for the long haul.
The Texas French Bread Bakery, located on 2900 Rio Grande Street, has been completely destroyed after a fire erupted on Monday night.
The Austin Fire Department responded to the fire just before 11 p.m., where they arrived to see flames coming from the roof of the bakery. Firefighters fought the fire for about an hour before the roof collapsed.
While no one was injured in the fire, firefighters say the historic building was completely totaled.
AFD determined that the fire was accidental and caused by mechanical failure. AFD said the damages amounted to $1.6 million total: $1.1 million in structural damage and $500,000 in damage to the contents of the bakery.

This year, Texas French Bread will celebrate 40 years of business. Before the bakery occupied the building, it was the Rome Inn, a music venue that hosted 1970s artists like Stevie Ray Vaughan.
Austin's first major league team is ready to extend its reach with a new collaborative sports complex The Pitch, an Austin FC destination packed with local food, beverages and Verde fervor is set to open in Northeast Austin in February.
The Pitch, a collaboration between Austin FC and Karlin Real Estate, among other entities, will be located in the 50-acre Parmer Pond District, which already hosts the club's practice facility St. David's Performance Center.
Dubbed a "true destination" for both soccer fans and the community, The Pitch will consist of multilevel shipping containers designed by Mark Odom Studio that will carve out into a 1,200-seat stadium complete with a soccer pitch made of turf, food and beverage options and a five-acre "Parmer Pond" featuring jogging trails.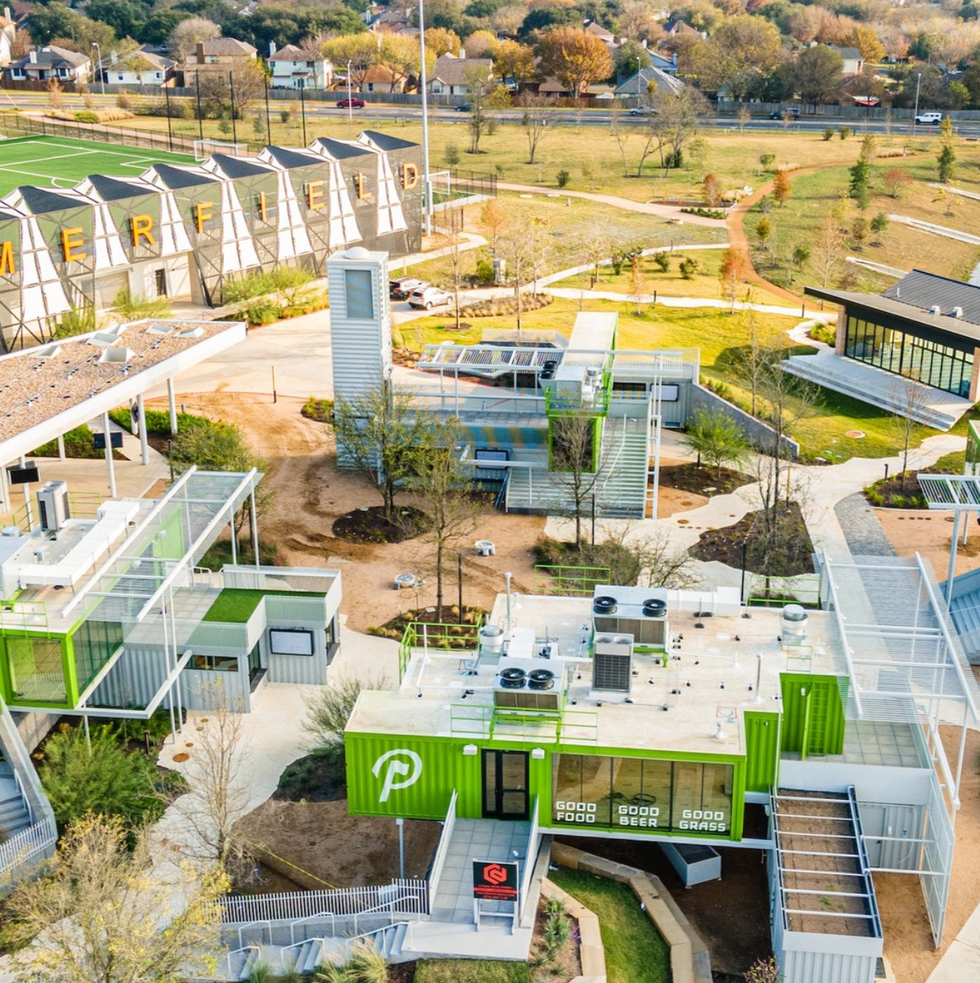 Made from multilevel shipping containers, The Pitch will include food and a 1,200-seat soccer pitch made from artificial turf. (The Pitch)
"The launch of Karlin's new food and entertainment experience will greatly enhance the Parmer development while perfectly complimenting St. David's Performance Center," Austin FC founder Anthony Precourt said. "The Pitch... will offer a strong variety of food options and gathering spaces for guests who will utilize St. David's Performance Center and Parmer Field for a variety of events."
The Pitch project lead Dave Greeley, who helped come up with the concept, is a former president of Austin FC parent company, Two Oak Ventures.
"The vision behind The Pitch at the Parmer Pond District is to be a first-of-its-kind sports, dining and entertainment destination," said Dave Greeley, The Pitch project lead and Team Orbis president. "This will be an unmatched experience for Parmer Austin tenants, Austin FC and club supporters, and the community."
With its proximity to the practice center, the venture hopes to contribute to the growing "soccer city" of Austin during Austin FC matches and youth games with the Austin FC Academy hosted at the St. David's Performance Center.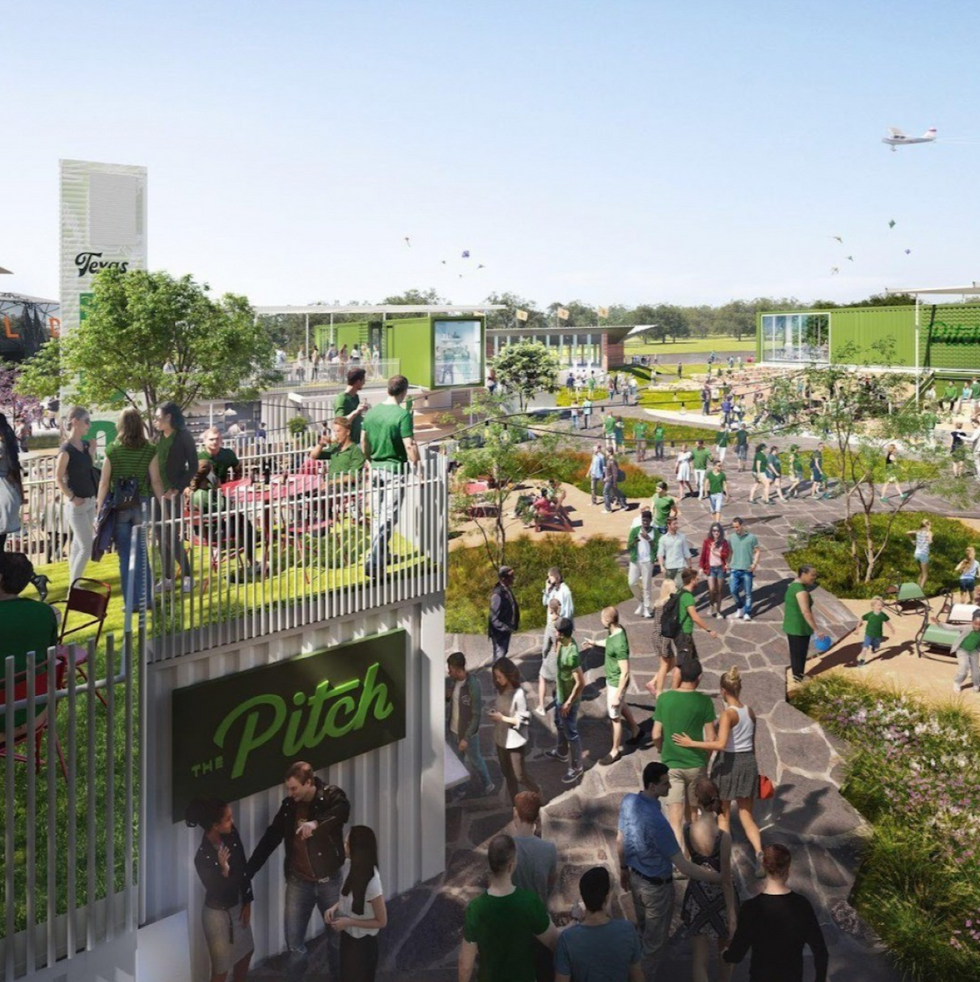 The Pitch hopes to converge both community and club interests with Austin FC. (The Pitch)
In addition to the soccer pitch, stadium and pond, The Pitch will provide a foody experience made by the creative team behind Austin staples like Fareground and Easy Tiger. The complex will offer local bites including:
Ranger Burger, which offers beers and burgers made from highly-coveted Wagyu beef direct from Ranger Cattle in East Austin
Ga Roti, which merges flavors from Northern Vietnam with the culinary techniques of France to create a unique rotisserie chicken joint
Taco Flats, a local taco chain serving Mexico City-style tacos, micheladas and more
Sand Bar, which fulfills its namesake with beauty cocktails, local beers and a sand volleyball court
Coffee Club, a coffee shop and bakery
Corner Kick Bar, the soccer-focused main bar of The Pitch complete with "tunes, TVs and (a) beer garden"
The Pitch will squeeze between St. David's Performance Center and Parmer Pond alongside the southern edge of Parmer Austin, a Karlin Real Estate venture that will eventually include multifamily housing, corporate office space and an aerospace and defense center.