Get connected with our daily update
Crashing business meetings, weddings and all kinds of gatherings dressed in their holiday best, drag queens with Austin entertainment delivery service Extragrams are bringing the holiday spirit right to your door.
---
As the first holiday season during the COVID pandemic loomed with no end in sight in late 2020, Austinite Kerry Lynn had more than visions of sugarplums dancing in her head.

Lynn, an event planner who has worked in entertainment, was looking for a way to show her mom love for her birthday that summer while quarantining was at its peak. Instead of a material gift, Lynn wanted to give her mom a boost of human connection during isolating times and decided to send over a musician to give a surprise performance at her door.

From there, a new business idea was born. By fusing her love for old-timey holiday telegrams with the needs of quarantined people and performers who had lost a chance to work during COVID, Lynn created Extragrams—a service that brings the over-the-top joy of drag queen performances straight to a loved one's door.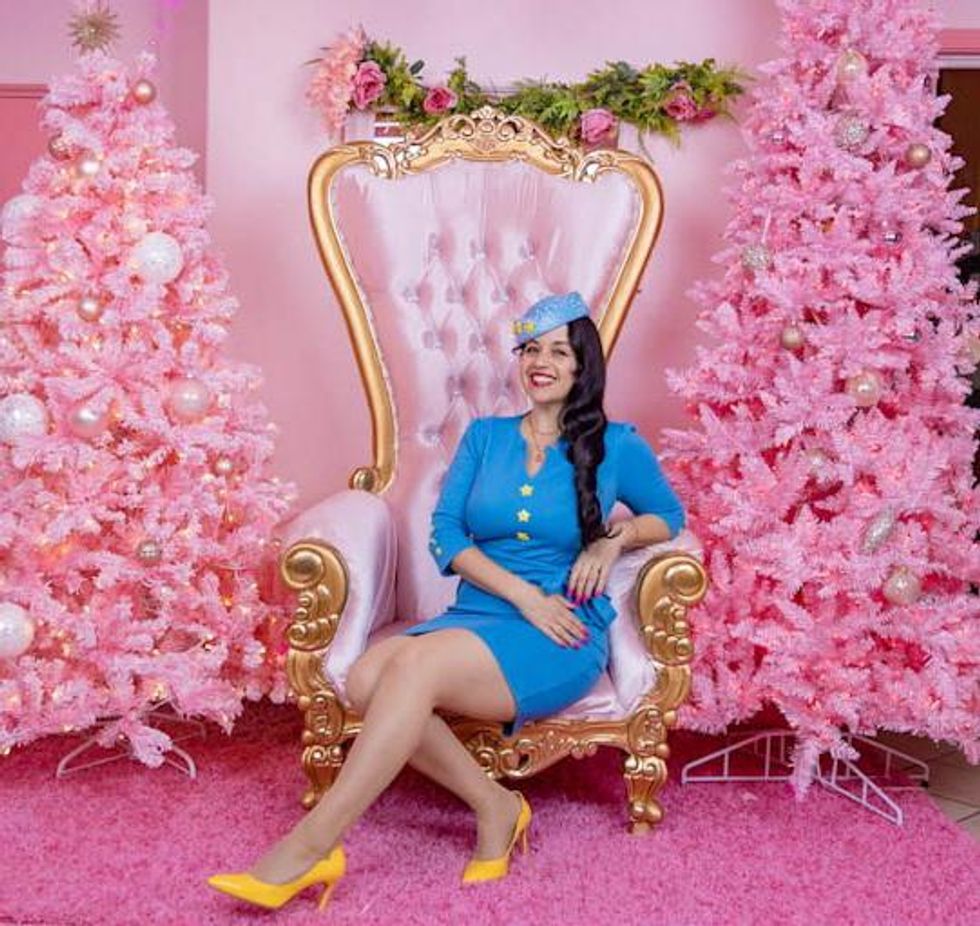 Extragrams founder Kerry Lynn started the drag queen entertainment delivery service after looking for a gift for her mom during the pandemic. (Extragrams)
"I've always just loved the idea of creating these kinds of random acts of fabulousness into people's lives... and the idea of being able to gift something that wasn't material but was kind of like a memory," Lynn said. "Being able to send this epic entertainment to someone with music and this whole spectacle, it allowed them to feel like they were connected in a way because they were sending this experience that they all got to be a part of... it felt really special."

At first, Lynn was unsure if professional drag queens accustomed to large, adoring crowds would settle for performances in front of just a few people. But she soon received the opposite reaction.
"Performers, they want to perform, they want to share," Lynn said. "Almost all the queens that I reached out to were super interested and really supportive and gung-ho about it."
Since July 2020, what Lynn once thought was a temporary pandemic pursuit has transformed into a multi-faceted business.
"It really was like, 'Okay, the world is burning. Let's just do this,'" Lynn said. "I tried to be smart about it from a business standpoint, but I really was just thinking of it in the moment."
Lynn's passion project soon "spread like wildfire," Lynn said, as people began booking performances for graduations, birthdays and other occasions while miles apart. News of the service began circulating through local media, viral TikTok videos and word of mouth.
In a time where people were forced into solitude and bombarded with bad news, queens have spread joy to anyone from nurses overburdened in COVID units to CEOs in need of holiday cheer. As pandemic restrictions shifted, Extragrams did too—Lynn said the company has become a sort of "drag queen agency" and gone on to perform for larger events.
But whether queens are surprising a backyard party with a twerking contest or joining quarantined grads in caps and gowns, Lynn says the shock and joy are universal.
"I really do feel like I have the best job in the world because we just get to surprise people with drag, right?" Lynn said. "We get a lot of people who cry because it's powerful. It just feels so celebratory when someone shows up in like that huge spectacle just for you."
And even as the threat of omicron looms over yet another pandemic holiday season, Lynn said the on-demand drag queen service will continue to adapt and bring joy to those who need it most—all while staying "extra."
Capital Metro has been awarded $750,000 from the Federal Transit Administration to go toward Project Connect's Orange Line, documents show.
The FTA announced the funding round on Thursday, which dispersed $11 million across 12 states and 20 projects. The money is meant to connect communities to affordable transit and housing through the FTA Pilot Program for Transit-Oriented Development planning.
CapMetro said the funds will go toward projects at eight stations spanning 6.5 miles on the South end of the Orange Line, which has a total of 22 stations. The full project stretches across the 20 miles from Southpark Meadows to Tech Ridge.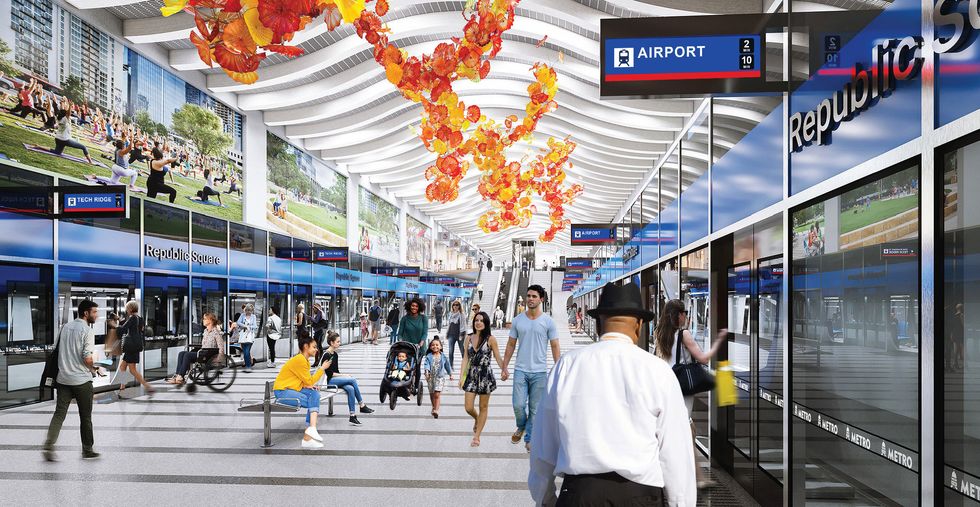 Republic Square station is along the Orange Line. (Project Connect rendering)
Once it's complete, which officials estimate will be in 2028, the Orange Line will reach the following stations:
Tech Ridge (Park & Ride)
North Lamar International District
Crestview
The Triangle
UT campus
Republic Square
Auditorium Shores
South Congress
Southpark Meadows (Park & Ride)
A $500 million mixed-use development spanning 1,400 acres is coming to Southeast Austin, near Tesla's headquarters at Giga Texas.
Plans for the development by Houston-based real estate firm Hines include 2,500 houses along with multi-family and townhomes, and commercial land. Hines is partnering with Trez Capital, Sumitomo Forestry and Texas-based Caravel Ventures.
The development, which is known as Mirador, will be located off the 130 Toll and Highway 71, which the developers say provides easy access to the Circuit of the Americas Formula 1 racetrack and other Austin attractions like restaurants, parks and live music venues.
Hines also boasts amenities like a 60-acre lake, over 600 acres of greenbelt, community parks, trails and a swimming pool.
"As Austin continues to grow into the tech epicenter of Texas, coupled with a supply-constrained market, the demand for new housing is at its highest," Dustin Davidson, managing director at Hines, said. "Mirador will be critical in providing more options for Austin's growing population and we are excited to work alongside our partners given they each provide a unique and valued perspective in single-family development."
The local housing market has been hot in recent years, with home sales accelerating earlier in the pandemic. In July 2021, the Austin metro area hit its pricing peak at $478,000. As Austonia previously reported, the area has been expected to see the Tesla effect, with the new workforce driving up demand for housing and other services.
The single-family houses are expected to be developed over the course of six years, in phases. Construction on the homes is expected to start this year and home sales will begin in 2023.