Get connected with our daily update
University of Texas at Austin faculty and student groups are critical of a plan to create a new band whose members won't be required to play "The Eyes of Texas," the embattled alma mater at the center of a year-long controversy.
"The creation of a separate band does not solve the problem," said Alberto Martinez, a professor of history at UT who has researched the song's racist origins. "The solution of inviting Black students who dislike the song in the band to leave the band is frankly offensive."
---
UT band members are required to play "The Eyes of Texas." But starting in fall 2022, objectors can join the new, as-yet-unnamed band.

UT officials tout the plan as a solution to the controversial school song, which has divided the campus community and prompted revelatory reporting about deep-pocketed donors who pressured the university to keep the alma mater. But others think the plan will do little to quell tensions.
Band silence
It remains unclear how many Longhorn Band members will opt to join the new university band next year. But a number have spoken out against "The Eyes of Texas."
Judson Hayden, president of LH Blacks, the Longhorn Band's first-ever Black student group, told the Austin Chronicle in November that he would never play the song again, months before the university announced its separate band plan. Mercy Ogunlade, an LHBlacks member and clarinet section leader, said she would neither teach nor perform the song in the same article.
Hayden, who has said he's faced online attacks for speaking about the issue publicly, and other LHBlacks members did not respond to requests for comment.
The Longhorn Band did not participate in a Texas vs. Baylor football game last October after an internal survey revealed there weren't enough members willing to play the song. Former Longhorn Band Director Scott Hanna wrote that the band was "fairly evenly divided in opinion" in a message obtained by The Daily Texan at the time. UT President Jay Hartzell later issued a statement saying that the band was never expected to play at the game.
Dr. Cliff Croomes, the recently appointed first Black Longhorn Band director, recently told KXAN that he plans to listen to members' opinions about the song, but added: "When it comes to the ball games, we will be playing 'The Eyes of Texas' as a Longhorn Band and, as is customary, I'll be on the ladder leading in those efforts."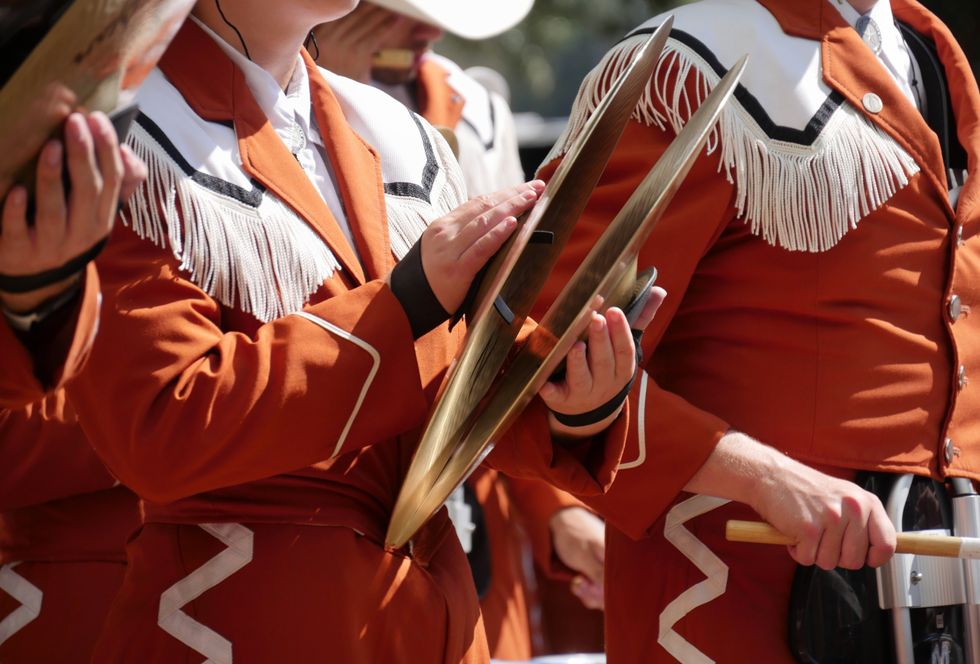 Last fall, around half of Longhorn Band members opposed playing the song, according to an internal survey. (Shutterstock)
Support on campus

The Daily Texan Editorial Board criticized UT's second band plan in a June 15 opinion piece. "By separating the Longhorn Band over an issue as indisputably bigoted as 'The Eyes of Texas,' the University proves once again that it adheres to donors and traditions over the will of its student body—especially that of its Black students," the board wrote. "All students deserve to feel comfortable joining the official, longstanding Longhorn Band: an undivided band that shouldn't play the racist song at all."
Dozens of student campus tour guides went on strike early last month after the university wouldn't commit to removing a plaque with "The Eyes of Texas" lyrics hanging in the Admissions Welcome Center.
The Texas Orange Jackets, the oldest honorary service organization at the university, hosted a virtual conversation with Martinez, the history professor, about the song's origins on April 29. (An unknown man crashed the Zoom event and appeared to load a large gun.)
"Our organization has had a history of upholding this school song rooted in anti-Blackness," the group wrote in an April 23 Facebook post promoting the event. "It's our full responsibility to confront this history, diverge from it, and uplift the voices that challenge this institution."
Zion James, an undergraduate student and member of the Black Student Alliance, suggested the university stands to lose Black students over its handling of the controversy at a March 29 press conference.
"As Black students we're conflicted on how we're told to transfer or choose another school," he said at the event. "Yet without any Black presence on our campus there would be no (Perry-Castaneda Library), no Duren Hall, no Martin Luther King Jr. statue or sports team to keep our school with great revenue."
Creating a "second, unnamed band" feels and looks very exclusionary.

Essentially, the university is telling Longhorn band members "If you won't uphold and partake in a racist tradition, then join another band."

— jimmy (@spacejam_es) April 22, 2021
what is the eyes of texas, if not racism persevering ✨

— Audra Antoinette🎀 (@audraantoinette) March 9, 2021
'Not overtly racist'

Student opponents have found allies off campus, including members of the Texas Legislative Black Caucus, state and local NAACP chapter presidents and UT alumni. But they have also encountered critics.
"There was research done and a committee," Ann Sandoval commented on the Orange Jackets' event post. "So you now just undermine the university and disrupt? … Shameful. I am now contacting my Orange Jacket alumni friends."
The controversy began last summer after mass protests against police violence and racial injustice shed new light on long-standing concerns about "The Eyes of Texas," including its debut at a minstrel show and whether it was connected to Confederate Gen. Robert E. Lee, who allegedly often said "the eyes of the South are upon you."
Hartzell announced that the song would remain the university's alma mater on July 13 and then the formation of a 24-person committee—made up of faculty members, athletes, band members and alumni—to review the song's origins on Oct. 6.

The committee's 58-page report, released on March 9, found "that the intent of 'The Eyes of Texas' was not overtly racist," even though "the cultural milieu that produced it was," and offered 40 recommendations for healing the division sowed by the song.
Martinez published two Medium articles, on March 24 and May 8, based on his own research into the song's history, which contradict the committee's findings and list out 100 problems with the song. "I don't think it's going to become any easier for the university to just shrug this off, to move on or move forward or any of the other euphemisms that are used to say, 'We choose to ignore the complaints of the Black students," he said.
Concerning levels of cylindrospermopsin were discovered on Sept. 22 after a person got sick and samples were sent to get tested on Sept. 9. Signs will be posted at access points to Sculpture Falls that people and their pets should not injest or swim in the water.
Unlike the harmful algae making dogs sick in parts of Lake Travis and Lady Bird Lake in past summers, these toxins are found in the water, the city says. Barton Creek visitors are asked to avoid stagnant water especially.
The toxins also result in different health effects than the harmful algae in Lady Bird Lake, including liver and kidney damage. If exposed, people can feel:
Fever
Headache
Vomiting
Bloody diarrhea
If exposed, people should seek medical attention and report it to 311.
TinyFest Texas 2021
When: 10 a.m. Saturday – 5 p.m. Sunday
Where: Jourdan-Bachman Pioneer Farms, 10621 Pioneer Farms Drive
What: Tour tiny houses, van converstions, shipping container homes and more at this year's TinyFest. Grab tickets here for a weekend of speakers, workshops and panel discussions plus live music, food and more!

Fierce Whiskers Grand Opening
When: 12 p.m. Saturday
Where: Fierce Whiskers, 5333 Fleming Court
What: Fan of whiskey? Come along to the free grand opening of Fierce Whiskers Distillery's new tasting room. Enjoy bites from a food truck, oysters, musical performances and a raffle.

Austin Summer Carnival
When: 6 p.m. Saturday – 2 a.m. Sunday
Where: The Venue ATX, 516 East 6th St.
What: Don your dancing outfit for this carnival that celebrates the African heritage with Brazilian, Latin and Caribbean rhythms in Austin. Snag your tickets here.

Beginner's Succulent Arrangement and Planting
When: 3 p.m. – 4 p.m. Sunday
Where: Succulent Native, 5501 North Lamar Blvd.
What: Calling all first-time planters: Get your hands dirty and learn about succulent and cactus arrangement and care. No tools required! Grab your tickets here.