Get connected with our daily update
A new Netflix series, storied rivalries and nearly two years of no F1 have driven the sport to exponential success this year in the United States. That extra excitement will be on full display at this weekend's U.S. Grand Prix at Austin's Circuit of the Americas, an international spectacle that COTA chairman Bobby Epstein says will be the "biggest event on the planet this year."
---
Fans new and old are gearing up for the race as they prep for a packed arena filled with up to 350,000 F1 fans.
A California native, Kevin Andrew has aways been near a racetrack—growing up, it was the Long Beach Grand Prix, and now Andrews lives down the road from Austin in San Antonio.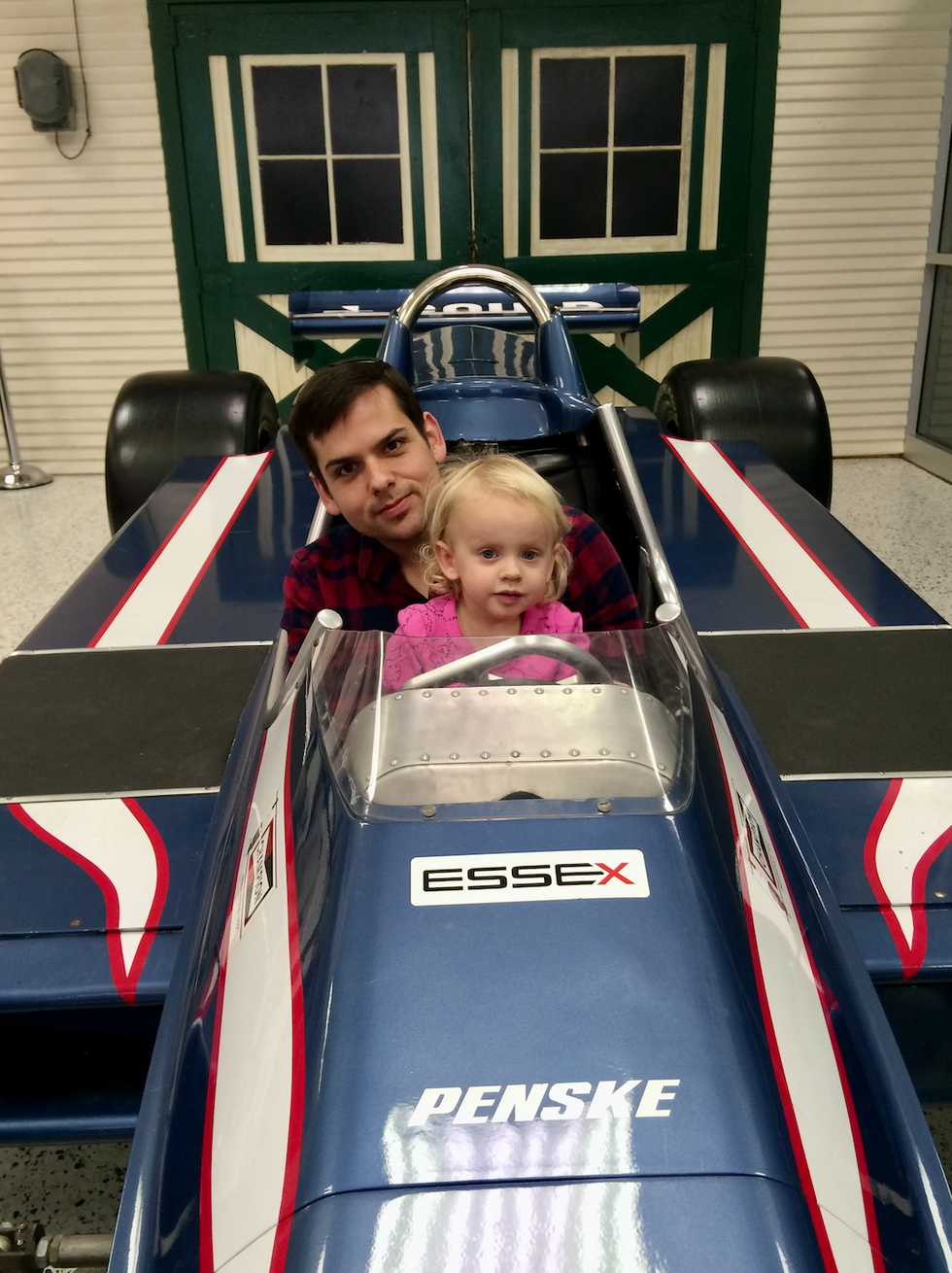 Andrew shares his passion for racing with his two daughters. (Kevin Andrew)
A longtime F1 fan, Andrew said that the race is a chance to showcase Austin to the world as international visitors mix and mingle at the venue.
"I don't know how many people are coming into Austin internationally, but there's going to be a lot of variety," Andrew said. "It's a win for Austin... it's kind of their time to shine, and for that brief moment of the weekend, the sporting world is kind of focused on you."
Andrew, who calls the Grand Prix a sort of "World's Fair," is bringing more than sunscreen or a folding chair to the race—he'll be joined by 18 other friends from around the United States for the weekend-long party.
"It's huge," Andrew said. "Having it close to home is really big. It allows me to get a little bit more into it knowing that I'm going to see a race every year, (and) it's a good excuse to get a lot of people together."
While Andrew has been going to races for as long as he can remember, Florida resident Tracy Fives is a newer fan.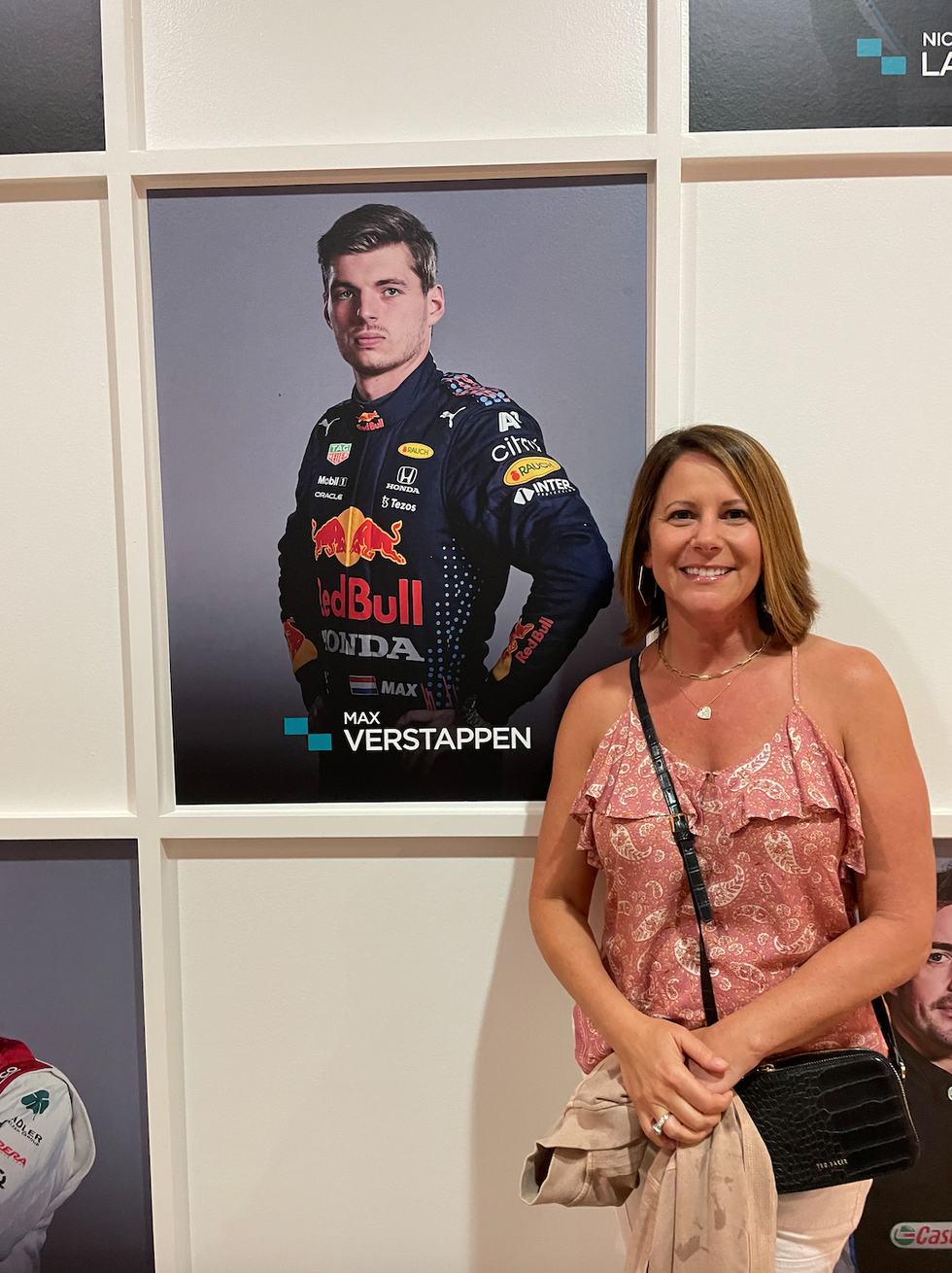 Florida native Tracy Fives is attending her first Grand Prix after becoming an F1 fan during the pandemic. (Tracy Fives)
F1 became Fives' pandemic passion as she watched Netflix's "Drive to Survive," an immensely popular documentary series that takes fans through the backstories of each driver.
"One thing the series did for me is that a lot of the drivers are young, they've all come up together and now they're going to hit their stride," Fives said. "I feel like I'm getting in on a sort of rebirth of the sport."
Fives has been hooked ever since, even attending a preview event at the new Miami Grand Prix track scheduled to open in 2022.
"My friend actually went to Monaco right before COVID, and I was like, 'yeah, that's great, but I couldn't imagine spending money to go to a race,'" Fives said. "So we kind of laugh about that now as we're going to Miami together."
That rebirth has been reflected in the ratings. With an average of 946,000 viewers per race on ESPN, this season is up 41% from 2019 and up 56% from a pandemic-addled 2020 season.
Katerina Lachinova, who will be traveling to the race from Virginia with her boyfriend, said that the new craze is also fueled by fans' excitement to attend a large event after bans on travel during the pandemic.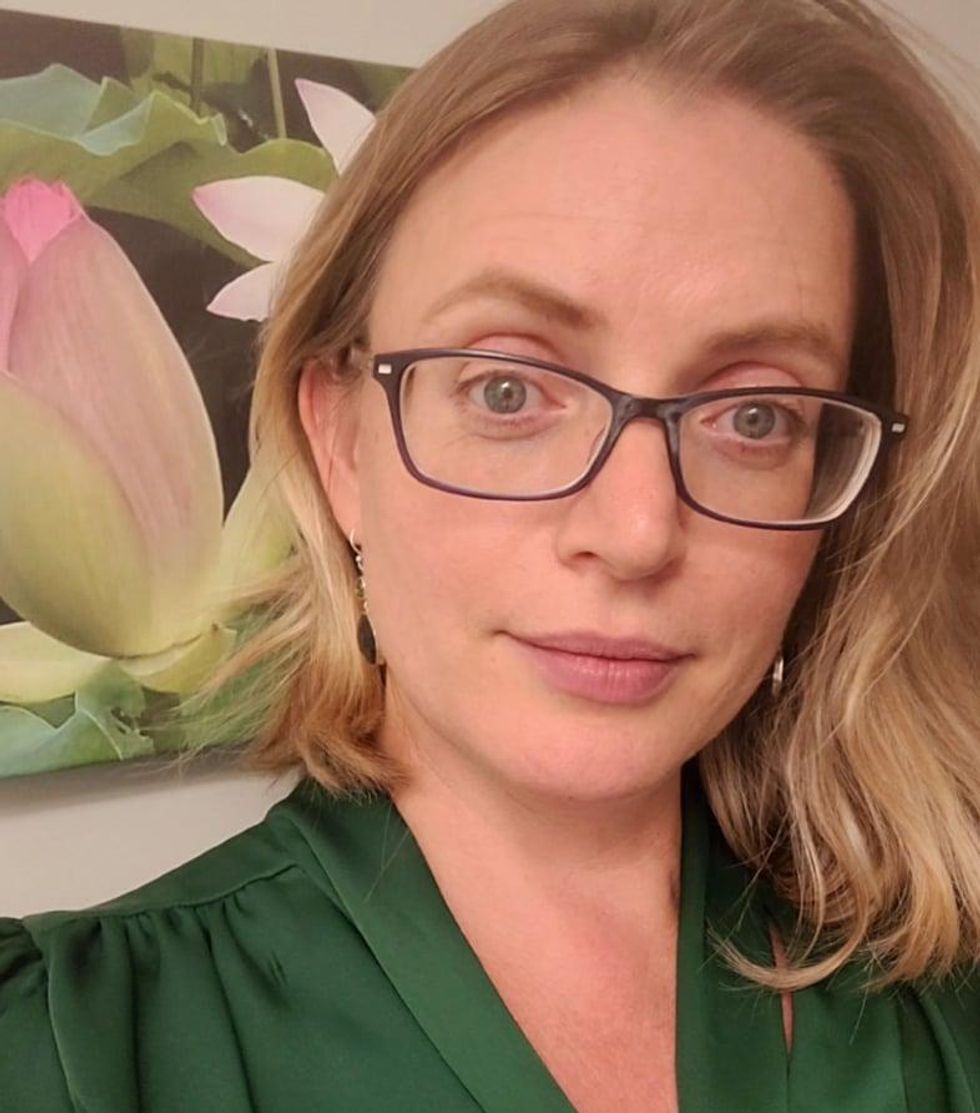 Katerina Lachinova will be attending her second U.S. Grand Prix to cheer on Lewis Hamilton. (Katerina Lachinova)
"There's definitely huge excitement just to be in a place face to face, to be able to see things in real life," Lachinova said. "I just love the whole thing, it feels like the Olympic Games. You meet people from all over the world."
And adding even more fuel to the F1 fire is a historic neck-and-neck rivalry that hasn't been seen in years. Even as the season nears its end, two contenders—36-year-old reigning champ Lewis Hamilton and a young Max Verstappen—are still very much in the running for the championship trophy.
The rivalry has fans divided and more plugged in than ever. Lachinova and her boyfriend are Hamilton fans, and they hope to see him win just as he did at their last COTA race in 2015.
Andrews, meanwhile, is in a split household—his daughters are Hamilton fans, his wife is a fan of Carlos Sainz and he usually roots for McLaren Mercedes' Lando Norris and Daniel Ricciardo. And Fives supports all of them—though she tends to be a McLaren gal as well, she thinks Verstappen's got the best odds at winning.
But all of them, especially Andrew, are all just looking for "a good race" after two years without.
Enjoying Austonia? Signup for our newsletter to get daily Austin news, straight to your morning inbox!
Know before you go: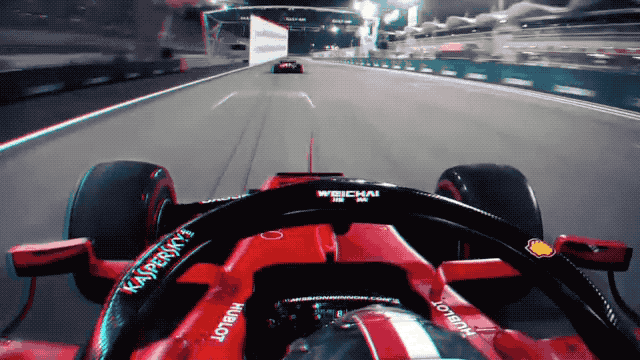 Formula 1's United States Grand Prix will take place in Austin from Friday, October 29-Sunday, October 31 in Austin.
Downtown may be recovering from the pandemic but the priorities residents want in their city center are changing, according to the City Pulse Survey done by design firm Gensler.
After studying 7,500 people in 15 global markets, including Austin, Gensler found that life in COVID has pushed city-dwellers to want more outdoor activities, social spaces and entertainment venues in bustling business districts.
Post-pandemic, the highest-rated downtown activities were shopping, visiting parks and just "hanging out." The need for more public spaces like parks jumped from sixth on the list to second this year.
Although globally people view downtown as a business district for task-based activities, across the U.S., downtown districts are viewed more as a vehicle for entertainment. This is especially true for Austinites, where people surveyed said they would rather see more entertainment and cultural venues than shopping or public transit downtown.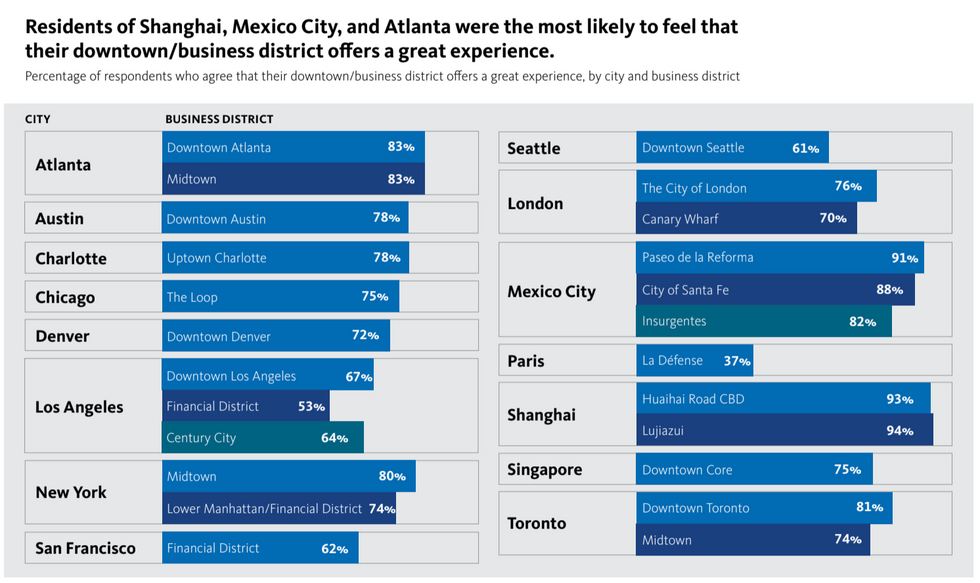 (Gensler)
For Melanie Gartman, a manager at construction software company Levelset who has been living in Austin for most of her life, the needs and wants of the average resident closely align with her own.
Austin clocked in second-most desirable downtown, tied with Charlotte, North Carolina. Like the 78% of Austinites in the survey, Gatman said she thinks Downtown Austin is hanging on to its lovable charm.
"Even now with fewer people out and about it's still very vibrant and lively. I feel like I saw life come back to downtown a lot sooner than I expected it to," Gartman said. "It's still holding on a bit that Austin vibe and with the high rises coming in, it's scary that we could lose that. I think it's holding on better than I would have expected, especially within the last two years of everything that happened."
As Austinites eased back into downtown, the first stop Gartman made was to go see music again. Since venues opened back up, Gartman and her loved ones have seen live music at their favorite venues: Moody Amphitheatre, Mohawk, The Parish and Empire Control Room.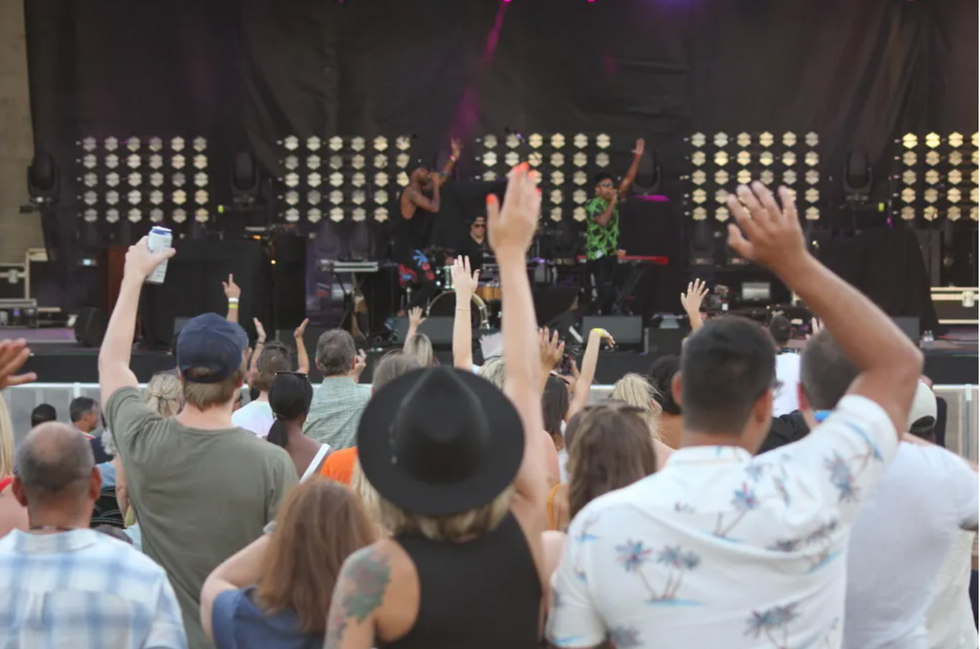 Blackillac opened for Gary Clark Jr. at the Moody Amphitheater's first show back in August. (Laura Figi/Austonia)
Entertainment is most important for Gartman's life in Austin—seeing Gary Clark Jr. in August brought normalcy back into her routine—and said our local downtown is the ideal out of other cities in Texas.
"I've always noticed that between Houston's downtown and Austin's, Houston's is so Monday to Friday, eight to five, maybe a post-work happy hour," Gartman said. "Growing up, downtown (Austin) was always the place to go. It has always been the hub and I think Austin is unique in that way."
Traffic in downtown areas is way down overall, even though concern over pandemic safety has taken a backseat. Shopping traffic has decreased by 28%, dining out and entertainment attendance dropped by 33% in the post-pandemic sphere.
Even though her office is located downtown, Gartman usually works from home. Her downtown visits tend to be for the purpose of entertainment and she said the lack of parking sometimes becomes problematic.
"I feel like all these high rises are taking over all the parking," Gartman said. "It used to be for go-to parking, I would just park under I-35. No big deal. But now, that's kind of scary, especially if you're by yourself. The party parking is a barrier to actually making it down there."
But with the rise of the hybrid work model, it's likely that the downtown sphere is going to change all across the U.S. For now, survey participants said they would like to see their downtown reduce traffic, add more green space, improve the cityscape and increase parking capacity as we shape the future of cities.
Akins Early College High School, 10701 S. 1st St., was on lockdown Wednesday morning as district police investigated a report of an "armed subject." The three students, which a witness said they saw with a weapon, have since been identified and located.
The lockdown took place just after 10 a.m., when someone reported three students in the restroom with a possible handgun. The three were then identified and located in different classrooms. One of the students had two magazines, one with ammunition. A weapon was not located by police.
The district deescalated the lockdown to a hold at 12:25 p.m., which meant students could go to the restroom and be picked up if parents chose to do so. No shots were fired and all students and staff were safe throughout the whole lockdown, according to police.
The three students will not be returning to school tomorrow. Austin ISD police said the students' punishment with the school or charges have not been identified since the investigation is in the early stages. Additional officers will be on campus this week to investigate.
"We take these events seriously and we prepare so that at the end of the day, everyone can go home safe," Austin ISD Police Chief Ashley Gonzalez said.
The Taylor Police Department is investigating an apparent murder-suicide that left four people dead on Tuesday.
Officers responded to a call at around 1 p.m. for a welfare check at 616 Symes St. in Taylor, Texas, where the Taylor Fire Department helped force entry into the home since it was locked, police said. Once inside, officers found four dead bodies: 57-year-old Anthony Davis, 45-year-old Araceli Lopez Davis, 20-year-old Cynthia Abundiz and 18-year-old Pedro Navarro.
Police believe the deaths to be a murder-suicide with Anthony Davis shooting the other three victims before himself. TPD is investigating with the help of the Williamson County Sheriff's Office and the Texas Rangers.
Later that day, another murder was reported in Taylor, which police say is unrelated.
Police responded to a shooting at 2100 Whistling Way around 4 p.m. Tuesday. They said a family member found 33-year-old Jonathan Hitch with a gunshot wound to his head. It is being investigated as a suspicious death.