Get connected with our daily update
(Laura Buckman/The Texas Tribune)
The FBI is investigating Texas Attorney General Ken Paxton, the Associated Press reported Tuesday evening, vetting allegations made by eight of Paxton's former top aides that he illegally used the power of his office to benefit a political donor.
---
Two unnamed sources told the AP that the bureau was examining claims made by the whistleblowers that Paxton broke the law by intervening several times in legal matters involving Nate Paul, a real estate investor and friend who donated $25,000 to Paxton's campaign in 2018.
On Sept. 30 and Oct. 1, eight aides in total told authorities that they believed Paxton had committed crimes as part of his relationship with Paul, citing bribery and abuse of office. Since then, four aides have been fired, three have resigned, and one has been placed on leave — sparking a whistleblower lawsuit.
Paxton, a Republican in his second term, has denied wrongdoing and said he will not resign his post, even as some in his own party call on him to do so and the state's top leaders call the allegations "concerning."
Earlier Tuesday, before the FBI investigation was made public, Paxton said in a statement that he knows "a little something about being falsely accused" and dismissed the allegations made by the whistleblowers as "overblown, based upon assumptions, and to a large degree misrepresent the facts."
Paxton has been under indictment for more than five years on securities fraud charges but has yet to stand trial. He has dismissed the charges as politically motivated and entered a not guilty plea.
Neither a campaign spokesperson for Paxton nor a defense attorney who is working on his long-running securities fraud case returned a request for comment about the FBI probe Tuesday. A spokesperson for the FBI declined to comment.
The full scope of Paxton's relationship with Paul remains unclear, though Paul has characterized it as friendly. In a deposition earlier this month, Paul revealed that he had employed a woman at Paxton's recommendation, though he said it was not a favor to Paxton. The woman had been involved in an extramarital affair with Paxton, according to two people who said the attorney general told them of the relationship in 2018.
Since the allegations surfaced last month, four examples have emerged of Paxton using his 4,000-employee agency to benefit Paul.
The whistleblowers allege Paxton tried to help Paul on a pair of open-records disputes, urging state employees to release documents that should have been confidential, and that Paxton rushed a legal opinion on foreclosure sales during the coronavirus pandemic, which helped Paul avoid such sales on several of his properties.
The attorney general's office — at Paxton's direction, the whistleblowers say — also took the highly unusual step of intervening in a lawsuit between Paul and an Austin-area charity.
And in September, Paxton hired an outside attorney to evaluate a complaint by Paul that he had been mistreated during an FBI raid on his property in 2019. Paxton's staff, the whistleblowers say, had already vetted the allegations and found them meritless, but Paxton continued to push the investigation.
The Texas French Bread Bakery, located on 2900 Rio Grande Street, has been completely destroyed after a fire erupted on Monday night.
The Austin Fire Department responded to the fire just before 11 p.m., where they arrived to see flames coming from the roof of the bakery. Firefighters fought the fire for about an hour before the roof collapsed.
While no one was injured in the fire, firefighters say the historic building was completely totaled.
AFD determined that the fire was accidental and caused by mechanical failure. AFD said the damages amounted to $1.6 million total: $1.1 million in structural damage and $500,000 in damage to the contents of the bakery.

This year, Texas French Bread will celebrate 40 years of business. Before the bakery occupied the building, it was the Rome Inn, a music venue that hosted 1970s artists like Stevie Ray Vaughan.
Austin's first major league team is ready to extend its reach with a new collaborative sports complex The Pitch, an Austin FC destination packed with local food, beverages and Verde fervor is set to open in Northeast Austin in February.
The Pitch, a collaboration between Austin FC and Karlin Real Estate, among other entities, will be located in the 50-acre Parmer Pond District, which already hosts the club's practice facility St. David's Performance Center.
Dubbed a "true destination" for both soccer fans and the community, The Pitch will consist of multilevel shipping containers designed by Mark Odom Studio that will carve out into a 1,200-seat stadium complete with a soccer pitch made of turf, food and beverage options and a five-acre "Parmer Pond" featuring jogging trails.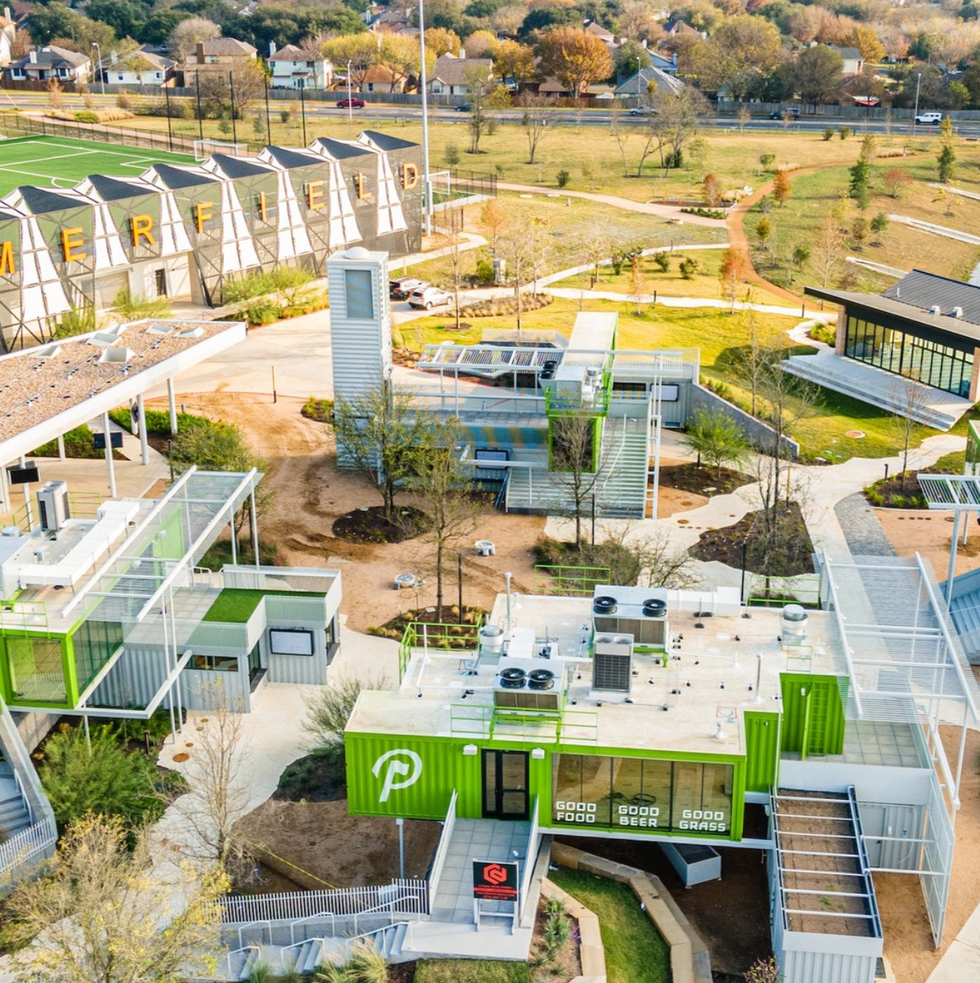 Made from multilevel shipping containers, The Pitch will include food and a 1,200-seat soccer pitch made from artificial turf. (The Pitch)
"The launch of Karlin's new food and entertainment experience will greatly enhance the Parmer development while perfectly complimenting St. David's Performance Center," Austin FC founder Anthony Precourt said. "The Pitch... will offer a strong variety of food options and gathering spaces for guests who will utilize St. David's Performance Center and Parmer Field for a variety of events."
The Pitch project lead Dave Greeley, who helped come up with the concept, is a former president of Austin FC parent company, Two Oak Ventures.
"The vision behind The Pitch at the Parmer Pond District is to be a first-of-its-kind sports, dining and entertainment destination," said Dave Greeley, The Pitch project lead and Team Orbis president. "This will be an unmatched experience for Parmer Austin tenants, Austin FC and club supporters, and the community."
With its proximity to the practice center, the venture hopes to contribute to the growing "soccer city" of Austin during Austin FC matches and youth games with the Austin FC Academy hosted at the St. David's Performance Center.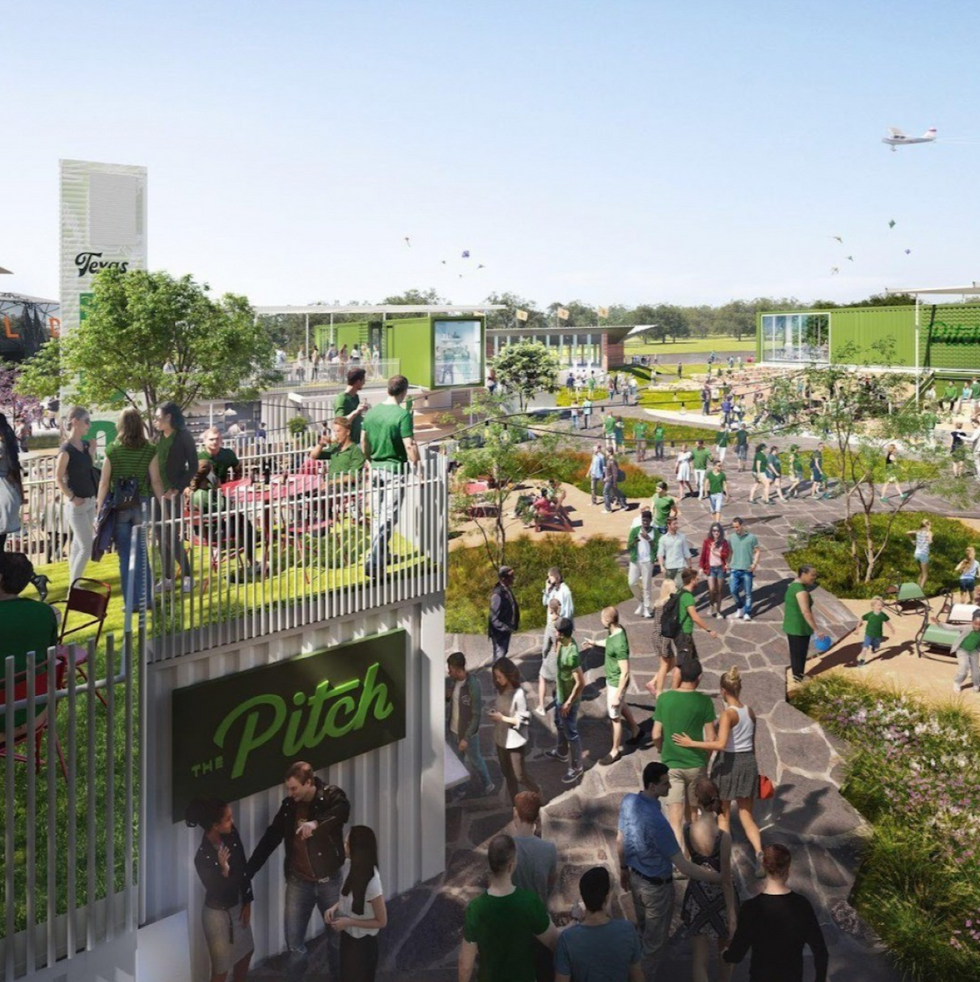 The Pitch hopes to converge both community and club interests with Austin FC. (The Pitch)
In addition to the soccer pitch, stadium and pond, The Pitch will provide a foody experience made by the creative team behind Austin staples like Fareground and Easy Tiger. The complex will offer local bites including:
Ranger Burger, which offers beers and burgers made from highly-coveted Wagyu beef direct from Ranger Cattle in East Austin
Ga Roti, which merges flavors from Northern Vietnam with the culinary techniques of France to create a unique rotisserie chicken joint
Taco Flats, a local taco chain serving Mexico City-style tacos, micheladas and more
Sand Bar, which fulfills its namesake with beauty cocktails, local beers and a sand volleyball court
Coffee Club, a coffee shop and bakery
Corner Kick Bar, the soccer-focused main bar of The Pitch complete with "tunes, TVs and (a) beer garden"
The Pitch will squeeze between St. David's Performance Center and Parmer Pond alongside the southern edge of Parmer Austin, a Karlin Real Estate venture that will eventually include multifamily housing, corporate office space and an aerospace and defense center.