Get connected with our daily update
(Alex Ring/Facebook)
Alexander Ring
Jersey number: No. 8
Hometown: Helsinki, Finland
Position: Defensive Midfielder
Age: 29
Former Club: NYCFC
---
Background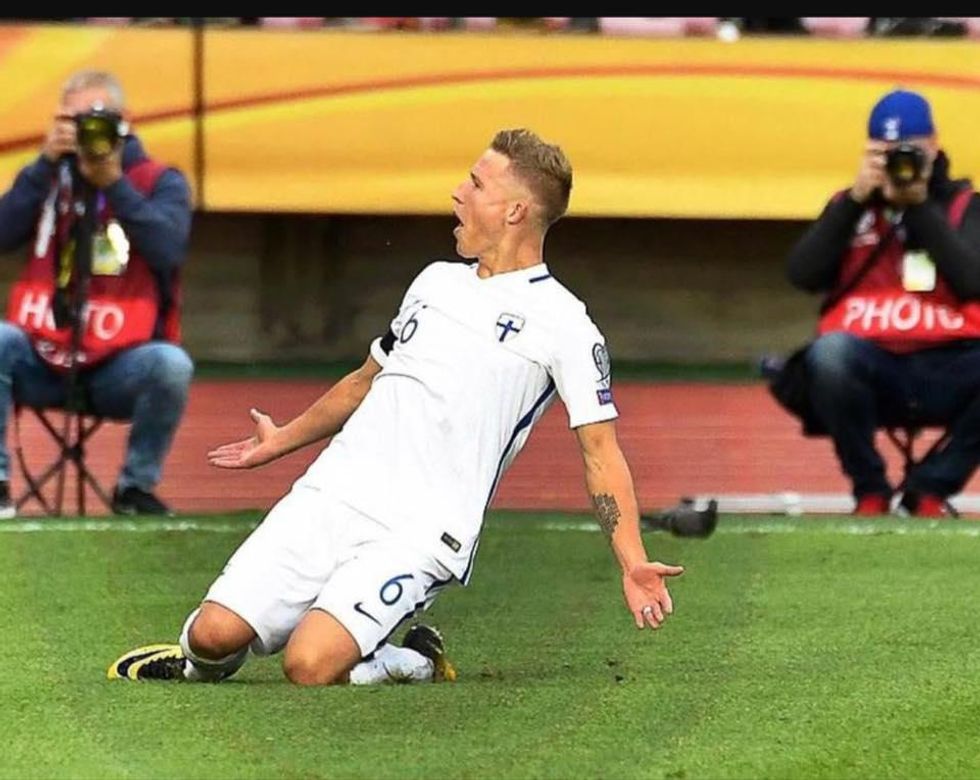 (Alex Ring/Facebook)
Although he's spent years playing football in three separate countries, one thing's clear for defensive midfielder Alex Ring: he's always representing Finland.
Austin FC made a huge decision when choosing Ring, a high-profile former NYCFC captain who has graced the pitch for the MLS, Bundesliga (Germany's premier football league), and Finland's national team.
ATXFC Sporting Director Claudio Reyna, who first brought Ring to the American leagues back in 2017, paid big money for Ring to go Verde. Ring's contract, which could be up to $1.25 million in general allocation money if certain performance incentives are made, would be the biggest deal of its kind for any non-U.S. men's national team player in MLS history.
Before Austin FC, Ring spent time as the "ringleader" at NYCFC from 2017-20, where he was the team leader in minutes played in both 2019 and 2020. A team captain, Ring made 119 starts in his 120 appearances with the club and contributed 10 goals and 13 assists to the team. His leadership gained him a Coach's pick in the 2018 MLS All-Star game.
Although Ring said he wanted to finish his career at NYCFC, he said he is excited for the "new challenge" that a brand-new team like Austin FC brings.
"I would have loved to finish my career there ... but at the same time, I'm really happy for a new challenge," Ring said. "I spent four wonderful years there and I showed my worth to them, and now I'm going to come here and do the same."
Before NYCFC, Ring spent seven seasons in the Bundesliga and 2. Bundesliga, Germany's top two football leagues.
For the 2014-17 season, Ring played in the second-division league for FC Kaiserslautern. He logged a personal-best season in 2014-15, where he made six goals in 24 games, but the team's own instability and some injuries kept Ring from reaching his full potential for all three seasons.
Ring, who spent much of his childhood in Germany, spent three more years in the country with the Bundesliga's five-time champion Borussia Monchengladbach, where he appeared in 21 matches and scored one goal in two seasons played (2011-13).
A native of Helsinki, Finland, Ring began his professional career in the nation's capital. Ring helped Helsinki HJK win the Suomen Cup and the Finnish Veikkausliiga league in (2010-11), scoring six goals and 43 appearances in his first pro season.
Ring has also represented Finland's national team for 43 matches (39 starts) and has played on the international stage in the Baltic Cup, European and World Cup Qualifiers.
For Ring, the biggest difference between the growing MLS and more established European leagues is youth development.
"I think it's getting better and the gap is closing, but I think it's important to invest in the youth development," Ring said. "That's what it's all about. In Europe, they have a youth pipeline and players coming through the ranks all the time, so I think that's the biggest difference between the MLS and Europe."

With Austin FC
Alex is #VERDE! 🌳
Welcome to Austin FC, Alex Ring! pic.twitter.com/qGbWQrO6jB

— Austin FC (@AustinFC) December 17, 2020
Reyna reunited with Ring for good reason—he was named one of the top five defensive midfielders in the MLS earlier this year.

Ring said he sees some similarities between the Austin FC program and programs he's admired in the past, something that has helped him adjust to a new team.
"I think I see the game very similar to how Josh sees it on and off the ball," Ring said.
As a central midfielder, Austin FC Head Coach Josh Wolff said that he's already seen Ring's ability to connect players from around the field.
"Alex Ring does a great job connecting everybody on the field which is exactly what you want from a six," Wolff said.
Ring recognizes the importance of his position and said he finds himself putting "puzzle pieces" together to organize a cohesive team.
"It's an important position that connects the defense and offense," Ring said. "It sounds simple but it's not, its a puzzle, a lot of moving pieces, and I try to make it easy for the players around myself but for myself as well."
With his accolades, Ring's starting spot is nearly guaranteed, but he'll provide more than just a strong middle to the team. At 29, Ring can bring some seniority and leadership to the core of the team, and as a former NYCFC captain, Ring is in the running for the captain spot once again in Austin. He's also shown positional flexibility and has played both in the middle and left-winger positions in the past.
Because his leadership is almost a given, Ring said he doesn't mind if he gets the captain spot or not and that he sees a lot of other players with potential to wear the armband.
"I don't think the armband is something important, but it doesn't mean you shouldn't take responsibility," Ring said. "I think we have a lot of guys who would be fantastic candidates to be the captain. I think with my position on the field that it's natural, and I take responsibility when it's important."
Off the pitch
Ring was born to a German mother and Finnish father and spent several years training for football in German academies as a child.
Although he spent much of both his childhood and adulthood in Germany, Ring said in 2011 "I have not even applied for German citizenship. It has been obvious for me that I represent Finland."
Ring has been in the U.S. since 2017 and earned a U.S. green card in 2018.
Ring is also married and has two children. Although he and his family had to endure the winter storm, Ring said they are enjoying their newest city.
"We've loved it so far. Me and my family have settled in well," Ring said. "Apart from the winter storm, the weather's been pretty nice as well."
Keep up with the latest Austin FC news by signing up for daily text updates.
A theory that's been swirling around lately is that the web as we know it is on its way out and something called Web3 will take over.
It's hard to know what Web3 is without first understanding the original versions. The first web is the 90s Internet where people had their own random websites that didn't link together, making it decentralized. In Web2, we saw the rise of Google, Facebook and other major players who configured standard ways for people to share and receive information.
Ethereum co-founder Gavin Wood and other blockchain developers say a decentralized version of the Internet, Web3, is on the way. Web3 can be thought of as synonymous with cryptocurrency, meaning it is based on the blockchain. Platforms and apps built on Web3 won't be owned by a central gatekeeper, but rather by users. Those in the Austin crypto community believe to see a growing presence of Web3 in Austin.
Pujaa Rajan, an engineer at financial software company Stripe and adviser for startups, describes herself as a "digital nomad." She has traveled all over from Hawaii to New York and San Francisco, looking for the crypto community in each place.

Having been in Austin for the past month, Rajan organized a Web3 meetup this week at Cosmic Coffee + Beer Garden in South Austin open to folks working in crypto or the crypto-curious. About 30 people showed up. "Compared to a lot of other cities that I went to, it is a lot more open and community-oriented here, which is what Web3 is all about," she said.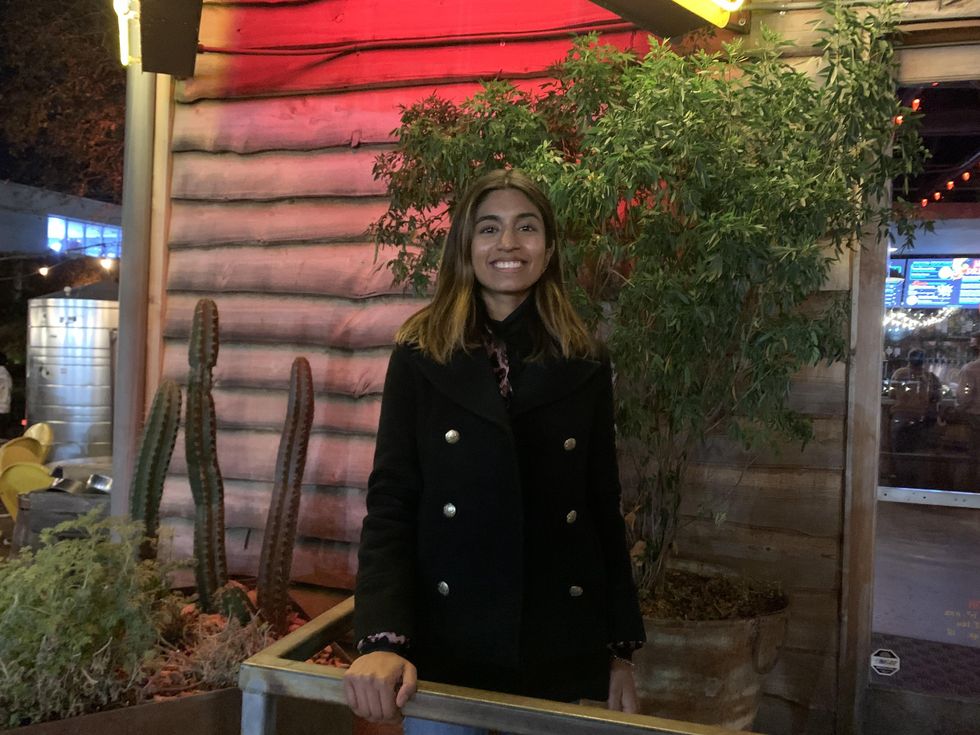 Pujaa Rajan, an engineer at financial software company Stripe, organized a Web3 meetup in Austin during a visit. (Andrea Guzman/Austonia)
ATX DAO member Roberto Talamas, who stopped by the event, talked about the crypto group's expansion. Web3, in Talamas' view, expands on the previous versions which allowed people to read, then read and write. Now, he says, people can read, write and own. To Talamas, blockchain technology has powered that ownership aspect, and it can be utilized through groups like a DAO, a group that pools together capital and goes on to make investments or take on blockchain-based projects.
"The ecosystem of work with (Web3) companies here in Austin is still relatively small," Talamas said. "And that's one of those things that we're trying to deal with at ATX DAO is to do all the advocacy work needed to make Austin the best Web3 city."
Part of that community, however, has gotten a bad rep for being "crypto bros." Rajan acknowledged that Web3 involves both finance and technology, which are fields women have historically been excluded from. But, she says the decentralization aspect creates a clean slate and a new means to form groups. "I feel like we can kind of take back the power or create a world for ourselves," Rajan said.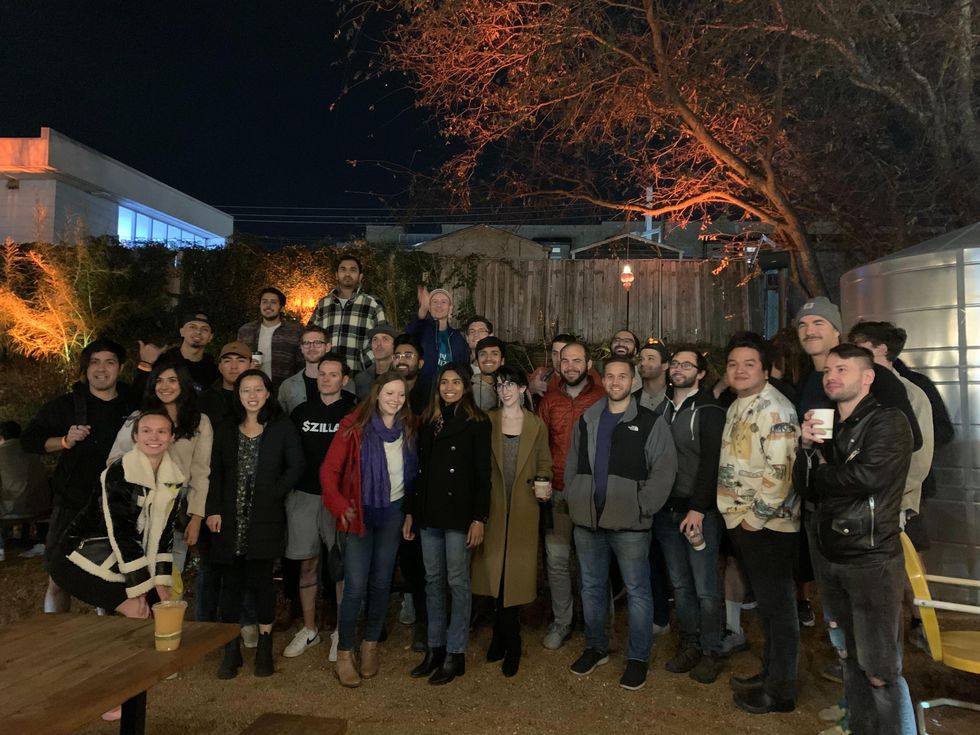 The meetup at Cosmic brought together crypto users to talk about the prospects of Web3. (Andrea Guzmán/Austonia)
Meetup attendee Jonathan Hillis also talked about the idea that Web3 creates an opportunity to start over and how this could be something that grows in Austin. Born and raised in the capital city, Hills has left his Bay Area Web2 Instacart job behind to live in a cabin outside Dripping Springs last year. He and his wife, along with a group of internet friends formed a DAO called Cabin, and he's now writing on the Web3 version of Medium, known as Mirror.
When it comes to the state of Web3, four cities stand out. "The dam broke in Covid," Hillis said. "Everybody no longer had to live in the Bay Area for tech."
San Francisco is still rooted in Web2 traits with Big Tech and software as a service venture. New York is financial technology. Miami is another major player. But with Austin, Hillis sees a lot of potential.
"Austin is great at being a place for independent online creators of many types—musicians, but also artists," Hillis said. "What excites me about Web3 is the opportunities for putting creators at more of the center of the value capture."
Once a bargain-hunter's paradise, Austin's reputation as a cheaper California seems to be dissipating. But does money have more value in Austin when compared to other U.S. metros?
For Carson Stanch, who moved to Austin from Brooklyn, New York, to be near family, Austin's lower cost of living was just an added bonus. According to the latest data from the U.S. Bureau of Economic Analysis, a $100 bill is worth $98.20 in Austin when compared to the national average in 2020, while it's worth just $84.53 in New York.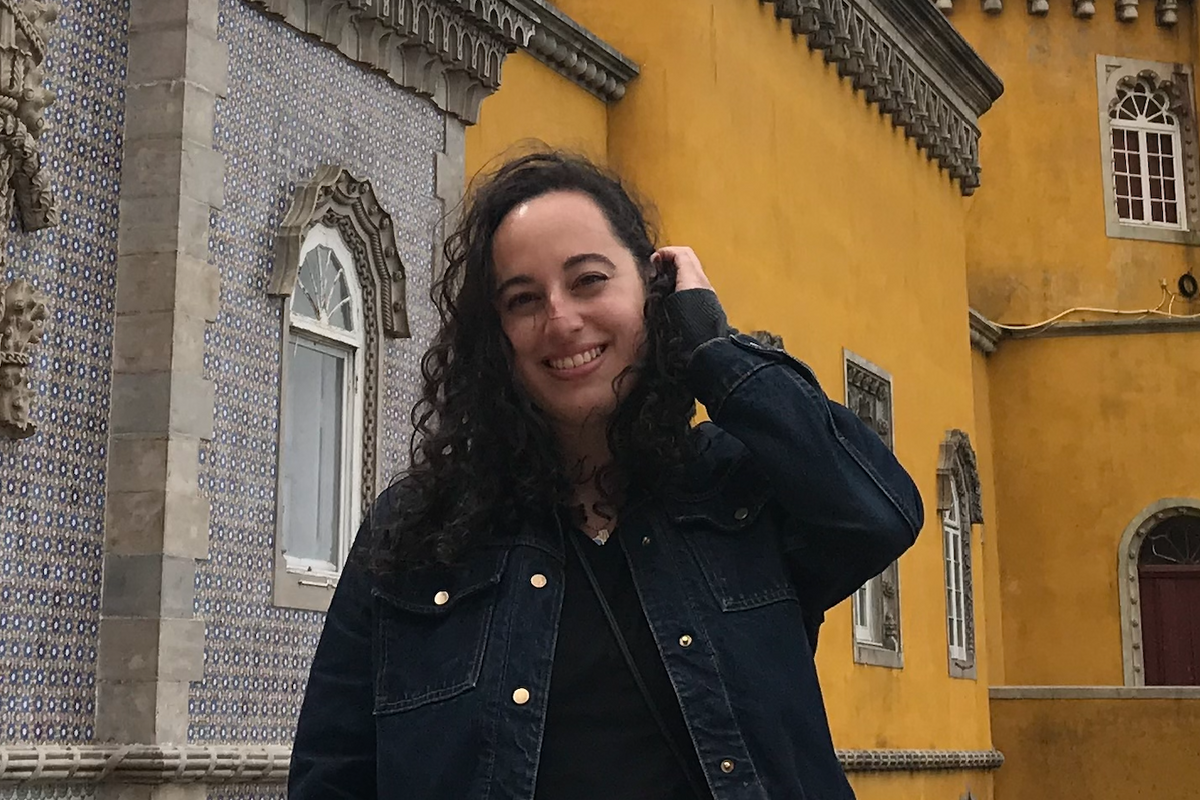 Houston native Carson Stanch moved from Brooklyn, New York to Austin just before the pandemic. (Carson Stanch)
Stanch soon realized she was a trendsetter—or perhaps a fortune teller—as the pandemic hit a few months after her move. No longer willing to spend extra money on their more expensive apartments, Stanch said many of her friends and other New Yorkers left the city amid COVID lockdowns.
"It's so expensive to live there (and) all of the reasons why you live in New York, you couldn't really do anymore," Stanch said.
Garrett Watson, a senior policy analyst with the Tax Foundation who wrote a 2018 report on the value of $100 in U.S. metros, told Austonia the report factors in the costs of goods and services with residents' incomes and compares them to the national average. The result is price parity, a number that varies drastically across the country—for instance, a $100 bill won't get you near as far in Austin as it would in more rural parts of the Hill Country.
While a Ben Franklin note was worth $4 more in New York in 2020 when compared to 2018, a $100 bill decreased by $1.60 in value in Austin. Austin's cost of living also saw the 12th-highest increase among U.S. metros from the 2010 to 2020 census.
And as the pandemic's nationwide housing boom gained extra momentum in Austin, peaking at a median home price of $575,000 in June 2021, Watson said the value of $100 could have dropped even further.
"There's just been a chronic hunger for building houses on the coasts and in certain cities in the heartland," Watson said. "Especially this year, we're seeing more and more discussion about that in Austin, and so that is a big, big factor."
Price parity bleeds into other factors as well—in San Francisco, where the value of $100 sits at $82.63, residents are nearly 18% poorer than their higher incomes suggest. But with higher incomes than the U.S. average, they may find themselves more flush with cash when moving to a cheaper city like Austin.
Many out-of-towners have used that extra change to make housing offers much higher than the asking price, Redfin chief economist Daryl Fairweather told Fox7 Austin.
"All those migrants are bringing with them high-paying jobs who are used to much more expensive housing and they're willing to pull out all the stops to win these homes and move to Austin," Fairweather said.
But Austin is catching up to those traditional hotspots: the area was predicted to be the most expensive metro outside of the Golden State by the end of 2021.
In just two years, Stanch said she's seen some signs.
"I feel like I look around certain areas of Austin (and) they do feel more similar to downtown Brooklyn," Stanch said. "Some businesses I see might tend to cater to folks who have a little more income."
I cannot believe there's a Hermès (an Hermès?) store opening around the corner from where I live. Oy vey. The scrappy, cheap, charmingly dusty locals-only South Congress of yore is receding into the past so very quickly. 😭 pic.twitter.com/sUHxI4pX8F
— Cari Marshall (@CariMarshallTX) August 3, 2021
So why not move to, say, Florence, Alabama, where money is almost 20% more valuable?
Watson said the difference comes down to the value of amenities—something the study can't track.
"Part of the value in New York City is all the amenities that you're near, the value of Broadway, the value of being able to get food delivered to your door," Watson said. "So that may be reflected in people's willingness to pay higher prices... there's a lot of really great reasons why people may want to be in Austin from an identity perspective that you can't get in other parts of Texas."
In Austin, tech salaries rose 5% from 2020-2021 as big-name corporations like Oracle and Tesla—alongside Tesla's billionaire owner Elon Musk—flocked to the nation's new "boomtown." With an ever-increasing job market, eclectic culture and reputation as one of the world's best cities for move-ins, Austin's appeal might still offset its price.
But for Stanch and many others, there may still come a time when price wins over location.
"If I was to the point where homebuying was more important than being near friends and family, then I would move to get the home," Stanch said. "I think that's kind of part of my plan."