Austonia AM
100% Austin news, info, and entertainment, straight to your inbox at 6 a.m. every morning.
In five minutes, you're fully informed and ready to start another great day in our city.
Get connected with our daily update
(Jon Gallagher/Instagram)
Jersey number: No. 17
Hometown: Dundalk, Ireland
Position: Forward
Age: 25
Former club: Atlanta United FC
---
Background
📽️ Jon Gallagher netted a vital goal for The Dons before half time last night and after the game the on-loan @ATLUTD player spoke to RedTV.#StandFree pic.twitter.com/JjsVdbgRUY

— Aberdeen FC (@AberdeenFC) December 5, 2019
Though he was born in Dundalk, Ireland, Austin FC forward Jon Gallagher has lived in six different countries, including Jamaica, Singapore, Scotland, America, England and Ireland.
Gallagher got his professional start for Atlanta United, where he played from 2018-20. After being chosen as the No. 14 pick in the MLS SuperDraft, Gallagher played for USL side Atlanta United in 2019, where he led the team with six goals and five assists.
Gallagher then moved up in the ranks later that season and was on the roster as Atlanta won the 2018 MLS Cup. In 2020, Gallagher was the leading scorer for the team after scoring four goals with the club in 16 appearances.
Gallagher took a detour in 2019 when he went on loan to Scottish Premiership club Aberdeen FC, where he made one goal and three assists in his 31 appearances with the team before coming back to Atlanta in 2020.
Before his professional debut, Gallagher played for the fittingly named "Fighting Irish," earning two All-ACC selections after scoring 39 goals and 15 assists in his 84 appearances with Notre Dame.
With Austin FC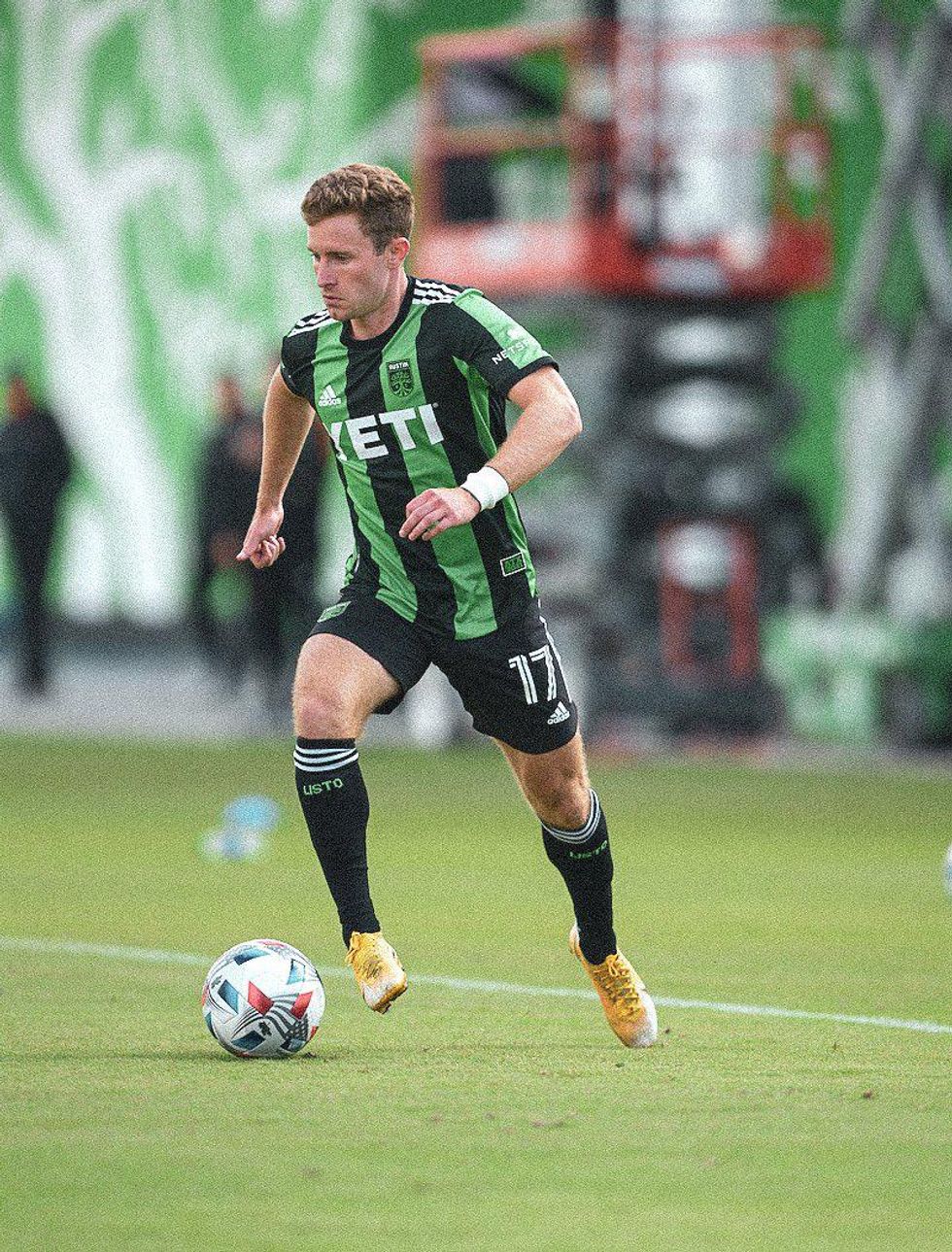 (Austin FC/Twitter)
Gallagher went Verde after a $175,000 trade in general allocation money from Atlanta in December.
Just as he's traveled across the map, Gallagher has found himself at nearly every position on the soccer pitch. His versatility will come in handy as he fights for a starting position with the team, and he's shown promise so far.
"I think I've played every single position apart from goalkeeper," Gallagher said. "At times I'm a victim of my own versatility, but I feel most comfortable when I'm in front of goal."
For now, Gallagher's been playing in the nine slot for each of the La Copita scrimmages, though he was practicing at wing during preseason.
Gallagher will likely be battling it out with Danny Hoesen, who hasn't secured his spot as easily as many expected. Either way, he's likely to be one of the most useful players off the bench.
Gallagher said that he'll stay competitive no matter where his spot in the lineup is so that he can make himself and the team better.
"If there's a guy ahead of me, I'm going to be breathing down his neck and making sure I get the best out of him," Gallagher said. "Because one, it's going to push me, and two, it's going to push him as well. So the coaches are going to get a better culture, and I think most of the guys have done that in their respective positions."
Off the pitch
.@MattBesler wanted to introduce you, the fans, to some of the guys. First up, @JonGallagher96. Disclaimer: he chose his own mic for this.#AustinFC | @FairmontATX pic.twitter.com/CAAsooGI9Y

— Austin FC (@AustinFC) April 3, 2021
It can be tough finding an identity after making a home in so many different places. While Gallagher still identifies as Irish, he also told teammate Matt Besler that he feels like a bit of a world nomad as well.
"I'd like to stay true to my roots, but I've got a little flavor of everything in me," Gallagher said.
With Austin as his latest residence, Gallagher said the city has exceeded his expectations so far, perhaps to his own detriment.
"I didn't really know what to expect, but the food's the most phenomenal thing," Gallagher said. "I probably spent way too much money the first month just on going out, but we're settling in nicely so far."
By "we," Gallagher means he and his now-fiance, Payton Gregory. Gallagher got on one knee the day after Christmas in 2020.
Now that he's here, however, he knows a lot about the state. Gallagher knew the state tree of Texas, the word "Austinites," and the state's nickname, "The Lone Star State" when quizzed by Besler. The Notre Dame alum had clearly hit the books and even knew the year Austin was founded—1839—much to Besler's surprise.
A week after Texas added two congressional seats and California lost one, state officials reported a population decline in 2020 for the first time in the Golden State's history.
California fell by over 182,000 people from January 2020 to January 2021, dropping almost 0.5% to cap out at around 39.5 million people. It is still the nation's most populous state.
For over thirty years, California has seen more people leave than move in from other states, state officials said, with 6.1 million people moving out and 4.9 million coming in last year. Immigration and births kept California growing, but the state saw a shrink in international migration in 2020 due to COVID and the White House's hold on visas.
Of the steady flow of ex-Californians moving to other states, more are moving to Texas than any other state. Many are relocating to Austin, which has been labeled a "little California" by billionaire resident Elon Musk and continues to grow astronomically.
Meanwhile, California cities including Los Angeles, San Diego, San Jose and San Francisco saw a population decline.
With immigration and state migration on the decline, the Golden State was also hit with a spike in deaths- 51,000 people died from COVID in 2020, and all but seven of the state's counties saw death rates higher than the three-year average.
Still, the California Department of Finance said a "slightly positive annual growth" can be expected next year as the state recovers from COVID deaths and political repercussions.


Ingredients:
1 1/2 oz of hibiscus-infused Tito's Handmade Vodka
2 oz sparkling water
1 oz fresh lime juice
3/4 oz simple syrup
1 tsp allspice dram
Directions: Add infused Tito's Handmade Vodka, lime juice, and simple syrup to a shaker with ice. Shake and strain into a glass over fresh ice. Top with sparkling water, and garnish with a lime slice. Enjoy!
The sun is out, and thousands of Austin FC fans will be as well as Austin FC goes to Kansas to play Sporting Kansas City at 6:30 p.m. on Sunday.
There's plenty of pub partners to choose from, but here's a few watch parties to help you get in on the action.