Get connected with our daily update
(Jon Gallagher/Instagram)
Jersey number: No. 17
Hometown: Dundalk, Ireland
Position: Forward
Age: 25
Former club: Atlanta United FC
---
Background
📽️ Jon Gallagher netted a vital goal for The Dons before half time last night and after the game the on-loan @ATLUTD player spoke to RedTV.#StandFree pic.twitter.com/JjsVdbgRUY

— Aberdeen FC (@AberdeenFC) December 5, 2019
Though he was born in Dundalk, Ireland, Austin FC forward Jon Gallagher has lived in six different countries, including Jamaica, Singapore, Scotland, America, England and Ireland.
Gallagher got his professional start for Atlanta United, where he played from 2018-20. After being chosen as the No. 14 pick in the MLS SuperDraft, Gallagher played for USL side Atlanta United in 2019, where he led the team with six goals and five assists.
Gallagher then moved up in the ranks later that season and was on the roster as Atlanta won the 2018 MLS Cup. In 2020, Gallagher was the leading scorer for the team after scoring four goals with the club in 16 appearances.
Gallagher took a detour in 2019 when he went on loan to Scottish Premiership club Aberdeen FC, where he made one goal and three assists in his 31 appearances with the team before coming back to Atlanta in 2020.
Before his professional debut, Gallagher played for the fittingly named "Fighting Irish," earning two All-ACC selections after scoring 39 goals and 15 assists in his 84 appearances with Notre Dame.
With Austin FC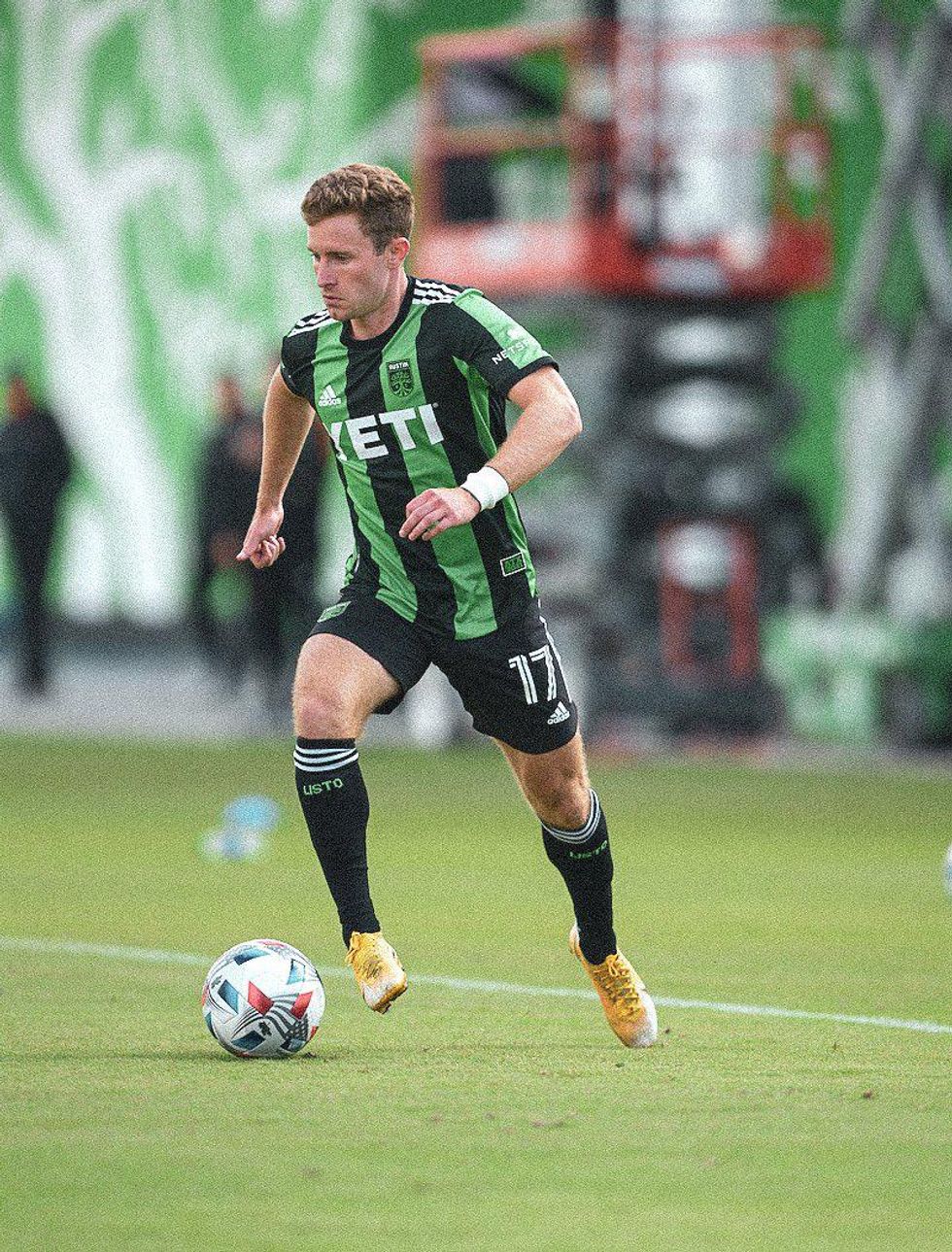 (Austin FC/Twitter)
Gallagher went Verde after a $175,000 trade in general allocation money from Atlanta in December.
Just as he's traveled across the map, Gallagher has found himself at nearly every position on the soccer pitch. His versatility will come in handy as he fights for a starting position with the team, and he's shown promise so far.
"I think I've played every single position apart from goalkeeper," Gallagher said. "At times I'm a victim of my own versatility, but I feel most comfortable when I'm in front of goal."
For now, Gallagher's been playing in the nine slot for each of the La Copita scrimmages, though he was practicing at wing during preseason.
Gallagher will likely be battling it out with Danny Hoesen, who hasn't secured his spot as easily as many expected. Either way, he's likely to be one of the most useful players off the bench.
Gallagher said that he'll stay competitive no matter where his spot in the lineup is so that he can make himself and the team better.
"If there's a guy ahead of me, I'm going to be breathing down his neck and making sure I get the best out of him," Gallagher said. "Because one, it's going to push me, and two, it's going to push him as well. So the coaches are going to get a better culture, and I think most of the guys have done that in their respective positions."
Off the pitch
.@MattBesler wanted to introduce you, the fans, to some of the guys. First up, @JonGallagher96. Disclaimer: he chose his own mic for this.#AustinFC | @FairmontATX pic.twitter.com/CAAsooGI9Y

— Austin FC (@AustinFC) April 3, 2021
It can be tough finding an identity after making a home in so many different places. While Gallagher still identifies as Irish, he also told teammate Matt Besler that he feels like a bit of a world nomad as well.
"I'd like to stay true to my roots, but I've got a little flavor of everything in me," Gallagher said.
With Austin as his latest residence, Gallagher said the city has exceeded his expectations so far, perhaps to his own detriment.
"I didn't really know what to expect, but the food's the most phenomenal thing," Gallagher said. "I probably spent way too much money the first month just on going out, but we're settling in nicely so far."
By "we," Gallagher means he and his now-fiance, Payton Gregory. Gallagher got on one knee the day after Christmas in 2020.
Now that he's here, however, he knows a lot about the state. Gallagher knew the state tree of Texas, the word "Austinites," and the state's nickname, "The Lone Star State" when quizzed by Besler. The Notre Dame alum had clearly hit the books and even knew the year Austin was founded—1839—much to Besler's surprise.
Expect some whiplash this week, Austinites: with an expected high of 103 degrees, Monday is predicted to be the hottest day of the year, but a midweek cold front is on the way to bring that first glimpse of fall.
Austin-Bergstrom International Airport could see its first 100-degree temperature this year on Monday as temperatures citywide are expected to exceed this year's record of 102 degrees.
After a typical summery Tuesday with highs in the mid-90s, Wednesday will welcome the first signs of fall as a cold front drops lows into the 50s.
Expect more wind and a chance of rain come Tuesday with a 40% chance of scattered storms. The cold front, which should last through Friday, will bring a drier, crisper air that could cause fire hazards on Wednesday.
Highs will be in the upper 80s and lows in the 50s and lower 60s for the front's final two mornings.
After months of speculation, a new report says political personality Beto O'Rourke is mulling a run for Texas governor that he will announce later this year.
Sources tell Axios the former congressman is preparing his campaign for the 2022 election, where he will likely vie for the position against incumbent Gov. Greg Abbott. The only other candidate that has announced he will take on Abbott for governor is former Texas GOP Chairman Allen West—no Democrats have announced they are running as of yet.
"No decision has been made," Axios reports David Wysong, O'Rourke's former House chief of staff and a longtime adviser, said. "He has been making and receiving calls with people from all over the state."
A new poll from The Dallas Morning News and University of Texas at Tyler shows O'Rourke is narrowing the gap between himself and Abbott's prospects for governor. In the poll, 37% said they'd vote for O'Rourke over Abbott, while 42% said they'd vote for Abbott.
Abbott has been in the hot seat due to his handling of COVID-19 and the signing of landmark legislation into law, including new abortion and voting rights laws; 54% of poll respondents voted they think the state is headed in the "wrong direction." Still, Texas hasn't had a Democrat as governor since the 90s.
O'Rourke's people-focused approach to the 2018 Senator race, which he lost to Sen. Ted Cruz, gave him a widespread following and many hoped he'd throw his hat into the ring since he said he was considering it earlier this year.
"We hope that he's going to run," Gilberto Hinojosa, the state chair of the Democratic Party, told Axios. "We think he'll be our strongest candidate. We think he can beat Abbott because he's vulnerable."
Austin rapper Jordi Esparza may not have won the 2021 Red Bull Batalla, the world's largest Spanish freestyle rap competition, but for a spirited two rounds, the 22-year old Mexican native looked like he had every right to.
On Saturday evening in Los Angeles, the event itself looked like Cobra Kai meets Star Search with graphics adding a very Batman Beyond aesthetic. Over a dozen rappers hoping to represent the U.S. in the international round of the competition took to the stage with in-your-face jabs at accents, sexual orientation and odors, among other things.
This was Esparza's second rodeo; he had placed third at the 2020 National Finals, automatically securing him a spot this year.
However, things were different this year. He was not nervous about the contest. Unlike in 2020, when he made his Red Bull Batalla debut, the anxiety of the event led him to "feeling so bad."
Affecting a casual calm, the locally-based landscaper said he just felt "so relaxed, so happy" and primarily wanted to "enjoy everything."
Choosing his first-round opponent, Esparza, whose stage name is Jordi, elected to go against LA-based Boss.
Esparza freestyled an attack on his opponent's weight and cholo style of dress.
Boss—bracketing his Latin freestyle with English appeals to the crowd—mocked Jordi's lack of education, made fun of how clean Jordi's shoes looked and suggested that Jordi just came back from a Footlocker.
That first round went to Jordi.
But his next opponent Eckonn would prove to be his undoing.
Eckonn compared Jordi to Hannah Montana, while Jordi soulfully explained that he had learned from the best.
Esparza's verbal dexterity is matched by a rattling rhythm and a game face that is as mawkish as it is mockish. The overall effect is that of an underdog with bite.
Eckonn beat Esparza in that round with the overall championship going to Palm Beach-based rapper Reverse.
However, Esparza was just happy to be there. He recently told Austonia going to the finals again was a dream come true—a pinnacle that he said he won't know how to top.
With his nimble jabs and sneaky prowess, honed from pop culture and the swagger of a young working man hungry to be more, Jordi Esparza is just getting started.