Never miss a story
Sign up for our free daily morning email...
...and afternoon text update
Get connected with our daily update
The Austin Independent School Board is considering pushing back the first day of school to Sept. 8 and applying for eight weeks of virtual-only classes, citing "local health conditions" and the fact that COVID-19 disproportionately affects Hispanics, who represent a third of teachers and more than half of the district's students.
---
The moves will be voted on in a special meeting called for 9 p.m. Thursday night. The meeting, which will be held virtually, will include a public comment portion at 9:35 p.m. The vote will happen after the public comments.
The meeting agenda cites the following local health conditions:
High COVID-19 numbers in Travis County (averaging 367 new cases per day in July 2020)
Current Austin Public Health Risk Guidance places Austin, Travis County in Stage 4
3-4 people of 1000 are estimated to be infected with a current multiplier of 3
COVID-19 disproportionately impacts the Hispanic population in the Austin-Travis County area. Some 34 percent of the Austin population is Hispanic, while 57 percent of hospitalizations are among Hispanic patients. Thirty-two percent of AISD staff and 56 percent of students identify as Hispanic, according to agenda documents.
"This delay will allow for our community to adjust to the latest in-person requirements in the changing health conditions of our city with safety at the forefront of every decision," reads the agenda item on the vote.
In addition, AISD will limit in-person attendance for the first four weeks of school as already planned but vote Thursday on whether to ask the state for a waiver to allow an additional four weeks, delaying full access to on-campus instruction through early November.
Students without access to technology will still be allowed in-person instruction, as per state guidelines, but full access by all students would be delayed if the board approves the action and the state allows it.
"In the event a board extends the initial four-week transition, at least some on campus instruction must be provided each day during the extended transition period," the agenda reads.
On Monday, Education Austin, the union representing 3,000 AISD employees, asked the district to consider pushing back the official first day of school, which Gov. Greg Abbott said was within the rights of local districts, not health officials.
AISD posted this document with frequently asked questions, updated July 30, about attendance, enrollment, class size and more during the upcoming school year.
Click here to find out more and learn how to participate in the public comment portion of the meeting.
With a taste of MLS play under their belts, Austin FC is entering the second half of a scoreless inaugural match.
The club has been given some generous breaks from No. 2 LAFC, who had one or both of their star DPs out for the half. While forward Diego Rossi is out for the entire match due to a hamstring injury, Carlos Vela was accidentally pulled too soon on what turned out to be a miscommunication.
"He gave us the sign that he needed to come off," LAFC Head Coach Bob Bradley said on broadcast. "I can't say more than maybe it's my fault."
The two breaks aside, Austin FC has been holding their own against the match favorites. In the signature style of Head Coach Josh Wolff, the team has been quick and intense, nearly connecting on several fast breaks. ATXFC has also kept about equal possession with LAFC, although their shot attempts haven't been quite as nervewracking as the home team.
LAFC has given goalkeeper Brad Stuver some scares with 11 shot attempts, four of them on goal. By contrast, Austin FC has had five shots on goal.
LA has pulled some dramatics and slowly gained more possession throughout the half, but ATXFC's defense isn't as shaky as it seemed in preseason. Jhohan Romana has pulled his weight in getting the ball out of goal, and defensive midfielder Alex Ring has shown the qualities that make him captain as he leads his teammates through their first ever match.
Will Austin FC win against the odds? It's tough to tell, but Austonia will keep you updated!
It's matchday! Austin FC—Austin's first major league sport team—kicks off its debut season in Los Angeles today after years in the making. We know how much this means to our beloved city and are taking you along with us as we journey to LA!
Austin FC writer Claire Partain and I are excited to bring you game-day coverage straight from the City of Angels. Check back here for updates, and visit our socials: @austonianews for the latest.
5 p.m: Kickoff!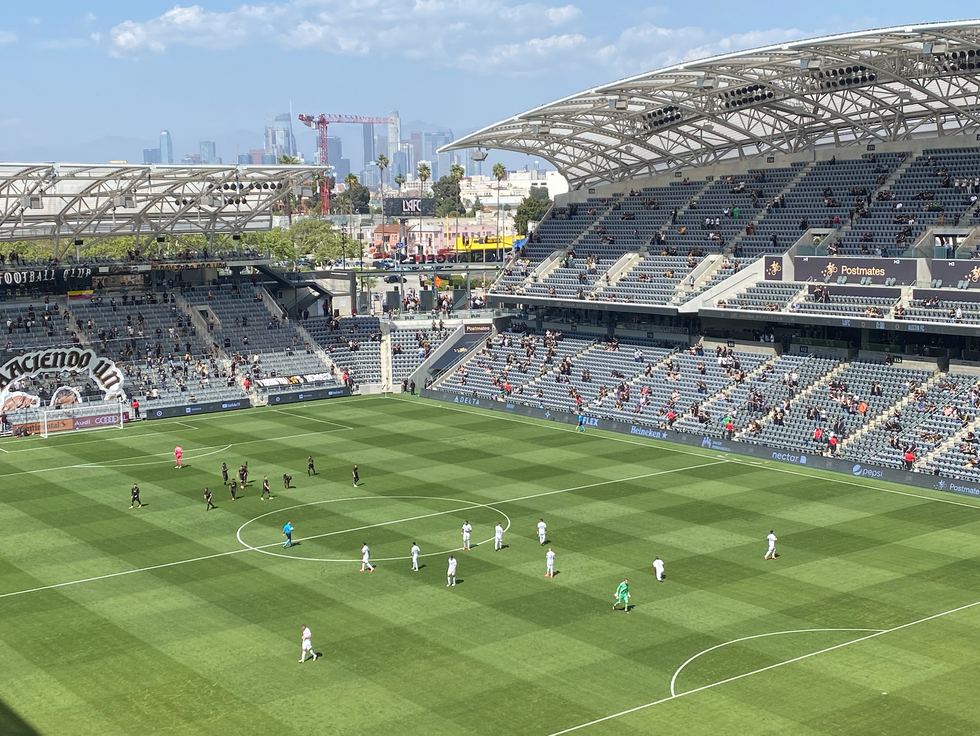 It's finally here! Claire will be updating Austonia's Twitter account live. And we'll post her game recap after the game. Best of luck Verdes!
4:40 p.m: Excitement radiates back home
Watch parties are in plenty supply back home. Austonia's Laura Figi visited Circle Brewing Co. and found a crowd of excited supporters.
4:20 p.m: Austin FC supporters are in the stadium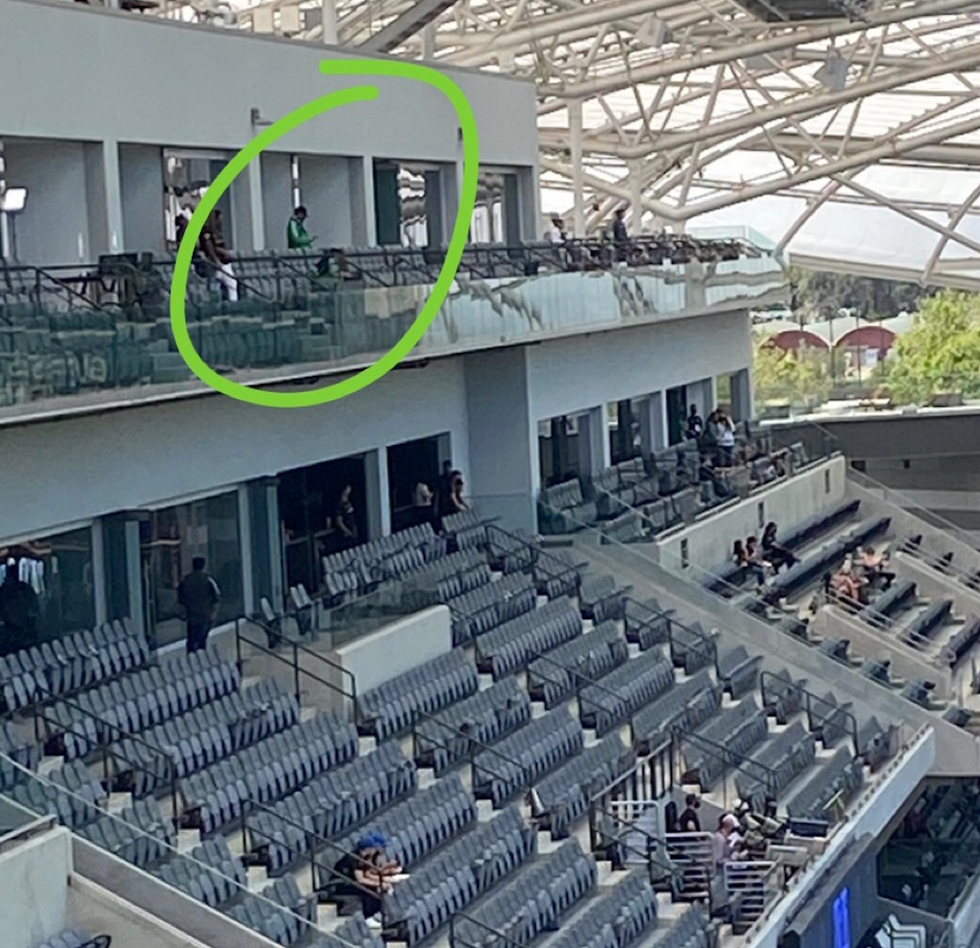 Although the Banc of California Stadium is hosting the match at limited capacity, we see some green in the stands ahead of kickoff. Just moments away from the Austin FC's debut!
~3:20 p.m: Austin FC's team bus enters the stadium grounds
With a warm welcome from Los Verdes, Austin FC players were welcomed into the Banc of California Stadium.
~1 p.m: Los Verdes in LA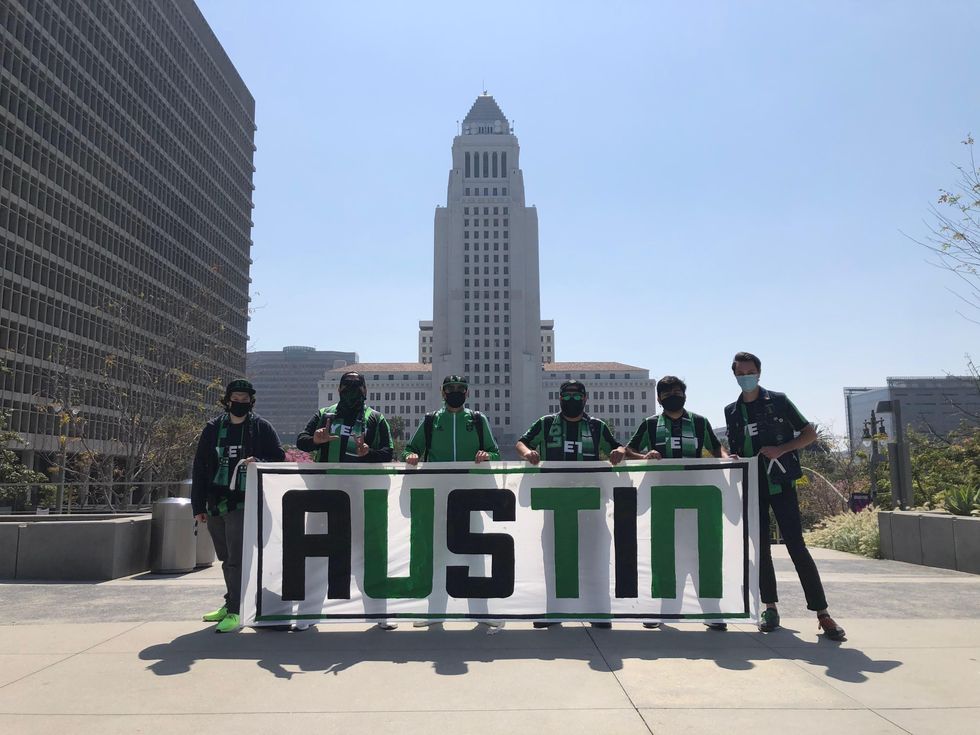 (Rigo Rodriguez/Los Verdes)
Austin FC supporters are making their presence known in LA, including the Los Verdes group.
Los Verdes members started having match-day fun around the area this morning with brunch. We'll be joining them about an hour before the game outside the stadium to share some of their excitement. We'll post immediately to Austonia's Instagram.
11:45 a.m: We landed!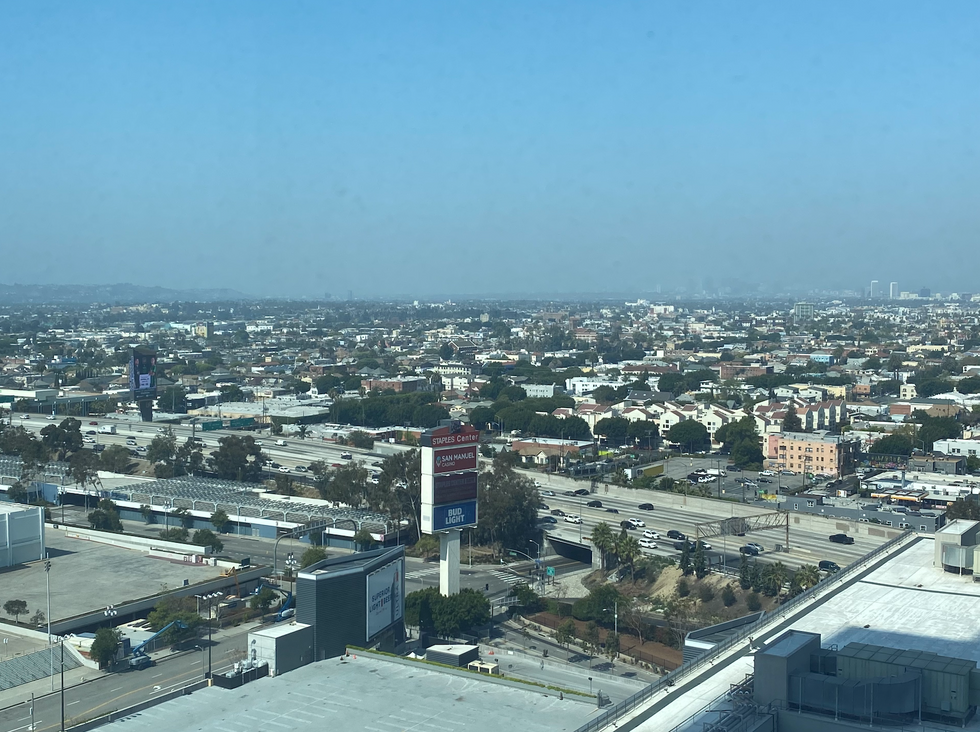 View from hotel room where we're staying; the stadium digital sign can be seen in the right corner. (Sonia Garcia/Austonia)
Switching over to pacific time, we're here and it's almost like no time went by. It's 9:45 a.m. here.
We've been in contact with Los Verdes, an Austin FC supporter group, who is also here in LA counting down to kickoff.
8:20 a.m: LA bound
Like many of you, we've been looking forward to this moment for, let's just say, a very long time. Today, we woke up bright and early, headed to Austin-Bergstrom International Airport and hopped on a flight to LA.
A gloomy day in Austin with a very quiet airport, we're headed to sunny skies in California.
As we wait for the game to start at 4:30 p.m., check out Claire's preview of the game with a predicted lineup and timeline of the long journey to get here.