Never miss a story
Sign up for our free daily morning email...
...and afternoon text update
Get connected with our daily update
(Pexels)
While health officials monitor COVID trends and probable cases of West Nile virus, they are also anticipating another scourge: flu season, which typically begins in October.
---
Austin-Travis County Interim Health Authority Dr. Mark Escott is concerned that, in conjunction with COVID, flu season could force schools, which are scheduled to begin in-person classes in early September, into a cycle of closures. Last year, Travis County schools reported an increased number of absences among students and teachers related to flu outbreaks.
It could also spell trouble for area hospitals, which have only very recently moved out of a surge stance. "If we combine an increase of flu cases and COVID-19, we are definitely going to overwhelm all of our systems," APH Director Stephanie Hayden said earlier this month.
There is precedent for this. In 2009, during the H1N1 flu outbreak, a summer wave was followed by a downturn this time of year, Austin Public Health Chief Epidemiologist Janet Pichette said. "Then when school restarted, we saw an increased spike in cases and a second wave that exceeded the [first] wave," she added.
But in the face of these two terrors there is hope: the flu vaccine, which is now available. The Centers for Disease Control and Prevention recommend that people get vaccinated in September and October, ahead of peak season, which is typically between December and February.
"The fall comes very quickly, and we do need to think about influenza vaccination at this time," said Dr. Pedro Piedra, a professor at Baylor College of Medicine.
A common goal
Like COVID-19, the flu is a contagious respiratory disease that can cause symptoms such as fever, cough, shortness of breath and headache; strikes nursing homes; and is especially dangerous for older patients and those with other health issues.
COVID-era precautions appear to be helping contain the spread of the flu—at least for now. The World Health Organization reported Aug. 3 that globally influenza activity is lower than expected for this time of year. But Piedra still recommends that people get vaccinated. "A second respiratory virus in a person who has already been sick from one doesn't recuperate well," Piedra said. "The influenza vaccination provides security, a safety net."
Typically, around 50% of Americans get vaccinated against the flu each year, with higher rates of participation among children under five and older adults. Common barriers are affordability, not having a regular doctor and unfounded myths about vaccines, Piedra explained.
The goal, however, is universal immunization—in the range of 80% to 90%. "So we can do a much better job," he said.
Innovation at home
The upcoming flu season also raises questions about how to determine between the disease and COVID.
Researchers at the University of Texas at Austin's Cockrell School of Engineering are working to develop a dual-sensor antibody test that can detect whether a patient is sick with the flu or the coronavirus based on a saliva sample. Professor Deji Akinwande and his team recently received a grant from the National Science Foundation for their work.
"This is something you might purchase in advance, have it at home and once you develop symptoms you quickly test, and it tells you within minutes," postdoctoral fellow Dmitry Kireev told Austonia.
Such a test could help people determine whether they even need to see a doctor and how careful they should be around others, ideally reducing the burden on the healthcare system and reducing disease transmission in the community.
The team has developed a prototype and is now working to determine the accuracy of such a test. If their experiments are successful, they will seek to produce the test at scale later this year.
"The winter comes, maybe not to Texas, but there's still a winter, and people get sick," Kireev said.
Want to read more stories like this one? Start every day with a quick look at what's happening in Austin. Sign up for Austonia.com's free daily morning email.
With a taste of MLS play under their belts, Austin FC is entering the second half of a scoreless inaugural match.
The club has been given some generous breaks from No. 2 LAFC, who had one or both of their star DPs out for the half. While forward Diego Rossi is out for the entire match due to a hamstring injury, Carlos Vela was accidentally pulled too soon on what turned out to be a miscommunication.
He gave us the sign that he needed to come off," LAFC head coach Bob Bradley said on broadcast. "I can't say more than maybe it's my fault."
The two breaks aside, Austin FC has been holding their own against the match favorites. In the signature style of head coach Josh Wolff, the team has been quick and intense, nearly connecting on several fast breaks. ATXFC has also kept about equal possession with LAFC, although their shot attempts haven't been quite as nervewracking as the home team's.
LAFC has given goalkeeper Brad Stuver some scares with 11 shot attempts, four of them on goal. By contrast, Austin FC has had five shots on goal.
LA has pulled some dramatics and slowly gained more possession throughout the half, but ATXFC's defense isn't as shaky as it seemed in preseason. Jhohan Romana has pulled his weight in getting the ball out of goal, and defensive midfielder Alex Ring has shown the qualities that make him captain as he leads his teammates through their first ever match.
Will Austin FC win against the odds? t's tough to tell, but Austonia will keep you updated!
It's matchday! Austin FC—Austin's first major league sport team—kicks off its debut season in Los Angeles today after years in the making. We know how much this means to our beloved city and are taking you along with us as we journey to LA!
Austin FC writer Claire Partain and I are excited to bring you game-day coverage straight from the City of Angels. Check back here for updates, and visit our socials: @austonianews for the latest.
5 p.m: Kickoff!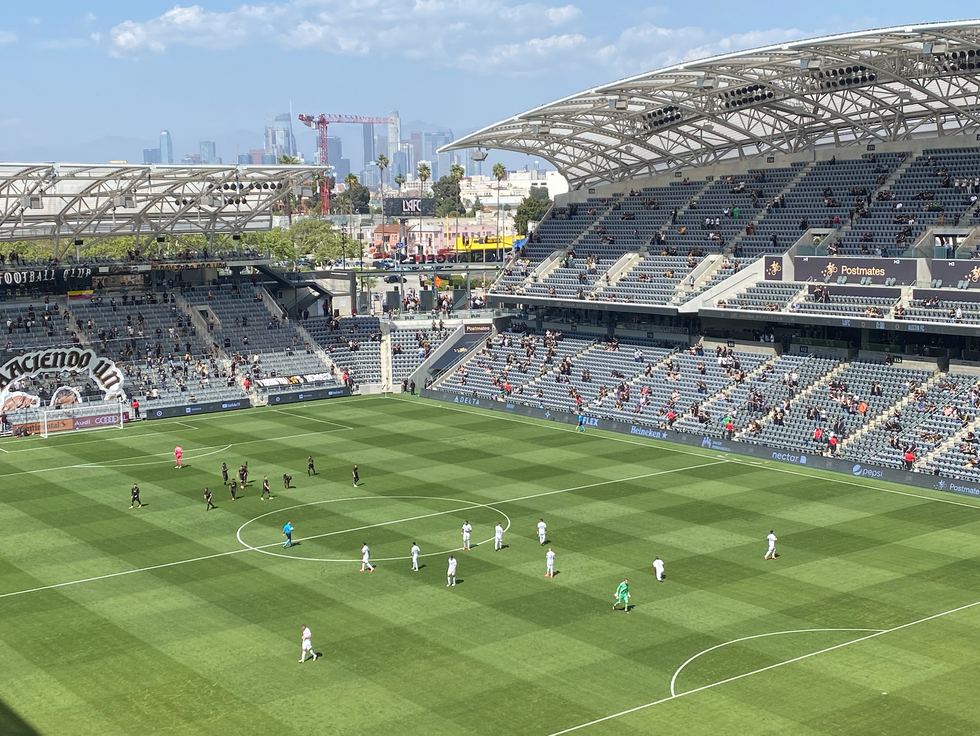 It's finally here! Claire will be updating Austonia's Twitter account live. And we'll post her game recap after the game. Best of luck Verdes!
4:40 p.m: Excitement radiates back home
Watch parties are in plenty supply back home. Austonia's Laura Figi visited Circle Brewing Co. and found a crowd of excited supporters.
4:20 p.m: Austin FC supporters are in the stadium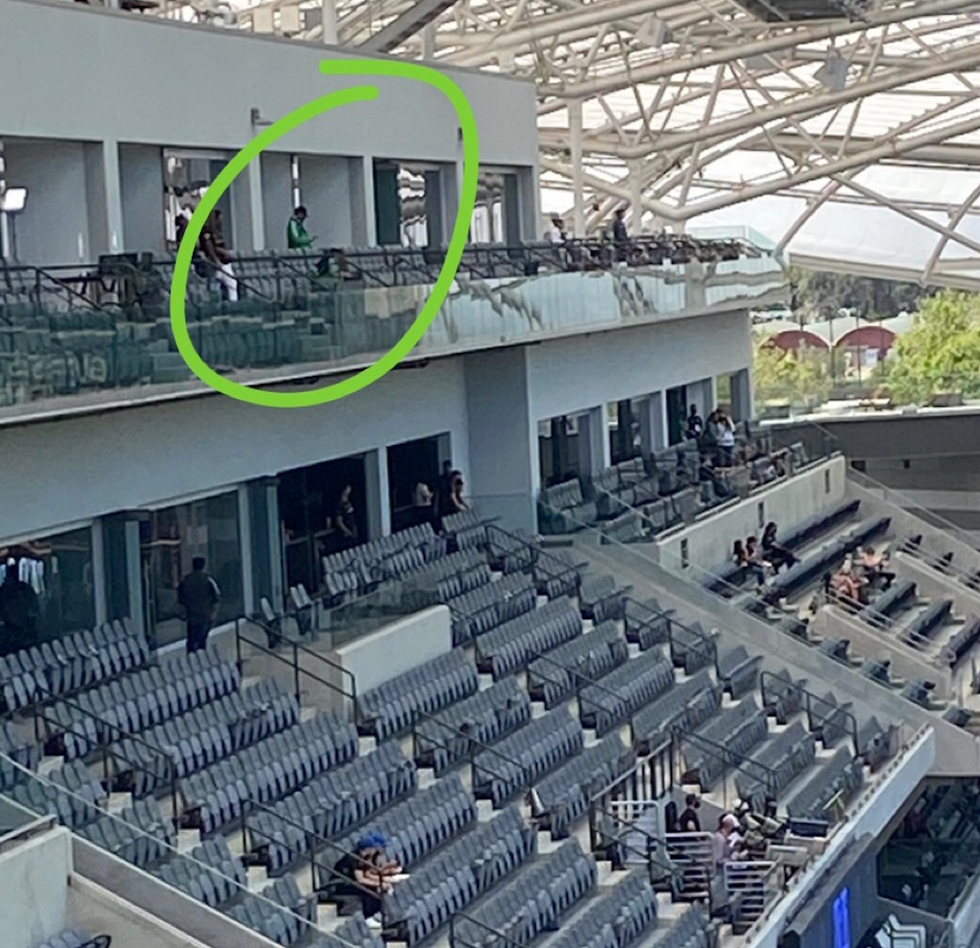 Although the Banc of California Stadium is hosting the match at limited capacity, we see some green in the stands ahead of kickoff. Just moments away from the Austin FC's debut!
~3:20 p.m: Austin FC's team bus enters the stadium grounds
With a warm welcome from Los Verdes, Austin FC players were welcomed into the Banc of California Stadium.
~1 p.m: Los Verdes in LA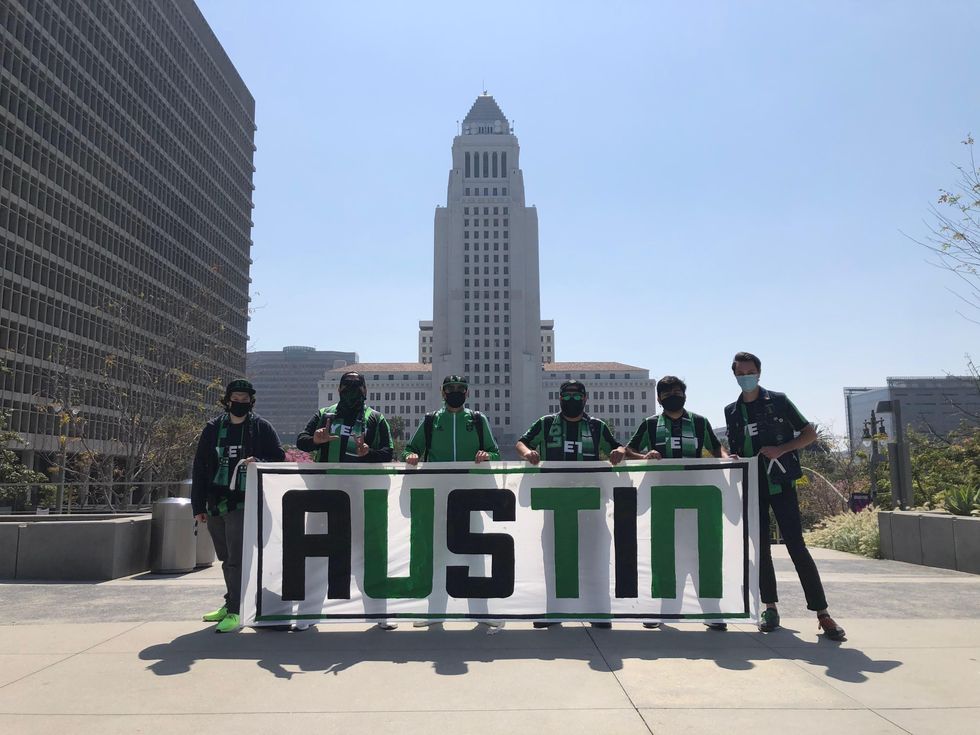 (Rigo Rodriguez/Los Verdes)
Austin FC supporters are making their presence known in LA, including the Los Verdes group.
Los Verdes members started having match-day fun around the area this morning with brunch. We'll be joining them about an hour before the game outside the stadium to share some of their excitement. We'll post immediately to Austonia's Instagram.
11:45 a.m: We landed!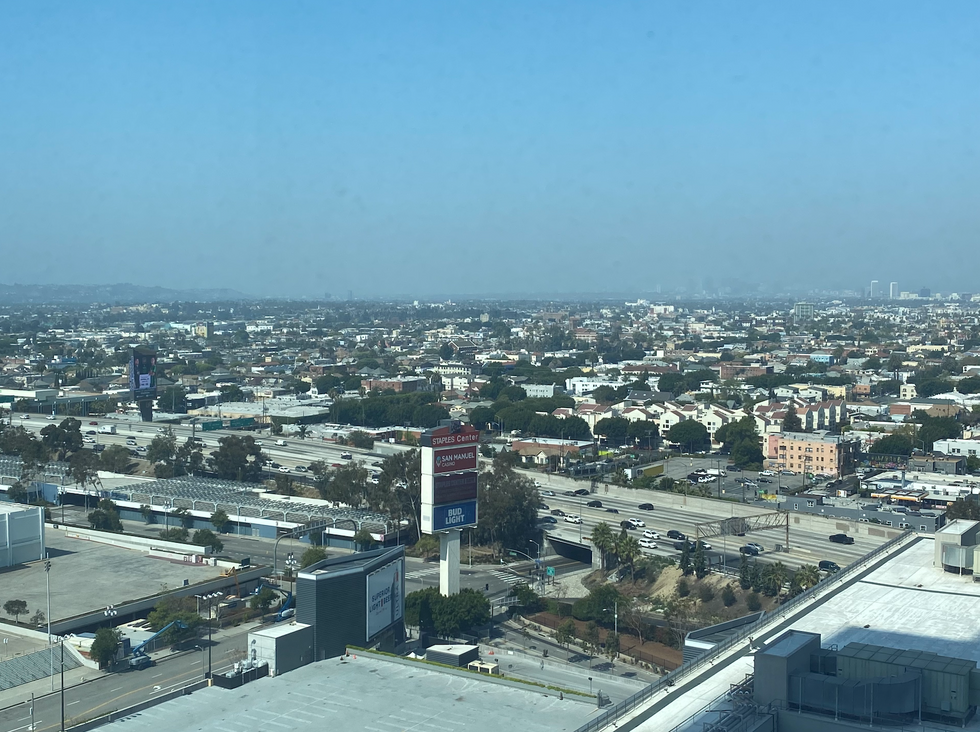 View from hotel room where we're staying; the stadium digital sign can be seen in the right corner. (Sonia Garcia/Austonia)
Switching over to pacific time, we're here and it's almost like no time went by. It's 9:45 a.m. here.
We've been in contact with Los Verdes, an Austin FC supporter group, who is also here in LA counting down to kickoff.
8:20 a.m: LA bound
Like many of you, we've been looking forward to this moment for, let's just say, a very long time. Today, we woke up bright and early, headed to Austin-Bergstrom International Airport and hopped on a flight to LA.
A gloomy day in Austin with a very quiet airport, we're headed to sunny skies in California.
As we wait for the game to start at 4:30 p.m., check out Claire's preview of the game with a predicted lineup and timeline of the long journey to get here.