Get connected with our daily update
Brought to you by the same company that plans on integrating driverless taxis onto Austin streets, Argo AI and Ford are partnering with Walmart to have groceries delivered via robotaxi right to your door.
Equipped with Argo AI's self-driving technology and groceries in tow, the partnership is set to debut in Austin from the East Ben White Boulevard Walmart; Miami and Washington D.C. sometime this year.
The announcement comes off the heels of Argo AI's partnership with Lyft, which will bring driverless taxis to passengers in 2022. Although Walmart has been working with autonomous vehicles since 2018, this new partnership will help meet pandemic-fueled demand and grow the delivery process, according to Walmart U.S. Senior Vice President of last-mile delivery Tom Ward.
"This collaboration will further our mission to get products to the homes of our customers with unparalleled speed and ease, and in turn, will continue to pave the way for autonomous delivery," Ward said in a release.
Initially, the process will start with small fleets of autonomous vehicles and expand delivery access over time. According to Ford's autonomous vehicles and mobility businesses CEO Scott Griffith, this is just the beginning of autonomous vehicles scaling across U.S. cities.
"Pairing Walmart's retail and e-commerce leadership with Argo and Ford's self-driving operations across these multiple cities marks a significant step toward scaling a commercial goods delivery service that will ultimately power first-to-scale business efficiencies and enable a great consumer experience," Griffith said in a release.
Austin has long been a hub for emerging AI technology—Waymo, an Alphabet Inc. subsidiary and Argo AI competitor, operated in Austin from 2015-2019. Waymo now operates autonomous vehicles out of Arizona. And delivery robots were seen this year when Refraction AI partnered with Southside Flying Pizza to deliver to Austin homes.
For the Live Music Capital of the World, it can be surprisingly tough to find good 24-hour joints to grab a bite after a night out or a show.
While some Austin staples—Kerbey Lane, Epoch Coffee, Bennu Coffee and Magnolia Cafe to name a few—have adjusted their hours due to COVID, there are still plenty of iconic eats ready to fuel you through all types of all-nighters.
Here's some 24-hour restaurants to satisfy any late-night craving around Austin:

The Buzz Mill, 1505 Town Creek Dr.
Open 24/7, this Austin staple has been feeding Riverside with vegetarian eats since 2013. Grab a coffee by day and a craft beer come nighttime while choosing from a variety of Beyond Meat burgers and breakfast options. You don't have to go out at all beforehand, either—Buzz Mill brings the entertainment to you with live music, open mics and more events on their outdoor patio.
Zombie Taco, 25512 Guadelupe St Unit 100
A favorite for UT students, Zombie Taco offers the classic late-night staple: tacos and burritos—just off campus on The Drag. The one-stop-shop comes stocked with a full bar and outdoor patio perfect for a night out and breakfast for the morning after.
Voodoo Doughnuts, 212 E 6th St.
Lodged in a prime location on Dirty Sixth, this gourmet doughnut shop has been a haven for late-night munchies for countless Austin partiers. The Portland-based chain offers flavors that are much more appetizing than they sound—"Dirt" and "Dirty Old Bastard" are just a few examples—as well as classic donut shop fare.
Bring your cash and your appetite when you go—the restaurant is cash-only but has ATMs onsite.
La Mexicana Bakery, 1924 S 1st St.
Family-owned and operated for more than 27 years, La Mexicana Bakery is home to "the best Mexican bread in Austin" 24/7. The bakery is home to oven-baked bread, cakes and pastries, savory items like breakfast tacos and BBQ and is conveniently located at the center of town.
Tyson's Tacos, 4905 Airport Blvd.
This 24/7 Hyde Park location embraces "Keep Austin Weird" culture while serving up 37 tacos of all varieties. Grab a bite for breakfast, lunch and dinner on their aesthetic outdoor patio.
Las Cazuelas, 1701 E Cesar Chavez St.
Las Cazuelas is the only non-24/7 restaurant on the list—it's open 24 hours Wednesday-Sunday—but it more than makes up for it with its classic Tex-Mex options for any late night out.
Jim's Restaurant, Multiple locations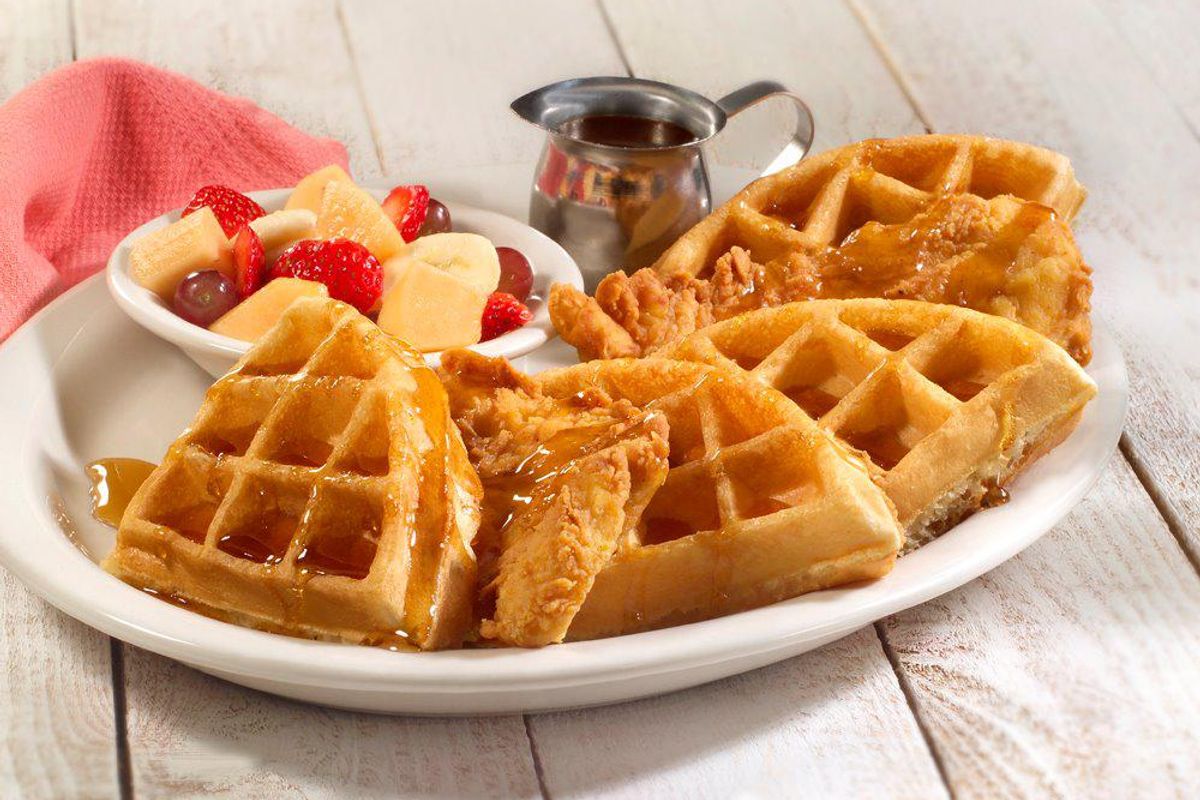 (Jim's Restaurant/Facebook)
"There's always Jim's," as the restaurant's motto goes, to satisfy your cravings with classic diner fare. From chicken fried steak to stacks of pancakes, the San Antonio-based chain's three Austin locations are readily available for any late-night wanderer.
The Classics: Waffle House, IHOP, Whataburger
Every Texan's rite of passage is eating in a Whataburger at 3 a.m., and with 18 locations around Austin, the Texas-based burger chain is readily available to Austinites craving a late-night snack.
Other classic favorites include Waffle House and its slightly classier sister, IHOP, both of which bring early-morning breakfast options well into the night.
From Your Site Articles
Related Articles Around the Web
As recognition for bringing a taste of Torreón Coahuila, Mexico to the capital city, chef Fermín Nuñez of East Austin Mexican restaurant Suerte has been named one of FOOD & WINE's 2021 "Best New Chefs."
Coming in as the only Texas-based chef on the 33-year-running list, Nuñez will be awarded today in Aspen, Colorado, with nine other chefs from across the country who made it through the lengthy selection process.
"It's a true joy to be named a FOOD & WINE 'Best New Chef,'" Nuñez said in a press release. "I celebrate this as an honor to the craft I love and extend immeasurable gratitude to the team at Suerte."

Nationally renowned for its commitment to craft-made masa dishes, Suerte, 1800 E. 6th St., is the manifestation of 12-year chef Nuñez and fellow restaurateur Sam Hellman-Mass. The pair opened the restaurant in 2018 with a goal to create their own unique brand of Mexican food—one that is familiar to Austin but cooked with deep-rooted tradition.
With a profound love for masa, a trait he gets from his hometown, Nuñez uses a process called nixtamalization, which prepares dried corn kernels to be ground into dough for tortillas. Those corn tortillas, which are ground in-house and pressed-to-order, earned Nuñez features in Netflix's "The Taco Chronicles," Bon Appetit's "Brad Makes Tortillas" and The New York Times.
"Mexican food, to me, was always something that I was very passionate about because it meant something to me, and a tortilla—it's the canvas of Mexican cooking," Nuñez said.
Committed to the community as well as the craft, Nuñez has been in the kitchens of many beloved Austin establishments—La Condesa, Uchiko, Launderette and Barley Swine—and strives to support local by sourcing from Barton Springs Mill and other local farmers.
"This achievement is a testament to the importance and impact of hard work, and doing the right thing even when no one is looking," Nuñez said. "I take great pride in sharing my culture through food in new ways with our community."
And it doesn't stop in the kitchen, Nuñez has used his platform of more than 30,000 followers to raise awareness and funds for mental health in the service industry through the Mike & Sherry Project, cultivate leadership efforts through community farming with Urban Roots, and empower Latino voters through Jolt.
Suerte's menu fluctuates daily so no matter when you pay a visit to Nuñez, you'll be in for a delicious surprise.

If you were in Austin on Saturday, July 31, Austin baker Christian Warren had a bone to pick with you.
"This video is to let everybody know in Austin, Texas that I'm beefing with y'all because I worked my ass off to make these banana pudding cinnamon rolls and not a single one of y'all bought these," Warren said on a TikTok post. "Y'all better come out and buy these tomorrow because I'm not playing with y'all."
Warren, who bakes and decorates sweet treats for Austin cafe Word Of Mouth Bakery, was, in fact, mostly playing. But a video that was made partially in jest turned out to be a genius marketing tactic as it racked up 1.8 million views and almost 325,000 likes.
In just over an hour, Warren said the banana pudding sweet rolls had sold out. A week later, Warren made a video for his new strawberry sweet rolls with a similar message: this time, he directed his attention to every resident of Texas, urging them to come visit his shop.
Even though he upped supplies to 96 rolls that Sunday, Warren said it wasn't enough for his new insatiable fanbase.
"On Saturday they had to close early because they completely sold out," Warren said. "It's absolutely insane."

Word of Mouth's new customers took Warren seriously. Their two small locations were flooded with customers from Houston, Fort Worth, and even Colorado (Warren hopes they didn't follow through with their promise to visit). For the first time in a long time, supply was much higher than demand as they saw record sales each weekend.
The sales were a much-needed boost for Word of Mouth, who, like many other Austin businesses, struggled to stay afloat during the pandemic. The company's two cafes, one of which opened mid-pandemic, were forced to survive as they relied on small promotional orders and their catering business to keep their heads above water.
With no means of reaching out to people in person, Warren said the team took to social media and "word of mouth" to promote their bakeries. Warren followed in the footsteps of many others, including Austin ranchers, artists and other small businesses, in making short, flashy videos to cater to a new audience.
It's clearly worked so far, and Warren said TikTok might be their best bet in the long run for getting their business back on its feet.
"I think it'll probably still continue to be a thing, especially because of COVID," Warren. "You can't market to somebody and go out as much as you want to, so I feel like social media is probably the best way for businesses. It's hard to be here right now, but I think that's really helped us."
Word of Mouth's new problems are good ones to have—the entire team met up on Thursday to figure out how to satisfy their new fanbase. For now, Warren said he's just going to keep doing what he's doing: TikTok, new sweet roll flavors and satisfying the cravings of the great state of Texas.
His newest flavor, pumpkin spice, will be at both locations on Wednesday and Sunday while supplies last.