Get connected with our daily update
Truths about Texas' history took center stage in "Forget the Alamo: The Rise and Fall of an American Myth," a book released last month, which reminds anyone who cares to remember that Gen. Santa Anna—well, the whole country of Mexico if you want to get technical about it—was very much against slavery at the time of the Texas Revolution and that Davy Crockett and his slave-trading cohorts Jim Bowie and William B. Travis were in fact fighting for the right to treat people as property.
---
The myth (more suitable to comic books than Texas History classrooms) is that Crockett would not surrender and died in a blaze of glory for the cause of freedom; however, the book underscores the truth that Crockett's surrender and execution were widely reported in 1836 and only morphed into martyrdom in the popular imagination thanks to Walt Disney's 1954-1955 miniseries.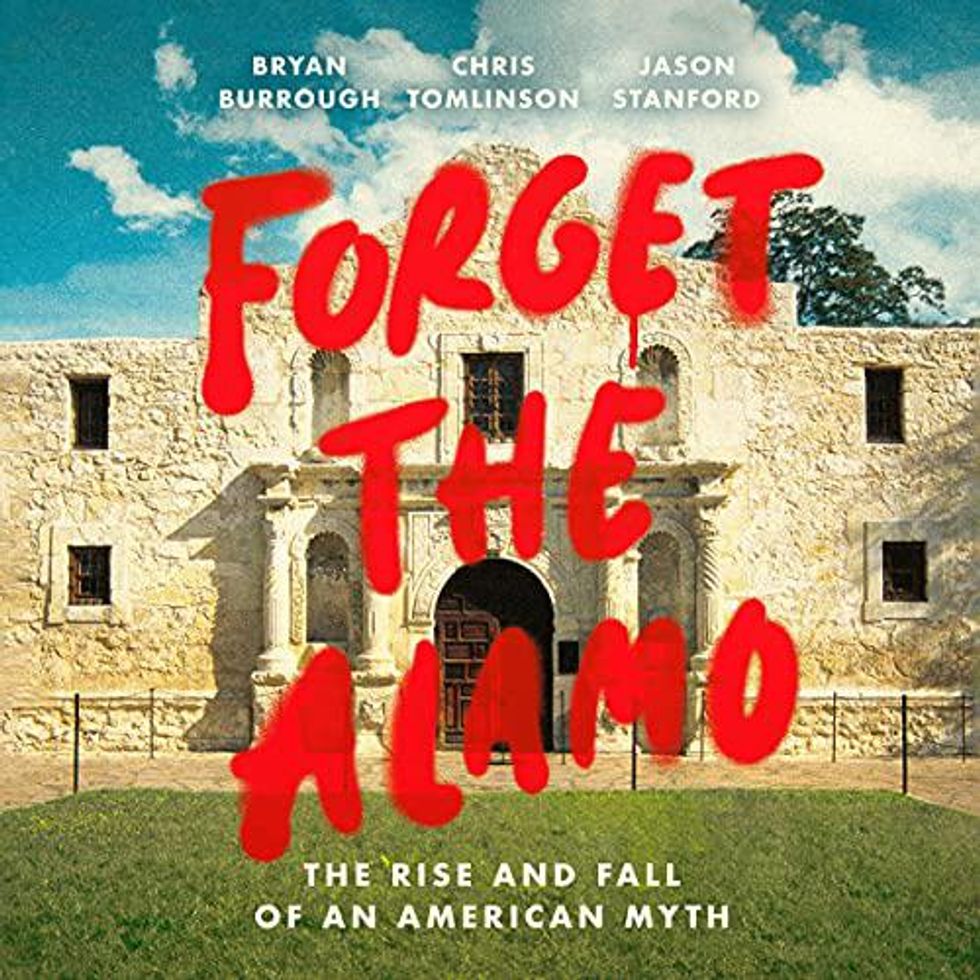 The authors of "Forget the Alamo" maintain (and back up their findings with copious footnotes that will supply any skeptic with a serious summer reading list) that the myth of the freedom fighters standing their ground in the Alamo, or Misión San Antonio de Valero," has been used to promote a number of reactionary causes, from Nixon-era anti-communism to post-9/11 anti-Arab drum-beating. But primarily the authors argue the Alamo has been employed to foster a narrative of white supremacy for the right.
"The Alamo, long used in a myth that demonized and gaslit Mexican-Americans and Indigenous people, might as well be a Confederate monument in the minds of conservative adherents to the Heroic Anglo Myth," the authors stress. "We must recognize that the Battle of the Alamo was as much about slavery as the Civil War was about slavery," they write.
Describing themselves as "proud Texans," the authors of "Forget the Alamo" (Bryan Burrough, Chris Tomlinson, and Jason Stanford) are a trio of veteran journalists who "don't believe knowing the truth about Texas history makes the state any less unique or important."
The authors (whose byline bona fides extend from Texas Monthly to Vanity Fair) don't ask for much, really, just to open a conversation involving some obvious truths that might make for a more nuanced, factual account of the "cradle of Texas liberty."
This conversation has proven to be a difficult one to have in public.

On July 1., Lt. Gov. Dan Patrick called for the cancellation of a "Forget the Alamo" book event at the Bullock Texas State History Museum. Patrick tweeted out his motivation the next day, saying: "As a member of the Preservation Board, I told staff to cancel this event as soon as I found out about it... this fact-free rewriting of TX history has no place."
As a member of the Preservation Board, I told staff to cancel this event as soon as I found out about it. Like efforts to move the Cenotaph, which I also stopped, this fact-free rewriting of TX history has no place @BullockMuseum. #txlege https://t.co/ua1aSFxHCk
— Dan Patrick (@DanPatrick) July 2, 2021
Much to GOP officials' dismay, the book's authors have called for some honesty to be injected into the education system rather than let Texas schools keep teaching what they call "the whitewashed story." "To learn the real lessons of the Texas Revolt, we need to learn the truth about Bowie, Travis and Crockett," they write. "Bowie was a murderer, slaver, and con man; Travis was a pompous, racist agitator and syphilitic lech; and Crockett was a self-promoting old fool who was captive to his own myth."

Patrick and Gov. Greg Abbot have a vested interest in controlling any dialogue that emerges from "Forget the Alamo."
In June, the governor established the "1836 Project," a nine-member advisory committee crafted for the promotion of a "patriotic education" to the residents of Texas, regarding the state's secession from Mexico in 1836. The project aims to ensure that "future generations understand TX values."
Abbot's 1836 project—following Trump's now-canceled 1776 Commission -- is a not-so-subtle attempt to counter The New York Times' 1619 Project: which seeks to shine a light on the legacy of slavery and racism in the U.S. while offering an easily accessible curriculum for interested educators.
In recent months 22 states have put forth legislation designed to limit educators' ability to reference the 1619 Project, and states such as Idaho, Iowa, Oklahoma, Tennessee and Texas, have signed those limits into law.

The facts about the Alamo made prominent in "Forget the Alamo" would no doubt make Abbott's not-yet compulsory "patriotic education" more complicated. For, regarding the heroes of the Alamo, the authors note: "They fought for freedom, just not everybody's freedom."
East Austin restaurant la Barbecue has been robbed a third time in less than three months, according to a post on the restaurant's Instagram.
In the post, the restaurant included photos of what appeared to be a man exiting a minivan from surveillance footage.
"This guy pulled up in a car full of stuff… he ripped our gate open and stole a couple empty kegs," the post said. "The ring system scared him off so he did not venture back into the area. PLEASE EVERYONE ON THE EAST SIDE BE CAREFUL!!! This guy goes back into his car to grab something before he goes in. I am hoping he won't be back!!"
The robbery comes as many restaurant and food truck owners have been on guard from recent break-ins. East Austin cheesesteak truck R&B's Steak and Fries has also been robbed three times in around three months, according to owner Kris Elliott. Elliot said the truck was last robbed around a month and a half ago.
"When the weather gets cold, it seems like these things start to happen more often," Elliott said. "We're just happy no one got hurt."
Additionally, he said all 5 of the food trucks in their lot have experienced burglaries. The landlord of the space is taking action by investing in alarm and camera systems. "Been very tough dealing with this problem as us small business owners are just trying to survive during the pandemic," Elliott said.
And it's not just in East Austin. North Austin restaurants Eldorado Cafe and Chez Zee Bistro were both broken into and robbed on the weekend of Jan. 8, while over a dozen food truck robberies and break-ins were reported in the latter half of 2021.
Some, like Chez Zee's Deborah Velasco, wonder if the understaffed Austin Police Department's decision to no longer respond to non-emergency calls is part of the problem. Xose Velasco, owner of East Austin's Discada, said owners are keeping their guard up in the wake of the robberies as he was robbed twice within a month of reopening in November 2021.
"We try to keep the lights on," Velasco said. "We're a little bit more careful."
After 12 months, the long-anticipated massive Tesla factory in Southeast Travis County is up and operating and everyone wants a look inside.
Phase 1 of Giga Texas appears to be tied up as production of the Model Y Tesla is underway, the electric car company revealed on Wednesday in its fourth-quarter earnings call. The factory, located on the former Harold Green-turned Tesla Road, sits on more than 2,000 acres of land in southeast Travis County.
Here's a glimpse inside the factory.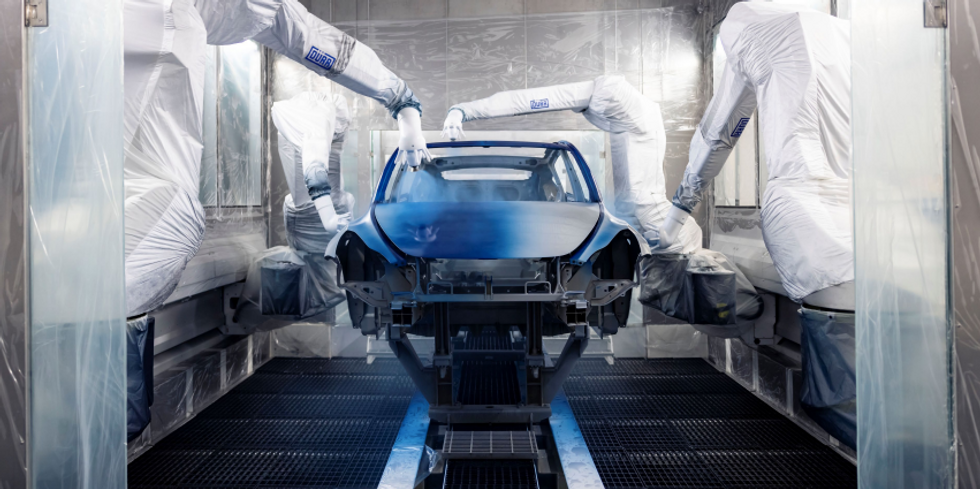 (Tesla)
Model Ys will be the first Teslas to come out of Giga Texas with an estimated delivery of August. The wait estimate comes after Tesla noted supply chain issues have affected their factories, which have been running below capacity for several quarters. A deep blue metallic like this goes for $1,000 more than a white or silver Model Y, totaling $61,990.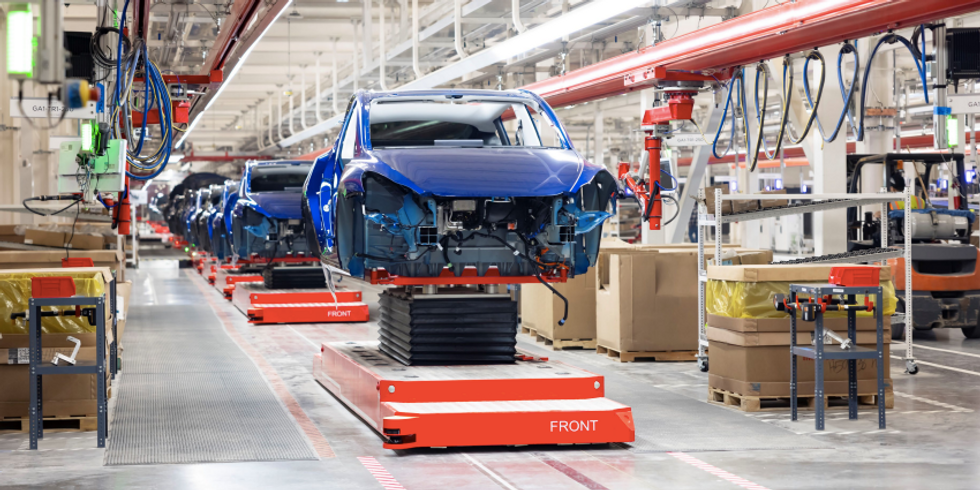 Model Ys began being produced at Giga Texas at the end of 2020. In general assembly at the factory, the Teslas get their major interior components to finish the vehicle.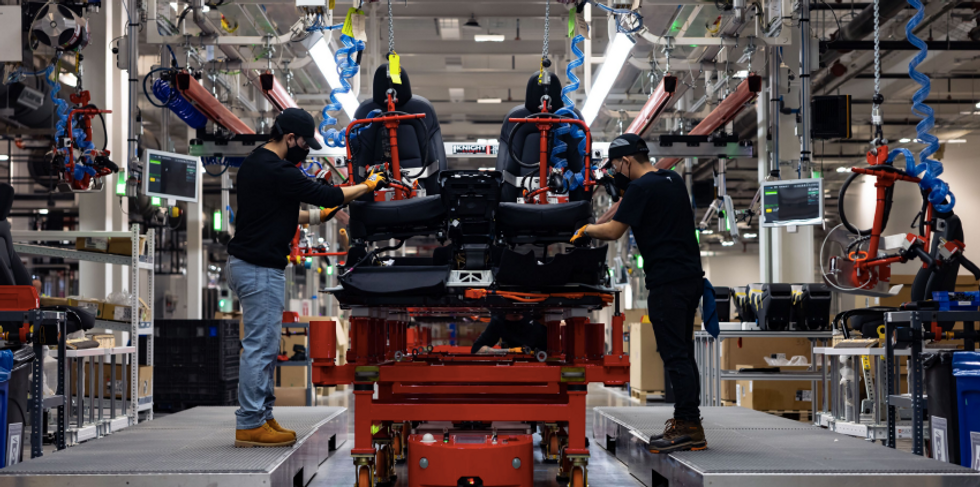 (Tesla)
Workers at Austin's Gigafactory are attaching seats to a structural battery pack. It's been described by some as the biggest difference between Texas-made Model Y's and the current version at the Fremont, California factory. It shouldn't have a major impact on the owner's experience, but Tesla has updated instructions for the jacking procedure, as the lift points are different.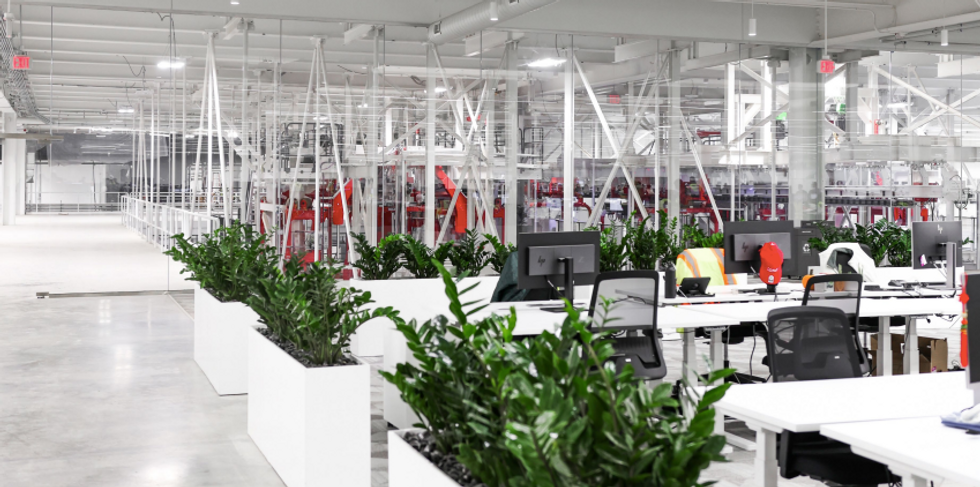 With a sleek, open office setup, workers can take in a view of the factory from their seats. It's a component CEO Elon Musk wanted for what is now the headquarters of Tesla.
On the Austin, Texas public location Snapchat, a photo of inside Giga Texas has appeared. On the left you can see a sneak peek of a Model Y body.pic.twitter.com/N7zliZ5vkL

— Sawyer Merritt (@Sawyer Merritt) 1643081462
With Snapchat's maps, anyone can look at everyday activity happening at the factory. To view these geographically-linked stories, click the bottom left "map" icon and search "Tesla Giga Texas." Once you've found it, you can view the Snapchat story of those in and around the facility. While most stories stay up for only 24 hours, Giga Texas is a designated place on Snapchat, allowing users to view a collection of photos and videos from the inside.
Following Model Ys, Texas-made Teslas will include the Cybertruck, Semi and Model 3. But it might be a while before those other models arrive. EV makers have been hit hard by the chip shortage, and it's thought that changing features are contributing to Cybertruck delays as Tesla works to compete in the electric pickup market.
Joe Rogan paid a visit to buddy Elon Musk this week. The two have been seen around town since both moving to Texas. Naturally, Rogan was impressed with the prototype.
If you're dying to get a closer look at this factory, you just might get to. In December, Musk said the factory would have tours available to the community early this year.