Get connected with our daily update
Truths about Texas' history took center stage in "Forget the Alamo: The Rise and Fall of an American Myth," a book released last month, which reminds anyone who cares to remember that Gen. Santa Anna—well, the whole country of Mexico if you want to get technical about it—was very much against slavery at the time of the Texas Revolution and that Davy Crockett and his slave-trading cohorts Jim Bowie and William B. Travis were in fact fighting for the right to treat people as property.
---
The myth (more suitable to comic books than Texas History classrooms) is that Crockett would not surrender and died in a blaze of glory for the cause of freedom; however, the book underscores the truth that Crockett's surrender and execution were widely reported in 1836 and only morphed into martyrdom in the popular imagination thanks to Walt Disney's 1954-1955 miniseries.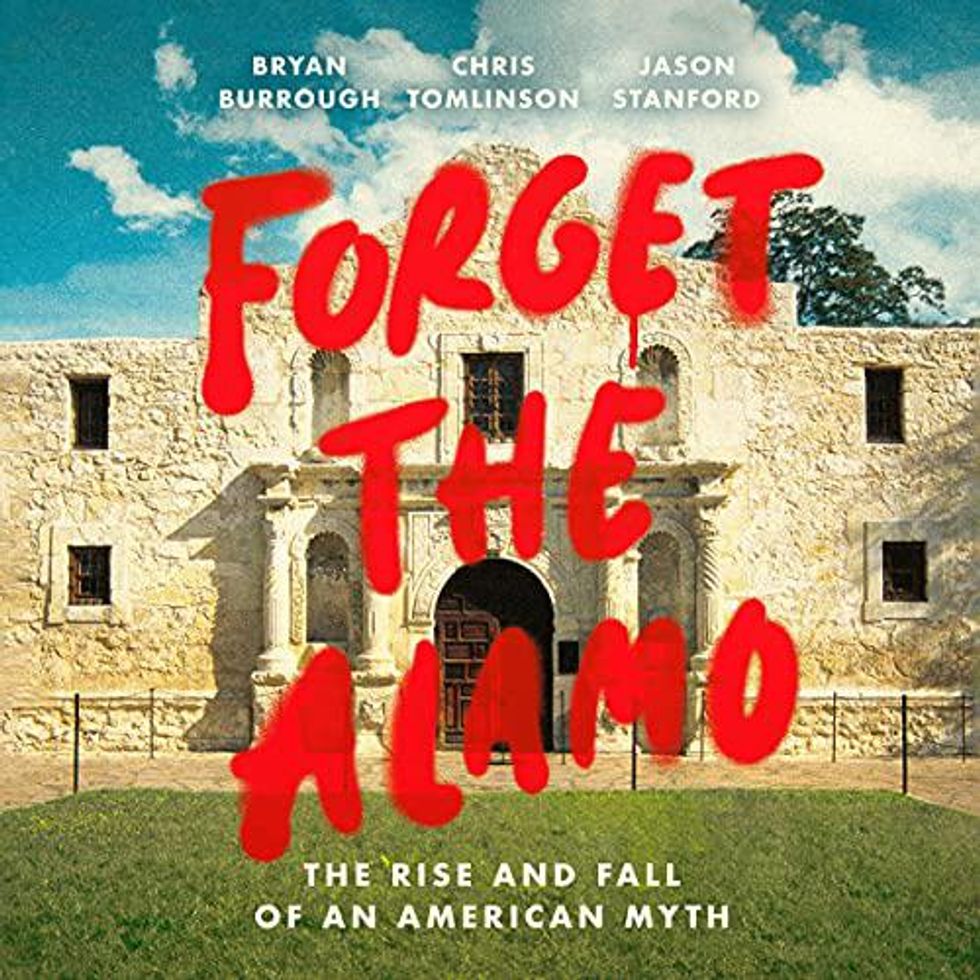 The authors of "Forget the Alamo" maintain (and back up their findings with copious footnotes that will supply any skeptic with a serious summer reading list) that the myth of the freedom fighters standing their ground in the Alamo, or Misión San Antonio de Valero," has been used to promote a number of reactionary causes, from Nixon-era anti-communism to post-9/11 anti-Arab drum-beating. But primarily the authors argue the Alamo has been employed to foster a narrative of white supremacy for the right.
"The Alamo, long used in a myth that demonized and gaslit Mexican-Americans and Indigenous people, might as well be a Confederate monument in the minds of conservative adherents to the Heroic Anglo Myth," the authors stress. "We must recognize that the Battle of the Alamo was as much about slavery as the Civil War was about slavery," they write.
Describing themselves as "proud Texans," the authors of "Forget the Alamo" (Bryan Burrough, Chris Tomlinson, and Jason Stanford) are a trio of veteran journalists who "don't believe knowing the truth about Texas history makes the state any less unique or important."
The authors (whose byline bona fides extend from Texas Monthly to Vanity Fair) don't ask for much, really, just to open a conversation involving some obvious truths that might make for a more nuanced, factual account of the "cradle of Texas liberty."
This conversation has proven to be a difficult one to have in public.

On July 1., Lt. Gov. Dan Patrick called for the cancellation of a "Forget the Alamo" book event at the Bullock Texas State History Museum. Patrick tweeted out his motivation the next day, saying: "As a member of the Preservation Board, I told staff to cancel this event as soon as I found out about it... this fact-free rewriting of TX history has no place."
As a member of the Preservation Board, I told staff to cancel this event as soon as I found out about it. Like efforts to move the Cenotaph, which I also stopped, this fact-free rewriting of TX history has no place @BullockMuseum. #txlege https://t.co/ua1aSFxHCk
— Dan Patrick (@DanPatrick) July 2, 2021
Much to GOP officials' dismay, the book's authors have called for some honesty to be injected into the education system rather than let Texas schools keep teaching what they call "the whitewashed story." "To learn the real lessons of the Texas Revolt, we need to learn the truth about Bowie, Travis and Crockett," they write. "Bowie was a murderer, slaver, and con man; Travis was a pompous, racist agitator and syphilitic lech; and Crockett was a self-promoting old fool who was captive to his own myth."

Patrick and Gov. Greg Abbot have a vested interest in controlling any dialogue that emerges from "Forget the Alamo."
In June, the governor established the "1836 Project," a nine-member advisory committee crafted for the promotion of a "patriotic education" to the residents of Texas, regarding the state's secession from Mexico in 1836. The project aims to ensure that "future generations understand TX values."
Abbot's 1836 project—following Trump's now-canceled 1776 Commission -- is a not-so-subtle attempt to counter The New York Times' 1619 Project: which seeks to shine a light on the legacy of slavery and racism in the U.S. while offering an easily accessible curriculum for interested educators.
In recent months 22 states have put forth legislation designed to limit educators' ability to reference the 1619 Project, and states such as Idaho, Iowa, Oklahoma, Tennessee and Texas, have signed those limits into law.

The facts about the Alamo made prominent in "Forget the Alamo" would no doubt make Abbott's not-yet compulsory "patriotic education" more complicated. For, regarding the heroes of the Alamo, the authors note: "They fought for freedom, just not everybody's freedom."
Actor, director and screenwriter Justin Theroux isn't the only famous member of his family. His canine companion Kuma made waves online this past weekend supporting Austin Pets Alive!—and Jennifer Aniston is a fan.
Theroux launched Kuma's own Instagram account on Saturday with a link to Austin Pets Alive!'s website in her bio. And the grey pitbull mix is already garnering the kind of attention worthy of her movie star dad: As of Monday night, she has over 55,000 followers.
Chief among them is Jennifer Aniston, who posted a photo of Theroux and his newly online dog on her Instagram story yesterday with fond words for the Austin shelter.
"Love what these two are doing to help people who help pups who help people," the 'Friends' star, and Theroux's ex-wife, wrote. "They helped save 60 pups at Austin Pets Alive! yesterday."
Theroux began volunteering at the shelter while filming 'The Leftovers' in Austin when he fell in love with the shelter's pitbulls, according to Dr. Ellen Jefferson, Austin Pets Alive! president and CEO.
"We are thrilled that he and Kuma are spreading the word about the work APA! is doing and the need to keep Austin no-kill," she said, referring to the shelter's commitment to save animals most at risk for euthenasia.
Theroux adopted his mut in 2018 after Kuma was rescued—dirty and injured—from the aftermath of Hurricane Harvey by A Chance to Bloom Dog Rescue, based in Conroe, Texas.
While Kuma is not from APA!, Theroux connected with the Conroe-based non-profit while visiting the Austin shelter, and he has remained "an enthusiastic supporter" ever since, Jefferson said.
Read more on celebrity dogs: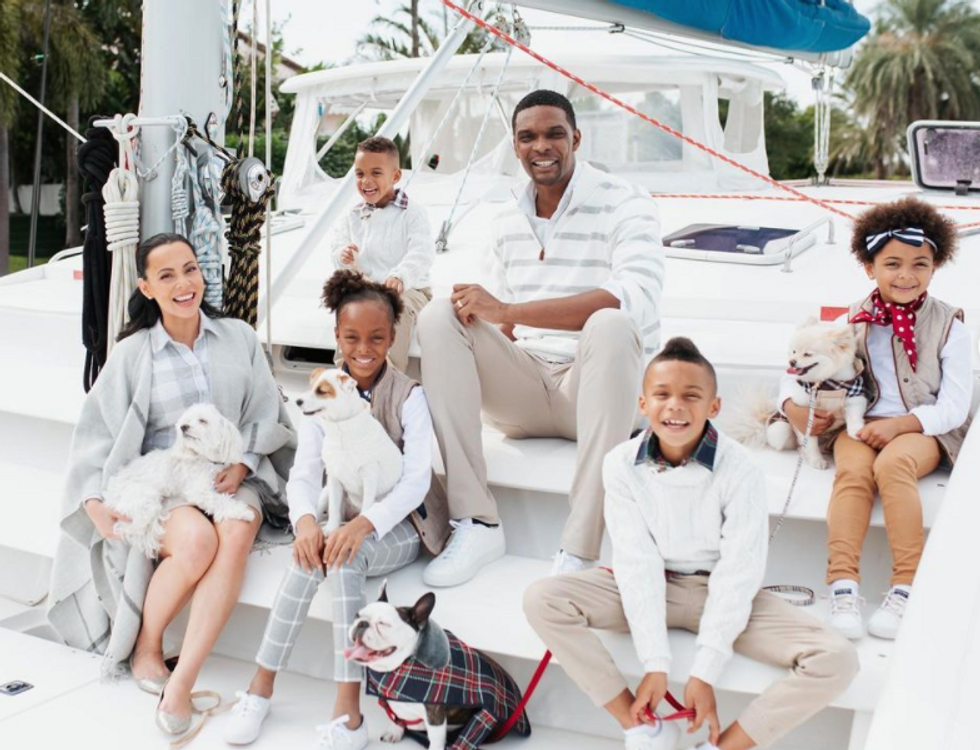 Star power gets furry: Meet the dogs of Austin's celebs
Six days a week, thousands of onlookers tune in to live streams to watch the pros rake it all in at high-stakes poker tournaments. The big-name poker players aren't in Las Vegas or even Oklahoma's finest casinos—instead, they're where Texas Hold 'Em gets its name.

Gambling may be illegal in Texas, but over a hundred poker houses are using a loophole to open up shop across the state, especially in Austin and Dallas.
The classic poker game is finally getting played for real cash around the Lone Star State thanks to an exception in Texas' gambling ban that allows poker games to be played in private residences. Instead of taking a cut from the pot like traditional gambling ventures, private poker houses don't make money from the results of a game; instead, they get their revenue from membership and hourly fees.
It's a business strategy that's gone (mostly) unchallenged by Texas politicians, especially as the industry begins to heat up.
Austin may now have around 20 poker houses around town, but it wasn't long ago that one stood alone like a small town saloon. The city's premiere poker house, Texas Card House, was founded in 2015 and has since grown to include a YouTube channel with over 30,000 subscribers, a wide range of gameplay and regular visits from big-name poker gurus like Brad Owen and Doug Pope.
David Lagana, a content creator who has worked in college sports and Hollywood, was brought into the scene in May as the house's live streams began to blow up. He said the live streaming battleground is only beginning.
"The space is ever-growing," Lagana said. "It's been interesting to try and find a lane that everybody can succeed. It's all about finding something that people want to watch on a nightly basis."
Carolyn Hapgood, who has worked for Texas Card House for three years, has made a name for herself as a live stream producer, dealer and player herself with the company. She's seen Texas Card House grow from a two-room card house to the most well-known poker venue in Austin with another branch in Dallas.
"It was a teeny tiny little house with five tables, and that was the first legal card house in the state," Hapgood said. "And since then it's blown up."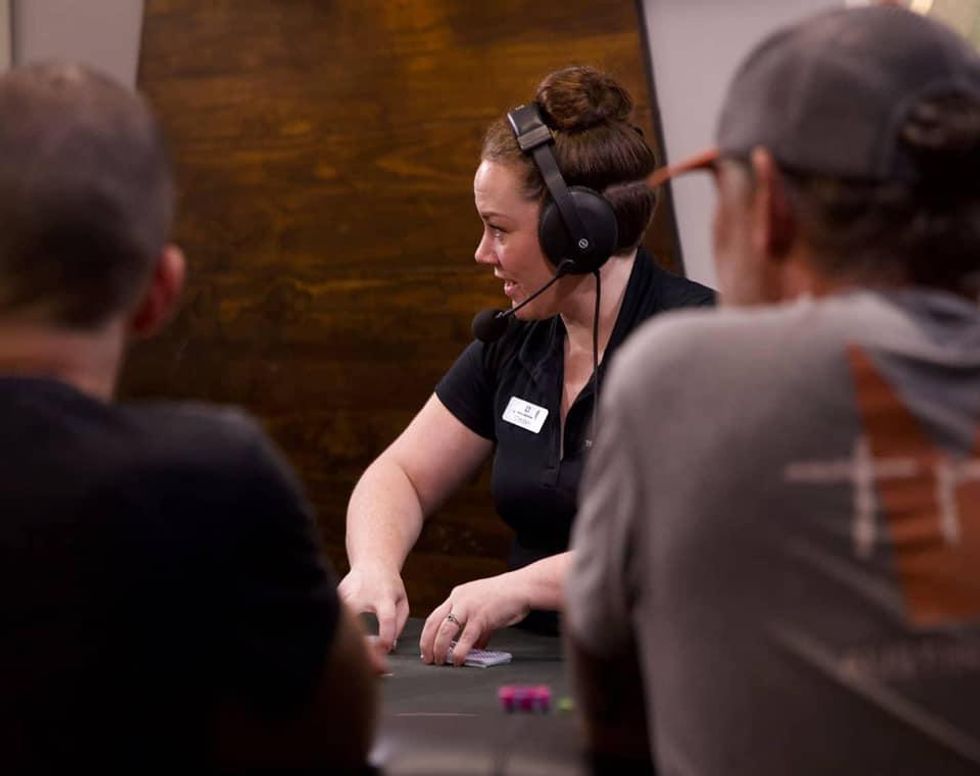 Texas Card House dealer Carolyn Hapgood has been working with Austin's premier poker house since 2018. (Texas Poker House Austin/Facebook)
From $100 pots to buy-ins of $15,000 or more, Texas Card House has it all, especially as in-state players learn more about the game. Hapgood said there isn't really a typical poker player at the house—instead, the poker table forms an "interesting little ecosystem" that includes college students, a 93-year old Vietnam War veteran, online gamblers, old-school players and everyone in between. The diversity at the table has been enhanced even further by COVID as people clamor to return to in-person events.
But Texas Card House no longer holds a "royal flush" in Austin's poker culture. The Lodge, based in Round Rock, is now expanding to over 60 tables, the largest in Texas, while Palms Social Club, owned by Texas Card Houses' original owner Sam Von Kennel, brought service staff and a refined atmosphere to the Austin scene.
Hapgood said the base of poker players is very large and continues to grow, forming a community as players form friendships on and off the table.
"My favorite part of the poker community is how much fun we have," Hapgood said. "You sit at a table with eight of your friends, everyone's kind of just having a good time. There's a lot of players who will, you know, call or text each other after they're done playing, and they end up inviting each other barbecues, and going out to dinner with their families and stuff like that... those are my favorite people to hang out with."
Getting involved in the poker scene is as easy as tuning into a live stream, and Lagana hopes to see more outsiders like himself get inspired by poker in the future.
"It's kind of like life," Lagana said. "Life isn't just one hand to play... you're only in control of sort of what's in your hand (and) you can't play the card that you weren't dealt with. So it's really been a fascinating life lesson for me."
From four-time Grammy-nominee turned big-screen actor, Black Pumas frontman Eric Burton will debut in the sci-fi short film "Devexity," which is written, directed by and stars Austinites.
The film, brought to life by Austin-based filmmaker Luke Lidell, will premiere on Oct. 7 at the Native Hostel while Burton is in town for Austin City Limits Fest. Then, "Devexity" will head off to film festival screenings, according to a report by The Austin Chronicle.
Following Burton as the film's protagonist, named Jean, "Devexity" takes place across several different settings and surfaces an existential response from the watcher. Burton stars alongside fellow Austinites Ali Pentecost, Dominique Pitts and New Yorker Madison Murrah in the partially black-and-white film.
The film was shot over the course of four days in October 2020, which Lidell said was a challenge of "focus" and "trust" to create. With a variety of scenes and intertwining narratives, the film dives into the topic of virtual reality.

A musician in addition to a filmmaker, Lidell previously directed the film "Telekinetic" in 2018. The script for "Devexity" was written by Lidell with Burton in mind for the lead after meeting him during a music video project in 2017—Lidell said Burton helped him shape the characters along the way.
Now that the door has been opened for work between Burton and Lidell, you're likely to see the pair collaborate again—a Black Pumas documentary is being rumored.